NFL Nation:

080912 preseason obs
August, 11, 2012
8/11/12
12:53
PM ET
Newsy little Saturday up there at Lehigh with the
Philadelphia Eagles
. Quarterback
Michael Vick
is
planning to practice
in spite of the thumb injury he suffered in Thursday night's preseason opener. But backup quarterback
Mike Kafka
is not, because he
broke his left (non-throwing) hand
in that game when a Steelers player stepped on it. Rookie
Nick Foles
, who threw two touchdowns in the game, is taking second-team reps as Vick's backup. And left tackle
Demetress Bell
has been
dropped to the second team
after a poor Thursday performance, and
King Dunlap
is working as the first-team left tackle.
Got all that? Let's take the last part first.
[+] Enlarge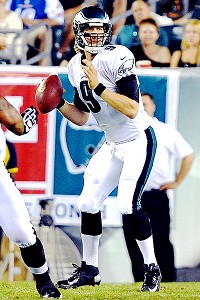 Eric Hartline/US PresswirePhiladelphia rookie QB Nick Foles was sharp in his preseason debut on Thursday night.
Bell is the tackle the Eagles signed to replace star left tackle
Jason Peters
after Peters tore his Achilles tendon (twice) this offseason. His demotion is obviously not a good sign for the Eagles' ability to replace Peters, but it's also not necessarily permanent. Recall last year, when first-round pick
Danny Watkins
wasn't ready to start the opener at right guard but was able to ascend to a starter's role during the season. Offensive line coach Howard Mudd's schemes can be difficult to pick up, and it's possible that Bell needs more time. There are 29 days until the Eagles' regular-season opener in Cleveland, so he has that time if he needs it. And if he needs more, the Eagles (as they showed with Watkins) will give it to him. Dunlap has worked for a year in Mudd's system as a backup and spot starter, and I'm sure the Eagles feel they can get by with him there for a couple of weeks if need be. If Bell never gets any better, and Dunlap has to be their 16-game starter at left tackle, the Eagles could have a big problem. But today's news isn't "Bell out for season," it's "Bell needs more work."
The Kafka news is interesting because news about the backup plan for Vick is always interesting. There's a feeling of inevitability about Vick getting injured and missing time at some point during the season, so Eagles fans want to know who's next in line. The plan was for Kafka to be that guy in this, his third season on the roster and in the offense. But now they're estimating he's out three weeks with the broken hand. And given the way Thursday night went, that doesn't help him.
Interesting that Foles, and not veteran
Trent Edwards
, is getting the second-team snaps. Foles looked very good Thursday, completing 6-of-10 passes for 144 yards and those two touchdowns. The Eagles' third-round pick this year out of Arizona, Foles has great arm strength and great size. Should Vick get hurt and Foles be the replacement, the results would likely be spectacular in two different directions -- some eye-opening throws and plays mixed with (likely too many) damaging rookie errors. He still needs time in the offense and working on mechanics and footwork before he's a viable replacement. Even if he does throw the ball better down the field right now than Kafka does, that doesn't mean he's going through his progressions the way the Eagles need him to. Giving him the second-team reps is a good way to speed along his education. Edwards has experience, and the Eagles think he fits their offense well, so they could put him in there in a pinch in a real game. But in preseason, the Kafka injury is a chance to educate and evaluate Foles against a little bit better competition than he otherwise might have seen.
The question is how quickly Kafka gets back, and whether this injury hurts his spot on the depth chart or even the team. At this point, I'd have to think not. But his absence will give the other Vick backups a chance to make their cases.
August, 10, 2012
8/10/12
7:19
AM ET
Reviewing Thursday's action at Soldier Field:
Denver Broncos 31, Chicago Bears 3

Preseason record:
0-1
Of interest:
Heavy storms probably contributed to the Bears' decision to hold out quarterback
Jay Cutler
, tailback
Matt Forte
and defensive end
Julius Peppers
. … Linebacker
Brian Urlacher
reportedly was not at Soldier Field, and overall the Bears had a forgettable night. … Left tackle
J'Marcus Webb
can't feel too comfortable after being left on the field into the fourth quarter, long after the rest of the starting line had completed its work. Webb is young and could use the work, but he was probably also on the receiving end of a message sent to reinforce that he has not yet officially won the starting spot. (There are just no other candidates at the moment.) … Rookie
Shea McClellin
showed up with a sack of former Bears quarterback
Caleb Hanie
, who is now the Broncos' backup. … Nickelback
D.J. Moore
was on point, tipping away a
Peyton Manning
pass near the goal line so that safety
Major Wright
could make a score-saving interception. Wright later left with a hamstring injury, an event concerning not for its severity but because he has a history of middling injuries that dig into his playing time and progress. … Rookie receiver
Alshon Jeffery
led the team with four receptions. … As for Urlacher, Bears general manager Phil Emery
told the team's flagship radio station
that his knee needs rest and that he will rejoin the team soon. Emery offered no other details of Urlacher's condition, nor did he say if it is related to his recent leave from the team.
Local coverage (in lieu of BBAO):
If Emery is telling the truth, writes
Jeff Dickerson of ESPNChicago.com
, Urlacher should return to training camp sometime this weekend. … The people who paid $76 per ticket for Thursday's game have a right to feel taken advantage of, writes
Dan Pompei of the Chicago Tribune
. … McClellin, via
ESPNChicago.com
: "I had fun. It's a start. You know I definitely have a lot of learning to do. Overall, it was good. It was a little bit faster than we've been practicing. When you get into the game, it's always faster than normal, but as it went along I kind of got into it and felt good. You know, like I said, there is a lot of stuff I can work on and get better at. But the sack felt good. It's always good to get a sack, no matter what kind it is, because it boosts your confidence a bit. After that you can kind of relax and just go out and play." … McClellin struggled versus the run, according to
Joe Cowley of the Chicago Sun-Times
. … The decision not to play Cutler reminded
Melissa Isaacson of ESPNChicago.com
that the Bears have a legitimate backup in
Jason Campbell
. Isaacson: "So astounding is it that for the first time, well, ever, that the Bears have a solid backup quarterback behind a potentially exceptional starter, you're almost skeptical."
Up next:
Saturday, Aug. 18 vs.
Washington Redskins
August, 10, 2012
8/10/12
7:09
AM ET
Reviewing Thursday's action at Qualcomm Stadium:
San Diego Chargers 21, Green Bay Packers 13

Preseason record:
0-1
Of interest:
Overall, a pretty ugly night for the defending NFC North champions. Two defensive starters departed with injuries, and the biggest concern was the condition of linebacker
Desmond Bishop
, who left the sideline on a cart because of a right knee injury. The Packers seemed braced for the worst Thursday night. Bishop has struggled with calf problems over the past year, and
D.J. Smith
is a capable backup, but it's early to start losing presumptive starters. Cornerback
Davon House
also left with a shoulder injury. … Even in the context of the preseason, the Packers' first-team offense had a rough night. Its three possessions ended in two turnovers and a punt, and overall the Packers had three turnovers in the first quarter alone. Watching Chargers rookie
Melvin Ingram
smoke replacement left tackle
Herb Taylor
was a nightmare for anyone associated with the Packers, especially when Ingram slammed into quarterback
Aaron Rodgers
(2-of-8 for 16 yards) and caused an interception. … Linebacker
Nick Perry
's bull rush of Chargers veteran
Jeromey Clary
in the first quarter was encouraging, even if replacement referees penalized his subsequent sack dance. … Safety
M.D. Jennings
got turned around by veteran tight end
Antonio Gates
on a 23-yard touchdown reception, and I wasn't a big fan of Jennings' tackle attempt (nor that of fellow safety
Morgan Burnett
) on
Vincent Brown
's 27-yard score. … Backup quarterback
Graham Harrell
(15-of-27 for 135 yards) had some moments, including a 3-yard score to receiver
Randall Cobb
, but it's clear he needs a lot of preseason playing time to even out his game.
Local coverage (in lieu of BBAO):
Coach Mike McCarthy said that Bishop's injury "didn't look very good," according to
Jason Wilde of ESPNMilwaukee.com
, but that the Packers would "hopefully get some good news as further testing goes on." … Harrell on his performance, via
Tyler Dunne of the Milwaukee Journal Sentinel
: "Getting a chance to get that many reps -- and get in drive after drive -- is definitely good for me. We'll only get better from it. As the preseason goes on, hopefully we'll continue to improve." …
Bob McGinn of the Journal Sentinel
wasn't impressed with the evening. McGinn: "You couldn't draw up a more inept start to an exhibition season than the Green Bay Packers' regulars subjected a national cable television audience to Thursday night. Miserable on offense. Feeble on defense. Flawed and mistake-prone on special teams." …
Pete Dougherty of the Green Bay Press-Gazette
: "The Green Bay Packers were fortunate to get out of this game with Aaron Rodgers upright and in tact." … Perry played much of the first half and also drew a holding penalty from Clary, notes
Rob Demovsky of the Press-Gazette
.
August, 9, 2012
8/09/12
11:59
PM ET
A look at the Broncos'
31-3 road win
Thursday night:
Yes,
Peyton Manning
's first game action in 19 months ended with an interception near the goal line.


However, there is no other way to slice it -- Manning's Denver Broncos debut was a success.
"He was remarkable," Denver coach John Fox said in halftime quotes distributed by the team. "He came back -- he's worked very hard. He hasn't played football in [almost] two years. I thought it was a good first drive in these conditions -- it was sloppy. It was sloppy by the receivers as far as the conditions but I thought it was a very good first outing."
On a rainy night in Chicago, Manning, who missed all of last season with a neck injury, completed 4 of 7 passes for 44 yards. He had a dropped pass and his interception came from a deflection of a pass intended for
Brandon Stokley
on what could have been a touchdown. I'm sure Manning and the Broncos will live with his first preseason game ending on a deflected interception.
Manning looked crisp and he led the offense at a fast tempo. He showed his patented anticipation and accuracy on a 19-yard bullet to
Eric Decker
on third-and-17.
This is a work in progress and the Broncos have to be pleased with the first step.
Meanwhile, it was a strong overall night from the Broncos. Denver looked pretty good.
Defensive lineman
Derek Wolfe
, a second-round pick, was a stud. He had two sacks. He has been outstanding in the training camp and he was just as aggressive against the Bears.
Overall, Denver's defense looked good. It was aggressive and made a lot of plays on every layer of the defense.
Second-round pick
Brock Osweiler
looked comfortable at quarterback, completing 4 of 7 passes for 38 yards.
Caleb Hanie
was OK, but I can see Osweiler pushing him for the No. 2 job at some point this year.
Overall, this was a good first night for Manning and his new team.
August, 9, 2012
8/09/12
11:47
PM ET
The most important thing that happened during a
24-23 victory
by the
Philadelphia Eagles
' over the Steelers in their preseason opener was the result of an X-ray. Starting quarterback
Michael Vick
left the game in the second quarter after banging his left thumb on the helmet of teammate
Jason Kelce
while throwing a pass. Vick, who throws left-handed, was in obvious pain on the sideline and spent the rest of the second quarter icing the thumb.
The Eagles announced at halftime than an X-ray taken on the thumb was negative, and cameras caught Vick on the sideline during the fourth quarter gripping a ball with his left hand. Coach Andy Reid said after the game that Vick had a thumb "contusion," and that the issue was a nerve on the top of his thumb that made it numb for a while but that he was fine by the end of the game. So it appears the Eagles survived a scare, but the scare was a jarring reminder of Vick's importance to the Eagles' hopes and the low point of a very poor first-half performance by the team as a whole.


We make no broad conclusions based on the first preseason game (or any preseason game) -- only observations. The Eagles were playing without three of their starters on the defensive line, and starting wide receiver
Jeremy Maclin
injured his hamstring in pregame warmups. And of course, the Eagles have had a rough week following the death of the oldest son of head coach Andy Reid on Sunday morning. All of that matters as we assess what happened -- good and bad -- in this game. So here goes.
1. They need to stretch more.
Maclin strained his hamstring before warmups even started, Reid said. And defensive lineman
Cullen Jenkins
strained his during the first quarter. Reid said he didn't think Jenkins' injury was too serious. He sounded less happy about Maclin's. Starting defensive end
Jason Babin
is already out with a strained calf. Muscle pulls are an August bane for a lot of teams, but this has something of an epidemic feeling in Philly, no?
2. They need to tackle better.
I'm sure they will, but after such a poor tackling 2011, this was not the way the Eagles wanted to look in the first half of their 2012 preseason. Missed tackles by everyone from
Jaiquawn Jarrett
to
DeMeco Ryans
were a problem as the Steelers marched down the field against them in the first half. The length of the Steelers' drives was the reason Vick was even in the game in the second quarter. The offense only got to run three plays in the first.
3. They're not kidding about that defensive line depth.
I thought 2010 first-round pick
Brandon Graham
played like a star. Which of course is exactly what he is supposed to be. Finally healthy after a year and a half's worth of knee problems, Graham should be a significant addition to the pass rush. But overall, backup lineman
Derek Landri
,
Darryl Tapp
,
Phillip Hunt
et al looked very good, especially on the pass rush. And assuming Jenkins, Babin and
Trent Cole
can all get back healthy, the Eagles' plans to rotate eight defensive linemen and "throw fastballs at the offensive line" has a good chance to work. They still need to at least pay some attention to the run and toughen up in the middle, but a lot of that is the responsibility of the linebackers in this defense.
4. Damaris Johnson is a factor.
He was the starting wide receiver in place of Maclin, which was something of a surprise. But he's been practicing well and is obviously a help in the return game. He had a long punt return wiped out by a penalty.
5. Dominique Rodgers-Cromartie needs to find his checkbook.
Called for a penalty for launching himself into a receiver, Rodgers-Cromartie can expect a well-deserved fine. Stupid penalty that would have been costly had it been a real game. That play is on every instructional video the league shows players to tell them what not to do.
6. Vick vs. the blitz.
Vick didn't do much while in the game, but the one play that stands out for me was a negative one. The Steelers showed a blitz look but didn't blitz, and it confused Vick, who was surprised not to find anyone open and took a sack as he tried to leave the pocket. Reading defenses and identifying coverages and blitz schemes has long been a problem for Vick, who says he's working on it and still has a month left before the real games start.
7. Oh yeah. Nick Foles.
Everybody on Twitter was all fired up about Foles and his two long touchdown passes. Foles makes a remarkable impression. He's a giant (6-foot-6) with a great big arm. Everything about him physically shouts, "star quarterback." But it's important to remember that he's a rookie who doesn't yet know the offense and still needs to refine his footwork and other mechanics. The Eagles drafted Foles because of his physical tools -- his arm in particular. But he's no threat right now to
Mike Kafka
as the backup. Unfortunately for Kafka, whose struggles to throw the deep ball are a particularly bad deficiency on the Eagles' speed-based offense, Foles profiles as the better player down the road. But not yet. No matter how good he looked Thursday night, Foles is still the No. 3.
8. The winning kick.
No, the game doesn't count. But
Alex Henery
's 51-yard field goal with 12 seconds left that set the final score is a nice confidence booster for the Eagles' second-year kicker. Also take note that it was second-year punter
Chas Henry
that held on that kick. Henry also unleashed a 54-yard punt earlier in the game and is trying to hold off a serious challenge from former Cowboys punter
Mat McBriar
.
Okay, that's more than enough off the first preseason game. In conclusion: No, they didn't look good, but it probably doesn't matter, and the most important thing is that Vick appears to have dodged a serious injury. On to preseason Week 2 for the Eagles, whose priority right now is to get everyone healthy.
August, 9, 2012
8/09/12
11:36
PM ET
The Ravens' reserves finished strong to help Baltimore to a
31-17 win
at Atlanta. Here are my thoughts on a sluggish start to the preseason for the Ravens' starters:
Tight end Ed Dickson left the game with a shoulder sprain after making a 9-yard touchdown catch. He will undergo tests Friday. If Dickson's injury is serious, the Ravens have a major problem at tight end. Dennis Pitta, Dickson's backup, is out for the preseason after breaking his hand in training camp.
Backup defensive end Ryan McBean (leg) and rookie cornerback Asa Jackson (hamstring) left with injuries. Linebacker Ray Lewis was a healthy scratch, and rookie linebacker Courtney Upshaw didn't play after recently coming back from a shoulder injury.
The Ravens played a lot of soft coverage and paid the price in allowing 155 yards to Matt Ryan on two drives, both of which resulted in touchdowns and a 14-0 lead. Cary Williams gave up four receptions, and Lardarius Webb allowed a 36-yard pass to Julio Jones.
Torrey Smith is showing better hands than what he had as a rookie and he is getting out of breaks quicker. There's a strong chemistry between Joe Flacco and Smith, who had three catches for 43 yards.
The Ravens were unhappy with the sluggish start on offense, which went three-and-out on the first three drives. That's why Flacco was in there in the second quarter. After nine plays on the first three drives, Flacco put together an 11-play series that ended with a touchdown pass to Dickson. It was a perfect, strong-armed pass that was placed away from the defender in the end zone. Flacco finished 9-of-12 for 88 yards.
Baltimore's punt coverage team, which ranked 24th last season and gave up two touchdowns, is still a concern. The Ravens gave up a 45-yard return in the first quarter after Albert McClellan and Emanuel Cook missed tackles.
Bryant McKinnie, who reported late to training camp, didn't make the start. The Ravens went with Michael Oher at left tackle and rookie Kelechi Osemele at right tackle. McKinnie later replaced Oher at left tackle.
In the battle for the backup running back job, Anthony Allen didn't take advantage of Bernard Pierce's being out with a hamstring injury. Allen was limited to 9 yards on five carries, dropped a potential first-down pass and gave up a sack.
Omar Brown, an undrafted rookie out of Marshall, made a good first impression. He had an interception and recovered two fumbles.
August, 9, 2012
8/09/12
11:26
PM ET
A look at the Chargers'
21-13 home win
Thursday night:
As Philip Rivers' said in a sideline interview with ESPN, the Chargers' offense was good and bad. The good was a 23-yard dart Rivers hit tight end
Antonio Gates
with for a touchdown. Gates is healthy for the first time since 2007 and he has been outstanding in training camp. That was a good sign.


However, Rivers made a mistake later when Green Bay cornerback
Tramon Williams
jumped in front of a pass intended for new San Diego receiver
Robert Meachem
deep in Green Bay territory. It was probably just a matter of timing for Rivers and Meachem. However, Rivers threw 20 interceptions last season and he must improve in that area.
The San Diego first-team defense looked strong, which is a great sign. It did allow Green Bay to covert on third down on its first two attempts. San Diego was last in the NFL in third-down defense last year. But overall, San Diego's first unit looked terrific and aggressive on defense. Overall, the Chargers' first-team offense and defenses looked further along than the Packers' did.
First-round pick Melvin Ingram played extensively. He looked fabulous. If San Diego wasn't shaking with delight over the prospect of having Ingram before Thursday, it should be now. Boy, is he explosive. He forced Aaron Rodgers into throwing an interception and he was all over the place.
Undrafted free-agent quarterback Jarrett Lee looked really good for San Diego and outplayed Green Bay backup Graham Harrell much of the night. He made some big league throws. I'd be shocked if Lee doesn't make the 53-man roster as the No. 3 quarterback behind Rivers and Charlie Whitehurst, who is still recovering from a knee injury.
Reserve receiver Vincent Brown worked hard for the final 7 yards of a 27-yard touchdown pass from Lee, and Brown had a good night overall. I think he will be a key contributor in the season.
Running back Ryan Mathews hurt his shoulder and was taken out. There is no word on the status. It is not a surprise that he was taken out after the injury even if it was minor. Update: the San Diego Union-Tribune reports Mathews suffered a broken clavicle. He will be out four to six weeks. I will have more this later.
Kicker Nick Novak missed a 35-yard field goal attempt, further making Nate Kaeding the favorite to win the kicking competition. Novak replaced Kaeding last season when Kaeding tore his ACL on the opening kickoff of the season.
Receiver/returner Michael Spurlock is making a big push to make the 53-man roster. He had two catches for 52 yards.
Undrafted free-agent left tackle Mike Harris started for the injured Jared Gaither. Harris had a nice night, which is commendable for an undrafted rookie who started his first preseason game at a premium position. Harris should easily make the team.
It was a cool scene to see some San Diego players greet replacement official Shannon Eastin prior to the game. She is the first woman to officiate an NFL game.
August, 9, 2012
8/09/12
11:13
PM ET
You could see the influence of new offensive coordinator Dirk Koetter and defensive coordinator Mike Nolan right from the start of Atlanta's
31-17 preseason loss
against Baltimore.
The offense came out looking explosive, which was the buzzword at the start of last season, but ended up backfiring on the Falcons. Instead, there were jokes about how they weren't explosive at all. Maybe the jokes will end now.
Matt Ryan
completed his first five passes for 71 yards, including four to
Julio Jones
for 57 yards and a touchdown. Jones left the game after the first quarter with six catches for 109 yards.


The climate change on defense also was noticeable. The Ravens went three-and-out on their first drive and the Atlanta defense looked more aggressive than it has in recent years. Almost all of Baltimore's offensive production came long after the starters left the game.
Lots of fans said the Falcons should have done more in acquiring personnel during the offseason. Maybe they did all they needed by adding the two new coordinators.
Some other observations on the Falcons:
Don't be fooled by the final score. The Atlanta offense and defense clearly dominated while the starters were in the game.
Akeem Dent, who pretty much had been anointed as the starting middle linebacker, suffered an apparent head injury in the second quarter. Dent appeared to hit helmets with the ball carrier. He left the game and was replaced by veteran Mike Peterson. We still don't know the extent of Dent's injury, but it's a concern. Peterson is a nice veteran backup, but I don't think the Falcons want him starting if Dent is out for a long time. If Dent is going to miss significant playing time, the Falcons could be on the market for a new middle linebacker.
Speaking of injuries, rookie fullback Bradie Ewing, who is competing for the starting job, went down with an a knee injury in the first half. It's unclear how serious Ewing's injury is. Mike Cox is his competition at fullback.
The Falcons have talked a lot about how they believe second-year running back Jacquizz Rodgers can run between the tackles. As if to prove a point, they had Rodgers running up the middle often, including a short touchdown run.
If you still don't think Ryan has a strong arm, go back and look at the pass he threw to Jones with 1:49 left in the first quarter. Ryan hit the receiver in stride on a deep out pattern.
Cornerback Dominique Franks could be on the bubble if he was viewed only as a cornerback. But Franks is getting the first crack at the job as the punt returner and he's making the most of his opportunity. Franks had a 45-yard punt return in the first quarter and that could go a long way in keeping him on the roster.
Linebacker Robert James has been with the Falcons in the past, but never has been a factor. He showed some pass-rush skills against Baltimore and that could make him valuable in Nolan's defense. At 224 pounds, James is undersized, but he has some quickness, which could be very useful as a situational player in the pass rush.
August, 9, 2012
8/09/12
11:05
PM ET
The Steelers opened the preseason with a
24-23 loss
at Philadelphia, where the Eagles kicked a 51-yard winning field goal with 12 seconds remaining. Here are my thoughts and observations on a game the Steelers led 13-0 at halftime:
The Steelers had three players (two starters) knocked out of the game: fullback/tight end David Johnson (knee); left tackle Mike Adams (knee); and backup running back Jonathan Dwyer (shoulder). Pittsburgh is using the fullback more under new offensive coordinator Todd Haley, but Johnson's injury appeared to be the most serious of the night.
Pittsburgh showed its depth at running back with starter Rashard Mendenhall on the physically unable to perform list. Isaac Redman ran hard in between the tackles, rookie Chris Rainey showed his elusiveness in converting a third-and-13 on a draw and Dwyer broke a 33-yard gain. Rainey later scored a 57-yard touchdown off a quick screen pass. The Steelers produced 68 rushing yards on the first two drives, which led to two marathon drives (16 and 10 plays).
The offensive line showed some major growing pains, specifically in pass protection. Adams gave up two sacks (which led to two fumbles) as well as another pressure in two drives. The second sack on Ben Roethlisberger was the result of a miscommunication between center Maurkice Pouncey and left guard Ramon Foster. Right tackle Marcus Gilbert allowed a pressure on the first drive when he failed to connect on a cut block.
The Steelers defense had no trouble with Eagles quarterback Michael Vick, who left with a hand injury. Pittsburgh forced Vick into two three-and-outs. Nose tackle Steve McLendon, who was starting for the injured Casey Hampton, was able to get off blocks, recording a sack and a tackle for a loss.
As far as the quarterbacks, Roethlisberger was efficient in his one series, completing 7 of 8 passes for 49 yards. His only incompletion was overthrowing Emmanuel Sanders deep down the sideline. Backup Byron Leftwich showed his experience in the Steelers' only touchdown drive of the first half. Checking off a play, he hit an uncovered Sanders for a 2-yard touchdown pass. It was a broken coverage by Nnamdi Asomugha, who had a rough night. He also got beat by Antonio Brown on a quick 14-yard slant.
Pittsburgh's coverage teams need some work. The Steelers, who ranked 16th in kickoff coverage, gave up 46 yards on their first return of the night. They also allowed a long punt return, which was negated by a block in the back.
The Steelers, who struggled in getting turnovers last season, got a gift from the Eagles. Backup defensive lineman Al Woods stepped in front of screen pass by Mike Kafka for an interception and ran it back 52 yards to the 5-yard line. That led to a field goal.
Shaun Suisham got off to a strong start. He hit a 46-yard field goal after going 6-for-11 from beyond 40 yards last season. He also kicked a 39-yarder.
August, 9, 2012
8/09/12
10:59
PM ET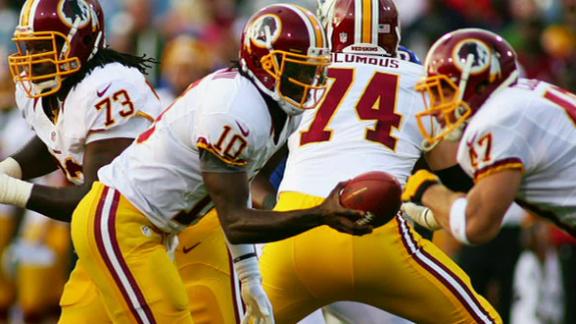 Well, if you tuned in to the
Washington Redskins
' preseason opener because you wanted to get excited about
Robert Griffin III
, congratulations. You had a fun night. Playing the first three offensive series of the Redskins'
7-6 exhibition victory
over the
Buffalo Bills
, Griffin looked poised, sharp and confident running the Redskins' offense. They didn't try anything too new or exciting, which was no surprise given how important it is for them to protect him and the fact that three of their starting offensive linemen were hurt and missed the game. But Griffin's throws were on target, his decision-making was smooth and nothing about the stage or the moment seemed to overwhelm him.
"It felt extremely good," Griffin said in an in-game interview with the Redskins' radio network. "Coach did a good job calling plays, got me in rhythm and helped get the offense in rhythm on that third drive."


That drive featured three big throws to new Redskins receiver
Pierre Garcon
, including the screen pass that resulted in a 20-yard touchdown. He said in that same radio interview that he was hoping to keep the ball and try to run it in, but that he spotted a linebacker coming up to the line and remembered that the most important thing for him to do in this game was play safe.
The young man is going to be fun, and while it's important not to make conclusions or predictions based on preseason performance, Redskins fans who were looking forward to seeing their guy in game action certainly enjoyed watching him Thursday night.
Here's some other stuff I noticed in the Redskins' preseason opener:
1. Trent Williams made the most impressive play of the game.
The Redskins' mercurial left tackle got downfield quickly and blocked two defenders at once on the Garcon touchdown catch. Williams is fast, athletic and as talented as any left tackle in the league, and the sense in Redskins camp is that he's more focused and motivated than he's been in his first two seasons. He looked tremendous on that play and is capable of dominating at the point of attack and at the second level. Williams injured his foot on the extra point, but Mike Shanahan said after the game that X-rays were negative. It would be bad for Washington if Williams were seriously injured. He is by far the best thing the Redskins' offensive line has going for it.
2. Garcon is a very big receiver who plays big.
He went over the middle to catch the ball, didn't shy away from contact and looked more than willing to use his frame to help him add yards after the catch. I believe he will be Griffin's go-to receiver and, assuming health all the way around, is almost a sure thing to lead the team in catches this year.
3. Evan Royster can't afford to fumble.
I think Royster had moved ahead of
Roy Helu
in the race to be the starting running back in
Tim Hightower
's absence. But he couldn't hold on to the ball as Griffin handed it to him, and that's the kind of thing the Redskins can't and won't abide. I still don't see what all the fuss is about with Helu, who's fine in space but doesn't break tackles. But whatever separation there may be between the two in the coaches' eyes will be easily negated if Royster can't hold on to the ball.
4. Ryan Kerrigan is a very good player
. We know he can get after the passer, but in this game I thought he showed improvements in pass coverage and other key areas. He stayed home and batted down a
Ryan Fitzpatrick
pass at one point, and he was his usual disruptive self when he did get into the backfield.
5. The Redskins' coverages are a team effort.
There are major questions at cornerback and safety, and they showed up, especially when Buffalo's
Stevie Johnson
was in the game. But you can see that the Redskins believe it's important their cornerbacks not be isolated. They're always getting help from a linebacker underneath or a safety over the top. Washington's hope is to make up for the lack of quality in the secondary with quantity and teamwork.
6. They have lots of defensive line depth.
The performances of guys like
Jarvis Jenkins
,
Chris Baker
and
Chris Neild
-- especially at the goal line -- showed why the Redskins consider the defensive line a strength of their team. They should be stout against the run and able to create pressure with their defensive front, which also should take some pressure off the secondary.
It wasn't all roses.
Niles Paul
dropped a couple of passes.
Rex Grossman
looked shaky as the backup quarterback. And I don't think I even saw
Santana Moss
once. But all in all, lots of positives from the Redskins' first preseason game. And for a team looking to improve and feel good about itself, that can matter.
August, 9, 2012
8/09/12
10:50
PM ET
The reigning AFC champion
New England Patriots
began their 2012 preseason with a
7-6 win
over the
New Orleans Saints
.
Here are some notes and observations:


What I liked:
It was an impressive night for New England's running game. Second-year tailbacks
Stevan Ridley
and
Shane Vereen
both were stellar in the Patriots' preseason debut. Ridley got off to a good start, rushing for 40 yards on eight carries with the first team. Vereen showed his big-play ability by leading New England with 64 yards on 11 carries against the backups. Both tailbacks are pushing for the starting job. There are a lot of questions about New England's youth at running back, but the preseason opener erased some of those concerns.
What I didn't like:
I did not like what I saw from New England's starting offensive line. For now, the Patriots must rely on new faces with the status of right tackle
Sebastian Vollmer
(back) and guards
Logan Mankins
(knee) and
Brian Waters
(personal) up in the air. But the replacements looked out of sync with penalties and missed assignments. Patriots quarterback
Tom Brady
was crunched in the first quarter on a sack and fumbled. He finished 4-of-7 for 30 yards and a fumble.
Rough day for Solder:
Continuing on the trend of the offensive line, it was a tough start for second-year left tackle
Nate Solder
. He had two holding calls in the first quarter. Solder is an important member of the offensive line -- his job is to protect Brady's blindside, and he has to play better.
Rookies shine:
The Patriots' two first-round picks have looked impressive in training camp, and it was a good sign to see that carry over to the preseason opener. Patriots rookie defensive end
Chandler Jones
and linebacker
Dont'a Hightower
played well in their NFL debut. Both were active and combined for four tackles. Jones and Hightower are trying to carve out their roles in the defense.
Safeties first:
New England's starting safeties both recorded turnovers.
Patrick Chung
and
Steve Gregory
both had interceptions. This is a good sign for New England's 31st-ranked pass defense from a year ago. Gregory was a free-agent addition and seems to be meshing well with Chung.
August, 9, 2012
8/09/12
10:43
PM ET
Do not be discouraged that the
New Orleans Saints
scored only three points in the first half of Thursday night's
7-6 preseason loss
at New England.
You know the points will come in bunches when
Drew Brees
is getting more than a few snaps in the regular season.


What you should be encouraged about is that the New Orleans defense didn't allow a point in the first half. That came with
Tom Brady
, who has been known to put up huge numbers, playing almost the entire first quarter. That's a huge accomplishment for a New Orleans defense that still is adjusting to coordinator Steve Spagnuolo's scheme.
New Orleans' first and second defenses regularly stopped New England's first and second offenses. The Patriots didn't score until the third quarter, when both teams were playing third-stringers. That's huge improvement over what we've seen out of the New Orleans defense in recent years.
Let's take a look at some other observations on the Saints:
Spagnuolo's defense relies heavily on getting a strong pass rush from the front four. There were signs that was working. Defensive end Will Smith put a nice hit on Brady and the ball popped loose. Linebacker Curtis Lofton recovered the fumble.
Brees attempted only four passes and completed one for 4 yards. Like I said, don't read anything into a very short and quiet night for Brees. You know he'll show up for the regular season.
Rookie defensive tackle Akiem Hicks had a flash play in the second quarter. He swatted down a pass by Ryan Mallett, which is even more impressive when you remember Mallett is 6-foot-6.
Martez Wilson has done a nice job making the switch from linebacker to defensive end. But Wilson needs to clean things up on special teams. He was flagged for roughing the kicker and gave the Patriots a first down after lining up offside as New England was about to punt.
Cornerback Marquis Johnson has had a nice camp and his momentum is carrying over into the preseason. Jackson, thanks to some more pressure from up front, came up with a second-quarter interception.
We all know Garrett Hartley and John Kasay are competing for New Orleans' kicking job. The Saints let Kasay attempt a long field goal in the first half and he showed he has some leg left by connecting on a 46-yard attempt. Kasay missed a 41-yard attempt in the fourth quarter that could have given the Saints the lead. This might end up being the toughest call of all when the Saints have to trim their roster to 53. They might be wise to shop one of their kickers for trade. Kasay and Hartley both are better than a lot of guys who currently are projected as No. 1 kickers elsewhere.
August, 9, 2012
8/09/12
10:27
PM ET
The new-look
Buffalo Bills
began their 2012 season with a
7-6 loss
to the
Washington Redskins
at Ralph Wilson Stadium.
Here are some notes and observations:


What I liked:
Buffalo's new-look defense got off to a great start, which is exactly what the Bills want. Buffalo forced a three-and-out against Redskins rookie quarterback
Robert Griffin III
, then recovered a fumble on the first two series. Bills safety
George Wilson
's fumble recovery set up Buffalo's first points of the exhibition season, which was a field goal by
Rian Lindell
. Griffin eventually had some success throwing on Washington's third drive. But the Bills played well defensively throughout the game.
What I didn't like:
The Bills' starting offense didn't do much. Buffalo's first team scored just three points in four drives, which was a gift from the defense after a turnover. The Bills also had a
Steve Johnson
touchdown catch negated with a penalty. Rookie left tackle
Cordy Glenn
also had a false start. Bills starting quarterback
Ryan Fitzpatrick
threw early and often. He was 6-of-14 for 61 yards. The Bills didn't run the ball entire first quarter, but we will get to that next.
Change of pace:
The reason Buffalo didn't run the ball in the first quarter was due to an interesting wrinkle. The Bills used a no-huddle offense with the starters. It's a nice change of pace and it will be interesting to see if the Bills will stick with this in the regular season. The no-huddle can be risky if it doesn't work. But it shows two things: First, the coaches have confidence in Fitzpatrick. Second, the Bills feel their defense is improved. Still, the Bills need more balance than what the starters showed Thursday night if this no-huddle offense will be successful.
Return of Kyle:
This is the first game back for Bills defensive tackle
Kyle Williams
, and he played well in limited snaps. Williams missed much of 2011 with a foot and Achilles injury. But he showed some of his old form by recording a tackle and was disruptive in the first two drives.
Young debuts in Buffalo:
Backup quarterback
Vince Young
had to wait a while. But he finally made his Buffalo debut in the third quarter after Fitzpatrick and
Tyler Thigpen
both had their time on the field. Young still needs work passing. He was 5-for-12 with 50 yards, but Young did rush for 37 yards. Young is in competition with Thigpen for the No. 2 job. Thigpen was 3-for-8 with 38 yards and an interception.