NFL Nation:

2009 NFL draft
March, 18, 2013
3/18/13
10:15
AM ET
PHOENIX -- Had the 2009 NFL draft gone as planned for the
St. Louis Rams
, the team would be thinking about a contract extension for tackle
Jason Smith
.
The 2009 draft did not go as planned for the Rams -- or for a long list of teams.
Smith struggled before St. Louis traded him to the
New York Jets
last year for journeyman
Wayne Hunter
. The Rams recovered Sunday. They reached agreement on a four-year contract with tackle
Jake Long
, the first player chosen in the 2008 draft.
Think of it as the Rams upgrading from Smith to Long at left tackle.
Smith played right tackle during his Rams career, but that was because the team realized he wasn't the answer on the left side, contrary to expectations on draft day. Smith was supposed to be the Rams' franchise left tackle. Long fills that role now.
The Rams are betting on Long to regain good health following two injury-shortened seasons. Their general manager, Les Snead, has said the team had no concerns about Long's health following biceps and triceps injuries.
The Rams' future at left tackle appears brighter than at any time since the
Orlando Pace
era.
February, 27, 2012
2/27/12
10:30
AM ET
INDIANAPOLIS -- The
St. Louis Rams
have not given up on 2009 first-round draft choice
Jason Smith
.

Their new coach, Jeff Fisher, and new general manager, Les Snead, said during the NFL scouting combine that they hoped to bring back Smith following three disappointing seasons.
The strategy makes sense if Smith agrees to reduce his scheduled $10 million salary. The team might as well find out whether new line coach Paul Boudreau can help salvage some return on a massive investment. Better luck with injuries might help Smith more than anything. The concussion he suffered against Dallas came on a freak play when Smith was making a tackle following a turnover.
For the Rams, there's no sense in making tackle a bigger need by dumping Smith prematurely. Publicly declaring interest in Smith sets a positive tone for expected negotiations on a new deal.
Smith has started 26 of 48 games for the Rams, the third-lowest total for three seasons among players drafted second overall from 1990-2009.
The chart ranks three-year start totals for players drafted second overall since 1998, beginning with Ryan Leaf. The final column shows total starts each player has made for his original team.
April, 13, 2011
4/13/11
2:00
PM ET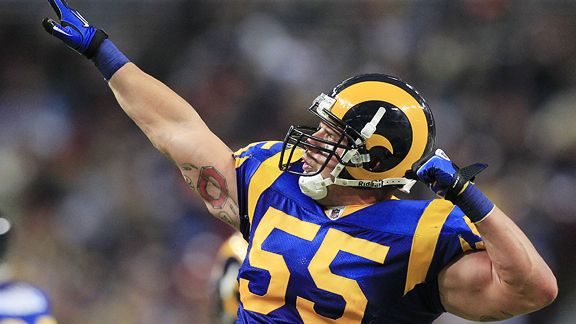 AP Photo/Jeff RobersonThe Rams' James Laurinaitis "is a star in the making," according to Matt Williamson of Scouts Inc.
Selecting Ohio State middle linebacker
James Laurinaitis
in the second round of the 2009 NFL draft raised questions, initially, as to why the
St. Louis Rams
passed on a potentially more talented middle linebacker in
Rey Maualuga
.
Two years later, Laurinaitis has put to rest that question while raising another: Might the third-year Rams linebacker outperform the
Seattle Seahawks
'
Aaron Curry
, the undisputed top-ranked linebacker in the 2009 draft? Initial reviews suggest he might.
Fifty-three percent of the first
3,629 poll respondents
singled out Laurinaitis as the highly drafted young NFC West linebacker with the brightest NFL future. Curry was second with 38 percent, followed by 2010
Arizona Cardinals
second-round choice
Daryl Washington
with 8 percent. The
San Francisco 49ers
'
Patrick Willis
, already established as arguably
the NFL's best linebacker
, wasn't part of the survey.
"I think Laurinaitis is a star in the making," Matt Williamson of Scouts Inc. said. "He is clearly the second-best linebacker in the division. He is going to be headed to Pro Bowls as soon as this upcoming year."
That will be easier said than done given Willis' perennial Pro Bowl status and the limited number of slots available for inside linebackers. But the broader point stands. The Rams found their quarterback on defense before anyone knew they would select an actual quarterback,
Sam Bradford
, first overall in 2010.
"Laurinaitis brings an attitude to the team," Williamson said. "He is really smart, he is an extension of coach Steve Spagnuolo on the field. He isn't really a banger -- he doesn't take on blocks as well -- but
Fred Robbins
does a great job keeping him clean and they will likely add another defensive tackle. Laurinaitis is a foundation for that football team."
Rams general manager Billy Devaney used the words smart, passionate and productive in describing Laurinaitis on draft day two years ago. At the time, Devaney said the team considered sacrificing one or more of those qualities in the quest for greater talent. Laurinaitis has proved to be sufficiently talented even if he'll never become a dominant sideline-to-sideline force along the lines of Willis or
Ray Lewis
.
Curry certainly has more raw physical talent, but Laurinaitis' superior feel for the game has become obvious to this point in their careers. That was expected, to a degree, because teams ask 4-3 middle linebackers to call out defensive adjustments based on what they see from offenses. Curry, as a strong-side linebacker, was never going to play that role, particularly on a defense already featuring
Lofa Tatupu
.
The Seahawks have toyed with ways to feature Curry in their defense. Curry has fared OK as a pass-rusher at times, but not well enough to supplant
Chris Clemons
or
Raheem Brock
as a primary outside rusher. Curry's physical strength has shown up against tight ends at the line of scrimmage, but only to those looking for it.
Seahawks coach Pete Carroll, who inherited Curry from the team's previous leadership, said unrealistic expectations are making it tougher for fans to appreciate Curry.
[+] Enlarge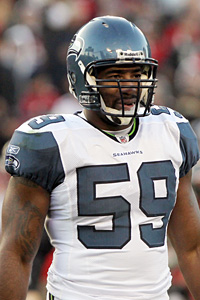 Kim Klement/US PresswireSeattle linebacker Aaron Curry is an improving player who has been subjected to unrealistic expectations as a former No. 4 overall draft pick, according to Seahawks coach Pete Carroll.
"He is a really talented, big, good-looking athlete and everybody on the outside expects him to be something different than what he is right now," Carroll said from the NFL owners meeting last month. "He hasn't dominated yet, but he is a player on the come and he is improving and working hard and figuring it out. He is a factor. He is a real positive factor for us. But it's all expectations. That screws everyone up."
High expectations are warranted when a team drafts a player fourth overall, even though Carroll wasn't part of that evaluation. It's not like the Seahawks were wrong when they saw a prospect with obvious physical attributes.
Williamson gave Curry a slight edge over even Willis in overall physical tools. So far, however, too much has been lost in translation.
A change in coaching staffs could explain some of the difficulties. Injuries to Tatupu,
Red Bryant
and others in the Seahawks' front seven have not helped. At a certain point, however, the fourth pick in the draft should transcend these sorts of factors.
"If we are having this conversation next year, then I think he doesn't live up to it," Williamson said. "He is the type of guy you should be accounting for every play. My sister should be in the stands going, 'Who is that guy? He is different from everybody else.' "
Laurinaitis has served as an every-down linebacker while starting each of his first 32 games. He has five sacks and three interceptions. Rams coaches credited Laurinaitis with seven passes defensed last season. Only cornerbacks
Ron Bartell
and
Bradley Fletcher
had more for the Rams, according to coaches' evaluations.
Curry has 28 starts, 5.5 sacks and no interceptions while coming off the field regularly, sometimes for stretches.
"If you take a look at how he plays and what he does and how he produces, he's getting a lot done," Carroll said of Curry, "but it doesn't meet up to the expectations. You can almost misevaluate him because he is supposed to be whatever he is supposed to be. To me, he is a guy on the team who busts his ass and is working hard and we're trying to fit into situations and a role for him that is best."
The Cardinals' Washington hasn't played long enough to evaluate in the same manner, but he did make a positive impression while starting 11 games as a rookie. Washington finished the season with one sack, one interception and six tackles for loss. He was the first Cardinals rookie since
Antrel Rolle
in 2005 to start a season opener.
"I didn't think he was a wonderful fit in the 3-4," Williamson said. "He was more the
Derrick Brooks
run-and-hit type, but he acclimated himself well. They have a good defensive line. If they can keep him clean, he can be a playmaker. He has a lot of potential, a lot of range."
While Curry is still finding his way and Washington is only getting started, Laurinaitis is exactly what the Rams thought they were getting -- a sure bet.
"I think he is going to be one of the better linebackers in the NFL for the next 10 years," Williamson said.
December, 4, 2008
12/04/08
2:29
PM ET
Posted by ESPN.com's Mike Sando
We've made it to December, the time of year when NFC West teams start thinking about playoff positioning. I mean, draft positioning. And, let's face it: Most of us following teams in this division have been thinking about draft positioning for some time.
The division has a chance to field three teams among the top seven or eight overall choices. No division has placed three teams among the top 10 overall choices without a trade since the NFL aligned into eight divisions in 2002, according to David Bearman of ESPN Stats & Information.
The AFC East made three picks among the top 10 last season. The Patriots acquired the seventh overall choice from San Francisco before trading back to 10th overall. The Dolphins picked first and the Jets chose sixth.
The NFC North made three picks among the top 10 in 2005. The Vikings acquired the seventh overall choice from Oakland. The Bucs picked fifth. The Lions picked 10th.
A quick look at the standings, 1 through 32, shows the Seahawks and Rams between the third and fifth choices. The 49ers are seventh.
Question: As a fan, would you rather have a top-five pick or win a few games to improve the record and possibly build something positive for next season?

NFL SCOREBOARD
Sunday, 2/2
WEEKLY LEADERS