NFL Nation:

2010 AFC Championship Game
January, 24, 2011
1/24/11
11:17
AM ET
PITTSBURGH -- When he needed a moment to compose himself,
Jason Taylor
reached down and adjusted the twin microphones on the lectern although they didn't need to be moved at all.
[+] Enlarge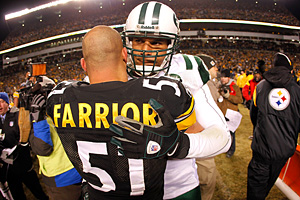 Gregory Shamus/Getty ImagesThe Jets' Jason Taylor, who has 132.5 career sacks, will turn 37 before the next season begins.
Taylor's eyes were glassy. If he hadn't been crying before he took his turn at the
New York Jets
' postgame news conference, then he was on the verge. Taylor came close to tears a few more times when answering questions about his future an hour after falling five points short of his first Super Bowl.
"So close," Taylor said, his voice barely above a whisper. "So close you could see it."
The Jets' enthralling season ended Sunday night in Taylor's hometown. The
Pittsburgh Steelers
jumped out to a 24-0 first-half lead and then held on for a
24-19
victory at Heinz Field.
Taylor always will be remembered as a Miami Dolphin, spending 12 of his 14 seasons with the aqua and orange. But the Jets presented his best opportunity to be a champion.
Taylor's career is in the gloaming. He knows he might have played his last down, whether it's up to him or not.
"There's so many emotions going through me right now," Taylor said. "Getting to this point and then losing ..."
Taylor paused and looked downward. His left hand jiggled the microphones.
"We'll cross that bridge."
Plane rides home after a season-ending loss provide some of the most poignant times for teammates. They're like wakes at 30,000 feet. You're not supposed to look forward to them.
But Taylor, expressing a need to soak in every last moment of what could be his final breaths as an NFL player, lamented that flying from Pittsburgh to New Jersey takes only an hour.
"I don't know what's going to happen, but I know one thing," Taylor said. "This team as you see it tonight will never be together again regardless of whether Jason Taylor is back or anybody else is back. It will not be the same football team. That's sad in its own right."
Taylor will turn 37 before the next season begins. He said his return would be up to Jets head coach Rex Ryan and general manager Mike Tannenbaum. Taylor signed a two-year contract with the Jets last April, but a clause tied to his sack output voided the second year.
With a slew of tough roster decisions to make, Taylor's not a priority. The Jets have several important free agents to address, including receivers
Santonio Holmes
,
Braylon Edwards
and
Brad Smith
, defensive end
Shaun Ellis
, linebacker
David Harris
and cornerback
Antonio Cromartie
.
Taylor's five sacks were a modest output, but only one behind team leader
Bryan Thomas
. Taylor will lead all active players with 132.5 career sacks if he were to play a 15th season.
"I pride myself on being a play-maker and a game-changer," Taylor said. "While I might not be the same as I was a few years ago, I still need to do more."
His career will be debated for the Pro Football Hall of Fame. He was selected for six Pro Bowls. He was a first-team All-Pro three times. But postseason success eluded him until this year.
He hadn't been to the playoffs since the 2001 season and hadn't won a game since 2000. He'd never before won playoff games and never advanced to the conference championship round.
"I've had some really, really good teammates throughout my career, played on some good teams and fun teams," Taylor said. "But I can't think of another experience I've had that was as fun as this.
"I've seen a lot in this league and, obviously, saw this game for the first time."
Taylor must now sort out the emotions of reaching the precipice of his career dream and the reality that the odds of returning to the final four are against any player -- even
Tom Brady
.
There's a healthy chance Taylor won't play again. And even if he does, there's an even greater chance he won't match this season's success.
ESPN.com senior writer Tom Friend shared the story of Taylor and his ailing agent, Gary Wichard, and how
Taylor had devoted his 2010 season to Wichard
.
"It wasn't meant to be, you know?" Taylor said. "Sometimes God has a different direction for you. You don't always understand it, but it is what it is."
January, 24, 2011
1/24/11
1:27
AM ET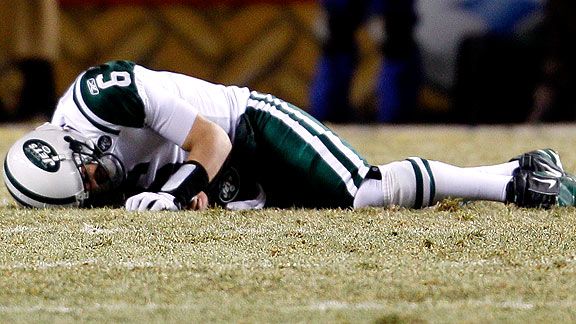 AP Photo/Matt SlocumJets quarterback Mark Sanchez played well but New York was doomed by a slow start.
PITTSBURGH -- A week earlier, the
New York Jets
carried on as though they'd won the Super Bowl.
They went into Gillette Stadium and did the unfathomable. They made
Tom Brady
look average and destroyed the mighty
New England Patriots
a month after losing to them 45-3 on the same grounds.
The Jets jumped into the stands to cavort with their fans, the Patriots' faithful having filed through the exits long before. The Jets ran around with their arms outstretched like airplanes.
Braylon Edwards
did a roundhouse backflip. Patriots receiver
Deion Branch
called them "classless."
You half expected to hear somebody in green and white exclaim "I'm going to Disney World!" to signal the end of the season. Of course, the Super Bowl used to be followed with a carefree exhibition where players revel in their success and go through the motions.
Fittingly, the Jets followed up their personal Super Bowl with a performance worthy of the Pro Bowl -- not in terms of star power, but with a lack of purpose.
For the first 30 minutes of Sunday night's
AFC Championship Game
against the
Pittsburgh Steelers
at Heinz Field, the Jets played like they were still hung over from their victory in Foxborough, Mass.
The Jets were flatter than old champagne through the first half and watched passively as the Steelers scored the first 24 points. The Jets finally snapped to attention at the intermission and dominated the Steelers for much of the second half.
But the Jets couldn't overcome their horrible two quarters and lost 24-19. For the second season under Rex Ryan, they were eliminated one step short of the Super Bowl.
But the Jets sure didn't play like they'd been there before -- not in the first half anyway.
"No determination, no focus in every single phase," Jets safety
James Ihedigbo
muttered.
"It just wasn't us. It wasn't New York Jet football."
Perhaps it's one of those unexplained sports phenomena. The Jets certainly knew the importance of Sunday's game. One more victory and they were headed to the Super Bowl.
But they didn't answer the call. Instead, there was a dial tone.
"We knew what was on the line," Jets linebacker
David Harris
said. "I don't know what to say."
To a man, the Jets were unable to explain their inability to compete in the first half.
Steelers running back
Rashard Mendenhall
left cleat marks all over the defense. Their poor tackling was unforgivable. Mendenhall had 95 yards and a touchdown before halftime. The Steelers dictated time of possession, keeping the ball for 21 minutes, 4 seconds.
Last week, Jets linebacker
Bart Scott
ridiculed the Patriots' defense for not being able to stop a nosebleed. Against the Steelers, the Jets couldn't patch a paper cut with a roll of duct tape.
The Jets' offense, meanwhile, gained 1 rushing yard by halftime.
LaDainian Tomlinson
had two carries for 1 yard.
Shonn Greene
had two carries for 4 yards.
"We didn't step on the field, playing the way we want to play," Harris said. "They jumped on us, had us on our heels."
The Jets played like they were emotionally spent, which is how they prepared for the game, too.
Unlike the first two rounds of the playoffs, the Jets displayed almost none of their distinctive spunk. They went from targeting
Peyton Manning
and Brady and
Wes Welker
to a deferential tone for the Steelers. Jets defensive lineman
Trevor Pryce
said it was an "honor and a privilege to play against"
Ben Roethlisberger
.
There was no edge throughout the week at the Jets' training facility in Florham Park, N.J.
The Jets insisted they'd be ready.
They clearly were not.
Fevered emotions are nearly impossible to maintain week after week, especially against a succession of nasty opponents on the road. That's a reason why it's such a feat when a wild-card team reaches the Super Bowl.
"It's three games to get to the Super Bowl," Scott countered. "It was just one more game."
[+] Enlarge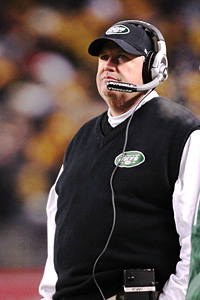 Matthew Emmons/US PresswireRex Ryan and the Jets fell one game short of the Super Bowl for the second straight season.
Scott delivered one of the great postgame interviews after eliminating the Patriots. He was a combination of thrilled and angry. In
reference to the Steelers, he barked "Can't wait!"
But the Jets sure seemed to wait 30 minutes before they got their heads into the game.
Intensity is difficult to tap again and again until the vein collapses. Sometimes it gets demanding to find more villains to despise. You
can't ask Dennis Byrd to deliver the same pregame speech
and have it make an impact.
The Jets did pull themselves together at halftime and cobbled together an admirable effort through the third and fourth quarters.
Mark Sanchez
played another solid road playoff game and outperformed Roethlisberger as a passer. Sanchez completed 20 of his 33 throws for 233 yards and two touchdowns for a 102.2 passer rating. Roethlisberger was 10-of-19 for 133 yards, no touchdowns, two interceptions and a 35.5 rating.
Sanchez, a revitalized ground game and a suddenly conscious defense gave the Jets a chance. They got within a touchdown with 3:06 to play, when Sanchez connected with
Jerricho Cotchery
.
But the Jets frittered away a better opportunity nearly five minutes earlier. The Jets had first and goal on the 2-yard line but couldn't score. A 17-play drive ended on the 1-yard line after two incomplete passes and a pair of stuffed runs. The passes were curious plays called by offensive coordinator Brian Schottenheimer, especially with Green trucking defenders.
A touchdown there and the Jets would have had more wiggle room.
"We had opportunities to make a comeback in the second half," Jets tight end
Dustin Keller
said. "Obviously, everybody's going to look at the first half and say 'If it wasn't for this and that,' but we still had an opportunity to win this game in the second half."
The Jets deserve credit for gathering themselves and not getting totally blown out. They did outscore the Steelers 16-0 in the second half.
But those first 30, flat minutes doomed them.
"It would be nice to take that first half back and come out better than we did and what we showed," Jets safety
Brodney Pool
said. "It just shows you can't come out flat at the beginning of a game like we did an expect to win."
January, 23, 2011
1/23/11
9:59
PM ET
PITTSBURGH -- The
New York Jets
' season concluded Sunday night at Heinz Field with a
24-19 loss
to the
Pittsburgh Steelers
in the AFC Championship Game.


What it means:
For the second straight season, the Jets reached the precipice and failed to advance to the Super Bowl. The Steelers amassed a 24-0 lead, and the Jets chipped away, but couldn't make up their deficit. The Steelers are going for the third time in six years.
Hero:
Steelers running back
Rashard Mendenhall
was a brahma bull. He ran 27 times for 121 yards and a touchdown. He rushed for more yards against New York than any other back since Rex Ryan took over the Jets in 2009.
Chicago Bears
running back
Matt Forte
rushed for 113 yards on Dec. 13.
Goats:
The Jets' run offense and run defense didn't show up until it was too late. They were flat and flat-footed. The Jets had 1 yard rushing on five carries in the first half, while their defense missed countless tackles.
Admirable effort:
Nobody can hang the loss on
Mark Sanchez
. He did just about all he could without a run game to help them avoid third-and-long situations. Sanchez played better than
Ben Roethlisberger
. Sanchez completed 20 of his 33 passes for 233 yards and two touchdowns with no interceptions. Roethlisberger was 10-of-19 for 133 yards and no touchdowns with two interceptions.
Pivotal play:
The last points the Steelers put on the board came on cornerback
Ike Taylor
's blindside strip sack of Sanchez near the end of the first half. Cornerback
William Gay
scooped it up and ran 19 yards into the end zone. The play proved to be the difference.
Bridesmaid revisited:
Jets running back
LaDainian Tomlinson
(10 seasons), fullback
Tony Richardson
(16 seasons) and pass-rusher
Jason Taylor
(14 seasons) each failed once again to reach his first Super Bowl.
Injury of note:
Even more impressive about Mendenhall's evening was that all but the first series was without Pro Bowl center
Maurkice Pouncey
, who went down with a left ankle injury and didn't return.
What's next:
The Jets have an interesting offseason ahead. They have several free agents to address, including receivers
Santonio Holmes
,
Braylon Edwards
and
Brad Smith
, defensive end
Shaun Ellis
, linebacker
David Harris
and cornerback
Antonio Cromartie
.
January, 23, 2011
1/23/11
8:34
PM ET
PITTSBURGH -- Halftime thoughts from Heinz Field, where the
New York Jets
are getting whipped by the
Pittsburgh Steelers
24-3
in the AFC Championship Game:
The story so far has been the run games. The Steelers have been dominant. Rashard Mendenhall is stomping all over the Jets' defense. He has 17 carries for 95 yards and a touchdown already. Poor tackling has doomed the Jets.
The Jets, meanwhile, have rushed for 1 yard as a team. They had minus-2 yards with 6:51 left in the half.
From ESPN Stats & Information: The only team to win the AFC or NFC Championship after trailing by 14 or more points at halftime was the 2006 Indianapolis Colts. They trailed the New England Patriots 21-6 at the intermission.
The Steelers scored their final points of the half on an Ike Taylor strip sack that William Gay collected and ran in for a 19-yard touchdown with about a minute left. Mark Sanchez was hurt on the play but returned to the game and looked good in the hurry-up offense. The Jets managed a field goal, but their signs of life probably came too late.
Sanchez's stat line so far: 7 of 15 for 63 yards and no touchdowns or interceptions.
Ben Roethlisberger: 7 of 14 for 96 yards and no touchdowns with one interception. He ran 2 yards for a touchdown.
The Steelers kept the opening possession for 15 plays and more than nine minutes. Their time of possession in the first quarter was 10:49. The Jets had one series. They haven't scored a touchdown in 14 straight first quarters.
The Jets repeatedly wound up in 3rd-and-long situations. They converted a 3rd-and-10 on their first series, but were done in by third downs with 14, 12, 7 and 17 yards to go.
The Jets caught their first big break with 12:32 left in the half. The Steelers had a fourth-and-1 situation at the Jets' 32 and tried to pass. Roethlisberger dumped a pass to Mendenhall, but the ball caromed to Bryan Thomas for an interception.
The Steelers lost Pro Bowl center Maurkice Pouncey to a left ankle injury at the end of the opening drive. Pouncey is the best lineman on an otherwise pedestrian offensive line, but they continued to run well without him. He was replaced by Doug Legursky.
January, 23, 2011
1/23/11
8:25
PM ET
PITTSBURGH -- The Steelers lead the Jets
24-3
at halftime.
Here are some notes at intermission:
January, 23, 2011
1/23/11
5:30
PM ET
PITTSBURGH -- Here are the inactives for Sunday night's AFC Championship Game between the
New York Jets
and
Pittsburgh Steelers
at Heinz Field:
New York Jets
Pittsburgh Steelers
January, 23, 2011
1/23/11
3:34
PM ET
With venomous rhetoric suddenly in short supply from the
New York Jets
this week, ESPN agitator Kenny Maybe gets the
Pittsburgh Steelers
and their fans worked up for Sunday night's AFC Championship Game at Heinz Field.
January, 23, 2011
1/23/11
12:53
PM ET
PITTSBURGH -- Last week it was
Baltimore Ravens
tailback
Ray Rice
who got sick in the playoffs. This week it's Steelers quarterback
Ben Roethlisberger
.
According to ESPN's Adam Schefter, Roethlisberger battled a cold this week that left him without a voice for two days. The good news for Pittsburgh is Roethlisberger is fine now and his illness isn't expected to be a factor in Sunday's AFC title game against the
New York Jets
.
Last week Rice battled an illness, which created panic among Ravens fans. Rice calmed the fears via Twitter by saying he was fine, and he played the entire game against Pittsburgh.
January, 23, 2011
1/23/11
9:36
AM ET
It took a few days, but the
New York Jets
finally revealed a source of disdain within the
Pittsburgh Steelers
.
Unlike previous games, especially their divisional playoff last week against the
New England Patriots
, the Jets were lovey-dovey all week in their comments about their AFC Championship Game opponents.
The Steelers affectionately responded in kind.
But the Jets couldn't contain themselves forever. ESPNNewYork.com contributor Ian Begley spoke with some
Jets defensive backs who delivered ominous words
for Steelers receiver
Hines Ward
.
Jets cornerback
Antonio Cromartie
offered the best remedy for dealing with Ward's reputed dirty play:
"Grab his ass by the throat and choke the s--- out of him."
Jets safety
Eric Smith
stopped short when talking about a course of action he has in mind for Ward.
"If I finish what I said and then do what I planned on doing, I'm going to get fined," Smith said, referring to this past week's warning from the league that comments can be taken into account when punishing players for nasty hits.
Smith claimed Ward took multiple cheap shots on the
Baltimore Ravens
last week.
"He's out there hitting
Dawan Landry
in the back," Smith said. "He came across and hit
Ray Lewis
in the back.
Ed Reed
was 30 yards downfield, and he's going down and hitting him.
"It's just unnecessary things like that that make you mad as a defender."
Jets safety
James Ihedigbo
added: "We're going to deal with [Ward] early so he knows what type of game it's going to be, and that none of that stuff is being tolerated."
January, 21, 2011
1/21/11
2:00
PM ET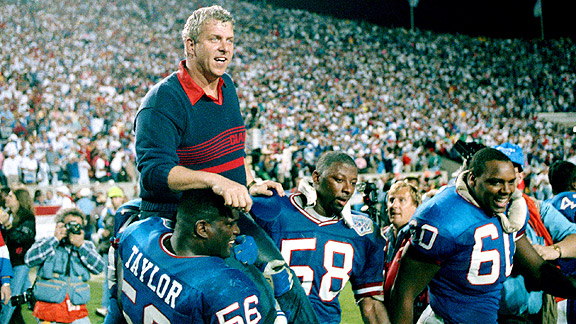 AP Photo/Ed ReinkeEx-NFL coach Bill Parcells advanced to the Super Bowl three times in his career, but never had to face three potential Hall of Fame quarterbacks to get there.
Bill Parcells certainly should be envious of where
New York Jets
head coach Rex Ryan is this weekend -- one victory away from the Super Bowl.
Parcells has been there a few times. He took three teams to the Super Bowl. He won a pair with the
New York Giants
and lost another with the
New England Patriots
. Parcells has navigated his share of treacherous postseason games.
But Parcells, now a consultant with the
Miami Dolphins
, doesn't covet Ryan's road.
If the Jets do reach the Super Bowl, then they will have beaten
Peyton Manning
in Lucas Oil Stadium,
Tom Brady
in Gillette Stadium and
Ben Roethlisberger
at Heinz Field (twice in a month).
"I can't say I've ever faced three in a row like that," Parcells told me by phone from South Florida. "The closest I ever came to anything like that was Joe Montana and then Jim Kelly in the Super Bowl."
That was the 1990 season, but the Giants had a first-round playoff bye and home-field advantage in the divisional round, where the
Chicago Bears
' quarterback was Mike Tomczak.
But before my conversation with Parcells found much traction on what it must be like to face such a homicidal lineup of quarterbacks, he put the job into perspective.
"I don't look at it like that," Parcells said. "Obviously, those are marquee, proven, winning quarterbacks. That's a difficult task.
"But I kind of look at it like they need to beat the Colts and the Patriots and the Steelers. The dynamics of each of those games is substantially different than the others aside from the fact they have those productive quarterbacks."
Parcells emphasized all opponents have liabilities to target as long as you look at them in their totality and not get too consumed with star players. It just so happens that none of the Jets' opponents are weak at quarterback.
With that, Parcells broke down some of his key points for the Jets and Steelers in the AFC Championship Game.
Tim Graham:
So you don't think we should focus too much on the quarterbacks the Jets have to face?
Bill Parcells:
There are a lot of other things that come into play from a matchup standpoint besides the efficiency of the opponent's quarterback. I do think this game is a far different game than the one they played last weekend. The style of defense that both teams play will be markedly different than the ones employed by New England and the Colts.
TG:
Can you give some examples?
BP:
Pittsburgh plays a lot of zone, and they zone blitz and they're better against the run than the other two teams. Off the top of my head, if Pittsburgh is successful in defending the run, then the third-down efficiency of the Jets will probably go down. That will be an issue for the Jets.
Now, on the other side of the coin, Pittsburgh has shown some vulnerability to a good pass rush, and Pittsburgh has some injuries at tackle. The Jets didn't blitz much versus New England. You may see a very different plan from the Jets versus Pittsburgh because besides the fact Roethlisberger will hold the ball, which makes him a little more vulnerable, Pittsburgh doesn't look like they pass protect as well as, say, a team like New England.
The other element that I think is different this week for the Jets is that Pittsburgh has a definite deep threat in
Mike Wallace
. New England, in my opinion, doesn't have a player like that right now. That deep threat, I think, will force the Jets to do something.
TG:
What are your thoughts on
Mark Sanchez
?
BP:
My hat's off to him because he's done a good job for that team. But the key to the Jets more -- not so much that he's not a key because he is; he made some great throws the other day to win that game -- is the Jets' overall running attack. If they don't run the ball well and they're one-dimensional, they will have a hard time with Pittsburgh. If they have some good balance, I think you'll see the Jets have success. But the same's true for Pittsburgh, now. No different. They've got to do something, too, in the run game because I don't know if they'll pass block the Jets well enough to beat them if they don't.
Sanchez will be a good contributor. He'll do what he's been doing, which so far has been good enough.
They've already beat them out there [in Pittsburgh], so they have a good chance. But the game is a toss-up, to me. There's a lot more on the line right now. This is a lot different than a regular-season game. The Jets have a good special teams group. That's another thing Pittsburgh has to be concerned about.
TG:
How much does the fact the Jets won at Heinz Field a month ago impact the rematch?
BP:
The good thing about this game for the Jets is they've gone to Pittsburgh and beaten them already. So they know they can do it. Pittsburgh will have their ears up because, 'Gee whiz, they came in here and beat us once. They might be able to do that again.' The psychology of the game can play into both teams' hands. That could favor both teams. They both should be crystal clear on the situation.
TG:
Troy Polamalu
didn't play in that game, though.
BP:
That's correct. But I think what will be an even more important weapon is the Steelers' tight end,
Heath Miller
. He didn't play last time either. In the grand scheme of things, that presents some issues. Polamalu is a player that you have to deal with. He's one of the 11 defenders. But offensively, you don't have any control over where he's going to be and what he's going to do. You have to react to him. Pittsburgh's tight end, the Jets can exercise a measure of control on that player if they want to attempt to.
TG:
How do you think the game will go down?
BP:
It should be interesting. It's going to be a great game. Both teams have done well, but I can't tell you what's going to happen anymore than I can tell you what's going to happen with the Bears and the Packers. If the Packers play like they played last week, they're going to win.
TG:
Well, that's anticlimactic. ... But I can't thank you enough for your analysis, Bill. Should I have ESPN send a check?
BP:
No, but remember this, Tim: Sometimes the value of my analysis is commensurate with what I'm charging you for it.
NFL SCOREBOARD
Thursday, 11/20
Sunday, 11/23
Monday, 11/24
WEEKLY LEADERS