NFL Nation:

2010 Draft Analysis NFC
April, 24, 2010
4/24/10
5:00
PM ET
By
Matt Mosley
| ESPN.com
»
NFC draft analysis
:
East
|
West
|
North
|
South
»
AFC
:
East
|
West
|
North
|
South
The
Washington Redskins
were the only team in the division to keep this draft from being all about defense. The Giants' once-vaunted defense was embarrassed in '09 and general manager
Jerry Reese
and coach Tom Coughlin spent three days trying to rectify the situation. Who will start at middle linebacker, though? It's a fair question.
It was a memorable three days in the Beast. Now, let's take a look back at what transpired. It's never too early for some knee-jerk reaction.
Best move
I think Cowboys owner Jerry Jones moving up three spots in the first round to select Oklahoma State wide receiver
Dez Bryant
may have been the best move in the division. He's a top-10 talent (No. 8 on the Boys' board) who comes with some baggage. Yes, there were teams scared of him. But I couldn't find a scout around the league who said he would've passed on Bryant at No. 24 overall. It was also a shrewd move because the Ravens were waiting for Bryant at No. 25. Patriots coach Bill Belichick blocked an AFC playoff team by making the trade with Jones.
Other teams were worried about Bryant's association with Dallas area businessman David Wells, who helped guide (his nephew)
Michael Crabtree
into a holdout last fall. I'm told by folks at Valley Ranch that Jones knows exactly how to deal with Wells and that it shouldn't be a problem. The unfair thing for Bryant was that some folks assumed he wasn't a good kid because his stock was falling. Of the eight or nine scouts I asked about Bryant during the buildup to the draft, every one of them said he was essentially a good kid. He was just extremely immature and had a problem showing up to places on time. He's hands down the best receiver in the draft and I think the potential reward far outweighs the risk -- especially where he was drafted. The
Tim Tebow
trade immediately trumped Bryant's selection in terms of excitement, but Bryant will be contributing a lot sooner than the former Florida quarterback.
Riskiest move
You'll think I'm crazy (as usual), but the Redskins choosing Oklahoma left tackle
Trent Williams
No. 4 overall is one of the riskiest moves of the draft. I agree that he has tremendous potential, but he's not a finished product at left tackle. Oklahoma State's
Russell Okung
would have been a no-brainer starter at left tackle from Day 1. Williams has more versatility and he's a better fit in the Redskins' zone-blocking scheme, but it's wrong to suggest that he's anywhere close to the "safest" pick in the top-10. If you want to know why I'm a little skeptical, go back and watch the OU-BYU game on tape.
Sam Bradford
remembers what I'm talking about.
[+] Enlarge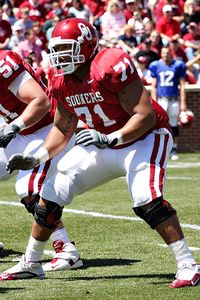 J.P. Wilson/Icon SMITrent Williams, the No. 4 overall selection, is far from a finished product.
On the positive side, Williams is an exceptional athlete and I love watching him finish off blocks. I think Mike Shanahan always has
Ryan Clady
on his mind these days. And Williams has that type of potential. But you're going to have to live with some mistakes. Don't be shocked if Williams has to begin his career at right tackle. I shudder to think what he'll look like in that first game against
DeMarcus Ware
. I flew back from Indianapolis with both of those players after the combine. Williams didn't recognize Ware on that flight. Something tells me he won't have a problem putting a face to a name Sept. 12.
Most surprising move
Maybe I haven't been fair enough to Eagles general manager Howie Roseman. On the second day of the draft, I was really impressed by the way he moved all over the board and kept acquiring extra picks. I'd heard from both Eagles and Cowboys sources that the fourth round was going to contain a ton of "value," and Roseman apparently took that to heart. By trading down twice in the 50s, he basically took over the fourth round. The Eagles had four picks in the fourth and then they found another pass-rusher in the fifth with Clemson defensive end
Ricky Sapp
. He's an undersized player who has exceptional quickness. I think he probably reminded Andy Reid of
Trent Cole
, a player who the Eagles landed in the fifth round a few years back. I guess the "surprising" aspect of all this is how comfortable Roseman looked while running his first draft. Even the stoic Andy Reid admitted that he was entertained by watching Roseman at work.
It was also bold to move from No. 24 to 13 in order to land Michigan defensive end
Brandon Graham
. ESPN's Sal Paolantonio has reported that Reid and Roseman may have wanted to preempt the Giants from taking Graham. Of course, general manager Jerry Reese will never acknowledge that he coveted Graham, but it's an interesting theory.
File it away
I could almost sense that Tom Coughlin and Jerry Reese were seething about the '09 season during this draft. Everyone wanted them to take a middle linebacker in the first round, but it didn't happen. The Giants made this draft about reclaiming the line of scrimmage. They started out with the immensely talented, but somewhat unproven, South Florida defensive end
Jason Pierre-Paul
and then selected an enormous defensive tackle from East Carolina named
Linval Joseph
in the second round. Even when you thought they might turn to offense in the sixth round, they went with a sleeper defensive end out of Williams & Mary named
Adrian Tracy
. This pick had Reese written all over it because he loves overachieving kids from small schools. Tracy's not a three-down lineman by any stretch of the imagination, but he gives the Giants more options. If the Giants are able to become an elite defense again, we'll point back to the 2010 draft as a major turning point. In terms of potential impact players, this reminds me of the '07 draft. And that's a great thing for Giants fans.
One other thing to file away
The Cowboys moved up to take Penn State linebacker
Sean Lee
in the second round. They see him as the eventual successor to
Keith Brooking
at inside linebacker. Other scouts around the league were very concerned about Lee's torn ACL that caused him to miss the '08 season. If he's healthy, the Cowboys will have a starter in the near future. And you can probably go ahead and say goodbye to the
Bobby Carpenter
era. I'll say one thing for Carpenter. I've never seen a guy respond to intense criticism with such extreme grace. Perhaps he'll find a team that will truly value his ability to cover running backs and tight ends in space.
April, 24, 2010
4/24/10
5:00
PM ET
»
NFC draft analysis
:
East
|
West
|
North
|
South
»
AFC
:
East
|
West
|
North
|
South
The 2010 NFL draft should stand as a watershed event for the NFC West.
The division entered the draft with a league-high six first-round choices, and NFC West teams used those picks to fill obvious needs with highly rated players.
That's what stood out about this draft for the division. Teams filled obvious needs with almost every pick. There was less talk about drafting the best player available regardless of position. There were exceptions, like when the Rams valued tackle
Rodger Saffold
enough to take him 33rd overall even though they could have justified going in another direction from a need standpoint.
In most cases, however, perceived value aligned with need -- exactly what teams want from a draft. Some of those perceptions will prove incorrect, of course, but there's very little to complain about based on what we think we know.
The Rams found their franchise quarterback in
Sam Bradford
. The Seahawks found their replacement for all-world tackle
Walter Jones
, the sixth player chosen in 1997, when they drafted
Russell Okung
with the sixth pick this year. The 49ers finally addressed a lingering issue at tackle when they drafted
Anthony Davis
at No. 11. The Cardinals filled their primary need when nose tackle
Dan Williams
fell to them somewhat unexpectedly at No. 26.
Every NFC West team emerged from this draft legitimately able to claim things went their way. Three of the four second-round choices -- Saffold (Rams), safety
Taylor Mays
(49ers) and receiver
Golden Tate
(Seahawks) -- were widely considered likely first-round choices by general managers I spoke with in recent weeks.
"I thought, overall, the NFC West killed it," Steve Muench of Scouts Inc. said.
Best move
[+] Enlarge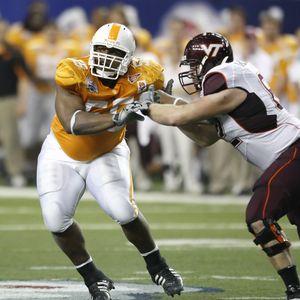 Todd Kirkland/Icon SMIDan Williams recorded 62 tackles during his senior season at Tennessee.
The Cardinals' ability to land Williams at No. 26 without maneuvering stood out.
Arizona was picking later in the first round than any team in the division, but the Cardinals' need at nose tackle was significant. Most mock drafts suggested Williams could go 12th to the Dolphins. The Cardinals said they had Williams rated 11th overall.
Those factors, coupled with the growing list of other teams running 3-4 defenses, put pressure on Arizona to consider moving up for Williams as its pick approached. The team held an extra third-round choice, so the Cardinals had options. But instead of panicking, they let the draft come to them.
Arizona has emerged from its past three drafts with Pro Bowl cornerback
Dominique Rodgers-Cromartie
(2008), ascending running back
Beanie Wells
(2009) and now Williams despite picking in the last half of the first round each time. Those are building-block players.
Coach Ken Whisenhunt has pushed the Cardinals toward a purer version of the 3-4 predicated on strong play from the nose tackle position. Arizona already has a Pro Bowl left end in
Darnell Dockett
and a strong starter at right end in
Calais Campbell
. Adding Williams to the mix could help the Cardinals become more consistent defensively.
"He has the potential to be their franchise nose tackle with the potential to develop into a
Vince Wilfork
,
Jamal Williams
-type player," Muench said. "We were really high on
Maurkice Pouncey
, the center/guard from Florida. These guys really got after each other in the Florida-Tennessee game. You get a sense when he makes the jump in the NFL, he is definitely is going to be able to hang."
Riskiest move
Drafting a quarterback first overall carries great risk when that quarterback has had trouble staying healthy.
Bradford was the smart choice for the Rams at No. 1 based on their obvious need at the position. But so many factors go into determining whether a quarterback succeeds ultimately.
Steve Young has stressed the importance of having a strong organization with the right mix of top-notch offensive coaches. Are the Rams a strong organization right now? Do they have the right mix of top-notch offensive coaches? It's tough to answer those questions definitively in the affirmative at this point.
Throw in the question marks surrounding Bradford -- his health, how he'll adjust to an NFL offense -- and it's clear the first overall choice was also the riskiest one.
"There are concerns about Bradford and I get it," Muench said. "Anytime you are in an offense where you turn to the sideline to get the play, there are questions. I think he is so smart, he can make the transition to a pro-style offense and two, he can beat pressure because he's smart. He'll learn where pressure is going to come from."
Most surprising move
The 49ers sacrificed a fourth-round pick in moving up two spots to No. 11 before selecting Davis out of Rutgers. San Francisco then took Idaho guard
Mike Iupati
with the 17th overall choice.
I figured the 49ers were excited about upgrading their offensive line. I figured coach Mike Singletary would have more input following Scot McCloughan's departure as general manager five weeks before the draft. I still didn't expect the 49ers to be so aggressive and emphatic in their effort to beef up their offensive front.
The 49ers punctuated their first round with exclamation points.
The picks they made might be wise ones. I was just surprised they would double up on the offensive line early while trading up to get it done.
File it away
The Seahawks and Cardinals invested fourth-round choices in talented defensive players coming off serious knee injuries.
Look for cornerback
Walter Thurmond
(Seattle) and pass-rusher
O'Brien Schofield
(Arizona) to emerge as more significant contributors in 2011. Both would have been drafted much earlier if healthy.
April, 24, 2010
4/24/10
5:00
PM ET
»
NFC draft analysis
:
East
|
West
|
North
|
South
»
AFC
:
East
|
West
|
North
|
South
Let's pull some highlights -- and lowlights -- of the NFC North's 2010 draft performance:
Best move
Sometimes the best decision is the most obvious one. Detroit systematically dismissed every dubious reason for passing over the draft's best player and jumped at the opportunity to select Nebraska defensive tackle
Ndamukong Suh
.
Lions general manager Martin Mayhew wasn't concerned that defensive tackles typically aren't paid the kind of money he'll be required to give Suh as the No. 2 overall pick. Coach Jim Schwartz didn't care that Suh played in a scheme that is fundamentally different from the Lions'. The medical staff found no reason to be concerned about Suh's past knee injuries.
The bottom line is that Suh absolutely destroyed opponents on the college level last season and has the unique athletic skills to control games on the NFL level. He has an opportunity to be the Lions' best defensive player in decades and be a cornerstone of their roster resurgence. We have to be careful about saying anything with certainty when it comes to the draft, but as of today, I think the Lions would have displayed a colossal example of overthinking if they had drafted anyone other than Suh.
Riskiest move
Minnesota has sentenced itself to at least one more year of long-term uncertainty at the most important position in sports. This might not have been the best quarterback class of all time, but as we
discussed earlier this month
, you can't get a hit if you won't take the bat off your shoulder. At some point, you've got to take a cut.
(And I'm sorry. Taking UAB quarterback
Joe Webb
at the bottom of the sixth round doesn't count. Webb is probably going to be moved to receiver. That's more like having a wild pitch hit your bat in self-defense: There's no intent. OK, enough baseball references for one day.)
We're expecting
Brett Favre
to return in 2010. And even if he retires, I doubt the Vikings would have replaced him with a rookie quarterback this season. But the two quarterbacks on the roster,
Tarvaris Jackson
and
Sage Rosenfels
, looked unprepared for the job in training camp before Favre signed last summer. It's hard to believe that either player projects as the Vikings' long-term starter.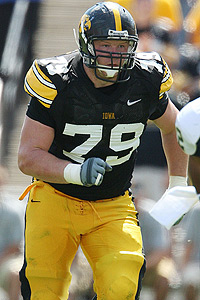 Stephen Mally/Icon SMINot many thought Iowa's Bryan Bulaga would be available when the Packers picked at No. 23.
It takes some time to develop a young starter, and the Vikings keep pushing back their timetable. They've been patching the position together for five years, dating to the career-alerting injury
Daunte Culpepper
suffered in 2005.
I guess there's always next year.
Most surprising move
Sometimes the biggest surprise is what
doesn't
happen. And I don't know many people who thought Green Bay would be able to draft Iowa left tackle
Bryan Bulaga
without first trading up in the first round.
Perhaps he was a classic case of mock drafts overtaking the public consciousness, but Bulaga was considered a top-10 pick by some media analysts. Given how difficult it is to find long-term left tackles, it seemed almost certain that the Packers would have to sacrifice part of their draft in order to get Bulaga or any of the other top players at the position.
But an unpredicted run on other positions left Bulaga still on the board when the Packers' spot at No. 23 approached. The Packers snapped him up, and the fortuitous turn of events allowed general manager Ted Thompson the flexibility he needed to address other positions more aggressively.
Had he traded up in the first round to get Bulaga, Thompson would have been less likely to move up in the third round to grab Georgia Tech safety
Morgan Burnett
. Bulaga's slide, therefore, allowed Thompson to fill a top need and also walk away with an additional likely long-term starter at another position.
File it away
Minnesota gave us an intriguing long-term question to follow. Whom would you rather have: Bruising tailback
Toby Gerhart
and high-upside defensive end
Everson Griffen
? Or explosive Cal tailback
Jahvid Best
?
That's one way to look at the trade that allowed Detroit to move up four spots, from No. 34 to No. 30, and grab the tailback they coveted most. The Vikings clearly intended to grab a runner as well, as evidenced by their second-round move Friday to take Gerhart. But by giving up the 30th spot, the Vikings also moved up into Detroit's higher slot in the fourth round (No. 100 overall). It's pretty unlikely Griffen would have been available at their original spot (No. 128 overall).
Who knows how this gambit will work out. If Best proves to be a dynamic playmaker, the Vikings might rue their decision to let the Lions move up. But it's also possible that the net contributions of Gerhart and Griffen will outweigh those of Best. Let's meet here in a few years and we'll start drawing conclusions.
April, 24, 2010
4/24/10
5:00
PM ET
»
NFC draft analysis
:
East
|
West
|
North
|
South
»
AFC
:
East
|
West
|
North
|
South
Let's break down the highlights in a memorable draft for the division:
Best move
Tampa Bay Buccaneers doubling up on defensive tackles and wide receivers. The Bucs used their first two picks on defensive tackles, taking
Gerald McCoy
in the first round and
Brian Price
early in the second. They are instant starters and the Bucs picture second-year pro
Roy Miller
joining them in the rotation. That probably means the end for last year's starters
Chris Hovan
and
Ryan Sims
, but that's a good thing. The Bucs ranked last in the league in run defense last season and they got no pass rush from the interior. McCoy and Price can stuff the run and create a surge in the middle. That's going to free up middle linebacker
Barrett Ruud
to make plays and help the defensive ends generate a better pass rush.
The Bucs also followed a similar theme at wide receiver, taking
Arrelious Benn
in the second round and
Mike Williams
in the fourth. It may be a lot to expect two rookies to instantly start at wide receiver, but it could happen here. That's mainly because the Bucs have very little other talent at the position. At worst, Benn's an instant starter. Williams is a bit of a gamble because he's had some off-field issues, but Tampa Bay was willing to take a chance because of his physical skills. There's risk involved, but Williams has better upside than any of Tampa Bay's receivers, including Benn. Quarterback
Josh Freeman
needed some new targets and the Bucs went out and got them.
Riskiest move
The Carolina Panthers traded away their second-round pick in 2011 to take
Armanti Edwards
in the third round. This is a curious move by a regime that has to win this year because Edwards is a project. He was a quarterback at Appalachian State, but the Panthers plan to use him as a receiver and a return man. Edwards might be able to make a quick impact as a return man.
But he's going to need time to develop as a receiver. That's time coach John Fox and Marty Hurney might not have.
Most surprising move
[+] Enlarge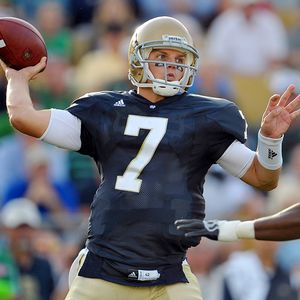 Matt Cashore/US PresswireWill Clausen be able to succeed in Carolina's system?
It's not all that surprising the Panthers took a quarterback because we all knew that was coming somewhere in this draft. But it's a huge surprise that they got
Jimmy Clausen
in the middle of the second round. He's a guy that many thought would go in the first round or very early in the second. Clausen tumbled in part because some view him as a "me-first" guy and a passer who takes too many chances.
Those are traits the Panthers generally stay away from, but Carolina is desperate. Besides, the Panthers have a locker room filled with strong leaders (
Jon Beason
,
Jordan Gross
, etc.) and there's no room for "me-first" guys, except for receiver
Steve Smith
. Clausen will have to conform to have a chance. Carolina's offensive system also will limit Clausen's opportunities to take chances. Fox and coordinator Jeff Davidson want a guy who is mainly a game manager, but who also can make a play here and there.
File it away
Technically,
Kerry Meier
was drafted as a wide receiver by the Atlanta Falcons with a compensatory pick at the end of the first round. Realistically, Meier is a flat-out football player. He started off his career as a quarterback at Kansas and had some early success. But an injury cost him his starting job and he moved to wide receiver in 2007. All Meier did was go out and set a school record for career receptions. He played all three receiver positions, got some work as a fullback and H-back, served as the holder on place kicks and even still got some time as a backup quarterback. If Meier sounds a bit like
Brian Finneran
, he should. Finneran's done a little bit of everything for the Falcons throughout his career. With Finneran getting older, Meier has the potential to help the Falcons in a lot of different areas.