NFL Nation:

2010 Great Debate
September, 7, 2010
9/07/10
12:11
PM ET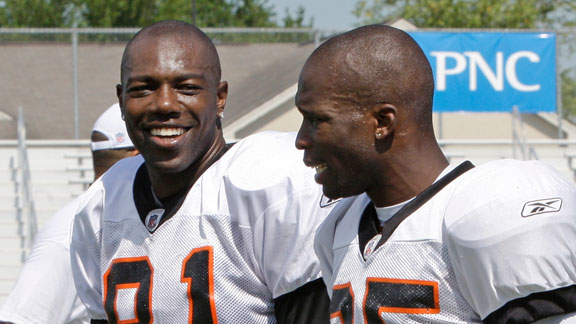 Receivers
Chad Ochocinco
and
Terrell Owens
are known as much for their boisterous personalities as they are for their immense talent. But this high-profile tandem has never played together on the same team -- until now.
The
Cincinnati Bengals
signed Owens before training camp, sparking questions and sending shockwaves through the NFL. Can this pair coexist in Cincinnati? Is Owens the missing ingredient in the Bengals' struggling passing game?
ESPN.com AFC North blogger James Walker and The Football Scientist, KC Joyner, debate whether this duo will work well together in 2010.
James Walker:
KC, let me start right away by presenting the facts. This pair has combined for 1,690 receptions, 24,903 yards, 206 touchdowns and 12 Pro Bowls. There cannot be questions about their production on the field, because Ochocinco and Owens are among the most consistently productive receivers of the past decade.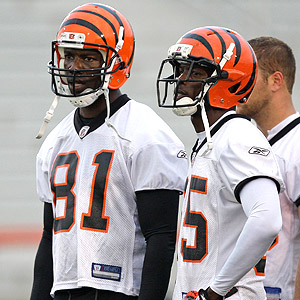 AP Photo/Al BehrmanTerrell Owens and Chad Ochocinco are good friends off the field, but can they maintain that relationship on it?
Owens gets a bum rap for his 2009 totals. Let's not forget who the quarterbacks were for the
Buffalo Bills
. I don't know if any receiver could make the Pro Bowl with
Ryan Fitzpatrick
starting a majority of the season.
Trent Edwards
began the year, and he's nothing to write home about, either. Still, Owens stayed quiet and played football, recording 55 receptions for 829 yards (15.1 yards per catch average) and five touchdowns. Even if the Bengals get that same production this year from Owens, Cincinnati could be playoff bound, because Ochocinco will do the heavy lifting as the Bengals' No. 1 receiver for quarterback
Carson Palmer
.
I'm sure we will touch on the personality and locker room concerns later. But I wanted to point out right away that there's no reason to believe this tandem won't be dangerous on the field.
KC Joyner:
James, not to be a buzzkill, but using Owens and Ochocinco's historical numbers really isn't relevant here.
Marvin Harrison
is one of the most productive receivers over the past decade as well and yet no team is counting on him to lead its receiving corps.
The issue with Owens isn't that the Buffalo offense crushed his numbers. His totals have been on a slide for three years now, as his receptions have steadily dropped (81 to 69 to 55) along with his yardage (1,355 to 1,052 to 829) and touchdowns (15 to 10 to five).
The Dallas Cowboys let him go because offensive coordinator Jason Garrett found out the only way to get Owens open on a consistent basis anymore was to use picks, bunch/stack formations and motion tricks. Buffalo didn't use those subterfuges last year and history says Bengals offensive coordinator Bob Bratkowski won't do that either.
JW:
I think you're making two major oversights, KC. First, Owens didn't have another perennial Pro Bowl receiver on the opposite end in Dallas or Buffalo to take the pressure off as Ochocinco will. Those two will help each other. You can't double-team both players and each will win against single coverage. That's the sign of a great tandem.
Second, the Bengals are not making T.O. the focal point of their offense as the Cowboys and Bills did. So I think some of those comparisons don't add up. Owens is now a complementary piece to Cincinnati's passing game that already has a Pro Bowl receiver (Ochocinco) and a strong running game. Owens as a No. 2 receiver is a great role for him at this stage of his career.
But enough talk about Ochocinco and Owens on the field. I'm sure you have questions about these two coexisting in the same locker room, correct?
KC:
There is ample statistical evidence that Owens would have a lot of trouble against his cornerback matchups all season even if he had
Jerry Rice
in his prime opposite him, but you hit the nail on the head with the real reason adding Owens is a bad idea. Bengals coach Marvin Lewis sometimes seems to approach his job less like he is coaching a football team and more like he is running the Lewis school for wayward players.
[+] Enlarge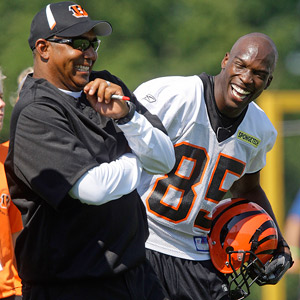 AP Photo/Al BehrmanMarvin Lewis has a history of coaching "high maintenance" players such as Chad Ochocinco.
It is as I wrote in Scientific Football 2007, "Lewis strikes me as a man who has a soft spot for being a father figure to players. I also believe that Lewis subscribes to the philosophy that people are generally good. The combination of these two traits means that he enjoys mentoring younger players and wants to believe that, with help and support, any player can be turned around. Because of this, Lewis tends to gravitate toward players other people would view as risks. If Lewis' heart is in the right place, his approach to these players could be creating something of a vicious cycle. If you are a parent, you can relate to this. You want your kids to behave and do what they are supposed to do. They want to keep you happy but when they behave, you don't pay them as much attention as you do when they aren't behaving. They quickly figure out that the way to get your attention all the time is to act up all of the time. Some of Lewis' players may have a similar mindset. I think they know that the best way to get his attention is to appeal to his mentoring side, so they end up doing things that they shouldn't in order to get his father-figure side to come out."
That would explain why the Bengals would pick up an aging veteran on the downside of his career who has a history of being a divisive locker-room presence. Lewis thinks he can turn around Owens but, in my estimation, Owens has absolutely no interest in whatever personality fixes Lewis is proposing. It's a no-win situation for Cincinnati unless Owens turns around his subpar on-field performance, and that isn't a likely scenario.
JW:
I cover the Bengals, KC, and I can tell you Cincinnati taking in character risks and providing multiple chances is much more a creation of owner Mike Brown than it is Lewis. But that's a story for another day.
With Owens you get the player and the persona, and although I wouldn't venture to say he's a fit for all 32 NFL teams, there are plenty of reasons why he will mesh well in Cincinnati.
For starters, Ochocinco and Palmer lobbied to get Owens. That gives T.O. instant credibility in Cincinnati's locker room when its most well-known players are backing Owens from Day 1. Also, Ochocinco and Owens are great friends. They're happy to be together for the first time in their careers, which means these two will not bicker over who's the top receiver. Don't forget Owens is playing on a one-year deal and will be on his best behavior.
Finally, if any team knows how to handle Owens, it's the Bengals. They've had plenty of practice over the years with Ochocinco, and six Pro Bowls later, I think that has worked out pretty well for Cincinnati. Why can't Owens?
KC:
For all of the success that Brown and/or Lewis have had with players, they've had plenty of failures as well. The successes also almost always stem from players who have elite skills. Owens used to possess talents of that level, but some metrics from last year show that is no longer the case.
The marker for top-of-the-line cornerback play is to allow a yards per attempt (YPA) total of less than 7 yards. That will typically place a cornerback in the upper third of the league in that category. When Owens faced corners of that caliber last year, he gained only 3.9 YPA. That ranked tied for 77th among wide receivers last year. To put it another way, there were only eight wideouts who fared worse in that metric. Owens is slated to face seven cornerbacks of that caliber this year, so there is a good chance he will do next to nothing in nearly half of the Bengals' contests.
As to the idea that being paired with Ochocinco will help Owens here, think again. Ochocinco was one of the players who tied Owens at 77th in that red-rated CB YPA total. Because he has six red cornerbacks on his schedule, he will be hard-pressed to do anything to assist Owens.
Maybe the best way to close this out is to imagine what would happen if the matchups cause both of these guys to have subpar seasons. If one prima donna can fracture a locker room, imagine the damage two could do. It's the kind of thing that could take a great turnaround story like the 2009 Bengals and turn it into a cautionary tale about taking on too many personnel personality risks.
September, 6, 2010
9/06/10
12:33
PM ET
As part of our ongoing "Great Debate" series, ESPN.com's Matt Mosley and ESPNDallas.com's Tim MacMahon were asked to discuss the
Dallas Cowboys
' chances of reaching the Super Bowl. You might have heard that it's being played at Cowboys Stadium in Arlington, Texas.
Will the prospect of becoming the first NFL team to qualify for a hometown Super Bowl give the Cowboys some extra motivation? We're about to find out over the next six months.
Now, let the debate begin: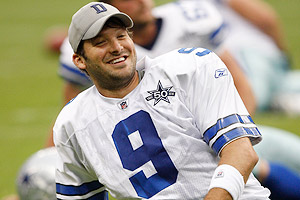 Bob Levey/Getty ImagesDallas quarterback Tony Romo won his first postseason game last season.
Mosley
: Tim, let's dive right into this thing without exchanging too many pleasantries because the two of us have never exchanged a lot of pleasantries. I wish we'd had this debate before the preseason games, because the Cowboys' first-teamers were embarrassingly non-competitive in matchups with the Chargers and Texans. But since I don't put one ounce of stock into the preseason, I'll argue that the Cowboys will become the first team in NFL history to play host to a Super Bowl in their own stadium. It sort of makes me queasy to espouse that type of optimism for this franchise, but I honestly think they have a lot of the intangibles that are necessary to make this happen.
The most important ingredient is quarterback
Tony Romo
. I think winning his first playoff game last season against the Eagles was huge for his confidence. I think we both agree that he has the talent to lead a team to the Super Bowl, but he desperately needed to get the Seattle-New York monkey off his back.
In 2009, Romo learned to put his teammates before himself. It was an important lesson for a guy who forged a reputation based on his devil-may-care approach. As backup quarterback
Jon Kitna
explained it to me last season, Romo realized that decisions he makes on the field affect everyone in the organization. He ended up with 26 touchdowns and nine interceptions and was able to strike a nice balance between his improv work and his willingness to throw the ball away. He remembered Bill Parcells bellowing in practice, "The throwaway's a good play!"
Oh wait, I need to take a break and let MacMahon say something.
MacMahon
: Glad to see Parcells' wisdom is still fresh in your mind, Matt. Perhaps you recall his oft-repeated line about putting away the anointing oil in regard to Romo.
You really think one playoff win is proof that Romo is ready to carry the Cowboys to a Super Bowl? What about the next weekend? He failed to get the Cowboys in the end zone during a lopsided loss to the Vikings.
Of course, it's not all about the quarterback. The Cowboys' biggest concern appears to be their aging offensive line, which got whipped by the modern-day version of the Vikings' Purple People Eaters. The Cowboys have to cross their fingers that right tackle
Marc Colombo
and left guard
Kyle Kosier
can come back strong from knee injuries that could sideline them for the season opener and beyond.
It would be wrong to rule out Romo as a potential Super Bowl quarterback, but it's foolish to consider him the favorite in a conference that features a couple of guys who have done it before and have great supporting casts (New Orleans'
Drew Brees
and Minnesota's
Brett Favre
). Green Bay's
Aaron Rodgers
is also arguably more likely to be a featured attraction at JerryWorld in February.
Perhaps I should pacify the New York branch of your Beast readership by mentioning
Eli Manning
, who has as many playoff wins on Texas soil as Romo.
Mosley
: Tim, we both know that Wade Phillips let that Vikings playoff game get away from him when he opted for a long field goal attempt from a shaky kicker instead of doing the logical thing and going for it on fourth-and-1. And when
Flozell Adams
suffered an injury in the second quarter, the game was effectively over. But you're correct in saying the offensive line is a major concern. We've learned to appreciate the work of Kosier when he has been out of the lineup and his backup,
Montrae Holland
, hasn't exactly been a road-grader in the preseason. But wait, I'm arguing against myself.
As crazy as it might sound to longtime Adams apologists such as yourself,
Doug Free
will be an upgrade at left tackle. He's had a good preseason and the Cowboys' great offensive line coach Hudson Houck, who mentored future Hall of Famer
Larry Allen
, raves about Free's work on the left side. Once the season gets rolling, perennial Pro Bowlers
Andre Gurode
and
Leonard Davis
will return to form.
You talk about the Saints like they're invincible, but I seem to recall the Cowboys going into the Superdome last December and pushing them around. The Saints won a Super Bowl with someone named
Jermon Bushrod
playing left tackle. The Cowboys might be long in the tooth along the offensive line, but they have better units than the Eagles and Redskins for sure. The Giants have been just as banged up as the Cowboys throughout training camp, so those offensive lines are pretty close.
Last time I checked, Rodgers hadn't won a playoff game, so I'm not sure why every national pundit suddenly has him in front of Romo. And surely Favre's ankle can't hold a lot more lubricant. Without
Sidney Rice
in the lineup the first half of the season, Favre will be missing a major weapon. If the Cowboys can secure home-field advantage throughout the playoffs this time around, I think they'll get a bonus game at their home stadium.
Obviously I'm winning the debate at this point, but I want to give you some more reps. Other than being worried about the offensive line and the talented players on other teams, what's your biggest reason for the Cowboys not going to the Super Bowl?
MacMahon
: No wonder you dropped out of Baylor Law School all those years ago. You do a fine job of shooting holes in your own case.
You blame Phillips (1-5 postseason record as a head coach) for making a poor decision in a playoff loss. Does his new contract somehow guarantee that won't happen again? You mention that the Cowboys had a shaky kicker situation last season. Has that changed? They're crossing their fingers that
David Buehler
can get the job done. He's money on kickoffs and sprints against disappointing draft picks, but he's never attempted a field goal in the NFL and was erratic at USC.
Of course, you could point out that the Cowboys had no reason to be confident in their short-yardage offense instead of just pointing the finger at Phillips for not going for it on fourth-and-1. After all, your perennial Pro Bowlers couldn't pave the way for
Marion Barber
to get a yard on four tries against the Chargers in December. I hate to use actual facts in this debate, but Barber's conversion percentage on third- and fourth-and-1 ranked among the lowest of backs with at least 10 such opportunities last season.
And you totally lost me with the Flozell Adams turn. You begin by saying how much the Cowboys missed him in the Minnesota massacre and follow it up by declaring that Doug Free is a significant upgrade. Sort of a false start, which is fitting.
Free is certainly an upgrade, but
Jared Allen
was far from the biggest problem for the Cowboys in the playoff loss. That was
Ray Edwards
, the Vikings' other end, who wreaked havoc from the first time that annoying horn blew. Which gets us back to whether Colombo can get completely healthy.
But the biggest reason I'm skeptical about the Cowboys' Super Bowl aspirations? Because I remember what happened when they were supposed to be Super Bowl front-runners a couple of years ago. I can't just hop back on the bandwagon. I've got to see it to believe it.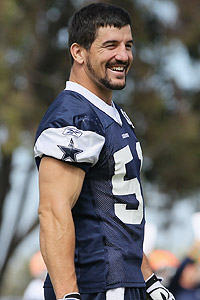 Jeff Gross/Getty ImagesThe veteran presence of linebacker Keith Brooking has improved the Cowboys' chemistry.
Mosley
: Tim, that's a fascinating conclusion you've reached. You need to see them reach the Super Bowl before you can be convinced they can get to a Super Bowl. And to compare this current group of players to the '08 "front-runners" is completely unfair. That locker room was home to Pacman Jones,
Tank Johnson
and
Terrell Owens
.
With those players "safely" in Cincinnati now, the Cowboys have a completely different team. The arrival of
Keith Brooking
in '09 via free agency was a huge thing for this team. He's an excellent linebacker, but more important, he's a tremendous leader. He and safety
Gerald Sensabaugh
were big-time additions to this defense.
The Cowboys had one of the top defenses in the league last season, and they have a chance to be better in 2010. The other three NFC East teams have major questions. And I think the Saints are about to go through a Super Bowl hangover season. Which NFC East team has a better defense than the Cowboys?
Which NFC team has a better quarterback than the Cowboys -- outside of the Saints? You could make an argument for Favre, but all that lubricant in his ankle is going to bring him down at some point. And Rodgers has more pressure on him than Romo, because the Packers have a suspect defense.
You're making a passionate case against the Cowboys going to the Super Bowl, but in your heart of hearts, you know they have an excellent chance. I'm going to give you a shot at a closing argument here. To this point, all of your statements have been summarily defeated by a man with half a law degree. Time to sound the retreat, sir.
MacMahon
: The Cowboys' cheerleading team has clearly lowered their standards to let you join the squad.
I'll grant you that this is a much more mature team than the band of misfits that melted down in 2008. The Brooking-T.O. swap certainly worked chemistry wonders, and guys such as Romo and
Jay Ratliff
have grown into good leaders.
The Cowboys should certainly be considered NFC East favorites, having won the division two of the past three seasons and adding
Dez Bryant
to their talented core. They merit consideration as Super Bowl contenders, but with their difficult schedule, I don't see the Cowboys claiming home-field advantage. And I wouldn't bet on them winning a playoff game in Green Bay, Minnesota or New Orleans.
You declare that the Cowboys have an excellent chance to play a home Super Bowl. I'd downgrade that to a decent chance. Go ahead and crack the anointing oil if you wish. I'm keeping the lid on my bottle until February.
September, 2, 2010
9/02/10
9:08
AM ET
There are fewer running backs carrying full loads around the NFL, which means the profile of the top receivers has risen during fantasy drafts.
So AFC South blogger Paul Kuharsky steps outside of his usual arena to debate fantasy expert Ken Daube on this issue: Who's the better choice as top fantasy receiver, the Houston Texans'
Andre Johnson
or the New England Patriots'
Randy Moss
?
Paul Kuharsky:
Well Ken, it's our turn to take the stage in the Eight Great Debate Series and we've drawn a good one: Who's the better fantasy option, AJ or Randy?
I always hate to appear I am backing the AFC South just because it's what I cover. But this job gives me an up close view of Andre Johnson and I'd have a lot of trouble drafting any receiver ahead of him heading into the 2010 season.
Moss is explosive, and there will be weeks when he can single-handedly win you a game in a fantasy league. But I prefer a week-to-week chart that has fewer valleys than Moss' might. Johnson had six games of under 70 yards last season. Moss had nine, including three that were smaller totals than Johnson's worst game.
[+] Enlarge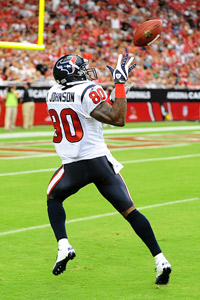 Mark J. Rebilas/US PresswireAndre Johnson has led the NFL in receiving yards for two years.
While
Tom Brady
and Moss could link up in ridiculous fashion the way they did three years ago -- when the receiver caught 23 touchdowns -- I've got to judge things on the most recent evidence. I think Johnson will catch more balls for more yards. Texans tight end
Owen Daniels
, if healthy, could approach Johnson in targets. But a healthy
Wes Welker
will draw Brady's attention away from Moss more than any Texans pass-catcher can take away from Johnson.
Ken Daube
: OK Paul, let me interrupt you right here so I can clear something up nice and early. Johnson, for as good as he was in 2009, only outscored Moss by nine fantasy points. Consider that Johnson and his quarterback,
Matt Schaub
, were healthy for the whole season. On the other hand, Moss played 11 games after separating his shoulder and Brady was at less than 100 percent as he was returning from a blown-out knee. Thus it's clear to me that for Johnson to be considered the superior option in 2010, he should have blown away Moss last season.
Welker's targets aren't going to be any sort of hindrance to Moss' fantasy value. Over the past three seasons, Welker has been targeted an average of 152 times. Moss' value wasn't affected. In fact, last season was the season that Welker had the most targets (162), and the banged-up Moss still finished as the second-best fantasy receiver.
On the other hand, your argument does work against your case for Johnson. In case you forgot, Daniels was injured in the Houston Texans' eighth game of the season. The loss presented more opportunities for Johnson, who scored 21 more fantasy points in the games that Daniels missed versus the contests in which Daniels participated. Without those 21 points, Moss would have finished as the top wide receiver last year and I'd be having this argument with someone else, because Johnson would have plummeted to fourth.
Paul Kuharsky:
Look, Ken, on my team we are anti-Diva. Johnson's going to run his route every snap, block for the run game, face the media as often as they ask for him and be completely accountable. This fosters chemistry in my pretend locker room, and we all know you get a ton of points for team harmony …
Sure, Johnson did benefit a bit from Daniels being out. He had 13 more catches in the second half of the season than he did in the first, when Daniels was on the field with him. But my guess is if the Texans played Seattle and St. Louis -- two of the league's eight worst pass defenses -- in the
first
half of the season instead of the second half, Johnson still would have had close to 20 catches and nearly 200 yards a game against them.
Houston was 30th running the ball last year, and while I expect the Texans will be better, they are still going to have to sling it to maximize their chances to win.
Weather will rarely get in their way. Conditions at all of Johnson's home games are good, or the roof at Reliant Stadium is closed. They only have three outdoor games in cold season -- at the Jets, at Philly and at Denver. The Patriots, meanwhile, have eight such games with November trips to Cleveland and Pittsburgh, December road games at Chicago and Buffalo and four November-December games at Foxborough, Mass. Cold weather isn't killing Moss or the Patriots' pass game, but it's not ideal for it either.
Ken Daube:
Actually, the cold weather is perfect for the Patriots' pass game. In their last two games in significant snow (versus the Cardinals in 2008 and the Titans in 2009), the Patriots averaged 53 points per game. Moss averaged 108 yards and two scores in those games. Bring on the bad weather, it works for Moss.
Back to the Texans, when you think about it, last year broke almost perfectly for Johnson. With both
Steve Slaton
and Daniels injured, the Texans were left with only one option -- Johnson. This season,
Arian Foster
will man the backfield. Based on his performance in the final two games last season and his 2010 preseason, he's looking like a very good back for their running system. Daniels returns and big things are expected from
Jacoby Jones
as well. All of those factors are going to eat into Johnson's opportunities.
Meanwhile, in Foxborough, the same cast of misfits will be running the ball and their second receiver remains the same. Sure, they've rolled the dice on some youngsters as their third receiver and tight ends, but none of those roles will detract from Moss' value. You can be sure that Moss wants redemption for being labeled as soft last season. With a new contract on the line, Moss already had incentive for ensuring he finishes as the top receiver this year. Wanting redemption will just keep him more focused. He won't score 23 times this season, but projecting anything less than 16 is foolish. Considering that Johnson scored 17 times in the last two seasons combined, those taking Johnson are going to have to bank on an awful lot of yardage to inflate Johnson's value. With Foster, Daniels and Jones around, I just can't see enough yardage available this year.
Paul Kuharsky:
I've got to be honest. This qualifies as a beat down right now. My first attempt at a fantasy-based debate should be my last and I should stick to being an AFC South expert. But since I have the final word, I'll take my best shot at pulling out a late win. Like Schaub would be throwing to Johnson in such a situation, I will aim for your colleagues, Matthew Berry and Eric Karabell.
[+] Enlarge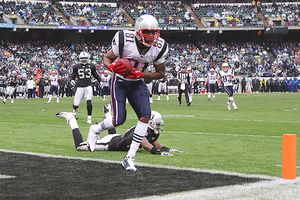 Jed Jacobsohn/Getty ImagesWas there a chance Randy Moss could have returned to the Patriots? Mike Reiss doesn't think so.
"I'm on Andre's side," Berry said. "…You should know the consensus is Andre as well, so you can always play [up that] millions of people can't be wrong.
"Andre Johnson has led the NFL in receiving yards for two straight years. The only other wide receiver to do that in NFL history?
Jerry Rice
. (Thank you for that stat,
Chris Harris
.)
"Matt Schaub threw for at least 300 yards nine times last year, tied for the NFL lead with
Peyton Manning
.
"Oh, and by the way, if Randy Moss
does
outscore Andre Johnson this year from a fantasy perspective, it'll be the first time in three years that the 33-year-old Moss has done it."
Said Karabell: "I can't really make a great case for Moss, actually. I think of the main fantasy positions, I can make a case for the No. 2 quarterback over No. 1, and same at running back, but not at wide receiver. AJ is dominant, it's an underrated passing offense and he's got years and legs on Moss."
So there.
Also, Ken, aren't you the guy who said
LaDainian Tomlinson
should be the No. 1 player drafted in 2009?
September, 1, 2010
9/01/10
11:08
AM ET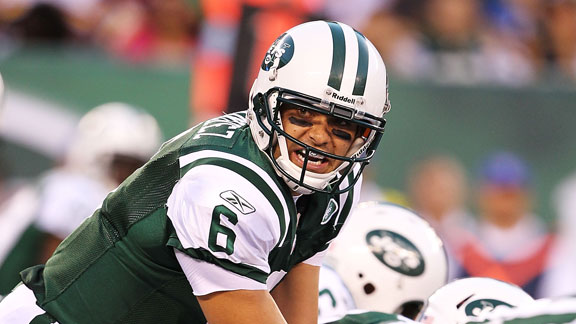 One of the burning questions -- like an inferno -- entering the 2010 season is whether or not the
New York Jets
are the real deal.
They came within 30 minutes of reaching the Super Bowl last season, and they've loaded up for another run. They've added
LaDainian Tomlinson
,
Santonio Holmes
,
Jason Taylor
and
Antonio Cromartie
among others to a team that was atop the NFL in rushing offense and total defense in 2009.
Expectations are so high that anything short of a deep playoff run will be a failure. Yet there are all sorts of ways to imagine a collapse. All-world cornerback
Darrelle Revis
hasn't signed. Sophomore quarterback
Mark Sanchez
might not be mature enough. Chemistry concerns exist.
ESPN.com AFC East blogger Tim Graham and ESPN national correspondent Sal Paolantonio hash out whether or not the Jets have what it takes to make it to the Super Bowl.
[+] Enlarge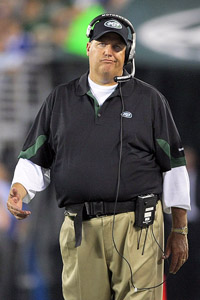 Tony Kurdzuk/US PresswireDepth at cornerback is a huge question for Rex Ryan and the Jets.
Tim Graham:
Seven months ago, we witnessed a shift in the AFC East. The combination of the Jets winning two playoff games on the road and the Patriots getting bombed out of the first round already put me in a comfortable place when it came to the future of the division. I realize the Jets caught a lot of breaks last year and snuck into the postseason by playing the Colts' and Bengals' reserves. The Jets' playoff opponents missed five straight field goals. But the Jets got there and won when it counted, gaining invaluable confidence and experience. I thought the Jets would be the team to beat in 2010 then, and they've gotten better over the offseason.
Sal Paolantonio:
The Jets have definitely improved in a number of areas. First of all, depth at cornerback is going to be a huge factor. Rex Ryan learned a painful lesson in the AFC Championship Game, when injuries slowed down linebacker
Bart Scott
and decimated his secondary. His pass rush was there against
Peyton Manning
, but without the coverage on the back end, the Colts passing game was just too relentless and precise. That's why it was crucial to draft
Kyle Wilson
in the first round and acquire Antonio Cromartie, who had a marvelous training camp. Depth in the secondary, especially with Darrelle Revis currently AWOL, will be key if the Jets are going to advance deep into the postseason.
TG:
You're absolutely correct, Sal. The Jets have bolstered their secondary considerably from last year, which strengthens my belief they're for real -- even if the Revis holdout lasts through training camp or into the season. They're deep enough with Cromartie, Wilson and
Dwight Lowery
. Granted, they won't be as good against the run because Revis is a superior tackler compared to Cromartie, but coverage will allow the Jets to execute their normal defensive game plan. They finished No. 1 in total defense, scoring defense and pass defense last year and then brought in reinforcements. Remember, the Jets finished atop the heap without nose tackle
Kris Jenkins
for their last 13 games (postseason included). They've added pass-rush specialist Jason Taylor, and the overlooked acquisition of safety
Brodney Pool
will make them better, too.
SP:
But, Tim, the Jets defense was helped considerably last year by a ball-control offense that played a superior field-position game. Translation? You need a productive running game or -- as Rex Ryan calls it -- "ground and pound." The problem is that general manager Mike Tannenbaum jettisoned
Thomas Jones
. He's taken his 14 touchdowns and 331 carries with him to Kansas City. Now, Ryan is going to ask sophomore running back
Shonn Greene
to pick up the slack -- to go from 108 carries in his rookie campaign of 2009 to the doorstep of 300, depending on how much gas LaDainian Tomlinson has left in the tank. Remember, the Jets ran the ball 59 percent of the time last season -- more than any other team in the league. The running game was their true strength in 2009. In 2010, it could be a weakness they can't afford. And then, this field-position approach needs a reliable kicker. Again, Tannenbaum allowed
Jay Feely
to walk out the door and left special-teams guru Mike Westhoff to steady the shaky leg of
Nick Folk
. Iffy.
TG:
I'll grant you Folk doesn't engender the same kind of confidence as Feely did, but coming back too soon from hip surgery is a big reason Folk struggled with the Cowboys and eventually got cut last year. Plus, the need for a clutch kicker might be a tad overstated. Of the Jets' nine regular-season victories, none were by less than six points. In fact, the two games in which they truly needed their field-goal unit to bail them out (Week 6 against the
Buffalo Bills
and Week 15 against the
Atlanta Falcons
), they lost. As for the running game, Greene is no sure thing, but the Doak Walker Award winner was a star in the playoffs. Tomlinson has his question marks, but he has shown a spark in the preseason. Tomlinson's value will be as a receiver out of the backfield, something the Jets didn't have after
Leon Washington
went down with a compound leg fracture. The Jets looked at their backfield and saw two players -- Greene and Jones -- with the same rugged style. Greene is younger and cheaper. The Jets finished dead last with only 197 yards on passes thrown at or behind the line of scrimmage. Tomlinson still can help in that regard.
[+] Enlarge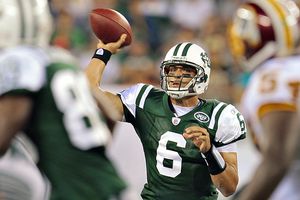 Saed Hindash/US PresswireThanks to some offseason acquisitions, Mark Sanchez has more weapons in his arsenal this season.
SP:
Well, I will grant you this, Tim, offensive coordinator Brian Schottenheimer and sophomore quarterback Mark Sanchez certainly have more options on offense this year. I think Son of Marty Ball could reach puberty this season. The L.T. option will make Sanchez more comfortable when he gets into trouble. Dumping off the ball to Tomlinson will certainly cut down on his interceptions. Sanchez looked very impressive when I saw him early in camp. He had a clear idea of where the ball is going and appears seamless and confident. But the most impressive guy on the offensive side of the football, wide receiver Santonio Holmes, will be MIA (serving a league suspension) for the first four games of the year. I think Schotty wants to throw the ball down the field more, getting away from the dominantly right-handed, play-action passing game that limited the Jets last season. In Holmes' absence, the Jets need
Braylon Edwards
to be a lot more than the pedestrian possession receiver he was last season. And right now, Edwards is listed by most mock fantasy football draft boards below
Julian Edelman
. Ouch.
TG:
Let's not forget two other targets who round out one of the deeper groups of passing options. At this time last year,
Jerricho Cotchery
was the Jets' top target. He has caught 82 passes twice in the past four seasons and gained 1,130 yards in 2008. He's a talented player who would be a go-to guy for some other teams. Less than a year later, he's the Jets' third option. And don't overlook tight end
Dustin Keller
. When you look at his stat line from last season, you probably aren't overly impressed. But consider he caught a touchdown pass in each of their three playoff games. He'll be a threat in this offense.
SP:
I was around this Jets team practically every day during last season's late run, and I have spent some time at their training camp at SUNY Cortland. There is no doubt this is a playoff-caliber team with that same swagger. But I only really see one more regular season win than last year, making them 10-6 -- if they successfully navigate the first month and a half of a very tough schedule. Four of their first six games are against legitimate playoff contenders: Baltimore, New England, at Miami and at home versus Minnesota. And the two other games are on the road: at Buffalo and at Denver. Then, after the bye, Green Bay comes into the Meadowlands, and I am not alone in seeing the Packers in the NFC Championship Game. So if you want to crown the Jets, go ahead and crown them. But I think Rex in the City, the Sequel, may not be playing in Dallas in February. In the AFC, there are four teams I would put ahead of the Jets right now -- the Ravens, Steelers, Colts and Chargers will all be more well-balanced on offense and defense and play more consistently throughout the season. The Jets defense will be suffocating and dominant at times. But unless he gets Darrelle Revis back, Rex Ryan will have a very difficult time sustaining the level of defensive play the Jets produced in 2009. I have the Colts and Ravens in the AFC Championship Game, facing either the Packers or the Saints in the Super Bowl. Those are my final four teams.
TG:
You're giving the Jets one more victory on their regular-season record compared to last year's. So I don't think it's all that much of a stretch to see them winning one more game in the playoffs. That would put them in the Super Bowl. An organization good enough to achieve that is the real deal in my book.
August, 31, 2010
8/31/10
7:58
AM ET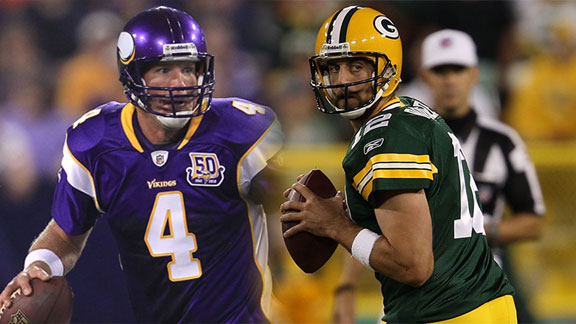 Assuming he retires,
Brett Favre
will one day enter the Pro Football Hall of Fame with a sack of NFL records to his name. He'll have more attempts, completions, yards, touchdowns (and interceptions) than any quarterback who has played the game.
But a funny thing happened when Favre left Green Bay after the 2007 season: His successor made arguably the best debut in the history of the league. Indeed,
Aaron Rodgers
is the first quarterback ever to produce consecutive 4,000-yard seasons at the start of his career.
At 26, Rodgers' career remains a mostly unwritten story. But after throwing for 8,472 yards in the past two seasons, and then picking up this summer with
a red-hot preseason
, the possibilities are endless. ESPN.com national columnist Gene Wojciechowski and NFC North blogger Kevin Seifert are here to ponder the question: Could Rodgers ultimately go down as the best Packers quarterback of all time?
[+] Enlarge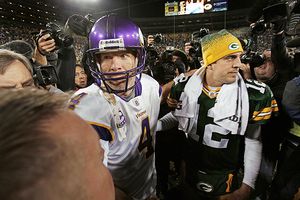 AP Photo/Mike RoemerBrett Favre (left) and Aaron Rodgers will be forever linked in Green Bay.
Kevin Seifert:
Gene, I'll admit it: When I eagerly agreed to take part in this debate, I didn't take a minute to look at the actual numbers. I figured Rodgers is young, Favre is old and soon enough the gap would start closing. Like Rodgers, I am young. But unlike him, I'm a little stupid.
The raw numbers suggest that Rodgers will need to play another 13 or 14 seasons at his current pace -- even if the regular season moves to 18 games -- to overtake Favre from a statistical standpoint in Packers history. That's not to say it can't be done. All he would have to do is be in condition to throw for 4,000-plus yards when he's 40 years old. I know a guy who did that.
Favre's longevity has been his greatest career asset. The chances of Rodgers -- or anyone else for that matter - playing at such a high level for so long are not high. So for the purposes of this debate, I think we might need to rely on less objective measurables. Rodgers might not reach Favre's gross numbers, but that doesn't mean he won't one day be considered the better quarterback.
I think Rodgers is already a smarter passer. He's thrown a combined 20 interceptions in two seasons as a starter. Favre has thrown more than 20 interceptions in five single seasons as a starter.
Gene Wojciechowski:
I'm sorry? Rely on less objective measurables? As the great Lee Corso says, "Not so fast, my friend."
Rodgers could end up as the greatest Packers quarterback of all time. And I could grow a full head of hair by daybreak.
Before Cheeseheads everywhere take that as a rip on Rodgers, remember a few things: I own two Packers jerseys (a Hornung and a Sharpe), my family is from Wisconsin and I've lived among you. But Favre's career numbers make it almost impossible for Rodgers, even with all his considerable talent, to surpass Favre.
I did the math. He'd have to average 4,000 passing yards for the next 15-plus seasons (at 16 games per season) to catch Favre's current total passing yards. He'd have to average 30 touchdown passes (which is what Rodgers had last year) for the next 14-plus season to reach Favre's 497 career touchdowns. He'd have to average 350 connections for the next 15-plus seasons to reach Favre's career completion totals.
Favre has 285 consecutive starts, the second most in the history of the league. Do we really think Rodgers will get to that number? Favre also had started 61 games and thrown for about 15,000 yards by the time he was 26. At the same age, Rodgers has thrown for 8,801 yards. And the scary part? Favre isn't done yet.
Yes, Rodgers is a remarkable talent. He's made a believer out of me with his arm and his toughness. But I'm not sure what you mean by a smarter passer. Didn't his postseason end with an interception?
KS:
Hey, hey. Be nice, Gene. I'm just some blogger sitting in a (Wi-Fi enabled) igloo up north. But let's address your claims so I can keep my fingers from freezing.
First, Rodgers' postseason didn't end on an interception. It was on a fumble
when a free blitzer grabbed his face mask
and cheated Packers fans everywhere out of a trip to New Orleans. Not my guy Aaron's fault.
The thing I like most about Rodgers is that he's an aggressive, downfield passer without being a reckless gunslinger. Like Favre, he gets big chunks of yards. (In fact, he gets more.) But unlike Favre, he avoids unnecessary risks to do it. It's a rarity to see Rodgers throw a ball up for grabs or into double coverage.
And in this case, at least, the numbers bear me out. In his first two seasons as a starter, Rodgers has thrown 58 touchdown passes and 20 interceptions. In his first two seasons with the Packers, Favre threw 37 and 37.
Otherwise, I'm with you on the numbers argument. Like I said, it's going to be awfully difficult for Rodgers to play at such a high level when he is Favre's age. He's got almost no chance at the career totals, and his odds for overtaking Favre just in his Packers years aren't much better. But we already know that Rodgers, like Favre, is a gamer.
In 2008, he played with a sprained throwing shoulder. Last season, he played in all 16 games despite a foot injury that caused him to limp noticeably during some games in 2009.
I talked to Rodgers during training camp this summer. More than anything else, Rodgers said he is proud to have made every start since taking over as the starter. I realize his streak is only at 32, but he absolutely values that aspect of playing quarterback in the NFL.
[+] Enlarge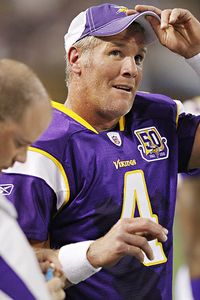 AP Photo/Andy KingBrett Favre had started 61 games and thrown for about 15,000 yards by the time he was 26.
To be clear, I don't think Rodgers is going to surpass 70,000 yards or 500 touchdowns in his career like Favre will. But I don't think Rodgers necessarily has to do that in order to be considered the greatest Packers quarterback of all time.
Longevity alone shouldn't guarantee that title to Favre. From what I've seen of Rodgers so far, I think he has a good chance to finish his career as a more accurate, less mistake-prone passer. Victories and championships also could tilt our judgment.
To this point, Rodgers' career record as a starter is 17-15. Favre's was 160-93 with the Packers, a considerably higher winning percentage. But in his first two seasons, Favre was 18-14.
GW:
Well, it's not like I'm sitting in a palatial estate in Palm Springs watching a polo match while an attendant pulls a fresh frostie from the cooler for me. I'm just a state or two over, in Illinois, home of Blago and Bears hysteria.
But you're right and I'm wrong about the Rodgers interception. It didn't come at the end of the wild-card loss to AZ, but on the first play of the game and later resulted in a Cardinals touchdown.
You're also right about Rodgers' toughness, physical and mental. It was a humbling day when he was taken with the 24th pick--much later than he expected -- of the 2005 draft. But he dealt with it. And he dealt with the controversy surrounding Favre's messy departure from Green Bay. I'd argue that he handled it better than Favre or Packers general manager Ted Thompson. And he has played through injuries, significant ones. I'm sure that meant a great deal to him, as well as to his teammates, who had come to expect nothing less than Favre.
I agree with you about the pure numbers versus greatest Packers quarterback of all time. It isn't a prerequisite. In fact, I'd argue that Rodgers first has to surpass the legacy of Bart Starr before we start worrying about Favre. I'm guessing there are Packers fans who flip Starr for Favre.
Rodgers' early numbers are encouraging and impressive, but he has yet to lead the Packers to a division title or a playoff win in those two years.
KS:
Bart Starr? Please. You mean the guy who was the caretaker on all of Vince Lombardi's championship teams? Was the book called "Run to Daylight" or "Pass to Daylight?" I can't remember. What? You say Bart Starr is in the Pro Football Hall of Fame? Er, lemme check that one out. ...
Anyway, I guess the premise of my argument is that Rodgers has established a high standard at the base of his career. It presupposes he continues that upward climb, and I think that will continue in 2010. I think the Packers will win the NFC North, make a deep playoff run and be one of two or three favorites to represent the NFC in the Super Bowl.
If that happens with Rodgers at quarterback, I think I'll be on to something. If not, I guess I'll just be on something.
GW:
How dare you mock the great Starr.
Anyway, is this what you would call a Seifert leap of faith? Rodgers does something for two seasons, so that means he'll do it for the next 10? The NFL is littered with guys who start fast and then, for whatever reason, can't sustain the production.
I don't presuppose anything. Rodgers has played two full seasons, that's it. I like what I see, but I'm not ready to say he's destined for football immortality.
In his favor: a wonderful feel for the game, a set of really good wide receivers and tight ends, a head coach who loves the passing game.
Not so much in his favor: an improved -- but still questionable -- offensive line, playing at Lambeau in the snow months (yes, I know, Favre did just fine), and a knack for suffering injuries.
I'm reserving judgment on the 2010 NFC North. I'm leaning toward the Pack, but you can't tell me Favre's Vikings won't be a factor. And I'm having a hard time forgetting about Green Bay's shaky offensive line last season and those 51 points Arizona scored in the playoffs against them. But that's just me, Mr. Negative.
KS:
You said it, not me. I'm all sunshine and roses. Brett and Bart are both Hall of Famers. And Aaron Rodgers has a chance to be better than both of them. That's my story and I'm sticking to it.
August, 30, 2010
8/30/10
10:39
AM ET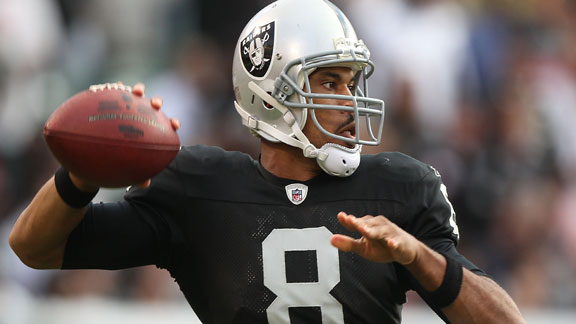 The NFC West is accustomed to catching its share of grief, and then some.
The
St. Louis Rams
own six victories over the past three seasons, the
Seattle Seahawks
own nine over the past two and the
San Francisco 49ers
haven't posted a winning record since
Mike Rumph
was a promising rookie cornerback for them (2002). The
Arizona Cardinals
have been better lately, but now they're reduced to
Derek Anderson
versus
Matt Leinart
.
No wonder AFC West blogger Bill Williamson thinks the new-and-improved
Oakland Raiders
would win the NFC West. But would they? NFC West blogger Mike Sando would put them third, behind the 49ers and Cardinals, even with
Jason Campbell
under center in Oakland.
[+] Enlarge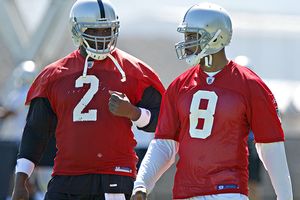 AP Photo/Ben MargotJason Campbell (8) is in, JaMarcus Russell (2) is out and that alone should make the Raiders a better team in 2010.
Bill Williamson:
Advocating for the Raiders is neither easy nor perhaps sane. After all, the Raiders have been the bastion of football futility for much of the past decade. Oakland has lost 11 games or more for the past seven seasons. That is an NFL record for bad, bad times.
The misery has to end sometime and this year may be the year Oakland finally emerges from the dregs of the league and becomes a legitimate, competitive team. The horrendous
JaMarcus Russell
era has ended. Jason Campbell is far from an elite player, but he is an established NFL quarterback who knows what he is doing. That alone should allow Oakland to be much more productive on offense. This is a team that scored just 17 offensive touchdowns in 2009. Campbell could help the team score 20-25 more touchdowns this season.
Mike Sando:
Let's say Campbell posts a passer rating in the mid-80s and the Raiders back him with a defense ranked in the top 10. The Raiders would take that scenario, no questions asked. The reality, though, is that Campbell's passer rating last season was 86.4 and the Redskins -- his old team -- fielded a defense ranked 10th in yards allowed. It all added up to a 4-12 record against a weak schedule. I like some of the Raiders' talent on defense, but 25 teams allowed fewer yards per game last season. It's a stretch to pencil in Oakland for a No. 10 ranking on defense in 2010 and a greater stretch to say they'd win the NFC West.
Williamson:
The defense in Oakland is going to improve. The Raiders have added two potential stars in middle linebacker
Rolando McClain
and defensive end
Lamarr Houston
, both in the first two rounds of the draft. The run defense has been horrible in recent seasons, but it should be much improved.
Sando:
I watched
Frank Gore
carry twice against the Raiders' starting defense Saturday night. He gained 58 yards on those runs, and
Mike Iupati
, the 49ers' rookie left guard, took out McClain pretty easily on one of those Gore carries. Preseason isn't much to go on, but Gore probably could have had 150 yards if the 49ers had left him in the game.
Williamson:
I can see why the 49ers removed Gore from the game. He's always getting nicked up and that probably will be the case again this season. Follow me for a minute here. Oakland should easily compete to win eight games. Sure, it is not the stuff of playoff dreams -- at least in a real division -- and it won't be enough to unseat San Diego in the AFC West, but this isn't about the Raiders' division. It's about the NFC West, which managed a league-low 12 victories outside the division last season (the AFC West had 18). There is no anchor team in the NFC West, unless you count the sinking Cardinals. San Francisco? Come on. These teams are not markedly better than the Raiders. Arizona is a mess as it enters the post-
Kurt Warner
era and San Francisco always seems to fall short of its potential. Put Oakland in the NFC West and you'd have your 2010 division favorite.
Sando:
There's no way Campbell would hold up in the NFC West behind that horrible offensive line. The 49ers roughed him up Saturday night (Campbell has a stinger and wrist injury as a result). A week earlier, the 49ers roughed up
Brett Favre
(the Vikings had to yank him after only four plays). The Cardinals' defensive front also would mangle Campbell. They feasted upon the
Chicago Bears
'
Jay Cutler
when both teams' starting units were on the field Saturday night. Cutler had zero points, four sacks and two interceptions in five drives.
Darnell Dockett
and
Calais Campbell
would feast on the Raiders' offensive line. It'll happen soon enough. The teams meet in Week 3.
Williamson:
Let's get back to the quarterbacks. No legitimate contender in the NFC West has one better than Campbell. Matt Leinart's career is on life support in Arizona and his replacement, Derek Anderson, is the quintessential stop-gap solution.
Alex Smith
is as fragile as a porcelain vase.
Matt Hasselbeck
is very much on the back nine of his career and
Sam Bradford
is just not ready to carry a team on his back. Not this year, at least.
Campbell is the most reliable of all of the above-mentioned quarterbacks heading into this season. He is a smart game manager who is not going to lose games. He will trust his young receivers and his potentially strong running game.
Sando:
Granted, the whole Leinart-Anderson debate isn't helping the NFC West's credibility. But the coaching in Arizona is solid and the team still has good talent throughout its roster. Jason Campbell might be an upgrade for the Raiders, but the Redskins did bench him during an ugly loss to the
Kansas City Chiefs
last season. Last time I checked, the Chiefs weren't good, even by AFC West standards.
[+] Enlarge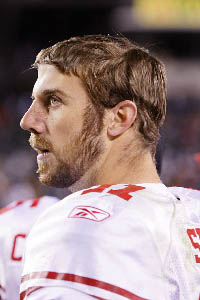 AP Photo/Matt SlocumAlex Smith threw 18 touchdowns and 12 interceptions in 11 games last season.
Williamson:
Campbell might not win games alone, but nine times out of 10, he won't lose them alone, either. The Kansas City game was an aberration. Campbell posted a passer rating of at least 90 in nine regular-season games last season. Kurt Warner did it eight times despite playing with a far superior supporting cast. Campbell has the potential to lead Oakland to around 20 points a game while throwing 20-25 touchdown passes and limiting his interceptions to under a dozen or so. Can any quarterback in the NFC West say that this season? In a league where quarterbacks reign supreme, Campbell would be the best quarterback in the NFC West. He'd give Oakland a strong chance to be the best team in the division.
Sando:
The 49ers had a chance to go after
Donovan McNabb
and they chose Smith instead. I didn't think it was the wisest move, but it's no stretch to think Smith will finish the 2010 season with better numbers than Campbell will post in Oakland. Smith had 18 touchdown passes with 12 interceptions in 10-plus games last season. Campbell was at 20 touchdowns and 15 interceptions over a full season. Smith has a clear edge over Campbell in available weaponry, and he's finally getting comfortable. Don't tell Al Davis this, but
Michael Crabtree
was a better choice than
Darrius Heyward-Bey
. Crabtree had more catches in 11 games last season (48) than any wide receiver for Oakland, and his total would have ranked tied for third on Campbell's Redskins. Better yet for Smith, Crabtree isn't necessarily the best option in his arsenal.
Vernon Davis
is a first-team Pro Bowl tight end,
Josh Morgan
is a decent No. 2 and newcomer
Ted Ginn Jr.
looks like he'll provide a welcome speed element on the outside. It's ironic that the 49ers have the pure burners -- Ginn and Davis -- Oakland usually covets.
Williamson:
Smith and Campbell have both faced tough circumstances in recent seasons. They've gone through coaching changes, gotten knocked around and faced criticism. Campbell has persevered far more impressively. He's held up physically and finished with more touchdown passes than interceptions in each of the four seasons he has played. Smith has done it just once -- last season -- and never as a full-time starter. He couldn't even beat out
Shaun Hill
heading into last season.
Sando:
Drawing the NFC West as part of the NFL's scheduling rotation is going to help Campbell, but it's not like the Redskins played a tough schedule last season. I heard Mike Shanahan call it soft during a recent radio interview. He's right. With Campbell at quarterback in 2009, the Redskins lost to the Lions, Panthers, Chiefs and Giants (twice). They barely beat the Rams, 9-7. They scored 17 points or fewer in 11 of 16 games. That doesn't look very good on a quarterback's résumé.
Williamson:
The Raiders are not all about Jason Campbell. Quietly, Oakland has added some very talented pieces throughout its roster. While Oakland has crashed and burned in the first round lately, it has not gotten enough credit for late-round finds. The unheralded results form the makings of a solid roster.
There are legitimate stars on this team.
Start with left cornerback
Nnamdi Asomugha
. If league observers would take their eyes off Revis Island for a minute, they would realize there is dominant cornerback play on the left coast, sans the snazzy nickname and lengthy contract holdout. Asomugha is one of the brightest, most instinctive players in the NFL. Consider that he plays a premium position and you have a highly valuable player.
The linebacking corps has a chance to be very good with McClain and Cleveland refugee
Kamerion Wimbley
. Wimbley showed his pass-rushing potential with four sacks in a limited role against Chicago in the second preseason game. Three-time Super Bowl champion
Richard Seymour
is anchoring a new-look and potentially outstanding defensive front.
Offensively, Campbell has some young, intriguing weapons to play with. Tight end
Zach Miller
is a blossoming star and one Campbell should utilize often. Young receivers
Chaz Schilens
,
Louis Murphy
and Heyward-Bey all have a chance to reach their immense potential very soon. Running backs
Michael Bush
and
Darren McFadden
could give defensive coordinators fits on a weekly basis because of their varied skills. There's talent in Oakland that teams in the NFC West simply can't match.
Sando:
Asomugha arguably would be the best player in the NFC West, but
Larry Fitzgerald
,
Patrick Willis
and
Steven Jackson
wouldn't be far behind. Kamerion Wimbley? I'll take Dockett,
Adrian Wilson
, Gore, Davis,
Dominique Rodgers-Cromartie
,
Justin Smith
, Matt Hasselbeck,
Marcus Trufant
-- the list goes on, and I've probably missed a few.
This debate will be tough to settle, but we can say the scheduling rotation should help one or more teams from each division pump up their records. NFC West teams eagerly can look forward to facing the Chiefs,
Denver Broncos
and possibly the Raiders. AFC West teams can feel the same way about games against the Rams and Seahawks, at least.
I'll be heading to Oakland in Week 2 for the Raiders' game against the Rams. St. Louis has managed only three victories over the past two seasons, but they're 1-1 against Campbell during that time, losing by two points at Washington in 2008 after suffering a fourth-quarter fumble inside the Washington 10.
If Bradford plays as well as he has recently, I won't be shocked if the Rams make it 2-1 against Campbell over the past three seasons.

NFL SCOREBOARD
Sunday, 2/2
WEEKLY LEADERS