NFL Nation:

2010 Hall Of Fame Debate
July, 8, 2010
7/08/10
12:00
PM ET
A weeklong look at current or former players or coaches with Hall of Fame potential in the division.
Buffalo Bills:
Steve Tasker
, special teams.
Claim to fame:
Tasker perhaps is the greatest special-teams ace in NFL history. He was a notable weapon on Buffalo's four consecutive AFC championship teams in the 1990s.
Case for enshrinement:
Tasker was so dominant in his role, the NFL changed its Pro Bowl rules to include special-teamers on rosters. He went to seven Pro Bowls, putting him in select company, and was named the MVP in 1993. He has been a semifinalist on the Hall of Fame ballot four times. The NFL Network named him the
ninth-best player -- of any position -- not in the Hall of Fame
.
Tasker blocked seven punts and made 204 special-teams tackles. He forced seven fumbles and recovered six. He returned kickoffs, punts and held on extra points and field goals. As a receiver, he caught 51 passes for 779 yards and nine touchdowns.
Case against enshrinement:
Special-teamers just don't get enshrined. Kicker Jan Stenerud is the only pure special-teamer with a bust. Legendary punter Ray Guy isn't in. No return specialist has been honored, either.
The common retort to that is one of the silliest sayings in football: Special teams are one-third of the game. Sorry, but that's not true. If each team plays a perfect defensive game and forces the opponent to go three-and-out on every possession, then special teams are needed once every four plays. And if football people truly believed special teams were that integral to the game, they would draft special teamers rather than fill out those units with offensive and defensive reserves.
Parting shot:
I'd like to see more special-teamers recognized in Canton. But unless there's a substantial change in selection philosophies, Tasker won't make it into the Hall of Fame.
Miami Dolphins:
Jake Scott, safety.
[+] Enlarge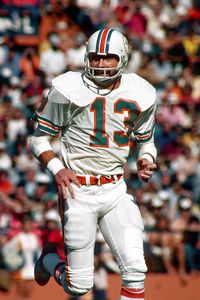 Malcolm Emmons/US PresswireMiami's Jake Scott was the MVP of Super Bowl VII.
Claim to fame:
Scott was among the greatest safeties and most dangerous punt returners of the 1970s. He was voted MVP of Super Bowl VII, when the Dolphins closed out their undefeated season.
Case for enshrinement:
Scott is one of the most overlooked players in NFL history. His career was relatively short, but it burned brightly. For five years in a row, starting with his second season, Scott went to the Pro Bowl and was named first- or second-team All-Pro.
Despite playing only nine NFL seasons, Scott recorded 49 interceptions, a total that ranked 18th all time when he retired. Hall of Fame safety Ken Houston played 14 seasons and finished with the same total. Scott still holds the Dolphins record with 35 interceptions. He added 14 more in three seasons with the
Washington Redskins
. Scott recovered 13 fumbles in his career.
He also was a slick punt returner. He holds Miami career records in returns and yardage and ranks third in average.
Case against enshrinement:
There's a stigma that comes with playing on the No-Name Defense. Only one player from that great unit, linebacker Nick Buoniconti, is in the Hall of Fame, and his cause certainly was helped by previous work with the Boston Patriots and by remaining in public view as a broadcaster.
Scott, meanwhile, became a recluse. He moved to Hawaii and for a time avoided attention at all costs. He reportedly declined the chance to be inducted into the College Football Hall of Fame because he wouldn't commit to attending the ceremony.
Also working against Scott, who never has made the cut to 15 modern-day finalists, is the dearth of safeties enshrined in Canton. Only seven have been inducted.
Parting shot:
Scott didn't play long enough to get traditional consideration. His best hope would be through the senior committee.
New England Patriots:
Adam Vinatieri
, kicker.
Claim to fame:
If Vinatieri is not the greatest clutch kicker in NFL history, then he's in a short conversation. He won the Patriots' first two Super Bowls with field goals in the final seconds.
Case for enshrinement:
Vinatieri has kicked for six Super Bowl teams, played in five Super Bowls and won four rings -- three with the Patriots and one with the
Indianapolis Colts
. He directly delivered a pair of Lombardi Trophies for the Patriots. He kicked a 48-yarder as time expired to win Super Bowl XXXVI and a 41-yarder with four seconds left to win Super Bowl XXXVIII.
In blizzard conditions at the end of the infamous Tuck Rule game, Vinatieri kicked a 45-yard field goal with 1:39 left in regulation to force overtime and then won it with a 23-yard field goal.
Vinatieri has been an All-Pro twice. He has kicked a record-tying five field goals in a postseason game twice and owns multiple playoff and Super Bowl records. He has scored the most points for a kicker (34) in Super Bowl history and converted the most field goals (seven) and extra points (13). His 177 postseason points rank first.
Case against enshrinement:
Stenerud is the only true kicker in the Hall of Fame.
Morten Andersen
and
Gary Anderson
will have to get in first, and the idea of quadrupling the number of kickers (if you consider Vinatieri the next one inducted after Andersen and Anderson) won't be an easy sell to the voters.
Vinatieri has led the NFL in scoring and field goals once and probably won't finish with attractive enough career stats. At 37 years old and showing signs of slowing down -- he played six games for the Colts last season because of hip and knee surgeries -- and he ranks 15th in scoring and 13th in field goals made. Players such as
John Carney
,
Matt Stover
and
John Kasay
have more. Vinatieri has kicked almost 100 fewer field goals than
Jason Elam
. Nobody envisions Canton when they think of those guys.
Parting shot:
Vinatieri provided two of the most indelible memories in Patriots history. As his career stands now, however, two big kicks won't overcome the circumstances of his position.
New York Jets:
Joe Klecko, defensive lineman.
[+] Enlarge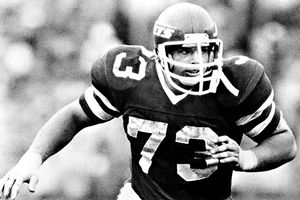 TSN/Icon SMIUnofficially, Joe Klecko recorded 20.5 sacks in 1981 as part of the New York Sack Exchange.
Claim to fame:
Klecko was a key member of the New York Sack Exchange defensive line. Many consider him the greatest Jet not in the Hall of Fame and one of the best sixth-round draft picks of all time.
Case for enshrinement:
Klecko was the first player to make the Pro Bowl at three positions. He went as a defensive end in 1981, a defensive tackle in '83 and '84 and a nose tackle in '85. To illustrate his importance, the Jets made his No. 73 the third number retired in club history after Joe Namath and Don Maynard.
Unlike the Fearsome Foursome or Purple People Eaters, the Sack Exchange doesn't have a single Hall of Fame representative. While Mark Gastineau's histrionics garnered the most attention, Klecko was the most complete player of the four. He was a dangerous pass-rusher and nasty against the run.
Klecko unofficially recorded 20.5 sacks in 1981 and notched at least one sack in 10 straight games, a franchise record.
Case against enshrinement:
What hurts Klecko is that he somehow remained relatively anonymous in New York. He was overlooked because he played thankless positions and was trumped by Gastineau's sack dances.
Klecko also played on some lousy teams. The Jets went to the playoffs only four times during his tenure (1977 through 1987). Once was in the strike-shortened 1982 season and he was hurt for the 1986 postseason.
Parting shot:
Klecko never has made the cut of 15 modern-era finalists. He might need to rely on the senior committee.
July, 8, 2010
7/08/10
12:00
PM ET
By
Matt Mosley
| ESPN.com
A weeklong look at current or former players or coaches with Hall of Fame potential in the division.
Cowboys
: Cliff Harris, free safety
[+] Enlarge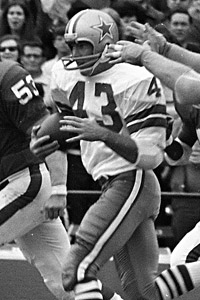 AP PhotoCliff Harris was the safety by which others were measured for years after he retired.
Claim to fame
: Member of the 1970s all-decade team. Wasn't drafted out of Ouachita Baptist University in Arkansas, but immediately won the free safety role. Nicknamed "Captain Crash," he was one of the most feared defenders in the game.
Case for enshrinement
: He was a finalist in 2004 and certainly deserves to be in the Hall. For years, safeties entering the league were compared to Cliff Harris. He was the rare player who was excellent against the pass but could also blow up running plays. He took Tom Landry's complicated flex defense and added his own spin. Harris, a highly intelligent player, finally made it into the club's hallowed Ring of Honor in 2004.
Harris studied opponents for hours at a time and he punished wide receivers who ventured over the middle. Cardinals great Larry Wilson, who's in the Hall of Fame, has said that Harris was the best safety he'd ever watched. Harris went to six Pro Bowls and he and Ken Houston were considered the best safeties from the '70s.
Case against enshrinement
: It's tough to build a case against Harris. But the fact that he had only 29 career interceptions probably works against him. Wilson had 52 and Houston finished with 49. Harris walked away from the game after the '79 season when he was still going to Pro Bowls (age 31). I'm sure he could have collected 10 to 15 more interceptions.
And those Super Bowl losses to the Steelers in the '70s didn't help matters. If the Cowboys win one of those games, they probably would have two or three more players in the Hall than they have. I think Harris would've been one of those players.
Bottom line:
In a lot of ways, Harris redefined how the safety position was played, and that should be rewarded by the selection committee.
Best player who will never make it:
For my money, it's Drew Pearson. His stats don't hold up in this era, but he played a huge role in Roger Staubach's success. And though he had only a couple of 1,000-yard seasons, he made clutch catches seemingly all the time. Ask Redskins fans from the '70s if they think Pearson belongs in the Hall of Fame.
Eagles:
Donovan McNabb
, quarterback
Claim to fame:
Took over as the full-time starter in 2000 and took the Eagles to five NFC title games and one Super Bowl in that decade. Has been selected to six Pro Bowls and has the fourth lowest interception percentage of all time. Became the first NFL quarterback to throw 30 touchdowns and fewer than 10 interceptions in 2004. The best quarterback in the history of the Eagles.
Case for enshrinement:
His numbers compare favorably to Hall of Famer
Jim Kelly
, who never won a Super Bowl. And McNabb put up monster numbers with average to subpar wide receivers (except for
Terrell Owens
).
DeSean Jackson
was a rookie when McNabb led the Eagles to the NFC title game in '08. Other than the Patriots, the Eagles were the most dominant team of the past decade and McNabb played a huge role in their success. McNabb also compares favorably to Hall of Famer
Steve Young
, although he's missing one very important piece of jewelry. McNabb's one of only six quarterbacks to pass for 25,000 yards and rush for 3,000. And his lower-body strength still makes him one of the most difficult quarterbacks in the league to sack. McNabb's lost some of his athleticism, but he still has a cannon for an arm.
Case against enshrinement:
Those five NFC title games we discussed? Well, the Eagles lost four of them. And it's not as if McNabb strung together excellent performances in those games. He'll also be remembered for throwing three interceptions against the Patriots in the Super Bowl following the '04 season. It was the beginning of the end of the McNabb-T.O. relationship.
I think McNabb will always be appreciated more by the national media more than the folks in Philly. Every game has been dissected, so Eagles fans simply got to know him a little too well. His career has honestly been more consistent than
Kurt Warner
's. But Warner has the ring and he finished strong with the Cardinals.
Bottom line:
Another trip to the Super Bowl would help his cause immensely, but he's already in the Canton conversation.
Best player who will never make it:
Wide receiver Harold Carmichael's numbers might not look special compared to
Randy Moss
and Owens, but he was an elite receiver from his era. His numbers completely trump Hall of Famer Lynn Swann's. Carmichael finished with 254 more receptions and 28 more touchdowns than Swann. Of course, Swann has the four rings and that's the biggest reason he's in Canton.
Giants:
Tiki Barber
, running back
[+] Enlarge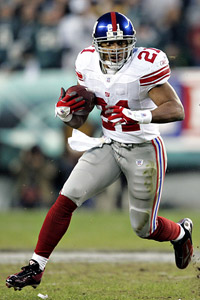 James Lang/US PresswireTiki Barber finished his career with five consecutive seasons of at least 1,200 yards rushing.
Claim to fame:
For the record, I'd originally chosen former defensive end
Michael Strahan
, but his "no-brainer" status for the Hall doesn't lend itself to a good argument. Barber may have left a sour taste with his early retirement, but he put up some impressive numbers. As Daily News columnist Gary Myers once pointed out, Barber may have left 3,000 yards on the table. He's the greatest running back for one of the most storied franchises in the league. Doesn't that count for something?
Case for enshrinement:
He finished strong with five consecutive seasons of at least 1,200 yards rushing. And his 15,632 yards from scrimmage (rushing and receiving) ranked him 10th on the league's all-time list upon his retirement following the '06 season. In 154 regular-season games, Barber averaged 101.5 yards from scrimmage per game. That puts him in an elite group with the likes of Walter Payton and
Barry Sanders
.
Barber led the franchise in all-time receptions with 586 at the time of his retirement. And he was still on top of his game when he walked away after '06 -- as evidenced by a 200-yard performance against the Redskins. He was the Giants' leading rusher in 80 consecutive games from 2002 until 2006, which speaks to his consistency.
Case against enshrinement:
Super Bowl rings talk, and Barber retired a season before the Giants broke through in '07. And he certainly left a lot of yards on the table when he walked away at age 31. There's a chance that he could've had at least two more highly productive seasons. Like
Emmitt Smith
, he had the ability to avoid the big hits that knock running backs out of games. Barber was one of the best backs in the league over his final five seasons, but I suspect that won't be enough. And it doesn't help that
Ricky Watters
is ahead of him on the all-time rushing list. Watters isn't getting in the Hall -- and Barber probably will meet the same fate. By the way, can any of you make a case against Strahan? I'd be interested to see what that looks like. I guess you could point out the fact that
Kevin Greene
has nearly 20 more career sacks. But that's about as far as I got.
Bottom line:
Barber's early retirement probably cost him a shot at the Hall.
Best player who will never make it:
I realize that
Phil Simms
has said he wouldn't elect himself, but I think he deserves honorable mention. He took a beating his first few years in the league and then had to deal with Bill Parcells, a man who chews up quarterbacks. What Simms did in Super Bowl XXI was remarkable. His 22-of-25 performance earned him the Super Bowl MVP. Simms was a huge part of Parcells' success with the Giants, so I'd have no problem with him being in the Hall of Fame.
Redskins:
Gary Clark
, wide receiver
[+] Enlarge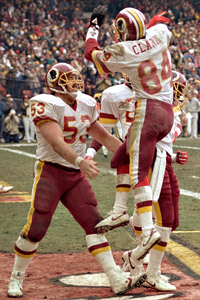 AP Photo/Scott StewartGary Clark caught 65 touchdowns during 11 NFL seasons.
Claim to fame:
He didn't have the longevity of
Art Monk
, but he was brilliant during his eight seasons with the Redskins. In the late '80s and early '90s, I thought he overtook Monk as the best receiver on the team. He could stretch the field with his speed, but he was also willing to go across the middle -- as evidenced by his annual appearances on the All-Madden team.
Case for enshrinement:
The thing that always jumps out at me is that Clark had 65 touchdowns in only 167 games. Art Monk's in the Hall of Fame with 68 touchdowns in 224 games. But I don't want to turn this into an anti-Monk argument. I think they probably both deserve to be in the Hall.
The fact that Clark was the top receiver on what I thought was the best Redskins team ever ('91) holds a lot of weight with me. He caught 70 passes for 1,340 yards and 10 touchdowns that season. Clark also had seven catches for 114 yards and a touchdown in the Super Bowl win over the Bills.
Clark was a player who inspired all of his teammates. And as of a couple of years ago, he was still inspiring the Redskins.
Santana Moss
told me about a time when Clark showed up to practice and told him to kick it into gear. Moss went on to finish the season strong after that talk in '07. Of all those great players from the Gibbs I era, Clark's the guy who always stands out to me. Perhaps he's hurt by the fact that Monk and
Ricky Sanders
were both so good.
Case against enshrinement:
He simply didn't do it for long enough. And one of his Super Bowl rings came in a strike-shortened season. If he'd played 16 games in the strike-shortened '87 season, I believe Clark would have had another 1,300-yard season. Those were pretty rare in those days, but he made it look easy.
Clark got a late start because he spent a couple of seasons in the USFL. Those are two years he could've put up big numbers for the Redskins in the mid-'80s. But to nearly reach 11,000 yards in a relatively short career (compared to Monk's) is pretty remarkable.
Bottom line:
Despite his brilliance, he just doesn't have the numbers to get in.
Best player who will never make it:
I hope I'm wrong about this one, but it's unlikely left tackle
Joe Jacoby
will enter the Hall. The Hogs finally have a representative with Russ Grimm. I think those dominant teams of the '80s that blew open holes for John Riggins deserve more, but it probably won't happen. Jacoby was a trailblazer of sorts because he didn't get in a three-point stance on obvious passing situations. He was one of the first players to do that, and it soon caught on around the league. I think it's pretty much a wash when you put Grimm and Jacoby next to each other, but that's just me. I'm also a big fan of defensive end
Charles Mann
's work in the '80s and early '90s.
Now, let's hear some of your arguments.
July, 7, 2010
7/07/10
12:00
PM ET
A weeklong look at current or former players or coaches with Hall of Fame potential in the division.
Rams:
Orlando Pace
, LT
Claim to fame:
Seven Pro Bowl appearances and three first-team All-Pro selections affirm Pace's standing as one of the elite offensive linemen of his era. Pace started two Super Bowls for the
St. Louis Rams
, winning one, and he was one of the best players for the Greatest Show on Turf.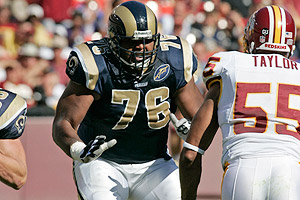 Jeff Fishbein/Icon SMIOrlando Pace was selected to the Pro Bowl seven times during his career.
Case for enshrinement:
At his best, Pace dominated in all aspects of the game and he did it while playing for some of the best offenses of any era. Any discussion of the great tackles since the mid-1990s must include Pace,
Walter Jones
and
Jonathan Ogden
. The Rams drafted Pace first overall in 1997 and he lived up to expectations. That's saying a lot.
"The thing Orlando does so well is that he can get caught off balance on the pass rush and recover and finish the block, which is very difficult to do," then-Rams coach Mike Martz told the St. Louis Post-Dispatch in 2002, when Pace was in his prime.
The Rams' offense put pressure on its tackles to hold up in protection. Receivers ran deeper routes, forcing quarterbacks to hold the ball longer. The Rams were willing to risk sacks for the big play. They gave up more than most teams by design, not because Pace had trouble protecting.
"Orlando is the cornerstone of everything we're trying to do on offense," teammate
Isaac Bruce
told the Post-Dispatch in 2004.
Case against enshrinement:
Pace's conditioning wasn't always the best and he battled injuries throughout his career, at the expense of consistency.
Pace managed to play through the injuries for most of his first nine seasons, but he missed 23 of 32 games over the 2006 and 2007 seasons. Pace was never the same thereafter and he was below average last season for the
Chicago Bears
.
Parting shot:
The final five or six seasons of Pace's career shouldn't overshadow what he accomplished in earning those seven trips to the Pro Bowl. Pace deserves strong consideration for the Hall of Fame even though he'll likely rank a couple notches below Jones and Ogden.
Cardinals:
Kurt Warner
, QB
Claim to fame:
Warner authored a legacy unique to the NFL in going from virtual anonymity to superstar status when the Rams lost
Trent Green
to injury before the 1999 season. He was a four-time Pro Bowl choice and two-time MVP. He was also Super Bowl MVP. Warner helped turn two floundering franchises into Super Bowl teams quickly.
Case for enshrinement:
None of the 14 quarterbacks enshrined in the Hall of Fame since 1985 can match Warner in completion percentage (65.5) or yards per game (260.8). Of the 14, only Steve Young had a higher passer rating and more yards per attempt. Only Dan Marino had more 300-yard games.
Warner reached 10,000 yards passing in fewer games than anyone in NFL history. Only Marino reached 20,000 and 30,000 yards as fast (they tied by reaching 30,000 yards in 114 games). Warner and
Peyton Manning
are the only players with a perfect passer rating in three games.
Warner was also about winning. He has a 9-4 starting record in the playoffs and has posted the three highest passing yardage totals in Super Bowl history. Only Bart Starr has a higher career postseason passer rating. Warner averaged 66.5 percent completions, 304 yards and 8.55 yards per attempt in the playoffs. Warner has 31 postseason touchdown passes in only 13 games (the three players ahead of him own between 18 and 24 playoff appearances).
Case against enshrinement:
Warner started more than 11 games in a season only four times. He started between nine and 11 games four times and didn't accomplish much for a five-season period beginning in 2002.
Any argument against enshrinement for Warner will focus on the disjointed nature of his career and the fact that he produced sporadically as a result. The consistency simply wasn't as good with Warner as it was with the typical Hall of Fame quarterback.
Parting shot:
Warner's candidacy improved significantly when he led the Cardinals to the Super Bowl following the 2008 season. I thought it was also important for his Hall credentials to follow up with another strong effort in 2009. Warner did that, leading the Cardinals to another division title. Tossing five touchdown passes with only four incompletions during a wild-card victory over the
Green Bay Packers
might have pushed him over the top.
[+] Enlarge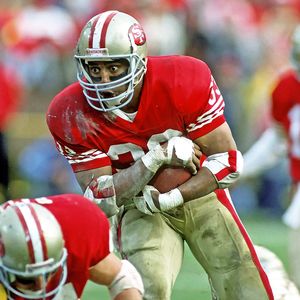 US PresswireRoger Craig was the first player in league history to post 1,000 yards rushing and receiving in the same season.
49ers:
Roger Craig
, RB
Claim to fame:
Craig was among the more versatile running backs in league history, earning Pro Bowl honors at running back and fullback. He was a three-time Super Bowl champion and four-time Pro Bowl choice.
Case for enshrinement:
Craig was the first player in NFL history to top 1,000 yards rushing and receiving in the same season. He led the NFL in receptions with 92 in 1985 and set the 49ers' season rushing record with 1,502 yards three years later.
It's tough to measure players across eras, but Craig ranked 13th on the all-time rushing list when he retired even though he did so much more than simply run the ball. His three touchdowns against the
Miami Dolphins
helped the 49ers win the Super Bowl after the 1984 season.
Craig was one of three players in NFL history with 8,000 yards rushing, 4,900 yards receiving, 70 total touchdowns and four Pro Bowls. Marcus Allen and Marshall Faulk are the others.
Case against enshrinement:
Craig's versatility meant he usually wasn't exceptional in any one category. He generally wasn't a threat to rank among the league rushing leaders. While he did play fullback, he wasn't a great one in the traditional sense.
Craig was a four-time Pro Bowl choice with 8,189 yards rushing, 4,911 yards receiving, 73 total touchdowns and a 4.1-yard rushing average. Ricky Watters was a five-time Pro Bowl choice with 10,643 yards rushing, 4,248 yards receiving, 91 total touchdowns and a 4.1-yard rushing average.
Parting shot:
Craig has good Hall of Fame credentials, not great ones, and he'll have a hard time breaking through given the quality of candidates and limited spaces.
Seahawks:
Kenny Easley, SS
Claim to fame:
Easley was a game-changing force while earning five Pro Bowl berths in seven seasons. He was the NFL's defensive player of the year in 1984.
Case for enshrinement:
All-time Seahawks sack leader Jacob Green called Easley the best athlete his Seattle teams ever had. Tight end Todd Christensen of the division-rival Los Angeles Raiders said Easley, at his best, was even better than Hall of Famer Ronnie Lott. Bill Walsh said Easley would be a Hall of Famer if Easley had played longer and, in his words, "maybe he still is -- he was that good." Lott said he knows the 49ers would have drafted Easley over himself if Seattle hadn't taken Easley first, and he blamed the Seahawks' failure to appear in a Super Bowl for keeping Easley out of Canton.
"Kenny could do what Jack Tatum could do, but he also could do what corners could do -- he could do what Mike Haynes could do," Lott said several years ago. "He was not only a great hitter and great intimidator on the field, but he was a great athlete. In that day, what made him so special -- him, Lawrence Taylor, those guys changed the game of football on the defensive side because they were not just guys that were big hitters. Now, all of sudden, you were seeing guys who were big hitters but also as athletic as anyone on offense."
Easley's outstanding ball skills helped him pick off 17 passes over a two-year period. He was indeed part of a trend toward greater athleticism on defense.
Case against enshrinement:
Even if Easley were, at his best, better than Lott, there was no comparison between each man's careers. Easley, forced into early retirement after suffering from kidney failure attributed to excessive use of ibuprofen, simply didn't play long enough to solidify his Hall of Fame credentials. That wasn't his fault, but it was reality and it's tough to judge candidates on what might have been.
Parting shot:
Easley becomes eligible for consideration by the Hall of Fame's Senior Selection Committee in 2012. His case deserves careful consideration and I think his chances for enshrinement will improve once the Senior Committee takes a harder look at his career. Easley was better than a lot of people realize. The respect he commands from all-time greats will help his cause.
July, 7, 2010
7/07/10
12:00
PM ET
A weeklong look at current or former players or coaches with Hall of Fame potential in the division.
Broncos
:
Champ Bailey
, cornerback
Claim to fame:
Bailey has been known as one of the premier shutdown cornerbacks in the NFL since coming into the league with Washington in 1999. He's been named to nine Pro Bowls.
Case for enshrinement:
Bailey continues to be a shutdown cornerback. His signature play is an interception in the end zone that he brought back all the way to the goal line in the 2005 playoffs against New England. It was the key play in
Tom Brady
and Bill Belichick's first postseason loss as New England Patriots.
Bailey is a tremendous run-stuffer. Unlike many cornerbacks, Bailey loves to get dirty and he often snuffs out sweep plays. He has said he worked hard to become a good tackler because he rarely gets tested in the air. Bailey is a bright, articulate player who takes his game very seriously. He's simply an all-timer.
Case against enshrinement:
Bailey has said it himself: He needs to get a Super Bowl ring before he seriously can be considered for enshrinement in Canton.
He should be in the clear, but the fact that Bailey hasn't won a Super Bowl could play against him. The furthest he got was the AFC title game in the 2005 season.
Last run in Denver?
Bailey, 32, said he plans to play at least five more years. However, the 2010 season could be his final year in Denver. His seven-year, $63 million contract expires after this season. There haven't been any serious extension talks. Bailey said he is willing to wait to talk about a new deal and he wants to stay in Denver. However, Bailey will be expensive. If Denver doesn't re-sign him, expect a contending team to open up the checkbook for this special player.
Will he make it?
I think, if he wins a ring or not, Bailey will be enshrined in Canton.
Chiefs:
Mike Vrabel
, linebacker
[+] Enlarge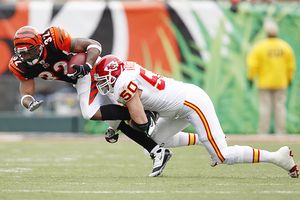 Frank Victores/US PresswireMike Vrabel's leadership adds another dimension to his game.
Claim to fame:
A main cog of the New England Patriots' defenses during their dynasty years of the past decade.
Case for enshrinement:
Dynasty teams usually send many players to Canton. Vrabel will get a long look. He is a natural leader, which is one of the reasons former New England executive Scott Pioli traded for him the first day he could when he took over in Kansas City last year. Vrabel is essentially a coach on the field.
Vrabel, who turns 35 next month, was a member of Sports Illustrated's all-decade team for the 2000s. He was part of New England's 50th anniversary team. Many people in Kansas City think if the Chiefs' defense turns around this year, it will be because of Vrabel's leadership.
Case against enshrinement:
Vrabel may be considered just a complementary player instead of a dominant game-changer. He has made only one Pro Bowl and one All-Pro team. He has one season in his 13-season career with more than 100 tackles. He has only 11 career interceptions.
Don't forget the offense:
In both New England and in Kansas City, Vrabel has been used as a secret weapon. As a tight end in the red zone, Vrabel has nine receiving touchdowns in the regular season. He has two offensive touchdowns in the postseason. He is, by far, the NFL's defensive leader for offensive scores. That will count for something.
Will he make it?
I think Vrabel will have to wait a long time. His lack of dominant numbers will hurt him.
Raiders:
Nnamdi Asomugha
, cornerback
Claim to fame:
Asomugha is arguably the best cornerback in the NFL. He is a true shutdown cornerback.
Case for enshrinement:
He shuts down the entire left side of the field. A first-round draft pick from Cal in 2003, Asomugha had a breakout season in 2006 with eight interceptions.
Since then, teams just don't challenge Asomugha. He has had one interception in each of the past three seasons. Asomugha has made himself a great run-stuffer because he doesn't get much work in the passing game. He is a bright light for the league as he is involved in many charities.
Case against enshrinement:
He might not have a large body of work. Asomugha, 29, had a slow start to his career, so his final numbers might not be great. Asomugha has played in Oakland for seven years. The Raiders have lost at least 11 games in each of those seasons, which is an NFL record. Of course, the tailspin is not Asomugha's fault. Still, in a league where rings are cherished, he could be dinged for it.
Hall of Fame tutelage:
Asomugha has benefited from the coaching of Pro Football Hall of Famer Willie Brown, who is known as one of the greatest cornerbacks to play the game. Brown has helped Asomugha throughout his career. The two are very close and often talk strategy.
[+] Enlarge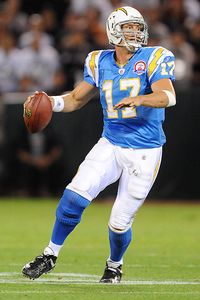 Kirby Lee/Image of Sport/US PresswirePhilip Rivers has thrown for almost 15,000 yards since entering the league in 2004.
Will he make it?
I think Asomugha may run out of time. His late start and Oakland's losing ways have put him behind the eight ball, but he's special enough to make up for the lost time.
Chargers:
Philip Rivers
, quarterback
Claim to fame:
He is an elite quarterback. Rivers is in his prime and has gotten better in each of the four seasons he has started.
Case for enshrinement:
This is a long-term project. Rivers is 28 and he should have another eight to 10 quality years remaining in his career. But he is on the right track.
Rivers is one of the game's best players. He has put up huge numbers. He has thrown for 8,263 yards and 62 touchdowns in the past two seasons. He threw only 20 interceptions in that time. If Rivers, who has a high-powered offense to work with, continues to produce at this rate, he will be considered for enshrinement down the road.
He is a proven winner. San Diego is 46-18 in the regular season since Rivers became the starter. He is a natural leader.
Case against enshrinement:
If Rivers gets hurt and his career ends prematurely, his Canton push will fall short. He needs to have a long career. He also needs to show he can deliver in the postseason, when it counts most. In 2006 and 2009, the Chargers were upset at home in their first playoff game in seasons in which the Super Bowl was an attainable goal. Rivers needs some signature playoff wins.
2004 draft class:
Rivers will always be compared to
Eli Manning
and
Ben Roethlisberger
. Manning was the No. 1 pick, Rivers was the No. 4 pick and Roethlisberger was the No. 11 pick in the 2004 draft. Of course, Manning and Rivers were the key figures in a draft-day trade between the Giants and the Chargers.
Both Manning and Roethlisberger have something Rivers doesn't: a Super Bowl ring. Roethlisberger has two rings. If Rivers never gets a Super Bowl ring, this comparison could work against him. Still, Rivers appears to be the safest bet of the three as they all move forward. Rivers is playing great and he is a solid citizen. Manning is inconsistent on the field and Roethlisberger will start the 2010 season suspended because of off-field issues. In the end, Rivers probably will be remembered as the best of the three, but a ring will help.
Will he make it?
If Rivers stays healthy, I think he will be a Hall of Famer. He'll retire with huge numbers.
July, 6, 2010
7/06/10
12:10
PM ET
A weeklong look at current or former players or coaches with Hall of Fame potential in the division.
Saints:
Drew Brees
, quarterback.
Claim to fame:
He led the 2009 Saints to their first Super Bowl championship while throwing for 34 touchdowns and posting a career-best 109.6 passer rating. Brees threw for a career-best 5,069 yards in 2008. He has thrown for 30,646 yards in a nine-year career.
Case for enshrinement:
Brees has been more than a quarterback for the Saints. Arriving as a free agent in 2006, Brees has helped New Orleans and the entire Gulf region rebound from the devastation of Hurricane Katrina. Brees has taken an extremely active role in the community and has done just as much on the field.
He is the perfect quarterback for coach Sean Payton's offense. Brees has made the Saints one of the most fun teams in the league to watch while putting up huge offensive numbers. With Brees, the Saints have reached heights the franchise never came close to before.
Case against enshrinement:
This almost certainly will change in another few years, assuming Brees continues to play anything like he has the past few seasons. But, at this moment, Brees would not be a slam dunk for the Hall of Fame because he's only spent eight seasons as a starter and his years in San Diego were very good, but not great.
A couple more years of big numbers and another Super Bowl title, or at least some more playoff victories, should put Brees over the top.
Bottom line:
Barring major injury, Brees is well on his way to the Hall of Fame.
[+] Enlarge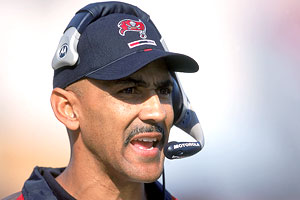 Andy Lyons/Allsport/Getty ImagesTony Dungy laid the foundation for a Super Bowl winner in Tampa.
Buccaneers:
Tony Dungy, former coach.
Claim to fame:
He took over a disaster of a franchise in 1996 and turned the Bucs into a consistently respectable team for the first time in franchise history. Dungy went on to coach the
Indianapolis Colts
and won a Super Bowl.
Case for enshrinement:
The knock on Dungy in Tampa was that he couldn't win the big one and the Bucs had to turn to Jon Gruden to get them their Super Bowl victory. But Dungy was largely responsible for building that team and changing the entire football climate in Tampa Bay. Building around Derrick Brooks, Warren Sapp and John Lynch, Dungy took the defensive philosophy he learned in Pittsburgh and built the famed "Tampa 2'' defense, which became a phenomenon around the league. He also built a lengthy coaching tree with Herm Edwards, Jim Caldwell, Lovie Smith, Rod Marinelli and Mike Tomlin going on to become head coaches.
Case against enshrinement:
With all of the defensive talent he had in Tampa Bay and
Peyton Manning
in Indianapolis, Dungy only won one Super Bowl title.
Bottom line:
If I'm voting at the time Dungy comes up for the Hall of Fame, he's the first name on my ballot. Aside from his record on the field, Dungy brought all sorts of good things to every place he's ever been. He won with class and did things the right way. He still does things the right way. There was a recent tragedy involving a family member of a former Dungy player. I wish I could tell you the story of how Dungy reached out, but I'm sworn to secrecy. Let's just say it was a Hall of Fame move.
Panthers:
Steve Smith
, wide receiver.
Claim to fame:
Smith has 574 career receptions for 8,330 yards and 50 touchdowns. With all sorts of injuries at running back, Smith put the 2005 Carolina offense on his back and carried the Panthers to the NFC Championship Game. That season, Smith had 103 catches for 1,563 yards and 12 touchdowns.
[+] Enlarge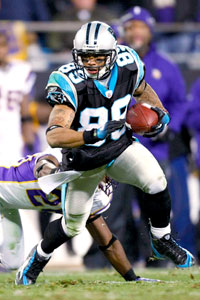 Kevin C. Cox/Getty ImagesA few more postseason appearances could help solidify Steve Smith's Hall of Fame status.
Case for enshrinement:
He's the best player in the history of the franchise. Initially expected to be nothing more than a kick returner, Smith made himself into one of the most dynamic receivers in the NFL.
His touchdown catch in double overtime in the divisional playoff round against St. Louis put the 2003 Panthers into the NFC Championship Game.
Case against enshrinement:
It's getting more difficult for receivers to get into the Hall of Fame as the NFL has evolved into more of a passing league. At the moment, Smith's numbers aren't even close to Hall of Fame material.
Smith's also had some troubles. On three different occasions, he has had physical altercations with teammates. Playing in a small market with a franchise that's never had back-to-back winning seasons doesn't help either.
Bottom line:
Let's not count Smith out of the Hall of Fame race yet. He's 31, but he really hasn't shown any signs of slowing down. He's going to miss some time in training camp as he recovers from a broken arm, but he should be ready for the start of the regular season.
With either
Matt Moore
or
Jimmy Clausen
taking over as the new starting quarterback, Smith's numbers could suffer. But he remains Carolina's only proven threat in the passing game. If he can play another four or five years at a high level and get his career yardage above 13,000, he could have a shot. Of course, it would only help if the Panthers can have a few more playoff seasons.
Falcons:
Dan Reeves, former coach.
Claim to fame:
He led Atlanta to a franchise-best 14-2 record in 1998 and the only Super Bowl berth in team history. Reeves also led the Broncos to three Super Bowls in four years.
Case for enshrinement:
Reeves, who also played in the NFL, wasn't the best head coach ever and he wasn't the best player ever. But combine what he did as a player and a coach and you've got a pretty impressive résumé. Reeves was a very solid player for the
Dallas Cowboys
in the 1960s and early '70s. He primarily was a running back, but also played some quarterback and receiver. He threw a touchdown pass in the legendary "Ice Bowl." The Cowboys made the playoffs every year Reeves played for them. He became Denver's head coach in 1981. In 12 seasons, Reeves led the Broncos to six playoff appearances, five division titles and three Super Bowls. He took the
New York Giants
to the playoffs in his first season with that team and took the Falcons to the Super Bowl in his second season with the team.
Case against enshrinement:
Reeves' coaching career was better than his playing career, and you can poke some holes in that coaching career. The strongest argument against Reeves is that he never won a Super Bowl with the Broncos, despite having John Elway in his prime. Despite his early success with the Giants and Falcons, Reeves wasn't able to keep the level of play that high for very long with either team.
Bottom line:
A very tough call because Reeves doesn't have one overwhelming accomplishment going for him. If he just had been able to win one Super Bowl with Elway, the path would be much easier.
July, 6, 2010
7/06/10
12:02
PM ET
A weeklong look at current or former players or coaches with Hall of Fame potential in the division.
Indianapolis Colts:
Reggie Wayne
, wide receiver
Claim to fame:
A consistently reliable target for the
Peyton Manning
-era Colts, who have won 12 games or more in seven consecutive seasons.
Case for enshrinement:
He's been to four Pro Bowls, caught 100 passes or more twice and led the NFL in receiving yards in 2007. A precise route runner and crafty player, Wayne has been a solid influence on the rest of Manning's targets.
He willingly accepted his role, first as a No. 2 behind
Marvin Harrison
, then as a co-No. 1, and finally as the team's primary receiver. A strong leader, he's set the tone for the team with seasonal themes, including arriving to training camp in a dump truck with a hard hat to emphasize the sort of tough, hard work the team would need in 2009.
He's only the third receiver in league history to increase his reception total for the first seven seasons of his career and has the most receptions and yards in the NFL since 2004. Pro Football Reference says his career already ranks as similar to a crop that includes Hall of Famers Michael Irvin and Bob Hayes.
Case against enshrinement:
He ranks only 11th among active players and 37th among all-time players with 9,393 receiving yards and 48th all-time in touchdown receptions with 63.
But the primary argument against Wayne's candidacy right now probably would revolve around Harrison. For the first six seasons they played together, Wayne's numbers were always second to Harrison except when he edged him in yards in 2004 and catches in 2005.
Certainly a passing team with a quarterback like Manning can have two Hall of Fame receivers. But in the remainder of his career, Wayne will have to show he can consistently make plays against the type of additional coverage Harrison often drew in his prime.
And so...:
Much as we hate to wait, we've got to see the remainder of the résumé. If Wayne excels for another good stretch and the Colts win another Super Bowl, his case could be very strong.
Jacksonville Jaguars:
Tony Boselli
, left tackle
[+] Enlarge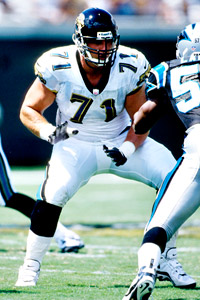 US PresswireWill Tony Boselli's seven seasons be enough to get him into the Hall of Fame?
Claim to fame:
A dominant left tackle whose career was cut short by a shoulder injury, keeping him from being mentioned with the best players at his position from his generation.
Case for enshrinement:
In seven seasons he was a five-time Pro Bowler and a three-time All Pro, providing top-flight protection and blocking for marquee players such as
Mark Brunell
and
Fred Taylor
.
Pro Football Reference says through six seasons he was similar to Hall of Famers Lou Creekmur, Bob Brown, Jim Parker and Rosey Brown as well as contemporaries
Jonathan Ogden
,
Willie Roaf
and
Larry Allen
. Through seven seasons the comparison list includes other all-time great linemen such as Dan Dierdorf, John Hannah, Mike Webster, Jim Langer and Ron Yary.
Boselli was one of four tackles named to the NFL's All-1990s team, along with Roaf,
Gary Zimmerman
and
Richmond Webb
.
Case against enshrinement:
He hasn't mustered much support since becoming eligible. Longevity is the primary issue keeping Boselli out of the conversation.
Boselli's level of play at his peak matched many of his contemporaries, but Zimmerman, Ogden and
Walter Jones
played 12 seasons and
Orlando Pace
and Roaf 13.
Zimmerman is already in the Hall. Jones, Ogden, Pace and even Roaf will all have strong candidacies. And there is no saying another tackle from the era will get in. Boselli will be left to wonder how a healthier career might have played out.
I think:
Boselli might have been as good or better at his peak than Ogden, Jones or Pace. Sometimes we give longevity too much weight in Hall of Fame matters. But in this instance, lack of it seals Boselli's fate.
Houston Texans:
Andre Johnson
, wide receiver
Claim to fame:
A fantastic combination of size, strength and speed who's the NFL's anti-diva wide receiver.
Case for enshrinement:
In seven seasons, he's a four-time Pro Bowler and a two-time All-Pro while consistently drawing extra attention in pass coverage. He has three seasons with more than 100 catches and four with more than 1,000 yards, with 3,144 receiving yards in the past two seasons.
A couple more years like that and he will shoot up the all-time leader boards for receptions, yards and touchdowns. He and quarterback
Matt Schaub
could become known as one of the preeminent connections of their era.
Pro Football Reference says through seven seasons Johnson compares to Hall of Famers Steve Largent,
James Lofton
and
Art Monk
.
Johnson ranks second all-time in
receiving yards per game
with 77.9. The rest of the top five are active players as well, so there could be a lot of jostling here considering the narrow margin separating talented players.
Case against enshrinement:
It's hard to punch any holes in Johnson's résumé at this stage of his career when considering his individual accomplishments and pace. Could the failures of the Texans to win enough to make the playoffs, if they continue to fall short, sidetrack his candidacy?
Plenty of players who rank as all-time greats didn't have great postseason careers, but how many didn't have postseason careers at all?
His generation of receivers includes a star-filled list including Marvin Harrison,
Randy Moss
,
Larry Fitzgerald
, Reggie Wayne,
Terrell Owens
,
Chad Ochocinco
,
Isaac Bruce
,
Torry Holt
,
Steve Smith
,
Rod Smith
,
Jimmy Smith
,
Wes Welker
,
Anquan Boldin
and
Brandon Marshall
. Harrison and Moss should rate as Hall locks while many others can still do a lot to build a résumé just as Johnson can.
R-E-S-P-E-C-T:
Poll all those receivers and the best cornerbacks who've covered most of them, and I suspect Johnson would finish very high. And he's got plenty of time to extend the strong feelings of his colleagues.
Tennessee Titans: Steve McNair, quarterback
[+] Enlarge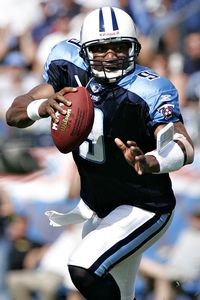 Charles Small/US PresswireTitans quarterback Steve McNair hurt defenses with his arm and his legs.
Claim to fame:
Super-tough, highly respected leader who couldn't be dragged down on a final, just-short drive of Super Bowl XXXIV.
Case for enshrinement:
Perhaps the toughest player of his era, McNair regularly shrugged off injuries much like defenders, playing on Sundays after painful weeks of recovery. There were stretches where he was unable to practice at all but played at a high level.
Playing mostly in a run-based offense with
Eddie George
as the centerpiece, McNair still hurt defenses with his arm and his legs and made for a tough matchup.
In 13 seasons, he threw for 31,304 yards and 174 touchdowns while running for 3,590 yards and 37 additional scores.
In 2003, he shared the NFL's MVP award with Peyton Manning. Pro Football Reference judges him to be similar to quarterbacks including four Hall of Famers: Terry Bradshaw,
Troy Aikman
,
Jim Kelly
and Joe Namath.
Case against enshrinement:
While McNair was a clutch player who knew his role and carried his team at times, he was a good player who had great stretches, not necessarily a great quarterback. And while he compiled a 91-62 record in the regular season, he played in only one Super Bowl.
His career passer rating of 82.8 is 30th in league history and he never finished a season better than seventh in passing TDs, eighth in passing yards per game or 10th in passing yardage.
A three-time Pro Bowler, he was never a first team All-Pro quarterback and when compared to his contemporaries -- Aikman,
Brett Favre
,
John Elway
,
Steve Young
, Peyton Manning,
Kurt Warner
and
Tom Brady
-- he doesn't look like he rates as elite.
Appropriate treatment:
Before his murder on July 4, 2009, McNair was part of the first Nashville honorees in the franchise's ring of honor. It's the highest team tribute the Titans have, and one that fits his career well.
July, 5, 2010
7/05/10
12:00
PM ET
A weeklong look at current or former players or coaches with Hall of Fame potential in the division.
Chicago Bears:
Brian Urlacher
, middle linebacker
Claim to fame:
Since joining the Bears in 2000, Urlacher has made six Pro Bowl teams and been named an All-Pro four times. He was the NFL's Defensive Rookie of the Year in 2000 and Defensive Player of the Year in 2005.
[+] Enlarge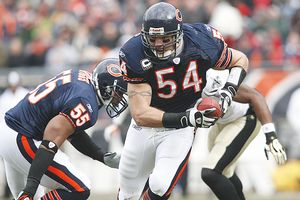 Tom Fluegge/US PresswireExtraordinarily athletic for a linebacker, Brian Urlacher has recorded 17 interceptions and 37.5 sacks in his career.
Case for enshrinement:
Urlacher was the best player on a defense that dominated the league during the middle years of this decade, one that overcame the Bears' offensive woes and led them to the Super Bowl in 2006. As a middle linebacker in the Tampa 2 scheme, Urlacher carried as much responsibility as any defensive player in the game -- calling defensive signals, chasing down ball carriers and covering the deep middle of the field during pass plays.
In that role, Urlacher has been an athletic playmaker unmatched in his prime, notching 17 interceptions and 37.5 sacks, while getting downfield faster than any linebacker in the game.
Case against enshrinement:
Injuries have slowed Urlacher in the past three seasons and he might not have compiled enough Canton-caliber seasons before that point. Detractors also could suggest he benefited disproportionately from the play of defensive tackles
Tommie Harris
and
Tank Johnson
, who kept blockers away from Urlacher more often than not. Hall Of Fame voters haven't been kind to even the best of Bears defenders. Mike Singletary and Dan Hampton are the only Chicago defensive stars from the 1985 Super Bowl team in Canton. Their teammate Richard Dent is now a six-time finalist for Hall of Fame induction but still is waiting for his official invite.
Parting shot:
As we noted last fall
, Urlacher might not stand as the best linebacker of his era.
Ray Lewis
,
Junior Seau
and
Derrick Brooks
might have something to say about that.
Detroit Lions:
Billy Sims, running back
Claim to fame:
He was a dominant runner during the early 1980s. Sims became the Lions' all-time leading rusher even though a knee injury ended his career after 4 1/2 years. (
Barry Sanders
later overtook him.) Sims was a three-time Pro Bowl player, still ranks as the Lions' No. 2 rusher, and has the second-most rushing touchdowns in team history.
Case for enshrinement:
It's obviously a long shot, but it's important to remember how brightly Sims' star shined during his brief career. He rushed for 153 yards in his first NFL game, led the league with 16 touchdowns as a rookie and finished his career with 5,106 yards in 60 career games.
His career ended midway through the 1984 season, at a time when he was averaging a career-high 5.3 yards per rush. There is precedent for acknowledging Hall-worthy careers cut short by injuries. Did you know that Chicago Bears Hall of Fame running back Gale Sayers, forced to retire at age 28, gained fewer career rushing yards (4,956) than Sims in more games (68)?
Case against enshrinement:
Sayers was a special case who was also a dangerous return man. In reality, it's difficult for voters to consider a running back who ranks No. 106 on the NFL's all-time rushing list. But Sims was one of the NFL's top players during the time he spent in the game.
Parting shot:
Sims' impact on the team also should be considered. The Lions were 2-14 the year before he was drafted. In 1980, they improved to 9-7. By 1983, they were division champions.
Green Bay Packers:
Jerry Kramer, guard
[+] Enlarge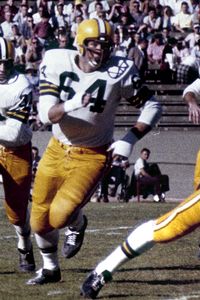 David Boss/US PresswireThe Packers won three NFL Championships and two Super Bowls during Jerry Kramer's career.
Claim to fame:
During an 11-season career from 1958-68, Kramer was a five-time All-Pro. He was named to the NFL's All-Decade Team for the 1960s and was the only guard selected for the NFL's 50th Anniversary team. Every other player on that team has been enshrined in the Hall of Fame.
Case for enshrinement:
As with most successful offensive linemen, most of Kramer's contributions came in a team context.
During his tenure, the Packers rushed for 21,637 yards -- the second-highest total among all NFL teams over that period. Kramer's blocking was one of the reasons fullback Jim Taylor posted five consecutive 1,000-yard seasons. Over that stretch, Taylor rushed for more yards than anyone but Cleveland's Jim Brown. Overall, the Packers made the playoffs eight times in Kramer's career and won three NFL Championships and two Super Bowls.
Case against enshrinement:
Guard isn't usually a highly valued position. In the history of the game, only 11 players who were primarily guards have made the Hall of Fame.
Voters could also be split on the source of the Packers' running success, from Vince Lombardi's coaching to the individual talents of Taylor and running back Paul Hornung.
Parting shot:
Kramer made one of the most famous blocks in history, clearing the way for Bart Starr's quarterback sneak to win the 1967 "Ice Bowl" game.
Minnesota Vikings:
Jim Marshall, defensive end
Claim to fame:
Marshall set a then-NFL record by playing in 282 consecutive games, of which he started 270. He played in two Pro Bowls, four Super Bowls and recovered an NFL-record 29 fumbles.
Case for enshrinement:
If "answering the bell" is one of the main prerequisites for NFL players, then Jim Marshall is one of the greatest of all time. Although some of the stories have been embellished a bit over time, suffice it to say that Marshall battled through enormous pain and legitimate injuries to play for so long and at such a high level.
A punter (
Jeff Feagles
) and a quarterback (
Brett Favre
) have since surpassed his record, but it's doubtful a defensive lineman ever will approach it. It would take 17 seasons of starting 16 games to do it. (Or 15 years if the NFL moves to an 18-game season.)
The longevity mark sometimes overshadows Marshall's skills as a pass-rusher. Although sacks weren't an official statistic then, the Vikings credit him with 127 -- only three fewer than teammate and Hall of Fame tackle Alan Page and 13 more than newly elected tackle
John Randle
.
Case against enshrinement:
Like it or not, one of those 29 fumble recoveries always will haunt Marshall's candidacy. In 1964, he picked up a fumble against San Francisco and ran 66 yards in the wrong direction for what was ruled a safety.
Parting shot:
Another factor that might not be fair but is worth considering: Two members of the Purple People Eaters, Page and Eller, are already in the Hall of Fame. Would voters agree that 75 percent of one defensive line should be enshrined?
July, 5, 2010
7/05/10
12:00
PM ET
A weeklong look at current or former players or coaches with Hall of Fame potential in the division.
Baltimore Ravens:
Ed Reed
, safety
Claim to fame:
With his big-play ability and rare athleticism, Reed is arguably the best ball-hawking safety of all time. His ability to play center field and cover the entire field makes him the ideal prototype for today's NFL safeties.
Case for enshrinement:
Reed is tied with
Champ Bailey
for second on the NFL's active interception list with 46. Reed also plays well in big games; he has seven interceptions in seven playoff appearances.
As time passes, Reed likely will be credited for the shift toward cover safeties over big hitters at the position. With recent rule changes and the explosion of the vertical passing game, lumbering safeties gradually are being phased out in favor of elite, cover athletes like Reed.
Case against enshrinement:
Although Reed has won big playoff games, his résumé is missing a championship. The closest Reed got was the 2008 AFC Championship Game, a close loss to Pittsburgh.
Longevity also could be an issue. Reed, 31,
contemplated retirement this offseason
because he's dealing with a nerve condition in his neck. With only eight seasons under his belt, Reed is playing on a year-to-year basis and likely won't pad his numbers much longer.
Touchdown machine:
Part of what makes Reed unique is his ability to turn defense quickly into offense.
Including the postseason, Reed has reached the end zone 13 times in his career -- seven interceptions, three blocked punts, two fumble returns and one punt return. Reed is a game-changer, and a strong case can be made that he's the most feared defender in NFL history with the ball in his hands.
Bottom line:
Reed is a virtual lock. But a Super Bowl title and/or another productive year or two for longevity's sake would erase any remaining shred of doubt.
[+] Enlarge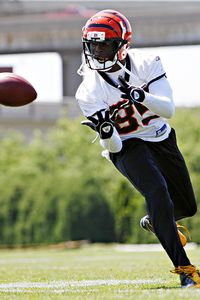 Frank Victores/US PresswireWill Chad Ochocinco's wacky personality keep him out of the Hall of Fame?
Cincinnati Bengals:
Chad Ochocinco
, wide receiver
Claim to fame:
In 2007, Ochocinco came up with a premeditated sideline celebration to wear a replica Hall of Fame jacket. Ochocinco certainly has good credentials and is one of the top receivers of his generation. But Ochocinco is perhaps most famous for his antics and unpredictable personality.
Case for enshrinement:
If you focus only on production, Ochocinco's numbers stack up. The six-time Pro Bowler is just 48 yards short of 10,000 receiving yards.
Ochocinco already has more career receiving yards than current Hall of Famers Raymond Berry (9,725 yards), Fred Biletnikoff (8,974 yards), John Stallworth (8,723 yards) and Paul Warfield (8,565 yards). Ochocinco has seven 1,000-yard seasons in his nine-year career, displaying his consistency. At 32, Ochocinco still has several good years left, which will further improve his numbers.
Case against enshrinement:
Perhaps the biggest case against Ochocinco is that, despite his production, he hasn't won anything. Ochocinco has zero championships and is 0-2 in playoff games. Hall of Famers Berry, Biletnikoff, Stallworth and Warfield all won titles, while Ochocinco can't get out of the first round.
Also, Ochocinco's antics and trash talk could factor into the equation. Plenty of characters have made it to Canton. But when you package Ochocinco's brash behavior with the fact that he hasn't won anything of significance, it could be a formula that keeps him on the outside looking in.
Outlasting Brett Favre:
If Ochocinco had his way, he would play in the NFL for another dozen years. That's not the norm for receivers, but that would certainly help Ochocinco's candidacy.
"I'm going to play until I'm 44," Ochocinco said recently. "Forty-five is a bit far-fetched. If Favre can get to 40, I know I can get four years on him. So that will be fine."
Bottom line:
If Ochocinco retired today, I don't think he gets into the Hall of Fame. But the next several years will be very important for him. A championship would help.
Pittsburgh Steelers:
Hines Ward
, wide receiver
Claim to fame:
Ward is one of the toughest and smartest receivers to play in the NFL. He never had ideal speed, height or athleticism, but Ward continues to put up outstanding numbers. He has at least 69 receptions in nine consecutive seasons.
Case for enshrinement:
Ward is Pittsburgh's all-time leader in receiving yards with 10,947 yards, ahead of Hall of Famers Stallworth and Lynn Swann.
Ward has all the qualities you look for in a Hall of Famer: He's a leader, is productive, and has high character and two Super Bowl rings. Ward also has four Pro Bowls and a Super Bowl MVP on his résumé.
Case against enshrinement:
Ward's numbers are not as gaudy as some of his contemporaries. In a pass-heavy era, Ward's stats will be compared to those current receivers
Terrell Owens
(14,951 yards),
Randy Moss
(14,465 yards) and
Torry Holt
(13,382 yards).
Smart voters will understand that Ward played most of his career for a run-first franchise. But there's no guarantee a majority of voters will view it that way. The numbers are the numbers, detractors might argue.
On the blocks:
Playing his entire career for mainly a run-first franchise, Ward became the most physical blocking receiver of all time. His blocks have caused concussions and even broken bones. A jaw-breaking hit on Bengals linebacker
Keith Rivers
in 2008
prompted a rule change
against helmet contact from the blind side, often called the "Hines Ward rule."
Bottom line:
Ward will be a unique player to gauge when it comes to pure numbers. But owning Pittsburgh's key receiving records and winning a second Super Bowl after the 2008 season should put him over the hump.
[+] Enlarge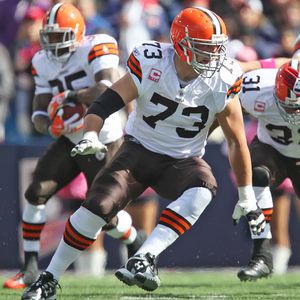 Kellen Micah/Icon SMIJust three seasons into his career, Cleveland offensive tackle Joe Thomas is building Hall of Fame credentials.
Cleveland Browns:
Joe Thomas
, offensive tackle
Claim to fame:
In just three seasons, Thomas already has three Pro Bowls on his résumé. With the recent retirement of the
Seattle Seahawks
'
Walter Jones
, Thomas is the new favorite to
claim the title of the NFL's best left tackle.
Case for enshrinement:
For starters, Thomas is batting 1.000 when it comes to making Pro Bowls. If he keeps up that pace for his career, a trip to Canton will be assured.
Thomas also is just entering his prime. At 25, he only will get better over the next several seasons. The surest way to the Hall of Fame is being the best position player of your era, and Thomas has a chance to do that.
Case against enshrinement:
The Hall of Fame always has been a combination of individual and team success. So far, Thomas is severely lacking the latter.
Playing for the lowly Browns might be the only roadblock to Canton for Thomas. He's already one of the least publicized elite players in the NFL. The Browns are 19-29 in Thomas' three seasons and have zero playoff appearances. Staying healthy also will be key.
Thomas speaks:
The AFC North blog caught up with Thomas during Cleveland's mandatory minicamp and asked him about his potential path to the Hall of Fame.
"My goal coming in was to be a Hall of Famer," Thomas said. "If you want to be in the Hall of Fame, there's two important things: Super Bowls and Pro Bowls. So I'm on the right track with Pro Bowls. I have to start winning some Super Bowls and put some more Pro Bowls on top of that. Then you can start talking about the Hall of Fame."
Bottom line:
It's way too early, but Thomas is on the right path.