NFL Nation:

2010 Midseason Report AFC East
November, 10, 2010
11/10/10
2:09
PM ET
Power Rankings:
Preseason: No. 7.
This week: No. 5
.
[+] Enlarge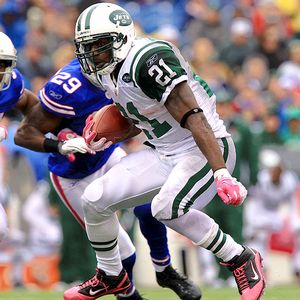 Kevin Hoffman/US PresswireLaDainian Tomlinson has been a pleasant surprise for the Jets.
2010 schedule/results
Where they stand:
Jets head coach Rex Ryan frequently says his goal is to lead the league in wins. The Jets are on their way. They and five other teams are tied for the NFL's best record at 6-2. The Jets are atop the AFC East (for now) by virtue of their Week 2 victory over the
New England Patriots
, who have the same record. The Jets rank 12th in total offense, 13th in points per game, sixth in total defense and third in scoring defense.
Falling:
New York's pass defense has been significantly less intimidating than it was last year. The ability to match
Antonio Cromartie
on the opposition's best wideout was wonderful while
Darrelle Revis
was hobbled. But the overall effect with Revis gimping about -- or sidelined completely -- was a secondary that looked much closer to ordinary than Jets fans would prefer. Nickel corner has been a concern. Rookie
Kyle Wilson
lost his job to
Drew Coleman
. Both have been blistered.
Another perceived strength heading into the season was depth at receiver once
Santonio Holmes
served his four-game suspension. A bad case of the dropsies plagued the Jets in a Week 8 loss to the
Green Bay Packers
, with the normally sure-handed
Jerricho Cotchery
bumbling the most.
Rising:
Swagger is in high supply for the Jets. They easily could be winless in their past three games, but they found ways to salvage victories in Weeks 6 and 9. To an outsider, they got incredibly lucky with late comebacks over the
Denver Broncos
and
Detroit Lions
, but in the Jets' locker room, they're feeling invincible. A talented team with that kind of surging confidence is dangerous.
Young quarterback
Mark Sanchez
continues to impress despite his low completion percentage. His arm is erratic. He's still prone to mental mistakes. But he also has that inexplicable knack for the clutch play. Sanchez has slashed those pathetic turnover numbers from his rookie season. The consistent presence of tight end
Dustin Keller
(30 receptions for 447 yards and five touchdowns) in the game plan has been a boon.
Midseason MVP:
LaDainian Tomlinson
wasn't supposed to have anything left. The Jets' decision to let
Thomas Jones
go and bring in Tomlinson was met with skepticism, but the front office has been proved wise. Tomlinson is on pace to rush for 1,198 yards and 10 touchdowns and 60 catches for 382 yards. Not bad for a retread.
Outlook:
The Jets have a minefield schedule ahead. They must make their second tour through the AFC East in addition to games against the
Pittsburgh Steelers
,
Chicago Bears
and
Houston Texans
. The Jets, however, are in good shape because they're talented, deep and already have six wins in the bank. They would have to implode to miss the playoffs.
November, 10, 2010
11/10/10
2:08
PM ET
Power Rankings:
Preseason: No. 31.
This week: No. 32
.
2010 schedule/results
[+] Enlarge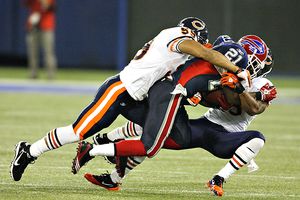 Luc Leclerc/US PresswireFirst-round draft pick C.J. Spiller hasn't made much of an impact on a winless Bills team.
Where they stand:
The Bills are the NFL's only winless team and on their way to an 11th consecutive season without the playoffs. But the Bills have remained competitive on a weekly basis. They have lost three straight games by a field goal, including two in overtime on the road. The Bills rank 26th in total offense and 26th in total defense.
Falling:
The Bills went into 2010 with two key strengths. Head coach Chan Gailey boasted three feature-quality running backs in
Fred Jackson
,
Marshawn Lynch
and rookie
C.J. Spiller
. The Bills also had their secondary intact from the season before, when they ranked second in pass defense and second in interceptions.
Neither of those supposed assets has held up. The Bills traded Lynch. Jackson has been OK, but has only two rushing touchdowns. Spiller virtually has been a nonfactor. The ninth overall draft choice has one receiving touchdown and another via kickoff return, but on the ground he has only 150 yards and no touchdowns. The Bills had 28 interceptions last year. They have one this year, and it belongs to linebacker
Andra Davis
, whom they just put on injured reserve.
Buffalo's scouting department hasn't looked too swift. If not in a winless season, when should we be witnessing youngsters emerge? Many of the Bills' past several first-round picks have been disappointing. Outside linebacker
Aaron Maybin
and defensive lineman
John McCargo
are healthy scratches every week.
Rising:
Poor run game aside, the Bills have developed a sometimes-entertaining offense under Gailey, daring to get into shootouts with the
New England Patriots
and
Baltimore Ravens
, for instance.
Ryan Fitzpatrick
does a nice job of distributing his passes to receivers
Steve Johnson
,
Lee Evans
and -- up until breaking his wrist last week --
Roscoe Parrish
. Fitzpatrick is on pace to become only the second Bills quarterback to throw for 30 touchdowns in a season.
There hasn't been much to like about the Bills' switch to a 3-4 defense. They've waffled lately and deployed four-man fronts to stop the run. But nose tackle
Kyle Williams
has stood out with a team-leading three sacks (unusual for that position), and the Bills recently showed they were committed to the 3-4 by claiming outside linebacker
Shawne Merriman
off waivers. Merriman probably won't be back next year, but his addition should improve an anemic pass rush.
Midseason MVP:
Fitzpatrick still makes untimely mistakes, but since he assumed control of the offense from
Trent Edwards
, the Bills seem to harbor significantly more hope. Johnson's brow-raising aerial production has gone hand-in-hand with Fitzpatrick's promotion.
Outlook:
The Bills are halfway to 0-16 and have a rugged remaining schedule. Their best shot might be Sunday at home against the
Detroit Lions
, who aren't expected to have starting quarterback
Matthew Stafford
. But, as the Bills showed by taking the Ravens and
Kansas City Chiefs
into sudden death, they have a legitimate shot to win any week. The prediction here is they pick up a couple victories but still finish with a top two draft choice in April.
November, 10, 2010
11/10/10
2:07
PM ET
Power Rankings:
Preseason: No. 13.
This week: No. 17
.
2010 schedule/results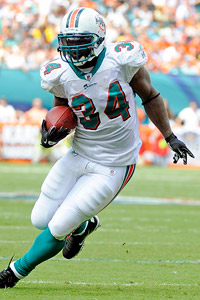 Richard C. Lewis/Icon SMIWhile Ricky Williams is averaging more than four yards per carry, he has only one touchdown all season.
Where they stand:
The Dolphins are 4-4 and in third place in the AFC East, two games behind the
New York Jets
and
New England Patriots
. But the Dolphins' gap really is greater than that because they're in serious tiebreaker trouble. They've lost to the Jets and Patriots and two other AFC teams apparently bound for the playoffs, the
Pittsburgh Steelers
and
Baltimore Ravens
. Unless the Jets
and
Patriots collapse, the Dolphins might already be down to competing with a half-dozen teams for the final wild-card spot.
Falling:
The Dolphins were supposed to have a magnificent and multifaceted offense after trading for receiver
Brandon Marshall
. That gave
Chad Henne
one of the NFL's elite go-to targets in addition to
Davone Bess
in the slot and one of the most respected backfield tandems around. The offense has been frail both on the ground and through the air. Offensive coordinator Dan Henning has overseen only 11 touchdowns. Only the
Carolina Panthers
have fewer.
Ronnie Brown
and
Ricky Williams
have combined for three rushing touchdowns. Marshall has one touchdown.
On defense, the Dolphins have been decent. They rank 13th in total defense and 16th in scoring defense. But they haven't been ball hawks under new defensive coordinator Mike Nolan. The
Buffalo Bills
are the only team with fewer interceptions. No team has recovered fewer fumbles. As a result, the Dolphins are a minus-7 in turnover margin.
Rising:
Outside linebackers
Cameron Wake
and
Koa Misi
have chased down quarterbacks well. That was a concern in the offseason after cutting ties with
Joey Porter
and losing
Jason Taylor
to free agency. Wake is in his second NFL season, while Misi is a rookie. They have combined for 12 sacks, four shy of Porter's and Taylor's total last year. Also on defense, left cornerback
Vontae Davis
remains prone to the occasional lapse, but he has emerged as one of the league's top young pass defenders.
Bess is one of the NFL's most underrated players, but the Dolphins certainly value him. They signed Bess to a lucrative three-year extension. He leads all Dolphins players with three touchdowns. He's on pace to have 88 receptions for 902 yards.
Midseason MVP:
Based on statistical production, Marshall would be the choice. He's on pace for 104 receptions and 1,236 yards. But he has only one touchdown, and I have a hard time selecting any offensive player as Dolphins MVP. That's why my pick is Wake, who ranks second in the NFL with 8.5 sacks.
Outlook:
The Dolphins will have trouble making the playoffs, but it's certainly possible to accomplish. You can reason they are one debatable officiating decision from being 5-3 with a victory over the Steelers. Nevertheless, the Dolphins will need to go 6-2 in their remaining games to be confident in their postseason hopes and 5-3 at the very least. They'll need to get hot, and the key to that will be a clicking offense.
November, 10, 2010
11/10/10
2:07
PM ET
Power Rankings:
Preseason 9.
This week 6
.
2010 schedule/results
[+] Enlarge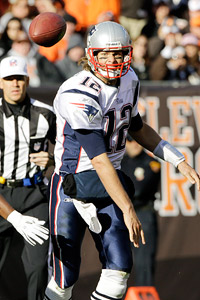 AP Photo/Amy SancettaTom Brady has kept New England winning, despite having a team offense that is ranked 20th in the league.
Where they stand:
The Patriots are 6-2, the same record as the
New York Jets
, but are listed second in the AFC East standings because they lost their head-to-head matchup. The Patriots were rated first in last week's ESPN.com Power Rankings, but an alarmingly bad loss to the
Cleveland Browns
has raised serious concerns. The Patriots rank 20th in total offense and 29th in total defense.
Falling:
The Patriots have put together several strong defensive performances, but they've shown vulnerabilities against the pass and the run on occasion. Browns running back
Peyton Hillis
trampled them for 184 yards, a 6.3-yard average and two touchdowns. New England's secondary has gone through week-to-week transitions because of injuries and disappointing play. Right cornerback
Darius Butler
lost his job to
Kyle Arrington
. Pro Bowl safety
Brandon Meriweather
was a backup briefly.
As the season moves along and the sampling of games gets larger, it's becoming more evident the Patriots miss
Randy Moss
. Recent columns by
ESPN Stats & Information researcher Jeremy Lundblad
and
Vince Verhei of Football Outsiders
deliver all sorts of statistical evidence that shows the Patriots aren't as potent without him.
Rising:
Youth has been serving the Patriots all season. They've been getting significant contributions from rookie tight ends
Aaron Hernandez
(team-high 436 receiving yards) and
Rob Gronkowski
(tied for team lead with three receiving touchdowns), rookie left cornerback
Devin McCourty
(two interceptions, team-high seven passes defensed) and rookie inside linebacker
Brandon Spikes
(second in tackles).
The Patriots have done a fabulous job with backfield overachievers
BenJarvus Green-Ellis
and
Danny Woodhead
. Each has caused damage in his own way. Green-Ellis has rushed for six touchdowns. Woodhead has two rushing touchdowns and one receiving, giving the Jets castoff more end-zone appearances this year than
Ronnie Brown
,
Ricky Williams
,
Shonn Greene
,
Fred Jackson
or
C.J. Spiller
.
Midseason MVP:
Tom Brady
not only is the Patriots MVP so far, he's also among the top candidates for the league honor. The Patriots' offense isn't as good without Moss, but the fact they've kept winning despite that trade shows how important Brady's leadership is.
Outlook:
The Patriots never seem unprepared for any situation and adapt on the fly like no other team in the league. After a decade of winning, one of the safest assumptions is Bill Belichick and Brady will figure out what's wrong and make the necessary corrections. What they have going for them most of all was the ability to bag victories through the first half of the season, particularly coming from behind to beat the
Baltimore Ravens
in overtime and holding on to beat the
San Diego Chargers
. At 6-2, the Patriots have wiggle room to help them through any turbulence down the homestretch.