NFL Nation:

2010 Midseason Report NFC East
November, 10, 2010
11/10/10
2:01
PM ET
By
Matt Mosley
| ESPN.com
Power Rankings:
Preseason: 15.
This week: 8
[+] Enlarge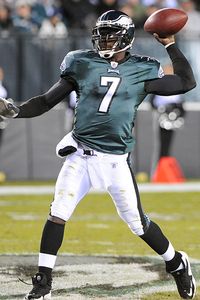 Howard Smith/US PresswireMichael Vick has provided a new dimension to the Eagles' offense.
2010 schedule/results
Where they stand:
The
Philadelphia Eagles
are 5-3 and own signature wins over the
Indianapolis Colts
and
Atlanta
Falcons
. By no means is this a great team, but you don't have to be great to make the playoffs in this conference. The Eagles still have five division games left on the schedule. And obviously you have to like their chances in two late-season games against Dallas. This team is set up to make a run at the playoffs. I think that win over
Peyton Manning
and the Colts will have a springboard effect on the Eagles. But they need to avenge that loss to the
Washington Redskins
. They'll have their chance Monday.
Falling:
Brent Celek
was poised to become one of the best tight ends in the league, but he hasn't put up the numbers this season. He was banged up a lot before the bye and then he wasn't given many opportunities against the Colts. I think he'll bounce back, but his numbers are way down. Obviously,
Ellis Hobbs
is "falling" after his performance against the Titans. That earned him a spot on the bench.
Rising:
Michael Vick
's return to stardom has been the story of the 2010 season. He's better than he was in Atlanta because he takes care of the ball and he has been a lot more accurate. If he can stay at this level of play, the Eagles have a chance to do something special. Wide receiver
DeSean Jackson
has been electric when he's on the field with Vick. Those two form one of the most dangerous duos in the game. On defense,
Antonio Dixon
stepped in for the injured
Brodrick Bunkley
and the Eagles didn't miss a beat. And rookie
Nate Allen
has had a strong start -- especially if you can look past that loss against the Titans. Cornerback
Dimitri Patterson
was promoted to the starting lineup against the Colts and responded in a big way.
Midseason MVP:
It has to be Vick. I thought
Kevin Kolb
played pretty well in his absence, but Vick has galvanized this entire team.
Outlook:
I think the Eagles have an excellent opportunity to make the playoffs. Their schedule is backloaded with division games, but that's not necessarily a bad thing. They survived that bad road loss to the Titans and they could get on a roll with a win against the Skins. I wouldn't be surprised to see them finish 10-6 and grab one of the wild-card spots. This can be one of the most explosive offenses in the league if you can keep Vick and Jackson healthy. That will be a tall order with as much punishment as Vick takes as he's racing around the field.
November, 10, 2010
11/10/10
2:00
PM ET
By
Matt Mosley
| ESPN.com
Power Rankings:
Preseason: 4.
This week: 30
.
[+] Enlarge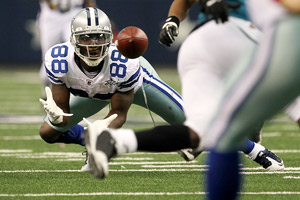 Stephen Dunn/Getty ImagesDez Bryant has been one of the bright spots for the Cowboys this season.
2010 schedule/results
Where they stand:
Based on expectations, this is probably the worst season in the organization's history. The
Dallas Cowboys
are 1-7 at the midseason point after being hailed as a Super Bowl favorite. Owner Jerry Jones was finally forced to fire head coach Wade Phillips on Monday once he finally admitted that Phillips had lost the defense. Now, Jason Garrett will have an eight-game audition to see if he can be the full-time head coach. The 6-2
New York Giants
await the Cowboys in the Meadowlands and it's not as though Tom Coughlin will have any sympathy. Garrett may need to make some personnel changes immediately.
Falling:
It's really tough to single anyone out since so many players have been awful, but we'll give it a try. The
Alan Ball
experience at safety has been an unmitigated disaster. He's slow to react and once he gets there, he's not big on tackling. Darren Woodson tried to tell the NFC East blog that this secondary would have issues this season, but we wouldn't listen at the time. "Pro Bowl" cornerback
Mike Jenkins
was supposed to be an elite-level player. But he has been picked on by everyone this season and he has lost standing in this locker room.
Mike Sims-Walker
and
Kenny Britt
both have torched Jenkins this season. And I'm sure we're leaving someone out. Oh yeah, throw Bears wide receiver
Johnny Knox
in there. Star players such as
Jay Ratliff
and
DeMarcus Ware
simply haven't met expectations. And I didn't even have time to address this sad offense.
Rising:
Dez Bryant
is going to be a star in this league. He's one of the few players who has met expectations after missing most of training camp with an ankle injury. He's a threat to score each time he touches the ball and it appears that losing is painful for him. That's more than you can say for a lot of these players.
Mat McBriar
continues to impress as the punter and I admire the way
Terence Newman
has fought through injuries to stay on the field. OK, I'm fresh out. Feel free to give me some ideas.
Roy Williams
got off to a good start, but he hasn't flourished with his old pal from Detroit,
Jon Kitna
.
Midseason MVP:
Let's go with Bryant. I think he's lived up to the ridiculous expectations everyone had for him coming out of the draft.
Outlook:
Not good. The Cowboys are obviously out of the playoff race. But there will be intrigue because of the presence of Garrett. If he can win three or four games, Jones will have something to think about at the end of the season. The season got a lot more interesting when he was elevated to head coach. I think you'll see a lot more fiery Garrett than what you're used to seeing. Will the players respond? I have my doubts.
November, 10, 2010
11/10/10
2:00
PM ET
By
Matt Mosley
| ESPN.com
Power Rankings:
Preseason: 15.
This week: 18
2010 schedule/results
[+] Enlarge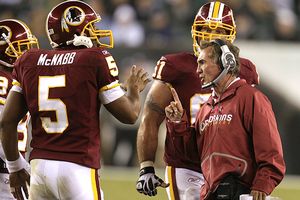 AP Photo/Rob CarrCoach Mike Shanahan's decision to bench quarterback Donovan McNabb has become a distracting storyline.
Where they stand:
The Redskins have already equaled their '09 win total, but 4-4 still seems pretty unsatisfying considering how things have transpired. The loss in Detroit marred what could've been an excellent first half of the season. But Mike Shanahan's decision to bench
Donovan McNabb
late in the game has become the story of this season. The Redskins are a much-improved team under Shanahan, but no one's talking about that angle right now. And that's completely understandable.
Falling:
Shanahan ended his honeymoon phase with a head-scratching decision. Everyone cut him slack on his overbearing treatment of the
Albert Haynesworth
controversy, but his explanations of the McNabb benching didn't hold water. It's hard to know what to make of this defense right now. Jim Haslett's unit gives up way too many yards, but they're among the league leaders in terms of takeaways. The transition to a 3-4 scheme is still a work in progress. The Redskins' punting situation has been pitiful lately.
Hunter Smith
hasn't exactly fortified the situation with his 26-yard blasts. And it's worth noting McNabb has played poorly for much of the season. You certainly can't place all the blame for that on the Shanahans.
Rising:
Ryan Torain
was released following training camp, but he was quickly re-signed and has become the team's feature running back. I'm not to sure what to make of his long-term prospects, but he's bailed the Skins out this season. And rookie
Brandon Banks
has been sensational in the return game. I'd find a way to get him on the field with McNabb. He's a playmaker and this team started the season without enough firepower on offense. And that's still the case. Wide receiver
Anthony Armstrong
doesn't have the pedigree to be starting in the NFL, but you have to admire how he's made some big plays for McNabb. I'd also say that
DeAngelo Hall
's career is on the rise. He's among the league leaders in interceptions and they always seem to happen at critical moments.
Midseason MVP:
I'll go with Hall. He has been volatile at times, but I think some of that may have been necessary. He has spearheaded a takeaway movement. That's made a big difference this season.
Outlook:
The Skins are two games behind the Giants and I just don't think they match up well with that team. The Giants will feast on this banged-up offensive line. I think the Skins will finish the season 8-8. And based on last season's results, that's something to take pride in. But again, all eyes will be on Shanahan to see how he handles the quarterback situation. My guess is that McNabb will be playing elsewhere in 2010.
November, 10, 2010
11/10/10
2:00
PM ET
By
Matt Mosley
| ESPN.com
Power Rankings:
Preseason: 19.
This week: 4
.
2010 schedule/results
[+] Enlarge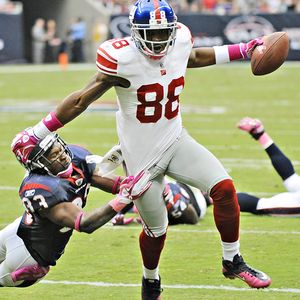 AP Photo/Dave EinselHakeem Nicks is on pace for a 1,300-yard, 18-TD catch season.
Where they stand:
At 6-2, you can make an argument the Giants are the best team in the NFC. In fact, I'm happy to make that argument over the
Atlanta Falcons
. I think the Giants are a more complete team. You can say the Giants have gotten fat off an easy schedule (and you'll be partially correct), but this team looks totally different than last year's squad that faded after a hot start. This team isn't living off past success. And players such as safeties
Antrel Rolle
and
Deon Grant
have brought some attitude to the table. It's also important to note that new defensive coordinator Perry Fewell has changed the mindset. This is a much more aggressive defense that sort of reminds me of what Steve Spagnuolo was doing with this unit in 2007.
Falling:
Other than the bad start, there haven't been a lot of players headed in the wrong direction. I suppose you could say that
Steve Smith
's numbers are down, but that has more to do with
Hakeem Nicks
' brilliance than anything else. The Giants have had all sort of injuries along the offensive line and starting right tackle
Kareem McKenzie
had an embarrassing performance against the Titans in Week 3. But
Shawn Andrews
has filled in admirably at left tackle and the Giants keep marching on. It will be interesting to see what happens at left guard this week with
David Diehl
out with a hamstring issue. But overall, it's hard to put anyone in the "falling" category.
Rising:
Nicks has become one of the best wide receivers in the league. He occasionally loses concentration, but for the most part, he's been a remarkable player for the Giants this season. And running back
Ahmad Bradshaw
has restored pride to the running game. Offensive linemen know they don't have to stay with blocks forever when Bradshaw's involved because he can make defenders miss. And in one of the great comeback seasons in Giants history (so far),
Osi Umenyiora
has cast aside all the drama and returned to being a dominant player at defensive end. He and
Justin Tuck
are incredibly versatile players. And by the way,
Eli Manning
's having an excellent season. The interception total is a little high, but that's mainly because of the tipped passes.
Midseason MVP:
I could take the easy way out and go with co-MVPs, but I'm not going to do that. Let's give it to Nicks. I think his presence on the field has opened things up for Bradshaw and the running game. Both of those players have been excellent.
Outlook:
I picked this team to reach the Super Bowl and I'm feeling better about that prediction all the time. Tom Coughlin was on the hot seat after a slow start, but he calmed everyone down and the Giants responded in a big way. This is a team playing with a chip on its shoulder right now. The Eagles are the only team in the NFC East that could beat the Giants at this point.

NFL SCOREBOARD
Sunday, 12/22
Monday, 12/23