NFL Nation:

2010 Midseason Report NFC North
November, 10, 2010
11/10/10
2:03
PM ET
Power Rankings:
Preseason 21.
This week: 19
.
[+] Enlarge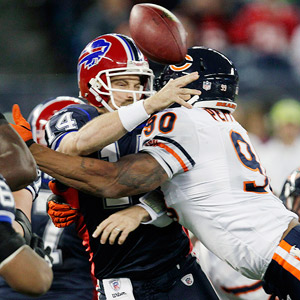 AP Photo/David DupreyJulius Peppers has revitalized his career in Chicago.
2010 schedule/results
Where they stand:
The Bears have spent much of the season atop the NFC North thanks to a revitalized defense than has limited opponents to 16.6 points per game, the fourth-lowest mark in the NFL. The re-emergence of
Devin Hester
as a punt returner -- he has two touchdowns and leads all qualifiers with a 15.9-yard average -- has also bolstered the team. Hester and the Bears' defense have compensated for an offense that has transitioned slowly to Mike Martz's pass-happy scheme. But at the season's midpoint, the Bears are the only NFC North team with an undefeated division record (2-0), an important head start in potential tiebreakers. They've positioned themselves for a run at the division title, which at this point is all they could have hoped for.
Falling:
Martz hasn't adjusted well to the Bears' existing personnel, and it's still not clear if quarterback
Jay Cutler
is capable of executing his offense as originally contemplated. The Bears have started five different personnel groupings on their offensive line and currently have only one player -- center
Olin Kreutz
-- in his Week 1 position. Martz needed to anticipate that deficiency and adjust accordingly. Instead, Bears quarterbacks have been sacked a league-high 32 times, due in equal parts to the line and the deep-drop passes Martz has insisted upon. Cutler could have helped himself by releasing the ball quicker, but his instincts seem to tell him to hold the ball. His four-interception game against the
Washington Redskins
was a reminder of how reckless he can be when flustered.
Rising:
In his first-ever stint as a defensive coordinator, Rod Marinelli has taken the Bears back to their roots. The Bears are playing a near-pure version of their Tampa 2 scheme, utilizing the addition of defensive end
Julius Peppers
to limit his blitz calls and devote more players to coverage. According to ESPN Stats & Information, Marinelli has blitzed on less than a third of opponents' pass plays. Last season, the Bears approached 50 percent. Peppers has only two sacks, but he's also forced two fumbles and drawn substantial attention from opponents. All told, the Bears are following the pattern they set in their mid-2000's prime. They are using their front four to control the point of attack, leaving their back seven to make big plays. The Bears have 20 takeaways, the second-highest total in the NFL.
Midseason MVP:
Peppers has disappointed fantasy owners but few others. His impact on this defense, and its resulting ascendance in NFL rankings, is undeniable.
Outlook:
As long as their defense continues to force turnovers and perform well on third downs, the Bears should be competitive in every game they play this season. The prospect of continuity on the offensive line, along with the promise of a more balanced offense, also raises optimism. But if they want to win this division, the Bears at some point must start protecting Cutler -- and he must throw the ball effectively and consistently. To put it kindly, that would require substantial adjustments from both Martz and Cutler.
November, 10, 2010
11/10/10
2:03
PM ET
Power Rankings:
Preseason: 28.
This week: 27
.
[+] Enlarge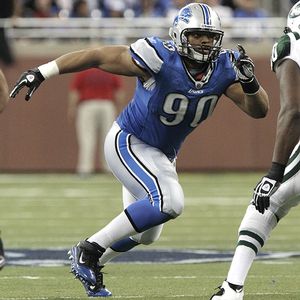 AP Photo/Carlos OsorioNdamukong Suh has been as good as advertised in his rookie season.
2010 schedule/results
Where they stand:
The Lions have already matched their 2009 win total and are by all accounts an improved team heading in the right direction. But the proverbial black cloud continues to hang over this franchise, slowing its progress and adding to the angst of its fan base. It started in Week 1 with receiver
Calvin Johnson
's infamous non-touchdown, continued through two
Matthew Stafford
shoulder injuries and most recently surfaced in a heart-breaking home loss to the
New York Jets
-- a game decided in part by, yes, the failure of a defensive tackle to convert an extra point.
Falling:
Stafford's twice-injured shoulder has raised serious concerns about the Lions' long-term stability at the position. Sunday will mark his 12th injury-related missed start since entering the league last season, and he's likely to miss additional time before returning to the field. Middle linebacker
DeAndre Levy
missed five of the first six games because of injuries, leaving the Lions to patch together that critical position. And coach Jim Schwartz has made some game-management decisions that were at least highly debatable. Two stand out in particular:
Playing for a field goal
at the end of the first half against the
Minnesota Vikings
, and
calling for a pass-run option
as the Lions tried to run out the clock late in the fourth quarter Sunday.
Rising:
That defensive tackle, rookie
Ndamukong Suh
, has otherwise proved to be a Pro Bowl-caliber player. He leads all NFL interior linemen with 6.5 sacks while contributing a nasty demeanor to a previously moribund defense. In fact, the Lions' entire defensive line has played as advertised. Defensive ends
Kyle Vanden Bosch
and
Cliff Avril
have four sacks apiece, and nose tackle
Corey Williams
has been a force. The Lions have been richly rewarded for taking a flier on cornerback
Alphonso Smith
, who has four interceptions, and rookie tailback
Jahvid Best
had some moments of elite-level explosion before being slowed by a turf toe injury.
Midseason MVP:
Johnson was probably the call before he disappeared against the Jets. Overall, Suh has been the Lions' best player so far this season. Honorable mention goes to Vanden Bosch, whom I credit for initiating the attitude change of the Lions' defense.
Outlook:
When the season started, I would have suggested that a six-win season would be a sign of sure progress. That goal remains within reach, but it's painful to think how close the Lions are to having won four or five games already this season. Their mettle will be tested if they have to play the second half of the season without Stafford, but I think it's reasonable to expect at least three or four more victories this season.
November, 10, 2010
11/10/10
2:03
PM ET
Power Rankings:
Preseason: 5.
This week: 22
.
2010 schedule/results
[+] Enlarge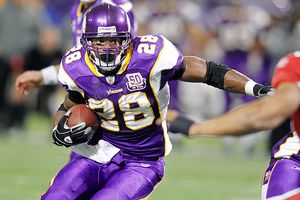 Bruce Kluckhohn/US PresswireVikings running back Adrian Peterson has cut way down on his turnovers.
Where they stand:
Internal struggles between coach Brad Childress and his players has obscured the fact that, even in quiet weeks, the
Minnesota Vikings
haven't played well. Two of their victories came against the
Detroit Lions
(2-6) and
Dallas Cowboys
(1-7), and their third required the
greatest comeback in team history
. For a team built to make one final run at the Super Bowl, a 3-5 record at the midpoint is a deep disappointment. The Vikings remain within striking distance in the NFC North if they can get their act together, but they are running out of time to do so.
Falling:
Those superlatives haven't been enough to make up for this team's deficiencies. Favre, brutalized for much of the season by opposing pass-rushers, has thrown an NFL-high 13 interceptions and has committed 17 total turnovers. The Vikings have been short at cornerback all season because of injuries to
Cedric Griffin
and rookie
Chris Cook
, and defensive end
Jared Allen
managed one sack through the first seven games. More important, the atmosphere in the locker room has ranged from ambivalent to toxic following the botched
Randy Moss
trade. It's clear that some players tolerate Childress but none profess much loyalty to him. For the most part, the Vikings have professional players who will make a premium individual effort every week. But there is little doubt that the back-room sniping has taken the edge off this group. The most talented group of players doesn't always make the best team.
Rising:
Tailback
Adrian Peterson
has been a rock amid the chaos surrounding this team. His 857 rushing yards rank second in the NFL, and he is on pace for a career high in receptions. Almost unnoticed has been a dramatic drop in his fumbles this season. He has only been involved in one, a botched handoff with quarterback
Brett Favre
. Otherwise, Peterson has followed through on his pledge to improve ball security. Meanwhile, receiver
Percy Harvin
is on pace for a 1,000-yard season and has established himself as the team's top threat in the passing game. Defensively, middle linebacker
E.J. Henderson
has hardly missed a beat after returning from a fractured femur and weak-side linebacker
Chad Greenway
(81 tackles, including seven for loss) is having his best season.
Midseason MVP:
Peterson has been both a steadying influence and the team's most productive player.
Outlook:
The reality is the Vikings are only 2.5 half games behind the Packers, and at any point they could flip the switch and become the team they were last season. The pending return of receiver
Sidney Rice
would help in that regard, and it's possible that Sunday's rousing 27-24 victory over the
Arizona Cardinals
could serve as a springboard. But that comeback could also be a tease from a team incapable of putting it together on a weekly basis. We're already in Week 10. At some point, you are what you have been. The Vikings face a steep climb to reach their original goals for 2010.
November, 10, 2010
11/10/10
2:03
PM ET
Power Rankings:
Preseason: 3.
This week: 7
.
2010 schedule/results
[+] Enlarge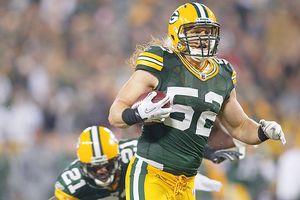 AP Photo/David StlukaClay Matthews has 10.5 sacks and an interception return for a TD.
Where they stand:
The Packers have 10 players on injured reserve, six of whom have started at least one game this season. No other NFL team has lost more than three starters for the season, according to the Elias Sports Bureau. It's remarkable that the Packers are 6-3 after losing tailback
Ryan Grant
, tight end
Jermichael Finley
and linebacker
Nick Barnett
, among others. And keep in mind that two losses came in overtime and a third with four seconds remaining in regulation. Despite an unimaginable spate of health problems, the Packers have positioned themselves among the top teams in the NFC.
Falling:
Quarterback
Aaron Rodgers
has been the first to admit he has fallen short of the superstar expectations placed upon him this season. Everything is relative, of course. Rodgers' passer rating is 90.6, good for No. 11 in the NFL. He ranks fifth in both yardage (2,300) and touchdown passes (15), but has already thrown more interceptions this season (nine) than he did in all of 2009 (seven). Some of that falloff can be attributed to the loss of Grant and Finley, but on some occasions, Rodgers had made poor decisions and thrown with uncharacteristic inaccuracy. Still, it's hard to consider Rodgers' play a problem. He just hasn't carried the team to the extent he did last season. It would help if the Packers can generate more of a rushing game as the weather turns. Currently they rank No. 20 among NFL teams with an average of 101.6 rushing yards per game.
Rising:
Linebacker
Clay Matthews
amassed six sacks in his first two games and still leads the NFL with 10.5 despite missing one game because of a hamstring injury. Matthews is among a handful of midseason candidates for Defensive Player of the Year and is a testament to how an elite pass-rusher can impact an entire defense. But anyone who has watched Matthews rush from almost every position on the field knows what a masterful job defensive coordinator Dom Capers has done. His creative schemes have compensated for personnel shortages at multiple positions. The Packers have given up a total of seven points in their past two games, lowering their average points per game to 15.9 -- good for No. 2 in the NFL. On the other side of the ball, it's worth noting that rookie
Bryan Bulaga
has proved a more-than-adequate safety net for injured right tackle
Mark Tauscher
, who might not get his job back.
Midseason MVP:
It's hard to look past 10.5 sacks in eight games. Matthews has become one of the more feared players in the game.
Outlook:
The Packers have a half-game lead over the
Chicago Bears
and will play host to them in their regular-season finale for what could be the NFC North championship game. Even with their long injury list, the Packers appear to be the class of the division and are poised to make a deep playoff run. You want to add the "if they stay healthy" caveat, but the Packers have already demonstrated a capacity to overcome seemingly crippling injuries.