NFL Nation:

2010 Most Indispensable Players NFC
August, 26, 2010
8/26/10
11:40
AM ET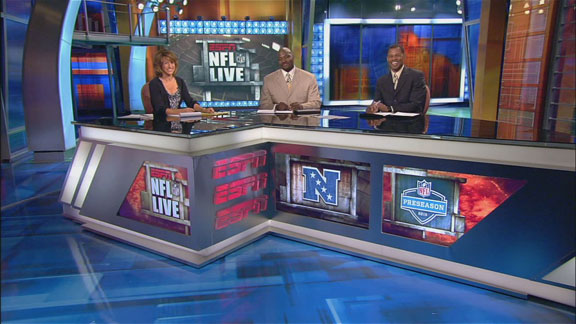 A team-by-team look at the most indispensable players (non-quarterbacks) in the division.
My basic rule of thumb on this one was to close my eyes and try to picture each team without certain key players. From there, I tried to gauge the impact on the team if each of those players was lost to injury -- or anything else.
In some cases, the answer was blatantly obvious. In others, I went with a player who might not be the best on the team, but his role and the depth situation behind him might have vaulted him over another player. In another case, I went with a player I'm not convinced is anything special, but chose him just because of the importance of his position.
TAMPA BAY BUCCANEERS: DONALD PENN
Penn's the guy I'm not sure is all that great. But his importance was demonstrated right at the start of training camp when the Bucs broke down and gave Penn the huge contract he'd been seeking for months. The thought of putting quarterback
Josh Freeman
out there -- even on the practice field -- without a legitimate left tackle was just too frightening. For better or worse, Freeman is the franchise in Tampa Bay. At the very least, Penn's a decent left tackle. That means Freeman has a shot at staying upright and the Buccaneers have a shot at digging themselves out of a 3-13 hole. Besides, was there really another candidate for indispensable on Tampa Bay's current roster?
ATLANTA FALCONS: CURTIS LOFTON
The easy answer here would be to go with running back
Michael Turner
, and I came very close to doing that. But you can make a case that the Falcons would be able to get by, somewhat like they did when Turner was banged up last season, with some combination of
Jason Snelling
and
Jerious Norwood
and a little more emphasis on the passing game. Atlanta's offense wouldn't crumble totally without Turner. Without Lofton, the defense might. People are really just starting to realize how good the third-year linebacker is. This summer, he emphatically has taken over as the leader of this defense after staying quiet in deference to veterans
Keith Brooking
and
Mike Peterson
in his first two years. Lofton's become an every-down linebacker and the most respected man on the defensive side of the locker room.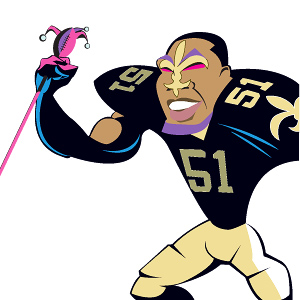 CAMORRIS.COMJonathan Vilma is the quarterback of the New Orleans Saints' defense.
CAROLINA PANTHERS: JON BEASON
Choosing Beason over
Steve Smith
is sort of like choosing Lofton over Turner. It wasn't easy, but I'm doing it. My logic is that, even with no other proven receivers, the Panthers at least still could move the ball on offense with the running of
DeAngelo Williams
and
Jonathan Stewart
. If something happens to Beason, the defense is done. Beason's moving from middle linebacker to the weak side because
Thomas Davis
is injured. Beason will make at least as many plays in his new spot. Bottom line on this one came when someone with another team asked, "Who do you have to worry about blocking on Carolina's defense besides Beason?'' The question was asked rhetorically.
NEW ORLEANS SAINTS: JONATHAN VILMA
This was the easiest call of all. With apologies to
Jahri Evans
(you can get by without arguably the best guard in football if you've got quality on the rest of your line and the Saints do), it took about two seconds to settle on Vilma and it's not just because of his obvious physical skills. When I was at New Orleans' camp, defensive coordinator Gregg Williams went off on a tangent about how cerebral a player Vilma is. He also said something like, "Jon Vilma is the
Drew Brees
of this defense''. That's good enough for me.
August, 26, 2010
8/26/10
11:37
AM ET
A team-by-team look at the most indispensable players (non-quarterbacks) in the division.
No team can win consistently without a good quarterback. That's a given. So we remove that position from the equation for an exercise designed to identify other players whose play is inextricably linked to their team's success.
The way the 2010 season is shaping up, I don't see NFC North teams winning without elite efforts from the following:
CHICAGO BEARS: LANCE BRIGGS
National observers have hashed out the arrival of defensive end
Julius Peppers
, the return of middle linebacker
Brian Urlacher
and the installation of Mike Martz's offense. But let's be clear: Briggs plays the key playmaking role in the Bears' defensive scheme and has been their best player over the past several years. He's held together the injury-riddled and aging back seven of this once-proud defense, maintaining an elite level even as the play around him has deteriorated. While Peppers offers a new level of pass rush and Urlacher calls all of the defensive signals, the Bears' hopes for a defensive resurgence this season would be crushed if Briggs weren't on the field. That makes him indispensable in my book.
DETROIT LIONS: CALVIN JOHNSON
It's true. Two of Johnson's three seasons have been limited by injury. He's never made the Pro Bowl and is known more for his freakish athletic skills than elite production. But those skills are what scare opponents into making rare adjustments and innovating exotic coverages to defend him. Consistent double coverage, with the occasional triple-bracket, is something most offenses dream of. A good coach can find all sorts of ways to capitalize on the corresponding mismatches elsewhere on the field. Without Johnson, you could defend the Lions traditionally and with modest fear. With him on the field, everything changes.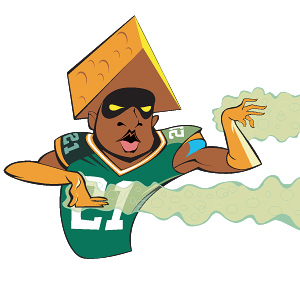 CAMORRIS.COMCharles Woodson's versatility has paid off for the Packers in their 3-4 scheme.
GREEN BAY PACKERS: CHARLES WOODSON
New York Jets
coach Rex Ryan, who championed cornerback
Darrelle Revis
' candidacy for the 2009 Defensive Player of the Year award that Woodson eventually won, put it best: "Woodson would be a better safety and a better linebacker, but he's not a better corner than Darrelle Revis." Indeed, the Packers revealed Woodson's full array of skills last season in Dom Capers' 3-4 scheme, using him just as effectively as a blitzer, a quasi-safety in run support and a cornerback they trusted in single coverage against an opponent's top receiver. Capers' scheme is based on putting the same players in different looks and sub packages, and no one does that better than Woodson. Without him, the Packers would have had to delete a substantial percentage of the schemes they used last season.
MINNESOTA VIKINGS: ADRIAN PETERSON
A summer of personnel uncertainty has given tailback
Adrian Peterson
renewed relevance in the team's offense. Receiver
Sidney Rice
(hip) could miss half of the season. Slot man
Percy Harvin
has been sidelined most of the summer by migraines. Quarterback
Brett Favre
didn't arrive until last week. Peterson himself missed more than a week of training camp practices because of a hamstring injury, but he will enter the regular season as the Vikings' top offensive threat. Favre still has targets in
Bernard Berrian
and tight end
Visanthe Shiancoe
, but it will be difficult for the Vikings to repeat their passing success of a year ago. That once again makes Peterson front and center in the team's offense.
August, 26, 2010
8/26/10
11:35
AM ET
A team-by-team look at the most indispensable players (non-quarterbacks) in the division.
This exercise was easy for every NFC West team but the
Seattle Seahawks
.
Matt Williamson of Scouts Inc.,
writing for ESPN Insider
, went with defensive lineman
Brandon Mebane
when putting together his Seattle choice. Mebane is a good player, but if he's in the mix as the non-quarterback Seattle can least afford to lose, the team must not have many impact players beyond
Matt Hasselbeck
. That is clearly the case as the Seahawks rebuild their roster.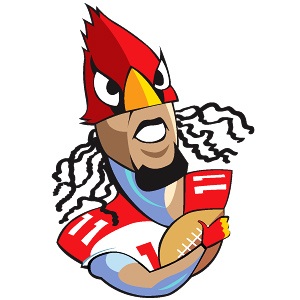 CAMORRIS.COMLarry Fitzgerald became even more important to the Cardinals' offense this offseason with the loss of Anquan Boldin.
ARIZONA CARDINALS:
LARRY FITZGERALD
The Cardinals managed to win an even higher percentage of their games in recent seasons when former Pro Bowl receiver
Anquan Boldin
wasn't available to them. They could always lean on Fitzgerald, one of the two or three best receivers in the league, to elevate his game as needed. Fitzgerald has 35 touchdowns over the past three regular seasons. He has nine touchdowns over the past two postseasons --
Randy Moss
has 10 in his postseason career -- and has missed only one game over the past three seasons.
Fitzgerald's value has only increased now that Boldin is gone from Arizona for good. The on-field production is only part of what makes Fitzgerald so valuable. Fitzgerald also sets a standard of excellence for teammates to follow. He organizes an offseason training camp in Minnesota each summer. He constantly strives to improve the finer points of his game. This offseason, that meant working on getting better separation from receivers, something that could help him against the tougher coverages he'll likely face in the post-Boldin era.
SAN FRANCISCO 49ERS:
PATRICK WILLIS
Brett Favre
's preseason debut this season lasted only four plays and Willis' violent (but clean) hit on the 40-year-old quarterback precipitated the early exit. Last season, Willis' hard (but clean) hit on Hasselbeck near the goal line left the quarterback with damaged ribs, affecting the Seahawks' overall viability.
Willis is a threat to anyone in his path on a football field. More than any other 49ers player, Willis sets the tone, making sure the team plays to the physical and emotional standards of coach Mike Singletary. The new contract Willis signed this offseason should only embolden him.
Take away Willis and the 49ers would lose some of their edge on defense. Their linebackers would suddenly look rather ordinary. Opposing quarterbacks would breathe easier (literally, in Hasselbeck's case).
SEATTLE SEAHAWKS:
RUSSELL OKUNG
Mebane wasn't a bad choice for Seattle, but the team's debilitating problems at left tackle last season made Okung an easy selection for me, particularly with tackle depth already thin following
Ray Willis
' latest knee issues.
The Seahawks fell apart last season when injuries forced them to use their projected fifth-string left tackle. Drafting Okung or another offensive tackle with the sixth overall choice bordered on being a necessity once it became clear
Walter Jones
' career was finished.
The ankle injury Okung suffered in the second exhibition game threatens the Seahawks more than an injury to any other non-quarterback might. Middle linebacker
Lofa Tatupu
and left cornerback
Marcus Trufant
were also in my thoughts for this discussion, but this is a quarterback-driven sport and Okung's presence affects the quarterback more than the presence of any other player on the team.
ST. LOUIS RAMS:
STEVEN JACKSON
The Rams have one Pro Bowl player on their roster and it's Jackson. The team lacks a proven backup at the position, heightening Jackson's value. Throw in the Rams' transition to a rookie quarterback and the team arguably needs Jackson more than before.
Jackson is so good, however, that he might still be the most indispensable non-quarterback in the division even if he played for the 49ers, Seahawks or Cardinals. The will Jackson showed in carrying the offense last season convinced me he's a special player, not just a talented one. The way Jackson ran against the 49ers last season while the Rams trailed 35-0 would have made Walter Payton proud.
August, 26, 2010
8/26/10
11:30
AM ET
By
Matt Mosley
| ESPN.com
A team-by-team look at the most indispensable players (non-quarterbacks) in the division.
With the possible exception of the Eagles, I believe that every team in the division would be in big trouble if its starting quarterback went down, so obviously that position is indispensable. But for one blog post only, it's not all about the quarterback.
We've chosen four players whose presence on the field is essential to their team's success. In narrowing down my list, I tried to think of which players each team would have the most trouble replacing. The biggest second-guess might come with the
Dallas Cowboys
because you could make a strong argument for nose tackle
Jay Ratliff
being one of the most indispensable players in the division. Alas, I went in a different direction.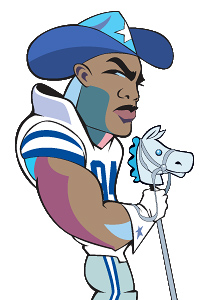 CAMORRIS.COMWith 64.5 sacks the past five seasons, DeMarcus Ware is arguably the best pass-rusher in the league.
DALLAS COWBOYS: DEMARCUS WARE
With apologies to the Freeney and Allen camps, I believe Ware has become the most feared pass-rusher in the game. You take him off the field and the Cowboys lose a lot of their identity.
Ware's capable of putting up huge sack totals, but it's his ability to constantly draw double- and even triple-teams that puts him in an elite class. With Ware on the other side,
Anthony Spencer
is becoming one of the league's best pass-rushers.
Ware's willingness to sacrifice numbers to elevate his teammates is a huge part of his game. And he's one of the rare pass-rushers who also does an excellent job against the run. You could make an argument that he's the best defensive player in the league, and that makes him indispensable to the Cowboys.
NEW YORK GIANTS: JUSTIN TUCK
Starting to notice a trend here? I think Tuck is trying to replace
Michael Strahan
as the backbone of this unit. When Strahan retired after the Super Bowl win, Tuck wasn't quite ready to inherit the leadership void. But now that
Antonio Pierce
is no longer in the locker room, general manager Jerry Reese and Tom Coughlin have basically told Tuck that he must be
The Man
.
Last season,
Flozell Adams
reached out and tripped the Giants' defensive end in Week 2, leading to a painful shoulder injury. Because he was limited the rest of the season, Tuck didn't feel like he had the right to criticize his teammates.
Now that he's healthy, he will be the messenger for defensive coordinator Perry Fewell.
Osi Umenyiora
and
Mathias Kiwanuka
might have Tuck-like skills, but they don't have his credibility inside the organization. As Tuck goes, so go the Giants. In my book, that makes him indispensable.
PHILADELPHIA EAGLES: DESEAN JACKSON
I believe Jackson is now the most dangerous player in the league. Whether it's on punt returns or crossing patterns, he constantly puts pressure on the other team.
Having a player who is that dangerous can cover up mistakes in other areas. The Eagles feel like they're never out of a game because of players such as Jackson and
Jeremy Maclin
. Jackson won't have as many catches as Maclin this season, but he'll find the end zone at least 12 times when you combine his punt returns and receiving touchdowns.
We all made a huge deal of
Devin Hester
a few years ago, but obviously Jackson is the more complete player. Someone pay this man so he can go on about his business.
WASHINGTON REDSKINS: BRIAN ORAKPO
In Orakpo, the Redskins have an elite pass-rusher who's learning how to separate quarterbacks from the ball.
What I love about Orakpo is his willingness to make changes. He's constantly in the film room studying offensive tackles and he doesn't want any of them to have a book on him. He has a wide array of counter moves and he's quickly embraced the concepts of Jim Haslett's 3-4. Here's what Orakpo told me during my recent visit to Ashburn, Va.:
"I'm always going forward in this defense" he said. "I want to be chasing the quarterback at all times, and this defense makes that possible."
In a division with some elite pass-rushers, Orakpo has refused to take a backseat to anyone. And I love his honesty. The Houston native grew up hating the Cowboys and he's taken it to the next level now that he's playing for their rival. Everyone wants to talk about
Donovan McNabb
this season, but if the Redskins are to make a playoff run, the defense must lead the way. Orakpo's the most indispensable member of that unit.
NFL SCOREBOARD
Thursday, 9/4
Sunday, 9/7
Monday, 9/8