NFL Nation:

2010 NFL Draft
June, 6, 2013
6/06/13
4:00
PM ET
Using an early draft choice for an unusually young player can carry risks.
The upside: a potentially longer career window.
As noted
earlier Thursday, the
San Francisco 49ers
' Anthony Davis and the
Seattle Seahawks
' Earl Thomas are among three players to start all 48 games over the past three seasons before turning 24. Davis has already received a contract extension. Thomas is in line for one.
The chart breaks out all others with more than 35 starts over the past three seasons before they turned 24. Rolando McClain stands out as an exception for the wrong reasons. Most of the others have met general expectations.
That doesn't necessarily mean teams should rush out to draft especially young players. In some cases, it means exceptionally talented players were good enough to attract teams' interest in the absence of college seasoning.
Four of the players in the chart have achieved Pro Bowl and first-team Associated Press All-Pro status: Thomas, Pierre-Paul, Rob Gronkowski and Maurkice Pouncey. Thomas and Pouncey have also been second-team All-Pro choices.
May, 16, 2013
5/16/13
11:34
AM ET
Rolando McClain
's early
retirement from the NFL
comes three years after the
Oakland Raiders
made him the eighth overall choice in the 2010 draft.
While McClain is inviting derision, I wondered whether he was even the most disappointing choice from the first round of that 2010 class. He would fit right in with
the 2009 group
, for sure.
A quick check of games started by 2010 first-rounders showed four players with 48 starts in 48 possible regular-season games. Three of those four players were from the NFC West: Mike Iupati and Anthony Davis of the
San Francisco 49ers
, and Earl Thomas of the
Seattle Seahawks
.
Tyson Alualu, the player Jacksonville controversially selected 10th overall, rounds out the quartet.
St. Louis Rams
quarterback Sam Bradford (42) and Seattle Seahawks left tackle Russell Okung (37) were relatively close behind. Dan Williams, chosen 26th overall by the
Arizona Cardinals
that year, ranked 26th on the list with 21 starts over the past three seasons.
All starts aren't quality starts, of course. McClain ranks relatively high on the list with 38 starts despite his bust status. Anyone familiar with the NFL would rather have
Denver Broncos
receiver Demaryius Thomas (23 starts) than Alualu, who has
struggled with knee trouble
and generally been just OK.
First-round picks from 2010 have combined for 21 Pro Bowl honors.
Maurkice Pouncey leads the way with three. Thomas is one of five players with two. Ndamukong Suh, Jason Pierre-Paul, Eric Berry and Jermaine Gresham are the others.
Iupati and Okung are part of an eight-man grouping with one Pro Bowl. Ryan Mathews, Thomas, Devin McCourty, Gerald McCoy, C.J. Spiller and Trent Williams are the others.
Iupati, Pouncey, Suh, Thomas and Pierre-Paul have been first-team Associated Press All-Pro once apiece.
Bradford was offensive rookie of the year. Suh won defensive rookie of the year.
April, 23, 2013
4/23/13
5:35
PM ET
Seattle Seahawks
safety
Kam Chancellor
recently became the fourth 2010 NFC West draft choice to sign a second contract with his original team.
The number of choices a team signs to second contracts can help evaluate overall draft success, especially over time. Bill Barnwell alluded to it during
his recent piece
suggesting teams have only a general idea what they're doing in the draft.
Teams should now be starting to think about re-signing some of those 2010 players, particularly those who signed four-year contracts. That generally includes players drafted after the first round.
I've broken down the choices into a few categories for easy analysis.
Already Re-Signed
First round:
Anthony Davis
, RT,
San Francisco 49ers
. Davis has started all 48 regular-season games and five playoff games in three seasons for the 49ers. He does not turn 24 years old until October. He is now under contract through 2019 on a deal featuring nearly $17 million in guarantees.
Second round:
Daryl Washington
, ILB,
Arizona Cardinals
. Washington has 47 starts and is coming off a nine-sack season. The Cardinals gave him $5 million guaranteed as part of a contract extension signed last season. The deal includes a $10 million option bonus due following the 2013 season. Washington must first serve a four-game suspension for violating the NFL's policy on substance abuse. His long-term future is bright if he avoids additional positive drug tests.
Third round:
NaVorro Bowman
, ILB, 49ers. Bowman became one of the best inside linebackers in the NFL after succeeding
Takeo Spikes
in the lineup. The 49ers gave him $25.5 million in guarantees on a deal running through 2018. Bowman appears in position to produce at a high level for a long time. The team felt as though he could remain productive even if the team changed its scheme.
Fifth round:
Chancellor, SS, Seahawks. Chancellor signed a four-year extension through the 2017 season. The deal is expected to average $7 million per year over the final four years. The average would fall if we divided by the five years until Chancellor becomes a free agent. We'll revisit this one once the contract figures can be confirmed.
Awaiting Their Turns
First round:
Russell Okung
, LT, Seahawks. Signed through 2015. Earned Pro Bowl honors last season. Another injury-free season would put Okung in prime position.
First round:
Earl Thomas
, FS, Seahawks. Signed through 2014. Earned Pro Bowl honors last season. Chancellor re-signed before Thomas simply because his deal was expiring first. Thomas should be a priority to re-sign.
First round:
Mike Iupati
, LG, 49ers. Signed through 2014. Earned Pro Bowl honors last season. Davis re-signed before Iupati, but the 49ers want to keep both.
Pivotal 2013 Seasons
First round:
Sam Bradford
, QB, Rams. Bradford is signed through 2015, so there is time. Bradford still must play at a higher level to maximize his value, beginning this season.
First round:
Dan Williams
, NT, Cardinals. Williams is signed through 2014. He is on his third defensive coordinator in four seasons. Scheme matters for a player Arizona drafted as a 3-4 nose tackle.
Second round:
Rodger Saffold
, RT, Rams. Saffold is entering the final year of his deal. He is expected to move from left tackle to the right side following
Jake Long
's addition. He needs better luck with injuries to maximize his value.
Second round:
Golden Tate
, WR, Seahawks. Tate is entering the final year of his contract. He broke out with eight touchdown receptions last season. Seattle expects
Percy Harvin
to open up opportunities for Tate, but significant financial outlays at the position call into question Tate's future with the team beyond this season.
Third round:
Andre Roberts
, WR, Cardinals. Roberts is entering the final year of his contract. All the Cardinals' receivers, including
Larry Fitzgerald
, suffered from poor quarterback play last season. Roberts has an opportunity to bounce back with
Carson Palmer
throwing to him.
Gotta Stay Healthy
Fourth round:
Walter Thurmond
, CB, Seahawks. Signed through 2013, Thurmond has played in eight games over the past two seasons. Time could be running out.
Fourth round:
O'Brien Schofield
, OLB, Cardinals. Schofield is signed through 2013. He appears to have largely overcome the knee trouble that hurt his draft stock. The injury he suffered last season was freak in nature. Still, missing seven games prevented Schofield from enhancing his value.
April, 17, 2013
4/17/13
10:35
AM ET
The
Seattle Seahawks
announced
Dexter Davis
' release from the team Tuesday. This was not big news. Davis was a seventh-round choice in 2010. Injuries had diminished his effectiveness. The team had released and re-signed Davis previously.
In the bigger picture, Davis' release provided an opportunity to revisit that 2010 draft. Three Seattle choices from that year have earned Pro Bowl honors, most in the league and one more than the division-rival
San Francisco 49ers
. Both teams had two first-round picks that year.
Pro Bowl selections can be a bit arbitrary as the league scrambles to fill holes in its all-star rosters. They're not a definitive measure of draft-class success. Having three draft choices achieve that status within three seasons is a good thing, however.
Sixteen teams drafted in 2010 at least one player who has subsequently achieved Pro Bowl status. The other 16 teams combined to draft zero from their 126 combined selections.
Russell Okung
,
Earl Thomas
and
Kam Chancellor
earned Pro Bowl honors for Seattle.
Mike Iupati
and
NaVorro Bowman
did so for the 49ers.
Daryl Washington
did so for the
Arizona Cardinals
. Bowman and Washington have already signed contract extensions. The others are candidates for extensions in the not-too-distant future.
April, 3, 2013
4/03/13
5:10
PM ET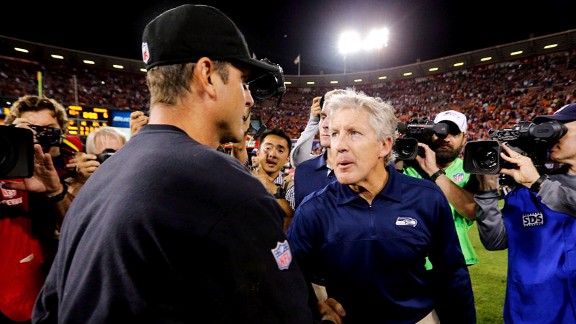 Ric Tapia/Icon SMIPete Carroll's Seahawks and Jim Harbaugh's 49ers have continued their rivalry into the offseason.
The
San Francisco 49ers
' and
Seattle Seahawks
' 2012 battle for NFC West supremacy has turned into
a perceived battle
this offseason.
"It just feels like the Seahawks make a move, then the Niners make a move," former NFL quarterback Damon Huard said Wednesday during
our conversation
on 710ESPN Seattle. "The Seahawks sign
Percy Harvin
, then the Niners go get
Anquan Boldin
. The Niners just signed
Nnamdi Asomugha
, they signed
Colt McCoy
, and now it's the Seahawks' turn to sign a quarterback. It really feels like this competition that was so fun to watch last fall has carried over into the offseason between the Niners and the Seahawks."
That's what it feels like from this angle, too. So, when ESPN's Bill Polian listed 49ers general manager Trent Baalke among his
top six executives


without a mention for Seattle counterpart John Schneider, I knew some Seahawks fans would take offense.
"Schneider should be on there," SamW9801 wrote in commenting on the Polian piece.
I'm going to ratchet up the discussion with
an assist
from Tony Villiotti of draftmetrics.com. Tony identified
ranges of picks
by how frequently teams have found five-year starters within those ranges.
Using those general ranges, displayed at right, I've put together a chart at the bottom of this item comparing the 49ers' and Seahawks' draft choices since 2010.
Baalke took over the 49ers' draft room roughly a month before the 2010 draft. Schneider became the Seahawks' GM that offseason. The 49ers then underwent a coaching change after the 2010 season, at which point Baalke assumed the GM title officially. We might cut Baalke some slack for selecting
Taylor Mays
, a player then-coach Mike Singletary valued. There were surely other times when both GMs followed their coaches' input, for better or worse.
Seattle has drafted 28 players over this period, three more than San Francisco has drafted. The Seahawks had more to work with from a qualitative point as well. Their median choice was No. 130 overall, compared to No. 165 for the 49ers.
It's pretty clear both teams know what they are doing in the draft.
Aldon Smith
,
Anthony Davis
,
Mike Iupati
and
NaVorro Bowman
have earned Pro Bowl and/or All-Pro honors for the 49ers.
Russell Okung
,
Earl Thomas
,
Russell Wilson
,
Kam Chancellor
and
Richard Sherman
have done so for the Seahawks.
Both teams have found franchise quarterbacks after the first round.
Colin Kaepernick
was chosen 36th overall in 2011. Wilson went to Seattle at No. 75 last year.
Neither team has missed in that first category, which includes players taken among the top 13 overall picks. Smith and Okung are elite players at premium positions.
Both teams have unanswered questions in that 14-40 range. The 49ers are waiting on
A.J. Jenkins
to produce. The Seahawks haven't gotten much from
James Carpenter
. But in Iupati and Thomas, the 49ers and Seahawks found players among the very best at their positions. Kaepernick's selection puts this group over the top for San Francisco. Seattle got eight sacks from
Bruce Irvin
as a rookie in 2012, so the Seahawks aren't far behind. It's just impossible to overlook the value a franchise quarterback provides.
Seattle has the edge in the 41-66 range. Mays is long gone from the 49ers. That leaves
LaMichael James
for the 49ers against
Bobby Wagner
and
Golden Tate
for Seattle. Wagner was an instant starter at middle linebacker and a three-down player who commanded consideration for defensive rookie of the year. Tate blossomed with Wilson at quarterback.
The Seahawks also have an edge in that 67-86 range, having selected Wilson.
Seattle holds a 7-3 lead in number of picks used between the 87th and 149th choices, a range producing five-year starters 16 percent of the time, according to Villiotti.
Both teams used picks in that range for players whose injury situations dragged down their draft status:
Joe Looney
in San Francisco,
Walter Thurmond
in Seattle. Both teams found starting linebackers in this range: Bowman to the 49ers,
K.J. Wright
to the Seahawks. Both teams found developmental running backs in that range:
Kendall Hunter
to the 49ers,
Robert Turbin
to the Seahawks. Both teams found Pro Bowl players: Bowman in San Francisco, Chancellor in Seattle.
Sherman, arguably the NFL's best cornerback, gives Seattle an edge in the 150 through 189 range of picks. Both teams found backup tight ends there.
Anthony Dixon
(49ers) and
Jeremy Lane
(Seahawks) have the potential to expand their roles.
The 49ers found starting fullback
Bruce Miller
in the final pick range, which runs from 190 to the end of the draft. Seattle found a projected starting guard there in
J.R. Sweezy
.
Malcolm Smith
is a candidate to start at linebacker for Seattle. Miller and Sweezy both played defense in college. Miller has already successfully transitioned to offense. Seattle thinks Sweezy will do the same.
Summing it up:
Both teams can feel good about their draft performance over the past three seasons. I doubt either team would trade its picks for the other team's picks. That makes sense. Teams draft the players they like best. The 49ers have six projected 2013 starters to show for their choices. The number is eight for the Seahawks, not counting Irvin or Tate. Seattle has had more choices and higher quality choices, and more openings in the lineup to accommodate those players. I think that shows in the results.
March, 7, 2013
3/07/13
4:37
PM ET
With that in mind, I've gone through the past three drafts for an initial look at impact.
Seattle ranks among the NFL leaders in games started by players drafted since 2010. The Seahawks are tied for the lead in most Pro Bowl players drafted over that period.
The first chart shows choices by round for NFC West teams since 2010.
Philadelphia (33), St. Louis (29), Seattle (28), New England (28) and Minnesota (28) have used the most total selections over the past three drafts. Chicago (16), New Orleans (17) and Jacksonvile (17) have used the fewest.
All choices are not valued the same, of course. Having choices doesn't mean using them wisely.
The second chart shows how many starts each NFC West team's last three draft classes have made. Seattle leads the way with 282, the third-highest total in the NFL behind Cleveland (328) and New England (291). The
New York Giants
(93) and Jets (99) are at the bottom.
Players heading to weaker teams have an easier time working their way into the lineup. That influences the number of starts without necessarily saying much about the quality of the players drafted. Better teams pick later in each round, another factor. But the Seahawks' willingness to play young players and their ability to find good ones in the draft accounts for their strong showings in these areas.
The totals in that second chart include starts made for other teams.
For example,
Michael Hoomanawanui
has made 17 starts since the Rams chose him in the fifth round of the 2010 draft. That figure shows up in the chart. Note that Hoomanawanui made six of those starts for New England in 2012.
The third chart shows how many NFC West teams' draft choices since 2010 have earned Pro Bowl honors to this point. Seattle and Cincinnati lead the NFL with four apiece. San Francisco, Washington, Denver and Minnesota have three apiece.
The Rams are among 11 teams with zero. Cleveland, Jacksonville, Oakland, Dallas, Philadelphia, Baltimore, Chicago, Green Bay, Miami and the Jets are the others.
Pro Bowl selections can be arbitrary. Some players are named to the game as replacements for reasons beyond their control, including injuries or when a player named to the game originally reaches the Super Bowl.
Still, going to the Pro Bowl by any means reflects well on a draft choice.
Russell Wilson
,
Russell Okung
,
Earl Thomas
and
Kam Chancellor
have represented Seattle in the Pro Bowl as draft choices since 2010.
Mike Iupati
,
NaVorro Bowman
and
Aldon Smith
have represented San Francisco.
Patrick Peterson
and Daryl Washington have represented Arizona.
There's more than one way to build an NFL team, but most general managers would point to the draft as the most important component.
August, 22, 2012
8/22/12
8:00
PM ET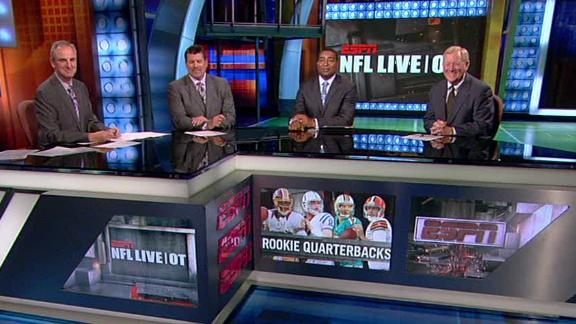 The first four NFL quarterbacks drafted in 2012 have already won starting jobs as rookies.
Seattle's
Russell Wilson
, third-round choice from Wisconsin, has a chance to make it five of the top six. He'll get a chance to work with recently cleared receiver
Sidney Rice
when the Seahawks visit Kansas City for their third exhibition game, set for Friday night.
We can excuse Denver's
Brock Osweiler
, the only second-round quarterback this year, for failing to crack the lineup. He'll get time to develop behind
Peyton Manning
.
"What it tells you that this is probably the most talented class since the '83 Marino-O'Brien-Kelly class," ESPN's Bill Polian said on NFL Live.
But there was also a word of caution from Polian, the former
Indianapolis Colts
exec, regarding the current crop of rookies: "Let's take a look three years from now. Then we'll know."
Recent history backs up the cautionary tone.
Three of the first four quarterbacks from the 2010 class have lost their starting jobs (
Tim Tebow
,
Jimmy Clausen
and
Colt McCoy
). St. Louis'
Sam Bradford
is the exception among the four. The sixth quarterback drafted that year, fifth-rounder
John Skelton
, could start in Arizona. None of the eight quarterbacks drafted later than Skelton holds a starting job.
The first five quarterbacks drafted in 2011 are starters now that
Jake Locker
, chosen eighth overall by Tennessee, has ascended into the Titans' lineup over
Matt Hasselbeck
.
Cam Newton
,
Blaine Gabbert
,
Christian Ponder
and
Andy Dalton
are the others. Locker, Gabbert and Ponder have the most to prove.
San Francisco backup
Colin Kaepernick
was the sixth quarterback drafted in 2011, ahead of
Ryan Mallett
,
Ricky Stanzi
,
T.J. Yates
,
Nathan Enderle
,
Tyrod Taylor
and
Greg McElroy
. Kaepernick might be starting by now if
Alex Smith
hadn't put together a career-best season.
Twenty-three of the named 32 starters for 2012 entered the NFL as first-round draft choices. Dalton and
Drew Brees
were second-rounders.
Matt Schaub
, like Wilson, was a third-round pick.
Tom Brady
(sixth),
Ryan Fitzpatrick
(seventh) and
Matt Cassel
(seventh) were late-round picks.
Tony Romo
was the only one undrafted.
August, 22, 2011
8/22/11
8:54
PM ET
Coaching changes and overall franchise instability tend to have long-term ramifications.
While
Aaron Curry
's new contract with the
Seattle Seahawks
comes after an organizational overhaul in the Northwest,
Taylor Mays
' trade from the
San Francisco 49ers
to the
Cincinnati Bengals
reflects changes in Santa Clara.
Mays no longer fit with the 49ers after the team fired coach Mike Singletary and replaced most of his staff. The 49ers made it clear Mays had little value to them when they notified teams throughout the league of the 2010 second-round pick's availability.
Teams had to know Mays would be a candidate for release, but the Bengals aren't exactly the most attractive suitor from a free agent's perspective. That might explain in part why Cincinnati swung a trade instead of taking their chances.
The trade will return an undisclosed draft choice,
ESPN's Adam Schefter reports
.
Mays joins 49ers castoffs
Nate Clements
and
Manny Lawson
on the Bengals.
The 49ers are fortunate most of their 2010 draft class still fits following the change from Singletary to Jim Harbaugh. First-rounders
Anthony Davis
and
Mike Iupati
are starters. The team thinks third-round linebacker
Navorro Bowman
has a bright future. Sixth-rounder
Nate Byham
was emerging as a top blocking tight end before suffering a season-ending injury.
NFL SCOREBOARD
Sunday, 2/2
WEEKLY LEADERS