NFL Nation:

2010 Preseason Week 4
August, 27, 2010
8/27/10
7:37
AM ET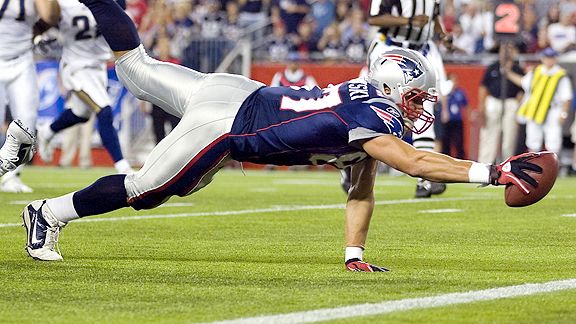 Stew Milne/US PresswireRookie tight end Rob Gronkowski caught three passes for 66 yards and two scores Thursday night.
Some random thoughts from Thursday night, when the
St. Louis Rams
beat the
New England Patriots
36-35 in Gillette Stadium ...
You can say Sam Bradford had a sensational night in his first NFL start, or you can be worried the rookie quarterback of a team that went 1-15 last year had his way against Bill Belichick's defense. The Patriots were undisciplined and seemed a little lost.

The Rams allowed 44 sacks last year, tied for seventh-most in the NFL. With four-fifths of the same offensive line and a rookie left tackle in front of Bradford, the Patriots' defense sacked him once and generally failed to create pressure.

New England was credited with three passes defensed. One of them belonged to nose tackle Vince Wilfork.

St. Louis' second-team offense, led by undrafted rookie quarterback Thaddeus Lewis, did this to New England's first-team defense to open the second half: 76 yards on 15 plays in 9:19. Lewis and Brandon Gibson connected for a 20-yard touchdown.

First-round draft pick Devin McCourty started at left cornerback and had a rough night. He struggled on run support and was beaten deep by Donnie Avery for 32 yards on the Rams' first drive. McCourty got scorched on what should have been a 27-yard Laurent Robinson touchdown at the end of the second quarter, but Bradford's throw carried Robinson out of bounds.

A bright spot for the defense was defensive lineman Ron Brace with seven tackles and a sack. He left the field with an undisclosed leg injury in the second half.

Rookie tight end Rob Gronkowski is going to be a fan favorite if he can A) stay healthy, and B) keep making the kinds of plays he made against the Rams. He caught three passes for 66 yards and two scores. On his 14-yard touchdown in the second quarter, he dragged James Laurinaitis the final 5 yards and lunged at the goal line. Gronkowski capped a long drive at the start of the fourth quarter by leaping to snare a Tom Brady dart from 20 yards away.

Wes Welker's return from reconstructive knee surgery took another positive step. He had two catches, one going for 39 yards to seemingly wake up the sleepwalking offense. But the psychological part of his recovery shouldn't be overlooked. Welker showed concern when Avery suffered a serious knee injury in the second quarter. Reminders are everywhere.

Flat is one thing, undisciplined is another. The Patriots committed nine penalties (two were declined) for 72 yards. The defense was culpable for most. Three Patriots were flagged for roughing the passer: Tully Banta-Cain, Brandon Spikes and Marques Murrell.

How did the Patriots score 35 points while maintaining possession for only 16:14? Brandon Tate returned the opening kickoff 97 yards for a touchdown followed by four straight possessions with a combined one first-down conversion. Then they scored touchdowns on each of their next three series, totaling 20 plays.

That's why Brady and the first-teamers played into the fourth quarter. He finished 18 of 22 for 273 yards and three touchdowns with no interceptions.

Brady's 65-yard bomb to Randy Moss sure looked pretty and got the Gillette Stadium crowd into the game, but you have to wonder if the Patriots' offense would have been better served with a drive. I don't think Belichick went into Thursday night with "Get Moss behind second-string safety Kevin Payne" on the Patriots' to-do list.

So here's what happened on the next series: At the end of the third quarter and into the fourth, New England went no huddle and traveled 98 yards on 10 plays, gaining five first downs before Brady found Gronkowski for a 20-yard touchdown. And it took them just 2:45.

Not sure what to make of running back Laurence Maroney not playing a down for the second straight game. Hard to say for sure, but looks like Belichick has booked him at Chateau Bow Wow. Belichick said it was related to time of possession. Regardless of the reason, no action two straight games is a bad sign for the fifth-year pro.

Sam Aiken is one of the most underappreciated players in the division. He's an adequate receiver who can help out the offense in a pinch, but he's a consistently solid special-teams performer, the kind of player every good team needs. He eliminated a Rams player on Tate's touchdown return and went across the middle for a 5-yard touchdown pass from Brian Hoyer in the fourth quarter.

The Patriots' offense probably would've had the ball longer if Belichick opted to go for it on fourth-and-inches from the 50-yard line midway through the first quarter. The TV showed Brady playfully mocking Belichick for punting. Against the Indianapolis Colts on "Sunday Night Football" is one thing. I guess Thursday night wasn't the right moment to be a renegade.

Forbes estimates the Patriots are worth $1.367 billion. Time to give the Gillette Stadium field some new paint. An on-the-spot official thought Rams tight end Fendi Onobun stepped out of bounds on what should have been a touchdown because the faded white sideline was undefined.
August, 27, 2010
8/27/10
7:25
AM ET
Let there be no doubt about the
St. Louis Rams
' decision on a starting quarterback for the regular-season opener.
Sam Bradford
has to be the choice.
That was already a logical proposition once the Rams determined Bradford was a quick study and emotionally tough enough to weather what could be a tough season. Watching Bradford perform with poise and moxie Thursday night against the
New England Patriots
should remove any lingering uncertainty.
[+] Enlarge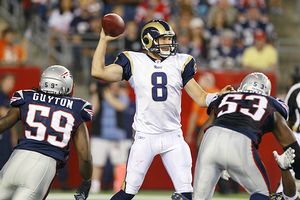 AP Photo/Charles KrupaSam Bradford completed 15 of 22 passes for 189 yards and two touchdowns Thursday night.
Bradford absolutely looked the part of an NFL starter. He's not going to look this good every week, of course, but there's no compelling reason to hold him back. Bradford commanded the offense, scrambled when it was the best choice, threw accurately, checked down quickly to avoid pressure, timed the screen game properly, threw away the ball when appropriate, varied his cadence and even found time to take notes on
Tom Brady
's body language.
Mike Reiss of ESPNBoston.com was at the game and passed along some postgame comments from players and coaches.
"I thought he had a determined look in his eye," Rams coach Steve Spagnuolo said.
Bradford completed 15 of 22 passes for 189 yards, two touchdowns and a 125.0 rating. Spagnuolo singled out a short throw Bradford made between defenders.
"I remember
Steven Jackson
was on my right at the time when he was out of the game and I asked him if he saw the same thing I did and he nodded his head," Spagnuolo said. "The velocity that it got there, the fact that it beat some guys that were in real close coverage, is a sign of a quarterback."
This game had a historic feel to it: Bradford making his first NFL start one day after Stan Kroenke gained clearance as the Rams' majority owner, with one of the game's all-time great quarterbacks, Brady, on the other sideline.
"Watching the film of the first two games, I felt like I was in the right place with the ball the first two weeks," Bradford said. "I never really felt like I got myself in that rhythm. I felt like I was always trying to rush through things. Tonight, before I went out there, I just took a deep breath and said, 'Stay in rhythm, do what you do.' I knew I was capable of it and think I got some throws under my belt early and got in a rhythm and just felt good out there."
Bradford's receivers made plays for him, which was a good sign.
Donnie Avery
caught a high, hard pass toward the right sideline (Avery suffered a potentially serious knee injury later).
Danny Amendola
showed why he's going to produce out of the slot, unless rookie
Mardy Gilyard
siphons off playing time and catches (Bradford did find Gilyard with an accurate throw on a slant against tight coverage). Rookie tight end
Mike Hoomanawanui
blocked well in pass protection, caught two touchdown passes and made a one-handed grab downfield.
"Sam Bradford was leading the charge," Jackson said.
Spagnuolo said he would look at the film before answering questions about whether Bradford or injured veteran
A.J. Feeley
would start the opener.
The coach is going to like what he sees.
August, 27, 2010
8/27/10
12:11
AM ET
The Colts may care less about preseason results than any team in the NFL.
So losing at Green Bay in their third preseason game wasn't a huge deal.
But the pounding the first team took, even with several key players out with injuries, while playing into the second half will certainly require some detailed film review and correction.
In the end it was
59-24 shellacking
.
Some observations:
[+] Enlarge

Jeff Hanisch/US PresswirePeyton Manning was less than pleased with the pace of play at times.

Brace for a debate about the relocated umpire. Peyton Manning was clearly upset about not being able to go forward at his preferred pace while waiting for Garth DeFelice to back out into his new position in the backfield. The Colts were flagged twice for an illegal snap. I don't think the league's going to reconsider the relocation -- which puts the umpire in a safer spot but reverts to old positioning in the final two minutes of both halves. But Manning will surely ask Bill Polian to seek some clarification on how it can and cannot interfere with tempo issues.

Manning connected on two TDs. He made a fantastic throw to Reggie Wayne (seven catches for 96 yards and a TD) and had a great run away from pressure and throw to Joseph Addai. But an intercepted pass aimed for Pierre Garcon and the loss of a fumble while running from trouble on a third-and-long qualified as bad moments.

The Colts recovered quickly from the Manning pick by forcing and recovering a Brandon Jackson fumble, a play started by Clint Session in his first preseason action. He was anxious to hit and made the most of that one.

The Indy defense ran at least one play with dime personnel in which Gary Brackett was the lone linebacker on the field and safety Melvin Bullitt lined up as a backer up at the line. Rodgers threw short to Jackson, and Bullitt, who'd dropped back, quickly closed the space and dropped him.

Addai had a big run on the first play from scrimmage and a nice run after catch on that Manning throw, showing nice zip and feel with the ball in his hands both times. But he took a shot while playing defense after the interception and suffered a concussion right about when he would have been leaving the game anyway.

Brackett (right hand) and Jacob Lacey (concussion) left the game with new injuries. Those meant Pat Angerer and DeShea Townsend were in the game earlier than other second-teamers. It's not the news the Colts wanted to hear considering they started the game without key players already hurt: Dallas Clark, Charlie Johnson, Marcus McCauley, Devin Moore, Jerraud Powers and Jeff Saturday.

Kelvin Hayden didn't have terrible intent when he pushed the ball away while officials were looking spot it. But he still should know better. And drawing a delay penalty for doing so is not very Colt-like or heady.

The pass defense gave up far too many plays (and Green Bay was without receiver Greg Jennings). But when Rodgers is throwing red-zone darts against man coverage in the end zone, I don't know how corners are going to fare better than Lacey and Townsend did on scoring passes from close range.
August, 26, 2010
8/26/10
11:23
PM ET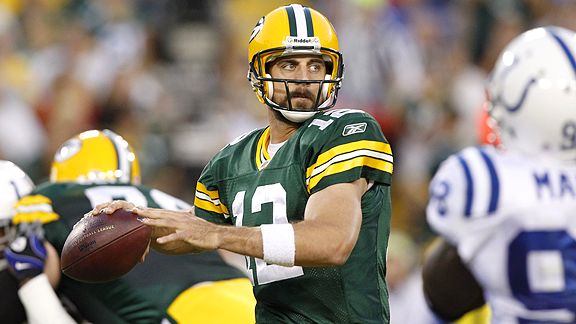 AP Photo/Jeffrey PhelpsAaron Rodgers completed 21 of 29 passes for 195 yards, three touchdowns and a 124.9 passer rating.
The worst opening sentences of any sports story I've ever read went this way:
Somebody call 911.
[Random player] is on fire.
But for whatever reason, those sentences keep running through my head after watching the first half of the
Green Bay Packers
' preseason game against
Indianapolis Colts
. So here goes:
Somebody call 911.
AARON RODGERS IS ON FIRE AND THERE ARE FLAMES COMING OUT OF HIS ARM AND OH MY GOD IT CAN'T BE STOPPED!
OK, that's out of my system now.
If anyone has any doubts about what Rodgers and the Packers could do this season, I hope you at least watched the first half of Thursday night's
59-24 romp over the Colts
. Rodgers overcame some early inaccuracy to lead a surgical two-minute drill just before halftime, a 78-yard procession over 1 minute and 22 seconds that reinforced his near-elite status in this league.
I know it was only a preseason game, but if you were watching, you saw the Colts' first-team defense getting in his face and knocking him down multiple times. But Rodgers completed all seven of his passes on the drive, including three ropes to tight end
Jermichael Finley
that covered 40 yards and a 3-yard flip to receiver
James Jones
for a touchdown.
After missing on eight of his first 22 passes, Rodgers finished 21 of 29 for 195 yards. The effort actually lowered his preseason passer rating to a still-sick 142.3. In just over four quarters of play this preseason, Rodgers has completed 41 of 53 passes for 470 yards, six touchdowns and no interceptions.
Yeesh.
The Packers led the Colts 28-17 at halftime, after which both teams began sitting their starters. All in all, it was a pretty impressive night for a team with Super Bowl aspirations. You can see a winning formula developing before your eyes: An offense that averages 56 points per game and a defense that gives up some yards but also makes some big plays.
(Joking on the 56 points. For the most part.)
Let's hit five random observations before calling it a night. You have to read until the end to find out the last time the Packers scored so many points in a preseason game.
[+] Enlarge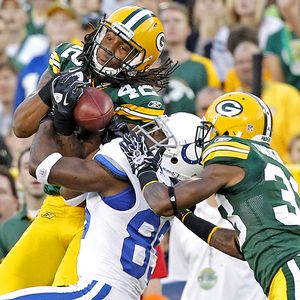 AP Photo/Jeffrey PhelpsMorgan Burnett (42) is making a strong case to be the Packers' Week 1 starting strong safety.
1. You are excused for getting jittery after the Colts ran up 17 points on their first four possessions.
Their first two plays were
Joseph Addai
's 49-yard run and an 18-yard touchdown pass from
Peyton Manning
to
Pierre Garcon
. On the former, defensive tackle
B.J. Raji
got moved way out of position, and on the latter, safety
Nick Collins
appeared to be barking instructions to rookie
Morgan Burnett
when Manning quick-snapped the ball.
Thereafter, however, the defense settled down as coordinator Dom Capers appeared to go exclusively with nickel and dime packages. The Colts' next three possessions ended in two punts and an interception by Burnett, who surprised Manning with a veteran decision to jump a short route. I don't see how Burnett is not the Packers' Week 1 starter at strong safety.
Playing without linebackers
Clay Matthews
,
Brad Jones
and defensive end
Cullen Jenkins
, I considered it an acceptable preseason performance by the Packers defense. You?
2. I've picked on Raji a bit lately, but he did make a nice play to tackle receiver Reggie Wayne on a screen for a 4-yard loss.
Because of Capers' scheme choices, Raji spent almost the entire night as a defensive tackle rather than playing on the nose. That alignment also led to extensive first-team playing time for rookie defensive lineman Michael Neal, who started in Jenkins' place.
3. Running back Brandon Jackson ran hard after replacing Ryan Grant in the second quarter,
but Jackson's red-zone fumble in the second quarter isn't going to motivate coaches to give him similar opportunities during the regular season. Grant was removed after eight carries but no injury was reported.
4. When evaluating Rodgers' night, keep in mind that receiver Greg Jennings was deactivated as precautionary measure because of back spasms.
In his place,
Donald Driver
caught five passes, including a touchdown. Jones, meanwhile, had four receptions and the touchdown.
5a. The Packers scored two special teams touchdowns.
Consider it a confidence booster, if nothing else, for a group that had spent the summer trying to get its footing.
Korey Hall
recovered a muffed punt return in the end zone during the second quarter, and
Jason Chery
returned a punt 75 yards for a score in the fourth quarter.
5. Trivia answer:
The 59 points were the Packers' highest preseason total since defeating your Cedar Rapids Crush 75-0 in 1938.
August, 26, 2010
8/26/10
9:26
PM ET
FOXBOROUGH, Mass. -- Rookie quarterback
Sam Bradford
has been composed, efficient and impressive through the first half of the Rams' preseason game against the host Patriots at Gillette Stadium.

Bradford
He is 15 of 22 for 189 yards and two touchdowns through the first two quarters, leading the Rams on an opening 10-play, 72-yard touchdown drive. The big play was a 32-yard connection to receiver
Donnie Avery
on a stop-and-go move, with Bradford rolling to his right to avoid pressure before delivering the ball on target. The play was reflective of how sharp Bradford has been.
Aside from the numbers, one of the more impressive aspects of Bradford's effort has been his command at the line of scrimmage. There have been no delay-of-game penalties and the Patriots have mixed up some of their defensive looks, playing their 3-4 alignment as well as a few different sub packages. The Patriots haven't generated much pressure, giving Bradford time to find his targets.
Tight end
Michael Hoomanawanui
had a big first half (4 catches, 53 yards, 2 TDs), while receiver Donnie Avery was carted off the field in the second quarter with what appeared to be a serious right knee injury.
More reaction from Bradford's performance to come from Gillette Stadium.
NFL SCOREBOARD
Sunday, 2/2
WEEKLY LEADERS