NFL Nation:

2010 Season Wrap AFC East
January, 5, 2011
1/05/11
1:00
PM ET
»
NFC Wrap-ups
:
East
|
West
|
North
|
South
»
AFC
:
East
|
West
|
North
|
South
Arrow indicates direction team is trending.

Final Power Ranking:
1
Preseason Power Ranking:
10
[+] Enlarge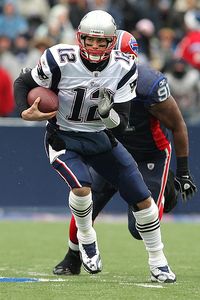 Luc Leclerc/US PresswireTom Brady leads the league with an 111.0 passer rating.
Biggest surprise:
The idea of
Tom Brady
putting together yet another sterling campaign couldn't have been weird to any sane football fan before the season began. But how Brady went about it was amazing even by his standards. The Patriots' offense was prolific even though it went through a systemic transformation. No longer did the Patriots spread out their receivers and operate exclusively out of the shotgun. They preferred two-tight end sets and dumped their noted downfield threat,
Randy Moss
. Brady's supporting cast was comprised of undrafted running backs who'd been waived multiple times (
BenJarvus Green-Ellis
and
Danny Woodhead
), two rookie tight ends (
Rob Gronkowski
and
Aaron Hernandez
), a receiver recovering from reconstructive knee surgery (
Wes Welker
) and a receiver who couldn't make an impact for a losing team and was traded (
Deion Branch
).
Biggest disappointment:
A loss to the
New York Jets
at the Meadowlands in Week 2 was forgivable. But getting destroyed by the
Cleveland Browns
34-14? Totally unacceptable. The Browns, with two wins at the time, gained 404 total yards. The Patriots didn't hold a lead the entire game and left the North Coast humiliated. The Patriots weren't demoralized, though. The loss seemed to stoke their intensity. They haven't loss since, bouncing back the next week to dominate the
Pittsburgh Steelers
at Heinz Field and then defeat the
Indianapolis Colts
at home. The Patriots beat playoff-bound teams in five of their next seven games after losing in Cleveland.
Biggest need:
The Patriots' offensive line had an impressive season. Even with star left guard
Logan Mankins
missing seven games with a contract dispute, right guard
Stephen Neal
on injured reserve with a shoulder injury, and right tackle
Nick Kaczur
out the entire season with back surgery, only three teams allowed fewer sacks. The Patriots also tied for 10th in average yards per carry. But the offensive line likely will need bolstering. It's getting older. Neal contemplated retirement last offseason. Mankins is thrilled to be winning now, but does he still harbor some of the bitterness that compelled him to make a public trade demand in June? He could be gone. Left tackle
Matt Light
also has an expiring contract.
Team MVP:
Brady, quarterback. He led the NFL with a 111.0 passer rating, threw 36 touchdowns and only four interceptions. He broke a 19-year-old record for consecutive attempts without an interception, helping New England set the NFL record for fewest turnovers in a season.
A case for the defense:
Brady was so remarkable that he made sure the Patriots kept winning despite their susceptible and inexperienced defense. Even in early December, they owned terrible defensive rankings despite standout contributions from nose tackle
Vince Wilfork
and inside linebacker
Jerod Mayo
. The Patriots were on pace to have
one of the worst third-down defenses in NFL history
. With rookie
Devin McCourty
and undrafted
Kyle Arrington
at cornerback, they gave up the most passing yards in the league. But the defense improved every week. While their overall rankings remained mired by earlier performances, Bill Belichick's defense surged toward the postseason, allowing seven or fewer points in four of their last five games and coming up with takeaways at critical times.
January, 5, 2011
1/05/11
1:00
PM ET
»
NFC Wrap-ups
:
East
|
West
|
North
|
South
»
AFC
:
East
|
West
|
North
|
South
Arrow indicates direction team is trending.

Final Power Ranking:
22
Preseason Power Ranking:
11
[+] Enlarge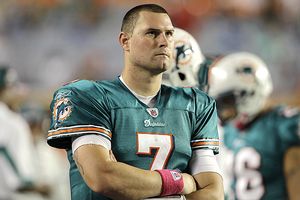 AP Photo/Lynne SladkyChad Henne had a disappointing season in his second year as Miami's starter.
Biggest surprise:
The Dolphins seemed to have all the parts in place for a vibrant and diverse offensive attack. They traded for prolific receiver
Brandon Marshall
. They've fielded a quality offensive line since they drafted left tackle
Jake Long
. They had a capable backfield tandem
Ronnie Brown
and
Ricky Williams
. The team harbored high expectations for second-year starting quarterback
Chad Henne
. And they stunk. Miami ranked 30th in points, 21st in total offense, 21st in rushing offense and 16th in passing offense. Henne was benched at one point. The Wildcat became a farce because defenses figured it out. The interior O-line, tinkered with for three years, fell apart.
Biggest disappointment:
The Dolphins started the season with a pair of road games and won them both. At 2-0 and with all eight home games to go, they bolted to a gargantuan head start in the playoff race. Since the NFL went to its current playoff format 20 years ago, only nine teams had done that. Six went to the playoffs. Four won their division. The Dolphins went 6-2 on the road. Had they split their home games, they would have gone 10-6. If the
New York Jets
were one of those home victories, then the Dolphins might have gotten into the playoffs. Alas, the Dolphins posted a shameful 1-7 home record, losing in Sun Life Stadium to the
Buffalo Bills
,
Cleveland Browns
and
Detroit Lions
.
Biggest need:
The Dolphins crave offensive help. The defense did just fine under new coordinator Mike Nolan, ranking sixth in total defense, seventh in run defense and eighth in pass defense. The Dolphins probably will be looking for a new offensive coordinator with Dan Henning reportedly about to retire. They'll also be in the market for a running back. Brown and Williams are free agents.
Williams recently made comments that strongly indicated he will be gone
. Interior O-line reinforcements are a necessity. But there's still a major problem at quarterback. The Dolphins know what a reliable quarterback could mean.
Chad Pennington
parachuted into training camp in 2008 and guided them from a 1-15 season to the AFC East title. If the Dolphins can stomach bringing in another quarterback -- they've had 15 starters since Dan Marino retired -- then a steady free agent probably is the best way to pull the offense together.
Team MVP:
Cameron Wake
, outside linebacker. The Canadian Football League import broke out in his second NFL season. He recorded 14 sacks to rank third in the league.
Pivotal moment:
Sept. 7 was a symbolic date for the Dolphins. Just five days before opening day, the Dolphins made a bizarrely timed announcement that Bill Parcells was stepping down as football operations vice president to become a mere "consultant." The Dolphins gave off the vibe of an adrift franchise from that moment on -- and played like it. Parcells packed up his office shortly thereafter, leaving general manager Jeff Ireland and head coach Tony Sparano to fend for themselves. Parcells hired them while working for previous owner Wayne Huizenga. But with Parcells on a golf course or at the race track, jobs seemed increasingly tenuous under current owner Stephen Ross, and the uninspiring product on the field didn't measure up either.
January, 5, 2011
1/05/11
1:00
PM ET
»
NFC Wrap-ups
:
East
|
West
|
North
|
South
»
AFC
:
East
|
West
|
North
|
South
Arrow indicates direction team is trending.

Final Power Ranking:
8
Preseason Power Ranking:
9
[+] Enlarge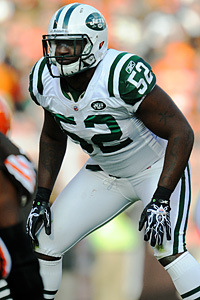 AP Photo/David DrapkinLinebacker David Harris led the Jets with 119 tackles this season.
Biggest surprise:
LaDainian Tomlinson
was supposed to limp into the sunset when he left the
San Diego Chargers
. The Jets were criticized for dumping their 2009 MVP,
Thomas Jones
, and picking up an older player with lower expectations. But Tomlinson showed he still had plenty to offer. He took over the lead duties from
Shonn Greene
and carried the Jets to a 5-1 record at their bye. He had 490 rushing yards with five touchdowns and averaged 5.3 yards a carry at the time. But more importantly he took pressure off sophomore quarterback
Mark Sanchez
. When Tomlinson's production waned after the bye -- he hasn't rushed for more than 55 yards in a game since -- Sanchez became more of a liability. Tomlinson finished with 914 yards and probably would have eclipsed the 1,000-yard mark had Rex Ryan not rested him for Sunday's game against the gracious
Buffalo Bills
run defense.
Biggest disappointment:
If you drafted the Jets in your fantasy scandal league, then you ran away with the title. They led the league in NFL investigations, including
Brett Favre
's sexting scandal with Jenn Sterger, the Jets' admitted mistreatment of female reporter Ines Sainz and $100,000 in fines over setting up a sideline wall that led to strength coach Sal Alosi tripping
Miami Dolphins
gunner
Nolan Carroll
. They drew even more unwanted attention over Ryan's purported foot-fetish videos and
Braylon Edwards
' DUI arrest. ... Purely from a football standpoint, Ryan's defense didn't live up to the hype. Top cornerback
Darrelle Revis
' contract standoff and hamstring injury caused a negative ripple effect. Season-ending injuries to nose tackle
Kris Jenkins
and safety
Jim Leonhard
were damaging.
Biggest need:
The Jets will have some difficult roster decisions to make over the offseason because so many players have expiring contracts. The biggest holes might not reveal themselves for a while, but upgrading the offensive line will be a priority regardless. Jenkins has undergone reconstructive knee surgery two years in a row.
Sione Pouha
was an admirable replacement. Overachiever
Mike Devito
was solid at defensive tackle, and
Shaun Ellis
was one of their better quarterback chasers. But Ryan's defense needs to be more dynamic up front, especially if Jenkins doesn't return. Ellis will turn 34 and Pouha 31 before next season. Their top backup at defensive end is
Vernon Gholston
, the sixth overall draft pick in 2008 who has zero NFL sacks.
Team MVP:
David Harris
, inside linebacker. Other Jets might have played like bigger MVPs for segments of the season -- Tomlinson through the first six games,
Santonio Holmes
in November -- but Harris was the most constant and consistent presence. Harris led the Jets with 119 tackles and 14 quarterback hits. He had three sacks, one forced fumble and one recovery. Harris also is one the Jets' quieter personalities, which earns him bonus points for 2010.
Yardage by committee:
The Jets' offense features several decorated players, but none of them reached the 1,000-yard barrier and none scored more than seven touchdowns. Tomlinson came closest, but Greene appeared to supplant him toward the end of the season. The Jets had five players with at least 41 receptions, but none with more than 55. Tight end
Dustin Keller
, Edwards, Holmes and Tomlinson finished within three catches and two touchdowns of each other.
January, 5, 2011
1/05/11
1:00
PM ET
»
NFC Wrap-ups
:
East
|
West
|
North
|
South
»
AFC
:
East
|
West
|
North
|
South
Arrow indicates direction team is trending.

Final Power Ranking:
30
Preseason Power Ranking:
31
[+] Enlarge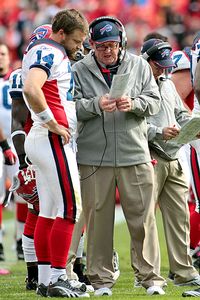 Crystal LoGiudice/US PresswireChan Gailey's Bills will have to address a number of needs during the offseason.
Biggest surprise:
The Bills opened the season 0-8, which would be considered a mild surprise. They weren't supposed to win. Most shocking was first-year head coach Chan Gailey's ability to keep his overmatched talent committed enough to pull out of the nosedive. In one six-game stretch, the Bills won four games and lost to the
Pittsburgh Steelers
in overtime. The Bills were a team of overachievers led by quarterback
Ryan Fitzpatrick
(seventh-round draft choice and career backup), running back
Fred Jackson
(undrafted), receiver
Steve Johnson
(seventh-round pick) and defensive tackle
Kyle Williams
(fifth-round pick).
Biggest disappointment:
The Bills closed out the season with losses to the
New England Patriots
and
New York Jets
by a combined score of 72-10. But even more disgusting than their finish was the lack of production the Bills received from recent first-round draft choices. Rookie running back
C.J. Spiller
(ninth overall) didn't live up to the promise he demonstrated in the preseason. Outside linebacker
Aaron Maybin
(11th pick in 2009) started one game and still doesn't have a sack. The Bills dumped running back
Marshawn Lynch
(12th pick in 2007) for a fourth-round pick. Safety
Donte Whitner
(eighth pick in 2006) was uninspiring again. Defensive lineman
John McCargo
(26th pick in 2006) was a healthy scratch for 15 games. Receiver
Lee Evans
(13th pick in 2004) posted mediocre numbers before landing on injured reserve in December.
Biggest need:
The Bills own the third selection in April's draft. There are few positions they could settle upon and have it not be a helpful decision. The Bills remain in a rebuilding phase and need help in a great number of places and should find an elite player -- unless their first-round track record fails them yet again. The Bills can't go wrong with a quarterback, pass-rusher, run-stopping defensive lineman, offensive tackle or inside linebacker.
Team MVP:
Kyle Williams, defensive tackle. He played for the NFL's worst run defense, but he was the only player opposing offensive coordinators needed to neutralize. Williams recorded 5.5 sacks.
Why didn't they realize that sooner?
The Bills could have changed the course of their season had the brain trust not misidentified their offensive centerpieces. Gailey gave quarterback
Trent Edwards
all the meaningful training camp and preseason snaps, leaving Fitzpatrick with slapdash preparation time. Gailey gave Fitzpatrick the job in Week 3, and
the Bills cut Edwards shortly thereafter
. How much further along would the offense have been had Fitzpatrick been groomed for the job properly? Lynch started three out of his four games before the Bills traded him, rendering Jackson a bit player. Jackson got more than 12 carries for the first time in Week 7 and still almost rushed for 1,000 yards.

NFL SCOREBOARD
Thursday, 8/21
Friday, 8/22
Saturday, 8/23
Sunday, 8/24
WEEKLY LEADERS