NFL Nation:

2010 Season Wrap NFC East
January, 5, 2011
1/05/11
1:00
PM ET
By
Matt Mosley
| ESPN.com
»
NFC Wrap-ups
:
East
|
West
|
North
|
South
»
AFC
:
East
|
West
|
North
|
South
Arrow indicates direction team is trending.

Final Power Ranking:
12
Preseason Power Ranking:
19
[+] Enlarge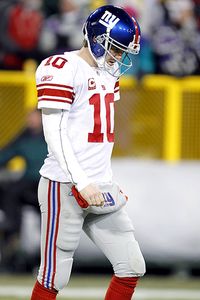 William Perlman/The Star-Ledger/US PresswireEli Manning's league-leading 25 interceptions is one reason the Giants are not in the playoffs.
Biggest surprise:
That quarterback
Eli Manning
threw 25 interceptions. For whatever reason, Manning tried to do too much with the ball this season. He certainly had some unlucky breaks with tipped balls, but he also made some ridiculous decisions, such as throwing the ball into the end zone against the Titans with his left arm -- and getting picked. The Giants are still firmly in Manning's corner, but he needs to figure out that it's OK to occasionally throw the ball way. Manning did manage 31 touchdown passes, but that interception total is what a lot of Giants fans are discussing.
Biggest disappointment:
This Giants will look back on several moments during the 2010 season and kick themselves for not capitalizing on opportunities. I know coach Tom Coughlin's still scratching his head over how his team was physically whipped in Green Bay with a playoff bid on the line. It's like the players didn't have a full appreciation for what was at stake, and that's a major disappointment to everyone in the organization. Losing defensive end/linebacker
Mathias Kiwanuka
was also a huge disappointment. He was probably defensive coordinator Perry Fewell's most versatile player. The Giants did a nice job of managing injuries at receiver and on the offensive line, but Kiwanuka's the type of player who's virtually impossible to replace.
Biggest need:
The Giants have to continue adding depth at the linebacker position. If former second-round draft pick
Clint Sintim
isn't going to emerge as a starter, it's time to find someone else.
Keith Bulluck
isn't going to cut it over the long haul.
Jonathan Goff
was steady at middle linebacker, but the Giants need to surround him with more talent. GM Jerry Reese will be looking for some of the top linebackers coming out of college. On offense, the Giants need another reliable tight end and an offensive tackle. If
David Diehl
is going to move inside to left guard permanently, the club has to decide if
Will Beatty
is the long-term answer at left tackle. Surely the team won't bet on
Shawn Andrews
staying healthy based on his track record with the Eagles and his brief time with the Giants. And kudos to
Rich Seubert
for filling in nicely for
Shaun O'Hara
at center and then slipping over to left guard, which is his preferred spot.
Team MVP:
If
Hakeem Nicks
hadn't been injured late in the season, I think he would've been in the mix. But defensive end
Justin Tuck
would be my pick. He had 11.5 sacks and six forced fumbles to go along with
Osi Umenyiora
's league-record 10 forced fumbles.
Worst moment:
When you blow a 21-point lead with eight minutes to go in a game, I'd have to think it deserves "worst moment" status. The
New York Giants
were in position to take control of the NFC East after dominating a Week 15 game against the Eagles for three and a half quarters. But
Michael Vick
led one of the most exciting comebacks in years.
DeSean Jackson
capped it off with a 65-yard punt return for a touchdown when punter
Matt Dodge
failed to get the ball out of bounds. That was truly the worst moment of the season for the Giants.
January, 5, 2011
1/05/11
1:00
PM ET
By
Matt Mosley
| ESPN.com
»
NFC Wrap-ups
:
East
|
West
|
North
|
South
»
AFC
:
East
|
West
|
North
|
South
Arrow indicates direction team is trending.

Final Power Ranking
: 18
Preseason Power Ranking
: 4
[+] Enlarge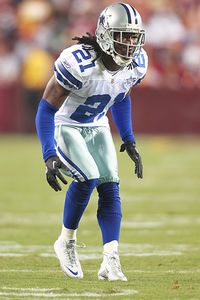 Jeff Fishbein/Icon SMIMike Jenkins finished the season with only one interception.
Biggest surprise:
A defense that had been the backbone of the team in 2009 collapsed in 2010. Players eventually quit on coach Wade Phillips, causing him to be fired after a 1-7 start. The Cowboys' defense gave up a staggering amount of passing touchdowns and it often cratered late in games. Players such as outside linebacker
Anthony Spencer
, who took major steps forward in 2009, reverted to their old ways. It was surprising early in the season that
Roy Williams
was one of the most productive offensive players, but he faded once
Tony Romo
suffered what turned out to be a season-ending shoulder injury.
Biggest disappointment:
The season was such a disaster that it's hard to pinpoint one player, but for clarity sake, let's go with cornerback
Mike Jenkins
. He appeared to be on the verge of stardom following a breakout season in 2009, but he was burned repeatedly in 2010 and then he shied away from contact on a Green Bay touchdown in a 45-7 loss on national TV. Jenkins was expected to become one of the Cowboys' best players on defense, but he had an awful season and probably deserved to be benched at one point.
Biggest need:
The Cowboys need to overhaul the offensive line.
Marc Colombo
was exposed at right tackle by quick defensive ends and right guard
Leonard Davis
is no longer a dominant player. Left tackle
Doug Free
is the only offensive lineman who had a solid season. You could see the Cowboys attempting to change out as many as three spots along the line. Dallas needs to bring in talent via the draft or free agency. The Cowboys also need help at safety. There's no reason for
Alan Ball
to start in 2011 based on how he performed. And it's time to start figuring out who will replace
Terence Newman
at cornerback.
Orlando Scandrick
actually had a decent season, but I'm not sure he's ready to take over for Newman full-time.
Team MVP:
Jason Witten
. Once Tony Romo suffered a season-ending shoulder injury, tight end Witten stepped up his game and became a big-time weapon for
Jon Kitna
.
DeMarcus Ware
had a lot of sacks, but he disappeared in too many games. I think Witten was a huge part of the Cowboys finishing the second half of the season 5-3.
Worst moment:
You have to go all the way back to the last play of the first half against the
Washington Redskins
in Week 1. The Cowboys simply needed to kneel and head to the locker room, but Garrett called a short passing play that fans will never forget.
Tashard Choice
caught the pass, but he fumbled while fighting for extra yardage.
DeAngelo Hall
raced the other direction to score a touchdown. On a night when
Donovan McNabb
and the Skins' offense couldn't do much, it was exactly what the Redskins needed.
January, 5, 2011
1/05/11
1:00
PM ET
By
Matt Mosley
| ESPN.com
»
NFC Wrap-ups
:
East
|
West
|
North
|
South
»
AFC
:
East
|
West
|
North
|
South
Arrow indicates direction team is trending.

Final Power Ranking:
26
Preseason Power Ranking:
17
[+] Enlarge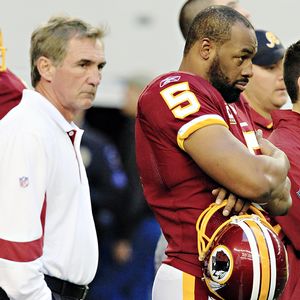 AP Photo/Tim SharpThe Donovan McNabb experiment in Washington never panned out.
Biggest surprise:
That Mike Shanahan didn't make much progress. Shanahan and GM Bruce Allen were supposed to restore order to Redskins Park, but at times, they just added to the chaos. It wasn't a huge surprise that the Redskins finished 6-10 and missed the playoffs. But it was surprising that what should have been the strength of the team, the defense, could be so bad at times. In retrospect, defensive coordinator Jim Haslett would've been better off with a 4-3 scheme that fit his personnel for one season. The Redskins didn't put consistent pressure on the quarterback and the safeties were a mess once
LaRon Landry
had to be placed on injured reserve. I guess Landry would qualify as one of the pleasant surprises. He was on pace to head to the Pro Bowl after his fast start. Haslett kept him near the line of scrimmage where he could cause more damage.
Biggest disappointment:
The Redskins sold their fan base on this idea of star quarterback
Donovan McNabb
leading the organization to new heights. Instead, McNabb had an awful season by his standards and couldn't find common ground with Mike Shanahan or his son, Kyle. I realize
Albert Haynesworth
got a lot of attention for his standoff with Mike Shanahan, but McNabb was ultimately the bigger story. His inability to flourish in this offense was a huge disappointment for the Redskins. It's probably an indictment of both Shanahan and McNabb.
Biggest need:
The Redskins need help at pretty much every position, but obviously you have to start with quarterback. Surely
Rex Grossman
isn't the answer heading into 2011. Shanahan will focus on the quarterbacks declaring for the draft. I think he'll take a long look at Arkansas' Ryan Mallett, who lost to Ohio State on Tuesday night. After quarterback, you have to address this offensive line. They have their left tackle in
Trent Williams
, but now it's time to fill in some other spots.
Artis Hicks
isn't going to cut it as a starter at right guard, and the Skins definitely need a new left guard.
Team MVP:
Let's go with wide receiver
Santana Moss
. His numbers weren't off the charts, but he still put his body on the line week after week and made plays for McNabb and Grossman. At a position that features a lot of divas, Moss is the consummate team guy.
Worst moment of the year:
Everything changed once Mike Shanahan yanked McNabb from that game against the
Detroit Lions
. The Redskins tried to come back with a contract extension, but that turned out to be window dressing. The Redskins have left themselves an easy out with McNabb. Now it will be interesting to see if there's a market for the veteran quarterback. If the Skins can land a fourth-round draft pick for McNabb, they'll be doing well.
January, 5, 2011
1/05/11
1:00
PM ET
By
Matt Mosley
| ESPN.com
»
NFC Wrap-ups
:
East
|
West
|
North
|
South
»
AFC
:
East
|
West
|
North
|
South
Arrow indicates direction team is trending.

Final Power Ranking
: 7
Preseason Power Ranking
: 15
[+] Enlarge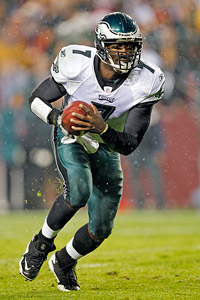 AP Photo/Brian GarfinkelMichael Vick revived his career in leading the Eagles to the playoffs.
Biggest surprise:
Perhaps the biggest surprise in the league was the breakout season for quarterback
Michael Vick
. The Eagles traded
Donovan McNabb
because they were convinced
Kevin Kolb
was ready to be the franchise quarterback. But when Kolb suffered a concussion in the first game of the season, Vick came in and performed brilliantly. By the time Kolb was healthy enough to return, Eagles coach Andy Reid had named Vick the starter. I don't think anyone saw this coming. The Eagles went from what looked like a transition season to becoming Super Bowl contenders. In fact, their entire season now hinges on Vick's health heading into Sunday's game against Green Bay.
Biggest disappointment:
The secondary allowed 31 passing touchdowns. I realize that the pass rush has a lot to do with giving up passing yards, but the Eagles' group of nondescript cornerbacks (outside of
Asante Samuel
) didn't do its part.
Aaron Rodgers
could torch this group if the Eagles can't figure out a way to apply some pressure. It was also disappointing that
Brent Celek
went from being one of the best tight ends in the league in 2009 to an afterthought in this season's offense. Vick has looked for Celek more in recent weeks, so perhaps the tight end will get hot in the playoffs, as he did in 2008.
Biggest need:
The Eagles need to bring in reinforcements at cornerback. I always felt like trusting
Ellis Hobbs
to start at cornerback was a mistake. He had an awful game against the
Tennessee Titans
and then he had to be placed on injured reserve. Now the Eagles have had to bench corner
Dimitri Patterson
for poor play. I said before the season the Eagles needed more depth at cornerback, but they didn't do enough to address that issue. GM Howie Roseman has done a really nice job in other areas, but it always seemed like the Eagles were going to be exposed in the secondary. The good news is that rookie safety
Nate Allen
played really well before suffering a season-ending injury.
Team MVP:
Do I really have to say it? It's none other than Vick, who should finish No. 2 behind
Tom Brady
in the league MVP voting.
Worst moment:
I'd have to say that "effort" against the
Minnesota Vikings
in Week 16 ranks near the top. The Eagles were still playing for a shot at a first-round bye, but they didn't act interested in playing that game, which was postponed until Tuesday night because of a snowstorm. When the game started, it was obvious that Vikings coach Leslie Frazier had prepared his team for battering Vick. I thought the overall lack of effort against the Vikings in a meaningful game really stood out this season. And the defense made
Joe Webb
of the Vikings a household name around the league.