NFL Nation:

2010 Season Wrap NFC South
January, 5, 2011
1/05/11
1:00
PM ET
»
NFC Wrap-ups
:
East
|
West
|
North
|
South
»
AFC
:
East
|
West
|
North
|
South
Arrow denoting whether team is trending up or down.

Final Power Ranking
: 32
Preseason Power Ranking:
23
[+] Enlarge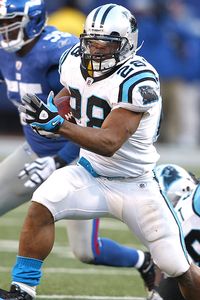 Chris Faytok/The Star-Ledger/US PresswireWhen Jonathan Stewart was healthy, he was Carolina's only real offensive weapon.
Biggest surprise:
Charles Johnson
. After losing
Julius Peppers
in free agency, the Panthers threw a bunch of defensive ends out there and Johnson rose to the top. The fourth-year pro was one of the few bright spots for this team as he blossomed into a full-time starter. Johnson led the Panthers with a career-best 11.5 sacks. That number is even more impressive when you consider the Panthers rarely led and opposing teams weren't forced to throw a lot against them. Johnson can become a free agent, but the Panthers are likely to try to lock him up if a new labor agreement is reached.
Biggest disappointment:
Steve Smith
. The most talented player on Carolina's roster barely got used. Smith caught 46 passes for 554 yards and two touchdowns, with his last touchdown coming in Week 2. Although Smith missed training camp with a broken arm, he was healthy at the start of the season. But Carolina's quarterbacks
Matt Moore
and
Jimmy Clausen
struggled mightily and never were able to get the ball to Smith on a consistent basis. That has led to speculation that Smith might want out of Carolina. Smith has stayed quiet on the subject so far, and that may be because he's waiting to see what happens as the team selects a new coach. If that coach is committed to getting Smith the ball and improving the quarterback situation, that might be enough to keep one of the best players in franchise history happy.
Biggest need
: Consistency at quarterback. Did anyone really think the Panthers were serious about Moore as a long-term solution at the start of the season? He did play well at the end of the 2009 season, but there were major question marks about Moore and he wasn't able to move the offense. That cleared the way for the Panthers to turn to Clausen. Former coach John Fox didn't seem to be fully behind the rookie and went back to Moore. Clausen was back in the lineup after Moore was hurt. There are some people in the organization who believe Clausen can develop into a full-time starter. But the Panthers can't afford to count on that as their only plan at quarterback. At the very least, the Panthers need to find an alternative to Clausen in the draft or free agency. At best, they'll find someone who is an instant upgrade.
Team MVP:
Jonathan Stewart
. When he was fully healthy, which wasn't the case until after Thanksgiving, Stewart gave the Panthers their only real offensive weapon. His 137 yards in a victory against Arizona represented one of the few highlights of the season. With
DeAngelo Williams
possibly becoming a free agent, the Panthers have solid depth at running back with Stewart and
Mike Goodson
.
On the offensive:
Fox, George Seifert and Dom Capers are the only head coaches the franchise has had, and each came with a strong defensive background. It remains to be seen whether the Panthers will break with tradition and hire an offense-minded coach. Even if they go with another defense-minded coach, they need to find one who is open-minded about offense because the fan base isn't going to tolerate anything close to Fox's ultra-conservative approach. If the Panthers go with a defensive head coach, he'd better go out and find a very strong offensive coordinator.
January, 5, 2011
1/05/11
1:00
PM ET
»
NFC Wrap-ups
:
East
|
West
|
North
|
South
»
AFC
:
East
|
West
|
North
|
South
Arrow denoting whether team is trending up or down.

Final Power Ranking:
5
Preseason Power Ranking:
2
[+] Enlarge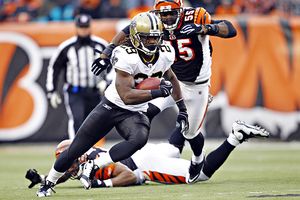 Frank Victores/US PresswireSaints rookie running back Chris Ivory stepped into a prominent role during the regular season.
Biggest surprise:
Chris Ivory
. The undrafted rookie running back saved the Saints from a potentially catastrophic situation. With a preseason injury to
Lynell Hamilton
and early-season injuries to
Pierre Thomas
and
Reggie Bush
, the Saints were desperate for help at running back. They brought in veterans
Julius Jones
and
Ladell Betts
, but neither did much. Instead, it was Ivory who stepped up and gave the Saints enough of a threat in the running game to keep opposing defenses from loading up on the passing game. Ivory probably has secured a spot in the running back rotation for the foreseeable future, though he will miss the playoffs with a foot injury.
Biggest disappointment:
Thomas. He emerged as New Orleans' most steady running back in last year's Super Bowl season and turned down a contract offer to play for the restricted free-agent tender this year. Thomas injured his ankle early in the season, and it initially was thought he'd miss only a few weeks. But the injury lingered and Ivory continued to emerge. Thomas came back and contributed a bit late in the season, but the coaching staff and front office might have come to the conclusion that he's expendable because of the presence of Ivory and the expected return of Hamilton. Those two can work with Bush in tandem in the backfield.
Biggest need:
A pass-rusher to play opposite
Will Smith
. The Saints brought in veterans
Alex Brown
and
Jimmy Wilkerson
after letting
Charles Grant
go. Neither has had much impact as a pass-rusher, and other teams have loaded up their blocking to tie up Smith. The Saints still have generated plenty of pressure because defensive coordinator Gregg Williams isn't shy about bringing the blitz. But the Saints could be even more dangerous defensively if they had a pass-rusher to complement Smith.
Team MVP:
Drew Brees
. This season was not nearly close to the perfect season Brees had while leading the Saints to last season's Super Bowl victory. Brees threw a career-high 22 interceptions, double the amount he threw last year. But Brees still put up big numbers, with 33 touchdowns and 4,620 passing yards, and he carried this team through periods when other parts of the team were struggling. Brees' leadership also was a big part of the reason why the Saints never really had problems with the "Super Bowl hangover'' that has prevented so many Super Bowl teams from returning to the playoffs the following season.
Changing of the safeties:
If there was a true breakout player in the NFC South this season, it was safety
Malcolm Jenkins
. With
Darren Sharper
out for almost the first half of the season while recovering from knee surgery, the Saints moved Jenkins to free safety after he spent his rookie year at cornerback. Jenkins stepped right up, and there was no drop-off at safety. When cornerbacks
Jabari Greer
,
Tracy Porter
and
Randall Gay
were injured, Jenkins briefly shifted back to cornerback. Later in the season, the Saints shifted him to nickelback in passing situations and inserted Sharper at free safety. It didn't matter where Jenkins lined up. He made big plays all season.
January, 5, 2011
1/05/11
1:00
PM ET
»
NFC Wrap-ups
:
East
|
West
|
North
|
South
»
AFC
:
East
|
West
|
North
|
South
Arrow indicates direction team is trending.

Final Power Ranking
: 2
Preseason Power Ranking
: 7
[+] Enlarge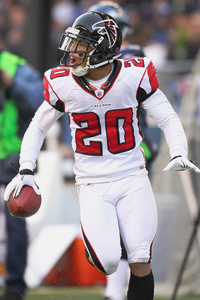 Otto Greule Jr/Getty ImagesThird-year CB Brent Grimes stepped up this season, making five interceptions.
Biggest surprise:
Brent Grimes
. In his first three seasons, Grimes was constantly criticized for being too short and giving up too many big plays. This season, he turned the tables. Grimes became a full-time starter at cornerback. He used his athleticism to make up for a lack of size. With other teams staying away from
Dunta Robinson
and challenging Grimes repeatedly, he produced five interceptions in a season that may have made him into a starter for the long term.
Biggest disappointment:
Peria Jerry
. The first-round draft pick from 2009 injured his knee early in his rookie season. He made it back for the start of the regular season this year, but didn't have much of an impact. Jerry was serviceable in a defensive line that rotated heavily. But the Falcons ended up starting rookie
Corey Peters
ahead of him. There still is hope within the organization that Jerry can be a force and that he might get back to full health next season. But there also was hope that there would be some signs of progress as this season went on. That never really happened.
Biggest need:
A franchise left tackle. The Falcons drafted
Sam Baker
in 2008, right after they drafted quarterback
Matt Ryan
. The thinking was that Baker could protect Ryan's blind side for years to come. But Baker never has developed into the player the Falcons thought he could be. With center
Todd McClure
aging and guard
Harvey Dahl
and tackle
Tyson Clabo
possibly heading into free agency, the offensive line could be getting an overhaul. It might be wise to include an upgrade at the most important position on the line.
Team MVP:
Ryan. It's hard to overlook running back
Michael Turner
and receiver
Roddy White
, each of whom had a huge season. But Ryan took the next step in his maturation process, showing he could win big games and displaying a knack for leading comebacks. Ryan threw a career-low nine interceptions and threw for a career-best 28 touchdowns and 3,705 yards. Ryan led the Falcons on a four-game streak in which they didn't commit a turnover.
Best decision of the year:
Trusting
John Abraham
to bounce back. After recording only 5.5 sacks in 2009, it would have been easy to say age had finally caught up to Abraham. But coach Mike Smith and general manager Thomas Dimitroff watched film of Abraham's season and decided he hadn't lost anything. They decided he just needed more help from the pass coverage. That's why they went out and got Robinson. The improved coverage might have played a big role as Abraham bounced back and produced 13 sacks.
January, 5, 2011
1/05/11
1:00
PM ET
»
NFC Wrap-ups
:
East
|
West
|
North
|
South
»
AFC
:
East
|
West
|
North
|
South
Arrow indicates direction team is trending.

Final Power Ranking
: 13
Preseason Power Ranking:
30
[+] Enlarge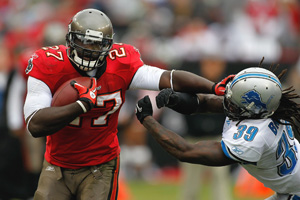 J. Meric/Getty ImagesLeGarrette Blount went from undrafted free agent to 1,000-yard NFL rusher in a matter of months.
Biggest surprise:
LeGarrette Blount
. The running back wins a very close call over receiver
Mike Williams
, mainly because Blount was an undrafted free agent and Williams was a fourth-round pick. Blount initially signed with the Titans, but was cut by Tennessee at the end of the preseason. The Bucs took a shot on Blount and brought him along slowly. With
Cadillac Williams
starting the season ineffectively, the Bucs turned over their running game to Blount. He produced 1,000 yards and gave the Bucs a power running game. The best part of all is that Blount is still very raw. An offseason of coaching and working with his teammates could make him a lot better.
Biggest disappointment:
Tanard Jackson
. The safety was one of the best players on the team and big things were expected of him this season. But Jackson was suspended early in the season for violating the league's substance abuse policy. His absence created a scramble at safety, but that at least allowed the Bucs to find out that
Cody Grimm
and
Corey Lynch
can play a bit. But this is an area that probably still needs to be strengthened in the offseason. Jackson isn't eligible to apply for reinstatement until late September and there is no guarantee he will be back with the Bucs.
Biggest need:
A pass rush. The Bucs used their first two draft picks to solidify the middle of their defensive line. They selected defensive tackles
Gerald McCoy
and
Brian Price
. Each showed some potential before getting injured. Both should be back and healthy next season, and they should bring some push to the middle of the defensive line. But the Bucs need to focus on the outside of the line this offseason.
Stylez G. White
and
Tim Crowder
are not elite pass-rushers. The Bucs have assembled an offense that can score some points. Now, they need to fix up the defense to generate some sacks and turnovers to put teams away when the Bucs take a lead.
Team MVP:
Josh Freeman
. In his second season -- and first full season as a starter -- Freeman left no question that he truly is a franchise quarterback. He carried the team all season and seemed to get better each week. The Bucs are letting Freeman and his young receivers grow up together, and that means the rapport should only get stronger. Freeman established himself as a leader on and off the field, and this is his team now. Freeman hasn't even hit his full potential and the Bucs came close to making the playoffs. He should continue to get better, and that means nothing but good things for the Buccaneers.
Can't stand still:
The Bucs showed a knack for finding guys who can play at the bottom of the scrap pile. Players such as Blount, Williams and Grimm prospered when they were given chances, and the Bucs were proud to tell you how many rookies they were playing this year. That's great, but you're not going to hit on every player you reach for. The Bucs need to continue with their youth movement because it's working nicely. But they might be wise to at least do a little in free agency and sign a proven player or two to help the youth movement along.
NFL SCOREBOARD
Thursday, 10/23
Sunday, 10/26
Monday, 10/27