NFL Nation:

2010 Week 15 High Energy AFC
December, 21, 2010
12/21/10
3:00
PM ET
»
NFC High Energy
:
East
|
West
|
North
|
South
»
AFC
:
East
|
West
|
North
|
South
A look at a player who gave his team a significant boost in Week 15.
Matt Cassel
meant a 45-point swing for the
Kansas City Chiefs
.
[+] Enlarge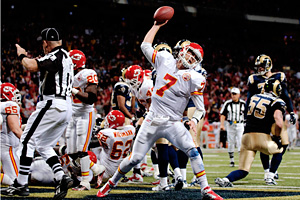 Jeff Curry/US PRESSWIREAgaints the Rams, Chiefs quarterback Matt Cassel led his team to a 45-point improvement over the previous week. He completed 15 of 29 passes for 184 yards and a touchdown.
Now, that's high energy.
Cassel showed the NFL just how tough he is Sunday, when he led the first-place Chiefs to a key win in the AFC West 11 days after having an appendectomy. It wasn't determined until just before the game that Cassel -- who was limited in practice all week -- would be able to play. He didn't even participate in the team's pregame warm-ups to preserve energy.
Yet, when the game started, there was no bottling Cassel. He moved and ran unlike a person who had a significant medical procedure 11 days earlier. Cassel led the Chiefs to a 27-13 win at St. Louis. After the game, many Rams players remarked that Cassel showed no signs of the physical distress he had just endured.
The Chiefs desperately needed Cassel. In the one game without him, Kansas City was pounded, 31-0, by second-place San Diego. Sunday, though, all was well again -- the efficient and underrated Cassel was behind center for the Chiefs.
December, 21, 2010
12/21/10
3:00
PM ET
»
NFC High Energy
:
East
|
West
|
North
|
South
»
AFC
:
East
|
West
|
North
|
South
A look at a player who gave his team a significant boost in Week 15.
It was a throwback kind of game for the
Baltimore Ravens
' offense in Week 15.
[+] Enlarge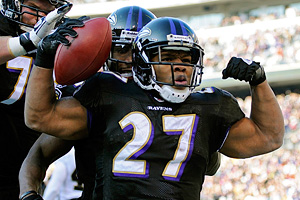 AP Photo/Nick WassThe Saints didn't have an answer for Ray Rice, who rushed for 153 yards and added 80 yards receiving.
Ray Rice
left. Rice right. Rice catch. Rice touchdown. Then repeat.
Baltimore went back to its 2009 formula to pull off an impressive 30-24 victory over the defending Super Bowl champion
New Orleans Saints
. With added weapons this year such as former Pro Bowl receivers
Anquan Boldin
and
T.J. Houshmandzadeh
, Rice has had fewer opportunities. Rice entered last weekend with a five-game streak of fewer than 20 carries.
But Baltimore (10-4) went back to running the ball and gave its Pro Bowl tailback
a season-high 31 carries for 153 yards
. Rice also had five catches for 80 yards and two touchdowns -- one rushing, one receiving.
Good things happen when Rice touches the football. He averaged 4.9 yards per carry, 16.0 yards per reception and was the one player New Orleans (10-4) never had an answer for. Receivers Boldin, Houshmandzadeh and
Derrick Mason
combined for just three catches.
With Baltimore heading toward the playoffs, Rice needs to remain a major part of the offense. He still has fresh legs this season and the ability to change games.
December, 21, 2010
12/21/10
3:00
PM ET
»
NFC High Energy
:
East
|
West
|
North
|
South
»
AFC
:
East
|
West
|
North
|
South
A look at a player who gave his team a significant boost in Week 15.
The Colts turned all of the pregame thinking about their ground game inside-out in their win over the
Jacksonville Jaguars
on Sunday. They shut down the Jaguars' physical run attack. And they churned out over twice as many rushing yards.
[+] Enlarge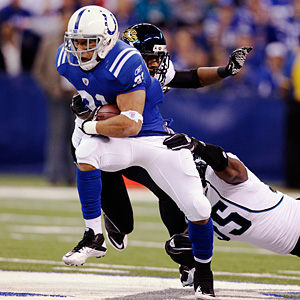 AP Photo/Darron CummingsSecond-year RB Donald Brown had the breakout game against the Jaguars that many fans had been waiting for.
For his part in that, second-year running back
Donald Brown
is the AFC South High Energy Player of the Week. He carried 14 times for 129 yards and a touchdown, posting his first 100-yard game in the NFL. He had an early 49-yard bolt up the middle that featured a stiff-arm to the outreached hand of safety
Sean Considine
, and a 43-yard touchdown run up the left side.
Brown has struggled while
Joseph Addai
and
Mike Hart
have been missing because of injuries, often looking tentative. But he ran with authority against the Jaguars, who have a pretty physical front, and it's a development that could pay big dividends going forward. I don't know if any doubt had crept in for him, but he knows he can do it now.
"I think that would shoot a guy's confidence through the roof," said
Dominic Rhodes
, the recently re-signed veteran running back. "Because when you see that you can do it in this league, that turns a light on in your head."
The Colts could well be without Addai and Hart again Sunday in Oakland, and the Raiders are a big, physical running team like the Jaguars. If Brown can provide a similar boost for a second game in a row, the Colts will stand a far better chance of winning.
December, 21, 2010
12/21/10
3:00
PM ET
»
NFC High Energy
:
East
|
West
|
North
|
South
»
AFC
:
East
|
West
|
North
|
South
A look at a player who gave his team a significant boost in Week 15.
Dan Connolly
's 71-yard kickoff return was captivating.
He's a 313-pound
New England Patriots
offensive lineman who was supposed to block for
Brandon Tate
. Instead, the
Green Bay Packers
made the grave mistake of squibbing it in such a place that Connolly could scoop it up and plod just short of the goal line.
[+] Enlarge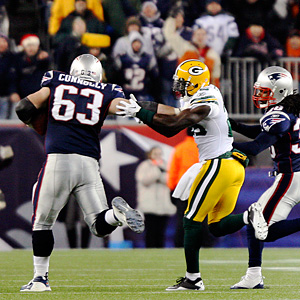 AP Photo/Tim CookDan Connolly's kick return put the Patriots in position to trim the Packers' lead.
Because of that play, Neon Connolly was the runaway winner in voting for the AFC East's High Energy performer in Week 15.
Since I started allowing readers to select the High Energy recipient last month,
this is the first time I disagree with the vote
.
Connolly's return was entertaining to watch in the same way Tommy Callahan performed "Fat Guy in a Little Coat" or Mr. Chow found Zach Galifianakis' character hilarious in "The Hangover" or Butterbean managed a lucrative boxing career.
A portly dude did something that made us laugh.
So let's call this the Butterbean Phenomenon, where people get so enthralled by something so unusual they place undue significance to it. Remember when people thought Butterbean would give Mike Tyson a good fight?
Connolly's return, sprung by sensational blocking, was important. It set up the Patriots for an easy touchdown right before halftime, cutting the Packers' lead to 17-14. The return also was a record for an offensive lineman.
But if Connolly was chosen based on one play, then that's misguided. Connolly's return didn't mean as much as
Brad Smith
's 96-yard touchdown for the
New York Jets
to start the game against the
Pittsburgh Steelers
.
There's a healthy chance
Tom Brady
eventually could have taken control of the game from
Matt Flynn
without Connolly's return. The Jets, who went 11 quarters without an offensive touchdown, wouldn't have won without Smith.
If I were to rank the most deserving Patriots for this award, I would've listed tight end
Aaron Hernandez
and cornerbacks
Devin McCourty
and
Kyle Arrington
ahead of Connolly.
But the readers have spoken.
Connolly's return obviously was a transcendent moment for enough folks that they were compelled to roll with him.
NFL SCOREBOARD
Thursday, 11/27
Sunday, 11/30
Monday, 12/1
WEEKLY LEADERS