November, 24, 2011
11/24/11
11:20
PM ET
Thoughts on the
San Francisco 49ers
' 16-6 road defeat to the
Baltimore Ravens
in Week 12:


What it means:
The 49ers dropped to 9-2 and can no longer clinch the NFC West title in Week 12. Their offense was not ready to handle a physical, formidable defense in a big game on the road. This game served as a reminder that defense and special teams will not always be enough for San Francisco to beat strong opponents. But there's no reason for the 49ers to panic. They lost a hard-fought, low-scoring game to a playoff-tested opponent on a short week following a cross-country road trip. No shame there.
What I liked:
The 49ers still have not allowed a rushing touchdown this season. This was also the 32nd consecutive game they've played without allowing a 100-yard rusher. Those are the longest active streaks in the NFL. Quarterback
Alex Smith
found
Michael Crabtree
for a first down on a third-and-17 play when the game was in danger of slipping away in the second half. Smith scrambled for a first down on a first-and-10 play shortly thereafter.
David Akers
connected on a 52-yard field-goal try, his sixth successful try in as many chances from 50 yards or longer. The 49ers' defense prevented Ravens receiver
Torrey Smith
from beating them deep.
What I didn't like:
Two penalties against the 49ers made this game an uphill fight for them. A chop block against
Frank Gore
nullified a 75-yard touchdown pass from Alex Smith to
Ted Ginn
Jr. Later, the Ravens gained 50 yards when 49ers cornerback
Tarell Brown
committed pass interference while picking off a pass. The call against Gore seemed ticky-tack to me, but Mike Pereira, the Fox analyst and former NFL officiating czar, said the call was technically correct. The 49ers' offense had problems handling the Ravens' pass-rush, both physically and tactically. Losing right guard
Adam Snyder
to injury was one factor, but not the only one. Smith took nine sacks, the most for a 49ers team
since 1952
, according to Pro Football Reference. Smith appeared to lack quick options against pressure, a change from past weeks. Receiver
Braylon Edwards
was ineffective for the second week in a row. He could have done more to break up the deep pass Baltimore intercepted in the end zone right before halftime. The turnover prevented a field-goal try that could have tied the game. The 49ers were flagged for being offside on their first two kickoffs, the second week in a row special-teams penalties have gone against them. Ginn dropped a pass with 1:15 left when the 49ers trailed by 10, essentially ending the game.
Turning point:
The 49ers held a roughly nine-minute advantage in time of possession after driving to the tying field goal on their first possession of the second half. They needed a defensive stop at that point to take control of the game. Instead, the 49ers gave up a 16-play, 76-yard touchdown drive consuming more than seven minutes.
Ravens had the better defense:
This could have been a showcase game for
Patrick Willis
and the 49ers' defense. It was odd to see Ravens fullback
Vonta Leach
putting a pancake block on Willis early in the game.
Sack disparity:
The 49ers allowed nine sacks and never sacked the Ravens. Not
since 2006
had one team collected nine or more sacks while allowing none, according to Pro Football Reference.
What's next:
The 49ers are home against the
St. Louis Rams
in Week 13.
February, 24, 2011
2/24/11
5:57
PM ET
INDIANAPOLIS -- Give the
Oakland Raiders
credit. They have a plan, and they are executing it.
It is very clear who the Raiders -- who had 26 potential free agents, the second most in the league -- have decided are their top priorities to bring back. The Raiders will be in great shape if they can keep all of these players, but it won't be easy. It will especially not be easy to keep star cornerback
Nnamdi Asomugha
.
[+] Enlarge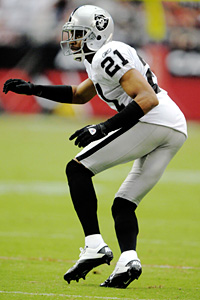 Kirby Lee/US PRESSWIREAfter committing more than $42 million to three players for 2011, the Raiders may be hard-pressed to keep Nnamdi Asomugha.
Until he signs with another team, I still could see Asomugha re-signing with Oakland. But for the first time, I'm beginning to think Asomugha very well could leave.
The Raiders aren't giving him any choice. In the past week, Oakland gave more than $42 million to three players for 2011. What's going to be left for Asomugha? He is expected to be the biggest free-agent prize in football.
Even the optimistic Hue Jackson said Thursday that he didn't know if the Raiders could keep Asomugha. Jackson did say that Oakland owner Al Davis doesn't like losing players.
That's why he gave big dollars to
Richard Seymour
,
Stanford Routt
and
Kamerion Wimbley
. He didn't want to lose them. Last week, Seymour was given a two-year, $30 million deal that includes $22.5 million in guaranteed money. Thursday, in a surprise, Routt was kept from going to free agency with a three-year, $31.5 million deal. He'll be paid a guaranteed $20 million in the next two years.
Routt would have been popular on the open market, but this is a monster deal for a largely unproven player. Now, Routt may have to earn his money in Oakland. If Asomugha leaves, Routt will be the Raiders' No. 1 cornerback and be in charge of facing No. 1 receivers every week. That's a big jump for a player who wasn't a full-time starter until last season.
In another surprise, Wimbley was
given the franchise tag
. He will be paid more than $10 million this year. The Raiders were forced to give Wimbley the franchise tag because the $3.5 million contract buyback option they were hoping to use to keep him under contract next season violated the 30-percent rule that was part of the deal Oakland took on from Cleveland when it traded for Wimbley last year.
Keeping Wimbley at $3.5 million is one thing, but at more than $10 million is another. Wimbley, who had nine sacks in 2010, is a good player, but he is not the typical player who is given a franchise tag. I could see Oakland giving Wimbley a long-term deal, but he'll still be expensive.
Now that Seymour, Wimbley and Routt are secured, it will be interesting to see what Oakland can do with their other free agents.
Davis said in January that if the Raiders lose Asomugha, they could probably get two or three other players. But that was before these three monster deals. These deals will likely cut into that money severely even if Asomugha doesn't come back.
Oakland must hope tight end
Zach Miller
and running back
Michael Bush
are restricted free agents under the new collective bargaining agreement. The Raiders are trying to get a long-term deal done with Miller, but he will be expensive if he hits the open market.
Then there are safety
Michael Huff
and guard
Robert Gallery
. Both of these players can leave. The Raiders may have to make dramatic changes in 2011 due to a glut of free agents, Asomugha's voided contract and Wimbley's strange contract status.
It seems the team has already made the bulk of the decisions and it could end up costing Oakland Asomugha.

NFL SCOREBOARD
Sunday, 2/2
WEEKLY LEADERS