NFL Nation:

2011 Big Question
January, 20, 2011
1/20/11
4:10
PM ET
Will the Pittsburgh Steelers' defense do a better job in the rematch of pressuring New York Jets quarterback Mark Sanchez?
PITTSBURGH -- The Steelers led the NFL in sacks this season with 48. But one of the few off weeks when they were nearly shut out in that category was Week 15, when they lost to the Jets.
[+] Enlarge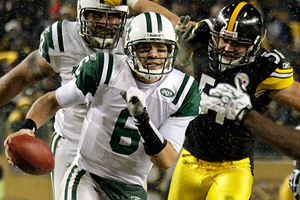 AP Photo/Gene J. PuskarPressuring Jets QB Mark Sanchez will be crucial for Pittsburgh in the AFC Championship Game.
Expect pressure to be a key component for Pittsburgh in the rematch with New York in Sunday's AFC Championship Game. The Steelers recorded just one sack against second-year quarterback Mark Sanchez in a
22-17
defeat in the first meeting.
Sanchez threw for only 170 yards and had a rushing touchdown. But he had great pass protection, throwing 29 times and only getting sacked once in addition to two quarterback hits.
"I don't think our pressures were as well as they could've been," said Pittsburgh linebacker
James Farrior
, who was the only Steeler to record a sack in the first meeting. "That's going to be the key to this game -- getting pressure on [Sanchez], forcing him in third-and-long situations and making him win the game."
In the regular season, Sanchez used a short passing game and got rid of the ball quickly to avoid Pittsburgh's blitz packages. It was similar to the approach the Jets' AFC East rival -- the
New England Patriots
-- used to defeat the Steelers in Week 10.
Without Pro Bowl safety
Troy Polamalu
(Achilles, calf) in the regular-season meeting, Pittsburgh's blitzes were more predictable. Look for Polamalu to help the Steelers mix up their pressures and potentially confuse Sanchez. Pittsburgh was effective in that regard last week against
Baltimore Ravens
quarterback
Joe Flacco
, who was sacked five times and
threw for just 125 yards.
An early lead will be key for both teams. If the Jets score early, they would like to use a ball-control offense, which focuses heavily on their running game and allows Sanchez to make short, safe passes. If the Steelers get a sizable lead, Sanchez will be forced to drop back and try to win the game through the air, which plays right into Pittsburgh's blitzing defense.
January, 20, 2011
1/20/11
10:30
AM ET
Is there anything to read into the NFL's referee selection for Sunday's NFC Championship Game?
If you haven't already heard, referee Terry McAulay
will work the game at Soldier Field
.
Cue the collective groan from Green Bay and hysterics from Chicago.
Yes, McAulay also worked the teams' Week 3 matchup, one in which the Packers
absorbed a team-record 18 penalties
. A few of them proved monumental in determining the outcome of the game; the Packers lost one touchdown and two takeaways, and they were also called for pass interference late in the fourth quarter to set up the Bears' game-winning field goal.
This time around, McAulay will head an "all-star" crew that won't necessarily include the same men who worked the Week 3 game. Regardless, the referee sets the tone for any crew, and for that reason I thought it was worth checking whether or not that Week 3 game proved a trend or an aberration for McAulay this season. Happily for Packers fans, it was more the latter.
Using a database maintained by ESPN Stats & Information along with NFC West colleague Mike Sando, I grabbed penalty totals for each crew this season. The numbers to the right represent both accepted and declined penalties, which I think provides a better gauge for how active a crew has been.
As you can see, McAulay called the eighth-most penalties this season, placing him squarely in the middle of the referee pack. (
Detroit Lions
fans will notice that Ed Hochuli, our
resident activist referee
, was tied for the most.)
McAulay's total included 24 called penalties (against both teams) in the Week 3 game. When you subtract that total, you find his crew called an average of 13.4 penalties in his other 14 games. (Crews work 15 games per season.)
So while his name might conjure bad memories for Packers fans, the assignment probably could have been worse. We won't even start with Hochuli. Look at the name who is third from the bottom of the list. Scott Green's crew called only 183 penalties this season; Green was the referee for the Packers' wild-card playoff loss last season to the
Arizona Cardinals
. There were two disputed non-calls in overtime of that game, a helmet-to-helmet hit against quarterback
Aaron Rodgers
and an apparent face mask on the Rodgers fumble that led to the Cardinals' victory.
Sando
examined a few specific penalty categories
earlier this month, paying special attention to calls that require discretion and often lead to controversy. The only McAulay revelation that stood out to me was that his crew tended to call more offensive pass interference penalties than others. So watch the push-offs, guys. Let's play -- and call -- a clean game.
January, 19, 2011
1/19/11
4:31
PM ET
With the game on the line at Heinz Field, can the Jets trust Nick Folk?
FLORHAM PARK, N.J. -- On the sideline, several
New York Jets
could not bear to watch.
[+] Enlarge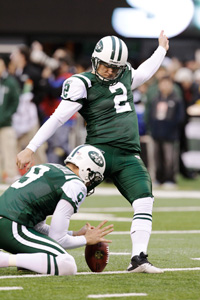 AP Photo/Kathy WillensNew York's season may come down to a Nick Folk field goal.
They averted their eyes from the field and definitely from the goal posts. They waited for the Lucas Oil Stadium crowd to tell them whether they had won or lost.
Silence, and the Jets had beaten the
Indianapolis Colts
in the first round of the playoffs. A roar, and the Jets go home.
Nick Folk lined up for what should have been a gimme field goal, 32 yards on artificial turf in a dome.
Yet there was doubt. Folk has been far from automatic throughout his career.
Folk, of course, made that kick as time expired. The Jets eliminated the Colts, sent fans quietly filing into the cold Indianapolis night. They advanced to the next round of the playoffs -- where Folk missed a potentially dear 30-yard field goal against the
New England Patriots
.
And in an AFC Championship Game likely to be dictated by two of the league's elite defenses, it's foreseeable Folk might be called upon to make another clutch kick that could send the Jets to the Super Bowl or end their season.
The Jets will play the
Pittsburgh Steelers
at Heinz Field, a treacherous pitch on which to kick.
"He's just looking forward to the next kick," Jets holder and punter
Steve Weatherford
said Wednesday at the team's training facility. "It could have come down to a field goal in that game we were in [referring to New England].
"He's been here before. He's missed a kick before. He knows how to bounce back. ... If this game were to come down to a game winner, even on that crappy field, I feel confident he would do it."
Folk's inconsistencies are infamous. He had a disastrous 2009 campaign with the
Dallas Cowboys
, who waived him two games before the playoffs. He missed a kick in each of his final six games with Dallas, the last being a 24-yard attempt against the
New Orleans Saints
.
Folk's 64.3 percent success rate was third lowest of anybody who attempted a kick that year.
The Jets made Folk their reclamation project. He replaced the reliable
Jay Feely
as a roster move that allowed them to sign outside linebacker
Jason Taylor
under the NFL's rules for an uncapped season.
Folk was efficient at first. Through Week 9, he converted 16 of his 19 kicks. He kicked a 48-yarder on opening night and surpassed that as his longest kick three more times by Week 6, topping out at 56 yards.
Then came trouble. Folk missed three field goals in an overtime victory over the
Cleveland Browns
in Week 10. He missed at least one field goal in four straight games.
The Jets, concerned Folk could cost them, brought in veteran free agent
Kris Brown
for a tryout in early December.
"You just have to be confident and go out there," Folk said last week. "You have to embrace the pressure that comes with the job. I've done it my whole life. I've enjoyed these situations."
January, 19, 2011
1/19/11
4:10
PM ET
How much can the potential return of veteran defensive end Aaron Smith help the Steelers' defense?
PITTSBURGH -- Including the playoffs, Smith has missed the past 11 games of the season following triceps surgery. But Smith has a chance to play for the first time in more than two months in Sunday's AFC title game against the
New York Jets
.
[+] Enlarge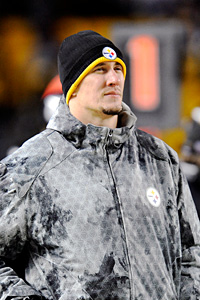 AP Photo/Don WrightAaron Smith, who has been sidelined since Week 7, hopes to play Sunday against the Jets.
Smith is in the process of trying to pull off a "
Rod Woodson
," who injured his knee early in the 1995 season but was kept on the roster and returned for the Super Bowl. Although this injury isn't as severe, Smith had triceps surgery in late October. He's trying to return to help Pittsburgh advance to its third Super Bowl in six years.
How much can Smith contribute? If Smith plays against the Jets, he won't be the starter.
"A snap count is probably going to be part of that discussion," Steelers coach Mike Tomlin said this week. "The guys who have been given the opportunity to replace him, like
Ziggy Hood,
have more than met the standard. They deserve to continue to play, but it will be nice to add that tool to the toolbox."
When healthy, Smith is the prototypical 3-4 defensive end. He's extremely good against the run and also has the ability to fight through double-teams and sack the quarterback on occasion.
The Jets aim to establish the run, so the Steelers will welcome any contribution from Smith. New York was one of two teams to rush for more than 100 total yards against Pittsburgh's defense this season.
For months, it seemed a foregone conclusion that Smith would not play. But this week there seems to be a buzz in Pittsburgh's locker room that it's possible Smith could get playing time.
"No doubt about it, he's a guy who's been here for a long time and we feed off his energy," Steelers captain and linebacker
James Farrior
said. "To have him out there, even if it's just for a few plays, will definitely give our defense a boost."
January, 19, 2011
1/19/11
10:00
AM ET
What's stronger? Public conviction or corporate synergy? Usually we wouldn't have to spend another sentence answering that Big Question.
Well, score one for Everyday Man this week. Amid howls of protest from the
Chicago Bears
and their fans -- and really, anyone who has
heard Jim Cornelison sing
-- the NFL and Fox reversed an earlier decision and
agreed to install Cornelison as the national anthem performer
before Sunday's NFC Championship Game at Soldier Field.
[+] Enlarge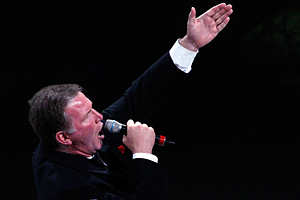 Jerry Lai/US PresswireJim Cornelison will once again sing the national anthem Sunday at Soldier Field.
The original plan called for Chicago native Lee DeWyze, the 2010 winner of Fox's "American Idol," to sing the anthem. But the Bears and their fans advocated strongly for Cornelison, who is the Chicago Blackhawks' full-time anthem singer and offered a rousing version before last Sunday's divisional playoff game against the
Seattle Seahawks
.
DeWyze will perform at halftime instead, giving everyone a slice of the pie.
Cornelison is an opera singer who has been performing at Blackhawks games since 1996. I've heard his anthem before, but his performance last Sunday -- combined with the stage and gravity of the game -- forced chills on even the most hardened souls at Soldier Field.
Typically at sporting events, fans are quiet during a good performance and restless during a shaky one. Last Sunday, they cheered throughout Cornelison's rendition. Even through the glass of the press box, it was an awesome moment. This compromise is encouraging and should work for everyone.
And if you think of it, make sure you have the volume up during the pregame broadcast. You won't want to miss this. Trust me.
January, 18, 2011
1/18/11
5:05
PM ET
How much will Troy Polamalu affect the Jets?
There are a few ways to measure how the
Pittsburgh Steelers
fell short against the
New York Jets
a month ago.
The most obvious measurement was the five-point margin on the scoreboard, 22-17.
[+] Enlarge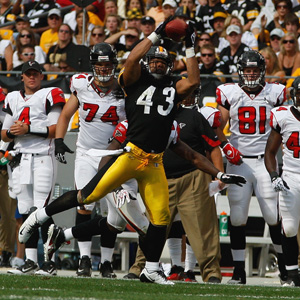 Jared Wickerham/Getty ImagesThe Jets didn't have to contend with Troy Polamalu during their Week 15 game against the Steelers.
The Steelers also lost by 10 yards, getting the ball exactly that far away from the goal line with two cracks at the end zone in the final seconds.
The Steelers lost by two unusual plays, a 97-yard touchdown on the opening kickoff and a fourth-quarter safety that eliminated the possibility of a chip-shot field goal to force overtime.
You can also say the Steelers lost by a hair.
Or, maybe more accurately, several thousand bushy ones tufted over the nameplate on Polamalu's jersey.
The Steelers safety is one of the NFL's premier defensive playmakers. He didn't suit up against the Jets in Week 15 because of an Achilles injury.
In the AFC Championship Game on Sunday, Jets quarterback
Mark Sanchez
not only must be mindful of Polamalu on every snap, but also constantly wonder whether Polamalu is setting him up. Scouts Inc. analyst Matt Williamson deemed Polamalu's presence "obviously a massive strain" for any quarterback, certainly more stressful that facing
Ryan Mundy
.
"He's the ultimate playmaker," Sanchez said of Polamalu. "He'll do anything. He'll sacrifice his body. He'll kind of freelance out there and read your eyes. Especially a young quarterback, he'll try to get after you early and rattle you."
Polamalu is great all by himself. He's a hard-hitting safety with a penchant for forcing turnovers. He's great against the run and dogged in pass coverage.
Even more than that, he's one of those rare forces who allows the other 10 defenders on the field to get more aggressive and take chances. With Polamalu on the field, defensive coordinator Dick LeBeau has the confidence to dial up special plays.
"This defense is entirely different when No. 43 is in the lineup," Williamson said. "LeBeau gives him a lot of freedom to freelance and go make a play outside the structure of the defense. They use him in every way possible, and he excels in every way possible."
Polamalu finished the regular season with 63 tackles, one sack, seven interceptions for 101 yards and a touchdown, 11 passes defensed and a forced fumble.
Polamalu's bearing on the Steelers is so unusual that he actually affects the point spread.
"He's the one guy on any defense that, when he's missing, it's almost like a starting quarterback missing," said Las Vegas Sports Consultants senior oddsmaker Mike Seba. "It's not quite as much of an impact as a quarterback on the point spread, but almost."
Seba claimed Polamalu's presence is worth a point, "which is saying a lot for a defensive player." By comparison, Jets star cornerback
Darrelle Revis
would affect the spread by half a point or less.
That said, Polamalu did have a substandard game Saturday in the divisional round victory over the
Baltimore Ravens
. He made two tackles, whiffed on a couple and didn't record any passes defensed, turnovers or sacks. But just having Polamalu on the field probably mattered.
"When they always say he plays with his hair on fire, I think it's an accurate thing," Jets head coach Rex Ryan said, "and his hair is ridiculous. The guy is amazing.
"How do you not love watching the guy play? I hate watching him play if he is against us. He should probably rest up and not play this week."
January, 18, 2011
1/18/11
4:00
PM ET
Will the Pittsburgh Steelers clean up their special-teams gaffes from their regular-season meeting with the New York Jets?
Your resident AFC North blogger asked Steelers coach Mike Tomlin on Tuesday what the Steelers need to do better on special teams in their rematch against the Jets.
[+] Enlarge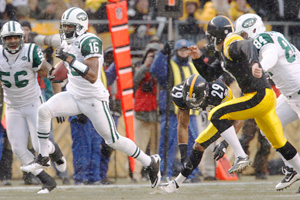 AP Photo/Keith SrakocicBrad Smith's 97-yard kick return for a touchdown was key in the Jets' Week 15 win over Pittsburgh.
"We need to stop
Brad Smith
from going 97 yards," Tomlin said. "That's a good start."
Contrary to popular belief, the Steelers didn't lose to the Jets in Week 15 because of poor offense or poor defense. The Steelers outgained the Jets by 101 yards, and Pittsburgh's offense outscored New York's 17-13.
But hidden yards on special teams and Smith's 97-yard kickoff return for a touchdown proved to be the difference in New York's 22-17 victory. New York gained 177 total yards on kickoff and punt returns, which had an impact on field position and consistently gave the Jets a short field. This will be an area to watch for Pittsburgh in the AFC Championship Game.
Pittsburgh's coverage teams have been an issue in previous seasons, so much so that the Steelers fired former special-teams coach Bob Ligashesky and hired Al Everest this season. Pittsburgh's special teams have made strides in the first year under Everest. But his unit probably had its worst game of the season against the Jets.
Smith missed the Jets' divisional-round victory over the
New England Patriots
on Sunday with a groin injury. His status for this Sunday's game is still to be determined, but the Steelers know the Jets are still dangerous in the third phase of the game.
"They're a very good group," Tomlin said. "It doesn't matter whether Brad Smith is back there or [Antonio] Cromartie is back there. You saw what [Cromartie] did against Indianapolis at a critical time. He's a very capable and dangerous return man, but they have a team of potentially capable return men."
January, 18, 2011
1/18/11
10:30
AM ET
Here's a Big Question for which I don't know the answer: Is it a compliment or an insult to be called a "Cheesehead?"
My understanding has been that somewhere along the way, fans of Illinois sports teams -- the
Chicago Bears
and University of Illinois most notably -- derisively coined the phrase to describe fans of those in Wisconsin, where
about 2.5 billion pounds of cheese
is produced annually. A quick run through
online resources
provide a similar account, and we all know the Internet provides the gospel.
[+] Enlarge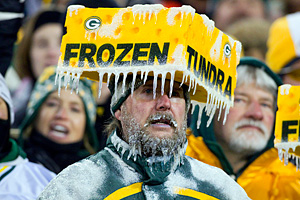 AP Photo/David StlukaGreen Bay Packers fans have embraced the "Cheesehead" label.
But in a lesson to be learned on school playgrounds around the country, Packers fans subsequently embraced the term. They took to wearing the now-ubiquitous
triangle-shaped foam cheese slices
as fashion statements at Lambeau Field, in airports and even at movies (with stadium seating).
So perhaps it's a compliment if you call yourself a Cheesehead.
But if you call someone else a Cheesehead, it's an insult.
These are the types of burning questions that you won't see addressed or answered elsewhere during the intense X's and O's discussion already taking place this week in advance of the NFC Championship Game. We've been anticipating this matchup since last week, and in some ways fans of the Packers and Bears have been hoping for it since 1921.
Are we missing anything here? There are questions, and there are Big Questions. And this is a Big Question that must be solved before we can move forward. In all seriousness, let's use this post to let the (friendly) insults fly so that we can move on and discuss the actual game in the comments section of subsequent posts. All hail the Cheese(head)!
NFL SCOREBOARD
Sunday, 2/2
WEEKLY LEADERS