NFL Nation:

2011 Black Monday
January, 2, 2012
1/02/12
8:19
PM ET
One of the most intriguing stories in the NFL in this week of change is what the
San Diego Chargers
will do.
The Chargers could fire both coach Norv Turner and general manager A.J. Smith, fire one and keep the other or keep both.
It seemed certain Turner would be fired once the Chargers were eliminated from playoff contention last week -- the second time in two straight seasons San Diego has missed the postseason. Smith's future, however, was more uncertain.
Yet after the Chargers dominated the
Oakland Raiders
in Oakland and knocked them out of the playoffs Sunday, there seems to be thought that perhaps both Turner and Smith could be kept. After a six-game losing streak in the middle of the season, the Chargers managed to win four of their final five games and finish with an 8-8 record.
San Diego owner Dean Spanos told the San Diego Union Tribune on Sunday he was impressed by the effort and he'd consider the situation for a couple of days.
CBS Sportsline is reporting
that the team may be leaning toward keeping both Turner and Smith.
Kevin Acee of The San Diego Union Tribune
agrees. I heard similar talk as well. The players, led by quarterback
Philip Rivers
, are in Turner's corner.
I think the Chargers believe they have the makings of a good team and would rather keep it together than tear apart their leadership core. But ownership also knows the fan base is antsy because of the recent failures. With the team trying to secure a new stadium in downtown San Diego, fan sentiment means a lot these days.
If Turner and Smith are kept, it will certainly be on a year-to-year basis. To appease the fans, if no chances are made, I would think the Chargers would have to get aggressive this offseason to add some big-name players, especially on defense. Another playoff-less season will not be tolerated.
It seems everything is still on the table in San Diego, but with Black Monday coming to an end, the fact that Turner and Smith are still around, may be working in their favor. If Spanos knew he wanted to make a change for sure, he would have done so already.
Timing is critical because other teams are already getting a jump on candidates.
NFL.com reported
that former Titans' coach Jeff Fisher would be interested in the Chargers. He reportedly is already lining up interviews with the Rams and Dolphins. Fisher is one of the best coaching options available. If the Chargers want him, you'd think they'd act quickly.
January, 2, 2012
1/02/12
6:13
PM ET
The key element of
Indianapolis Colts
' owner Jim Irsay's news conference to discuss the dismissal of Bill Polian and Chris Polian was this: The team's new general manager needs a vision for a direction back to greatness and that he needs to lead one organization that is pulling in the same direction with great unity.

I took that as meaning the team was not pulling in the same direction under the Polians, and that they did not welcome enough people into the loop for there to be the sort of unity Irsay covets.
Hiring a general manager could take weeks, and Irsay said he could start making inquiries and calls Monday night.
Things could pan out in a way that the new guy will have a say in the future of coach Jim Caldwell and his staff. Irsay said he anticipates it going that way, but stopped short of saying that's definitely how it will unfold.
That's potentially a long time flapping in the breeze for Caldwell and his assistants.
But Irsay spoke very flatteringly of Caldwell.
"He's a very bright guy, he's a great teacher," Irsay said. "He's a very good personnel evaluator. He is greatly respected by the players. They know the integrity he has. You're talking about one of the finest men I've ever known, bar none."
Irsay likes that Caldwell takes responsibility and outlined that Caldwell has been accountable for errors he's made. Larry Coyer wasn't a Cover-2 guy, Caldwell admitted, and "that was a very big mistake that was made." Game management and clock management troubles were also acknowledged by the head coach, who Irsay said has improved in those areas. The owner loves Caldwell's consistency with players.
If a new GM comes in with a good degree of power, odds are he'll want to hire his own coach and not want to inherit one.
Assistants will also be in a tough spot. As staffs are assembled elswhere, Colts coaches will be waiting on a verdict and missing out on other potential opportunities.
Those will be major storylines going forward.
A couple other interesting elements to the news conference:
Irsay expects to sit down with Peyton Manning in the next week or so to discuss his rehabilitation progress and health status.
He used the word "rebuilding," which indicates new people will be given time and he doesn't see a quick fix. It would also appear to allow for moving forward with a young quarterback, though he recently said if Manning is healthy and playing in 2012 it will be with the Colts.
He'd like to see the team's media relations improve. Bill Polian was notoriously difficult, particularly with the Indianapolis press. Secrecy is important on many football matters, but can be overused, Irsay said. You have to be really good at media relations in a small market, he added.
While anything is possible, Irsay said he doesn't see a strong likelihood of a big-name coach with a lot of power.
Dennis Polian will remain in his current capacity as director of football administration. When a new GM is in place, he will evaluate whole personnel department including the remaining Polian.
January, 2, 2012
1/02/12
5:33
PM ET
Lots going on around the NFC and in the NFC West. Let's make the rounds ...
Those are a few of the issues percolating around the division. Back with more in a bit.
January, 2, 2012
1/02/12
4:12
PM ET

The Buffalo Bills fired defensive coordinator George Edwards, head coach Chan Gailey said in
his Monday news conference.
Veteran coach Dave Wannstedt will take over the position.
Buffalo's defense struggled consistently throughout the season. The Bills (6-10) finished 28th against the run and 19th against the pass. They also were 30th in points allowed.
Look for the Bills to address and improve the defense via free agency and the draft this offseason.
January, 2, 2012
1/02/12
3:48
PM ET
TAMPA, Fla. -- Buccaneers co-chairman Joel Glazer and general manager Mark Dominik just held a press conference to talk about the firing of coach Raheem Morris and how they'll proceed with their search for a replacement.

There was no earth-shattering news and no new coach waiting in the wings. Instead, Glazer used terms like "exhaustive'' and "thorough'' when describing how the search will move forward. Glazer also said the Bucs have yet to reach out to any candidates and there is no timetable. But he also said that process will start soon, with Dominik taking the lead role and the Glazer family being heavily involved.

"We're going to keep an open mind,'' Glazer said. "We're not going to pigeon-hole what we're looking forward.''

Although the Bucs frequently have been accused of being frugal, Glazer said money is not an issue as the team looks at coaching candidates.

"We will always do what it takes to win,'' Glazer said.

Glazer said the team will stick by its philosophy of building primarily through the draft. But he also said there's a misconception that the team will only use the draft as a way to acquire players. He said there will be times when the Bucs use free-agent signings and trades to supplement their roster.

"Ultimately, always, you've got to do what's in the best interest of winning because winning sells tickets,'' Glazer said. "We are going to spend whatever it takes to win.''

The Bucs finished 4-12 and lost their last 10 games, but Glazer did his best to offer hope to fans.

"I feel brighter days are ahead,'' Glazer said. "I feel confident we can get this ship headed in the right direction.''
January, 2, 2012
1/02/12
3:01
PM ET
TAMPA, Fla. — Now that Raheem Morris is out as coach of the
Tampa Bay Buccaneers
, let's start taking a look at some of the possible replacements.
BIG FISH
[+] Enlarge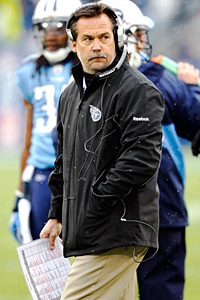 AP Photo/Paul SpinelliJeff Fisher, who parted ways with the Titans in January 2011, has made no secret about his desire to return to the NFL as a head coach.
Jeff Fisher:
Will likely be the first person the Bucs call because he's the best coach available that has made it clear he wants to get back into coaching. Even if it's just for show, the Bucs need to make the call to show fans they care. Fisher's a long shot, though. He likely will have his pick of jobs and coming to a team that hasn't been willing to spend in free agency doesn't work as a selling point for the Bucs.
Bill Cowher:
He's made it sound like he plans to stay in television. Even if that changes, there's almost no shot of Cowher coming to Tampa Bay. If he coaches, it likely will be in a major market and not with a team that needs major rebuilding.
Tony Dungy:
He's said he doesn't want to coach again and he's told that to several teams that have inquired. The Bucs might even be one of those teams. It might be fruitless, but I say the Bucs make a run at Dungy (even if they already have) and beg him to return to the franchise he once made respectable. He could do it again, better and quicker than anyone else. Throw all the money and power you have at Dungy and if getting him means co-chairman Ed Glazer has to wash Dungy's car three times a week, get out the bucket and the sponges. But this almost certainly won't happen.
THE RETREADS
Mike Sherman:
When you fire a coach, you usually go hire the opposite. Sherman's very different than Morris. He's mature, he believes in discipline and he comes from an offensive background. He also won during much of his stint in Green Bay. Sherman's name keeps popping up with this job, so don't rule him out. There's a good reason for that. Sherman has the same agent as general manager Mark Dominik, who is likely to have a big say in this story.
Mike Mularkey:
The Atlanta offensive coordinator is going to interview for the Jacksonville job, but he could fit the profile for the Bucs. He's done a nice job developing
Matt Ryan
and he has previous experience as a head coach in Buffalo. Mularkey's got the resume to make people believe he can straighten out
Josh Freeman
. Plus, Mularkey started his coaching career with the Bucs under Sam Wyche.
Brian Billick:
He once had a reputation as an offensive guru, but he won his Super Bowl in Baltimore with great defense. Billick's also been out of the game for a bit. But he is a name and this franchise needs to sell tickets.
RISING STARS
Rob Chudzinski:
The Carolina offensive coordinator is a hot name after
Cam Newton
's stunning rookie year. He'll get some interviews, but may need one year as a coordinator before he gets a job as a head coach.
Todd Bowles:
He finished the season as Miami's interim head coach and will interview for the permanent job. But, if Bowles is available, I've been told he could get a look. He doesn't have the offensive background. But he's viewed as a rising star who is older and more mature than Morris.
Mike McCoy:
Like Chudzinski, McCoy could be a year or two away from a job as a head coach. But he's done a great job as Denver's offensive coordinator. He also has the charisma to win over players and fans. Oh, he also shares the same agent as Dominik and Sherman.
January, 2, 2012
1/02/12
2:57
PM ET
By
ESPN.com staff
| ESPN.com
Colts vice chairman Bill Polian and general manager Chris Polian
are out in Indianapolis
, a source told ESPN senior NFL analyst Chris Mortensen.
The Colts (2-14) finished with fewer than three wins for only the second time since moving to Indianapolis in 1984, and fans have been calling for the ouster of the Polians and coach Jim Caldwell.
Franchise quarterback Peyton Manning missed the entire season because of neck surgery.
January, 2, 2012
1/02/12
1:15
PM ET
FROM THE SKY OVER GEORGIA OR FLORIDA -- In the end, the Glazer family, which owns the
Tampa Bay Buccaneers
, did the only thing it could. The Glazers
fired coach Raheem Morris
just before noon Monday.
It was the only realistic move after the Bucs lost the final 10 games of the season to finish 4-12. In his third season, Morris and the Bucs took a major step back. After going 10-6 last season, the thought was Tampa Bay's youth movement was heading in the right direction.
But it became apparent during the losing streak that Morris lacked maturity and his player-friendly style backfired on him. The Bucs became a team that was ill-prepared on the field and running wild off it. Key players like quarterback
Josh Freeman
, receiver
Mike Williams
and running back
LeGarrette Blount
all showed major regression this season.
By the end of the season, the Bucs had become the worst team in the NFL. They beat the Colts in a Monday night game early in the season, but I'm firmly convinced the Colts would have won if the game had been played later in the season.
This team was in a free-fall and bringing back Morris wasn't going to stop it. The Bucs had to pull the plug and the Glazers needed to send a message to their fans that they want to win.
As soon as I land in Tampa, I'll head straight to One Buccaneer Place for a 3 p.m. ET news conference. I'll also get you a list of coaches I see as possible candidates to replace Morris.
January, 2, 2012
1/02/12
1:05
PM ET
The
St. Louis Rams
' search for a new general manager and head coach is under way. The
case for change
was easily made, and that is typically the case when teams lose.
A look back at coaching changes from last offseason offers perspective.
Thirteen NFL teams finished the 2010 season with six or fewer victories.
Five hired new head coaches. Four of those five -- San Francisco, Carolina, Denver and Tennessee -- improved in the standings. One, Cleveland, got worse. The five teams produced a net gain of 17 victories from 2010.
Those improvements provide evidence to support coaching changes. There is more to this story, however.
Two of the 13 teams in question made changes during the 2010 season, then decided to keep their interim coaches. One, Dallas, improved by two victories. The other, Minnesota, got worse by three victories.
Here is the interesting part: Five of the six teams to keep their coaches after finishing 6-10 or worse -- Cincinnati, Detroit, Houston, Arizona and Buffalo -- improved their totals for victories. One, Washington, got worse by a single game. These six teams to stay the course produced a net gain of 17 victories from 2010, same as the five teams that hired brand new coaches.
Counting Dallas and Minnesota among the teams with new head coaches tips the balance in favor of teams that stayed the course. Put another way, teams replacing the head coaches they took into the 2010 season improved by 2.28 victories on average. Teams staying the course after finishing 6-10 or worse improved by 2.83 victories on average.
We can amplify certain aspects of these numbers to justify decisions one way or another. I present them merely as balance to natural perceptions that coaching changes are the key to subsequent improvement.
The 49ers obviously made the right move in hiring Jim Harbaugh to replace Mike Singletary. They improved from 6-10 to 13-3 and we could all see ways the coaching was improved. Other situations are more difficult to evaluate. Tennessee improved from 6-10 to 9-7 after replacing Jeff Fisher with Mike Munchak, but no one would have been shocked if Fisher had also gone 9-7 with a new veteran quarterback behind center.
The Rams will almost certainly improve after firing Steve Spagnuolo. It'll most likely take dramatic gains to convince me coaching was a primary reason for them.
January, 2, 2012
1/02/12
1:00
PM ET
The
St. Louis Rams
have
fired
head coach Steve Spagnuolo, who began his NFL coaching career with the
Philadelphia Eagles
and rose to prominence as the defensive coordinator for the 2007 Super Bowl champion
New York Giants
. Spagnuolo's been a hot name around this blog lately (though, for some reason, not a name that's getting any easier to type), so let's take a team-by-team look at his chances of returning to the NFC East in 2012.
Philadelphia Eagles
This is the most likely spot for Spagnuolo to resurface in the division. He was a defensive position coach in Philadelphia from 1999-2006 under legendary defensive coordinator Jim Johnson. And while reports have said he was upset toward the end of his Philadelphia tenure, that Eagles coach Andy Reid blocked him from pursuing opportunities to be a defensive coordinator elsewhere, the two men have since reconciled and their relationship likely wouldn't be an impediment to a potential Spagnuolo return. Other things could be, however. While first-year defensive coordinator Juan Castillo took a lot of heat in Philadelphia this year -- and Reid took a lot of heat for converting Castillo from offensive line coach to defensive coordinator -- the Eagles finished the season strong and ended up ranking eighth in the NFL in total defense, as measured by yards allowed. Additionally, the Eagles just hired Jim Washburn to coach their defensive line a year ago. The scheme that Washburn and Castillo installed this year leans on pressure from the front line, whereas Spagnuolo has been more known for blitz-heavy and zone-blitz schemes. It's possible that the Eagles are (a) happy with Castillo's performance in spite of the outside criticism and/or (b) loath to make major coaching and scheme changes again leading into next year, since that seems to have backfired in 2011. Spagnuolo
could
return to Philadelphia as defensive coordinator, but it's certainly no slam dunk.
New York Giants
There are Giants fans who'd like to see Spagnuolo back in New York as defensive coordinator. But first of all, you don't often see a guy make a direct backward career move like that. Second of all, the Giants like current defensive coordinator Perry Fewell, even though the team ranked 27th in total defense this year and the coverage issues in the secondary need to be addressed along with the linebacker position before next year. Third of all, I don't know if you heard, but the Giants just won this division and are in the playoffs, so they certainly won't be making any coaching changes for at least a week. And for those who thought Spagnuolo could come in as coordinator and be a coach-in-waiting behind Tom Coughlin -- the way the Giants have finished this season makes it very unlikely that Coughlin would be going anywhere anytime soon.
Dallas Cowboys
Obviously, Rob Ryan's first year as defensive coordinator in Dallas was a flop, but it'd be a surprise to see them give up on the well-regarded Ryan after just one year and without addressing the personnel issues they have in their own secondary. Also, the Cowboys likely would have to transition from a 3-4 defense to a 4-3 under Spagnuolo. Possible? Sure, but it'd be a big surprise.
Washington Redskins
The defense was a strong point for the Redskins this year, and Mike Shanahan is pleased with the way the second year of the conversion to the 3-4 under Jim Haslett went. Haslett's safe.
January, 2, 2012
1/02/12
12:11
PM ET
The firings of coach Steve Spagnuolo and general manager Billy Devaney from the
St. Louis Rams
have become official. Team owner Stan Kroenke issued
a brief statement
confirming what had been expected.
"No one individual is to blame for this disappointing season and we all must hold ourselves accountable," Kroenke said. "However, we believe it's in the best interest of the St. Louis Rams to make theses changes as we continue our quest to build a team that consistently competes for playoffs and championships."
[+] Enlarge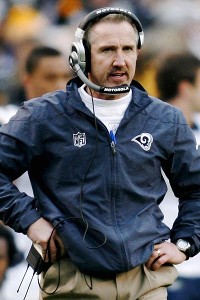 Charles LeClaire/US PresswireThe Rams are now headed in a different direction following Steve Spagnuolo's three seasons (10-38 overall) in St. Louis.
The Rams finished 2-14 this season, which means they were likely to improve in the 2012 standings whether or not they made a coaching change.
Carolina went from 2-14 in 2010 to 6-10 this season after firing head coach John Fox. It's impossible to know whether the Panthers would have improved by as much or more by staying the course. They could not have gotten much worse.
Three teams went 4-12 in 2010. Cincinnati improved five games after keeping Marvin Lewis. Denver improved four games after firing Josh McDaniels. Buffalo improved two games after keeping Chan Gailey. How did coaching moves play into those changes? Again, it's tough to know.
Two teams went 5-11 in 2010. Cleveland lost ground in the standings by one game after hiring a new coach, Pat Shurmur. Arizona improved three games after keeping Ken Whisenhunt.
The Rams can easily justify the changes they are making by pointing to the bottom line. The team went 10-38 with Spagnuolo as its head coach. Nothing more needs to be said in justifying the move.
Kroenke has been with the Rams for years, but he is relatively new to the position of majority owner. The situation is perfect for him to set a new course with his own people. The team has a young franchise quarterback.
Chris Long
and
James Laurinaitis
give the next head coach two young defensive players to build around.
Robert Quinn
could be another.
The team's salary-cap situation has improved. Most of the veterans signed to make a push in 2010 are easily expendable from a financial standpoint. The Rams are in position to become one of the NFL's younger teams with an offseason roster overhaul. They will have to acquire and develop starters throughout most of their offense. They need help at outside linebacker and throughout their secondary, depending to some degree on health-related issues.
In the accompanying video, ESPN's Adam Schefter points to Jeff Fisher as one potential candidate. That would make some sense given Fisher's experience as a head coach. Spagnuolo was a first-timer. Hiring a more experienced coach would be one way to set a new course. Someone with credibility on a national level might help to win over a skeptical Rams public initially.
The weight of 10-38 prevented the Rams from credibly pointing to a long list of injuries that obviously affected their chances in 2011. No one cares much why teams lose. They want winners. All parties understand that, making Kroenke's announcement no surprise to anyone.
January, 2, 2012
1/02/12
11:57
AM ET
By
ESPN.com staff
| ESPN.com
The Tampa Bay Buccaneers
fired coach Raheem Morris
on Monday, the team announced.
The Bucs, who began the season 4-2, lost their final 10 games of the 2011 season.

NFL SCOREBOARD
Thursday, 9/4
Sunday, 9/7
Monday, 9/8