NFL Nation:

2011 blogger mock draft
April, 25, 2011
4/25/11
4:30
PM ET
Von Miller
,
Robert Quinn
,
J.J. Watt
and
Mark Ingram
landed in the NFC West thanks to my shrewd maneuvering in
ESPN.com's Blog Network mock draft
for 2011.
I'm breaking out my selections on a team-by-team basis, with explanations that hopefully will invite your points and counterpoints. Running back Mark Ingram unexpectedly
landed with Seattle at No. 25
, while I sheepishly sent J.J. Watt to
St. Louis at No. 14
and cautiously sent Robert Quinn to
San Francisco at No. 7
.
Let's conclude in reverse order, with the
Arizona Cardinals
at No. 5.
The selection:
Von Miller, OLB, Texas A&M

Off the board:
Quarterbacks
Cam Newton
and
Blaine Gabbert
; defensive lineman
Marcell Dareus
; and cornerback
Patrick Peterson
.
The thinking:
Whew, finally a selection that didn't require 300 words of disclaimers, apologies and excuse-making. Miller heads into the draft as the most acclaimed pass-rusher available and a player the Cardinals could plug into their lineup quickly. Value, need and availability lined up better for this selection, at least based on available scouting reports, than they did for previously selections made for NFC West teams. That was natural given how early the Cardinals are selecting this year. Quarterback remains the team's No. 1 need, but there's no consensus this draft features even one true franchise quarterback, let alone enough for the Cardinals to find one after subtracting Newton and Gabbert from the equation. It's a big upset if the Cardinals pass on Miller to take anything other than a quarterback. Their need for outside pass-rush help appears greater than their needs beyond quarterback.
Odds of this happening:
Decent shot. I'm at least as curious about whether Miller will be available at No. 5 than whether the Cardinals would select him there.
April, 25, 2011
4/25/11
3:15
PM ET
Von Miller
,
Robert Quinn
,
J.J. Watt
and
Mark Ingram
landed in the NFC West thanks to my shrewd maneuvering in
ESPN.com's Blog Network mock draft
for 2011.
I'm breaking out my selections on a team-by-team basis, with explanations that hopefully will invite your points and counterpoints. Running back Mark Ingram unexpectedly
landed with Seattle at No. 25
, while I somewhat sheepishly sent J.J. Watt to
St. Louis at No. 14
.
Let's continue in reverse order, with the
San Francisco 49ers
at No. 7.
The selection:
Robert Quinn, OLB, North Carolina

Off the board:
Quarterbacks
Cam Newton
and
Blaine Gabbert
; defensive lineman
Marcell Dareus
; cornerbacks
Patrick Peterson
; outside linebacker Von Miller; and receiver
A.J. Green
.
The thinking:
This was one of those high-risk, high-reward selections easier to make in a mock draft than when your career as general manager is riding on the outcome. Quinn would give 49ers defensive coordinator Vic Fangio a pass-rushing prospect to build around. Fangio sought a similar building block in Houston when the Texans used the 27th choice of the 2004 draft for
Jason Babin
, a player Fangio hoped would project in the
Kevin Greene
mold. Babin didn't do much before earning Pro Bowl status with Tennessee last season. As for Quinn, he qualifies as a potentially one-dimensional player with medical concerns stemming from the benign brain tumor doctors discovered in 2007. But his raw pass-rush potential appeals. There were other legitimate options and safer ones available when I made this selection. Cornerback
Prince Amukamara
was one, but teams tend to value pass-rush production over coverage skills in the secondary. Some 49ers fans have worried their team won't feel great about any of the prospects available at No. 7. I had that feeling to an extent while making this selection, but only because scouting reports on Miller and Peterson made them sound like superior options, if available. Check back in three years to see if those reports were accurate.
Odds of this happening:
Decent shot. This one feels better than the previous NFC West selections, but it should. There were only six players off the board this time.
April, 25, 2011
4/25/11
1:17
PM ET
Von Miller
,
Robert Quinn
,
J.J. Watt
and
Mark Ingram
landed in the NFC West thanks to my shrewd maneuvering in
ESPN.com's Blog Network mock draft
for 2011.
I'll break out my selections on a team-by-team basis, with explanations that hopefully will invite your points and counterpoints.
Let's begin in reverse order, with the
Seattle Seahawks
at No. 25.
The selection:
Mark Ingram, RB, Alabama

Off the board:
quarterbacks
Cam Newton
,
Blaine Gabbert
and
Andy Dalton
; defensive linemen
Marcell Dareus
,
Nick Fairley
,
Aldon Smith
, J.J. Watt,
Ryan Kerrigan
,
Da'Quan Bowers
,
Cameron Jordan
,
Justin Houston
,
Muhammad Wilkerson
,
Corey Liuget
and
Adrian Clayborn
; cornerbacks
Patrick Peterson
,
Prince Amukamara
and
Jimmy Smith
; outside linebackers Von Miller and Robert Quinn; receivers
A.J. Green
and
Julio Jones
; and offensive linemen
Tyron Smith
,
Mike Pouncey
and
Anthony Castonzo
.
The thinking:
This was a value selection all the way. Seattle has said it wants to trade down from the 25th spot, and that makes sense given how badly general manager John Schneider wants to add young prospects, and lots of them. We could not trade selections in this mock, however. The Seahawks would ideally use this selection for an offensive or defensive lineman if they weren't sold on
Jake Locker
or any of the other available quarterbacks. I didn't see any highly rated defensive linemen available at No. 25 in this mock (11 were off the board). Taking an offensive lineman still had some appeal, but with
Russell Okung
entrenched at left tackle and
Max Unger
projecting at center, Seattle would essentially be selecting a right tackle or guard if it went that route. That could make sense, but I figured Ingram would be the highest-rated player remaining. He would be the first running back off the board. The Seahawks' need for a running back is not immediate, but neither is the team set at the position.
Marshawn Lynch
is entering the final year of his contract. In 2000, the Seahawks used a first-round choice for
Shaun Alexander
just as
Ricky Watters
was entering the final year of his deal. The team sought to acquire a quarterback one year later, landing
Matt Hasselbeck
from Green Bay.
Odds of this happening:
Slim. The Seahawks would be more likely trade back or select a lineman in this spot, in my view. I'm not convinced so many defensive linemen will be off the board at this point. I'm also curious to know how tempted Seattle might be to add a right tackle or guard at this point in the draft. The
San Francisco 49ers
and
St. Louis Rams
have targeted bookend tackles in recent drafts.
April, 25, 2011
4/25/11
1:00
PM ET
Our blogger mock draft fell very favorably for the three AFC West teams with a first-round pick.
Each blogger made the pick for teams in the division they cover. I didn't have to do a lot of deliberating. Top choices were available at all three spots. Let's take a look:
No. 2, Denver
Marcell Dareus, Alabama, defensive tackle
Why:
Denver could take Texas A&M linebacker
Von Miller
or Auburn defensive tackle
Nick Fairley
, but the Broncos should take the sure thing in Dareus.
No. 18, San Diego
Cam Jordan, DE, California
Why:
Our mock has a big run in the middle of the round on pass-rushers. San Diego would be thrilled if Jordan fell to No. 18. He'd fill a need and is a good value here.
No. 21, Kansas City
Muhammad Wilkerson, DL, Temple
Why:
I thought Tampa Bay could get Wilkerson and I would have then given the Chiefs Wisconsin tackle
Gabe Carimi
. But I think Wilkerson is a better immediate fit. This is a good value pick.
Oakland doesn't have a first-round pick. It traded its choice to New England for defensive lineman
Richard Seymour
in Sept. 2009.
April, 25, 2011
4/25/11
12:39
PM ET
The ESPN.com Blog Network's mock draft is out and
the entire thing
is posted over on the AFC South Blog.
But let's take a look at just the NFC South picks here. I got to play general manager for each of the four NFC South teams as we worked our way through this draft late last week.
Let's make it clear that I wasn't picking the guy I happened to like best. I was relying on what I've been seeing and hearing over the last couple of months, especially over the last couple of weeks, to try to project what I think each team will do. It was easy to make the No. 1 overall pick for the
Carolina Panthers
because no one stood in my way.
I didn't have the same luxury when picking for the Buccaneers, Saints and Falcons because a lot depended on what happened with the choices in front of me.
Here's who I took for each team and my analysis of the pick.
1. Carolina
:
Cam Newton
, QB, Auburn.
Analysis:
The Panthers are aware of upside and downside with Newton. But a team that has to compete in a division with
Drew Brees
,
Matt Ryan
and
Josh Freeman
for the foreseeable future realizes it has to get a franchise quarterback to compete in the NFC South. Time to take the big leap on Newton.
20. Tampa Bay:
Justin Houston
, DE, Georgia.
Analysis:
The Buccaneers have a huge need for a pass-rusher. Houston's the best on the board. Time for the Stylez G. White (4.5 sacks last season) era to end.
24. New Orleans:
Adrian Clayborn
, DE, Iowa.
Analysis:
The Saints don't need an immediate star. But he can be the heir apparent to
Will Smith
and contribute in a defensive-end rotation for a year or two before becoming the main piece of this defensive line.
27. Atlanta:
Jonathan Baldwin
, WR, Pittsburgh.
Analysis:
The Falcons would really love to get a pass-rushing defensive end, but the board is pretty empty. They can fill that need whenever free agency starts. For now, they'll switch things up and look for an "explosive" player on offense. Baldwin is a huge receiver and could be the perfect complement to
Roddy White
.
April, 25, 2011
4/25/11
12:10
PM ET
ESPN.com's
blog network assembled a mock draft
.
As you might've guessed, I handled the AFC East's five selections. A couple players surprisingly slipped to the
New England Patriots
' slots, so I felt compelled to make decisions you probably won't see in very many other places.
But I had to play the board.
Here is the AFC East breakdown with my comments on why I mocked the way I did:
No. 3 Buffalo Bills: Missouri quarterback Blaine Gabbert.
The Bills have a great opportunity to land a potential franchise quarterback and don't plan on drafting in this territory again. General manager Buddy Nix repeatedly has said the presence of Ryan Fitzpatrick as the starter means it's the perfect time to draft a quarterback and let him grow.
No. 15 Miami Dolphins: Florida center Mike Pouncey.
The Dolphins' interior line has been chaotic for the past three years, and Pouncey is a versatile player who can line up at center or guard. If the Dolphins truly are sold on
Ryan Mallett
or another quarterback, then they might make a splash by taking him here because they don't have a second-round pick to address that position.
No. 17 New England Patriots: Clemson defensive end Da'Quan Bowers.
If he's still on the board here, the Patriots likely won't be deterred by Bowers' knee injury. Bill Belichick always is searching for value and isn't afraid to draft injured players and give them time to heal. The Patriots drafted Brandon Tate in the third round in 2009 even though he was healing from reconstructive knee surgery.
No. 28 New England Patriots: Colorado tackle Nate Solder.
Another value pick for the Patriots if Solder still is on the board. The Patriots must stabilize their offensive line. Left tackle Matt Light went to the Pro Bowl as an alternate last year but is a free agent and will turn 33 in June.
No. 30 New York Jets: UCLA outside linebacker Akeem Ayers.
The Jets' primary needs are to improve their pass rush and their defensive line. Ayers can rush the passer and help in coverage. That kind of versatility makes it easier for Rex Ryan to deploy his tricky and aggressive defensive tactics.
April, 25, 2011
4/25/11
12:00
PM ET
ESPN.com has completed its annual blogger mock draft, and the picks for the AFC North were made in part by our community.
We put
together a draft board
last week, and like a good general manager, I stayed true to our board with every pick. Here were the results for the AFC North:
Cincinnati Bengals (No. 4 overall)
Pick:
LSU CB
Patrick Peterson

Peterson
Analysis:
The Bengals can be unpredictable with personnel decisions, and I have my doubts they will follow our draft strategy. But "Bengaldom" agreed that Peterson is the safest pick and perhaps the best player in this draft, and Cincinnati cannot afford to take any huge risks at No. 4. Peterson was the highest-rated player on our board. Thanks to the early run on quarterbacks --
Cam Newton
went No. 1 to Carolina and
Blaine Gabbert
No. 3 to Buffalo -- Peterson was there for the taking. The Bengals should have a feel by now if No. 1 corner
Johnathan Joseph
can be re-signed in free agency. An educated guess is several teams will be ready to offer Joseph more money on the open market. So Peterson could step right in and make an immediate impact on defense and special teams.
Cleveland Browns (No. 6)
Pick:
Georgia WR
A.J. Green

Green
Analysis:
This was the pick that made me cringe. I think Green is a tremendous talent, but I'm against taking receivers in the top 10. Yet Browns scouts in our community voted Green as their top choice, moving the receiver to No. 2 overall on our draft board. Alabama defensive lineman
Marcell Dareus
went No. 2 to Denver. So I saw this coming as the draft was unfolding. I would have gone defense here, either with North Carolina defensive end
Robert Quinn
or Auburn defensive tackle
Nick Fairley
, but majority ruled. As GM, I have to answer to the media if this pick doesn't pan out. So Green better be a star in Cleveland, Browns scouts, or I'm handing out pink slips.
Baltimore Ravens (No. 26)
Pick:
Ohio State DE
Cameron Heyward

Heyward
Analysis:
Players were flying off the board for Baltimore more than any team in the division. Is this a preview of what's going to take place on Thursday? Out of our top-five choices, three were gone by the time the Ravens were up with the No. 26 pick. Heyward was our fourth choice, but it's still a solid selection. He adds youth to the defensive line and also has the ability to get to the quarterback. Florida center
Mike Pouncey
(No. 15 to Miami), Colorado corner
Jimmy Smith
(No. 23 Philadelphia) and Purdue defensive end
Ryan Kerrigan
(No. 16 to Jacksonville) were all taken several picks earlier.
Pittsburgh Steelers (No. 31)
Pick:
Texas CB
Aaron Williams

Williams
Analysis:
The Steelers were probably the most fortunate AFC North team in this blogger mock draft. Four of their top-five players were still available at No. 31, which was unexpected. That included their two cornerbacks in Williams and Miami's
Brandon Harris
. Both corners can help Pittsburgh immediately. But Williams' versatility and physicality gave him an edge. If this scenario played out later this week, Pittsburgh would be more than happy to have to choose between these two corners.
Do you agree or disagree with this year's blogger mock draft picks? Voice your opinion in the comment section below.
April, 25, 2011
4/25/11
12:00
PM ET
We know you've been mocked and mocked. We all give you divisional takes on Todd McShay and Mel Kiper. We often link to other mocks. Maybe you're to your breaking point. Maybe you need one more.

We spent three days last week emailing back and forth and compiling a mock put together by eight divisional bloggers. John Clayton stood in for the NFC East.

Perhaps we add some different insight to the speculation. Perhaps we echoed prevailing wisdom. (I can raise my hand on that, as you will see.)

At any rate, we know we're mostly wrong, and we're eager to write names in draft slots in ink instead of pencil when things kick off Thursday evening. Here's hoping this helps tide you over.


April, 25, 2011
4/25/11
12:00
PM ET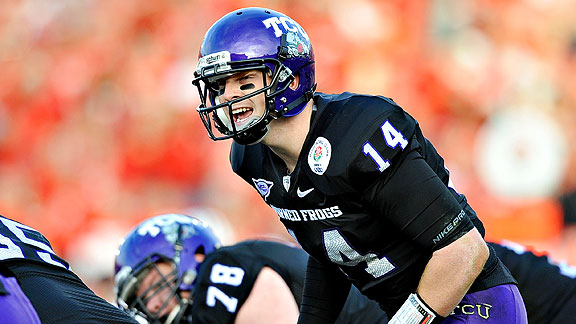 Patrick Green/Icon SMIAndy Dalton probably isn't the 12th best player in this draft, but his position inflates his value.
I was in favor of including trades in ESPN.com's third annual Blog Network mock draft, but the consensus was they would further cloud the muddy snapshot we already have of this draft. After all, with three days remaining until the first round begins, it isn't totally clear who the
Carolina Panthers
will take with the No. 1 overall pick -- let alone who will follow at No. 2, No. 3 and so on.
As a result, my goal was to make the best pick for each NFC North team regardless of the slot I was drafting in. It left me taking a leap from conventional wisdom for one team but also put me in position to provide the other three teams what would seem to be near-ideal scenarios. My picks, which we made last week, and explanations are below. Some picks took longer to justify than others:
12. Minnesota Vikings
My pick:
TCU quarterback
Andy Dalton
Simmer down:
About five minutes after filing my pick, a colleague called and (jokingly, I think) asked how I felt about taking a third-round player with the No. 12 overall pick. That sentiment helps illustrate my first reason for taking any quarterback, let alone Dalton, at this spot.
The quarterback position has grown to the point where it can't be valued along the same lines as other positions. I don't have an exact formula for the comparison. But to me, having merely an above-average quarterback is more important than having a 10-sack man at defensive end or a 10-year fixture at left tackle. Without competent quarterback play, those 10 sacks and that stability on the line can carry a team only so far.
The Vikings have needs at positions other than quarterback, but they won't move forward as a franchise without beginning the process of building toward a long-term answer at the position. Recent history has shown us that teams in similar situations almost always need to use a first-round pick to ensure themselves a player who has the potential to fill that role. In fact, 20 of the NFL's 32 teams finished last season with a starter acquired via the first round. The
Denver Broncos
could unveil No. 21 (
Tim Tebow
) this season.
I'm not necessarily suggesting that Dalton, or any of the other quarterbacks who remained after Auburn's
Cam Newton
and Missouri's
Blaine Gabbert
left the board, is the 12th-best player in the draft. I'm saying you throw out conventional rankings when you're in a situation like the Vikings' and recognize that getting a long-term starter at quarterback is worth the No. 12 overall pick.
Trading down was not an option, and I'm not sure I would have done it if it were. The Vikings aren't the only team in this situation, and chances are a team they partner with to trade down will be in search of a quarterback themselves. The Vikings' lack of a third-round pick leaves them with limited value to send in return, and their chances of even a second-tier prospect being available with their second-round pick at No. 43 overall is limited at best.
Why Dalton? I won't pretend to have evaluated his film, or that I would have known what to look for even if I had. I landed on him in part after crossing out a few other options.
We've
discussed the accuracy issues
of Washington's
Jake Locker
before. Put it this way: If he improves substantially at the NFL level, he'll be the exception to the rule. Arkansas'
Ryan Mallett
doesn't strike me as leader material. And in comparison to Florida State's
Christian Ponder
and Nevada's
Colin Kaepernick
, I thought Dalton had the best chance to excel in an offensive system that will be similar to what the
Atlanta Falcons
installed with rookie quarterback
Matt Ryan
in 2008.
To be clear, this is the worst-case scenario to be in. Quarterback is the one position where need has to trump value. For those of you who think the Vikings should wait until next season, you're assuming they'll be in a better draft spot than No. 12 or that the annually limited college supply will somehow be enhanced in 2011. The Vikings have put themselves in this position by willfully ignoring the reality of
Brett Favre
's impending retirement. To me, they haven't given themselves much choice in the 2011 first round.
13. Detroit Lions


Amukamara

My pick:
Nebraska cornerback
Prince Amukamara
Breathe easy:
Admittedly, my head was spinning when this pick arrived after
all the possibilities we've discussed
. Every offensive lineman was available except for USC's
Tyron Smith
. Unsurprisingly, Clemson defensive end
Da'Quan Bowers
had slipped out of the top 10. Two of the top three cornerbacks, Amukamara and Colorado's
Jimmy Smith
, were on the board. Missouri defensive end
Aldon Smith
was gone, but several other defensive ends -- including Bowers, Wisconsin's
J.J. Watt
and Cal's Cam Jordan -- were still there.
In the end, I did what I imagine Lions general manager Martin Mayhew would do -- take a deep breath and calmly make a defensible decision. I won't begin to tell you that I know for sure that Amukamara is the best player among those remaining, or that the Lions agree with media analysts who suggest he is the second-best cornerback in the draft. But based on the information we have, and the indisputable evidence that cornerback is the Lions' biggest need, it sure seems a logical choice to make.
29. Chicago Bears


Carimi

My pick:
Wisconsin offensive
Gabe Carimi
Jump for joy:
Truth be told, I almost botched this pick. Carimi wasn't among the players I planned on choosing from. To me, this is the value of an eight-person mock as opposed to a single drafter. You have different ideas and different philosophies weaved throughout the round, much like the actual draft.
I don't think there is any doubt the Bears
want to upgrade their offensive line
, and if their evaluation is anywhere close to that of most media analysts, they'll jump at the chance to get Carimi at No. 29. He would have an excellent chance to start right away, probably at right tackle, and would give the Bears some immediate structure to their cloudy personnel arrangement along the line.
Last year at this time, few media analysts thought Iowa's
Bryan Bulaga
would fall into the final third of the draft. But he did, and the
Green Bay Packers
-- who, like the Bears, had an acute need for offensive linemen -- wasted little time turning in their draft card. I see a similar situation should Carimi still be available when the Bears hop on the clock.
32. Green Bay Packers


Sherrod

My pick:
Mississippi State offensive lineman
Derek Sherrod
Nod your head:
Offensive linemen were slower to go than expected in this mock, leaving two of our teams with opportunities to fill needs here. The Bears would get an immediate starter in Carimi, and the Packers could do the same with Sherrod.
Sherrod would give the Packers a number of short- and long-term options. He could conceivably play left guard if
Daryn Colledge
doesn't return. In the long run, he could be an option at right tackle if Bulaga eventually moves to the left side.
In either event, don't expect Packers general manager Ted Thompson to pass on a more talented player in order to draft an outside linebacker, where the Packers have a greater short-term need. If Sherrod ranks higher than the remaining linebackers on the board -- and in this draft, UCLA's
Akeem Ayers
wasn't available -- he could without question draft a player like Sherrod.