NFL Nation:

2011 Cornerback Power Rankings
April, 19, 2011
4/19/11
1:15
PM ET
Current NFC West cornerbacks
Dominique Rodgers-Cromartie
(2009),
Marcus Trufant
(2007) and
Nate Clements
(2004) have been to Pro Bowls over the years.
None appeared on the 10-man ballot I submitted for ESPN.com's positional power rankings. The chart shows my ballot. AFC South blogger Paul Kuharsky has
the overall results
.
Rodgers-Cromartie would have made my list a year ago. He tied for the NFL lead with 15 penalties in 2010, up from two the previous season. Consistency was a problem.
Trufant started last season strong, but his play mirrored his team's play. Injuries struck the defensive front seven, sidelining
Red Bryant
,
Colin Cole
and
Brandon Mebane
. The ankle injury Trufant suffered against San Diego early in the season played a role. He is 30 years old and coming off a season in which he suffered two concussions during a 56-day period.
The 31-year-old Clements, like Trufant, started all 16 games last season. The 49ers' pass defense struggled, however, and Clements will not return to the 49ers under terms of his current contract. The team is expected to draft a cornerback this year.
Sizing up my ballot:
I asked Matt Williamson of Scouts Inc. to look at my ballot. His take: "The top two are far and away the best. And overall this list looks quite good. I would move up Flowers four or five spots. I think I would put Tramon Williams over his teammate, Charles Woodson. Antoine Winfield might be a little low as well.
Joe Haden
and Devin McCourty were equally good as rookies. Actually, I might even like Haden better. I am also pretty high on
Vontae Davis
. Asante Samuel just doesn't tackle or play the run. I would move him down some."
Name to keep in mind:
Ron Bartell
. The
St. Louis Rams
' corner earned one vote from our eight panelists, with Kuharsky ranking him 10th. Bartell defends the ball well. He tackles well. He supports the run. He has tremendous size for the position at 6-foot-1 and 206 pounds. Bartell can take the next step by making impact plays. He has no interceptions over the last two seasons. Top corners Darrelle Revis and Nnamdi Asomugha also have few picks recently, but the playmaking ability they showed earlier in their careers made opponents wary. Bartell has not made that happen.
April, 19, 2011
4/19/11
1:05
PM ET
The AFC North didn't register a single player in the top 10 of ESPN.com's cornerback Power Rankings. And after watching the inconsistent pass defenses throughout the division last season, this shouldn't come as a surprise.

Joseph
Cornerbacks such as
Ike Taylor
of the
Pittsburgh Steelers
and
Joe Haden
of the
Cleveland Browns
didn't get a single vote from our panel.
Cincinnati Bengals
cornerback
Johnathan Joseph
was the only player from the division to make the ballot. I voted Joseph No. 10 and AFC South blogger Paul Kuharsky voted him No. 7. Joseph finished No. 12 in the final tally.
Joseph, a pending free agent, remains underrated. As you can see from this list, there are not a lot of elite cornerbacks in the NFL, and Joseph probably lands somewhere in that second tier. If he plays for a higher-profile team next season and stays healthy, Joseph could get more recognition as one of the league's better cover corners.
Here is the complete voting:
ESPN.com's cornerback Power Rankings
1.
Darrelle Revis
, Jets
2.
Nnamdi Asomugha
, Raiders
3.
Charles Woodson
, Packers
4.
Asante Samuel
, Eagles
5.
Champ Bailey
, BRoncos
6.
Antoine Winfield
, Vikings
7.
Tramon Williams
, Packers
8.
Devin McCourty
, Patriots
9.
DeAngelo Hall
, Redskins
10.
Cortland Finnegan
, Titans
Walker's cornerback Power Rankings
1. Darrelle Revis, Jets
2. Nnamdi Asomugha, Raiders
3. Charles Woodson, Packers
4. Asante Samuel, Eagles
5. Champ Bailey, Broncos
6. Antoine Winfield, Vikings
7. DeAngelo Hall, Redskins
8. Courtland Finnegan, Titans
9. Devin McCourty, Patriots
10. Johnathan Joseph, Bengals
April, 19, 2011
4/19/11
1:03
PM ET
Power Rankings should not be a career-achievement award. They are a snapshot of a given moment, the here and now.
Since we're in the offseason -- or purgatory, if you will -- I've been forced to alter the perception of the moment when compiling my positional Power Rankings ballots for ESPN.com's weekly series.
I've taken into account not only last year's production, but also how I perceive players entering the 2011 season.
With that in mind, I can't fathom how
New England Patriots
cornerback
Devin McCourty
didn't get more respect from our panel when rating the NFL's best at his position. He came in eighth on the overall list, one point behind
Tramon Williams
.
I rated him fifth on my ballot. Nobody else had him higher than NFC West blogger Mike Sando at eighth. Three bloggers ranked McCourty ninth, two had him 10th. NFC South blogger Pat Yasinskas didn't list him at all.
Yasinskas reasoned it was because McCourty was a rookie who needs to put together another brilliant season to be considered among the best.
"One great season does not make a great career," Yasinskas said in the story written by AFC South blogger Paul Kuharsky. "Let's see him do it again. I'm not saying he's got to do it for 10 or 15 years. ... But you have to be consistently at the top for at least a few years before you get on a top 10 list."
That's where Yasinskas and I have philosophical differences.
It didn't matter that McCourty was a rookie when the Associated Press voted him second-team All-Pro, when the Sporting News named him first-team All-Pro, when the fans, coaches and players voted McCourty a Pro Bowl starter.
McCourty tied for second in the NFL with seven interceptions. He ranked fourth in team tackles with 83 and led with 17 passes defensed (by the Patriots' count; the NFL had him down for 24). He also recorded a sack and two forced fumbles.
The NFL community clearly considered McCourty elite. That's good enough for me.
Furthermore, he was New England's left cornerback, forced into the critical role of defending the opposition's top receiver when
Leigh Bodden
was placed on injured reserve right before the season began. McCourty performed under pressure.
For the record, this was my ballot:
Devin McCourty, New England Patriots
Most of the list is self-explanatory. Where I was most out of line with the other voters -- aside from McCourty -- was Bailey. I ranked him lower than any other panelist.
Then again, McCourty took one of my lofty spots they were reluctant to give. I also had Winfield sixth, exactly the same as four other panelists.
So Bailey makes sense at No. 7 when McCourty gets a little more respect.
April, 19, 2011
4/19/11
1:00
PM ET
From an NFC North perspective, I found myself in a bit of a box while power ranking the cornerback position this week.
[+] Enlarge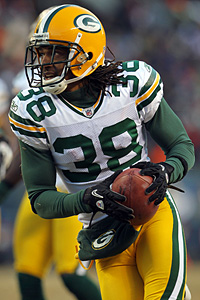 Jamie Squire/Getty ImagesTramon Williams' play down the stretch helped the Packers win Super Bowl XLV.
On more than one occasion last season, I suggested that cornerback
Tramon Williams
was the
Green Bay Packers
' top pass defender. In December, it was my contention that Williams
was the most deserving Pro Bowl candidate
in a Packers secondary that also included fellow cornerback
Charles Woodson
and safety
Nick Collins
.
It wasn't a slight on Woodson or Collins, but rather a belief that Williams had developed into an elite-level cover man who was probably a year or so away from national recognition of what we in the NFC North saw all season. So when it came down to vote, I felt I had to stay true to that belief -- Williams ahead of Woodson -- while also accounting for some of the other top cornerbacks around the NFL.
I felt pretty strongly about
Darrelle Revis
,
Nnamdi Asomugha
,
Asante Samuel
and
Champ Bailey
as my top four cornerbacks. So, ultimately, the highest I could get Williams was No. 5 overall. It was the top ranking he received in an exercise that ultimately placed him No. 7. (Had I voted him lower, Williams would have finished no better than No. 8.) If there were any doubts about Williams' value, you should remember he sealed two of the Packers' four playoff games -- including the Super Bowl XLV -- with strong plays on the ball.
But after placing Williams at No. 5, I was forced to give Woodson his lowest ranking at No. 6 overall. (He finished No. 4). That left another deserving NFC North cornerback, the
Minnesota Vikings
'
Antoine Winfield
, at No. 7. Winfield finished No. 6 overall despite his absence on two ballots.
So in the end, my rankings helped maneuver Williams to a spot I strongly think he deserves and hurt neither Woodson nor Winfield. That's my story and I'm sticking to it.
For the record, my full ballot is below. I didn't vote for
Chicago Bears
cornerback
Charles Tillman
, who appeared on one ballot and technically finished tied for No. 15 overall.
Darrelle Revis

Nnamdi Asomugha

Asante Samuel

Champ Bailey

Tramon Williams

Charles Woodson

Antoine Winfield
April, 19, 2011
4/19/11
1:00
PM ET
The ESPN.com Power Rankings for cornerbacks are out and the NFC South has been shut out.
Not a single cornerback from the division made the top 10 and only three even received votes. Two of those votes came from me. I had New Orleans'
Jabari Greer
at No. 7 and Atlanta's
Dunta Robinson
at No. 9. Those were the only votes those two guys received.
In a bit of a surprise, AFC South colleague Paul Kuharsky put Atlanta's
Brent Grimes
at No. 8 on his ballot and AFC North partner Tim Graham had Grimes at No. 9. Their votes put Grimes as the highest-rated NFC South cornerback, finishing in a tie for 12th place.
I can't speak for Graham and Kuharsky but, heck, I'll offer up my theories on their votes. I'm thinking Graham looked at Grimes' 11 interceptions over the last two seasons and based his vote on that. Kurharsky, like Grimes is a bit vertically challenged, so I think he might have felt a bond with this vote.
Is Grimes the best cornerback in the NFC South? No. He's pretty good and he makes up for his lack of size with incredible athleticism. But he gets beat at times and teams throw at him frequently because they usually try to throw away from Robinson.
In his first season after signing a big contract with the Falcons, Robinson had only one interception. But he did a solid job in coverage overall and that helped Atlanta's defense. I'd rank Robinson as the second-best cornerback in the division.
Greer is definitely No. 1 in my eyes. He's had some durability issues. But, when healthy, he and
Tracy Porter
form the best cornerback tandem in the division.
Would I put Grimes at No. 3 in the division? Probably not. I'd probably drop him down to No. 5 and put a couple of Tampa Bay guys at third and fourth.
I'll put
Aqib Talib
at No. 3. In terms of pure physical talent, he's at least on par with Greer and Robinson. But Talib missed one game last season with a suspension and suffered a season-ending injury. He's also had some off-field troubles and that doesn't help his stock. He's talented, but part of what makes for a good cornerback is being dependable and Talib has yet to do that over the long haul.
His teammate,
Ronde Barber
, has done it over the long haul and that's why I would rank him as the fourth-best cornerback in the division, even at a very late stage in his career. If we were doing these rankings a few years earlier when Tampa Bay's defense was in the middle of its glory days, Barber probably would have made the top 10 with ease. Speaking of guys who might have made the top 10 in previous years, let's at least touch on Carolina's
Chris Gamble
. There was a time when I thought this guy was real close to making it big. But Gamble fell out of favor with former coach John Fox last year, was even benched for a time and now has to redeem himself.
April, 19, 2011
4/19/11
1:00
PM ET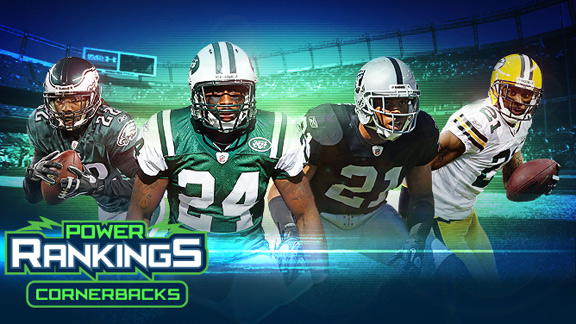 ESPN.com IllustrationDarrelle Revis won a tight race over Nnamdi Asomugha as the NFL's top cornerback.
ESPN.com's NFL writers rank the top 10 cornerbacks in the league today. Next week: Top 10 quarterbacks.
Positional Power Rankings have produced some wild variations in voting. But none has had so many players mentioned as cornerbacks.
Previously, multiple votes had yielded 17 names. Our polling for the top 10 cornerbacks in the NFL touched on 23, a record that might be hard to break.
In another close finish, the Jets'
Darrelle Revis
edged the Raiders'
Nnamdi Asomugha
. The two collected all the first- and second-place votes, but Revis outscored Asomugha 77-75 thanks to five first-place votes.
Overall, veterans ruled the day, with the top five outpointing the rest of the field by a good deal. Revis and Asomugha were followed by three players with a collective 33 seasons of NFL cornerbacking experience: Green Bay's
Charles Woodson
, Philadelphia's
Asante Samuel
and Denver's
Champ Bailey
.
Woodson finished with 58 points, Samuel with 54 and Bailey with 53.
Of the votes for that trio, only two fell outside of the top five. NFC North maestro Kevin Seifert had Woodson sixth, just behind his teammate
Tramon Williams
. And AFC East maven Tim Graham placed Bailey seventh, with New England's
Devin McCourty
(fifth) and Minnesota's
Antoine Winfield
above him.
I had presumed Bailey started to slip in his 12th season in 2010. Then he shut down a red-hot
Dwayne Bowe
and got my attention in a way I remembered when I put him third on my ballot.
Graham's thinking was quite different.
"We're in the offseason, so I've taken into account not only last season's performances, but also how the player projects into 2011 when compiling my positional Power Rankings ballots," he said. "Bailey is going to be 33 years old before the start of next season and is on the downside. He's still great, but for how long?
"Power Rankings shouldn't be career-achievement awards. Devin McCourty was second-team Associated Press All-Pro, a first-team Sporting News All-Pro, voted a Pro Bowl starter by the fans, coaches and players and tied for second in interceptions. He deserved to be ranked ahead of Bailey, who wasn't mentioned for All-Pro and made the Pro Bowl as an injury replacement."
Though Graham had him fifth, McCourty got bottom-of-the-list votes from most of us, who seemed to respect his inaugural campaign but did not want to overscore a player who has been through the league only once. NFC South cruise director Pat Yasinskas left McCourty off his ballot entirely.
"One great season does not make a great career," Yasinskas said. "Let's see him do it again. I'm not saying he's got to do it for 10 or 15 years. I've got a guy in my own back yard,
Ronde Barber
, and a lot of people say he's already put up Hall of Fame numbers. I didn't even put him on the list because I think he's not much more than a very nice player in the system. But you have to be consistently at the top for at least a few years before you get on a top 10 list."
Winfield finished sixth (29 points), Williams seventh (18), McCourty eighth (17), Washington's
DeAngelo Hall
ninth (10) and Tennessee's
Cortland Finnegan
10th (eight).
Williams was the lone player to make the top 10 while not being looked at as his team's No. 1 guy. As much as I liked him, that prevented him from getting one of my votes. Same for Oakland's
Stanford Routt
.
Although Williams and Routt played very well in 2010, their jobs can be made a lot easier by playing with Woodson and Asomugha rather than being asked to be their team's version of those players. The toughest receiver on the opposition isn't usually a factor for Williams or Routt.
John Clayton had Routt sixth and NFC West chart-master Mike Sando had him 10th, which left Routt in 11th place. Clayton set me straight on why Routt was, in fact, deserving.
"Nnamdi has years of not being thrown on," Clayton said. "He's had years in which only 14 or 15 passes were caught against him in a season.
"Routt had a phenomenal year in 2010, which led to his big contract," Clayton said. "The percentage of passes against him that were completed was among the lowest in the league. His job is tougher because he has more passes thrown on him because of Nnamdi."
April, 19, 2011
4/19/11
1:00
PM ET
I am not surprised the player I voted No. 1 in our cornerback Power Rankings did not finish on top. Actually, I'm surprised I had company in voting
Oakland Raiders
free-agent
Nnamdi Asomugha
No. 1 on the list and that he was actually within man-to-man coverage distance of winner
Darrelle Revis
of the
New York Jets
.
[+] Enlarge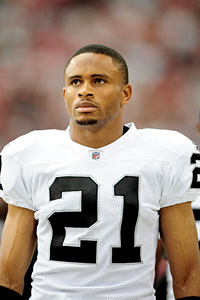 Mark J. Rebilas/US PresswireNnamdi Asomugha is one the league's best cornerbacks.
John Clayton and Paul Kuharsky also voted Asomugha ahead of Revis. It was not enough to elevate Asomugha to the top of the cornerback food chain. Revis finished with 77 voting points and Asomugha finished with 75 points. Former Raider and current
Green Bay Packers
star
Charles Woodson
finished a distant third with 58 points.
Revis and Asomugha had a monopoly on all the first and second-place votes. That's the way it should be. They are the two best corners in the game and they'd be our two starting cornerbacks in any dream game.
However, I gave Asomugha the edge because I think he has a longer résumé and he has had a bigger impact on the game. Asomugha has been in the league since 2003 and Revis has been in the league since 2007. Both men are in their prime.
I've seen passes completed against Revis in a limited view of his work. I've watched Asomugha play live for years. I can count on one hand the balls that have been completed against him. I'm sure plenty of teams will agree on Asomugha's worth when he will be showered with lucrative free-agents offers once the lockout ends.
The AFC West influence didn't end with Asomugha.
Denver Broncos
cornerback
Champ Bailey
finished fifth with 53 points. He was one vote behind the
Philadelphia Eagles
cornerback
Asante Samuel
. I had Bailey ranked fourth. He may be 32, but he is still playing at a high level. That's why Denver just gave him a lucrative new deal to keep him off of the free-agent market.
In a bit of a surprise, Oakland's
Stanford Routt
finished two points out of the top 10. I did not vote for Routt. I actually voted San Diego's
Quentin Jammer
10th. I think Jammer is an underrated player, so I'm not surprised I was alone in recognizing him. Routt received two votes, including a sixth-place spot by Clayton.
I like Routt and I'm interested to see what he does, in 2011 after signing a fat, new contract. Especially if Asomugha leaves and Routt is the No. 1 cornerback in Oakland. I think Routt was awarded in this ranking for his
strong "burn rate" numbers.
I'll be prepared to put Routt in the top 10 next year if he performs well in 2011.
Kansas City Chiefs
cornerback
Brandon Flowers
received three voting points. Like Routt, I could see myself considering Flowers next year. Former Oakland player
DeAngelo Hall
finished ninth and former Charger
Antonio Cromartie
received five points. I didn't consider either because I think they are both overrated. Neither Oakland nor San Diego misses those two players.
Overall, this exercise shows that is a strong time for cornerback play in the AFC West.

NFL SCOREBOARD
Thursday, 9/4
Sunday, 9/7
Monday, 9/8