NFL Nation:

2011 Draft Analysis AFC
April, 30, 2011
4/30/11
7:04
PM ET
»
NFC draft analysis
:
East
|
West
|
North
|
South
»
AFC
:
East
|
West
|
North
|
South
The 2011 draft was short on sensationalism for the AFC East.
Even the sexiest pick was easy to rationalize. The
New England Patriots
took Arkansas quarterback
Ryan Mallett
, but the decision didn't seem out of whack in the third round.
Clubs went by the book. They bolstered need positions, concentrating on the trenches early. Very few red flags were raised.
But that doesn't mean the draft was dull.
Here are some draft highlights from the AFC East:
BEST MOVE
The AFC East's best decision of the draft was for the worst team to not get cute.
The
Buffalo Bills
didn't have to think when they filled out their draft card and sent it up to the commissioner. After the
Denver Broncos
selected Texas A&M outside linebacker
Von Miller
, the Bills rejected any thoughts about targeting a quarterback and pounced on Alabama defensive lineman
Marcell Dareus
, perhaps the safest pick in the entire draft.
Dareus immediately improves Buffalo's pitiful run defense and will help their anemic pass rush, too.
In fact, all four AFC East teams made prudent first-round decisions by reinforcing the lines.
The
Miami Dolphins
also eschewed quarterbacks, tabbing Florida center
Mike Pouncey
. The Patriots went with Colorado tackle
Nate Solder
. The
New York Jets
added Temple defensive end
Muhammad Wilkerson
.
RISKIEST MOVE
Had Mallett been taken in the first round or by a team that needed him to play right away, he would've gone down as the riskiest decision. But in the middle of the third round, no expectations to play and a solid infrastructure mitigate the hazards.
The Jets waited a long time between their first and next picks. When they were back on the clock at No. 94, they took Hampton defensive lineman
Kenrick Ellis
, a player the Jets rated as one of the top two nose tackles in this year's class.
But Ellis was suspended at South Carolina and kicked off the team, reportedly for drug use.
Ellis also is facing felony assault charges
-- he allegedly broke a man's jaw and nose last April on Hampton's campus. He's scheduled to stand trial in July and could be sentenced to up to 20 years in prison if found guilty.
MOST SURPRISING MOVE
[+] Enlarge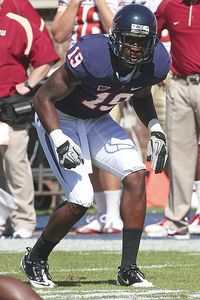 Lee Coleman/Icon SMINew England took cornerback Ras-I Dowling instead of drafting pass-rush help.
Again, some people would say Mallett was a surprise. I didn't think so in the third round. That's the kind of value selection the Patriots are prone to make -- similar to Texas Christian offensive lineman
Marcus Cannon
, who
tumbled into the fifth round after a recent cancer diagnosis
.
The biggest surprise to me was New England's decision not to address its need for pass rush help with the 33rd overall pick. With Pittsburgh's
Jabaal Sheard
and Arizona's
Brooks Reed
on the board, Bill Belichick took Virginia cornerback
Ras-I Dowling
instead.
The Patriots then drafted running backs with back-to-back picks. They went into the draft with backfield needs. They were old last year and had only two backs --
BenJarvus Green-Ellis
and
Danny Woodhead
-- under contract.
They drafted California's
Shane Vereen
in the second round and then Louisiana State's
Stevan Ridley
17 picks later in the third round.
It's hard to imagine either Green-Ellis (the AFC East's only 1,000-yard rusher last year) or Woodhead (electrifying fan favorite) being on the outs. So how do the Patriots figure they'll use all these guys?
FILE IT AWAY
The two AFC East teams unsettled at quarterback didn't draft one. The Bills and Dolphins avoided that position.
Each of the two AFC East teams with clear-cut quarterback situations drafted another. The Patriots added Mallett, and the Jets took Alabama's
Greg McElroy
in the seventh round.
The Jets aren't starting a quarterback controversy.
Mark Sanchez
is the unquestioned starter, and veteran backup
Mark Brunell
has another year left on his contract.
But here's an interesting fact: McElroy wore No. 17 his first two college seasons. He switched to No. 12 because it was worn at Alabama by his father's hero, Joe Namath.
April, 30, 2011
4/30/11
6:55
PM ET
»
NFC draft analysis
:
East
|
West
|
North
|
South
»
AFC
:
East
|
West
|
North
|
South
Quarterbacks are the faces of franchises. The 2011 draft gave half the teams in the AFC South facelifts.
What are the odds that both
Jake Locker
and
Blaine Gabbert
pan out as long-term fixtures for their teams? Probably long. We'll all be watching how and why they develop or don't.
The two teams that already have known entities at quarterback worked hard to build up things around them.
Peyton Manning
gets better protection.
Matt Schaub
gets a revamped defense.
Front offices and coaching staffs usually work the phones to court undrafted free agents about now. With no CBA and the lockout back in place, no such signings will occur at this point. The three-day festival is over. We've got new classes to contemplate while we return to labor impasse fever.
BEST MOVE
All the Colts had to do was sit and wait. Then with what happened in the first 21 picks of the first round, they found themselves in a scenario unlike any they'd played out in their draft preparations. one in which Boston College offensive tackle
Anthony Castonzo
was available.
Need met value, and the Colts added a player who's probably the biggest immediate impact player in the AFC South. It'll be a major upset if Castonzo isn't the starter at left tackle on opening day. If Indianapolis retains
Charlie Johnson
or if he doesn't become an unrestricted free agent, he could move inside to guard and the Colts could get better at two spots.
It will mean more time for Manning to work and more room for the Colts' stable of backs to run. Expect years of review about how things came together so nicely at No. 22 for the Colts in 2011.
RISKIEST MOVE
The Titans took Locker, a quarterback who didn't throw well from the pocket and didn't throw accurately while at Washington. He's a super-likeable kid who will work hard for
Mike Munchak
, offensive coordinator Chris Palmer and quarterback coach Dowell Loggains.
They can love everything about him, but can the things about him that are not right be made right? If so, it will look like a genius move. If not, the franchise will forever hear how it took Locker over whichever quarterback taken after No. 8 pans out.
It's a giant pick for general manager Mike Reinfeldt and a giant coaching job for Munchak and his staff. All of them will be linked to Locker's success or failure for a long, long time.
MOST SURPRISING MOVE
[+] Enlarge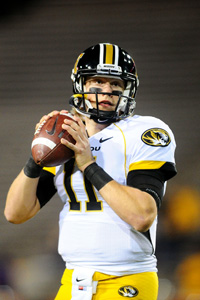 Mark J. Rebilas/US PreswireThe Jaguars will have time to develop Blaine Gabbert behind current starter David Garrard.
If you need a quarterback and see one that you like as a value, I say go get him. I don't know if Gabbert's going to be a great quarterback for Jacksonville. There is built-in risk with any quarterback in the draft. But I like how the Jaguars believed Gabbert was a value at No. 10 and did what they needed to do to move up from No. 16 to get him. I never would have predicted a trade up.
There will be a ton of debate about just when Gabbert should get into the lineup with
David Garrard
in place. But as Jaguars coach Jack Del Rio said, that's part of the fun of all of it.
The Jaguars are rebuilding around draft picks. It makes sense to get a quarterback to put into the middle of it all. In two or three years, if they have been selecting well, they can really challenge. And there is always a chance of a team maturing ahead of schedule.
FILE IT AWAY
The Jaguars expect to add two to four players to the defense in free agency and clearly plan to address linebacker through that avenue. Corner, safety and defensive end are all possibilities too.
But their nickelback could be in place.
William Middleton
held the job last season, and it sounds as if he'll face some serious competition from fifth-round pick Rod Isaac from Middle Tennessee.
"I'm in that group of people in the building that are very excited about the tape that I saw," Del Rio said. "We brought him in for a visit, he was very good in the visit. The tape is excellent. He's a very aggressive corner. We think he can come in and help us, contend for the nickel spot and certainly help us with the multiple wide receiver sets that we face, whether it's three wide or four wide. You need somebody that can come in and help you do those things. He is a physical player, he's an aggressive player, he ran pretty well. The tape is fun to watch on this player. We like him and he was definitely a guy that was below the radar. Which is OK by us."
April, 30, 2011
4/30/11
6:45
PM ET
»
NFC draft analysis
:
East
|
West
|
North
|
South
»
AFC
:
East
|
West
|
North
|
South
The 2011 NFL draft has reached its conclusion, and this is the time of year when every coach and general manager feels great about their selections.
The AFC North is annually one of the toughest divisions in football, with two powerhouse teams in the
Baltimore Ravens
and
Pittsburgh Steelers
. The
Cleveland Browns
and
Cincinnati Bengals
are trying to close the gap by acquiring good talent in this draft.
With that in mind, here is a look at the draft decisions made within the division:
BEST MOVE
The biggest
draft trade this week
was made by the Browns, who gained five draft picks from the
Atlanta Falcons
for the No. 6 overall pick. The trade eliminated the chance the Browns would make a huge splash in the first round but sets the team up well to
add talent gradually to a thin roster.
Atlanta took Alabama receiver
Julio Jones
with the sixth pick, while the Browns added Baylor defensive tackle
Phil Taylor
in the first round after a trade back up to No. 21 with the
Kansas City Chiefs
. Cleveland also drafted North Carolina receiver
Greg Little
with Atlanta's second-round pick and Stanford fullback
Owen Marecic
with the Falcons' fourth-round pick.
Next year Cleveland will have three additional picks from the Falcons -- including their first-rounder -- and nine draft picks total. That should help the Browns continue to build a solid foundation.
"Because of how the draft fell, we did absolutely the right thing," Browns president Mike Holmgren said of the trade.
Ironically, the Falcons made a similar offer to the Bengals, who passed because they didn't believe equal value was there at No. 4. So the Bengals took Georgia receiver
A.J. Green
, and Cleveland was more than happy to trade with Atlanta at No. 6.
RISKIEST MOVE
[+] Enlarge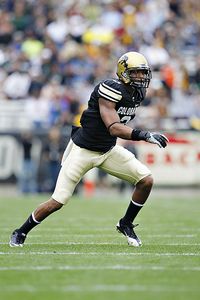 Aaron M. Sprecher/Getty ImagesThe Ravens decided to take a risk on Colorado cornerback Jimmy Smith in the first round.
The Ravens went
all in with a player
many teams refused to touch.
Colorado cornerback
Jimmy Smith
, one of the most talented players in the draft, was taken by Baltimore with the No. 27 overall pick. Smith has a lengthy track record of
off-the-field issues
, which reportedly include three failed drug tests, two alcohol-related violations and an arrest for third-degree assault.
But the Ravens went through a lengthy research and interview process with Smith to dig into his background and personality. They felt comfortable with the selection.
"Every pick, there is some bit of a gamble in it," Ravens general manager Ozzie Newsome said. "But we trust our process. We trust the people that got the opportunity to spend time with him, and there was a number of people that had that opportunity to spend some time with him."
There is no questioning Smith's ability. Baltimore's pass defense has been inconsistent the past few seasons, and the team believes Smith has the potential to be a shutdown corner.
Some around the league have compared Smith to
Nnamdi Asomugha
in terms of pure talent. That is very high praise. But the Ravens have to make sure they keep Smith on the field to reach his potential.
"This guy, he's a special player," Ravens head coach John Harbaugh said. "He's exactly the type of corner that we're looking for. He fits our defense just the way we need him to fit our defense."
MOST SURPRISING MOVE
The most surprising move in the AFC North could be considered a non-move early in the draft by the Steelers. The team didn't address its biggest need -- cornerback -- until the middle rounds.
The Steelers are known for drafting developmental players at that position. But because the Steelers were so thin there this year, they were expected to go against that trend and get one of the top prospects in the first two rounds.
Instead, the Steelers stayed true to form by drafting Texas corner
Curtis Brown
in the third round and
Cortez Allen
from the Citadel in the fourth round. Perhaps these players can make an immediate impact, but it's rare that third- and fourth-round picks become starting corners for a playoff team as rookies.
No. 1 corner
Ike Taylor
and top reserve
William Gay
are both free agents, and there's no guarantee either player will return. The
Green Bay Packers
' passing game torched the Steelers in Super Bowl XLV. Pittsburgh didn't do enough in the draft to ease those concerns.
FILE IT AWAY
Second-round pick
Andy Dalton
became the ninth quarterback the Cincinnati Bengals have drafted in the past 20 years.
Cincinnati has very high hopes
for Dalton, but its track record hasn't been good.
Since 1991, the Bengals have had a series of misses that include
David Klingler
,
Akili Smith
and
Donald Hollas
. The one hit was
Carson Palmer
, which wasn't difficult to scout because he was the No. 1 overall pick in 2003. Some would even argue that Palmer was a bust -- at least relative to the expectations that came with his lofty draft status.
Because Palmer is expected to be
traded or retire
, the Bengals hope Dalton can buck their trend of quarterback misses and develop into a quality starter.
April, 30, 2011
4/30/11
6:44
PM ET
»
NFC draft analysis
:
East
|
West
|
North
|
South
»
AFC
:
East
|
West
|
North
|
South
Leadership philosophy in the AFC West was on display during the draft.
One team's philosophy debuted, one team's age-old philosophy stood firm and two other teams went out of their comfort zones in an AFC West draft that may have lacked a ton of major headlines but added necessary depth throughout the division.
In Denver,
John Elway
used his first pick as Denver's executive vice president on someone
who is reminiscent of the player who gave Elway the most headaches during his playing days
.
In Oakland, Al Davis stuck to his roots by taking a player with Raiders bloodlines (top Oakland pick
Stefen Wisniewski
, who'll be the team's starting center under his uncle,
Steve Wisniewski
) and by taking a couple of the draft's fastest players.
In Kansas City, Chiefs general manager Scott Pioli deviated some from his reputation as a conservative drafter by taking high-risk, high-reward players such as receiver Jon Baldwin (first round) and pass-rusher
Justin Houston
(third round).
In San Diego, noted draft trader A.J. Smith entered the draft with major ammunition -- five picks in the first 89 choices. Remarkably, Smith kept all five picks.
Let's take a look at some of the major angles of the AFC West during the draft.
BEST MOVE
It has to be the selection of the best player. I like a lot of the picks made in the division, including the third-day selection of running back
Taiwan Jones
(Oakland, fourth round) and quarterback
Ricky Stanzi
(Kansas City, fifth round). Both of those players could become steals.
But the toast of the 2011 AFC West draft is Texas A&M linebacker
Von Miller
. Denver took Miller with the No. 2 overall pick. He offers a stunning combination of college production, combine success, size and speed.
Miller should be an instant impact player on a defense that was ranked last in the NFL in several key statistical areas in 2010. If the Broncos make strides in 2011, Miller should be a reason why. Count him as an early favorite to be NFL defensive rookie of the year.
RISKIEST MOVE
[+] Enlarge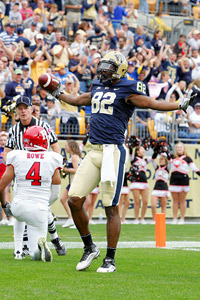 Charles LeClaire/US PresswirePitt wideout Jon Baldwin could be a boom-or-bust pick for the Chiefs.
Baldwin, the No. 26 overall pick, is the only high pick that is fairly risky. Baldwin was an extremely accomplished receiver at Pittsburgh. He can make spectacular catches and he has fabulous size at 6-foot-4, 230 pounds. However, Baldwin has a few red flags. His desire has been questioned, and he was known for being difficult at times at Pitt.
Pioli likes high-character players, and Kansas City coach Todd Haley has no time for players flapping their gums. Haley broke down No. 1 receiver
Dwayne Bowe
in the coach's first season in Kansas City in 2009. Bowe made his way out of Haley's doghouse, and he responded with a Pro Bowl season in 2010. So Baldwin will have a short leash.
If Baldwin doesn't live up to Pioli and Haley's standard, he won't last long in Kansas City. Still, I think Baldwin fits well into the Chiefs' offense and could find fast success as the No. 2 receiver behind Bowe in the Chiefs' multifaceted offense. If Baldwin succeeds, this offense will be scary. That's worth the risk.
MOST SURPRISING MOVE
There weren't any stunning picks in the AFC West, but I think the Chargers' selection of Illinois defensive lineman
Corey Liuget
at No. 18 surprised some.
Many league observers thought that Liuget wasn't a perfect fit for the Chargers' 3-4 defense. The Chargers were expected to take a 3-4 pass-rusher at No. 18. However, San Diego bypassed a few of those players in favor of the falling Liuget, who was expected to be a top-15 pick.
He is a big, stout player who has a knack for getting into the backfield. He may not have been pegged as a perfect Charger, but San Diego feels good about the choice.
FILE IT AWAY
The offensive lines of the Broncos, Raiders and Chiefs got an infusion of youth during a 10-pick span in the second round, and it could pave the way for strong offensive-line play in the division this decade.
At No. 46, Denver took Miami's
Orlando Franklin
, who will start at right tackle. Two picks later, Oakland took Wisniewski and immediately penciled him in as the starting center. At No. 55, Kansas City took Florida State's
Rodney Hudson
. He could be the starter at center or guard soon.
All three of these players have big potential and could have a huge effect on these offenses down the road.
NFL SCOREBOARD
Sunday, 2/2
WEEKLY LEADERS