NFL Nation:

2011 Left Tackles Rankings
June, 14, 2011
6/14/11
2:15
PM ET
Latest Power Rankings are up, and keeping with what seems to have been the theme of the past week, it's the league's
top 10 left tackles
. Nice close race at the top between
Jake Long
of the Dolphins and
Joe Thomas
of the Browns, but that means little here in the NFC East until those guys become free agents, doesn't it?
Peters
The only NFC East tackle who made the top 10 was the
Philadelphia Eagles
'
Jason Peters
. I ranked him sixth on my list and he finished seventh overall, named on seven of the eight ballots sent in by our crack team of division bloggers. Peters was a huge disappointment in his first season in Philly in 2009, but he got himself in shape and returned to his old Pro Bowl-level ways in 2010. Some suggest he wasn't
really
playing left tackle, since the Eagles were using a left-handed quarterback and Peters therefore wasn't protecting his blind side. I say show me the film breakdown that proves that holds up. Regardless of which way his ever-scrambling quarterback was looking, Peters played at an elite level in 2010 and, given his body of work, belongs on the list.
The only other NFC East tackle who got votes was the Cowboys'
Doug Free
, who impressed a lot of people in his first year on the left side but isn't yet thought of by most as an elite guy. Free was named on two of the eight ballots, by Tim Graham of the AFC East and Kevin Seifert of the NFC North, and finished 13th in the voting. If he has another year like the one he just had, and we're doing this list again next year, I predict he'll fare much better.
Washington rookie
Trent Williams
and declining Giants veteran
David Diehl
were shut out in the voting, as you might expect. But I predict big things for Williams on these kinds of lists in the future. Every scout and coach I talk to say he has all the makings.
June, 14, 2011
6/14/11
2:01
PM ET
NFC West teams have drafted a league-high 10 offensive linemen in the first two rounds since 2007.
Seven of the 10 were tackles.
Four of the seven tackles play on the left side.
One of the four left tackles,
Russell Okung
of the
Seattle Seahawks
, showed up in voting when
ESPN.com's power rankings
for the position went live Tuesday.
I ranked Okung 10th as a projection for 2011 even though the
St. Louis Rams
'
Rodger Saffold
was arguably the best left tackle in the NFC West last season.
My thinking on Okung: There are not 10 complete, elite left tackles in the NFL. Okung belongs on a very short list of players with the talent and makeup to be elite at that position. He hasn't played enough to this point, but I think he'll join that group. Listing someone with less ability was the alternative.
"Okung would be in my top five a year from now," Matt Williamson of Scouts Inc. said, "but to say he is as good as, say,
D'Brickashaw Ferguson
is hard to do right now."
My rankings took into account a range of factors: what players have accomplished to this point, what they are likely to accomplish in 2011 and whether they are one-dimensional or more complete. Some left tackles would have a harder time flourishing in run-oriented offenses. Others aren't as good protecting the passer. The best ones could do either well.
[+] Enlarge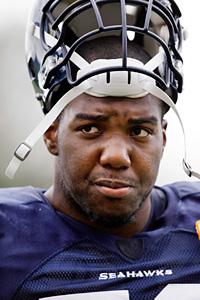 AP Photo/Elaine ThompsonSome scouts believe Seattle left tackle Russell Okung has that talent to develop into an elite player at the position.
Speaking with Williamson and other evaluators helped to supplement my own impressions of players, including some players I have not seen regularly.
One NFC scout ranked
Joe Thomas
and
Jake Long
in the top two spots even though he thought
Ryan Clady
and
Jason Peters
were more talented. Consistency and dependability were what gave Thomas and Long the edge. This scout also thought
Michael Roos
had played at a high level despite being less impressive physically. He liked
Donald Penn
and also thought Okung would work his way into the top few spots.
Saffold and the
Arizona Cardinals
'
Levi Brown
started every game at left tackle last season. Okung missed six starts to injury.
San Francisco 49ers
left tackle
Joe Staley
missed seven, also to injury.
Saffold's ability to start 16 games and hold up relatively well made him one of the more impressive rookies in the NFL last season.
Indianapolis Colts
president Bill Polian even suggested
his team might have erred
in passing on Saffold.
Polian thought Saffold would project as a right tackle. The NFC scout I referenced above thought Saffold could be better at guard. Staley and Brown have played both tackle spots.
There is no debate as to where Okung should line up. His physical skills make him a natural left tackle. He also seems to have the right mindset. How well he avoids injuries will likely determine whether my No. 10 projection was on target.
June, 14, 2011
6/14/11
1:00
PM ET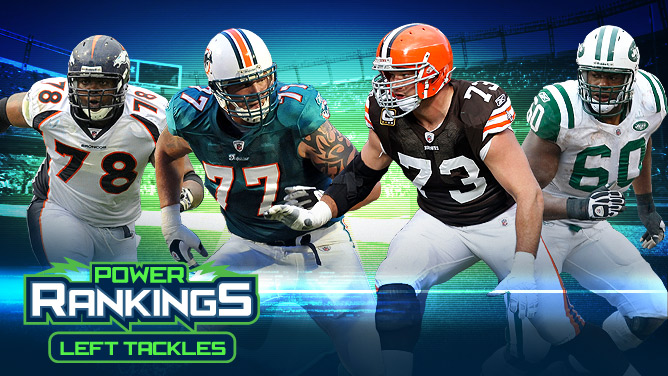 ESPN.com IllustrationOur bloggers say Joe Thomas and Jake Long are the NFL's best left tackles by a wide margin.
ESPN.com ranks the NFL's top 10 at left tackle, one of the most important positions in the league. Next week: Top up-and-coming assistants.
Take a quarter out of your pocket and look at its width. That's basically the difference between the top two left tackles in the ESPN.com Power Rankings.
Cleveland's
Joe Thomas
received 76 points from our eight-person panel of voters. Miami's
Jake Long
received 75. That put them way ahead of the rest of our top 10 list of the NFL's best blindside pass protectors.
Our panel of division bloggers gave Thomas five first-place votes, and Long received three.
"It was pretty much a coin flip for me,'' said NFC East blogger Dan Graziano.
If Graziano's quarter had landed on the other side, we might have had a different outcome. I think the same can be said for some of the other voters. I gave Thomas my top vote only after some strong consideration for Long.
But let's cut to the chase and point out the man who ultimately decided this election. It's AFC South blogger Paul Kuharsky. Every other voter had Thomas and Long in the top two spots. Kuharsky threw things off a bit by putting Long at No. 1 and Tennessee's
Michael Roos
at No. 2. He had Thomas at No. 3.
Let's turn to Kuharsky for his rationale.
"I've seen Long more, which helped him,'' Kuharsky said. "Also, frankly, I knew there could be close to a consensus for Thomas. He's very good. But we're not talking
Orlando Pace
or Jonathan Ogden. The groundswell for Thomas as top left tackle is, in my eyes, more a media creation than the view of players, scouts and coaches. I wanted to note and reflect that.''
Point taken, and I agree that we're not talking the same level as Pace and Ogden -- at least not yet. Thomas and Long are young and it's too early to put them in the category of surefire Hall of Famers. But, aided largely by Kuharsky, Roos did finish No. 6 overall.
Ryan Clady
,
Jordan Gross
and
D'Brickashaw Ferguson
rounded out our top five at Nos. 3, 4 and 5 respectively. After Roos, the rest of the top 10 was filled out by
Jason Peters
(No. 7),
Marcus McNeill
and
Donald Penn
, who tied for No. 8, and
Matt Light
at No. 10.
Let's work our way back toward the top, with one more quick stop at Roos. I had him at No. 8 on my ballot, and James Walker and Kevin Seifert didn't even vote for him. I've had a couple of scouts tell me Roos is a good left tackle, but seemed to take a step backward last season.
Kuharsky heard otherwise.
"I've had a coach and two scouts tell me Roos is as good or better than Thomas and Long,'' Kuharsky said. "I obviously see Roos a lot and think he's quite good, certainly better than he wound up here.''
Roos or ruse? Take your pick, but let's head right back to the top of the voting and back to the argument between Thomas and Long. They were drafted one year apart with Thomas entering the league in 2007 and Long coming in for the 2008 season. Each has made it to the Pro Bowl in every season played.
Kuharsky mentioned the "media creation'' about Thomas. In Cleveland? That's not where you usually turn to find guys to top Power Rankings, so our vote has to say something pretty strong about Thomas. Let's turn to the guy who covers Thomas.
"Thomas has always been focused on doing his job,'' Walker said. "You can't tell whether the Browns are 16-0 or 0-16 with the way he plays, and that's why he's been to four straight Pro Bowls. The NFL has gone the way of speed pass-rushers, and Thomas is the prototype to combat that. He's lean with very good feet and agility, but still strong enough to dominate in the running game. There's really no weakness in his game."
None of our panelists saw a weakness in Long's game.
"I thought Long's run-blocking ability put him a little bit ahead of Thomas,'' Grazianzo said. "I think he's shown improvement every year and is likely to pass Thomas soon if he hasn't already (and for me, these lists are about which guy I'd pick right now, so a guy I think is going to get better is going to get a long look from me). And he earned a bonus point or two from me for playing the last six games of 2010 in a shoulder harness and still being incredible.''
The best news is, these guys are so young we can have this same argument every year for the next decade. Now, let's move on to some other notes about the voting in the Power Rankings for left tackles.
Turn off the Light.
As we mentioned, Light came in at No. 10. That surprised me a bit because he's a big name with three Super Bowl championships and three Pro Bowl selections. I had Light at No. 6 and Walker had him at No. 4. But Light didn't even appear on four ballots, including the one from AFC East representative Tim Graham.
"Matt Light is a quality player, but Stats Inc. blamed him for 10 sacks allowed and four penalties last season, more in each category than his previous two seasons combined,'' Graham said. "I've always thought Light got more recognition simply from being
Tom Brady
's left tackle. Once you name the three or four elite tackles and you rack your brain for the next group, it's easy to understand people sorting through the great quarterbacks and asking, 'Who is so-and-so's left tackle?' Light made the Pro Bowl last year, but as an alternate. Light's reputation also is enhanced by his involvement in the union and being a truly rare species: the gregarious Patriot.''
Also-rans.
Andrew Whitworth
,
Chad Clifton
,
Doug Free
,
Russell Okung
and
Jeff Backus
didn't make the top 10, but each received votes.
"I don't think there are 10 elite or even complete left tackles in the NFL,'' NFC West blogger Mike Sando said. "I list Okung on a very short list of players with the talent and makeup to be elite at that position. Okung hasn't played enough to this point, but I think he'll join that group this season. Listing someone with considerably less ability was the alternative.''
The longest shot.
Somewhere, former Tampa Bay general manager Bruce Allen and coach Jon Gruden are smiling at Penn's name appearing on this list. It's true, they headed the regime that signed Penn as a free agent in 2007 after he was cut by Minnesota in 2006. Then again, they were also the ones who signed Luke Petitgout, and Penn only got a chance to play because Petitgout turned out to be washed up. I used to subscribe to the theory that you needed to use a first-round pick to get a good left tackle. But Penn has shown that's not necessary. In his case, he simply made the most of his shot at playing time and turned it into a $48 million contract as training camp started last year.
June, 14, 2011
6/14/11
1:00
PM ET
This week's installment of ESPN.com's
positional power rankings
was quiet for the NFC North. None of our left tackles were ranked among the top 10.
Two received votes:
Chad Clifton
of the
Green Bay Packers
and
Jeff Backus
of the
Detroit Lions
. Clifton appeared on three ballots, ranking as high as No. 6 for AFC West colleague Bill Williamson. Backus appeared on one ballot, the one submitted by yours truly.
In making that distinction, I stayed consistent with the February discussion that ranked Backus over Clifton for our
2010 All-NFC North team
. Whether Backus deserved to be among the top 10 is a fair debate, but I looked at the group and saw a pretty significant drop-off after the top five or six. To me, Backus was as deserving as any other candidate for a spot in the bottom third of the vote.
The
Minnesota Vikings
'
Bryant McKinnie
neither received, nor really merited, any discussion for this ranking. And as of now, the
Chicago Bears
haven't identified their left tackle.
June, 14, 2011
6/14/11
1:00
PM ET
Here is the best thing I can say about
Cleveland Browns
left tackle
Joe Thomas
: In covering his entire career, I can't remember Thomas having an awful game.
I've seen plenty of perfect outings where Thomas completely shut out his opponents. I've seen scores of great games where he's only had one or two mistakes. There have also been a handful of games -- usually against Baltimore or Pittsburgh -- where Thomas may have a back and forth for four quarters against great players like
James Harrison
or
Terrell Suggs
.
But never has Thomas been dominated or embarrassed -- and that's exactly what you want from a left tackle. Thomas thrives on consistency, and that's why he's been to four Pro Bowls in as many years and was voted the top left tackle in ESPN.com's Power Rankings.
With great feet and agility, Thomas is the prototype for today's left tackles. He's built tall and lean but still has enough strength to dominate in the running game. Thomas is fundamentally sound and there's no weakness in his game.
The Browns used three quarterbacks in 2010 and Thomas had a good but not great season. But the bar is set so high that even a "good" year from Thomas is still better than 95 percent of left tackles in the league.
ESPN.com's left tackle Power Rankings
1. Joe Thomas, Browns
2.
Jake Long
, Dolphins
3.
Ryan Clady
, Broncos
4.
Jordan Gross
, Panthers
5.
D'Brickashaw Ferguson
, Jets
6.
Michael Roos
, Titans
7.
Jason Peters
, Eagles
8 (tie).
Donald Penn
, Buccaneers
8 (tie).
Marcus McNeill
, Chargers
10.
Matt Light
, Patriots
Walker's left tackle Power Rankings
1. Joe Thomas, Browns
2. Jake Long, Dolphins
3. D'Brickashaw Ferguson, Jets
4. Matt Light, Patriots
5. Ryan Clady, Broncos
6. Marcus McNeil, Chargers
7. Jordan Gross, Panthers
8. Donald Penn, Buccaneers
9. Jason Peters, Eagles
10.
Andrew Whitworth
, Bengals
June, 14, 2011
6/14/11
1:00
PM ET
Jake Long
or
Joe Thomas
?
It's like deciding between
Tom Brady
and
Peyton Manning
. They're both elite. You can't go wrong with either pick.
But when you belong to ESPN.com's prestigious Power Rankings syndicate, you have to make tough choices.
In this week's left tackle poll, Thomas edged Long by one point. Long was listed first or second on each of the eight division bloggers' ballots. Three of them, including me, placed Long on top. Thomas received one third-place vote, but amassed five first-place votes to come out ahead.
The ballot I submitted:
Jake Long, Dolphins
Joe Thomas, Browns
Jordan Gross, Panthers
Michael Roos, Titans
D'Brickashaw Ferguson, Jets
Ryan Clady, Broncos
Chad Clifton, Packers
Donald Penn, Buccaneers
Doug Free, Cowboys
Andrew Whitworth, Bengals
Choosing between Long and Thomas is splitting hairs. They've been selected for the Pro Bowl every season in the NFL and are the reigning first-team All-Pros. Thomas was the third overall draft pick in 2007, Long the top choice in 2008.
But I gave Long the edge because of the circumstances he has dealt with in Miami.
Thomas has benefited from playing alongside reliable and steady left guard
Eric Steinbach
all four years. Steinbach has started 62 of a possible 64 games. For the past two seasons, first-round pick
Alex Mack
has shined, going to a Pro Bowl last year.
Long has had no such luxuries. He has played next to five left guards in his three seasons:
Justin Smiley
,
Andy Alleman
,
Nate Garner
,
Richie Incognito
and
Pat McQuistan
.
The Dolphins have been just as dicey at center. They should have their fourth different opening day starter in four years after drafting Florida center
Mike Pouncey
. They've used five centers the past three seasons.
Long also played at an All-Pro level last season despite a shoulder injury that had some wondering if he should shut it down.
New England Patriots
fans might be wondering why I didn't include
Matt Light
on my ballot. While he did go to the Pro Bowl as an alternate last year, Stats Inc. blamed him for 10 sacks for 78 yards in losses and four penalties -- all more than his previous two seasons combined.

NFL SCOREBOARD
Thursday, 9/4
Sunday, 9/7
Monday, 9/8