NFL Nation:

2011 Linebacker Power Rankings
April, 12, 2011
4/12/11
1:10
PM ET
Our Power Rankings for the linebackers are out and Carolina's
Jon Beason
is the only NFC South representative.
He finished in a tie for ninth place with Kansas City's
Tamba Hali
. This was an especially tough vote because we had to factor in 3-4 linebackers like Hali,
DeMarcus Ware
and other pass-rushers with guys who play the middle in the 4-3, like Beason.
I put Beason No. 6 on my ballot and NFC West colleague Mike Sando had him at No 5. But three panelists left Beason completely off their ballots. I think Beason has been forgotten a bit around the league because of what's happened in Carolina, but he's still the best linebacker in the NFC South.
Beason was the only linebacker from the division on my ballot and was the only NFC South linebacker to receive any votes from any of the panelists. For the record, I gave strong consideration to New Orleans'
Jonathan Vilma
. He would have made my ballot if so many pass-rushers didn't get in the way and those guys do make a big impact.
Atlanta's
Curtis Lofton
and Tampa Bay's
Barrett Ruud
? Both are very solid middle linebackers, but they don't make many game-changing plays. I also would have given Carolina outside linebacker
Thomas Davis
a vote if he hadn't missed last season with an injury. When healthy, Davis is on par with Beason.
April, 12, 2011
4/12/11
1:08
PM ET
The AFC North had the most linebackers (three) in the top 10 of any division in this
week's positional Power Rankings
.
[+] Enlarge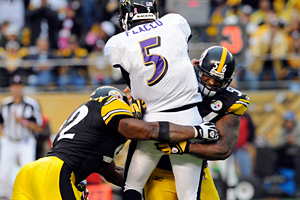 AP Photo/Tom E. PuskarThe Steelers boast two of the NFL's best linebackers in James Harrison, left, and LaMarr Woodley.
This should not be a surprise. Linebackers are the strength of this division, and that's especially the case for the
Baltimore Ravens
and
Pittsburgh Steelers
, who are perennial contenders.
Pittsburgh's
James Harrison
(No. 2) and
LaMarr Woodley
(No. 8 ) both made the list. So did Baltimore's
Ray Lewis
(No. 5). Ravens teammate
Terrell Suggs
just missed the cut and finished 11th.
Lawrence Timmons
of the Steelers also registered a vote and finished 15th.
Rating middle and outside linebackers
was very difficult
and not an exact science. But on my ballot, I decided to put more emphasis on pass-rushers than middle linebackers, because pressuring the quarterback is the most effective way to stop an offense in what's become a pass-heavy league. That is why you see players like
DeMarcus Ware
on my ballot ahead of
Patrick Willis
,
Clay Matthews
Jr. ahead of
Jerod Mayo
and Suggs ahead of Lewis. But all are great linebackers and probably interchangeable in these rankings, depending on what you prefer defensively.
Here is the full list:
ESPN.com's linebacker Power Rankings
1. Patrick Willis, 49ers
2. James Harrison, Steelers
3. DeMarcus Ware, Cowboys
4. Clay Matthews Jr., Packers
5. Ray Lewis, Ravens
6. Jerod Mayo, Patriots
7.
Brian Urlacher
, Bears
8. LaMarr Woodley, Steelers
9 (tie).
Tamba Hali
, Chiefs
9 (tie).
Jon Beason
, Panthers
Walker's linebacker Power Rankings
1. DeMarcus Ware, Cowboys
2. Patrick Willis, 49ers
3. James Harrison, Steelers
4. Clay Matthews, Packers
5. Jerod Mayo, Patriots
6. Brian Urlacher, Bears
7. Terrell Suggs, Ravens
8. LaMarr Woodley, Steelers
9. Ray Lewis, Ravens
10.
London Fletcher
, Redskins
April, 12, 2011
4/12/11
1:07
PM ET
The AFC West had one representative in the ESPN.com linebacker Power Rankings.

Hali
Kansas City Chiefs' outside linebacker
Tamba Hali
was tied for ninth with Carolina's
Jon Beason
. I had Hali ranked ninth. Seventeen linebackers received votes. Hali was the only AFC West linebacker to receive votes. Hali, who led the AFC with 14.5 sacks last season, was fifth in our
pass-rusher Power Rankings earlier in the offseason.
I think the AFC West has some very good linebackers. I also considered Kansas City's
Derrick Johnson
, San Diego's
Shaun Phillips
and Denver's
D.J. Williams
. I could see Oakland second-year
Rolando McClain
soon getting recognition. This was a top-20 ranking, there would be a bigger AFC West presence.
As for the overall Power Ranking, San Francisco's
Patrick Willis
was ranked No. 1. I think this ranking was difficult because there are so many different things to consider about linebackers and there are multiple positions to consider. Pass-rush ability, tackle numbers, leadership, intelligence and intimidation factor all must be considered.
I know there will be plenty of opinions on this list. Fill up the comment section with your thoughts.
We rank the cornerbacks next week. I expect a solid AFC West representation. Here's a hint: I'm staying close for my vote for No. 1.
April, 12, 2011
4/12/11
1:04
PM ET
Once again, mere days after shaping a ballot I felt good about, I see it as part of our series of NFL positional Power Rankings and second guess myself.
I could redo it right now with fresh eyes and it could look quite a bit different. Call me flaky if you like. I merely think it's a testament to the difficultly of the task.
Here are the overall results, and the
fine piece surrounding them from Mike Sando
.
The AFC South was completely shut out in this one, and I think reasonably so.
Houston's
DeMeco Ryans
is the best player at the position among our four teams in my mind, and he's coming off a shredded Achilles that's very difficult to recover from. Indianapolis'
Gary Brackett
is a very good player, but I don't think he quite ranks with the 16 mentioned here.
And while Jacksonville's
Daryl Smith
can be underrated, he simply has never grabbed and demanded my attention for three games in a row. Perhaps it's my failure to see him in the proper way, but no one else found him worthy of a vote either.
Complete the defensive line in front of him with another pass-rusher, give him two new position mates and fill out a secondary that's very weak at safety and perhaps Smith will stand out more.
Here is my vote, which counted one-eighth of the total ballot:
I was most disappointed that Suggs, a wonderful playmaker, didn't make the overall top 10.
As I told Sando:
"I unabashedly love Suggs, and frankly would have placed him higher if I thought there was any way he needed help to crack the top 10. To me, there is a great deal of subjectivity in ranking this position when mixing guys from 4-3s and 3-4s, so I did a lot of know-them-when-I-see-them ranking. Suggs is absolutely a top-10 guy to me."
April, 12, 2011
4/12/11
1:00
PM ET
From an NFC North perspective, ESPN.com's linebacker Power Rankings were notable mostly for the exclusion of the
Chicago Bears
'
Lance Briggs
-- who I would suggest has been the best linebacker in this division for the past three years.
The voting got snagged on a legitimate complication: Separating the statistics and disparate assignments of 4-3 linebackers and those who play in the 3-4, especially on the outside. If he played in Chicago, for example,
Dallas Cowboys
linebacker
DeMarcus Ware
would probably be a defensive end. Briggs, meanwhile, might be an inside linebacker in Dallas.
Briggs has been named to six consecutive Pro Bowl teams and was an All-Pro as recently as 2009. But I can only assume that his miniscule sack numbers as an outside linebacker -- he's never had as many as three in a season -- did him in for the purposes of this exercise.
Here in the NFC North, we know that the Bears' defense places pass rush priority on the defensive line. From his position, Briggs is asked to be a sideline-to-sideline playmaker. As a result, I was the only one to put him in my top 10, placing him placed him No. 6 -- one spot below Green Bay's
Clay Matthews
and two above Bears linebacker
Brian Urlacher
.
Overall, Matthews finished fourth and Urlacher sixth. And before anyone starts with the "What about
Chad Greenway
?" refrain, I'll just say I couldn't bring myself to include a player who hasn't been to at least one Pro Bowl in his first five seasons. He's a good player, and the
Minnesota Vikings
have made him their franchise player, but he hasn't been recognized to this point as not one of the top 10 linebackers in the NFL.
For the record, here is the way I voted:
DeMarcus Ware
Clay Matthews
Lance Briggs
Brian Urlacher
April, 12, 2011
4/12/11
1:00
PM ET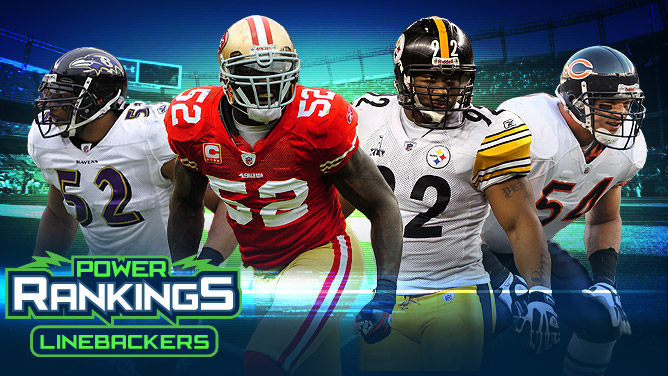 ESPN.com IllustrationSan Francisco's Patrick Willis ran away from the field in our voting for the NFL's best linebacker.
ESPN.com's NFL writers rank the top 10 linebackers in the league today. Next week: Top 10 cornerbacks.
San Francisco 49ers
linebacker
Patrick Willis
beat out a strong and diverse field for top billing in ESPN.com's latest positional power rankings.
All eight panelists ranked Willis among their top three, elevating the 26-year-old perennial Pro Bowler above
James Harrison
and
DeMarcus Ware
as our No. 1 linebacker in the NFL.
Even 12-time Pro Bowler
Ray Lewis
, the dominant linebacker of his era, pointed to Willis as
a worthy successor
to his undisputed reign. Not that Lewis is finished just yet. He placed fifth in the rankings behind Willis, Harrison, Ware and the
Green Bay Packers
'
Clay Matthews
. But there was no more complete linebacker than Willis.
"Nobody in the NFL plays their position better than Patrick Willis, and that is saying a lot," said Matt Williamson of Scouts Inc., whose insights helped shape my ballot. "He is as good a linebacker as
Peyton Manning
is a quarterback, as
Andre Johnson
is a receiver, as
Adrian Peterson
is a running back. He has no weaknesses."
Willis, a three-time Associated Press All-Pro first-team selection, is the first 49ers player since
Ronnie Lott
to earn Pro Bowl honors in each of his first four seasons.
Joe Thomas
and Peterson are the only other 2007 draft choices with four Pro Bowls.
Apples and oranges:
Comparing linebackers from 3-4 schemes to their 4-3 counterparts proved problematic for some panelists. AFC East blogger Tim Graham ranked Ware
first among pass-rushers
three weeks ago, but only ninth among linebackers.
"Patrick Willis,
Brian Urlacher
and Ray Lewis would be great linebackers in a 3-4 or a 4-3," Graham explained. "DeMarcus Ware and
Cameron Wake
might not even be linebackers if they played in Indianapolis, Tennessee or Minnesota. At some point, I had to value elite pass-rushing abilities on my list even though those players aren't universal-type linebackers."
There was room for differing views. ESPN.com's John Clayton and AFC North blogger James Walker ranked Ware first among linebackers and first among pass-rushers. AFC South blogger Paul Kuharsky ranked Ware first among linebackers and second among pass-rushers.
"Separating Ware, Willis and Harrison is like splitting hairs, because it really depends on what you want in a linebacker," said Walker, who went with Ware, Willis and Harrison atop his ballot. "Ware is a slightly better pass-rusher than Harrison, and Willis is a future Hall of Famer in his prime. Age also has to be a consideration if you're building a defense, and Harrison will be 33 in May. But they're all great."
First things first:
Graham and NFC North blogger Kevin Seifert joined me in ranking Willis first. AFC West blogger Bill Williamson had Willis second only to Harrison.
"When I think of linebacker play in the current day, James Harrison pops out," Bill Williamson said. "I think he's the gold standard of complete linebacker play. Look at
his signature play
in the Super Bowl against Arizona. That play will forever be part of NFL lore. Patrick Willis, who is also a great player, doesn't have that play on his résumé. Plus, Harrison is an ornery cuss on the field. The man was born to be a 'backer."
Willis can't match Harrison in Super Bowl memories -- he could use a quarterback, for starters -- but he's not hurting for signature plays:
Lewis pointed to Willis when ESPN's Dana Jacobson recently asked him which young linebacker reminded Lewis of himself.
"I just love the way he plays the game," Lewis said. "He plays the game with a fire. He reminds me of myself -- a lot, a lot, a lot."
Unanimous decisions:
The top five finishers received votes from all eight panelists. The gaps between highest and lowest votes fell between four and seven places for all but Willis, who ranked no lower than third.
Seifert ranked Lewis third. I had Lewis 10th and feared I might be measuring him against himself. No list of top linebackers would be complete without him, I thought, but a younger generation is taking over.
Hugs for Suggs:
Lewis' teammate,
Terrell Suggs
, finished just out of our top 10 despite getting a No. 5 ranking from Kuharsky.
[+] Enlarge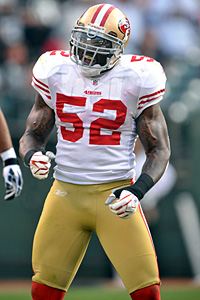 Kirby Lee/Image of Sport/US PresswirePatrick Willis has averaged nearly 149 tackles per season since joining the league in 2007.
"I unabashedly love Suggs, and frankly would have placed him higher if I thought there was any way he needed help to crack the top 10," Kuharsky said. "To me, there is a great deal of subjectivity in ranking this position when mixing guys from 4-3s and 3-4s, so I did a lot of know-them-when-I-see-them ranking. Suggs is absolutely a top-10 guy to me."
Clayton, Seifert, Graham and I did not list Suggs on our ballots while searching for the right mix of 3-4 and 4-3 talent.
Fit to be tied:
The players tied for ninth on our list illustrate the varied criteria for the position. Kansas City's
Tamba Hali
is a pure pass-rusher in the Chiefs' 3-4 defense. Carolina's
Jon Beason
is a traditional 4-3 linebacker with the versatility to play multiple spots. He changed positions twice in 2010.
Beason peaked at No. 5 on my ballot. NFC South blogger Pat Yasinskas had Beason sixth and considered ranking him higher.
"There was a time when I would have ranked Beason in the same echelon as Willis," Yasinskas said. "I think he has a chance to re-emerge if Carolina can put a better team on the field, particularly by getting better at defensive tackle and keeping blockers off Beason. If that happens, I think Beason can be as good as any linebacker in the league."
Youth on his side:
New England's
Jerod Mayo
appeared on six of eight ballots, ranking sixth overall between Lewis and Urlacher. At 25, Mayo was one of two linebackers younger than Willis to earn a spot among the top 10. Matthews, 24, was the other. Graham ranked Mayo third.
"Nose tackle
Vince Wilfork
might be the anchor of the Patriots' defense, but Mayo is the one who ties their defense together," Graham said. "Mayo is a tackling machine who compensates for shortcomings at outside linebacker and injuries along the defensive line. He would be a star in any system."
On an island:
Four linebackers received a single vote. That list featured
Brian Orakpo
(Clayton),
Lance Briggs
(Seifert),
London Fletcher
(Walker) and Wake (Graham).
Best doesn't mean most valuable:
Matt Williamson called linebacker the toughest position to evaluate. I'll close by passing along a few of his thoughts:
"Willis is so exceptional it would be a coin flip with Ware. Willis has no weaknesses, but if I were a general manager, I would take Ware because pass-rushers are so hard to find. You can get away with a C-level middle linebacker and still have a good defense. You can have a two-down run-stopper and pull him out in nickel."

"Ray Lewis would not be in my top five at this point. For his age, he is still exceptional and a borderline Pro Bowler, but he doesn't run like he did. I remember when I was with the Browns, I looked at every report the team had written since 1999 and Lewis had the highest grade ever given out. He was nearly perfect."

"Hali is a one-trick pony, a pass-rusher, but he is great at it -- as good as any pass-rusher in the league."

"Beason is like Patrick Willis, but he is 95 percent of him. He can play outside, inside, he's smart -- but there is so little around him that people don't realize how good he is."

"Pass rushing is Clay Matthews' greatest gift, but he is the prototypical outside linebacker. He's a great technician and way more explosive and athletic than people realize. He's good in coverage, not great, but they line him up all over."

"London Fletcher is underrated, but not in this conversation. How Beason is to Willis, Fletcher is to Lewis. He is smaller and slower than Lewis, good among older guys."

"Brian Urlacher is still a really good player, but the top 10 might be a stretch. I would take him ahead of Lewis, behind Beason and Willis among 'Mike' 'backers. He is good in coverage. People forget that he was a safety at New Mexico. He doesn't run like he used to and is just not as dynamic as he was in the day."

"The Steelers have the best linebackers in the league. LaMarr Woodley is very strong and in that conversation too. Definitely top 15. Harrison is great against the run, extremely strong and one of the few linebackers in the league that is a difference-maker from an attitude standpoint. He brings attitude to the table like a Jack Lambert or a Dick Butkus or a Ray Lewis type. He is feared. He is one of the best leverage players in the league, great in pursuit, tenacious as hell. The other guy to know about is Lawrence Timmons. He will be spectacular."
April, 12, 2011
4/12/11
1:00
PM ET
This was a futile endeavor.
The latest edition of ESPN.com's positional Power Rankings took a look at linebackers.
Sam, will, mike, jack, bandit, outside, 3-4, 4-3, Tampa 2, whatever ... All were thrown into a hopper to be sorted out. Much to my affliction.
All linebackers don't play the same position just because that's how they're listed on their football cards.
Take an outside linebacker such as
Miami Dolphins
pass-rusher
Cameron Wake
and plug him into a 4-3 defense, and all of a sudden you don't have a linebacker anymore. You have a hand-on-the-ground defensive end. That's what the
Buffalo Bills
and
Indianapolis Colts
had in mind when they tried to sign Wake.
The concept of ranking inside linebackers and outside linebackers is tantamount to comparing a cover cornerback to a strong safety because they're both defensive backs.
But I had to come up with something. So here's my list with an explanation to follow:
Cameron Wake, Miami Dolphins
At the top of the order I went with players who would be elite linebackers in any system. I favored linebackers with all-around impact,
especially since we already ranked pass-rushers
.
At some point I felt compelled to give credit for awesome quarterback-chasing skills -- even if the "linebacker" might not be adept in coverage or provide as much value on first downs or what have you.
I ranked Ware first in our pass-rusher Power Rankings
, but ninth here. That was much lower than any of the other panelists.
I very easily could be wrong. But would Ware be a linebacker for the
Tennessee Titans
,
Minnesota Vikings
or Bears? Maybe so. Maybe a defensive end.
Ravens outside linebacker
Terrell Suggs
plays in a 3-4 scheme, but Scouts Inc. analyst Matt Williamson considers him more like a defensive end.
So go ahead and throw your list together.
Feel free to mix in a few fullbacks.
NFL SCOREBOARD
Sunday, 2/2
WEEKLY LEADERS