NFL Nation:

2011 Midseason MVPs
November, 9, 2011
11/09/11
1:00
PM ET
»
Midseason MVPs
:
East
|
West
|
North
|
South
»
AFC
:
East
|
West
|
North
|
South
Here are my picks for midseason most valuable player for each team in the division:
Denver Broncos: Willis McGahee
McGahee is turning out to be a fine free-agent addition for the Broncos. He leads the AFC West with 623 yards rushing. McGahee, 30, is averaging 5.1 yards a carry. Signed to be a complementary back, McGahee has been, by far, more productive than expected starter
Knowshon Moreno
. McGahee, who had a combined 209 carries in the past two seasons with Baltimore, took over a Week 9 game in Oakland with 163 yards on 17 carries, including touchdown runs of 60 and 24 yards in the second half as the Broncos stunned the Raiders. Denver is 3-5 and one game off the pace in the AFC West. McGahee is a big reason why the Broncos are in the race.
[+] Enlarge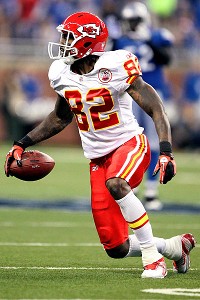 Mike Carter/US PresswireDwayne Bowe has 39 catches for 646 yards and four touchdowns for the 4-4 Chiefs.
Kansas City Chiefs: Dwayne Bowe
Bowe is continuing to show he is one of the NFL's better receivers. He leads the AFC West with 646 receiving yards. Bowe makes the rest of the offensive players in Kansas City better and he is their top offensive weapon with
Jamaal Charles
out for the season. Bowe is a prospective free agent and he is again showing Kansas City management he needs a contract extension.
Oakland Raiders: Darren McFadden
We are seeing McFadden's true value to the Raiders with him on the sideline. He has been out with a foot injury since early in Week 7 and Oakland has not been competitive since he's been out. He was an early candidate for the NFL MVP award and is averaging 5.4 yards a carry with 614 rushing yards. This is the second straight season in which McFadden has been a dominant force. If he can quickly come back and stay healthy, the Raiders will have a strong chance of emerging as the division champion.
San Diego Chargers: Eric Weddle
This was my toughest decision. Quarterback
Philip Rivers
has put up big yardage and he has his share of big plays. Yet Rivers has thrown 14 interceptions and he has made key mistakes in all four of the Chargers' losses. If he would have cut his mistakes in half, the Chargers would be 6-2 or 7-1. Plus, several other key weapons, such as receiver
Vincent Jackson
, tight end
Antonio Gates
, running backs
Ryan Mathews
and
Mike Tolbert
and linebacker
Shaun Phillips
have been dealing with injuries. But Weddle has been a steadying force for this team. The San Diego secondary has been mostly stable and the play-making Weddle has been a strong anchor. He has five interceptions, which is tied for the NFL lead. Weddle is justifying the big-dollar contract extension the team gave him this summer.
November, 9, 2011
11/09/11
1:00
PM ET
»
Midseason MVPs
:
East
|
West
|
North
|
South
»
AFC
:
East
|
West
|
North
|
South
My picks for midseason most valuable player for each team in the division:
San Francisco 49ers: Frank Gore
The season started poorly for him and there were whispers about whether or not he had lost a step. Gore has put to rest those concerns emphatically. His five consecutive games with at least 100 yards rushing are a franchise record and the NFL's longest streak since
Maurice Jones-Drew
had six last season. The 49ers have cut back Gore's role as a receiver. They have also worked rookie
Kendall Hunter
into the rotation. Still, Gore is averaging a career-high 19.9 rushing attempts per game. Ankle injuries have threatened Gore more than opposing defenses have threatened him.
[+] Enlarge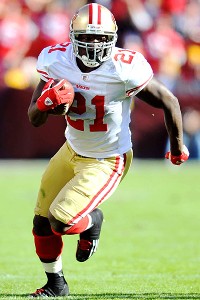 James Lang/US PRESSWIREFrank Gore has rushed for 782 yards and has surpassed 100 yards in five consecutive games.
Seattle Seahawks: Chris Clemons
This was a tough call because free safety
Earl Thomas
carries quite a bit of value, too. Clemons stands as the best pass-rusher on a team that needs more of them. His toughness in playing well through injuries has commanded respect from teammates. Clemons remains on pace for his second consecutive season with double-digit sacks.
Michael Sinclair
was the last Seahawks player with at least 10 sacks in consecutive seasons. He accomplished the feat back in 1997-98. Jacob Green did it twice in the 1980s.
Arizona Cardinals: Patrick Peterson
Peterson is the first player in NFL history with three punt returns for touchdowns in the first eight games of his career. His fourth-quarter return touchdown against Carolina and overtime return touchdown against St. Louis were directly responsible for the Cardinals only victories of the season. On defense, Peterson is still getting acclimated to Arizona's scheme and those pesky NFL rules. Penalties have dogged him. He does have two interceptions, however, and continues to develop.
St. Louis Rams: Steven Jackson
The Rams have been competitive in their past two games. Jackson's return to health has been the leading reason why. With 289 yards spread across games against New Orleans and Arizona, Jackson has put himself back on pace for a seventh consecutive 1,000-yard rushing season. The Rams will be
Sam Bradford
's team at some point in the future, but Jackson's profile in the locker room is unrivaled at Rams Park. He's the emotional leader of the team and the one player everyone on the roster can rally around.
November, 9, 2011
11/09/11
1:00
PM ET
»
Midseason MVPs
:
East
|
West
|
North
|
South
»
AFC
:
East
|
West
|
North
|
South
Here are my picks for midseason most valuable player for each team in the division:
[+] Enlarge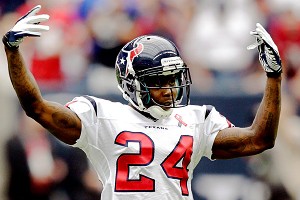 Bob Levey/Getty ImagesJohnathan Joseph has been critical for Houston's revitalized defense.
Houston Texans: Johnathan Joseph
We could go with many differeny players here on a team that's looking like a lock to win the division. But the veteran cornerback who was signed as a free agent has helped calm down a secondary that was a disaster last season. Now, last season's 30th-ranked defense is first in the league, and teams are wary of throwing in his direction. He's a guy opponents are conscious of all the time, and the Texans didn't have anyone that registered like that in the secondary last season. In a defensive transformation, Joseph's been key. He's got three interceptions and 10 passes defended.
Indianapolis Colts: Pat Angerer
The second-year linebacker is far from a Pro Bowler, but on a team in shambles he's one guy you can point to who's been consistently productive and actually has upside. He's been credited with 97 tackles, 22 more than the next most productive Colt, safety
Antoine Bethea
. Angerer's shift to the middle and performance in the spot since
Gary Brackett
was lost for the season to an opening day shoulder injury has been a success. His play puts Brackett's future into question.
Jacksonville Jaguars: Paul Posluszny
A veteran addition has been just the sort of middle linebacker Jacksonville was hoping for when it signed him away from the
Buffalo Bills
. He's been a consistent and steady leader in the right place at the right time, making tackles and forcing teams to try to take the ball elsewhere. The Jaguars are thrilled with the defensive leadership he's provided and questions about his one alleged weak spot, his coverage skills, aren't anything we've been talking about. He leads the team with 100 tackles.
Tennessee Titans: Matt Hasselbeck
Hold off on talking about how the Titans aren't going to contend for a playoff spot so they should turn to
Jake Locker
. Hasselbeck has been a huge presence in transforming the locker room and carrying the messages of his coaching staff into practice. He's had great protection and made a lot of good throws. With lousy receivers once
Kenny Britt
went down, things can be a struggle, but he's been the right guy to fight through. He's got 13 touchdowns versus six interceptions.
November, 9, 2011
11/09/11
1:00
PM ET
»
Midseason MVPs
:
East
|
West
|
North
|
South
»
AFC
:
East
|
West
|
North
|
South
Here are my picks for midseason most valuable player for each team in the division:
[+] Enlarge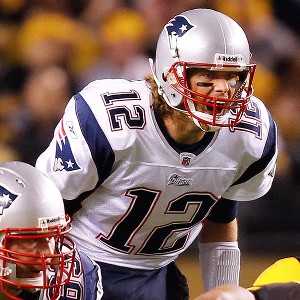 Jared Wickerham/Getty ImagesThrough the first half of the 2011 NFL season, there's little doubt Tom Brady is the Patriots' MVP.
New England Patriots:
QB Tom Brady
There is no debate about this one. Brady is clearly New England's MVP in the first half of the season. Here is all you need to know about Brady: When he plays well, the Patriots are very hard to beat. But when Brady struggles, New England is an average team. Brady started the year hot and got New England off to a 5-1 start. But since then, Brady hasn't been his dominant self, and the Patriots are winless in their last two games. Brady has thrown for 2,703 yards, 20 touchdowns and 10 interceptions on the season. He has a 100.0 passer rating.
New York Jets:
CB Darrelle Revis
I knew Revis was phenomenal before covering the AFC East. But after watching Revis up close for half a season, he is even better than I projected. Revis is undoubtedly the best cornerback in the NFL. A strong case can be made that he is the league's best defensive player. But that's an argument for another day. Right now, Revis is New York's MVP after eight games. He leads the Jets with four interceptions, including one returned for a 100-yard touchdown. Revis is always around the football. He also has 12 pass defenses. Even the few times Revis gives up a completion, the receiver often has to make a tough catch because Revis is all over him. It's really something to watch.
Buffalo Bills: RB Fred Jackson
Jackson is one of the NFL's most underrated players. But Buffalo's locker room knows he is the engine that makes the offense both dangerous and balanced. Jackson is third in NFL -- and first in the AFC -- in rushing with 803 yards. He's on pace to have a 1,600-yard season. Jackson also is an underrated receiver with soft hands. He's third on the team with 30 receptions for 391 yards. Jackson was in the early season NFL MVP race when Buffalo go off to its 3-0 start. But the Bills have cooled off since then, dropping three of their last five games.
Miami Dolphins: P Brandon Fields
This isn't a joke. This is serious. Fields, Miami's punter, is the only Dolphin who has performed well in Games 1-8. No other Miami player can claim that. Dolphins receiver
Brandon Marshall
has been great in some games and had problems with drops in others. Miami tailback
Reggie Bush
is playing his best football only in the past two weeks. Linebacker
Cameron Wake
has 5.5 sacks but few have been impact plays. Fields has been the one consistent force for Miami. He's putting up Pro Bowl-type numbers. Fields averages 48.6 yards per punt and has 17 punts inside the 20-yard line.
November, 9, 2011
11/09/11
1:00
PM ET
»
Midseason MVPs
:
East
|
West
|
North
|
South
»
AFC
:
East
|
West
|
North
|
South
Here are my picks for midseason most valuable player for each team in the division:
[+] Enlarge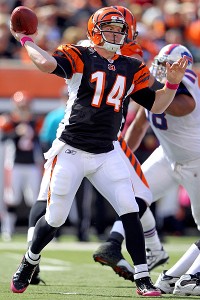 Andy Lyons/Getty ImagesRookie QB Andy Dalton has been at his best in the red zone, throwing for 10 touchdowns and no interceptions.
Cincinnati Bengals
:
Andy Dalton
He's the first rookie quarterback to win six of his first eight starts since
Ben Roethlisberger
in 2004. And the Bengals are winning because of Dalton, not in spite of him. He has guided Cincinnati to three fourth-quarter comebacks in his past five starts. The reason is he's coming through in pressure situations. When trailing in games, Dalton has completed 65 percent of his throws and compiled a 101.5 quarterback rating. When in the red zone, Dalton has been efficient with 10 touchdowns and no interceptions. The fifth quarterback selected in the 2011 draft, Dalton has triple the amount of wins than
Cam Newton
and better stats than any other rookie passer in the NFL right now.
Cleveland Browns
:
Joe Haden
The easier choice would be picking the most disappointing player for the Browns (running back
Peyton Hillis
). The most consistent player has been kicker
Phil Dawson
(six field goals of 50 yards or longer) and middle linebacker
D'Qwell Jackson
has been strong despite the team's struggles on run defense. But the biggest impact has come from Haden, perhaps the most talented player on the roster. The seventh overall pick of the 2010 draft, Haden leads the NFL's top-ranked pass defense with 10 passes broken up. He has been key in two of the Browns' three wins, quieting the Colts'
Reggie Wayne
and the Dolphins'
Brandon Marshall
.
Baltimore Ravens
:
Terrell Suggs
Some might argue for running back
Ray Rice
or quarterback
Joe Flacco
, but the Ravens are among the AFC's best because of their relentless defense. And no one is more relentless these days than Suggs, who completed his best first half in the NFL. Offenses block Suggs every which way you can imagine, but he still makes more impact plays than anyone else on the NFL's No. 2 defense. In addition to his team-leading six sacks, Suggs has as many forced fumbles (two) as
Ray Lewis
and as many interceptions (two) as
Ed Reed
. Maybe this is the year when Suggs follows the footsteps of Lewis and Reed to become the Ravens' third NFL Defensive Player of the Year.
Pittsburgh Steelers
:
Ben Roethlisberger
He's carried a team unlike any other player in the AFC North this season. With little success coming from the running game (and little attempt to make it work, to be honest), the Steelers have relied on the strong arm of Roethlisberger. It doesn't matter that the offensive line has been shaky at times. His signature remains making plays in the face of the pass rush. It doesn't matter that the defense isn't forcing turnovers to provide short fields. Roethlisberger continues to march the Steelers into the end zone with a new controlled short-passing game that still features timely big strikes. He has thrown for 200-plus yards in 17 consecutive regular-season games and he just made Steelers history with three straight 300-yard passing games. Roethlisberger isn't just the team MVP. You could make the case that he's the MVP of the entire AFC.
November, 9, 2011
11/09/11
1:00
PM ET
»
Midseason MVPs
:
East
|
West
|
North
|
South
»
AFC
:
East
|
West
|
North
|
South
Here are my picks for midseason most valuable player for each team in the division:
Atlanta Falcons: Michael Turner
The Falcons were very up and down early in the season before going on their current three-game winning streak. Quarterback
Matt Ryan
and receiver
Roddy White
aren't having great statistical years. But there has been one common thread in the games in which the Falcons have played well. Turner and the running game have been strong in each of those games. For all the offseason talk about improving the downfield passing game, the coaching staff seems to have come to the realization that the real key to the offense is Turner and the running game. When Turner is running well, the deep passing game can come naturally.
[+] Enlarge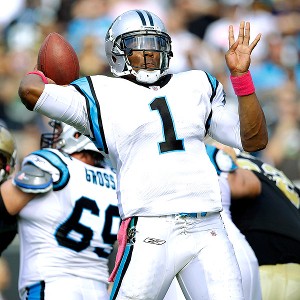 Joe Robbins/Getty ImagesDrafting Cam Newton has paid off for the Panthers.
Carolina Panthers: Cam Newton
General manager Marty Hurney took the gamble of his life when he used the No. 1 overall draft pick on Newton. Critics questioned Newton's accuracy and said he might have trouble running an NFL offense after running a very basic one at Auburn. Well, it took all of two games (both with more than 400 passing yards) for Newton to silence the critics. There's no doubt Hurney finally got this team a franchise quarterback, and Newton has brought hope to a fan base that's been depressed for a couple of years. Yes, the Panthers are only 2-6. There's room for Newton to improve, particularly when it comes to avoiding turnovers. But he has shown he can put points on the board in a hurry. That's something Carolina never has had before. Once the Panthers are able to fine-tune their defense, this team will be a contender throughout Newton's career.
New Orleans Saints:
Drew Brees
Running back
Darren Sproles
was my second choice and I know a lot of fans would put him ahead of Brees. There's no question Sproles has been a wonderful addition to the Saints. But I've got to stick with Brees. Although his 11 interceptions are a bit troubling, Brees is on pace to break Dan Marino's record for passing yards in a season (5,084). Sproles has been a huge upgrade over
Reggie Bush
. If Brees can upgrade Marino's record, that's MVP material. And I'm not just talking about MVP for the Saints. I'm talking about MVP for the entire NFL.
Tampa Bay Buccaneers: Ronde Barber
In a season in which the Bucs have been more up and down than any NFC South team, Barber has been the one exception. At 36, the cornerback has shown no signs of slowing down, and with the possible exception of left tackle
Donald Penn
, he has been the team's most consistent player. Barber has two interceptions, a sack and has recorded the first safety of his career. This is a player who has started every game since 1999. If the Bucs could just take a little bit of Barber's stability and rub it off on his younger teammates, this team would be in much better shape.
November, 9, 2011
11/09/11
1:00
PM ET
»
Midseason MVPs
:
East
|
West
|
North
|
South
»
AFC
:
East
|
West
|
North
|
South
Here are my picks for midseason most valuable player for each team in the division:
New York Giants: Eli Manning
If it weren't for
Aaron Rodgers
making it a one-man debate, Manning would right now be in the conversation for MVP of the entire league. He ranks sixth in the league in passer rating, passing yards per game and touchdown passes. A year after throwing a league-leading 25 interceptions, he's thrown only six in eight games. With all of the injury, offensive line and run game issues the Giants have had to overcome, Manning has been forced to take on a higher level of responsibility than he ever has in the past, and he has responded to it. He has protected the ball, led his team to white-knuckle comeback victories in the fourth quarter and elevated the play of previously unproven receivers such as
Victor Cruz
and
Jake Ballard
. Manning has everything you could want in an MVP candidate, most important the 6-2 record.
[+] Enlarge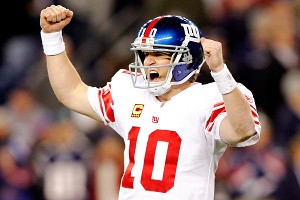 Greg M. Cooper/US PRESSWIREEli Manning has completed 176 of 280 passes for 2,377 yards with 15 TDs and 6 interceptions -- and the Giants are 6-2.
Dallas Cowboys: Sean Lee
Outside linebacker
DeMarcus Ware
could threaten the league's single-season sack record, and he deserves consideration for this honor. But no player on the Dallas defense took to or thrived in the complex scheme installed by new defensive coordinator Rob Ryan like Lee has at inside linebacker. His ability to fly all over the field making plays, to work so seamlessly and athletically in a defense that relies on deception and pre-snap movement was a key reason the Cowboys' defense had so much success in its first six games, especially against the run. And his absence since dislocating his wrist early in the Week 8 game in Philadelphia has done even more to prove his value, as the defense has struggled in the middle of the field without him.
Philadelphia Eagles: LeSean McCoy
The Eagles' biggest problem so far has been that their big-time, superstar athletic playmakers haven't made enough big-time, superstar athletic plays when it has counted. Not the case with McCoy, who has been one of the top two or three running backs in the NFL this year. He leads the league in rush yards and rushing touchdowns. He's second in yards per carry among players with at least 100 carries. He's caught 28 passes in eight games and has scored in every game he has played. He's been the workhorse, carrying the ball 58 times over a two-game stretch against Washington and Dallas. He's been the big-play guy, finding every hole he can find and breaking runs for big gains. He's been everything they could ask him to be, and there's really not a strong challenger to him for team MVP at this point.
Washington Redskins: London Fletcher
There's no way it could go to a player on Washington's struggling offense, and so we look to the defense, where outside linebackers
Brian Orakpo
and
Ryan Kerrigan
have excelled at rushing the passer but inside linebacker Fletcher has brought brilliant, consistent play and leadership. The Redskins through five games were one of the best defenses in the league, and they're still ranked seventh in fewest points allowed per game. The main reason they hang together and have made so many improvements in the second year of Jim Haslett's and Mike Shanahan's 3-4 scheme is Fletcher, who was drilling his teammates on it during players-only workouts during the lockout and has carried that fire and leadership into the season. The defense wouldn't work without Fletcher, who's doing all he can to hold together a sinking season in Washington.
November, 9, 2011
11/09/11
1:00
PM ET
»
Midseason MVPs
:
East
|
West
|
North
|
South
»
AFC
:
East
|
West
|
North
|
South
Here are my picks for midseason most valuable player for each team in the division:
Chicago Bears:
Matt Forte
How good of a season is Forte having? His 1,241 total yards from scrimmage (rushing plus receiving) leads the NFL and puts him on pace to approach the league's all-time record. (
Chris Johnson
combined
for 2,503 total yards in 16 games
for the
Tennessee Titans
in 2009.) Forte has accounted for more than 45 percent of the Bears' total offense, has taken 77 percent of their carries and has caught nearly twice as many passes (41) as any of his teammates. The Bears have built their offense around him, and no one -- not even quarterback
Jay Cutler
-- has played a bigger role in their 5-3 record.
[+] Enlarge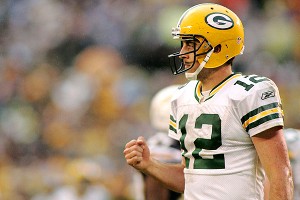 Jake Roth/US PRESSWIREAaron Rodgers has not only been the MVP of the Packers in the first half of the season, but of the entire league.
Detroit Lions:
Calvin Johnson
Johnson spent the first half on the season on a record-breaking scoring pace. His 11 touchdown receptions lead the NFL and project him to finish one short of
Randy Moss
' record for touchdowns in a season. Johnson has also caught the NFL's second-highest number of passes of 40 or more yards (five) and is one of three players averaging more than 100 yards receiving per game. Most important, his acrobatic scores have come in crucial situations. They made the difference in at least two victories, over the
Minnesota Vikings
in Week 3 and the
Dallas Cowboys
in Week 4. Without those plays, the Lions would be a .500 team.
Green Bay Packers: Aaron Rodgers
The runaway league MVP at the midpoint, Rodgers has put together one of the best first halves in NFL history. He's the first player to combine at least 2,600 passing yards with 24 touchdowns in the first eight games of the season, and is the only quarterback ever to finish eight consecutive games with a passer rating of 110 or greater. Along the way, Rodgers has led the league in completion percentage (72.5), passer rating (129.1), yards per attempt (9.9) and has thrown only three interceptions. All for an 8-0 team. That should about do it, right?
Minnesota Vikings:
Adrian Peterson
Peterson ranks second in the NFL with 798 rushing yards and has scored 10 of the Vikings' 19 touchdowns. Five of those touchdowns have come in the only two games the Vikings have won this season. Peterson has been as much of a single force for the Vikings as Forte has been for the Bears. Defensive end
Jared Allen
, who has a league-leading 12.5 sacks, is a close runner-up.
NFL SCOREBOARD
Thursday, 12/5
Sunday, 12/8
Monday, 12/9
WEEKLY LEADERS