August, 28, 2011
8/28/11
1:16
PM ET
Random thoughts from Denver's 23-20 win against Seattle on Saturday night:


I know some folks are going to be excited that
Tim Tebow
led the Broncos to the game-winning field goal. But the real story in Denver was the pass rush.
If the
Denver Broncos
are going to be legitimately improved in 2011 it's not going to be because Tebow can lead the backups. It will be because the defense -- ranked No. 32 in the NFL last season -- is improved. It looked improved all camp, and Saturday night it looked like it has a special ability -- it can get to the quarterback.
Denver had five sacks. Rookie linebacker
Von Miller
, the No. 2 overall pick in the draft, is showing immense potential. He had two sacks. He has three sacks in the past two games. Miller hit the quarterback four times against Seattle.
Elvis Dumervil
added 1.5 sacks. Dumervil led the NFL with 17 sacks in 2009 before missing all of last season. Dumervil has excelled this camp at defensive end.
Miller and Dumervil took over this game. If that continues during the season, Denver could have something nice on its hands defensively.
The rest of the defense played well. Denver's starters outscored Seattle 17-3 until they left in the third quarter.
Denver did lose defensive tackle
Brodrick Bunkley
(knee) and linebacker
D.J. Williams
(elbow). The Denver Post is reporting Williams will
be out 3-4 weeks.
Denver opens the season against Oakland in 15 days. So, the Broncos will likely be without their leading tackler last season for the opener. That, of course, will, put more pressure on Miller and Dumervil to make plays.
The Broncos hope neither injury is serious. Denver is thin at defensive tackle. It's no surprise that Denver
put in a claim
on defensive tackle
Kentwan Balmer
before he was awarded to Carolina. That is Denver's biggest need area. Expect it to scour the waiver wire at the spot in the next week.
Tebow was Tebow-ish. He completed 6 of 11 passes for 93 yards. He fumbled two balls. As Denver coach John Fox said after the game, it wasn't always pretty, but Tebow did find a way to move the ball.
Brady Quinn
didn't play Saturday. This was by design to get Tebow more repetitions. Last week, Quinn spelled starter
Kyle Orton
and he threw 16 passes compared to Tebow's two passes. It will be interesting to see if Tebow gains on Quinn this week in their battle to be Orton's backup. Orton continued to look solid Saturday night. He completed 16 of 23 passes for 236 yards.
Rookie tight end
Julius Thomas
continued to look like a weapon. He had 70 yards on four catches. Expect to see a lot of him early in the regular season. Receivers
Eddie Royal
and
Eric Decker
both contributed four catches as well.
Denver's running game was solid but not spectacular.
Knowshon Moreno
had 47 yards on 10 carries. Denver would be happy with a 4.7 average from him.
Willis McGahee
had just 25 yards on 10 carries. Denver's run game will be counted on, and it still needs to prove it can handle the responsibility.
Denver needs to work on special teams this week after it allowed a 105-yard kickoff return for a score Saturday night.
July, 27, 2011
7/27/11
12:05
PM ET

It seems the name the
Denver Broncos
and quarterback
Kyle Orton
must keep an eye on in the coming hours (and perhaps in a day or so) is Philadelphia backup
Kevin Kolb
.
It seems Kolb and Orton are connected. That might benefit the Broncos in their attempt to deal Orton.
The Cardinals are interested in both Kolb and Orton and it is likely Arizona, which needs to add a veteran quarterback, will trade for one of them. Tuesday, the Arizona Republic reported that the Cardinals don't think there is a major difference between Kolb and Orton, but they could lean toward Orton because he will be cheaper than Kolb.
Denver is also reportedly talking
to Miami about Orton in a deal that would reunite him with receiver
Brandon Marshall
.
The Broncos reportedly want a third-round pick for Orton. The Kolb factor and the fact that the Dolphins are also interested could enable the Broncos to get what they want in return for Orton.
It's clear Denver wants to move on to the
Tim Tebow
era and it's clear Orton wants to remain a starter, so expect Denver to work to get a deal done. I wouldn't be shocked if we hear more on this front later Wednesday. Denver starts practicing Thursday.
April, 30, 2011
4/30/11
3:41
PM ET
NEW YORK -- On Saturday, Jeremy Southard of Redondo Beach, Calif., was sitting in the second deck at Radio City Music Hall, watching the fourth round of the NFL draft, when he saw a familiar face.
"I was in my seat, and I turned around, and there's the commissioner," he said.
[+] Enlarge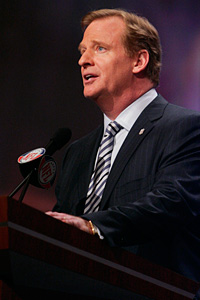 Jerry Lai/US PresswireNFL commissioner Roger Goodell has heard some boos this week during the NFL draft in New York.
Without the on-stage responsibilities of the first three rounds, Roger Goodell took an opportunity to work the crowd. He was met at first as he was the past two days: With chants of "We want football!" and boos.
The fans quickly became more friendly, blocking the commissioner in the aisle to get an opportunity to express their thoughts.
"I told him not to let the boo birds get him down," Southard said. "It's an impossible situation to be in. It's a no-win situation. The fans, they just want football. But he has to worry about the long-term financial viability of the league."
Bill Reynolds of Barnegat, N.J., got a photo with his son 15-year-old son, Austin, and Goodell.
"He's between a rock and a hard place," Reynolds said. "Of course, the players want more money, the owners want more money. It's all about money. They're blaming him for everything. I don't know why everyone's so down on him. I really don't. Why is it him? He's not paying anybody. He's just running the league. "
On his way back down the famed lobby staircase, after hundreds of photos and autographs, Goodell said he appreciated hearing the feedback.
"The fans just want football. They don't care about the details," Goodell said. "They just want to make sure they continue to get great football, and that's what we share in common. They have a lot of perspective. They tell you how they feel about things, and that's a good thing."
NFL officials said attendance for the first round was 3,329, down 150 from last year. There were empty seats, even for the first round, but Goodell said he was still pleased with the turnout.
"I'm never satisfied, though," he said. "I always like to see it bigger and better, and that's what we're working towards."
Southard, who's 37, said he's patient with the negotiations because he believes getting the right deal is important. He pointed out that his favorite team, the Green Bay Packers, are competitive despite being publicly owned and in a small market.
He contrasted the team's success with the struggles of teams in other sports, like the neighboring Milwaukee Brewers. "Will the NFL get to that point?" he said.
Others had different motivation for concern.
In the mezzanine area, an Eagles fan wearing a DeSean Jackson jersey greeted Goodell. "Don't make me spend Sundays with my wife," he said.