NFL Nation:

2011 Offensive Player Power Rankings
May, 31, 2011
5/31/11
2:02
PM ET
Next up in ESPN.com's Power Rankings series were the
best offensive players who aren't quarterbacks
.
I was surprised to see only three offensive linemen appear on the ballots of our eight panelists:
Miami Dolphins
left tackle
Jake Long
,
Cleveland Browns
left tackle
Joe Thomas
and
New York Jets
center
Nick Mangold
.
Only four voters, including me, mentioned more than one lineman. AFC South blogger Paul Kuharsky and NFC South blogger Pat Yaskinkas must have been assembling fantasy teams because they didn't name a single grunt.
My ballot:
Adrian Peterson, Vikings running back
Larry Fitzgerald, Cardinals receiver
Andre Johnson, Texas receiver
Chris Johnson, Titans running back
Calvin Johnson, Lions receiver
Jake Long, Dolphins left tackle
Antonio Gates, Chargers tight end
Nick Mangold, Jets center
Roddy White, Falcons receiver
Jason Witten, Cowboys tight end
Nobody can argue against how crucial offensive linemen are to a team's success. And since we removed quarterbacks from the equation, they make even more sense to appear on this list. If a team has an established quarterback, then the next thing to do is protect him.
Without offensive linemen, there's not enough time for the star receivers to get open or lanes for running backs to bolt through.
The importance of left tackles was underscored when the Dolphins selected Long first overall in 2008. Long has lived up to the expectations at a critical position by making the Pro Bowl each of this three seasons. He was voted All-Pro last year.
Mangold is the best center in the game. While centers aren't necessarily viewed as prominent enough to draft early, Mangold's dominance is indisputable. He has been an All-Pro the past two seasons and a Pro Bowler three straight. That's why he made my list.
May, 31, 2011
5/31/11
1:56
PM ET
The best offensive player (non-quarterback) in the AFC North is. ...
Joe Thomas
?
According to our ESPN.com panel, the
Cleveland Browns
left tackle was rated the ninth best offensive player in
this week's Power Rankings.
No additional players in the AFC North made the cut.
We excluded quarterbacks, because that glamour position would have dominated the top 10. It also made ranking offensive players more interesting.
The AFC North is known for its defense and it showed in the rankings. Thomas was the only offensive player to make my ballot. He's arguably the NFL's best left tackle and certainly the most consistent. Thomas has been to the Pro Bowl in each of his four seasons. I voted Thomas No. 7.
The only offensive skill player from the AFC North that I considered was
Baltimore Ravens
running back
Ray Rice
. Rice is a dynamic offensive weapon in the running and passing game, but that wasn't enough to make my top 10.
Here is the final tally:
ESPN.com's offensive Power Rankings (non-QBs)
1 (tie).
Chris Johnson
, RB, Titans
1 (tie).
Adrian Peterson
, RB, Vikings
3.
Andre Johnson
, WR, Texans
4.
Larry Fitzgerald
, WR, Cardinals
5.
Calvin Johnson
, WR, Lions
6.
Roddy White
, WR, Flacons
7.
Maurice Jones-Drew
, RB, Jaguars
8.
Jake Long
, LT, Dolphins
9. Joe Thomas, LT, Browns
10 (tie).
Jamaal Charles
, RB, Chiefs
10 (tie).
Antonio Gates
, TE, Charges
Walker's offensive Power Rankings (non-QBs)
1. Andre Johnson, WR, Texans
2. Adrian Peterson, RB, Vikings
3. Chris Johnson, RB, Titans
4. Calvin Johnson, WR, Lions
5. Roddy White, WR, Falcons
6. Larry Fitzgerald, WR Cardinals
7. Joe Thomas, LT, Browns
8.
Jason Witten
, TE, Cowboys
9.
Arian Foster
, RB, Texans
10. Jake Long, LT, Dolphins
May, 31, 2011
5/31/11
1:41
PM ET
ESPN.com's offseason NFL Power Rankings continue later Tuesday with a look at the 10 best offensive players among non-quarterbacks heading into the 2011 season.
Paul Kuharsky will have the story on his
AFC South blog
.
[+] Enlarge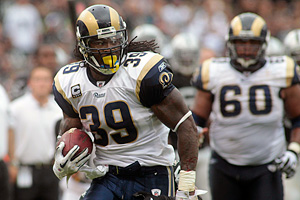 Cary Edmondson/US PresswireRams running back Steven Jackson rushed for 1,241 yards last season.
My ballot will take into account the way I ranked running backs, tight ends and wide receivers earlier in the series (see chart). A few NFC West thoughts after revisiting past rankings:
What about offensive linemen? They'll be part of the overall top 10 as well. We're ranking left tackles next week.
May, 31, 2011
5/31/11
1:11
PM ET
For the second time in
our positional Power Rankings list this spring
, I cost
Adrian Peterson
big.
I promise I have nothing against the Minnesota running back. I think he's a big-time player. But I think there are other big-time players in the NFL as well.
I just think there are some better players in the NFL than Peterson at the moment. That's why I placed Peterson seventh on our list of top-10 (non-quarterbacks) offensive players in the NFL. My replacement cost Peterson big. He finished in a first-place tie with Tennessee running back
Chris Johnson
. Had I placed Peterson sixth, he would have been in first place by himself.
In our running back Power Rankings in March
, I ranked Peterson third behind Tennessee's Johnson and Kansas City's
Jamaal Charles
. It gave Johnson the No. 1 overall ranking. I used the same formula on this current vote as I did in the previous one; I had Peterson as my third running back behind Johnson and Charles.
That's why he's seventh on my list. Again, I like Peterson a lot and I think he's special. Being the seventh best player on this list is pretty strong.
As for the AFC West, Charles and San Diego tight end
Antonio Gates
finished in a tie for 10th place. I had Charles ranked fifth and I ranked Gates ninth. In our tight end Power Rankings, I had Gates ranked first. He was edged out by Dallas'
Jason Witten
. I placed Charles higher than Gates on this list based on the importance of position and the fact that Charles is just entering his prime at the age of 24 while Gates is about to turn 31.
No other AFC West player received a vote.
May, 31, 2011
5/31/11
1:00
PM ET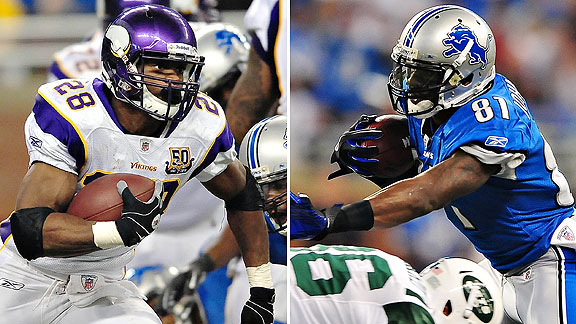 US PresswireAdrian Peterson and Calvin Johnson were the two NFC North players to crack the top 10 ranking of offensive players.
Ranking the NFL's top 10 offensive players required an exercise
similar to last week's defensive players project
: Melding a number of individual rankings into one coherent list. In the end, it left us with two NFC North representatives despite my efforts to make it three.
Minnesota Vikings
tailback
Adrian Peterson
finished tied with
Tennessee Titans
tailback
Chris Johnson
for the No. 1 spot. Each received 70 points in our voting formula.
Detroit Lions
receiver
Calvin Johnson
finished No. 5, and
Green Bay Packers
receiver
Greg Jennings
garnered only one a vote (from me) on the way to a No. 18 finish.
A few notes from my perspective:
Some of you will note that Chris Johnson finished ahead of Peterson on the running backs ballot earlier this offseason (by one point). Remember, the criteria for the best running back and the best player aren't necessarily the same. Running ability is foremost in both, but receiving, blocking and other jobs play a larger role in the latter. Also, Johnson and Peterson were competing against players at other positions. Houston Texans receiver Andre Johnson, for example, received three No. 1 votes.

On the issue of Andre Johnson, I faced a quandary of consistency vs. accuracy. On our receivers ballot, I ranked Johnson No. 6. That was too low. So as you'll notice, I made a change for this ballot. I voted Johnson No. 4 overall, my second receiver behind the Arizona Cardinals' Larry Fitzgerald. Consider it a mea culpa if you want, but that should explain the inconsistency I'm sure you would have noticed and pointed out on your own.

My decision on Andre Johnson forced Calvin Johnson down the list. Calvin was now my No. 4 receiver, and I couldn't find room for a fourth receiver any higher than No. 8. You might argue that he deserved to be higher than Roddy White of the Atlanta Falcons, who I had at No. 7, but White's production has been far superior over the past four years. Over that stretch, White has 371 receptions. Johnson has 270.

I didn't have much hope that Jennings would crack the top 10, and my vote was totally biased. But the sentiment wasn't from a rooting interest. It was based on experience. I had the advantage of seeing Jennings play far more often in recent years than any of my fellow voters. And if I was given 10 slots to build an offensive team for 2011, I know I would get high production and character from Jennings.

For those wondering, yes, there were two offensive linemen on my ballot, left tackles Joe Thomas (Cleveland Browns) and Jake Long (Miami Dolphins). Offensive linemen, specifically left tackles, will be the subject of a future ballot. But suffice it to say, I value offensive linemen enough to put arguably the best two in the league on a top-10 ballot.
May, 31, 2011
5/31/11
12:58
PM ET
This week's edition of
Power Rankings
asked us to rank the top 10 offensive players in the league, quarterbacks excluded. As you can see, no NFC East players made the overall list, one made my personal top 10 and only two --
Jason Witten
and
DeSean Jackson
-- got any votes. I think this is fair (obviously, since you can see my list right there). I think you can make the case that this division has three top-10 quarterbacks, but take the QBs out, and it's tough to argue for anybody in the NFC East to crack this top 10.
So, as we did last week with defensive players, let's talk about who the best non-QB offensive players are in this division. If I had to do a list (which I don't, but will anyway), it may well look like this:
1. Witten
2. Jackson
3.
LeSean McCoy
4.
Miles Austin
5.
Hakeem Nicks
6.
Jason Peters
7.
Trent Williams
8.
Steve Smith
9.
Chris Cooley
10.
Chris Snee
Thought about
Doug Free
, thought about Dave Diehl and
Kareem McKenzie
, thought about
Jeremy Maclin
and
Dez Bryant
and
Ahmad Bradshaw
. And especially because there are far better evaluators of offensive linemen out there than I am, I may well be wrong. I could have listed one of the other tackles at 10, but I put in Snee because I think he's a top-level guard, even if that's not as critical a position as tackle. Regardless, that's my list and you can go ahead and feel free to pick it to shreds.
I'd like to make the prediction here and now that McCoy and Nicks are fighting it out for the top spot a year from now, assuming each gets to have something close to a full third season in the league (labor permitting). And while the Peters/Williams/Free argument at left tackle may be close, I believe Williams has the talent to make it a runaway if he puts together a healthy season in Washington.
I know how you guys love lists and rankings. I just have one request, please. If you could ... play nice!
May, 31, 2011
5/31/11
11:28
AM ET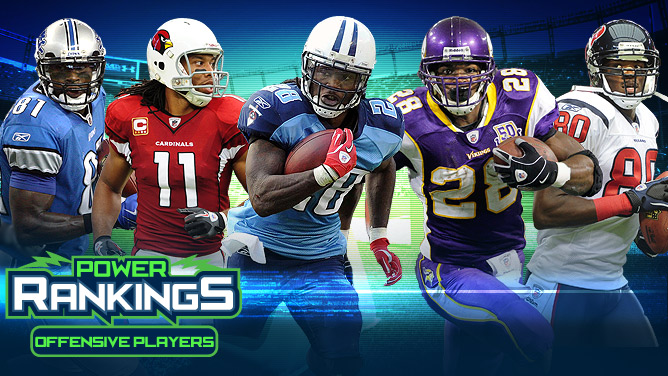 ESPN.com IllustrationChris Johnson (center) and Adrian Peterson (center-right) share the top honors in our Offensive Player Power Rankings.
ESPN.com's NFL writers rank the top 10 offensive players (non-quarterbacks) in the league today.
Next week: Toughest venues to play in.
We've evaluated running backs, assessed receivers, tackled tight ends and critiqued quarterbacks.
Our next assignment for ESPN.com's Power Rankings: Rate the top 10 offensive players in the NFL, taking signal-callers out of the equation.
It's a difficult task, considering we've not addressed the offensive line. (I believe that left tackles are on the long-term agenda, but that is not my department.)
Nobody else took my route. I simply put a giant premium on explosiveness and passed on O-linemen entirely. I didn't do it because I downgraded their importance. Backs, receivers and tight ends couldn't qualify for consideration here, obviously, without quality line-blocking.
I did it for three reasons.
Like virtually every football writer, I am least good at evaluating offensive linemen with my own eyes.

Although conventional wisdom says to build inside-out, if I could select 10 offensive football players with whom to start a team, I'd load up on playmakers and feel good about the potential to build a good line starting with my 11th choice. (I'd have an excellent offensive line coach.)

We're not in the prime of Jonathan Ogden or Walter Jones or Alan Faneca. And although some great linemen got votes here, none is so good he HAD to be here. Right now, we might be more about units than superior individuals.
But my logic is easily disputed by someone who took a completely different tack. NFC North blogger Kevin Seifert voted linemen fifth and sixth with
Joe Thomas
and
Jake Long
, respectively.
"It's definitely harder to measure the impact of a singular offensive lineman versus skill players, but to me you're fooling yourself if you either subordinate their role or don't consider the best linemen to be just as important as the best running backs or receivers," Seifert said in an email laced with compliments of the AFC South blog's content. "Linemen don't touch the ball, so their impact on any given play is more limited than, say, when
Adrian Peterson
gets a handoff.
"But over the course of a game, an elite offensive lineman can contribute to a victory just as much. And, more obviously to most people, a sub-par performance from an offensive lineman can lead to defeat. I made sure to rank my top running backs and receivers ahead of any offensive lineman in this ranking, but I thought the two best guys in the league -- Joe Thomas and Jake Long -- deserved to be ranked over the second tier at the other positions. So that's how I went about it."
And so here's the buried lead:
Tennessee's
Chris Johnson
edged Minnesota's Adrian Peterson in our Running Back Power Rankings, but the two finished dead even here, sharing the No. 1 slot.
They are ahead of Houston receiver
Andre Johnson
by six points, while two more receivers rounded out the top five: Arizona's
Larry Fitzgerald
and Detroit's
Calvin Johnson
.
AFC West blogger Bill Williamson cost Peterson the outright No. 1 spot by voting him seventh, just as he cost Peterson a tie in
the running backs poll
by putting him third.
"I think Chris Johnson is the best running back and I think
Jamaal Charles
is right behind him," Williamson said. "I see Charles often. The guy is the goods. So, that leaves Peterson just a tad below. I stuck to my running back power rankings, which cost Peterson. Seems like it happened again. But I'm comfortable with it."
Atlanta receiver
Roddy White
is sixth, Jacksonville running back
Maurice Jones-Drew
seventh, Long eighth, Thomas ninth and Charles tied for 10th with San Diego tight end
Antonio Gates
.
Jones-Drew caused a bit of a divide. He wasn't named on five of our eight ballots, but NFC East newbie Dan Graziano and NFC South maven Pat Yasinskas had MJD in their top four.
"He's the every-down back, he's the goal-line back, he catches the ball," Graziano said. "I just think his overall contributions to the offense set him apart. He may not be as good or skilled a back as Peterson or Johnson, which is why I ranked those guys higher.
"But for me he has more to do with how his team's offense runs and succeeds than does a receiver like a Fitzgerald or White. And while I think Jamaal Charles has more talent, the fact that he doesn't play as much as Jones-Drew plays moves him further down the list for me."
Said Yasinskas: "I look at Maurice Jones-Drew as more than just a running back. He's an all-around weapon."
As usual, the reasoning of my colleagues makes me secretly second-guess some of my decision-making. Wait, did I say that out loud? Then not so secretly.
It's hard to go wrong, obviously, with an entire pool of offensive players (minus quarterbacks) to choose from.
Guys who got votes and finished 12th through 19th --
Reggie Wayne
,
Jason Witten
,
Michael Turner
,
Arian Foster
,
DeSean Jackson
(thanks to my vote, talk about big plays),
Nick Mangold
,
Greg Jennings
and
Steven Jackson
-- qualify as an All-Star team on their own merits.
Here's hoping the lockout doesn't leave us writing columns off imaginary games between teams featuring our first- and second-strings.

NFL SCOREBOARD
Sunday, 2/2
WEEKLY LEADERS