NFL Nation:

2011 playoffs jets-colts
January, 9, 2011
1/09/11
2:20
AM ET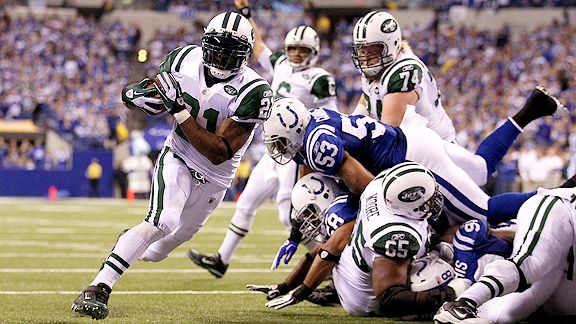 Jonathan Daniel/Getty ImagesThe Jets advanced to play the rival Patriots thanks in part to LaDainian Tomlinson's two scores.
INDIANAPOLIS -- The
New York Jets
poured out onto the Lucas Oil Stadium turf, many with their helmets raised overhead.
Nick Folk
's 32-yard field goal flipped through the uprights as the clock expired Saturday night. The Jets beat the
Indianapolis Colts
17-16
and advanced to the AFC divisional round of the playoffs.
The sickened crowd was so silent you could hear the Jets whoop and holler like they owned the place.
Braylon Edwards
did a backflip on his way into the tunnel.
And right about then the Jets remembered what's coming next.
"As soon as the game was over -- I know that all the guys were happy with the win -- but we got the Patriots on our mind," Jets safety
Brodney Pool
said. "We know we're going back there. We remember what they did to us."
Yes, the
New England Patriots
.
Congratulations, Jets on your wild-card round victory Saturday. On Jan. 16, you get to return to Gillette Stadium, where the Patriots cudgeled you 45-3 about five weeks ago.
"The way that they beat us up when we were there, it was a butt-kicking," Pool said.
"They dominated us."
Jets defensive back
Dwight Lowery
interrupted.
"Not going to happen again," Lowery said, pulling a shirt over his head at the adjoining locker stall.
"That wasn't the same group of guys," Pool said, "that showed up today."
The Jets left Lucas Oil Stadium convinced they weren't the same team that the Patriots humiliated on "Monday Night Football." That Dec. 6 game emphatically dropped the Jets out of the AFC East lead. That loss led to questions about them being frauds who fattened their record by feasting on opponents with losing records.
"What happened in the last game definitely is not going to happen again," Lowery said. "We'll be better prepared overall. It's a brand new game."
Saturday night's victory resets the Jets. They beat the great
Peyton Manning
on his home field, in front of his raucous fans.
And the Jets did it with Manning avoiding blunders. Manning did his thing. He completed 69 percent of his passes for 225 yards. He fired a perfect strike to
Pierre Garcon
for a 57-yard touchdown. Manning didn't throw an interception and conceded on one garbage sack at the end of the first half. He posted a 108.7 passer rating.
The Jets still won.
Now they feel like they have an honest shot against
Tom Brady
, whom Rex Ryan took a shot at last week. Ryan knocked Brady, declaring him propped up by Bill Belichick and not as good as Manning.
"To beat an elite Hall of Fame quarterback in his house is huge," Jets right tackle
Damien Woody
said. "We had the right formula coming in here. The stakes get higher. Brady probably is going to be MVP of the league. That offense is humming.
"But to beat Peyton at home speaks volumes about the guys in this locker room and our coaching staff."
The Jets can't expect to hold the Patriots to 16 points. The Patriots have scored at least 31 points in eight straight games.
So good luck with that.
But the Jets have plenty to build upon.
[+] Enlarge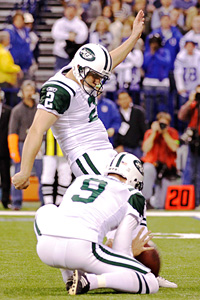 AP Photo/Michael ConroyNick Folk's game-winning 32-yard field goal as time expired sent the New York Jets to the divisional round against the Patriots next Sunday.
Perhaps most impressive about their victory was that
Mark Sanchez
was slipshod -- and that didn't kill them. Sanchez was off target on some plays and threw a boneheaded interception that kept the Jets scoreless at halftime. He didn't have any touchdown passes and finished with a 62.4 rating.
The Jets won with an aggressive ground attack that got better as the game progressed.
LaDainian Tomlinson
appeared fresh, as he did early in the season. He ran 16 times for 82 yards and two touchdowns.
Shonn Greene
added 19 carries for 70 yards.
"Really, it was more the mentality our backs took that they were going to run through that door," Ryan said. "Whether it had a lock on it or not, our guys were going to pound it in there.
"Our offensive line did a great job of slugging away. It wasn't going to be that you were going to rip [the Colts] for 8 yards and 8 yards. It usually starts 2, 3, 4 and then all of the sudden you're able to crack them."
The Patriots' run defense might be their biggest weakness heading into the playoffs. They placed defensive linemen
Ron Brace
and
Mike Wright
on injured reserve in the past week. They allowed an average of 108 yards a game, which ranked 11th. But a mitigating factor is that teams often are in catch-up mode in the second half and forced to throw.
Patriots inside linebacker
Brandon Spikes
is coming back from a league suspension. Rookie defensive lineman
Brandon Deaderick
was briefly suspended by the Patriots this week for an undisclosed reason.
Several Jets refused to discuss the Patriots matchup as Saturday night turned into early Sunday morning. When a reporter asked outside linebacker
Calvin Pace
about heading back to Gillette Stadium, inside linebacker
Bart Scott
lashed into a profanity-laced complaint that the Jets deserved time to enjoy beating the Colts.
Jason Taylor
, who won his first playoff game in a decade, was one of the Jets who declined to speak specifically about the Patriots.
But the veteran pass-rusher put the victory -- and next week -- into perspective.
"If there was any bit of uncertainty, I think this helps erase it," Taylor said. "But it's one game. We won the playoff round. We've got to go play in the divisional round, and if we win that, we still haven't done anything yet.
"I understand the process. I've been in this spot before, where you win the first round and don't win in the second round. You get nothing for it. You don't even get a hat. Or a T-shirt."
It was so long ago, but the Jets actually did defeat the Patriots 28-14 at the Meadowlands in Week 2.
The trilogy will conclude next Sunday afternoon.
"Couldn't have scripted it better, to get a third opportunity at a team," Woody said. "We split in the regular season, but people don't remember our win. They remember the huge blowout. You're only as good as your last game.
"So Part III is coming up."
January, 9, 2011
1/09/11
1:55
AM ET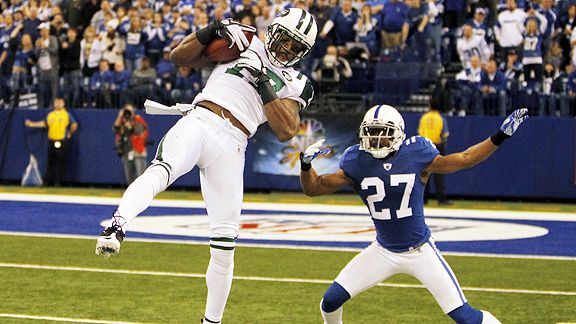 William Perlman/The Star-Ledger/US PresswireThe Colts gave up big plays, including this Braylon Edwards catch to set up the winning field goal.
INDIANAPOLIS -- They trudged to the helmet painted on the turf at midfield, offering congratulations to the team that ended their season.
In time, the Colts might come to consider this pre-Super Bowl playoff exit the least painful and most dismissible of the seven they've endured during a nine-year run of postseason qualification. On Saturday night, of course, they were too close to it to think or speak that way.
They saw a blown opportunity in their
17-16 loss
to the
New York Jets
in the opening round of the NFL playoffs.
So they'll carry regret into the offseason, regret not so much about losing to the Jets, but losing to the Jets like that.
By blowing three leads.
The Colts were up 7-0, 10-7 and 16-14.
By watching the Jets convert five of seven third downs in the second half while they failed to convert two third-and-longs in the fourth quarter that left them settling for field goals.
The first, a third-and-7, produced only a 1-yard run by
Dominic Rhodes
against a heavy defensive-back set.
"They had seven DBs, they had 34, [cornerback Marquice] Cole at defensive end, it was 100 percent pass coverage,"
Peyton Manning
said. "That's a lot of DBs. We just thought they're not going to think we're going to run it. We've got to be able to pick those up."
The second, a third-and-6, was a Manning sprint out to the right and a throw to
Blair White
that looked to be a bit short on the right side. White couldn't corral it as he went to the ground.
By allowing New York to keep the ball with a running-into-the-punter penalty, which resulted in two timeouts burned ahead of schedule and 34 fewer seconds on the clock when the Colts got the ball back.
Taj Smith
was flagged despite trying to hold up Jets punter
Steve Weatherford
once he'd made contact.
"He did a good acting job and I should have played it more conservative, it just was a bad play on my part," Smith said. "… They just said play it more smart and keep my head up."
By allowing a 47-yard kickoff return with 53 seconds remaining that positioned the Jets for a quick drive and a field goal as time expired.
[+] Enlarge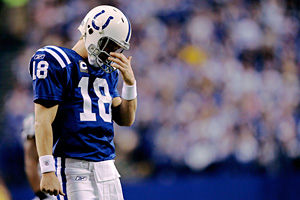 AP Photo/AJ MastThe loss to the Jets was the seventh time in Peyton Manning's 11 trips to the playoffs that the Colts failed to advance beyond their first game.
"It goes from putting a lot of pressure on the offense to putting a lot of pressure on the defense with that field position change," Manning said.
The Colts aren't used to watching that unfold with their offense on the sideline. They're used to Manning and the offense making the other team's offense squirm on the sideline, enduring a sense of helplessness.
"It's just bad execution on our part," left tackle
Charlie Johnson
said. "It's bad because … I want to be careful here. You have to give them credit. They played a great game, but at the same time I feel like the better team didn't win."
It was the seventh exit in the Colts' first game of the playoffs in Manning's 11 trips to the postseason, the sort of context the Colts absolutely hate to have pointed out to them.
"We've been to the playoffs nine consecutive years. I don't think this team has to explain itself to anybody as far as what we are doing in the playoffs," linebacker
Gary Brackett
said. "A team's pinnacle is to get to the playoffs and we've done that consistently."
Said Johnson: "I think it's bogus. I think there are some teams in the league that would love to have the success we've had, regardless of going to Super Bowls or not -- winning so many games over the years, winning 12 or more games however many years in a row, going to the playoffs nine straight years. There are a ton of teams that would take that and be happy with it."
This exit will ultimately deserve a less harsh review than some others because of how deep the injury-riddled Colts had to dig along the way. They ended the game with
Ken Hamlin
at free safety. He signed Dec. 22 and was, at the very best, their fifth option at the position this season.
Coming into the game the question for Rex Ryan was, if his team couldn't get past the Colts now, when might it ever?
Before Manning left the interview podium for the last time in what may be quite a long time, he offered a glimpse into how the 2010 Colts were looking at a potential playoff run, at how things might have been different this time.
"It would have been fun to have kind of gotten on a little run here, there would have been a different feeling," Manning said. "I thought we would have been the underdog in every game. I thought we were the underdog tonight. We would have been the underdog going to Pittsburgh. That's certainly a different feeling.
"Usually in the playoffs we're always kind of usually the favorite to win, expected to win. This would have been a fun little run. This has been a fun little run, these last few weeks, we felt like they've all been playoff games. This was the best team we've played in some time. We certainly had a chance and just came up short."

NFL SCOREBOARD
Sunday, 12/22
Monday, 12/23