NFL Nation:

2011 playoffs jets-colts rr
July, 31, 2014
Jul 31
4:59
PM ET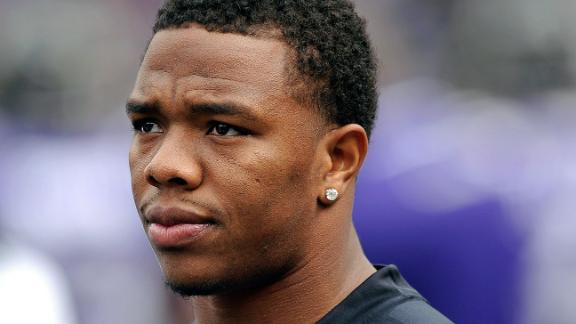 OWINGS MILLS, Md. -- In stark contrast to
Ray Rice
's awkward news conference in May, the
Baltimore Ravens
running back showed Thursday that he finally understood the weight of his actions from the alleged altercation with his then-fiancée in February.
He delivered the correct message, one the NFL failed to do last week with the two-game suspension, by not only apologizing to his wife, Janay Palmer, but also expressing a desire to become an advocate for domestic-violence causes.
Rice was compelling in his contrition, calling it the biggest mistake of his life. He stood in front of the microphone alone, without his wife standing by his side, and took full responsibility for the incident. Perhaps more importantly, Rice actually said the words "domestic violence," which weren't heard in his statement two months ago.
"My actions were inexcusable," Rice said. "That's something I have to live with the rest of my life."
Before anyone pats Rice on the back, this is what he should have said the first time when he broke his silence in May. Instead, Rice nervously fumbled through notes on his phone and apologized to team officials and his sponsors. That debacle of a news conference came across as damage control to his image.
His 17-minute news conference Thursday hit the right tones. He apologized to all women affected by domestic violence. He accepted the blame for losing the respect of fans. Rice came across as genuinely sorry.
"I let my wife down, I let my daughter down, I let my wife's parents down, I let the whole Baltimore community down," Rice said.
Rice's biggest misstep was not talking about what happened in the elevator. He was asked twice about it and declined to answer both times. His stance against domestic violence would have resonated stronger if he had explained his transgressions.
"I'll be honest: Like I said, I own my actions," Rice said. "I just don't want to keep reliving the incident. It doesn't bring any good to me. I'm just trying to move forward from it. I don't condone it. I take full responsibility for my actions. What happened that night is something that I'm going to pay for the rest of my life."
The only way Rice can move forward from this incident and show he's truly sincere is through his actions. It's not by his words. It's not by a hefty donation, which is merely a gesture. It's by proving this will remain a "one-time incident" and by supporting domestic-violence causes.
Thursday represented a small step forward for Rice. But it was an important one.
January, 8, 2011
1/08/11
11:15
PM ET
INDIANAPOLIS -- Thoughts on the
Colts' 17-16 loss to the Jets
at Lucas Oil Stadium.


What it means
: The Colts are one-and-done in the playoffs, losing their chance to play the Steelers in Pittsburgh next week.
What I didn't like
: The Colts allowed the Jets offense to wake up after halftime as New York ran more authoritatively,
Mark Sanchez
settled down and they played a good brand of keep-away. The Colts couldn't score more than a touchdown and pull away in the first half when Sanchez was consistently missing receivers with overthrows. Indy allowed 169 yards rushing as the Jets found their bearings.
Jacob Lacey
was too far away from
Braylon Edwards
as he caught an 18-yard pass to set up Nick Folk's game winner as time expired.
What I liked
: A classic late drive to what looked like winning points -- a field goal with 45 seconds left.
Adam Vinatieri
hitting from 47, 32 and 50 yards.
What I want to know
: How much did the Colts consider throwing it on the third-and-7 just before Vinatieri's field goal that made it 14-13 Jets with 4:37 left in the game?
What's next:
Locker cleanouts and good byes. And a lot of continued rehab for injured guys who didn't finish the season.
January, 8, 2011
1/08/11
11:12
PM ET
INDIANAPOLIS -- The
New York Jets
defeated the
Indianapolis Colts
17-16
in Lucas Oil Stadium.


What it means:
Even though
Mark Sanchez
had a lackluster night, the Jets found a way to knock off
Peyton Manning
with a thrilling victory. Rex Ryan's Jets improved their road playoff record to 3-1 and avenged last season's loss to the Colts in the AFC Championship Game.
Hero:
Nick Folk
kicked a 32-yard field goal as time expired to pull off the upset and send Colts fans silently filing toward the exits.
Near Hero:
Colts kicker
Adam Vinatieri
almost won the game on a 50-yard field goal with less than a minute to play. The kick was his longest of the season.
Hero II:
Jets running back
LaDainian Tomlinson
looked like he did when he was an early season MVP candidate. He had his biggest game in three months. Tomlinson ran 16 times for 82 yards and two touchdowns, including the go-ahead score with about 10 minutes to play.
All is forgiven:
The Jets trailed 7-0 at halftime but should have had at least a field goal right before the break. The Jets made it to the Colts' 19-yard line. On a third-and-10 play, Sanchez had too much time to think and forced a ball to
Dustin Keller
near the goal line. Colts defensive back Justin Tyron intercepted.
Costly play:
One play after Jets receiver
Santonio Holmes
had a costly third-down drop, Colts special-teams ace
Taj Smith
was flagged for running into punter
Steve Weatherford
on fourth-and-5 with 3:02 to play. First down, Jets. Colts had to start calling their timeouts on the next set of downs.
If on third you don't succeed:
The Jets were phenomenal on third downs almost all night, limiting the Colts to three-and-out series on their first three possessions. But the Colts converted a third-and-7 and a third-and-8 on their first field-goal drive of the fourth quarter.
What's next:
The Jets advanced to the divisional round and will play the
New England Patriots
in Gillette Stadium. The Jets defeated the Patriots 28-14 at the Meadowlands in Week 2, but the Patriots administered a 45-3 beating five weeks ago in Foxborough.