NFL Nation:

2011 playoffs saints-seahawks
January, 8, 2011
1/08/11
11:57
PM ET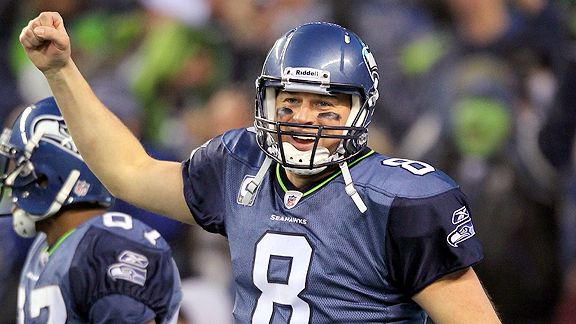 Otto Greule Jr/Getty ImagesMatt Hasselbeck completed 22 of 35 passes for 272 yards and four touchdowns against the Saints.
SEATTLE -- The moment begged for
Matt Hasselbeck
to indulge the philosophical, the metaphorical.
The moment screamed for the
Seattle Seahawks
' quarterback to reflect upon what this
41-36
wild-card playoff victory over the defending Super Bowl champion
New Orleans Saints
meant to him, to his team, his legacy, his future.
Surely the 35-year-old Hasselbeck had seen his career dissolving into a toxic pool of injuries, interceptions and advancing age. He had to have sensed that a franchise still in the early stages of rebuilding would have little use for a player with dimming long-term prospects.
Surely Hasselbeck had thought about the end.
"You mean the game in Dallas?" Hasselbeck asked Saturday, referring to the Super Bowl. "Is that the game you are talking about?"
Not quite, but if the first 7-9 division winner in NFL history can put up 41 points against the New Orleans Saints -- 10 fewer points than Seattle scored in all of October -- why can't the Seahawks win in the divisional round at Chicago, where they've already won this season, or even in Atlanta?
If Hasselbeck can toss four touchdown passes while outdueling
Drew Brees
on a national stage, if
Marshawn Lynch
can become the Seahawks' first 100-yard rusher of the season, if Seattle's defense can make the Saints one-dimensional, why not believe at least a little?
"The whole game, it just felt like we were going to win it," Seahawks coach Pete Carroll said.
This will go down as Hasselbeck's finest moment. Never before had he carried Seattle in a playoff game the way he did Saturday.
"Ridiculously good" was how Carroll described it.
The sheer improbability of it all added gravity to the performance.
Doctors drained fluid from Hasselbeck's hip Saturday for the third time in two weeks. Carroll named him the starter only Thursday.
Seattle was a double-digit home underdog and the driving force behind the case for giving more weight to overall record than division titles -- anything to prevent a losing team from getting a home game against a winning one.
Thanks to Hasselbeck, who passed for 272 yards and a 113.0 rating, the reseeding conversation should go away quietly. There could be no blaming the milder-than-anticipated elements, the Qwest Field crowd or anything even remotely fluky for this outcome.
Seattle lost the coin toss, committed an early turnover, gave the Saints short fields twice in the early going and fell behind 10-0. What more could the defending Super Bowl champs have wanted? The Seahawks earned this one on merit.
"We just beat the world champs," Hasselbeck said. "That is a great feeling, and we worked hard to do it. It's not like it just happened. We were prepared. We believed. We laid it on the line. It was an emotional game. I am emotionally drained right now. I am physically drained right now. It is satisfying."
The most rewarding moment for Hasselbeck, perhaps, was when he saw his kids, including young son Henry, on the field after the game. It was what Hasselbeck said he had craved and never realized when his father, Don, was playing tight end for the
New England Patriots
, Los Angeles Raiders,
Minnesota Vikings
and
New York Giants
.
"It's special to them, it's special to me and the atmosphere was just awesome," Hasselbeck said.
Henry, 5, wore a youth version of his father's jersey in the locker room after the game. Receiver
Brandon Stokley
's young son joined him in play.
Carroll soon arrived and knelt at Hasselbeck's locker -- coach and quarterback sharing a few words. Hasselbeck had watched from the sideline in Week 17 while backup
Charlie Whitehurst
led Seattle to a division-clinching victory over St. Louis. There was talk during the week that Whitehurst might provide the best option in the playoffs. Hasselbeck had passed for two touchdowns and eight interceptions over his previous four games. He appeared close to finished.
[+] Enlarge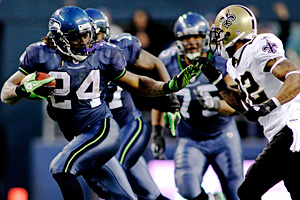 AP Photo/Ted S. WarrenMarshawn Lynch shoved aside the Saints' Tracy Porter on his way to a 67-yard touchdown which gave the Seahawks a 41-30 lead late in the fourth quarter.
"I'm so proud of him coming back like that and playing just incredible football," Carroll said. "Throw after throw, so many big throws and big catches and runs, the whole thing."
Hasselbeck had help. His offensive line, reconfigured with
Tyler Polumbus
at left guard, protected beautifully. The Saints sacked Hasselbeck only once in 79 dropbacks this season, including 44 during the Saints' victory over Seattle in Week 11.
Lynch, tasting the playoffs for the first time after three-plus seasons in Buffalo, finished off the Saints with a 67-yard touchdown run destined for instant-classic status. Lynch broke at least five potential tackles, finishing off cornerback
Tracy Porter
with a violent stiff-arm as Lynch neared the goal line. That run, on a play called 17 Power, was the longest of Lynch's career by 11 yards. It came on a play designed to gain 4 or 5.
"If you get 4.1 yards, you pat yourself on the back," Hasselbeck said.
And if you get 67, you advance to the divisional round.
"It feels great -- it feels really, really good," Hasselbeck said. "Just an awesome feeling, kind of an answered prayer in a way. We were down 10-0 against the world champs, my third pass of the game was intercepted. It was not how you want to start a game. But that is one of Pete's messages. You can't win or lose the game in the first quarter. You have to win the fourth and a lot of the stuff he brought up this year has kind of come true."
Carroll had channeled Bud Grant during a speech to the team Friday night, recalling a 1980s game between Grant's Vikings and the
San Francisco 49ers
. The Vikings prevailed improbably in a game that Hasselbeck said matched up with this one.
The past two weeks, and Saturday in particular, have brought validation for what Carroll is selling.
"I know guys have bought in, because if you didn't buy in, you were gone," Hasselbeck said. "I think what makes it easy to buy in is it's legit. It's not just some rah-rah thing. In a crazy way, the way he explains stuff, it just seems to happen."
And yet there can be no logical explanation for this.
The 7-9 record said Seattle was the worst playoff team in NFL history, at least in a non-strike season. Seattle had allowed 407 points, third-most in franchise history and the most by a Seahawks team since the 1980 squad went 4-12 while allowing 408. The numbers said Hasselbeck was used up. Only three quarterbacks this season, including
Derek Anderson
and
Jimmy Clausen
, had lower ratings than him.
Forget all that. It means nothing now. Hasselbeck changed his legacy Saturday.
Years from now, when the Seahawks induct him into their Ring of Honor, they'll remember the time he outgunned Drew Brees with a cast on his broken left wrist and his career on the line.
"This was a day to remember," Carroll said.
January, 8, 2011
1/08/11
10:30
PM ET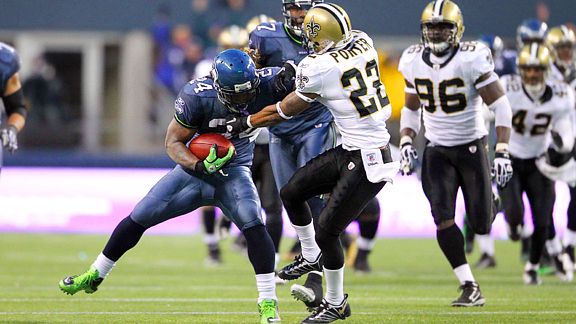 Mike Nelson/US PresswireMarshawn Lynch pushed Tracy Porter and the Saints' defense around on his 67-yard score.
SEATTLE -- The memories of their Super Bowl season will last forever. The magic did not.
The feel-good story of last season -- or maybe the past decade or two -- is over. It ended unexpectedly and more than a little embarrassingly for the
New Orleans Saints
. The defending Super Bowl champions came into Qwest Field on Saturday to play the first team in NFL history to make the playoffs with a 7-9 record.
It ended with the
Seattle Seahawks
, a team that stumbled to the NFC West championship, defeating the Saints
41-36
. Just like that, the magic and miracles that carried the Saints all the way to Miami and last year's Super Bowl are over.
"After you experience raising that trophy, you don't want to see anyone else lift it,'' New Orleans linebacker
Scott Shanle
said. "There wasn't a person in this locker room that didn't think we would be lifting that trophy again.''
That's not going to happen. Some other team will be hoisting the Lombardi Trophy in February and it will come in a season in which the Saints generally looked like they were avoiding "the curse'' that has dethroned so many recent Super Bowl champions.
They went 11-5 in the regular season, again riding the arm of
Drew Brees
and using a defense that looked better overall than it did a year ago. Then, against a team the Saints handled easily in the regular season, it all fell apart.
Instead of looking like the Saints of the regular season or the champion Saints of the 2009 season, the Saints looked a lot more like the New Orleans teams of 2007 and 2008. Those teams could move the ball, but didn't play much defense. Those teams were mediocre, sort of like the Seahawks.
"We'll have a chance to look at the film,'' Saints coach Sean Payton said when asked to explain why his team suddenly collapsed.
Payton's right. There will be no Super Bowl parades or even any more games this season. The Saints will have months to reflect on what happened.
There will be painful weeks to watch the film of
Matt Hasselbeck
throwing for 272 yards and four touchdowns. That's a lot of time to see safety
Darren Sharper
looking like he waited too long to retire. Time to watch strong safety
Roman Harper
looking even worse than Sharper and time to watch rookie cornerback
Patrick Robinson
making a season's worth of rookie mistakes.
That's not going to look good on the résumé of Gregg Williams. He's the defensive coordinator and the man many credit for putting the Saints over the top last season. He has been mentioned as a possible head-coaching candidate in other places in recent weeks. He now will have time to interview. If Williams doesn't get another job, he and Payton can watch the horror movie together.
[+] Enlarge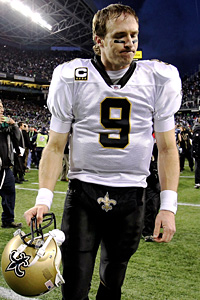 Jonathan Ferrey/Getty ImagesA season after winning their first Super Bowl, Drew Brees and the Saints were ousted in the wild-card round.
"Our eyes were not very good in coverage,'' Sharper said.
Throw in their legs and their minds too, and don't limit the blame to the secondary. The front four and the linebackers also got destroyed. Hasselbeck, who couldn't even play a week ago because of a hip injury, completed 22 of 35 passes and finished with a 113.0 passer rating.
Marshawn Lynch
ran over the New Orleans defense for 131 yards and a touchdown on 19 carries.
"I think we might have taken for granted the success they had throwing against us earlier in the season,'' Sharper said.
That's a reference to the Nov. 21 regular-season game in the Superdome. Hasselbeck threw for 366 yards in that game, but the Saints won 34-19. So what changed between the regular-season game and now? And what happened between last year's Super Bowl and now?
A team that took pride in saying the only real losses from the Super Bowl were linebacker
Scott Fujita
and backup running back
Mike Bell
somehow lost a lot more. Yes, injuries were a factor. The Saints were forced to play Sharper because starting free safety
Malcolm Jenkins
was injured. Running backs
Pierre Thomas
and
Chris Ivory
didn't play because of injuries and fellow running backs
Reggie Bush
and
Julius Jones
got so banged up in the second half that the Saints had to play
DeShawn Wynn
, who was signed last week.
But the problems started long before Bush and Jones got hurt. The Saints, who had to fly across the country and had only six days between games, started off playing like champions. They jumped out to a 10-0 lead and Seattle was looking every bit the part of a 7-9 team. Then everything changed.
"It's only appropriate to start off with congratulating [coach] Pete Carroll and the Seattle Seahawks for a big win,'' Payton said. "They played a real good game.''
Yes, give the Seahawks credit, but the Saints gave them a whole lot of help. Although Brees threw for 404 yards on 60 attempts, any attempt at offensive balance was abandoned in the second and third quarters when the Seahawks outscored the Saints 27-10.
Lynch and the Seattle receivers ran all over Williams' defense. Things got so bad that Payton had to call for a desperation onside kick near the end of the game instead of using it as a surprise as he did in the Super Bowl win.
The Saints, who danced their way out of Miami after the Super Bowl and posed for pictures on the Atlanta Falcons' logo in the Georgia Dome a few weeks ago, lost their swagger in Seattle.
The locker room was quiet.
"We knew we had a team we thought could repeat,'' Sharper said.
"This stings a lot,'' cornerback
Jabari Greer
said.
The silence and the sting will last the long flight back home and probably spill over into the coming weeks and months. The Saints lost more than just a playoff game.
They lost their chance at repeating as Super Bowl champions and they did it against a team that had a losing record in the regular season. Instead, they're left to think about preventing a repeat of what happened in Seattle.
"If we're ever in this position down the road, we have to remember this experience so it doesn't happen again,'' Shanle said.
NFL SCOREBOARD
Thursday, 10/23
Sunday, 10/26
Monday, 10/27