NFL Nation:

2011 Quick Takes AFC
July, 31, 2014
Jul 31
4:59
PM ET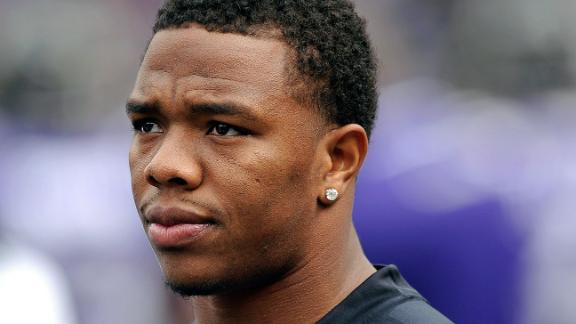 OWINGS MILLS, Md. -- In stark contrast to
Ray Rice
's awkward news conference in May, the
Baltimore Ravens
running back showed Thursday that he finally understood the weight of his actions from the alleged altercation with his then-fiancée in February.
He delivered the correct message, one the NFL failed to do last week with the two-game suspension, by not only apologizing to his wife, Janay Palmer, but also expressing a desire to become an advocate for domestic-violence causes.
Rice was compelling in his contrition, calling it the biggest mistake of his life. He stood in front of the microphone alone, without his wife standing by his side, and took full responsibility for the incident. Perhaps more importantly, Rice actually said the words "domestic violence," which weren't heard in his statement two months ago.
"My actions were inexcusable," Rice said. "That's something I have to live with the rest of my life."
Before anyone pats Rice on the back, this is what he should have said the first time when he broke his silence in May. Instead, Rice nervously fumbled through notes on his phone and apologized to team officials and his sponsors. That debacle of a news conference came across as damage control to his image.
His 17-minute news conference Thursday hit the right tones. He apologized to all women affected by domestic violence. He accepted the blame for losing the respect of fans. Rice came across as genuinely sorry.
"I let my wife down, I let my daughter down, I let my wife's parents down, I let the whole Baltimore community down," Rice said.
Rice's biggest misstep was not talking about what happened in the elevator. He was asked twice about it and declined to answer both times. His stance against domestic violence would have resonated stronger if he had explained his transgressions.
"I'll be honest: Like I said, I own my actions," Rice said. "I just don't want to keep reliving the incident. It doesn't bring any good to me. I'm just trying to move forward from it. I don't condone it. I take full responsibility for my actions. What happened that night is something that I'm going to pay for the rest of my life."
The only way Rice can move forward from this incident and show he's truly sincere is through his actions. It's not by his words. It's not by a hefty donation, which is merely a gesture. It's by proving this will remain a "one-time incident" and by supporting domestic-violence causes.
Thursday represented a small step forward for Rice. But it was an important one.
January, 16, 2011
1/16/11
10:05
PM ET
Three things to know about next Sunday's New York Jets at Pittsburgh Steelers AFC Championship Game:


1. The Jets already have won at Heinz Field this season
. The Jets rebounded from humiliating back-to-back losses (45-3 to the
New England Patriots
and at home against the
Miami Dolphins
) by going into Pittsburgh and beating the eventual AFC North champs in Week 15. But it wasn't a textbook victory.
Brad Smith
returned the opening kickoff 97 yards for a touchdown, and
Jason Taylor
recorded a safety in the fourth quarter that forced the Steelers to go for a touchdown on their final drive rather than kick a field goal. The Steelers made it to the Jets' 10-yard line and had two shots at the end zone before time expired in a thriller.
2. The Jets know they can beat anybody when they come to play.
The Jets not only return to a venue they've already conquered, but they also have won consecutive games against future Hall of Fame quarterbacks. For the second year under Rex Ryan, the Jets won two road playoff games and advanced to the AFC Championship Game. Last year, though, they knocked off the
Cincinnati Bengals
and
San Diego Chargers
with the help of some missed field goals. This year's run has been more impressive. The Jets are back after slaying
Peyton Manning
and
Tom Brady
in two of the toughest stadiums for a visitor to escape triumphant -- in any sport. Now they'll have to knock off another championship quarterback to reach the Super Bowl.
3. That said, the Steelers didn't have safety Troy Polamalu in that game.
The perennial defensive player of the year candidate didn't play particularly well in Saturday's victory over the
Baltimore Ravens
, but you can't count on him to miss many tackles two weeks in a row. Polamalu is a game-changer for the Steelers and may be the league's ultimate defensive force. His teammates voted him the team MVP for good reason. He had 63 tackles, a sack, seven interceptions, 11 passes defensed and a forced fumble in 14 games.
January, 16, 2011
1/16/11
8:46
PM ET
Three things to know about next Sunday's New York Jets-Pittsburgh Steelers AFC Championship Game:


1. The road to the Super Bowl now goes through Pittsburgh.
The Steelers caught a break Sunday night with the Jets' upset win against the
New England Patriots
. Pittsburgh, the AFC's No. 2 seed, will play host to the conference title game for the second time in three years. The Steelers said Saturday night that they were confident regardless of the opponent. But playing at home in the postseason is always a preference, and the Patriots and quarterback
Tom Brady
have had Pittsburgh's number in recent years.
2. Don't forget the Jets beat Pittsburgh too.
While the Steelers avoided a trip to New England, the team with the best record in the regular season, they will face a Jets team that went into Heinz Field on Dec. 19 and handed Pittsburgh a
22-17
defeat. New York outplayed Pittsburgh in Week 15, particularly on special teams. The Steelers also were without Pro Bowl safety
Troy Polamalu
, who missed the game with a calf/Achilles injury.
3. There are tons of AFC North connections in this game.
This will be a big week for Jets receiver
Santonio Holmes
, whom Pittsburgh traded this offseason to New York. Holmes will make his second trip to Pittsburgh this season, but this time a ticket to Super Bowl XLV is at stake. Jets coach Rex Ryan, linebacker
Bart Scott
and defensive lineman
Trevor Pryce
are among those who joined New York from the
Baltimore Ravens
' organization. Receiver
Braylon Edwards
was acquired in a trade with the
Cleveland Browns
, and the Browns traded their No. 5 overall pick to the Jets in 2009 to allow New York to draft quarterback
Mark Sanchez
. Jets safety
Brodney Pool
also played five seasons in Cleveland.
January, 9, 2011
1/09/11
6:09
PM ET
Three things to know about Saturday's Baltimore Ravens-Pittsburgh Steelers divisional game:


1. It's time to settle the score.
With similar records, there has been plenty of debate about which AFC North team is better this season, and Steelers-Ravens III will be the deciding factor. Both teams won on the road during the regular season. But Pittsburgh won the tiebreaker with a 5-1 division record, compared to Baltimore's 4-2 mark. That was the only way to separate these teams, which resulted in the Steelers getting a first-round bye and a home playoff game. But now it's time to settle it on the field and put this debate to rest. "I've lost to Ben Roethlisberger seven times,'' Baltimore's Terrell Suggs said of the Steelers' QB. "He's definitely my biggest problem I'm facing."
2. The Steelers are as healthy and well-rested as they've been in months
. Pittsburgh ended the regular season with a lot of bumps and bruises to starters but took advantage of the bye week. Pro Bowlers
Troy Polamalu
(Achilles) and
Maurkice Pouncey
(stinger) were among the key starters banged up. Polamalu has played in only one game since Dec. 12, a 41-9 victory against the
Cleveland Browns
in the regular-season finale. Pittsburgh starting defensive end
Aaron Smith
, who had triceps surgery in October, also has a chance to return.
3. Lately, Baltimore's defense is playing at a Super Bowl level.
In the past two games, the Ravens have forced an astounding 10 turnovers and held their opponents to 14 total points. Of those 10 turnovers, Baltimore has forced five fumbles and five interceptions. The Ravens are very hard to beat when their defense is this dominant. That also takes pressure off the Ravens' offense, which has been up and down this season.
January, 9, 2011
1/09/11
10:30
AM ET
Three things to know about Sunday's New York Jets at New England Patriots divisional-round playoff game:


1. Getting past what happened in Week 13 won't be easy for the Jets.
Their humiliating 45-3 loss will be a psychological barrier they must conquer. The Jets need to find a way to make up 43 points when they return to the scene of their wretched display in front of a "Monday Night Football" audience. It probably will be easier for the Jets' offense to close the gap than it will be for their defense to smother
Tom Brady
's high-performance outfit. The Patriots haven't scored fewer than 31 points since Nov. 7, lighting up the
Pittsburgh Steelers
,
Indianapolis Colts
,
Green Bay Packers
and
Chicago Bears
along the way. The 1991
Detroit Lions
were the last team to lose by 40 points in the regular season and have a rematch in the playoffs. The
Washington Redskins
defeated them 41-0 the first time and 41-10 in the postseason.
2. New England's run defense will decide the game.
Unless Jets quarterback
Mark Sanchez
drinks a magic efficiency potion, he's not going to be able to beat the opportunistic Patriots defense without a sound run game. The Jets were able to overcome Sanchez's shaky play and beat the Colts on Saturday night because of a forceful ground attack. The Jets rushed for 169 yards and averaged 4.4 yards a carry.
LaDainian Tomlinson
ran 16 times for 82 yards and two touchdowns. New England's run defense has been up and down throughout the season. The Lions averaged 4.8 yards on Thanksgiving, the Jets averaged 4.9 yards in Week 13, and the
Buffalo Bills
averaged 6.0 yards in Week 16. But the Patriots held seven opponents below 4 yards a carry, including in three of their last four games.
3. The Patriots' offense has multiple ways to win.
The Colts were incapable of running Saturday night even though
Peyton Manning
counted seven defensive backs at times. "They had [cornerback Marquice] Cole at defensive end," Manning said. The Jets then contained Manning by letting him dink and dunk -- aside from one blown play, a 57-yard touchdown pass to
Pierre Garcon
in the second quarter. Jets cornerback
Darrelle Revis
held
Reggie Wayne
to one catch for 1 yard. But the Patriots can bulldoze the Jets if they have to. Patriots running backs
BenJarvus Green-Ellis
and
Danny Woodhead
will keep Rex Ryan's defense honest. And if the Jets gear up too much to stop the run, there's that Brady fellow to contend with.
January, 2, 2011
1/02/11
9:22
PM ET
Three things to know about next Saturday's New York Jets at Indianapolis Colts wild-card game:


1.
The Colts are trending upward in key categories.
Over their final three games, they did excellent work stopping the run and providing a more than sufficient run attack to balance out the offense. The Jets will throw rested running backs
LaDainian Tomlinson
and
Shonn Greene
at Indy after sitting them out of their finale and still crushing the Bills. The Jets had the league's No. 6 rush offense before that game. The Colts have gotten a boost from running back
Dominic Rhodes
, who's now working with
Joseph Addai
and
Donald Brown
. There is sure to be a big game-planning discussion about how to best deploy the three against the Jets' rush defense, No. 5 in the NFL after 15 games.
2.
We've got some seriously contrasting coaches.
The Colts' Jim Caldwell is low-key, stoic and is never in danger of saying anything remotely controversial. The Jets' Rex Ryan is a laugh-a-minute, bombastic and will say anything. Neither of them will play Saturday night, but between now and then you can expect to hear a whole lot of comparing and contrasting. Caldwell has a steady quarterback who's used to beating blitzes in
Peyton Manning
, and Ryan has a defense that brings extra people as often as anyone. How that sorts out could tell the story of the game.
3.
Healthy rushers make for good results.
When the Colts have had defensive ends
Dwight Freeney
and
Robert Mathis
both healthy for playoff games, they've fared very well. Best as I could tell, they both came out of the win over the Titans OK. If the Colts can get a lead and put more of the game on
Mark Sanchez
than the Jets might like, Indy will be in its ideal defensive position -- one where its two Pro Bowl pass-rushers can use their best moves and incredible quickness to smack the quarterback around, knock him down and hit his arm as he throws. The Jets have a very good defense, but Freeney and Mathis are strip sack artists who can change games in a flash.
January, 2, 2011
1/02/11
8:02
PM ET
Three things to know about next Sunday's Chiefs-Ravens wild-card game:


1. Change focus:
Much of the Chiefs' early playoff preparation was focused on the
New York Jets
. The odds were in favor of the Chiefs hosting the Jets even though the Chiefs entered the week with a chance to play the Ravens or the Steelers. Yet, because of the Chiefs' loss to Oakland, the Colts' win over Tennessee and the Ravens' and Steelers' victories, the Chiefs are the No. 4 seed and the Ravens are the No. 5 seed. The Chiefs' early preparation for New York shouldn't hurt them. They can quickly change course and now start focusing on the 12-4 Ravens. I get the feeling that the Chiefs were quietly disappointed they didn't get to host the Jets because they felt they were a better matchup for them than the Ravens. But the home loss to Oakland took the Chiefs' wild-card fate out of their hands.
2. Get the home mojo back:
One of Kansas City's biggest disappointments Sunday was its inability to end the regular season with a perfect home record. The Chiefs finished the regular season 7-1 at home. Still, guard
Brian Waters
said it's do-over time next week and he sees the New Arrowhead Stadium as being a huge advantage. "I can't wait to see our home crowd in the playoffs," Waters said. Still, Baltimore likely will not be frightened. The Ravens went 5-3 on the road this season.
3. Run the ball:
This game could likely come down to who can run the ball and who can stop it. The Chiefs led the NFL in rushing this season. The Ravens were fifth in the NFL against the run. The Chiefs are best when their run game is working. Still, the Ravens are a very stout defense, especially up front. The Chiefs' offensive line was thrown around by Oakland on Sunday. It must rebound and control the line of the scrimmage if the Chiefs are able to play the game they want to play.
January, 2, 2011
1/02/11
7:39
PM ET
Three things to know about next Sunday's Baltimore Ravens at Kansas City Chiefs wild-card game:


1. Ravens catch a break:
Baltimore (12-4) caught a huge break by avoiding the
Indianapolis Colts
in the wild-card round. A loss by the Chiefs (10-6) and a win by the Colts in Week 17 sent Baltimore to Kansas City. Although no playoff draw is easy, the Ravens are just 2-8 against Colts quarterback
Peyton Manning
, including last year's playoff loss in the divisional round. Now, Manning and the Colts are the
New York Jets
' problem. Kansas City is a team without a lot of playoff experience, and that could work in Baltimore's favor.
2. Baltimore's offense must step up:
Ravens general manager Ozzie Newsome spent the past offseason beefing up the offense to perform in big games. But at times, the offense this season has been a disappointment. Baltimore traded for receiver
Anquan Boldin
, signed free-agent receivers
T. J. Houshmandzadeh
and
Donte' Stallworth
and drafted two rookie tight ends. The goal was to put as many weapons around third-year quarterback
Joe Flacco
as possible and take pressure off the defense. On paper, the Ravens are one of the most well-rounded playoff teams with the ability to win in different ways. But Baltimore's offense must prove it can be productive and consistent in the playoffs.
3. Let the seeding debate begin:
Should teams be awarded for having the better season or winning the division? Baltimore won two more games than Kansas City, but the Chiefs have home-field advantage. The Ravens have been mum on the subject recently, but that's probably a sign they're not ecstatic about the seeding system after having a tremendous season. Baltimore finished second in the AFC North
via a tiebreaker
to the
Pittsburgh Steelers
(12-4), who have a first-round bye and at least one home playoff game. The Ravens are one of just four teams to finish with 12 wins in the NFL, but they probably will play their entire postseason on the road as the fifth seed.
January, 2, 2011
1/02/11
7:19
PM ET
Three things to know about next Saturday's New York Jets at Indianapolis Colts wild-card game:


1. The Jets can find positive energy from last year's loss in the AFC Championship game.
The Jets are a dangerous road team. Before they went 6-2 away from the Meadowlands this year, they upset a pair of division champs in the playoffs and held a third-quarter lead over the Colts in the AFC title game with a rookie quarterback last year. QB
Mark Sanchez
has been erratic in his sophomore season, but he has several clutch moments to draw from in addition to the knowledge he has been in this situation before and held his own.
2. These aren't the same old, dominant Colts. These aren't the 2009 Jets.
The 2009 Colts were undefeated when they met the Jets in the regular season and probably should have been unblemished entering the AFC Championship Game. They were awesome and clinched the AFC's top seed early. But they went to the wire this year, not qualifying for the playoffs until Sunday.
Peyton Manning
doesn't have star tight end
Dallas Clark
or receivers
Austin Collie
or
Anthony Gonzalez
. The Colts also have nine defensive backs on injured reserve. The Jets, meanwhile, aren't the run-dominant offense they were a year ago. Last year's playoff star,
Shonn Greene
, still is on the team. But they have enhanced their receiving weaponry, adding
Santonio Holmes
and
LaDainian Tomlinson
to give them a dimension they couldn't dial up when they trailed late against the Colts. That said, the Jets aren't as overwhelming on defense this time around either.
3. The Colts ranked 20th in run defense and tied for 29th in average per carry.
The diversified Jets have the ability to pass, but they'll take whatever a defense will give them. The Colts are forgiving on the ground. They went into Week 17 allowing an average of 132 yards a game and 4.7 yards a carry. Playing indoors and on artificial turf could be a boon for Tomlinson, whose production has flagged as the season wore on. The longtime San Diego star hasn't played indoors or in a warm environment since Week 9 at Detroit.