NFL Nation:

2011 RB Power Rankings
March, 15, 2011
3/15/11
4:55
PM ET
Every Tuesday, when ESPN.com reveals its positional power rankings for the week, I will post my breakdown of the AFC East's best players.
Running backs were in the spotlight this week
. No AFC East running back made the list, and that was appropriate. None of them had a superstar season. But that doesn't mean they weren't influential within the division.
The first three players were easy to slot, as was the last player. The four running backs in between were tough.
I suspect Woodhead's rating will generate the most discussion. After all, the Jets didn't think he was among the top three running backs on their depth chart when they dumped him and decided to keep rookie
Joe McKnight
instead.
But Woodhead became one of the NFL's great stories after the Patriots snatched him up. He was a sensational dual threat for a team that went 14-2. He gained 40 more yards from scrimmage than Greene on 70 fewer touches. Woodhead had just 50 fewer yards than Brown on 102 fewer touches.
As for Jackson, his 2010 numbers didn't reflect his capabilities. The Bills hardly used him for the first month, while they tried to figure out what to do with
Marshawn Lynch
and tinkered with how to incorporate Spiller into the offense. Jackson didn't have double-digit carries until Week 5 and didn't catch more than two passes until Week 8.
Jackson's pace over the final 12 games, multiplied over the course of a season, would give him 1,220 yards rushing and 296 more receiving.
March, 15, 2011
3/15/11
3:15
PM ET
Steven Jackson
finished what I would consider a disappointing seventh in ESPN.com's power rankings for NFL running backs.
I understand why.
[+] Enlarge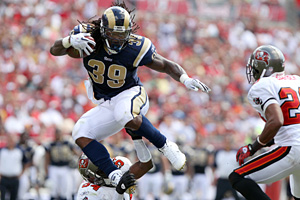 Kim Klement/US PresswireRams running back Steven Jackson ranks fourth among NFL players in rushing yardage over the past three seasons, with a 4.1-yard average.
The
St. Louis Rams
haven't earned their way onto television much. Their offense has been particularly weak in the red zone, preventing Jackson from scoring cheap touchdowns. Jackson isn't a burner, so he doesn't break the 80-yard runs that pad a running back's average over the course of a season.
Those of us who have watched Jackson every week, season after season, realize there's so much more to him than the raw numbers. Not that his numbers need any apologies, aside from the 3.8-yard average Tim Graham cited in explaining why
he left out Jackson
from his top 10 altogether. Jackson ranks fourth among NFL players in rushing yardage over the last three seasons, with a 4.1-yard average during that time.
I ranked Jackson fourth on my ballot, as did on three other voters. Pat Yasinskas ranked Jackson third.
No back in the league can match Jackson's combination of size, power, heart and running ability. He is all of 6-foot-2 and weighs about 245 pounds. Opponents notice the size right away. He's 30 pounds heavier than
Adrian Peterson
.
Jackson was at his inspirational best during the final throes of the Rams' historically bad three-year run ending with the 2009 season. I'll always remember the way he ran defiantly and with such passion during the fourth quarter of a 35-0 road loss to San Francisco. Jackson would not let the situation define him. He tore into defenders play after play.
Jackson played out that season with a herniated disc that would later require surgery. That helps explain why two of his three lowest per-carry averages fell during the final month of the 2009 season. Jackson was playing hurt.
This past season, Jackson played against Seattle despite a groin muscle torn badly enough that he couldn't take a full stride. He wore this elaborate wrap with multiple straps holding his upper thigh in place, one reason he averaged only 3.2 yards per attempt in that game. But Jackson picked up 49 yards on a screen pass while running at maybe three-quarter stride, providing inspiration that played a role in the Rams' victory.
Jackson caught passes with one hand later in the season suffering a broken finger and having a pin inserted to stabilize it.
The Rams couldn't ask any more from him.
March, 15, 2011
3/15/11
2:34
PM ET
Frank Gore
ranked only tied for 10th in ESPN.com's rankings for running backs despite my efforts to acknowledge his consistent production and all-around game.
The hip injury that shortened Gore's 2010 season capped his production at 853 yards. I think it knocked down Gore in voters' eyes or at least gave them a reason to focus on other backs. That's what happens sometimes in this type of voting. Decisions can be close, so voters look for reasons to discount candidates.
[+] Enlarge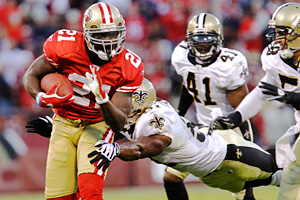 AP Photo/Paul SakumaSan Francisco 49ers running back Frank Gore only got three top 10 votes in ESPN.com's running back rankings.
I ranked Gore seventh on my ballot. James Walker had Gore ninth. John Clayton had him 10th. None of the other voters ranked Gore among their top 10.
Paul Kuharsky, in preparing
his overall piece
on the balloting, asked me to break down Gore relative to
Ray Rice
,
Michael Turner
and
Darren McFadden
. My response:
Gore was fast approaching his fifth consecutive 1,000-yard season in 2010 when a hip injury sidelined him. That knocked him down on this list. Before that, I think he was perceived as a top-five back in the league, or right in there.

Gore ranked fourth in rushing yards from 2006 through 2009. He is a complete back. He stays low when he runs and he breaks tackles. He catches the ball well. He's a willing and sometimes violent blocker in pass protection.

Relative to the backs you mentioned, Gore has certainly played at a high level longer than Rice, Turner or McFadden. He's produced across systems for a team that has had a different offensive coordinator every season of his career. He's never had a quarterback to take pressure off him. Defenses have known what was coming and Gore has kept coming anyway. It's bitten into his production and taken a toll on his body, but he has produced.
Earlier this month, I answered a mailbag question wondering whether this was
the right time to trade Gore
. It's one of those questions to consider separately from the emotional connections we make with players based on how they play, what they represent on the field, how they carry themselves and the like.
Gore is to the point in his career where it's natural to wonder whether the game is catching up to his body. Because of that, the team will have a decision to make once Gore's contract expires following the 2011 season.
But there should be no diminishing what Gore has meant to the 49ers or, in my view, that he can still rank among the NFL's very best, health permitting.
March, 15, 2011
3/15/11
1:52
PM ET
Minnesota Vikings
tailback
Adrian Peterson
received four of the eight first-place votes in ESPN.com's latest positional power ranking.
Tennessee Titans
tailback
Chris Johnson
got the same.
The verdict? Johnson was the winner -- based on a one-point advantage in total points, not
Peterson's questionable cultural observations
.
I'm not sure if we'll solve such a pressing issue today. If you had to pick Peterson or Johnson for your 2011 season, who would it be? I don't think you'll go wrong either way. Last season, Johnson produced 1,609 all-purpose yards and 12 touchdowns in 16 games. Peterson countered with 1,639 all-purpose yards and 13 touchdowns in 15 games.
Full disclosure: I voted Peterson first and Johnson second, in keeping with my well-established bias against invisible AFC South players and teams. For that reason, and because he had the
audacity to rip one of our players
as he watched us in the NFC Championship Game, I sentenced
Jacksonville Jaguars
tailback
Maurice Jones-Drew
to No. 8 overall.
(For my actual explanation, you'll have to read
AFC South colleague Paul Kuharsky's post
on the voting.) Here's how I voted:
Adrian Peterson
Chris Johnson
Maurice Jones-Drew
March, 15, 2011
3/15/11
1:27
PM ET
Our
Power Rankings for running backs
are out and the only NFC South representative is
Michael Turner
.
I can't argue with that. In fact, Turner was the only NFC South running back I included on my top 10 ballot. He's also the only NFC South back who got any votes from our panel.
Turner came in at No. 6, although I ranked him No. 4. Just for background, I don't use some big scientific system when doing these rankings, but I was probably closer to being scientific on running backs than I will be on any other position. That's because running backs are different. They have very short shelf lives.
As I filled out my ballot, I looked mostly at rushing totals in two time increments. One was for the past two years and the other was for the past three years. If we had opened it up to the last eight years, then you'd have to rank guys like
LaDainian Tomlinson
very high and that wouldn't be right because he no longer is an elite back.
Turner has been a 1,000-yard rusher in each of the past three season and that makes him a very solid choice on any list of top running backs.
What about Carolina's
DeAngelo Williams
or
Jonathan Stewart
? First off, they've split carries much of the past few seasons and that holds down their numbers. Williams is an enormously talented all-around back. If I were building a team, I wouldn't mind having him as my main running back. Problem is, he's not even a true feature back when he and Stewart are together. Injuries also have limited Williams' numbers.
Stewart's a guy who, on any given day, can look as good as any back in the league. The downside with Stewart is his injury history. He came into the league with a chronic foot problem and it's kind of a tribute to Carolina's medical staff that he has been able to accomplish as much as he has.
Tampa Bay's
LeGarrette Blount
? Well, I left him off for now. But I've got a feeling he'll be on this list next year. Just need to see him go out and do what he did last year over the course of an entire season. Oh, and by the way, Blount might want to cut out the leaping acts. They make for some good highlights, but he's going to get hurt if he keeps that up on a regular basis. As a general rule, one of the first things running backs are taught is not to leave their feet.
Finally, we'll touch briefly on the New Orleans running backs --
Pierre Thomas
,
Reggie Bush
and
Chris Ivory
. None of them are top-10 material. There are several reasons for that. They're used as a combination and that prevents anyone from putting up huge numbers. There also are durability issues with Thomas and Bush. I think Thomas is New Orleans' best all-around running back, but that doesn't put him near the top 10.
March, 15, 2011
3/15/11
1:15
PM ET
It didn't take long for
Ray Rice
of the
Baltimore Ravens
and
Rashard Mendenhall
of the
Pittsburgh Steelers
to become great players. Although both running backs are under the age of 25, they're already among the top 10 at their position.
ESPN.com continued its series on positional Power Rankings Tuesday, and this week we rated the league's best running backs. Rice finished eighth and Mendenhall was ninth in the voting.
[+] Enlarge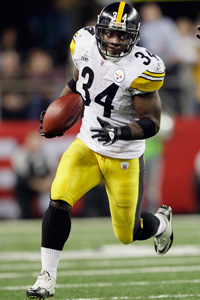 AP Photo/Charlie KrupaRashard Mendenhall rushed for 1,273 yards and 13 touchdowns last season.
Are both players deserving to be on this list? You bet.
Rice made the ballot of all eight voters. He was voted as high as sixth and as low as ninth. I voted Rice No. 8. He rushed for 1,220 yards and caught 63 receptions for 556 yards last season.
But Mendenhall was a polarizing case. He received votes from only five of the eight bloggers, but that was enough to finish ninth. I voted Mendenhall 10th on my ballot, and the final vote came down to Mendenhall and
LeSean McCoy
of the
Philadelphia Eagles
. But I really liked the strides Mendenhall made last season by reducing his fumbles (except in the Super Bowl) and getting tough yards inside the red zone with 13 rushing touchdowns.
Cleveland Browns
running back
Peyton Hillis
also received one ninth-place vote from our panel, but he didn't make the top 10. Here is the complete breakdown:
ESPN.com's RB Power Rankings
1.
Chris Johnson
, Titans
2.
Adrian Peterson
, Vikings
3. (tie)
Arian Foster
, Texans
3. (tie)
Maurice Jones-Drew
, Jaguars
5.
Jamaal Charles
, Chiefs
6.
Michael Turner
, Falcons
7.
Steven Jackson
, Rams
8. Ray Rice, Ravens
9. Rashard Mendenhall, Steelers
10. (tie)
Frank Gore
, 49ers
10. (tie) LeSean McCoy, Eagles
10. (tie)
Darren McFadden
, Raiders
Walker's RB Power Rankings
1. Adrian Peterson, Vikings
2. Chris Johnson, Titans
3. Arian Foster, Texans
4. Steven Jackson, Rams
5. Michael Turner, Falcons
6. Jamaal Charles, Chiefs
7. Maurice Jones-Drew, Jaguars
8. Ray Rice, Ravens
9. Frank Gore, 49ers
10. Rashard Mendenhall, Steelers
Who are your top 10 running backs?
March, 15, 2011
3/15/11
1:00
PM ET
ESPN.com debuted its
positional power rankings series last week
with wide receivers. The two articles I wrote about my ballot (and
my breakdown of the AFC East
) sparked lively discussions about my process.
Readers demanded to know my criteria. My explanation seemed to chafe a few. I stated that my ballot simply reflected my personal taste about how they performed last season.
Stats are a part of equation. They must be to an extent. But if I wanted to go purely on stats, then I would post a link to ESPN.com's fantasy leaders.
I steer clear of metrics. You can pick and choose a specific mathematical equation and make it support any case -- even though you might be comparing a slot receiver catching passes from an elite quarterback to a No. 1 receiver who's constantly double covered on a run-oriented offense. Can't do it.
In the end, it comes down to subjective judgment. Feel free to disagree. An exchange of ideas is the whole point. I don't need to agree with you, and you don't need to accept my list as gospel. Agents won't use the AFC East blog in contract negotiations. The Pro Football Hall of Fame won't use my power rankings to determine induction.
In response to a question about underrated
Buffalo Bills
running back Cookie Gilchrist for the documentary "Full Color Football: The History of the American Football League," legendary runner Jim Brown summed up my sentiments.
"Who gets compared to me and all of that, I couldn't care less about," Brown said. "I don't compare a rose to a petunia. They both have their own kind of beauty. It all depends on what you prefer."
And for those who require statistical reasoning, I share with you a quote another
Cleveland Browns
Hall of Famer told me a couple months ago for a story about
Andre Reed
's induction hopes.
"Our game is beginning to resemble baseball in which everyone is looking at numbers," said Paul Warfield, a member of the undefeated 1972
Miami Dolphins
team. "Numbers tell the story to a degree, but I like to look at one's full body of work. You're supposed to be able to do a lot of things.
"As a receiver, catching the ball is primary and important. But I don't think it takes very much skill or maneuverability to step a couple yards off the line of scrimmage and someone pops you with a pass several times."
So, as you peruse my ballots the next several Tuesdays, that's where I'm coming from.
This week's position is running back.
My ballot:
The most obvious omission was
St. Louis Rams
running back
Steven Jackson
. I thought long and hard about including him, but I couldn't talk myself into it. Jackson scored only six touchdowns and had little impact in the passing game. Of the 17 backs who rushed for 1,000 yards, his 3.8 yards per carry were better than only
Cedric Benson
's average.
Some might point out that defenses girded up to remove Jackson from the game, but there are other runners on that list who had worse quarterback situations than the Rams did. I think people still see Jackson as the all-around superstar from 2006.
Hillis was another tough call because of his fumbles. But he was Cleveland's entire offense. Opponents still couldn't stop him. He also added 61 receptions for another 477 yards and a couple touchdowns, numbers that get overlooked.
I'll come back later Tuesday with a ranking of AFC East backs.
March, 15, 2011
3/15/11
1:00
PM ET
Brad Childress has company. I too am now despised in the Land of the 10,000 Lakes.
It seems I've attached myself to the hot seat in the second installment of ESPN.com's position-by-position Power Rankings. My ranking of Kansas City Chiefs tailback
Jamaal Charles
at the No. 2 spot on my top 10 vote rocked the outcome of the rankings.
Who knew?
I was just giving a kid his due credit. I didn't realize I was alienating an entire state. Really, purple is my favorite color.
However, because I put Charles at No. 2 and Minnesota's
Adrian Peterson
at No. 3, it gave Tennessee's
Chris Johnson
the No. 1 ranking.
You're welcome, Tennessee.
This was not a sinister act to give Johnson the nod, although I did enjoy the fruit basket, Chris. Seriously, we have no idea what the outcome of these votes will be until all eight voters make their selections. It turns out I was the only person not to vote Johnson and Peterson in the top two. There's the smoking gun.
Johnson finished first with 76 voting points, Peterson was second with 75 points and Charles was fifth with 44 points. This was my explanation to AFC South blogger Paul Kuharsky, who compiled our story on this week's Power Rankings:
I squeezed Charles in between Johnson and Peterson because I think Charles may be rising some and Peterson may be falling just a tad. We all know running backs have short shelf lives, so any little indication of slippage could be significant. I know Johnson slipped some in 2010, but this is still a highly productive player who has plenty left in the tank. I think Johnson gives defensive coordinators more Tuesday night headaches than any tailback in the league right now. I get to see Charles quite a bit and he is simply explosive. He truly can score any time he touches the ball.
Believe me, this wasn't some AFC West favor. I truly believe Charles is a special player and he is deserving of his ranking. I also think Peterson is tremendous and he is still a special player. I voted him No. 3 not No. 8. I can't apologize for giving a player a top-3 ranking.
In other, less-controversial AFC West power ranking developments, Oakland's
Darren McFadden
was tied for 10th with Philadelphia's
LeSean McCoy
and San Francisco's
Frank Gore
. I had McFadden ranked No. 8, McCoy No. 10 and I left Gore unranked.
I can understand why McFadden was only on four lists. While he was quiet in his first two NFL seasons, he showed he was for real in his third. He became a strong inside and outside runner. He is also a weapon as a receiver. McFadden is finally the complete back everyone thought he'd be when he was drafted. He belongs on this list.
Kansas City's
Thomas Jones
finished 13th.
Next week, we'll rank the top pass-rushers. I wonder whose life I'll ruin next?
Fill the comment section below on how you would vote the NFL's top running backs.
March, 15, 2011
3/15/11
1:00
PM ET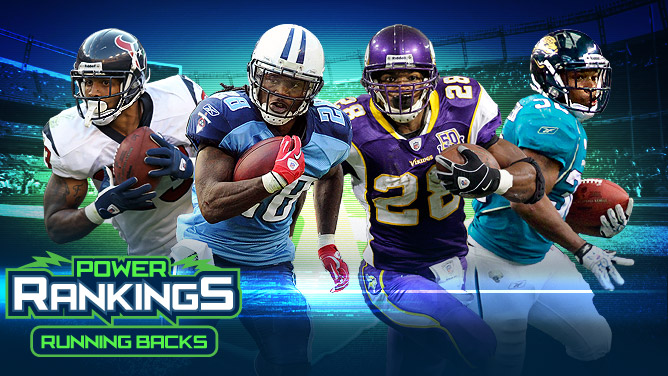 ESPN.com IllustrationThe voting for the NFL's top running back was a tight one between Tennessee's Chris Johnson and Minnesota's Adrian Peterson.
ESPN.com's NFL writers rank the top 10 running backs in the league today. Next week: Top 10 pass-rushers.
When it came to deciding who we think is the NFL's best running back, everyone representing the NFL Blog Network chose between
Chris Johnson
and
Adrian Peterson
at the top of his ballot.
Everyone except AFC West blogger Bill Williamson, that is.
Williamson's second-place vote for Kansas City's
Jamaal Charles
bumped Peterson to third on his ballot. So instead of Peterson splitting the top spot with Johnson, he came in second by a mere point -- 76 points to 75.
Johnson joins Houston receiver
Andre Johnson
as
tops at his spot in our positional power rankings
.
"I squeezed Charles in between Johnson and Peterson because I think Charles may be rising some and Peterson may be falling just a tad," Williamson said. "We all know running backs have short shelf lives, so any little indication of slippage could be significant.
"I know Johnson slipped some in 2010, but this is still a highly productive player who has plenty left in the tank. I think Johnson gives defensive coordinators more Tuesday night headaches than any tailback in the league right now. I get to see Charles quite a bit and he is simply explosive. He truly can score any time he touches the ball."
Full disclosure: I very nearly put Charles second as well, though had I made the move it would have pushed back Johnson, not Peterson -- and given us that tie. Ultimately I put Peterson first as I think he's largely resolved his biggest issue, fumbling, while Johnson regressed in 2010 as a pass-catching threat. I think Charles is fantastic, but he hasn't approached the workload of AP or CJ yet, so I put him third.
The overall ballot created a tie for third between two other top-flight backs, Jacksonville's
Maurice Jones-Drew
and Houston's
Arian Foster
, giving the AFC South three of the top four backs in the poll.
Foster was dinged by an eighth-place vote by me (love him, but one year is not a big enough sample size for a lead back) while Jones-Drew was hurt by an eighth-place vote by NFC North blogger Kevin Seifert.
"Maybe next time MJD will think twice about crossing an NFC North player," Seifert said. "Seriously, his Twitter criticism of
Jay Cutler
played no role in my decision. As I did last week with Andre Johnson, I'll plead unfamiliarity. I don't have anything against Maurice Jones-Drew. As an NFC North divisional blogger, I haven't had many opportunities to see him play. First-person observations tend to have a bigger impact on your judgment. Plus, I wanted to give the Jaguars' fan something to get upset about."
Charles finished fifth, with the high vote of second from Williamson and No. 10 vote from NFC South blogger Pat Yasinskas, who also cast the lone ballot with a vote for Charles' backfield partner,
Thomas Jones
.
Yasinskas put Jones, who was with the
New York Jets
in 2007-09, two spots ahead of Charles.
Yasinskas said he didn't want to give too much weight to flavor-of-the-year candidates and still wants to see more from Foster and Charles before really anointing them.
[+] Enlarge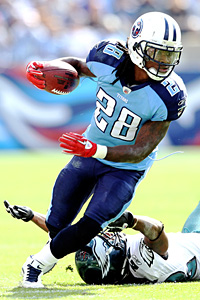 Andy Lyons/Getty ImagesTennessee's Chris Johnson rushed for 1,364 yards and 11 touchdowns last season and topped the list of four of our eight panelists.
"That's why I based my ballot mainly on looking independently at combined rushing totals of the last two years and the last three years and then drawing conclusions," Yasinskas said. "Foster's had one good year and Charles has had two. I tried to focus on guys who have been consistently productive for at least two years and preferably the last three years.
"That thinking led me to cast the lone vote for Thomas Jones, who didn't make our top 10. I've got no regrets about that vote. Jones' numbers dipped last season and there is no doubt he's nearing the end of his career. But his numbers in the previous two seasons were outstanding and, when you combine them with his numbers from last year, he still stacked up well compared to most running backs over two- and three-year spans, which were the time periods I tried to focus on."
Jones, 32, and
LaDainian Tomlinson
, 31, were the oldest backs to draw votes. Seifert placed Tomlinson 10th.
Otherwise the panel leaned to youth.
Among the 12 backs who made our top 10 list based on ties,
Michael Turner
(29),
Steven Jackson
(27) and
Frank Gore
(27) rank as the old men. The other nine are 25 or younger.
Turner edged Jackson for sixth, making every ballot. AFC East blogger Tim Graham didn't include Jackson in his voting.
"I couldn't bring myself to vote for Jackson because he averaged only 3.8 yards a carry, scored six touchdowns and had little impact in the passing game," Graham said.
Ray Rice
has a big cushion for eighth while
Rashard Mendenhall
finished ninth, with two seventh-place votes but three voters not including him.
Gore,
LeSean McCoy
and
Darren McFadden
finished tied for 10th while Jones,
Peyton Hillis
and Tomlinson got votes but didn't make the final list.
I found it tough to pass on Gore, but he played in only 11 games in 2010 before landing on IR with a hip injury. There was such stiff competition, so I leaned on guys who were more durable.
"Gore has certainly played at a high level longer than Rice, Turner or McFadden," NFC West blogger Mike Sando said. "He's produced across systems for a team that has had a different offensive coordinator every season of his career.
"He's never had a quarterback to take pressure off him. Defenses have known what was coming and Gore has kept coming anyway. It's bitten into his production and taken a toll on his body, but he has produced."