NFL Nation:

2011 Safety Power Rankings
May, 3, 2011
5/03/11
8:15
PM ET
Usually I'm one to dive into the comments sections on blog entries to engage in conversations or at least monitor them.
I recommend you do the same for
James Walker's piece
ranking the 10 best safeties in the NFL. I've been putting it off to this point because I didn't feel good about the ballot I submitted.
The first few choices were easy.
Troy Polamalu
was a unanimous pick for the No. 1 spot.
Ed Reed
was a unanimous choice at No. 2. Most of the other players listed should carry asterisks, disclaimers, qualifiers, etc. Filling out the final five or six spots proved nearly impossible for me. I kept ruling out players for various reasons, only to come back to them when better candidates failed to materialize.
Ranking defensive backs is tricky, anyway. The complex coverages NFL teams use make it tough to know which players were responsible for what. It's one reason I'm careful about blaming cornerbacks for specific lapses without following up.
Brandon Meriweather
made the list. He is a two-time Pro Bowl selection, but questions about consistency have
lingered for some time
. Should he be in the top 10? Is he even the best safety on the
New England Patriots
?
In the end, the rankings I put together elicited responses such as this one from an
Arizona Cardinals
fan named Rick:
Mike, I only write to you because you have a history of being fair and using logic and empirical evidence to back up your (usually sound) arguments. So. Um. Antrel Rolle at No. 7 and no mention of Kerry Rhodes? What gives? Ask anyone who follows the Cardinals and they will tell you that the team UPGRADED by letting Rolle go and trading for Rhodes.
My response: "There is no logic to the safety rankings after 4-5 guys. I didn't feel good about any of them."
That is a slight overstatement.
Eric Berry
and
Earl Thomas
project as emerging talents with very bright futures.
Adrian Wilson
belongs on the list if we accept the premise that his 2010 struggles had more to do with
an injury that require surgery
than his sharp decline. If we include Wilson, do we include one of his teammates from a defense that was very bad in 2010?
This was a tough one. All criticism is welcome and justified. Time to move on. Seeking closure.
May, 3, 2011
5/03/11
1:46
PM ET
I don't see every AFC South game from start to finish.
So I certainly don't see every NFL game start to finish.
And I think to really have a sense for and to appreciate good safety play, you need to see guys play regularly to have a full understanding of them.
I know
Antoine Bethea
is a first-rate safety, a dependable guy in the Colts' scheme who could play centerfield on my team. I know
Michael Griffin
can be really good, but is not consistently dependable enough.
If you're on the highlights weekly like
Troy Polamalu
and
Ed Reed
(when they are healthy), you're easily identified. Otherwise things can be a lot more subtle.
All of that is my way of saying you can probably find a dozen reasonable arguments with which to shred my ballot.
First though, here's
James Walker's summary
of where we wound up and the safety Power Rankings results.
I'm in that piece talking about
Bob Sanders
, but my response to a question on Griffin did not make it.
So here's my answer to how he could finish sixth without any points out of his division's blogger:
"Griffin can be very good, but he's very inconsistent. He went to the Pro Bowl in 2008, then had a terrible 2009: Bad angles and missed tackles galore. In 2010, he rebounded, played well during the Titans' good start and seemed to be back on track. Then he was a big contributor to the brutal finish. He can let off-the-field stuff distract him and handles criticism horribly."
I felt I could find 10 guys who were steadier players, and steadiness in a safety is crucial.
Bethea is certainly one of the 10, and a 10th-place tie is too low for him.
I respectfully ask my peers who they think was spearheading the pass defense for the AFC South-winning Colts last season when the starting corners (
Kelvin Hayden
and
Jerraud Powers
) missed 11 games, the starting strong safety (Sanders) missed 15 and the second-string strong safety (
Melvin Bullitt
) missed 12.
I'm sure, in turn, some of the other bloggers can come at me for not having the full picture on one of their players.
Anyway, here then is the one-eighth of those final results that came from yours truly.
Troy Polamalu
Ed Reed
Antoine Bethea
May, 3, 2011
5/03/11
1:15
PM ET
The ESPN.com
Power Rankings for safeties
are out and there's not an NFC South player in the top 10.
Not a big surprise there because safety might be one of the division's weakest positions (where have you gone John Lynch and Mike Minter?). There is a guy who I think has enormous potential and could end up being a top-five safety in a year or two. That's New Orleans'
Malcolm Jenkins
.
He finished in a tie for 15th place in the voting. I put him on my ballot (at No. 9) and would have had him much higher, but Jenkins has only one full season as a starter and he needs to go out and do it for another season or two before he really can jump to the top of the list. Jenkins wasn't completely ignored by the other voters. John Clayton and Tim Graham also had him near the bottom of their top-10 lists.
Apparently, Graham and Clayton also are members of the
Roman Harper
fan club. He's the other New Orleans safety and Graham and Clayton actually ranked him ahead of Jenkins. I didn't put Harper on my ballot. Although I think he's a quality safety and better than a lot of New Orleans fans give him credit for, I just don't see him as a top-10 safety.
I didn't see any others as I looked around the division. If Tampa Bay's
Tanard Jackson
had played a full season last year, I suspect he might have been on my ballot. But Jackson drew a one-year suspension last September. Until he gets back on the field, in Tampa Bay or anywhere else, and shows he still can play, he's not getting near my ballot.
May, 3, 2011
5/03/11
1:11
PM ET
Kansas City second-year safety
Eric Berry
represents the AFC West well in our safety Power Rankings, which were released Tuesday.
Berry was ranked fifth. That is a tremendous feat for a player after his rookie season. Berry -- the No. 5 overall pick of the 2010 draft -- made a splash as a rookie. He made the Pro Bowl and he became a major part of the upstart defense that keyed a surprising division title for Kansas City.
Berry is surely a player on the rise, who could be the premier player at his position in a few years. I was cautious with my ranking of Berry. I put him eighth because I think there are several fine safeties in the league. However, upon reflection, I have no problem seeing Berry finish fifth. Four voters ranked Berry eighth but he did receive a fourth-place vote. He benefited from the fact that several players received votes.
The only other AFC West safety to receive a vote was San Diego's
Eric Weddle
. That came courtesy of my ninth-place vote. I think Weddle is a playmaker, who is a tad underrated around the league. But if Weddle hits the free-agent market, I don't think he'll be underrated by teams. He'll be popular.
May, 3, 2011
5/03/11
1:10
PM ET
If you follow
Nick Collins
on Twitter (
@nickthepick36
) or have read anything about him recently, you get a clear sense the
Green Bay Packers
safety doesn't feel appropriately recognized as one of the NFL's top players at his position. A three-time Pro Bowl player, Collins mostly sat alone during Super Bowl media sessions and recently groused about a low ranking in a list of the NFL's top 100 players.
"I don't appreciate, but I accept it," Collins told
ESPNMilwaukee.com's Jason Wilde
during one of those media sessions. "Like I said before, one day somebody will recognize that I'm a three-time Pro Bowler. But it's all good. I might need to change my image. I need to do something. But I'm me. I love what I do. So I'm going to stick to what I know and what I've had a lot of success doing."
As it turns out, all Collins had to do was return an interception for a touchdown in the Super Bowl. Collins, as you know, grabbed a pass from
Pittsburgh Steelers
quarterback
Ben Roethlisberger
and returned it 37 yards for a touchdown in the first quarter of Super Bowl XLV.
A few months later, Collins received pretty much the
highest ranking possible in ESPN.com's offseason positional rankings
. Collins finished No. 3 behind the Steelers'
Troy Polamalu
and the
Baltimore Ravens
'
Ed Reed
. No one could find a reason to put Collins ahead of Polamalu or Reed, but half of our voters ranked him third and two more, including me, ranked him No. 4.
Overall, the safety rankings reflected our genuine uncertainty about a position that is generally judged by the absolute worse measurements possible: Interceptions and bone-jarring hits. Depending on the defensive scheme, safeties can be asked to fill dramatically different roles. Performing an amateur evaluation and ranking them accordingly proved pretty difficult, and I think that's why there was wide-spread discrepancies after Polamalu and Reed.
But in the end, at least in this case, Collins was appropriately recognized as one of the NFL's top safeties. Hopefully that counts for something.
May, 3, 2011
5/03/11
1:00
PM ET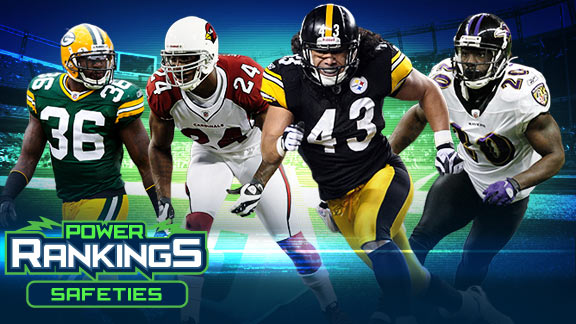 ESPN.com IllustrationPittsburgh's Troy Polamalu (43) and Baltimore's Ed Reed (20) were the consensus top picks in the ESPN.com safety Power Rankings.
ESPN.com's NFL writers rank the top 10 safeties in the league today. Next week: Top 10 owners.
When it comes to rating NFL safeties, there's
Troy Polamalu
and
Ed Reed
, followed by a huge gap for everyone else.
As expected, the star safeties for the
Pittsburgh Steelers
and
Baltimore Ravens
dominated ESPN.com's positional Power Rankings this week. No other safety received a vote higher than third place.
But what is surprising is that Polamalu -- the reigning NFL Defensive Player of the Year -- became the first player in this year's series to sweep all eight first-place votes. Bill Belichick of the
New England Patriots
did the same
among head coaches
.
This should finally put to rest the
"Troy Reed" debate
that has been raging for years between these two great safeties. According to our panel, there is a clear separation between the two. Reed received all second-place votes to finish with 72 points.
"Polamalu and Reed are the secondary's version of
Tom Brady
and
Peyton Manning
. They are the gold standard of safety play," AFC West blogger Bill Williamson said. "While Reed is great, Polamalu is stunning. I've never seen him play and not make a jaw-dropping play."
Both safeties have different styles. But our panel preferred Polamalu's versatility to play closer to the line of scrimmage. Steelers defensive coordinator Dick LeBeau uses Polamalu all over the field to help defend both the run and the pass.
Reed is more of a ball-hawking safety who defends the deep portion of the field. He led the NFL with eight interceptions last season despite missing six games because of offseason hip surgery.
"Taking nothing away from Ed Reed, who is a great player in his own right, but Troy Polamalu is the first guy I think of when I think of safeties," NFC South blogger Pat Yasinskas said. "He's been a huge force in Pittsburgh's recent championships. He's just a great all-around player and still in the prime of a career that's going to land him in the Hall of Fame on the first ballot."
Don't fret, Reed supporters. Someone is in your corner.
Earlier this year I interviewed
former five-time Pro Bowl safety and current ESPN analyst
Darren Woodson
, who said he would choose Reed over Polamalu.
"As far as changing the game, I would probably start my defense with Ed Reed, to be honest with you," Woodson explained. "I know I can put him in any situation. I know I can put him on any team, and he will be the free safety in the middle of the field who makes plays on the ball. Now, Troy, it will be a little different. If you put him in a conventional defense, he's probably not going to be the same guy."
The best of the rest:
There wasn't much of a consensus after Polamalu and Reed.
Fresh off a big interception return for a touchdown in Super Bowl XLV,
Nick Collins
of the
Green Bay Packers
finished third with 56 points. But Collins received votes as high as third and as low as seventh. He was a distant 24 points behind Polamalu and 16 points behind Reed.
Adrian Wilson
of the
Arizona Cardinals
finished fourth, but he drew the widest range of votes among safeties in the top 10. ESPN.com senior writer John Clayton and Bill Williamson ranked Wilson No. 3, and NFC North blogger Kevin Seifert ranked Wilson No. 10.
In the final tally,
Kansas City Chiefs
upstart
Eric Berry
was fifth,
Michael Griffin
of the
Tennessee Titans
sixth and
Donte Whitner
of the
Buffalo Bills
finished seventh. New England Patriots safety
Brandon Meriweather
was eighth,
Antrel Rolle
of the
New York Giants
was ninth, and the
Indianapolis Colts
'
Antoine Bethea
and
LaRon Landry
of the
Washington Redskins
were tied for 10th.
"There is a pretty wide gap for sure after the top two," said Matt Williamson of Scouts Inc. "Nick Collins would be my third safety, but the gap is pretty large. I think it is because Troy and Reed are just so good."
Seventeen safeties received votes, which was the second-highest total to date in our Power Rankings. Last month, 23 cornerbacks received votes for our top 10.
In addition, every voter had at least one player on his ballot who failed to make the cut. For example, NFC West blogger Mike Sando and I both voted for longtime
St. Louis Rams
safety and current Redskin
Oshiomogho Atogwe
, who finished 14th.
"I really struggled putting together the list after Polamalu and Reed," Sando said. "I kept shuffling around names and eliminating various guys, only to revive them out of necessity. This wasn't a list to feel good about."
What about Bob?
It was not long ago when
Bob Sanders
was mentioned in the same sentence as Reed and Polamalu. When healthy, Sanders was a game-changing safety and helped lead the Indianapolis Colts to a Super Bowl title after the 2006 season.
But for the past three seasons, Sanders has been injured and spent more time off the field than on it. The Colts cut Sanders, and he was picked up this offseason by the
San Diego Chargers
.
It's dramatic how fast and how far Sanders has fallen out of the conversation. He didn't receive a single vote from our panel.
"Sanders just hasn't played," AFC South blogger Paul Kuharsky explained. "In his prime and healthy, he's fantastic. But who knows if we will see that again. He's played nine games in the last three years. There is no reason to even consider him for a list like this at this point."
The next generation:
Polamalu (30) and Reed (32) will not play forever. Therefore, someone needs to step up as the next great safety to carry the torch Polamalu and Reed will leave behind.
Berry, 22, is the most likely candidate. The 2010 first-round pick was voted in the top five after helping lead the Chiefs to the postseason. Berry recorded 92 tackles, two sacks and four interceptions his rookie season.
"I think it's safe to project that Berry will be the premier safety in the NFL in the second half of this decade," Bill Williamson said. "He became the signature player on a surprise playoff team as a rookie. Soon, he will be the face of a rising organization."
Other up-and-coming candidates include Whitner (25), Bethea (26) and Landry (26).
Seattle Seahawks
safety
Earl Thomas
, 21, also garnered votes from two panelists.
"Eric Berry and Earl Thomas should lead the next wave of top safeties," Sando said. "Berry's peers voted him among the top 100 players in the game for 2011, but I think it's premature to say Berry or any other second-year player is going to become the next Polamalu or Reed. Those guys have set such a high standard."
NFL SCOREBOARD
Sunday, 2/2
WEEKLY LEADERS