NFL Nation:

2011 Season Wrap NFC North
January, 4, 2012
1/04/12
1:00
PM ET
»
NFC Wrap-ups
:
East
|
West
|
North
|
South
»
AFC
:
East
|
West
|
North
|
South
Arrow indicates direction team is trending.

Final Power Ranking
: 1
Preseason Power Ranking:
1
[+] Enlarge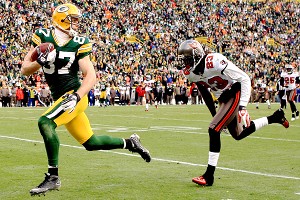 Matthew Stockman/Getty ImagesJordy Nelson became one of Aaron Rodgers' favorite targets in an offense filled with many weapons.
Biggest surprise:
Wide receiver
Jordy Nelson
had a standout performance in Super Bowl XLV, but few were expecting the kind of breakthrough season he produced in 2011. On a team stocked with elite talent from receiver
Greg Jennings
to tight end
Jermichael Finley
, it was Nelson who led the Packers with 68 receptions for 1,263 yards and 15 touchdowns. Only two players in the league,
Rob Gronkowski
of the
New England Patriots
and
Calvin Johnson
of the
Detroit Lions
, caught more touchdowns. Nelson continually got behind defenses who either misjudged his speed or were drawn elsewhere. He deftly handled
a midseason discussion about race
and his position, and ultimately proved to be one of the league's top downfield threats. He averaged 18.6 yards per catch, and his touchdowns included distances of 93, 84, 58, 55, 50 and 40 yards.
Biggest disappointment:
There aren't many options for a team that won 15 regular season games, the sixth time that's happened in NFL history. But few people in the Packers organization were thrilled by the performance of the pass defense, which allowed an NFL-record 4,796 yards and pushed the Packers to the bottom of the NFL in total defense. (They ranked No. 5 in 2010.) It didn't cost them a game in 2011, partly because they mitigated the yardage total with a league-high 31 interceptions and partly because their offense was one of the league's best. The big concern, of course, is that a hot quarterback could capitalize in the playoffs and end the Packers' dreams for a repeat Super Bowl.
Biggest need:
The Packers tried to piece together their right outside linebacker position this year with 2010 street free agent
Erik Walden
, second-year player
Frank Zombo
and reserve
Brad Jones
. Walden didn't make much of an impact as a pass rusher, managing three sacks in 16 games. Zombo was hurt most of the season and Jones was ineffective. Previously, we figured the Packers could skate by as long as All-Pro
Clay Matthews
was on the opposite side. But offensive attention shifted to Matthews this season, limiting him to six sacks, and no one picked up the slack. The Packers finished tied for No. 27 in the NFL in sacks (27) and it might be time to devote another high draft choice to the position to provide a pass-rushing alternative.
Team MVP:
Quarterback
Aaron Rodgers
is the favorite to win the NFL MVP, making him a pretty decent candidate for the team award. In a year of obscene yardage totals from
Drew Brees
,
Tom Brady
and
Matthew Stafford
, Rodgers was the league's most efficient and least mistake-prone quarterback. He set an NFL record with a 122.5 passer rating and became the first quarterback in NFL history to pass for at least 4,000 yards while also throwing six or less interceptions. It's true that the Packers' offense continued humming along when Rodgers sat out the regular season finale, but those who saw large chunks of his season know that he was operating on a never-before-seen plane for the first two-thirds of the season. Rodgers has perfected the art of the back-shoulder throw and helped deliver the phrase "throwing open" into the public NFL lexicon.
Penalty watch:
We could devote an entire post to the milestones surpassed and records set for this team. Two that didn't get nearly enough attention: 14 turnovers and 76 penalties, both of which qualified as the lowest figures in a 16-game season in franchise history. Penalties don't always correlate with wins and losses. But viewed together, we can say with some confidence that the Packers didn't make many mistakes this season.
January, 4, 2012
1/04/12
1:00
PM ET
»
NFC Wrap-ups
:
East
|
West
|
North
|
South
»
AFC
:
East
|
West
|
North
|
South
Arrow indicates direction team is trending.

Final Power Ranking:
8
Preseason Power Ranking:
16
[+] Enlarge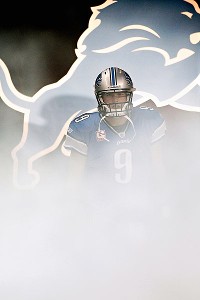 Gregory Shamus/Getty ImagesMatthew Stafford has emerged as one of the NFL's elite passers.
Biggest surprise:
The Lions didn't think enough of tailback
Kevin Smith
to offer him a contract this summer. They had drafted bruising tailback
Mikel Leshoure
in the second round and planned to pair him with 2010 first-rounder
Jahvid Best
. Smith went home, worked out and waited by the telephone. Leshoure ruptured his Achilles tendon in training camp, Best was sidelined by a pair of concussions and the Lions brought Smith in for a look-see during their bye week. They signed him on Nov. 7, he made his season debut six days later and has provided the Lions a credible backfield presence ever since. Smith produced 535 yards from scrimmage, scored seven touchdowns and is expected to start Saturday night's wild-card playoff game at the
New Orleans Saints
. I'm not sure that many people thought any of that was possible five months ago.
Biggest disappointment:
Defensive tackle
Ndamukong Suh
appeared set for superstardom after a rookie season that included 10 sacks, a Pro Bowl invitation and first-team All-Pro nod. He was one of the NFL's most visible public pitchmen during the offseason, appearing in television commercials and countless national interviews. But Suh ended his second season in a much different place, thanks to a year-long debate on his aggressive play and a poorly-timed stomp of
Green Bay Packers
guard
Evan Dietrich-Smith
on Thanksgiving Day. Worse, Suh's play slipped and he finished the season with four sacks and 36 tackles. You can't always judge a defensive tackle by such statistics, but Suh's peers limited him to alternate status in Pro Bowl balloting. Suh has some on- and off-field repair work to do this offseason.
Biggest need:
Smith's emergence aside, the Lions will have to take a hard look at their backfield this offseason. Best's history of concussions will make it difficult to depend on him for the long term. Early indications are that Leshoure will be ready for training camp, but he suffered a serious injury that will at least need to be tested before he can be considered a reliable contributor. So will the Lions prioritize this position for the third consecutive offseason? It's not out of the question. Meanwhile, general manager Martin Mayhew and coach Jim Schwartz will have to take a hard look at left tackle, where veteran
Jeff Backus
is headed for unrestricted free agency. Will they try to ride Backus, 34, for a few more years? Or do they look for his replacement?
Team MVP:
Calvin Johnson
had one of the best seasons for a receiver in NFL history, catching 96 passes for 1,681 yards and 16 touchdowns. The only receiver to match that across-the-board production in a single season was
Randy Moss
for the
Minnesota Vikings
in 2003. But Johnson needed someone to feed him the ball, and
Matthew Stafford
elevated himself into the upper tier of NFL quarterbacks with a monster season that was more responsible for the Lions' success than any other single factor. A late-season surge pushed Stafford to a stunning 5,038 passing yards, fourth-most in NFL history. Most important, he started all 16 games and was the calm backbone behind four comebacks from deficits of at least 13 points.
Breakout:
The least-discussed member of the Lions' starting defensive line might have had the best season of them all. Left end
Cliff Avril
finished with 11 sacks, forced six fumbles and scored two defensive touchdowns on returns. A pending unrestricted free agent, Avril made himself some money -- from the Lions or someone else -- this season. The Lions would surely like to have him back but have a fair amount of money tied up in their defensive line, from Suh to 2011 first-rounder
Nick Fairley
to veteran defensive end
Kyle Vanden Bosch
.
January, 4, 2012
1/04/12
1:00
PM ET
»
NFC Wrap-ups
:
East
|
West
|
North
|
South
»
AFC
:
East
|
West
|
North
|
South
Arrow indicates direction team is trending.

Final Power Ranking:
30
Preseason Power Ranking:
20
[+] Enlarge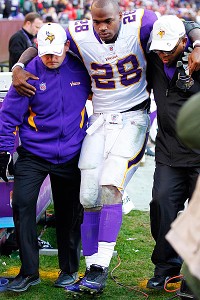 Geoff Burke/US PresswireAdrian Peterson's uncertain future hangs over the entire franchise.
Biggest surprise:
It has never been clear why anyone thought acquiring
Donovan McNabb
as a stopgap starting quarterback was a good idea. All indications were that McNabb had taken a significant step back since his heyday as an annual Pro Bowler, and in truth, he had no more familiarity with the Vikings' new offense than did rookie quarterback
Christian Ponder
. He threw for an embarrassing 39 yards in a Week 1 loss at the
San Diego Chargers
, was benched after six starts and waived with five games remaining. I'm not sure the Vikings would have won more games with Ponder or
Joe Webb
as their Week 1 starter, but the entire episode was a failure waiting to happen. Why wasn't that obvious to everyone?
Biggest disappointment:
Tailback
Adrian Peterson
's shredded left knee will cast a shadow over the organization for months. The Vikings have said they hope to have Peterson back on the field when the season begins, but the truth is no one can know for sure how a running back will come back from two torn knee ligaments and other assorted damage. Newly-promoted general manager Rick Spielman will have a difficult decision to make: Can the team continue to build its offense around Peterson? Does it necessitate the acquisition of a replacement or a philosophical shift? Of all their positions, running back represented the least of the Vikings' concerns at midseason. Now it's among their first priorities.
Biggest need:
On a roster full of holes, no positions are more needy than defensive back and offensive line. The Vikings finished the season with Week 1 backups playing both cornerback and one safety positions, and the only incumbent who should have a decent chance to start in 2012 is veteran cornerback
Antoine Winfield
. Although they led the NFL with 50 sacks, the Vikings' coverage was so poor that opposing quarterbacks still compiled a 107.1 passer rating, the second-highest mark in NFL history. Meanwhile, the Vikings must find a long-term replacement for deposed left tackle
Bryant McKinnie
and might have to find a new left guard if
Steve Hutchinson
retires. The future of right guard
Anthony Herrera
is also up for debate.
Team MVP:
Defensive end
Jared Allen
finished a half-sack shy of tying
Michael Strahan
's record for sacks in a season (22.5), along the way setting an example of how to continue playing hard despite the weight of a lost season. Runner up goes to
Percy Harvin
, who shed his migraine issues to become the kind of all-purpose receiver/running back the Vikings envisioned when they drafted him in 2009. He caught a team-high 87 passes and also took 52 carries, combining for 1,312 total yards and eight touchdowns.
Questionable call:
Cornerback
Chris Cook
was arrested in October and eventually charged with strangulation and domestic abuse. In the end, the Vikings took the highly unusual path of dismissing him for the season while keeping him on the active roster and paying him game checks for the final eight games of the season. Coach Leslie Frazier said the organization wanted to give Cook a chance to get is life in order, but Frazier admitted this week that it's unclear what progress he has made. Unless he is incarcerated as a result of his upcoming trial, Cook seems likely to return to the team in training camp.
January, 4, 2012
1/04/12
1:00
PM ET
»
NFC Wrap-ups
:
East
|
West
|
North
|
South
»
AFC
:
East
|
West
|
North
|
South
Arrow indicates direction team is trending.

Final Power Ranking:
20
Preseason Power Ranking:
13
[+] Enlarge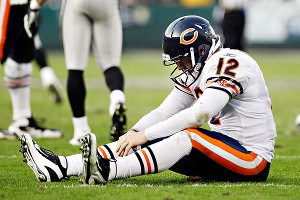 AP Photo/Paul SakumaCaleb Hanie was ineffective after taking over for an injured Jay Cutler in late November.
Biggest surprise:
The Bears installed little-known
Henry Melton
into the critical "three-technique" position on their defensive line, hoping that the
converted running back/defensive end
could play the role of interior playmaker last filled by
Tommie Harris
about five years ago. Melton had his ups and downs, but he finished with seven sacks in 15 games. The only defensive tackle in the NFL with more sacks was
Tommy Kelly
of the
Oakland Raiders
, who had 7.5. Melton will have to even out his game to be a long-term starter, but no team is going to turn down seven sacks from an interior defensive lineman.
Biggest disappointment:
Backup quarterback
Caleb Hanie
spent nearly four years in the organization before the Bears called on him for extensive service. No matter the situation, that's a reasonable timeframe for a quarterback to develop into a useful asset. When Hanie took over a 7-3 team, it was fair to think he could navigate the Bears toward the playoffs. Instead, he was benched after four consecutive losses, punctuated by nine interceptions and 19 sacks, and helped scuttle the Bears' postseason hopes. You can't blame Hanie for everything that went wrong during that stretch, but the quarterback is the most important player on the field and Hanie obviously didn't do enough to win a game. The Bears deserve some blame for failing to develop him, but in the end the responsibility lies with the player.
Biggest need:
Amazingly, it's a toss-up between two positions that annually draw offseason discussion around this team: receiver and safety. Quarterback
Jay Cutler
has obvious chemistry with receiver
Earl Bennett
, but it's also clear that
Devin Hester
is best left primarily as a returner and that veteran
Roy Williams
is on his last legs. The Bears traded away tight end
Greg Olsen
because he didn't fit into now ex-coordinator Mike Martz's system, and they enter this offseason with a far-too-limited number of reliable pass-catchers. Meanwhile, there is reason to believe that 2011 third-round pick
Chris Conte
merits a look as a starting safety in 2012, but 2010 third-rounder
Major Wright
hasn't shown much progress and the Bears desperately need a playmaker in the back end.
Team MVP:
Part of me wants to say that tailback
Matt Forte
deserves the award. Amid a public negotiation about his expiring contract, Forte was leading the NFL in yards from scrimmage when he suffered a season-ending sprained knee in Week 13. But the Bears' collapse after Cutler's injury, especially before Forte was sidelined, demonstrated how valuable he really is. The Bears averaged 32 points per game during a five-game winning streak prior to his injury. In a 1-5 finish, they averaged 14.2 points per game. Sometimes, as they say, you don't know what you've got until it's gone.
Whither Hester?
In Week 10, Hester returned a punt 82 yards against the
Detroit Lions
for his 18th career touchdown return. That left him one behind
Deion Sanders
' NFL record. But illness and a sprained ankle dramatically limited Hester's impact thereafter. He caught only four passes in the Bears' final seven games, and over that stretch he managed three returns for more than 30 yards. Hester is the type of player who could have helped overcome the ineffective offense Cutler left behind. His disappearance is a little-mentioned, but highly important, factor in their 8-8 final record.