NFL Nation:

2011 Tight End Power Rankings
March, 29, 2011
3/29/11
1:15
PM ET
Counting the reasons
San Francisco 49ers
tight end
Vernon Davis
ranked behind only
Antonio Gates
and
Jason Witten
on my ballot featuring the NFL's 10 best tight ends:
Production: Davis has 20 scoring receptions over the past two seasons, most among tight ends and one behind overall league leader Roddy White. Davis has 134 receptions over that span, five more than Gates and only 10 fewer than wide receivers Calvin Johnson and Greg Jennings.
Big-play ability: Davis averaged 16.3 yards per reception last season. His per-catch average over the past two seasons ranks 14th in the NFL among all players with at least 100 receptions during that span. Davis can outrun linebackers and safeties without trouble. He is faster than some cornerbacks.
Durability: Davis has not missed a game over the past three seasons. He has played through injuries. Injuries have slowed quite a few other top tight ends in the league during that time, including Gates, Dallas Clark, Jermichael Finley, Chris Cooley and Owen Daniels.
Better focus: Davis has done a much better job controlling his emotions during games. He also reduced his penalty count from 12 in 2009 to two last season.
Transcendent talent. The consistently productive tight ends in the NFL tend to play with Pro Bowl-caliber quarterbacks. Davis has not. He has also changed offensive coordinators every year since entering the NFL as the sixth pick in the 2006 draft.
Improved hands. Davis no longer drops passes regularly.
Davis finished fourth behind Witten, Gates and Clark in ESPN.com balloting. He was close behind Clark and well ahead of Cooley and
Tony Gonzalez
, quite an accomplishment given
where Davis' career stood two-plus years ago
.
Gates and Witten were my top choices because they have produced consistently for so long and neither appears to be trailing off. Gates was the top choice because he's the more dynamic receiver. Clark's injury last season made Davis an easier choice in the third spot. I ranked Gonzalez only 10th because he no longer threatens defenses down the field. He averaged a career-low 9.4 yards per reception last season and that figure has been in retreat since 2006.
Davis is only 27 years old. His yards-per-catch average is headed in the other direction: from 9.8 in 2007 to 11.5 (2008), 12.4 (2009) and 16.3 (2010).
"It is tough to argue he is not a top five tight end," Matt Williamson of Scouts Inc. said. "He is a tenacious blocker -- not a great blocker, but he can be a good one at times. He is one of the few tight ends in the league who is going to have 60-yard plays. I'm not even sure Gates or Clark is any more to the degree Davis is. I don't think he is as good a route-runner. A lot of his stuff is just vertical. He is not as sharp out of his cuts yet. Those areas he can improve upon -- getting a better feel for coverages, getting better out of his breaks, better setting up routes, those types of things."
March, 29, 2011
3/29/11
1:10
PM ET
Pittsburgh Steelers
quarterback
Ben Roethlisberger
often calls teammate
Heath Miller
the best tight end in football. But according to ESPN.com's positional Power Rankings, Miller is not even in the top 12 at his position.
Miller came in at No. 13 in this week's ranking of the NFL's best tight ends. ESPN.com senior writer John Clayton and I were the only two voters who had Miller on their ballots. Clayton voted Miller ninth and I ranked Miller seventh.
This confirms what most of us in the AFC North blog already suspected: Miller remains one of the league's most underrated players. Injuries hurt his numbers in 2010 (42 receptions for 512 yards). But Miller was recently an AFC representative in the Pro Bowl two seasons ago with 76 receptions for 789 yards and six touchdowns.
Miller is not flashy and will never catch 100 passes per season playing in Pittsburgh's offense. But in my opinion, Miller is one of the NFL's most complete tight ends and worthy of being on this list.
Miller makes the most of his limited opportunities. He's sure-handed and great at running downhill after the catch. He's also a phenomenal run- and pass-blocker, and essentially serves as Pittsburgh's third offensive tackle.
The Steelers know how important Miller is to their offense. His contributions cannot be measured strictly by numbers because Miller adds much more with his toughness, blocking ability and being a safety valve over the middle for Roethlisberger.
Miller may not be tops at his position. But I would not select 12 tight ends for my team before taking Miller.
ESPN.com's Tight End Power Rankings
1.
Jason Witten
,
Dallas Cowboys
2.
Antonio Gates
,
San Diego Chargers
3.
Dallas Clark
,
Indianapolis Colts
4.
Vernon Davis
,
San Francisco 49ers
5.
Chris Cooley
,
Washington Redskins
6.
Tony Gonzalez
,
Atlanta Falcons
7.
Kellen Winslow
Jr.,
Tampa Bay Buccaneers
8.
Marcedes Lewis
,
Jacksonville Jaguars
9.
Brandon Pettigrew
,
Detroit Lions
10.
Jermichael Finley
,
Green Bay Packers
Walker's Tight End Power Rankings
1. Jason Witten, Dallas
2. Antonio Gates, San Diego
3. Dallas Clark, Indianapolis
4. Kellen Winslow Jr., Tampa Bay
5. Vernon Davis, San Francisco
6. Tony Gonzalez, Atlanta
7. Heath Miller, Pittsburgh
8. Chris Cooley, Washington
9.
Zach Miller
,
Oakland Raiders
10.
Dustin Keller
,
New York Jets
March, 29, 2011
3/29/11
1:05
PM ET
Our Power Rankings for the tight ends are out and we've got two NFC South representatives.
Atlanta's
Tony Gonzalez
came in at No. 6 and Tampa Bay's
Kellen Winslow
is No. 7. It should be as simple as that, but it's not. I've already gone out and bought a steel-reinforced floor to support the NFC South mailbag because I'm expecting heavy (and not necessarily happy) responses from fans of the
San Diego Chargers
and
Antonio Gates
.
The reason is I voted Gonzalez No. 2, one spot behind Dallas'
Jason Witten
and one ahead of Gates. Every other ballot had Witten and Gates in one of the top two spots and it turns out Gates came up one point short of Witten in the final tally. You can blame that on me or the three other voters who put Witten at No. 1.
Go ahead and fill up the mailbag, but understand one thing: I wasn't out to undercut Gates' chances of landing at No. 1. I think he's a great tight end, but I made a conscious decision to rank Gonzalez as highly as I did.
There aren't any firm parameters on these Power Rankings, and I fully realize Gonzalez is nearing the end of his career and his numbers are dipping. But the reason I put him at No. 2 is because I strongly believe Gonzalez is the best tight end ever to play the game. In my eyes, that means something. I even considered putting him No. 1 on my ballot.
Even in his old age, Gonzalez still caught 70 passes last season and the Falcons went 13-3 and made the playoffs. Dallas and San Diego didn't, so I've got no regrets about putting Gonzalez at No. 2.
I had Winslow at No. 6 on my ballot and that's the highest vote he received. When we do these Power Rankings next year, I've got a hunch others will be giving Winslow some more attention. He's made some noise about wanting to double his statistics next season. Well, that's a little optimistic because it would put him at 132 catches for 1,460 yards and 10 touchdowns. But, hey, didn't we all think Tampa Bay coach Raheem Morris was a little crazy last season when he started saying the Bucs would win 10 games?
March, 29, 2011
3/29/11
1:00
PM ET
In compiling my list of the top 10 tight ends in the NFL, I found myself building around the four NFC North tight ends we've spent the
better part of two years writing about
. I didn't doubt that the
Detroit Lions
'
Brandon Pettigrew
would make the final cut after all of ESPN.com's power rankers got around to power ranking them, given his 71-catch performance in 2010, but I wondered how our other three tight ends would fare.
As it turned out, not too well.
Pettigrew took the No. 9 slot and
Green Bay Packers
tight end
Jermichael Finley
snuck into the No. 10 spot despite appearing on less than half of the ballots. I was the only voter to put
Greg Olsen
of the
Chicago Bears
and
Visanthe Shiancoe
of the
Minnesota Vikings
on my ballot.
In this case, I feel like neither a homer nor a power ranking manipulator, which I believe is a psychiatric condition outlined in most college-level textbooks. Instead, I feel like I was in was in a unique position to be able to judge these players in context. That's something I admittedly couldn't do with the two top 10 tight ends I left off my list,
Kellen Winslow
Jr. of the
Tampa Bay Buccaneers
and
Marcedes Lewis
of the
Jacksonville Jaguars
.
(But with each divisional blogger participating, it should all come out in the wash, right?)
I voted for Olsen because we're only one year removed from him being the top receiving option in the Bears' offense. He caught 60 passes, including eight touchdowns, in 2009. It's true that his numbers dipped significantly in 2010, but context is important: His 41 receptions were the most ever for a tight end in a Mike Martz offense, which traditionally relegates tight ends to blockers. Even
San Francisco 49ers
tight end
Vernon Davis
, who finished No. 4 overall in this balloting, managed 31 catches in his one season under Martz (2008).
That should count for something. (In Olsen's case, it put him No. 15 in our expanded balloting.)
As with Olsen, there is no arguing that Shiancoe's production slipped in 2010. Most notably, his touchdowns dropped from 11 to two. But I would argue that his 47 receptions last season were just as impressive, if not more, than his 56 in 2009, when you consider the rag-tag quarterback situation the Vikings found themselves in for the better part of 2010. That should count for something, and for Shiancoe it put him at No. 17.
Finley, meanwhile, no doubt would have ranked higher had he not suffered a season-ending knee injury in Week 5 last season. It's probably an accomplishment to rank in the top 10 considering he has missed 14 games over the past two seasons due to injury.
For the record, here is how I voted:
Vernon Davis
Jermichael Finley
Brandon Pettigrew
Greg Olsen
Visanthe Shiancoe
March, 29, 2011
3/29/11
1:00
PM ET
I understand why
New York Jets
tight end
Dustin Keller
didn't generate more attention in ESPN.com's positional power rankings this week.
He's one of those players you need to watch on a regular basis to fully appreciate him. Keller's numbers don't stack up with the most prolific tight ends because he doesn't get the opportunities they do.
That's the only reason he didn't make the power rankings cut, finishing 12th. Only three voters on our panel listed him on their ballots. Here's mine:
Dustin Keller, New York Jets
Keller is a weapon all over the field. He's not just a threat in the red zone. He can stretch a defense, too. Only six tight ends had multiple plays of 40-plus yards last year. Keller was one of them.
Through the first four weeks of the season, Keller had 19 receptions for 254 yards and five touchdowns. But he didn't get as much consideration when
Santonio Holmes
returned from a four-game suspension and joined a receiving corps that included
Braylon Edwards
and
Jerricho Cotchery
.
So when you check the final numbers for tight ends last season, you see Keller ranked 11th in receptions, ninth in yards, sixth in average yards (minimum 40 catches) and tied for eighth in touchdowns.
It's easy to see how he can get bumped from the top 10 when opinions are in play and an injured star such as Clark must be accounted for.
As for the rest of my ballot, the players I must justify are Watson's inclusion and
Washington Redskins
tight end
Chris Cooley
's exclusion.
As with a few of my previous ballots, this comes down to personal taste. Cooley has great numbers, but so would a lot of other tight ends if they were targeted 123 times in a season. Furthermore, those targets are quick, high-percentage throws. Cooley had only nine plays of 20 yards or more and none that went at least 40 yards. He also fumbled three times.
A lack of big plays also is why I had Gonzalez rated so low. He had only five plays of 20-plus yards and none over 40 yards.
Witten was targeted a league-high 126 times, but he had 17 more receptions, 153 more yards and six more touchdowns than Cooley.
Watson, to me, was a bigger force in Cleveland's offense than other tight ends were to their teams. He finished fifth among all tight ends in receptions, fifth in yards and 13th in average yards (minimum 40 catches). Watson tied Cooley for third with 40 first-down receptions -- but on 25 fewer targets.
Check back later for my rundown of AFC East tight ends.
March, 29, 2011
3/29/11
1:00
PM ET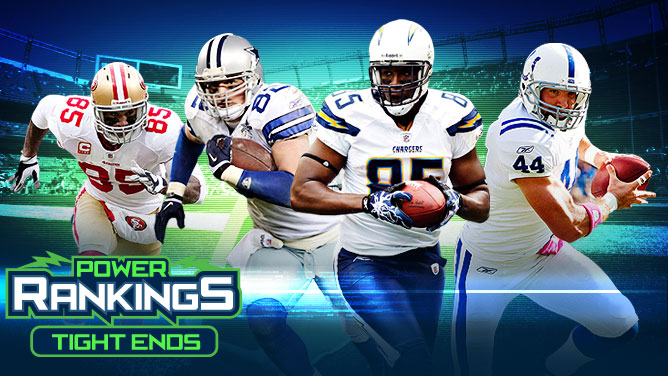 ESPN.com IllustrationDallas' Jason Witten earned the top spot in our voting over San Diego's Antonio Gates.
ESPN.com's NFL writers rank the top 10 tight ends in the league today. Next week: Top 10 coaches.
Antonio Gates
has received the
Adrian Peterson
treatment.
This guy didn't do it this time.
Up from the NFC South rises Pat Yasinskas into the ESPN.com Power Rankings' hot seat. Embrace the heat, my friend. In another air-tight positional Power Rankings battle, Dallas'
Jason Witten
edged out Gates by one vote to be crowned the almighty ruler of all NFL tight ends.
How in the name of Kellen Winslow did it happen, San Diego? Talk to Yasinskas.
Yasinskas ranked Atlanta's
Tony Gonzalez
No. 2. He had Witten No. 1 and Gates No. 3. Witten finished with 76 voting points. Gates had 75. No other voter placed Gonzalez higher than fifth. He finished sixth.
Send your cards and letters to Yasinskas, Dallas
. If you must let him know your thoughts, stay classy, San Diego.
Yasinskas reasoned that he sandwiched Gonzalez between Witten and Gates because of Gonzalez's incredible career. Gonzalez, 35, owns every major receiving record by a tight end.
"Yes, he's nearing the end of his career, but this is the best tight end in history," Yasinskas said. "I think that counts for something. Gonzalez still is playing at a high level. He has great chemistry with quarterback
Matt Ryan
and the desire for a Super Bowl ring is keeping Gonzalez going strong."
Here is the rest of the top 10 after Witten and Gates: Indianapolis'
Dallas Clark
(53 points), San Francisco's
Vernon Davis
(50), Washington's
Chris Cooley
(36), Gonzalez (33), Tampa Bay's
Kellen Winslow Jr.
(26), Jacksonville's
Marcedes Lewis
(21), Detroit's
Brandon Pettigrew
(18) and Green Bay's
Jermichael Finley
(15).
Witten and Gates clearly stand out as the game's elite tight ends. Witten was ranked first on four ballots and second on the other four. Gates received the other four first-place votes. He received three second-place votes and Yasinskas' third-place vote.
The only thing that separated Witten and Gates in 2010 was health. Witten, 28, had 94 catches for 1,002 yards and nine touchdowns last season. Gates, 30, was on his way to a brilliant season when it was derailed by nagging ankle and foot injuries. Gates ended up on injured reserve and missed six games. He finished with 50 catches, 782 yards and 10 touchdowns.
Matt Williamson of Scouts Inc. said both Witten and Gates are game-changers.
"Witten to me is the class of the two-way tight ends," Williamson said. "Receiving needs to trump blocking because that is what the league is right now. If someone put Witten first on the list, I can buy that. In terms of doing it all, I think he is the best. … I think he is the best of the two-way guys if you put an equal amount of faith in both receiving and blocking. He is the all-around tight end prototype. If you put more weight on receiving, which I would, you have to give the nod to Gates. He was awesome last year. He was hurt and that was the only negative other than blocking. He played hurt a lot and was great."
Let's dig deeper into the rankings:
Not easy pickings:
Several of our voters were surprised by the difficulty of this process. This is our fourth position in the series. We previously looked at receivers, running backs and pass-rushers. The pass-rushers process was very difficult. This vote was not a cool breeze, either.
This is a very strong league for tight ends these days.
"After a hellish pass-rusher ballot, I thought tight ends would be far easier," AFC South blogger Paul Kuharsky said. "They were just as difficult. There is a great deal of young talent too. I steered clear of first-year guys, but in another season or two, this could be even more brutal to sort through."
Blame injuries:
In addition to the glut of talent, a primary reason this vote was so difficult was the fact that there were major injuries at this position in 2010. In addition to Gates, Clark, Finley and Houston's
Owen Daniels
were injured. That changed the voting landscape.
"I thought it was tough because there are a lot of guys with mitigating circumstances," NFC North blogger Kevin Seifert said.
Clark's injury prompted Yasinskas to rank him 10th. No other voter placed him lower than fourth.
"There's no doubt this guy has had a great career," Yasinskas said. "But I ranked him a little lower than most and that's almost entirely because he missed 10 games last season. Clark is 31 and I'm not sure he'll be the same player going forward."
[+] Enlarge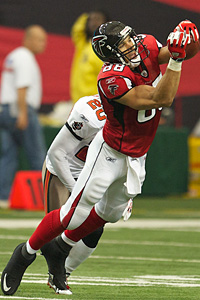 Dale Zanine/US PresswireWill star Falcons tight end Tony Gonzalez finally notch his first playoff win on Sunday?
Not everyone loves Tony G.:
Clearly, Yasinskas believes in Gonzalez. He gets to see him play regularly and thinks he's still an impact player. That's why he ranked him second. But not everyone agrees that the future Hall of Famer is still an elite player. Kuharksy left Gonzalez off his ballot all together.
"Gonzalez is still an excellent player," Kuharsky said. "But as I struggled to find room for the 10 I felt needed to make the cut, he fell off. In 2010 his numbers suggest he was more quantity than quality. I'm not looking for giant plays from my tight end, but Dallas Clark replacement
Jacob Tamme
matched Gonzo's 9.4-yards a catch, and while Gonzalez's first-down percentage was good (55.7), it was way lower than that of the three top rookies and smaller than that of guys like
Heath Miller
,
Ben Watson
and
Todd Heap
, who I hardly considered. One final note: As I've got access to Frank Wycheck during three shared radio appearances a week, I asked him for a ballot. I'm sure he admires Gonzalez's body of work. But right now Gonzalez wasn't in Wycheck's top 10 either."
The Davis flip-flop:
The 49ers' immensely talented tight end received a wide range of support. Four voters had him third. Yet, I had him ranked ninth and Yasinskas had him eighth. I like Davis, but I'm not convinced we always see his best effort.
NFC West blogger Mike Sando was among those who voted Davis third. Sando argued that Davis has made an impact despite playing with subpar quarterbacks.
"It's easy to forget about Vernon Davis because he plays for a low-profile team that has struggled," Sando said. "If you've seen the 49ers much, you know Davis makes the huge play better than any tight end in the league. He'll catch touchdown passes for 60 or 70 yards, outrunning even cornerbacks. He remains unrefined and can still improve his all-around game quite a bit, but his 20 touchdown receptions over the past two seasons rank first among tight ends."
This position is in it for the long haul:
I remember a conversation I had with Gates prior to the 2009 season. He was glowing over all the young talent at the position in the NFL. Gates rattled off several young tight ends he expected to have bright careers.
There's no doubt, this is a special time for tight end play. As Gonzalez puts the cap on the most brilliant career by anyone at the position in the history of the game, the position is well stocked for the future.
Five players on the list -- Davis, Winslow, Lewis, Pettigrew and Finley -- are 27 or younger. The only players who are 30 or older on the list are Gonzalez, Clark and Gates.
Oakland's
Zach Miller
and the Jets'
Dustin Keller
, who finished 11th and 12th, respectively, are also young players. Miller is 25 and Keller is 26.

NFL SCOREBOARD
Thursday, 9/4
Sunday, 9/7
Monday, 9/8