NFL Nation:

2011 Underrated players
June, 10, 2011
6/10/11
12:03
PM ET
»
NFC Underrated Players
:
East
|
West
|
North
|
South
»
AFC
:
East
|
West
|
North
|
South
A team-by-team look at the most underrated players in the division.
Arizona Cardinals
Lyle Sendlein, center:
Fifty-four consecutive starts, including six in the postseason, haven't gotten much acclaim for the most consistent player on the Cardinals' offensive line. Guard
Deuce Lutui
's fluctuating weight has made news. Tackle
Levi Brown
gets significant attention as the fifth player chosen in the 2007 draft. More recently, guard
Alan Faneca
made headlines for retiring after a career that makes him a future candidate for the Pro Football Hall of Fame. Sendlein skates through mostly unnoticed, generally a good thing for an offensive lineman. He is tough, dependable and keeps a low profile. No wonder line coach Russ Grimm likes him so much.
St. Louis Rams
James Hall, defensive end:
Hall collected 10.5 sacks for the Rams last season. The organization celebrated by drafting his replacement,
Robert Quinn
. As much as the move made sense -- Hall is 34 years old, after all -- it also fit perfectly with Hall's career. He wasn't drafted out of Michigan in 2000, but he was a full-time starter for the
Detroit Lions
by 2002. The Rams have used two first-round picks on defensive ends since Hall joined the team in 2007. It will be an upset, however, if Hall gives up his starting job this season. He's a good all-around player with a very strong bull rush.
[+] Enlarge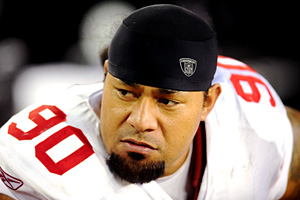 Mark J. Rebilas/US PresswireDefensive end Isaac Sopoaga has only missed one game over the past six seasons.
San Francisco 49ers
Isaac Sopoaga, defensive end:
49ers linebacker
Patrick Willis
and defensive end
Justin Smith
keep going to Pro Bowls. Nose tackle
Aubrayo Franklin
played last season as the team's franchise player. Sopoaga, meanwhile, kept plugging away as a mainstay on the line. He has missed only one game over the past six seasons, all with the 49ers. Sopoaga holds up well against the run. He has the versatility to play more than one position on the line. He will be additionally valuable to the team if Franklin leaves in free agency. A fourth-round choice in 2004, Sopoaga has developed nicely under line coach Jim Tomsula.
Seattle Seahawks
Chris Clemons, defensive end:
The Seahawks hoped Clemons would benefit from a change of scenery in 2010, but there was no indication the seventh-year veteran would suddenly become one of the better pass-rushers in the league. Clemons collected a team-high 11 sacks in his first season with the team. His toughness stood out. Clemons played through injuries and brought needed attitude to the defense. After six seasons with three other teams, the 29-year-old Clemons appears to have found a home in Seattle. He was particularly productive against NFC West teams, collecting seven of his sacks against division opponents and adding one more during the postseason.
June, 10, 2011
6/10/11
12:02
PM ET
»
NFC Underrated Players
:
East
|
West
|
North
|
South
»
AFC
:
East
|
West
|
North
|
South
A team-by-team look at the most underrated players in the division.
Houston Texans
[+] Enlarge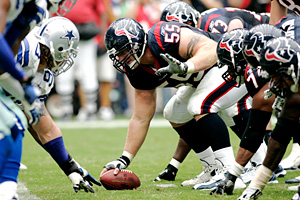 Brett Davis/US PRESSWIREChris Myers might not be the center of attention, but he's the center of the Texans -- and a good one.
Chris Myers, center:
A team with a good deal of flashy names and stars needs quality players in support roles to be effective. The Texans don't have enough of them, but Myers is certainly one. I've heard from scouts he's underrated and good at what the Texans ask their line to do. He worked as the man in the middle for the line that helped a guy who wasn't drafted,
Arian Foster
, to the NFL rushing title in 2010. Most fans couldn't name a single Texans linemen, but Myers deserves more recognition. He'll be hard-pressed to get it, though, while
Jeff Saturday
is still playing center for the rival Colts.
Indianapolis Colts
Jerraud Powers, cornerback:
His second season was cut short by a broken arm, buy since entering the league in 2009 Powers has proven to be a very effective player. Colts corners are asked to keep plays in front of them in a relatively simple system in which they usually get safety help over the top. Still, doing that well and tackling consistently are necessities at the spot. He provides that, along with the sort of confidence and poise a team's best defensive backs typically have. I expect him to continue to get better, to grow into a primary defensive leader and have a long career.
Jacksonville Jaguars
Terrance Knighton, defensive tackle:
He's enormous but has nimble feet and moves very well for such a large man. While his weight is a concern -- and he won't last as long as the team wants if he doesn't keep it under control -- Knighton's a real headache for interior offensive linemen charged with stopping him. Linebackers coming up behind him and linemen beside him are likely to find room to operate and single-blocking because opponents must worry about keeping Knighton at bay. Detroit's
Ndamukong Suh
was a phenomenal rookie and his new Detroit teammate
Nick Fairley
will get a lot of attention. But conversations about the best young interior defensive linemen should include Knighton.
Tennessee Titans
Michael Roos, left tackle:
He played just one season of high school football, and wasn't part of the offensive line until his sophomore year at Eastern Washington. An early low profile has kept him from anything close to the notoriety of players like
Joe Thomas
and
Jake Long
, but I've had scouts tell me he's as good or better than those two. While coaching the Titans offensive line, Hall of Fame lineman
Mike Munchak
hand-picked Roos as the successor to
Brad Hopkins
. He was a key piece of the line that sprung
Chris Johnson
for 2,000 yards in 2009 and he's a building block for a team that's starting over now and will revolve around Johnson and, eventually, 2010 first-round pick QB
Jake Locker
.
June, 10, 2011
6/10/11
12:01
PM ET
»
NFC Underrated Players
:
East
|
West
|
North
|
South
»
AFC
:
East
|
West
|
North
|
South
A team-by-team look at the most underrated players in the division.
Chicago Bears
[+] Enlarge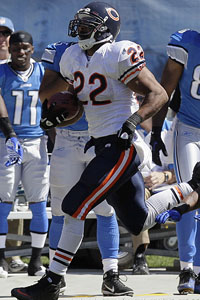 AP Photo/Charles Rex ArbogastMatt Forte has quietly compiled almost 5,000 combined rushing and receiving yards in his three NFL seasons.
Matt Forte, tailback
: You have to wonder how many people outside the NFC North realize that in his first three NFL seasons, Forte has accumulated nearly 5,000 combined rushing and receiving yards. Forte's quiet personality and smooth style tend to deflect attention rather than attract it, but the fact remains he has been one of the NFL's most productive running backs over the past three seasons. In fact, he is one of six NFL players to record at least 3,000 rushing yards and 1,000 receiving yards since 2008. The other names on that list --
Frank Gore
,
Steven Jackson
,
Chris Johnson
,
Maurice Jones-Drew
and
Ray Rice
-- tell you what kind of company Forte should be considered in.
Detroit Lions
Cliff Avril, defensive end
: It's hard to go a minute without hearing about the Lions' now-vaunted defensive line. The discussion starts with All-Pro defensive tackle
Ndamukong Suh
, continues with new partner
Nick Fairley
, and then shifts over to veterans
Corey Williams
and
Kyle Vanden Bosch
. If he's lucky, someone will mention Avril, who has more sacks over the past three seasons than any of them. (Granted, he has a two year head start on Suh and three on Fairley, but you get the point.) Avril has recorded 19 sacks in 41 games since joining the Lions in 2008,
one of 29 NFL players to do so over that stretch
.
Green Bay Packers
Josh Sitton, guard
: Packers veteran
Chad Clifton
was named to the 2010 Pro Bowl team, but most football people will tell you that Sitton has been the team's best offensive lineman. He hasn't missed a snap since the start of the 2009 season, the only Packers player on offense or defense to accomplish that feat. Sitton is without question the Packers' most powerful run blocker, helping the Packers average 4.48 yards per carry up the middle in 2010, according to NFL statistics. He has elevated his pass blocking to a near-equal status. Recognition outside of Green Bay has been fleeting, but he was a Pro Bowl alternate in 2010 and was named the
league's best offensive lineman by NFL Alumni
.
Minnesota Vikings
Ben Leber, linebacker
: Some players stand out as superstars. Others fill in behind. Leber falls into the latter category, and that is by no means an insult. In five seasons with the Vikings, Leber displayed a deep, even if not spectacular, skill set that is critical to any good team defense. He called defensive signals when middle linebacker
E.J. Henderson
was injured. He finished 2007 with five sacks, had seven pass breakups in 2008 and led the NFL with four fumble recoveries in '08 -- all while playing 79 of a possible 80 regular-season games. Leber might depart via free agency, but close observers know how good he is.
June, 10, 2011
6/10/11
12:00
PM ET
»
NFC Underrated Players
:
East
|
West
|
North
|
South
»
AFC
:
East
|
West
|
North
|
South
A team-by-team look at the most underrated players in the division.
Dallas Cowboys
Jay Ratliff, NT:
He's been to the Pro Bowl the past three years, so clearly, people are catching on. But it's tough to find "underrated" players on a roster that gets as much attention as the Cowboys' roster does. And because of the position he plays, Ratliff doesn't get a lot of attention for the number of different ways he impacts the game. Opponents and opposing coaches fear and respect him, and the Cowboys consider him a versatile team leader who'd likely move to DE if they felt they needed him there to help their pass rush next year.
New York Giants
[+] Enlarge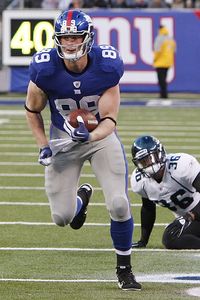 William Perlman/US PresswireGiants tight end Kevin Boss isn't flashy on offense but is a solid blocker.
Kevin Boss, TE
: Boss gained attention during the Giants' Super Bowl run as a dependable replacement for the flaky
Jeremy Shockey
after Shockey went down with an injury. Because of the emergence of the Giants' wide receivers over the past few years, he hasn't factored into the offense as a pass-catcher as much as some may have liked. But he's there when
Eli Manning
needs him, and his more important role is as a blocker. The Giants have some of the best pass-protection numbers in the league, and Boss is a key to that.
Philadelphia Eagles
Jamaal Jackson, C
: The Eagles' offense has suffered through Jackson's injuries late in the past two seasons, but neither the injuries nor the suffering are any coincidence. The Eagles don't give Jackson much help, trusting him to block opposing defensive tackles one-on-one almost all the time. As a result, he wears down. But when healthy, he's strong and athletic enough to handle the assignment. The offense simply runs better when he's in there than it does when he isn't. Jackson plays a position where it's almost impossible to get noticed unless you mess something up, and when he's on the field, he doesn't.
Washington Redskins
London Fletcher, LB
: Fletcher has fought an uphill battle for respect and attention since he entered the league, but in recent years people have begun to take notice of his role as a team leader and one of the most committed and productive defensive players on his teams. He's a relentless, reliable tackler whose determination and work ethic are likely the result of his having been underrated early on and throughout his career. The Pro Bowl recognition he has received in recent years may disqualify him from this list, but of all the players on the Redskins' roster, he may be the one whose reputation least lives up to his production.
June, 10, 2011
6/10/11
12:00
PM ET
»
NFC Underrated Players
:
East
|
West
|
North
|
South
»
AFC
:
East
|
West
|
North
|
South
A team-by-team look at the most underrated players in the division.
Atlanta Falcons
[+] Enlarge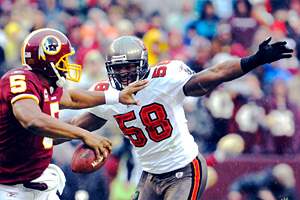 Brad Mills/US PresswireQuincy Black has amassed 189 tackles after four seasons in Tampa Bay.
Kroy Biermann, defensive end
: As I recently mentioned in the
NFC South Soon to be Stars
series, I am excited by what Biermann brings to the table. He is considered by many to just be a hustle player, but his athletic ability is quite strong. His sack numbers are not high, but his ability to disrupt the passer is very good. He can play the run at him or as a backside pursuit player. Biermann needs to be recognized as a very solid starting-caliber defensive end for Atlanta's 4-3 defense.
Carolina Panthers
Charles Johnson, defensive end
: It baffles me that Carolina chose to put the franchise tag on
Ryan Kalil
rather than on Johnson. Johnson, 24, got recognition for his play last season, but few realize that he outplayed nearly every 4-3 defensive end in the league. He is a power and leverage player who excels versus the run. He also has an array of pass-rush moves and plays the game with an excellent motor. Johnson has been very good with every opportunity that he has received and should get better. He proved last season that he is a great pass-rusher already and it is imperative that the Panthers lock him up for the long term.
New Orleans Saints
Carl Nicks, guard
: Nicks might be the best guard in football, or he might be the second-best guard on his team behind
Jahri Evans
. That is debatable, but what is not debatable is that Nicks does not get his due in the public eye. His movement skills for his size (318 pounds) are amazing. He is quick to recover when beaten, can pull and trap and is a very good blocker in space hitting a smaller target. Nicks is a very good pass-blocker, but he is just an animal in the run game. If the Saints need a tough yard, they should run behind Nicks, even more so than Evans.
Tampa Bay Buccaneers
Quincy Black, linebacker
: Black is up for free agency, as is MLB
Barrett Ruud
, so the Bucs used a third-round pick on
Mason Foster
. Foster could conceivably play any of the three linebacker spots in Tampa Bay's defense, but I see his best fit in the middle. I think the Buccaneers agree with me and will do everything possible to keep Black, even though he isn't as well known as Ruud. That would be the wise move, because Black is an up-and-comer who has exceptional range and playmaking skills. He does everything well and never should come off the field. Black is the perfect fit in this defense and could be poised to excel behind Tampa's young and ultra-talented defensive line. If there is a choice to be made between Black and Ruud, the answer is a very simple one: Black.
Scouts Inc. watches games, breaks down film and studies football from all angles for ESPN.com. Follow Matt Williamson on Twitter @WilliamsonNFL
June, 10, 2011
6/10/11
12:00
PM ET
»
NFC Underrated Players
:
East
|
West
|
North
|
South
»
AFC
:
East
|
West
|
North
|
South
A team-by-team look at the most underrated players in the division.
Buffalo Bills
Roscoe Parrish, receiver/punt returner
: For five years,Parrish practically begged to be thrown the ball. He made the most of his touches, becoming one of the most dangerous punt returners in the NFL and setting franchise records.
[+] Enlarge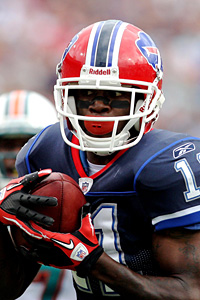 Luc Leclerc/US PRESSWIREBills receiver Roscoe Parrish caught 33 passes for 400 yards and two touchdowns last season.
But his listed position was wide receiver, and in the Bills' passing game under head coaches Mike Mularkey and Dick Jauron, the undersized Parrish always seemed to be an afterthought.
That changed last year under new coach Chan Gailey. He played just eight games because of a broken wrist, but Parrish caught 33 passes for 400 yards and two touchdowns. The yardage was the most of his career. His TDs tied a career-high. Two more receptions would have matched a career-high.
Miami Dolphins
Kendall Langford, defensive end
: On a defense with sack master
Cameron Wake
, the NFL's highest-paid linebacker in
Karlos Dansby
, franchise-tagged nose tackle
Paul Soliai
and Pro Bowl defensive end
Randy Starks
, a guy like Langford can get overlooked.
Langford, a 2008 third-round pick out of Hampton, has been a starter since his rookie season. Last year, after he gained national fame for being the sap who lost a $50,000 earring on the Dolphins' practice field, Langford produced a quality season for the one of the NFL's better defenses. He notched 47 tackles, three sacks, six tackles for losses, two forced fumbles and four passes defensed.
Langford is adept at controlling blockers and was a major reason why the Dolphins ranked seventh in run defense (100.1 yards per game) and third in average allowed per carry (3.6 yards).
New England Patriots
Gary Guyton, linebacker
: Guyton started only eight games at linebacker last season, and half of those were necessitated by
Brandon Spikes
' four-game suspension. Even so, Guyton made a mark on the Patriots' defense. The undrafted third-year pro from Georgia Tech recorded 63 tackles, three sacks, two interceptions (one returned for a touchdown), six passes defensed, one forced fumble and one fumble recovery (returned for another touchdown).
"Gary is someone that fits in our system very well no matter what that role is," Patriots linebackers coach Matt Patricia said during the playoffs. "He's a very [versatile] player for us. He does an excellent job in whatever avenue we ask him to prepare and play. I think he is a guy who is active and plays for us every Sunday, and whatever that role is he's going to go out and do it to the best of his ability. It's something that we have a lot of confidence in."
New York Jets
Brandon Moore, right guard
: The Jets' offensive line has had remarkable star power over the past few seasons.
Nick Mangold
is an All-Pro center. Left tackle
D'Brickashaw Ferguson
went to the Pro Bowl last season. Right tackle
Damien Woody
has been to the Pro Bowl and owns Super Bowl rings.
Alan Faneca
, the Jets' left guard in 2008 and 2009, went to nine straight Pro Bowls.
Then there was Moore, an undrafted and often-overlooked workhorse. "Meat," as he's affectionately known by his teammates, has started 105 straight regular-season games. He was a third alternate for the Pro Bowl last year but still hasn't made it to one. In the Jets' locker room, he's respected enough to be a union representative.
"It's a shame that Brandon doesn't get as much of a nod as he deserves," Jets offensive coordinator Brian Schottenheimer said last season. "You'd be hard-pressed to find a better guard than him in all of football."
June, 10, 2011
6/10/11
12:00
PM ET
»
NFC Underrated Players
:
East
|
West
|
North
|
South
»
AFC
:
East
|
West
|
North
|
South
A team-by-team look at the most underrated players in the division.
Cincinnati Bengals
[+] Enlarge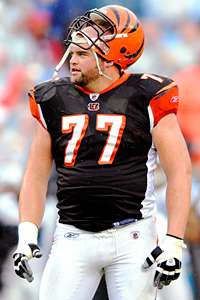 AP Photo/Mike McCarnAndrew Whitworth has become a team leader in Cincinnati.
Andrew Whitworth, left tackle:
Whitworth has quietly developed into one of the NFL's better left tackles, but you wouldn't know it because of the team he plays for. Whitworth rarely gives up sacks and has held up well against elite pass-rushers such as
James Harrison
in Pittsburgh and
Terrell Suggs
in Baltimore. Opponents speak highly of Whitworth, but he's never been to a Pro Bowl and rarely gets much attention outside Cincinnati. Whitworth also has taken over the important role of the Bengals' locker room leader after the departure of
Willie Anderson
.
Pittsburgh Steelers
Brett Keisel, defensive end:
When the beard is more popular than the player, you're definitely underrated. Last season, Keisel received more publicity than ever in his 10-year career for his playoff beard. The beard has its
own stories
, T-shirts and
Facebook page
, while Keisel the player remained under the radar. Because of Pittsburgh's 3-4 scheme, defensive ends for the Steelers will never put up gaudy stats or get the recognition they deserve. But Keisel, a former seventh-round pick, has been at the forefront of Pittsburgh's stout run defense for a long time. Keisel earned his first Pro Bowl nod as an injury replacement last season, although he missed the game because of the Super Bowl.
Cleveland Browns
Ben Watson, tight end:
The AFC North reception leader for tight ends last season wasn't
Heath Miller
,
Todd Heap
or 2010 first-round pick
Jermaine Gresham
. It was Watson, who caught 68 passes for 763 yards and provided the only consistent receiving threat for the Browns this past season. Watson is expected to be quarterback
Colt McCoy
's safety valve again in 2011. Cleveland's front office gets plenty of praise for last year's draft class. But the team also quietly hit on several free agents and trades. Watson was among a group of new contributors to Cleveland that included tailback
Peyton Hillis
and linebackers
Scott Fujita
and
Chris Gocong
.
Baltimore Ravens
Jarret Johnson, linebacker:
For years, Johnson has been the unsung player on a defense filled with big names like Suggs, linebacker
Ray Lewis
and safety
Ed Reed
. Johnson has been a full-time starter for Baltimore the past four years and is extremely durable. He's only missed one game in eight seasons. Johnson also has the versatility to do whatever the coaching staff needs in a given week. Johnson recorded 50 tackles or more in each of the past four seasons.
June, 10, 2011
6/10/11
12:00
PM ET
»
NFC Underrated Players
:
East
|
West
|
North
|
South
»
AFC
:
East
|
West
|
North
|
South
A team-by-team look at the most underrated players in the division.
Denver Broncos
D.J. Williams, linebacker:
Williams was a first-round pick in 2004, and the Broncos paid handsomely to keep him a couple of years ago. He is appreciated in Denver, but this athletic, smart linebacker doesn't get much national notice. He has never been to a Pro Bowl, yet Williams is a tackle machine. He has had at least 119 tackles in three of the past four seasons. He is versatile and has played virtually every linebacker position possible.
[+] Enlarge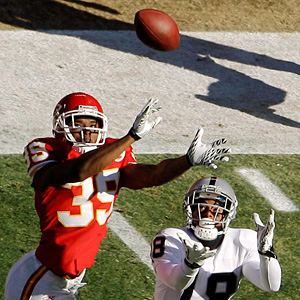 AP Photo/Charlie RiedelCornerback Brandon Carr has 192 tackles and four interceptions after three seasons in Kansas City.
Kansas City Chiefs
Brandon Carr, cornerback:
I chose Carr over stout guard
Ryan Lilja
and play-making linebacker
Derrick Johnson
. Carr is younger than Lilja and Johnson, and he may eventually get the recognition he deserves. One of the reasons Carr is overshadowed is that he plays opposite fellow four-year cornerback
Brandon Flowers
. Flowers was a second-round pick in 2008, and Carr was taken three rounds later. The terrific Flowers has gotten most of the accolades, but Carr is standout as well. He is approaching free agency soon, and he'll hit the cornerback jackpot by getting paid by either the Chiefs or some other lucky club.
Oakland Raiders
Marcel Reece, fullback:
The fullback is becoming extinct in the NFL. Many teams just don't have a use for this position. The fullback, however, thrives in Oakland, a franchise with a rich tradition of fullback play. The Raiders have scored again with Reece. A college receiver, Reece gives Oakland's offense a delicious variation. He is a key blocker in one of the NFL's best running attacks, and he is a receiving weapon in short-yardage situations. Plus, the intelligent Reece has become a leader of the unit. The fullback position is alive and well in Oakland.
San Diego Chargers
Antonio Garay, defensive tackle:
Garay had an incredible impact on the No. 1 ranked defense in the NFL last season. The Chargers' defense was long ignited by the ferocious nose tackle play of the massive
Jamal Williams
. When Williams got hurt in the first game of the 2009 season, ending his career in San Diego, the Chargers were worried that their defensive identity was gone. But Garay, a 31-year-old journeyman, took over in 2010. He instantly became an anchor on the defense and dominated the line of scrimmage. The dominance of the nose tackle has continued in San Diego with Garay.
NFL SCOREBOARD
Thursday, 9/4
Sunday, 9/7
Monday, 9/8