NFL Nation:

2011 WR Power Rankings
March, 8, 2011
3/08/11
3:39
PM ET
We're unveiling a new off-season feature Tuesday by doing a position-by-position NFL top 10 Power Rankings, which is based on an eight-person vote.
Our first installment is wide receivers.
Two AFC West receivers cracked the top 10. Kansas City's
Dwayne Bowe
is No. 7. Denver's
Brandon Lloyd
is No. 9. Miami receiver
Brandon Marshall
, who Denver traded last year, is No. 10. San Diego receiver
Vincent Jackson
finished 14th. As a division, the AFC West finished with 50 voting points, which the fifth highest division.
I voted Bowe as the seventh best receiver and did not put Lloyd in my top 10. I had Jackson at No. 10.
It is obvious Jackson's status was hurt by his lengthy 2010 contract holdout. However, Jackson is clearly a top-10 receiver and I expect him to show that in 2011. The Chargers placed the franchise tag on him and he is expected to play the entire season.
I think Bowe would be happy with being listed as No. 7. He has a terrific season in 2010. There was a period in the 2010 season where Bowe was as dominant as any receiver in the NFL. He had three good years in four NFL seasons and he should continue to improve.
I kept Lloyd off my top 10 because he was a one-hit wonder. Yes, he had a terrific 2010 season in which he led the NFL in receiving yards with 1,448 yards. But I kept him off my list because this isn't, at least in my estimation, a review of the 2010 season alone. It's a list of the very best receivers in football. Lloyd is 29 and he's had one good season. I don't think that makes him a top-10 receiver at this point. Perhaps I'll change my mind next year. But he has to show he can put together another great year before I consider him elite. Don't get me wrong. He's good and I would put him in my top 15 if I had the choice, but there are better receivers in the league.
The only other receivers to make the top 10 that I didn't have on my list was Green Bay's
Greg Jennings
, who is ranked sixth. I wanted to get him on my list, but I ran out of room. He was the top receiver on my cut list.
Fill up the comment section with your top 10 list. Again, we're going position-by-position on this deal every Tuesday, so we should have a lot of fun with this in the coming weeks.
March, 8, 2011
3/08/11
1:10
PM ET
ESPN.com's NFL team is doing something innovative this offseason. For the first time, we are compiling positional Power Rankings, similar to how we rank teams on an annual basis.
[+] Enlarge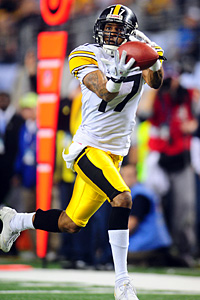 Mark J. Rebilas/US PresswireSteelers receiver Mike Wallace finished with 60 receptions for 1,257 yards last season.
Readers will get our take on the best of the best at each position, which is sure to fuel debate. Our first installment Tuesday involved
ranking the top 10 receivers in the NFL
.
The AFC North was the only division that did not get a single player on this list. That brings us to this question: Is
Mike Wallace
a top 10 receiver?
Wallace, who caught 60 passes for 1,257 yards in 2010, finished No. 12 in the voting. I did not vote for him in the top 10.
As I explained in the Power Rankings piece, Wallace has just one year as a starter and still has to improve in certain areas before he's considered an elite receiver. His route-running on short and intermediate passes is getting better, but it's nowhere near some of the best at his position.
Steelers head coach Mike Tomlin use to label Wallace a "one-trick pony," and after this season Tomlin said at the Super Bowl that Wallace now has "one and a half tricks." I think that's an accurate assessment from Pittsburgh's coach of where Wallace stands right now.
All of the receivers in the top 10 -- led by
Andre Johnson
of the
Houston Texans
,
Larry Fitzgerald
of the
Arizona Cardinals
and
Calvin Johnson
of the
Detroit Lions
-- are more polished than Wallace. But once Wallace adds more routine plays to his deep speed, which could happen as early as this upcoming season, he could be among the NFL's top receivers.
March, 8, 2011
3/08/11
1:05
PM ET
The ESPN.com rankings of the league's top 10 wide receivers are out and Atlanta's
Roddy White
is the only NFC South representative on the list.
White finished third overall, despite the fact that AFC West colleague Bill Williamson and I each voted White as the league's top receiver. The rest of the voters didn't see it that way, and Houston's
Andre Johnson
finished No. 1 overall.
The rest of the NFC South receivers didn't get much attention. New Orleans'
Marques Colston
received just one vote and that came from me. I honestly believe Colston is underrated. His numbers aren't spectacular because the Saints spread the ball around so much.
I considered voting for Tampa Bay's
Mike Williams
and Carolina's
Steve Smith
. But let's see if Williams can follow up a strong rookie season with another big year before we go putting him among the league's elite. Speaking of elite, there was a time when Smith belonged in any conversation about elite receivers. But that time is not now.
I don't think Smith is slowing down due to age. I think he simply has been stuck in a bad offense with horrible quarterback play. If new Carolina coach Ron Rivera and Rob Chudzinski can just get some decent play at quarterback, Smith can jump back to an elite level.
March, 8, 2011
3/08/11
1:05
PM ET
Week 1 of our offseason positional power rankings is out, and you can find our ranking of receivers here.
If you look at my ballot, you'll see
Larry Fitzgerald
ninth.
Surely I'm crazy.
I explain in this video, where I didn't even get to mention something else I factor in big in my ballot -- yards per catch, where he ranked seventh in 2010 among the players I voted for.
March, 8, 2011
3/08/11
1:00
PM ET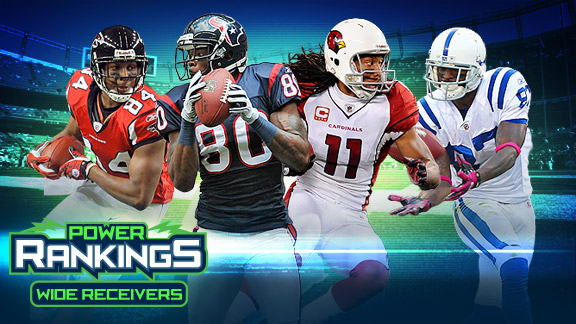 ESPN.com IllustrationHouston's Andre Johnson (80) claimed the top spot in our ranking of the best NFL receivers.
ESPN.com's NFL writers rank the top 10 wide receivers in the league today. Next week: Running backs.
Randy Moss
and
Terrell Owens
must be running fade routes.
Neither iconic receiver drew even one vote when ESPN.com asked eight panelists to rank the top 10 receivers in the NFL today.
"When three different teams can't use a player," AFC East blogger Tim Graham said of Moss in particular, "then he can't be considered elite anymore."
That's fine. Our top 10 list aspires to be one for the ages, not for the aged.
The
Indianapolis Colts
'
Reggie Wayne
, 32, was the only one in our top 10 older than 29. Owens, 37, and Moss, 34, could serve as chaperones for this bunch.
The
Houston Texans
'
Andre Johnson
, 29, edged the
Arizona Cardinals
'
Larry Fitzgerald
, 27, for the top spot. AFC South blogger Paul Kuharsky made it so by ranking Johnson first on his ballot and Fitzgerald only ninth, five spots lower than any other panelist ranked Arizona's five-time Pro Bowl wideout.
"I have nothing against Larry Fitzgerald -- I think he's fantastic,"
Kuharsky explained
. "I just found so many receivers to love, and consider most of the guys I put ahead of him as having more upside."
Divergent views on Johnson and Fitzgerald made this a hotly contested battle for the No. 1 spot. Johnson might have won in a runaway if NFC North blogger Kevin Seifert and NFC South counterpart Pat Yasinskas hadn't ranked the Texans' five-time Pro Bowler only sixth.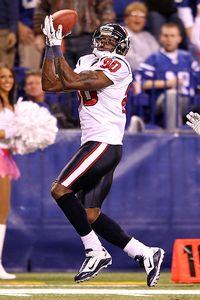 Andy Lyons/Getty ImagesHouston's Andre Johnson is the NFL's top receiver according to a panel of eight ESPN writers.
"I've got nothing against Johnson," said Yasinskas, who joined AFC West blogger Bill Williamson in ranking the
Atlanta Falcons
'
Roddy White
first overall. "In fact, if I had to go out and start a team from scratch, he'd get very strong consideration to be one of my wide receivers. But the reason I went with White was because I went off statistics and I went off success of teams when I filled out my ballot. Sorry, but another mediocre Houston season really didn't excite me."
That was a tough sell in the AFC South.
"Andre Johnson is an incredible combination of power and speed, and I think of him as at the forefront of an anti-diva wide receiver movement, which is refreshing -- though not a big factor in his being No. 1 on my list," Kuharsky said. "In three seasons of covering him, I've never heard anyone talk of the smallest hole in his game."
Some of our NFC West fans might poke a few holes in Kuharsky's ballot. Giving Fitzgerald even a No. 5 ranking from Kuharsky would have moved Fitzgerald into the top spot.
More from Kuharsky in a bit. First, let's take a closer look at the rankings.
How we scored it:
First-place votes were worth 10 points, second-place votes were worth nine, and so on.
Sixteen receivers drew votes.
Close calls:
The
Pittsburgh Steelers
'
Mike Wallace
and the
New England Patriots
'
Wes Welker
each scored seven points, coming within three of tying the
Miami Dolphins
'
Brandon Marshall
for the 10th spot.
Seifert had Welker seventh. Williamson had him eighth. Yasinskas had Wallace seventh. I had Wallace ninth. John Clayton had him 10th.
"I like Mike Wallace's game as much as anyone, but he only has one year as a starter and is still in the developmental stages," said AFC North blogger James Walker, who did not rank Wallace in his top 10. "Wallace's route-running remains pretty raw, and he needs to continue working on his short and intermediate game to pair with his blazing speed. Once he does that, Wallace will be among the NFL's best."
Honorable mention:
Santonio Holmes
(three points),
Vincent Jackson
(two),
Miles Austin
(one) and
Marques Colston
(one) also drew votes.
Holmes was ninth on Seifert's ballot and 10th on Graham's ballot. Kuharsky and Williamson had Vincent Jackson 10th.
"I think Vincent Jackson is a special talent," Williamson said. "Don't be skewed by his holdout. This is a player who has a special blend of size and speed. He has terrific hands and he has a great chemistry with
Philip Rivers
. He can easily be a top-five receiver in a year."
Walker had Austin 10th. Yasinskas had Colston 10th.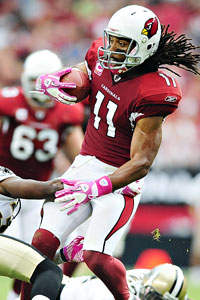 Mark J. Rebilas/US PresswireLarry Fitzgerald finished in the top four of every ballot but one.
"Miles Austin may be a forgotten player because he didn't have his starting quarterback most of last season," Walker said. "But Austin still posted more than 1,000 yards receiving and his early numbers were off the charts when
Tony Romo
was healthy. Austin could have a big year in 2011 if everyone stays healthy."
Very shiny third wheel:
The Falcons' White ranked among the top three on four ballots, matching the Texans' Johnson and trailing only Fitzgerald.
"I put White, who I thought had a shot at MVP in the first half of the season, No. 1 because I saw this guy single-handedly win games for the Falcons, who won 13 of them," Yasinskas said. "White's numbers and Atlanta's success speak for themselves, but White made perhaps the play of the season when he chased down San Francisco's
Nate Clements
on an interception return and stripped the ball. That led to Atlanta's victory. How many other wide receivers can win a game for you when they're playing defense?"
I saw Arizona's
Steve Breaston
do it against St. Louis last season, but White is on another level as a receiver.
Do not forget about Calvin Johnson:
The top four spots were clearly defined, with the
Detroit Lions
' dynamic wideout firmly in that group. He ranked among the top five on seven of eight ballots. Only Fitzgerald and White could make that claim.
Biggest debate:
We're back to Fitzgerald versus Johnson, but not necessarily in that order. Seifert and Kuharsky in particular might need to borrow federal mediator George Cohen from the NFL labor mess to work through their differences.
Not really. Seifert put candor before rationalization.
"Andre who?" Seifert kidded. "No, seriously, sometimes in this job you can become narrowly biased toward the players you see most often. I believe I have covered one of Andre Johnson's 115 career games. That one was in 2003, I believe. You can watch all the highlights you want, but you tend to trust your instincts based on personal viewing. This was more a reflection of my own visual catalog than it was an assessment of Johnson's game."
Fitzgerald has spent more time than Johnson on the national stage, including when his 64-yard touchdown reception gave Arizona a late fourth-quarter lead against Pittsburgh in Super Bowl XLIII following the 2008 season. Fitzgerald managed 90 receptions during the 2010 season despite playing for a struggling offense.
"Context has to be factored in and Fitzgerald has the worst quarterback situation of anyone in my top 10," Kuharsky said. "I also put a lot of weight in yards per catch -- the only guys lower than Fitzgerald on my list in 2010 were Roddy White and Reggie Wayne."
Speaking of Wayne:
Kuharsky ranked the Colts' wideout only seventh while acknowledging Wayne's consistent production.
"He showed hints in 2010 of starting to slip -- more drops, and a career-low 12.2 yards per catch," Kuharsky said. "That's not entirely in his control, I know. But he's less threatening deep than he used to be and that moved him down my list."
Playing with a Brandon:
The Dolphins' move to acquire Marshall from Denver gave them the second-best Brandon on our list. The Broncos'
Brandon Lloyd
led the NFL in receiving yards while finishing with an 18.8-yard average and 11 touchdowns. He edged Marshall for the ninth spot.
Graham, our AFC East blogger, had Lloyd ninth. He did not include Marshall on his ballot, opting for Holmes in the 10th spot. Graham also left off Welker.
"Marshall and Welker had impressive reception totals, but it's difficult to put him in the top 10 when he scored only three touchdowns," Graham said. "The Dolphins had one of the NFL's worst red zone offenses. A top-10 receiver should be able to make a difference there. Marshall also had the lowest yards per catch of any receiver with at least 850 yards. Welker's average was lower even though half of his yards came after the catch. ESPN Stats & Information had him down for a league-high 11 drops."
Second opinion:
Another Williamson -- not Bill, but Matt of Scouts Inc. -- liked our top 10 list overall, with a couple of exceptions.
"The one name that really seems to be missing to me is Hakeem Nicks," Matt Williamson said. "I can also understand why you guys would think it is just too early in his career to include him here, but I think I would take him over
Dwayne Bowe
or Brandon Lloyd, for sure. I also think Holmes would climb up this list in a different offense and Vincent Jackson and Miles Austin are much better players than this past season would indicate. I would also put
Greg Jennings
over Reggie Wayne."
Nicks nearly drew votes. Kuharsky had him ninth on an earlier version of his ballot. I would have ranked Nicks among the top seven if he hadn't missed three of the
New York Giants
' final six games last season. Maybe next year.
March, 8, 2011
3/08/11
1:00
PM ET
On Tuesday, ESPN.com's NFL Blog Network kicked off a series of offseason posts using our power rankings template on individual players and coaches rather than teams. The first topic was receiver, and NFC West guru Mike Sando has compiled the final list over on his blog.
You'll see that
Andre Johnson
of the
Houston Texans
finished first and that two NFC North receivers, the
Detroit Lions
'
Calvin Johnson
and the
Green Bay Packers
'
Greg Jennings
, finished fourth and sixth in the voting, respectively.
Regular readers know I don't take Power Rankings too seriously. They're just a fun debate starter and nothing more. My ballot is sure to draw some ire from the Texans' fan because I ranked Johnson No. 6, a position that in retrospect is probably low. But there is no taking it back, and the bottom line is a divisional blogger doesn't spread his focus equally among 32 teams.
In fact, thinking back, I believe I've seen one of Johnson's 115 NFL games in person. That game was nearly eight years ago in 2003. That doesn't mean I'm not aware of him and his production over the past seasons, but it hasn't registered with me to the extent of some other players I have seen more often.
For those interested, the ballot I submitted to Sando is below. From an NFC North perspective, I continue to cling to my choice of Johnson over Jennings in a battle that has no loser. I wonder if we'll ever see Johnson play a full season with a quarterback who performs at the level that Jennings now has three years with in
Aaron Rodgers
.
Calvin Johnson
Greg Jennings
Andre Johnson
March, 8, 2011
3/08/11
1:00
PM ET
I'm pretty sure I'll have some explaining to do.
ESPN.com's blog network began its series of positional power rankings Tuesday with wide receivers. I included only one AFC East target on my ballot, omitting some big names readers will disagree with.
Although
Brandon Marshall
earned enough votes to crack the top 10, he didn't appear on my list. Neither did
Wes Welker
,
Steve Johnson
or
Braylon Edwards
.
My ballot:
Nine of my 10 nominees comprised the consensus top 10, the lone discrepancy in the last slot.
I almost didn't vote for Holmes. I originally had
Pittsburgh Steelers
burner
Mike Wallace
on the list, but I couldn't deny the direct impact Holmes had in closing out colossal victories for the Jets.
Holmes' stats weren't staggering, but he started the season with a four-game suspension that kept him out of the lineup and off the practice field. Once the NFL activated Holmes, it took him a couple weeks to get back into the offense. Then he was sensational. He had eight touchdowns in his last 11 games, including two out of three postseason games.
I couldn't bring myself to include Marshall. He had a nice reception total, but he scored only three touchdowns (one by December) and averaged the fewest yards per catch of any wide receiver with at least 850 yards. The
Miami Dolphins
had one of the NFL's weakest red-zone offenses, and a top 10 receiver should be able to help in that regard.
Welker didn't make the cut because he had a terrible season when it came to drops. ESPN Stats & Information charted a league-leading 11 drops. Welker averaged fewer yards than Marshall despite nearly half of his total (848 yards) coming after the catch (410 yards). That's a lot of long handoffs.

NFL SCOREBOARD
Thursday, 8/21
Friday, 8/22
Saturday, 8/23
Sunday, 8/24