NFL Nation:

2012 AFC Divisional Round
January, 16, 2012
1/16/12
10:41
AM ET
January, 15, 2012
1/15/12
8:02
PM ET
Mitch Stringer/US PresswireLardarius Webb's two interceptions helped Baltimore survive the Texans.
BALTIMORE -- Outside linebacker
Terrell Suggs
summed up the
Baltimore Ravens
' ugly
20-13
divisional playoff win over the
Houston Texans
the best.
"There's a right way to do things, there's a wrong way to do things," Suggs said, "and there's the Ravens' way to do things."
The "Ravens Way" was good enough to beat a Texans team without its top two quarterbacks and top defensive player (
Mario Williams
). The "Ravens Way" was good enough to win a Super Bowl 11 years ago.
But the "Ravens Way" won't cut it next Sunday in the AFC Championship Game at top-seeded New England. This isn't to say that the Ravens
can't
win at New England. The Ravens have the talent to beat anyone this season (they're 7-0 against playoff teams). They just have to play much better than they did against the Texans to do so.
The fans know it. The media knows it. And, most importantly, the players know it, too.
How much better do the Ravens need to play to beat the Patriots? "A lot better than today," safety
Ed Reed
said before repeating himself. "A lot better than today."
The Ravens won't outscore New England if
Joe Flacco
completes 14 passes and
Ray Rice
averages 2.9 yards per carry. Baltimore won't slow
Tom Brady
and the jazzed-up Patriots' offense if it can't stop the run (
Arian Foster
gained 132 yards) or the top receiver (
Andre Johnson
had 111 yards receiving). And the Ravens definitely won't beat Bill Belichick if they can't punch the ball into the end zone (like Baltimore failed to do late in the third quarter against Houston).
Wait, how exactly did the Ravens beat Houston today? The Texans turned the ball over four times, including three interceptions by rookie
T.J. Yates
, and Baltimore converted them into 17 points. It was the classic case of the Texans lost the game more than the Ravens won it.
"It's winning by any means necessary," Reed said succinctly.
The Ravens will get beat up by their critics for a performance like this, especially coming off a bye and playing their first home playoff game in five years. But no one should beat up Baltimore like the Texans did Flacco, who was sacked five times (which ties a season-high).
Baltimore outlasted Houston because it capitalized on Houston's mistakes. A fumble on a punt return deep in Texans territory led to a 1-yard touchdown pass from Flacco to blocking tight end
Kris Wilson
. An interception by cornerback
Lardarius Webb
resulted in a 10-yard scoring pass from Flacco to
Anquan Boldin
.
Those two touchdowns put the Ravens ahead 17-3 in the first quarter, but they needed another big play from Webb in the fourth quarter. His interception was converted into a 44-yard field goal by
Billy Cundiff
that gave Baltimore a 20-13 cushion.
The Ravens started to bristle at the line of questioning that they should have beat the Texans resoundly.
"You all are acting like we beat a team that eeked into the playoffs," Suggs said. "We played a good team; we played a very good team."
All of these Ravens' positives from this game have to be lumped into the fact that they dropped five passes and failed to record a sack. They managed 11 first downs and were outgained, 315-227.
"We're confident about the things that went well," Ravens coach John Harbaugh said. "But we're humbled about the things that we need to improve on."
The Ravens didn't need to be humbled. They didn't need a wake-up call. It's not like Baltimore was playing its best entering the postseason. It's been the "Ravens Way" for weeks now.
There was the rout in San Diego (a 34-14 loss) and close calls against Cleveland (20-14 win) and at Cincinnati (24-16 victory). So, how the Ravens beat the Texans fit their trend.
"That's a good football team over there," Rice said, "and I'm never going to apologize for a win."
The Ravens don't need to apologize. They need to shake out of this funk.
Baltimore is the most balanced team left in the playoffs. Only the Ravens had an offense and defense ranked in the top half of the NFL in the regular season. The Patriots, 49ers and Giants all didn't.
The Ravens also have the confidence to win in New England. They did it two years ago when they upset the Patriots, 33-14, in January 2010. That's why
the time is now
for the Ravens to make their Super Bowl run.
"The only reason you play this game -- the
only
reason you play this game -- is for the opportunity to go to the Super Bowl," linebacker
Ray Lewis
said. "We have that opportunity right now."
But, in order for the Ravens to capitalize on that opportunity, the Ravens have to play better than the "Ravens Way."
"[The Patriots] have to play their best game, too," Rice said. "They know that's what the playoffs are about. If they don't play their best game, they'll get beat. If we don't play our best game, we'll get beat. There's a reason why No. 1 and No. 2 are playing each other. It's not David and Goliath. We are right up there with them."
If both teams play their best game, who wins?
"That's what Sunday will tell," he said.
January, 15, 2012
1/15/12
4:16
PM ET
BALTIMORE -- Thoughts on the
Baltimore Ravens
' 20-13
win
over the
Houston Texans
in the divisional playoff game:


What it means
: It was an ugly and unimpressive win by the second-seeded Ravens, especially on offense. But Baltimore stepped up when it needed to do so, converting 17 points off three Texans turnovers. The Ravens improved to 9-0 at home and won a playoff game in Baltimore for the first time in 11 years. This also marked the fourth straight season that Baltimore has won a postseason game.
Coming up big
: Cornerback
Lardarius Webb
became the third Ravens player to make two interceptions in a postseason game. His first one led to a touchdown in the first quarter, and his second one turned the momentum in the fourth.
Ed Reed
picked off Texans rookie quarterback
T.J. Yates
in the final two minutes of the game for the fourth forced turnover by Baltimore.
Flacco struggles
:
Joe Flacco
threw two touchdowns but he finished 14-of-27 for 184 yards. He didn't get much help from his teammates. There were five drops by receivers. He was also sacked five times. His counterpart, Yates, was 17-of-35 for 175 yards and three interceptions.
Getting run down
: The Ravens' usually stout run defense showed major cracks against Houston.
Arian Foster
ran for 132 yards and one touchdown to become the first running back to gain more than 100 yards against the Ravens in 16 playoff games. The most rushing yards that Baltimore had given up to one running back was 91 against
Eddie George
in January 2001.
Critical call
: Leading by four points (17-13) late in the third quarter, the Ravens decided to go for the touchdown instead of settling for the field goal at the 1-yard line.
Ray Rice
chose to drive into the middle of the line rather than leap and got stopped short. It ultimately didn't hurt Baltimore.
Converting on mistakes early
: The Ravens jumped out to a 17-3 first-quarter lead because they converted two turnovers into two Flacco touchdown passes. A fumble on a punt return (deep in Texans territory) led to a 1-yard Flacco touchdown pass to blocking tight end
Kris Wilson
, and a Yates interception resulted in a 10-yard scoring pass from Flacco to
Anquan Boldin
.
What's next
: The Ravens advance to their second AFC championship game in four seasons. Baltimore plays at top-seeded New England next Sunday at 3 p.m.
January, 15, 2012
1/15/12
2:15
AM ET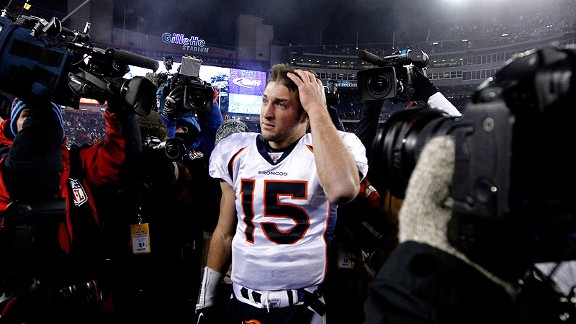 David Butler II/US PresswireTim Tebow's memorable run in the 2011 season ended with a 9-for-26 passing performance.
FOXBOROUGH, Mass. -- The
Denver Broncos
lost two games by a score of
45-10
this season. They were two lopsided bookends in an unpredictable journey that ended Saturday night.
In between not looking anything like a playoff team during an Oct. 30 home loss to Detroit and a season-ending thumping at the hands of the much better
New England Patriots
, the Broncos reinvented themselves and became a team with hope for the future.
"It may be hard to see it now after an embarrassing loss," Denver tight end
Daniel Fells
said in a quiet Denver locker room Saturday night, "but there is something there. … We did something this year that was unexpected and there is something good to look forward to in the future."
That future very likely will include
Tim Tebow
.
In a season in which Tebow became a household name in non sports-centric households and in which he became a sport's lightning rod like we've rarely seen before, the Broncos' season ended with Tebow not being the story.
While Tebow, who was just 9-of-26 passing for 136 yards, didn't do much to help his team, Saturday night's game was not a Tebow-type of game. The Denver Broncos became an unlikely playoff team this season because it played smart, hard football in all three phases of the game in their victories. It became evident early Saturday that the allure of Tebow would be quickly overshadowed by the sheer brilliance of Patriots QB
Tom Brady
and the stunning dominance of second-year New England tight end
Rob Gronkowski
.
Tebowing became a national craze and a phrase used daily. Saturday, though, the Broncos were sent packing because they were Bradyed and Gronked.
Brady tied an NFL postseason record with six touchdown passes and his 363 passing yards were a team playoff record. Gronkowski had 10 catches for 145 yards and three touchdowns. TebowMania may be cute and it may be legitimate in the fourth quarter (and overtime) of close games. But it wasn't that type of party Saturday night.
Brady and company were bent on letting the rest of the NFL playoff field know they are tired of being considered a postseason antique. They're hunting for their first Super Bowl victory in seven years, TebowMania be damned.
While Denver's season ended in a fashion that would usually sting an organization, there wasn't a sense of despair in the locker room. It seemed the players knew this was a season of progress and it was a success, everything considered.
When Denver introduced John Fox as its coach a year ago Friday, there is no way anyone could have imagined the Broncos would advance to the final eight and beat the defending AFC champion
Pittsburgh Steelers
in the playoffs. This was a team that had the No. 2 overall pick in the 2011 draft. The rebuilding project seemed like it would take years.
That assessment didn't change when Denver started the season 1-4 before inserting Tebow at quarterback.
"People wanted to close the book on the Broncos," receiver
Matthew Willis
said. "But we kept fighting."
[+] Enlarge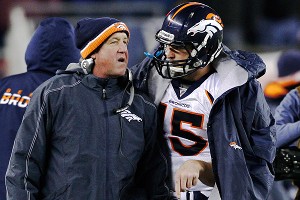 AP Photo/Stephan SavoiaIn his first season as Broncos coach, John Fox, left, adjusted his approach to Tim Tebow's talents.
It all changed after the home loss to Detroit when Fox adjusted his offense to Tebow's skill set and used the option offense. The Broncos' offense transformed through the year and adjusted on the fly.
Now, the ride is over and the Broncos must look toward the future.
Tebow said Saturday night he must become more accurate and consistent and he plans to soon start working on what will be his first full offseason as an NFL player. Legendary Denver quarterback
John Elway
, who is now the Broncos' football leader, has said he plans to personally work with Tebow in the offseason, focusing on improving the youngster's footwork.
Elway was in Denver's locker room after the game and appeared satisfied with the season. He wasn't ready to chat about the future and has yet to confirm the Broncos will ride with Tebow as their quarterback in 2012. Don't be surprised, however, if the Broncos commit to Tebow soon.
That's the direction the players want the team to take. Several Denver players said Saturday night that they believe Tebow will continue to make strides and he is the answer at quarterback.
"He's our guy," Denver rookie safety
Rahim Moore
said. "Our team jells around him. He is only going to get better."
That could be said of the entire Denver roster. This is a work in progress. Brady and New England's offense showed there is still much work to be done in Denver defensively. The Patriots compiled 509 yards of offense and they took their foot off the gas in the second half after leading 35-7 at halftime.
Denver needs help on both sides of the ball. But there is no denying this is a well-coached team that tasted unexpected success in a season that may just be scratching the surface of TebowMania, if that's even possible.
January, 15, 2012
1/15/12
1:54
AM ET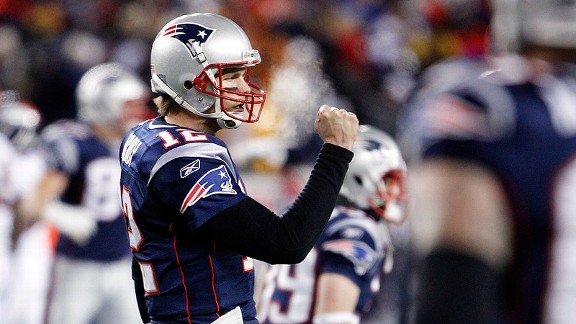 David Butler II/US Presswire Tom Brady leads the Patriots into the AFC title game on a nine-game winning streak.
FOXBOROUGH, Mass. -- These are not your 2009-10
New England Patriots
.
These Patriots didn't go one-and-done. These Patriots crushed the myth of
Tim Tebow
with a
convincing 45-10 victory
over the
Denver Broncos
.
These Patriots have a killer instinct in the postseason. These Patriots aren't playing around.
Want proof?
New England led by as many as 35 points in the second half -- and starting quarterback
Tom Brady
played every snap. He threw for 363 yards and tied an NFL playoff record with six touchdown passes.
These Patriots are scary. They saved their most complete game of the season -- on both sides of the football -- for the playoffs.
These Patriots are dangerous. They won an NFL-high ninth game in a row.
These Patriots even brought a few smiles to coach Bill Belichick's face after the game. Everyone knows that's no small feat.
"I'm really happy for the players; I'm really excited for them," Belichick said. "They worked hard, and they put up with me. So they deserve this."
These Patriots have tight end
Rob Gronkowski
. And
Aaron Hernandez
. There is no better tight end duo in the NFL.
Gronk tied an NFL record with three first-half touchdowns. He finished with 10 receptions and 145 yards. The 22-year-old could be on his way to a Hall of Fame career.
Hernandez caught four passes for 55 yards. To everyone's surprise, he also is a pretty good running back. Belichick had two weeks to prepare for Denver and added another wrinkle by giving Hernandez five carries for 61 yards. New England's versatile backup tight end, who played some running back in high school, led the team in rushing.
"Everybody makes plays on this team, and that is why our offense is so dangerous," Hernandez said. "It is hard [for the defense] because they don't know who to cover."
Patriots Pro Bowl guard
Brian Waters
played most of his career with another great tight end in Kansas City:
Tony Gonzalez
. But Waters said he's never had two tight ends on the same team who were this talented.
"I mean, what do you do?" Waters asked. "The fact that Gronk is able to block as well as he does and the fact that he can be a mismatch problem anywhere on the football field is a great thing. But his ability to block allows us the ability to do some things with Aaron that a lot of teams can't do."
These Patriots don't have a great defense. But that's OK. At least it played lights-out for one postseason game.
[+] Enlarge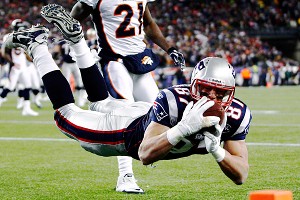 Mark L. Baer/US PresswireRob Gronkowski, here making one of his three touchdown catches, leads the Patriots' formidable tight-end duo.
These Patriots held the Broncos to 252 total yards and made Tebow look like a Division II quarterback. He was baffled and battered. He was 9-for-26 for 136 yards and a fumble. He also was sacked five times.
Can these Patriots keep up this level of defense the entire playoffs? Who knows? But New England's defense looked great for one night.
"Really, this was our first four-quarter game," Patriots linebacker
Rob Ninkovich
(1.5 sacks) said of the defense. "This is a one-game season now. So coming into this game, we knew the loser is going home and they're not playing again. So we put in a lot of work."
Enough about the defense. Because New England's offense is averaging 40.5 points in its past four games. These Patriots are extremely hard to beat with that kind of production. On Saturday, these Patriots had 42 points with 11:53 left in the third quarter. How scary is that?
Most importantly, these Patriots have Brady. He looks as sharp and focused as ever. Brady, 34, knows his title window won't stay open forever. He sliced the Broncos with precision and completed 26 of 34 passes.
These Patriots have a chance as long as Brady is at the top of his game. With
Drew Brees
eliminated Saturday,
Aaron Rodgers
is the only playoff quarterback remaining on Brady's level. But Brady won't have to see Rodgers unless they meet in Indianapolis.
Speaking of the Super Bowl, these Patriots have an intense sense of urgency to get there. In large part, it comes from Brady, who is already looking beyond Saturday's record-setting performance.
"I think we have eight days until the biggest game of the year," Brady said. "From this point on, everyone will be focused on what we need to do to be better next week and hopefully come out and play for another championship."
These Patriots (14-3) will host the AFC Championship Game next week at Gillette Stadium against the
Houston Texans
or
Baltimore Ravens
. These Patriots will be favored at home against either team, especially after a 35-point drubbing of Denver.
This AFC East blogger predicted
these Patriots would represent the AFC in the Super Bowl.
These Patriots are one step away from getting the job done.
January, 14, 2012
1/14/12
11:35
PM ET
FOXBOROUGH, Mass. -- Here are some thoughts on the
New England Patriots
'
45-10 playoff victory
over the
Denver Broncos
:


What it means:
The Patriots won a postseason game for the first time in four years and ended a three-game playoff skid. The AFC East blog said this was the easiest matchup possible for New England, and it turned out that way. Denver was no match for the Patriots, who punched a ticket to the AFC Championship Game and will host the winner of Sunday's divisional game between the
Baltimore Ravens
and
Houston Texans
.
Fast starters:
New England was criticized for its slow starts in the final two regular-season games. But the Patriots exploded in the playoffs by taking an astounding 35-7 lead at halftime. Patriots quarterback
Tom Brady
threw five touchdowns in the first two quarters and tight end
Rob Gronkowski
had eight receptions for 97 yards and three touchdowns at intermission. "Gronk" tied a playoff record for first-half touchdowns. The Broncos had no answer.
Brady ties TD record:
Brady wasn't done in the first half. He threw another touchdown in the second half to tie an NFL playoff record. Brady finished with 363 yards, six touchdowns and one interception. Brady also had a 48-yard punt during a quick kick in the fourth quarter.
Don't forget Hernandez:
The Patriots have the best tight-end duo in the NFL. They used both weapons by also getting backup
Aaron Hernandez
. Usually when you give Patriots head Bill Belichick two weeks, he finds a new wrinkle. New England put Hernandez in the backup where he could show off his tailbacks skills. Hernandez led the Patriots in rushing with 61 yards, including a 43-yard scamper on the first drive. He also caught four passes for 55 yards and a touchdown.
Ninkovich shines:
New England needed someone to step up defensively, and the team got a great effort from linebacker
Rob Ninkovich
. The Patriots baffled Broncos quarterback
Tim Tebow
with a solid pass rush. Ninkovich tied defensive tackle
Vince Wilfork
for a game-high 1.5 sacks. Ninkovich also had five tackles and two quarterback pressures.
What's next:
The AFC Championship Game comes to Gillette Stadium next weekend. New England will try to advance to its first Super Bowl since losing to the
New York Giants
following the 2007 season.
January, 14, 2012
1/14/12
11:34
PM ET
FOXBOROUGH, Mass. -- A look at a classic playoff
mismatch
:


What it means:
The Broncos' season ended at 9-9. The Broncos were never in this game as New England was clearly out to show the rest of the playoff field that it means business. The upstart Broncos were nothing more than practice fodder for New England on Saturday night.
Huge gap:
The Patriots led 35-7 at the half, and the Broncos could barely do anything on either side of the ball.
Denver still needs help:
The Broncos made great strides on defense this season. They were 32nd in the NFL in most statistical categories in 2010. Yet, Denver became a solid unit this season under first-year head coach John Fox and first-year defensive coordinator Dennis Allen. But on Saturday night, the Patriots showed Denver it still has work to do on that side of the ball.
Miller gets jumped:
After he fought with two New England offensive linemen late in the game, Denver rookie linebacker
Von Miller
was hammered by several New England players. Expect Miller to get fined for his actions.
Bradyed and Gronked:
We saw New England quarterback
Tom Brady
and tight end
Rob Gronkowski
at their finest. Brady tied an NFL postseason record with six touchdown passes. Gronkowski had 10 catches for 145 yards and three touchdowns. They connected at will. Denver had no answer.
Tebow can't help:
Denver quarterback
Tim Tebow
wasn't the reason why Denver lost. He started the game well, but as the game got out of hand he got more desperate and couldn't do much. In a season in which Tebow was memorable, he really didn't stand out in the finale.
What's next:
The Broncos stagger into the offseason, but they have to feel great about their progress this season. No one would ever had thought the Broncos' 2011 season would have ended in the divisional round of the playoffs when this team picked No. 2 in the draft.
January, 14, 2012
1/14/12
9:59
PM ET
FOXBOROUGH, Mass. – Random
halftime
thoughts:
The Broncos are being Brady'd and Gronk'd.


New England quarterback
Tom Brady
– perhaps a tad upset about being the second-most-talked-about quarterback in this game – is beating down the Denver defense. Brady has thrown five touchdown passes. The Patriots went up 28-7 with a 61-yard touchdown pass to
Deion Branch
— then scored again on a Brady-to-
Rob Gronkowski
strike.
As they did in Denver four weeks ago, the New England tight ends are slicing up the Broncos defense. Gronkowski has eight catches for 97 yards and two touchdowns.
Aaron Hernandez
has two catches for 29 yards but he has three runs for 58 yards.
Denver's defense is just not giving the Broncos a chance to stay in this game in a game the Patriots are dominating in the field-position battle.
Denver quarterback
Tim Tebow
is having a decent game. He lost one fumble, but he hasn't been a major disappointment. Still, Denver just can't keep drives going.
The Broncos are running the ball well, at least — 100 yards on 21 carries.
January, 14, 2012
1/14/12
6:29
PM ET
FOXBOROUGH, Mass. --
Tim Tebow
is about to play the in the coldest weather of his life.
He doesn't seem bothered.
With more than two hours until game time -- in the Broncos' AFC divisional playoff game at New England -- Denver quarterback Tim Tebow is on the Gillette Stadium field warming up. He is wearing a sleeveless shirt. The temperature is expected to drop in the low teens for the game. Kickoff is set for 8 p.m. ET.
The Florida product has played in a couple of games in the 30s this season. He was wearing a similar shirt while warming up at Buffalo on Dec. 24. But it wasn't nearly as cold as it Saturday night in Foxborough.
NFL SCOREBOARD
Sunday, 2/2
WEEKLY LEADERS