NFL Nation:

2012 Camp Confidential NFC
August, 23, 2012
8/23/12
1:03
PM ET
FLAGSTAFF, Ariz. -- One quarterback at
Arizona Cardinals
camp was fighting to win back the starting job he'd never really earned. The team had paid millions to him, but questions persisted over his toughness, durability and leadership.

Another quarterback at Cardinals camp had outperformed his status as a late-round draft choice. He was bigger and had a stronger arm. Teammates responded more favorably to his presence on the field, it seemed, but he wasn't the most accurate passer, which was a concern.
If those descriptions stirred thoughts of
Kevin Kolb
and
John Skelton
, respectively, you'd be correct. But the same passages applied to the Cardinals' ill-fated 2010 quarterback race between
Matt Leinart
and
Derek Anderson
. Back then, Arizona cut Leinart, struggled with Anderson and finished with a 5-11 record.
The comparison naturally did not sit well with Ken Whisenhunt, the Cardinals' sixth-year head coach. He sees a team that has won with both Kolb and especially Skelton behind center. He sees a team returning a 1,000-yard rusher, a fleet of perimeter playmakers featuring the incomparable
Larry Fitzgerald
and a defense that dominated during a 7-2 run to finish last season.
"The biggest difference, in 2009, we were a damn good football team at 10-6, but how many [key] players did we lose after that year, five?" Whisenhunt said.
Four, if we count
Kurt Warner
,
Anquan Boldin
,
Karlos Dansby
and
Antrel Rolle
.
"This year, we didn't lose that," Whisenhunt said. "That is the biggest difference in how I feel from 2010 and the way I feel in 2012."
How the quarterback situation plays out will largely determine whether Whisenhunt is right.
THREE HOT ISSUES
1. Kolb's adjustment.
Going from Philadelphia's West Coast system to the Cardinals' offense has been tougher than anticipated for the Cardinals' would-be starting quarterback. The goal seems so simple: Find ways for Kolb to remain in the pocket and trust the offense. But the instincts Kolb developed with the Eagles keep getting in the way. That could explain what Raiders defensive lineman
Tommy Kelly
indelicately called "skittishness" -- the tendency for Kolb to bail from the pocket at the first sign of trouble.
Learning the Cardinals' offense hasn't been a problem. Unlearning what he did in Philly? That's another story.
"It's just the way they create the pocket, there versus here," Kolb said. "They teach us to really push up in the pocket in Philly. Two, three hitches up in the pocket when you get up there. You can see that. If you watch Mike [Vick], he has got two really big hitches into his throws. If it's not there, it's go or throw, you know what I mean?
[+] Enlarge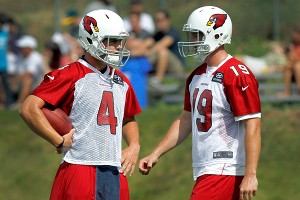 AP Photo/Ross D. FranklinJohn Skelton, right, appears to have the upper hand over Kevin Kolb for the Cardinals' starting quarterback job.
"Here, when you get to that 8-yard range [on a drop-back], they want you to hang in that vicinity and just stay there. It is just a different deal. A lot of it is rhythm. As a quarterback, you always want to be on rhythm."
Coaches would rather have Kolb throw the ball away immediately than take off running without clear purpose. The line has a hard enough time protecting Kolb when it knows the quarterback's location. Unscripted relocation has proved costly.
Kolb has a firm command of the offense. He's football savvy and fully capable of processing information at the line of scrimmage. That's what makes his difficulties confounding.
"There haven't been any problems mentally," quarterbacks coach John McNulty said. "He is on top of things, he anticipates things. I think sometimes it's not as clean or as clear as he wants and then all of a sudden you start moving. And when you make those big, violent moves when the line is not expecting it, then you're kind of on your own. If we're not making plays out of it, they're not worth doing, because all you're going to do is get hit or go backwards."
2. Shaky offensive line.
The Cardinals were auditioning left tackles as camp broke after
Levi Brown
suffered a potentially season-ending torn triceps tendon. For all the criticism Brown has taken over the years, he was clearly the best offensive tackle on the team. The line was a concern even before Brown's injury. Now, it's bordering on a crisis.
Jeremy Bridges
,
D'Anthony Batiste
,
Bobby Massie
,
D.J. Young
and
Nate Potter
are the other tackles on the roster. Bridges has started 55 regular-season NFL games. Batiste has started four. Massie and Potter are rookies. Young has no starts after entering the NFL in 2011 as an undrafted free agent.
One more time
: The Cardinals have drafted zero offensive linemen in the first three rounds over the past five drafts. They did not draft an offensive lineman in any round of the 2011 or 2010 draft. The 2012 draft didn't fall right for them when it came to adding a tackle early. They got Massie in the fourth round, which seemed like good value. He'll start at right tackle eventually, and perhaps right away.
3. Running back health.
Beanie Wells
and
Ryan Williams
are coming off knee surgeries. The Cardinals felt good enough about their prospects to sail through the offseason without addressing the position. That seemed a little risky.
Likely troubles in pass protection could lead the Cardinals to lean more heavily on their ground game, at least in theory. Wells and Williams would appear to carry greater injury risks than backs without recent knee troubles. Utility back
LaRod Stephens-Howling
was banged up during camp.
REASONS FOR OPTIMISM
The team showed dramatic improvement, particularly on defense, while finishing with that 7-2 record over the final nine games last season.
Sometimes momentum
doesn't carry over
. In the Cardinals' case, however, there are reasons to expect sustained improvement.
The 2011 team was breaking in a first-time defensive coordinator, Ray Horton, following a lockout-shortened offseason. Players needed time to grasp the concepts. They got better late in the season. They should be better yet following a full offseason.
Arizona has front-line talent at every level of its defense. End
Calais Campbell
, inside linebacker
Daryl Washington
and cornerback
Patrick Peterson
are dynamic young players on the rise. End
Darnell Dockett
and strong safety
Adrian Wilson
are in their 30s now, but both remain productive.
The team has gone 7-4 with Skelton as its starter. That figure doesn't even count Skelton's most impressive performance of the 2011 season, when he replaced an injured Kolb and helped Arizona upset San Francisco.
Skelton might not be pretty to watch, but six game-winning drives in 13 career appearances give him credibility in the locker room. Whisenhunt was with the
Pittsburgh Steelers
when the team won ugly with a young
Ben Roethlisberger
. Skelton is not Roethlisberger, but he is a big, strong quarterback with some moxie.
The Cardinals have big-play threats on offense. They finished last season with 15 pass plays of at least 40 yards, more than New England and every team but the
New York Giants
(18),
Detroit Lions
(16) and
Green Bay Packers
(16).
Greater consistency from the quarterback position isn't out of the question. If the Cardinals get it, they'll surprise skeptics.
REASONS FOR PESSIMISM
The team that finished last season on that 7-2 hot streak also went 1-6 to open the season.
And let's face it, the Cardinals, while unfortunate in a few instances early in the year, were fortunate to win seven of their final nine. They claimed four of those seven victories in overtime. Five came against teams with losing records at the time.
[+] Enlarge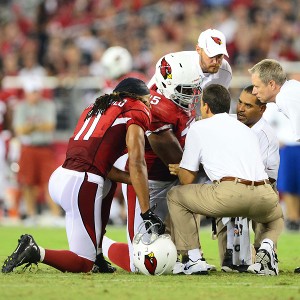 Mark J. Rebilas/US PresswireThe Cardinals may have lost arguably their best offensive tackle, Levi Brown, for the season.
The young talent on defense is backed up with the oldest reserves in the league. The offensive line is solid at center and left guard, but the other three positions should strike more fear in the Cardinals' quarterbacks than in the opposition. Removing Brown from the equation was devastating, given the already tenuous nature of the tackle situation.
Kolb hasn't been able to stay healthy or produce when on the field. That isn't going to change with the floodgates likely opening at both tackle spots.
Skelton has shown greater ability to keep his wits against pressure. Whichever QB starts will need every bit of resourcefulness he can muster against a schedule featuring
a long list
of able pass-rushers:
Jared Allen
(22 sacks last season),
Jason Babin
(18),
Aldon Smith
(14),
Chris Long
(13),
Chris Clemons
(11),
Julius Peppers
(11),
Cliff Avril
(11),
Trent Cole
(11),
Mark Anderson
(10),
John Abraham
(9.5),
Cameron Wake
(8.5),
Kyle Vanden Bosch
(8),
Justin Smith
(7.5),
Clay Matthews
(6) and
Mario Williams
(5).
OBSERVATION DECK
William Gay appears to be running unopposed at right cornerback. Opportunistic rookie Jamell Fleming, a third-round choice, will factor one way or another at the position. Fitzgerald: "[Fleming] is extremely talented. The thing I like about him is he can move around. They've got him playing inside a little bit, playing outside. What it shows you is that he is intelligent, he can pick up the defense. He understands terminology, what's going on, and he plays fast. And the ball just seems to find him."

Coaches noticed a big jump from the spring to June to training camp in Skelton's ability to handle pre-snap responsibilities. They hope that progress can help him fare better early in games. One theory holds that Skelton's grasp of a game would improve as he had a chance to study photos of opposing formations on the sideline between possessions. By the fourth quarter, he was up to speed. "We're trying to get to where we have the handle before the game," McNulty said.

Losing Brown hurt, but center Lyle Sendlein is arguably the offensive lineman Arizona can least afford to lose. He has started every game over the past four seasons and, like many centers, holds everything together up front. Left guard Daryn Colledge: "If we had to replace one guy, he would be the worst one probably on the whole football team. He is the key cog, especially for this offensive line. He is the captain and he is our guy. Without him, the wheels just might come off."

Sixth-round choice Justin Bethel, a free safety, looks like a keeper after making a positive impact on special teams.

Inside linebacker Stewart Bradley appears more comfortable in the Cardinals' defensive scheme, but the team still appears to value Paris Lenon as the starter next to Washington. That arrangement is more palatable after Bradley, one of the team's big free-agent signings in 2011, took a pay reduction.

First-round draft choice Michael Floyd hasn't stood out yet. Fitzgerald will continue to carry the passing game. Rob Housler will emerge as more of a threat at tight end. Andre Roberts and Early Doucet give the team two strong inside options. Getting Floyd going will be one key to unleashing Roberts from the slot. Roberts has good quickness and instincts. The Cardinals' quarterbacks like the way he moves within zones, but they need to do a better job locating him.

The Cardinals think they have a great one in Peterson. The physical attributes are obvious. Peterson also has the necessary desire. Arizona saw it last season when Peterson played through an Achilles injury suffered at Cincinnati.

This season as last, the Cardinals are counting on young outside pass-rushers O'Brien Schofield and Sam Acho. Schofield is fighting through knee problems, a potential concern given the career-altering surgery he underwent coming out of college. He played 38 percent of the defensive snaps last season. Arizona will need him to play a much higher percentage in 2012. Can Schofield hold up? Clark Haggans, 35, is the backup.

Arizona should be strong at nose tackle with a leaner Dan Williams and underrated backup David Carter at the position.

It's tough to envision Kolb emerging as the starter based on what we've seen to this point. There's no clear indication Kolb is close to breaking through. "The only thing I can do is stay patient, know that it's all part of God's plan," Kolb said. "My mentality is that I'm going to get through the bad to get to the good. Something good is going to come of it."
August, 16, 2012
8/16/12
1:35
PM ET
SANTA CLARA, Calif. -- One school of thought says the
San Francisco 49ers
got the most they'll ever get from quarterback
Alex Smith
last season.
What if last season was only the beginning?

That question ran through my mind while watching Smith fire passes on time and on target during a recent three-day stay at 49ers training camp. The answer became clearer every time Smith connected with newcomers
Randy Moss
and
Mario Manningham
, which was frequently. He appeared more accurate, more confident and more in command than I can ever recall seeing Smith during a training camp -- or any other time, for that matter.
"He's letting the ball go, he's making the right decisions and he's not afraid," tight end
Vernon Davis
said. "He's playing ball, he's having fun."
Of course, it figures a quarterback would look better throwing to proven targets than when operating without them.
Michael Crabtree
,
Kyle Williams
,
Brett Swain
and
Joe Hastings
were the only wideouts available to Smith in the NFC Championship Game last season. Williams, now fighting for a roster spot, ranked second among the 49ers' wide receivers with 20 catches during the regular season.
[+] Enlarge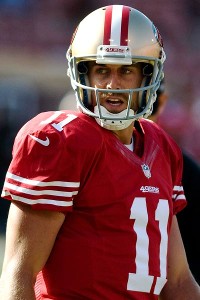 Ed Szczepanski/US PresswireThe 49ers brought in more weapons for Alex Smith to work with on offense.
Life for Smith is better now.
"If you watch our team last year, we were kind of one-dimensional as far as offense," left tackle
Joe Staley
said. "The passing game went through Vernon and Crabtree. The running game was Frank [Gore] and Kendall [Hunter]. We've added a lot of talent. The more weapons you have, the more versatile you can be. Our coaches are very creative."
Smith proved last season he could be a trusted extension of the 49ers' coaching staff. He threw five interceptions in 445 pass attempts, playing to the team's strengths on defense and special teams.
Smith has what offensive coordinator Greg Roman calls a "unique" ability to grasp a game's dynamics in real time for the purposes of managing risks. On the surface, that sounds like a creative way to avoid slapping the dreaded "game manager" label on a quarterback with limited skills. The 49ers don't see it that way at all. They think Smith has demonstrated all the intangibles great quarterbacks should possess: mental and physical toughness; an off-the-charts football IQ; a level head no matter the circumstances; a passion for preparation; and the ability to perform in the clutch. They see him leading an offense that wasn't as bad as advertised, one that should only get better.
"Without an offseason here, we finished 10th in the NFL in scoring [actually 11th] and fourth in time of possession," Roman said. "That is in spite of being poor on third down, which is pretty remarkable.
"We're going to be opportunistic, strike when we feel it's time to strike," he said. "The other part of it is, when we make decisions on offense, it's big picture. The offense, defense and special teams are all intertwined. But we have an offseason under our belt now and are working through our second camp together. We certainly expect a lot of ourselves this year."
THREE HOT ISSUES
1. Crowded offensive backfield.
Frank Gore
is going to get his carries.
Kendall Hunter
,
Brandon Jacobs
and
LaMichael James
will be competing for what's left over. Their roles haven't solidified, but Hunter has enjoyed a tremendous camp. He caught my attention this week by hauling in a deep pass up the sideline, the type of play running backs rarely make. Hunter is going to play. James, as a rookie, figures to need time.
Jacobs, signed from the
New York Giants
, has been getting work in short-yardage situations, an area in which
Anthony Dixon
struggled in the postseason.
After collecting two Super Bowl rings in five seasons with Kevin Gilbride as his coordinator, Jacobs has been blown away by Roman's ability to showcase each player's individual strengths. That is a recurring theme among 49ers players.
"That is what this staff does the best," Jacobs said. "'G-Ro' is a genius, man. I've seen it, mainly these last couple days, we started doing some different things on offense, things out of different formations and basically putting the defense in sets he wants them to be in, versus what they want to be in."
Based on what he's seen, Jacobs said he thinks Gore would have six or seven Pro Bowl appearances by now, instead of three, had this 49ers staff been in place the whole time.
[+] Enlarge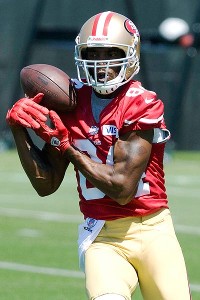 Ed Szczepanski/US PresswireAfter sitting out for a season, Randy Moss joined a revamped 49ers receiving corps.
2. Role for Randy Moss.
The passing game went through Crabtree and Davis last season. Both are in the primes of their careers. Neither figures to see his role diminish appreciably. With Manningham joining the mix and rookie first-round choice
A.J. Jenkins
lurking, a rotational role for Moss appears likely.
The sentiments Jacobs expressed regarding Roman and the 49ers' coaching staff could be important to keeping Moss from growing frustrated. Moss never has been one to suffer fools, even perceived ones, especially if the ball stopped coming his way. He did buy into "the New England way" when the Patriots' offensive staff was at its best and the team was winning. Moss also was catching balls left and right from an all-time great quarterback back then, circumstances the 49ers will not replicate.
The question then becomes whether Moss, 35 years old and coming off an idle season, will put team goals ahead of personal ones no matter what.
Davis, probably the most emotionally authentic player on the team, said he "loves" Moss for having "a great heart" and being a selfless teammate.
"Not only has he extended some knowledge to me, he has shown me that being great requires you to work even when you've had tons of success, with people saying you're a potential Hall of Famer, first ballot," Davis said of Moss.
3. Potential sophomore slump.
Aldon Smith
has incurred a DUI arrest, suffered stab wounds at a party and been carted off the Candlestick Park field with a preseason hip injury since setting a franchise rookie record with 14 sacks last season. That sounds like a sure-fire recipe for a sophomore slump.
Smith has been getting around slowly with the help of a forearm crutch. Hip injuries can be terribly painful. Athletes as lean as Smith have so little padding in that area. On the positive side, Smith has bounced back quickly from injuries in the past. He missed three games after suffering a cracked fibula during the 2010-11 season at Missouri.
The 49ers are asking Smith to transition from situational pass-rusher to full-time outside linebacker. Missed practice reps could slow that transition in the short term.
REASONS FOR OPTIMISM
The 49ers brought back all the important players from a team that finished 13-3 and reached the NFC Championship Game last season. They added weapons at receiver and running back after falling short offensively.
Both sides of the ball figure to benefit from a full offseason after scrambling to learn new schemes on the fly following the lockout.
The progress Davis showed late last season comes to mind as an extreme example. Adapting to yet another offense was tough in the beginning, but once he grasped the concepts more fully, there was no stopping him (10 receptions, 292 yards and four touchdowns over two playoff games).
Finishing 13-3 again would
break from precedent
, but all signs point to the 49ers as NFC West favorites.
Much will hinge on whether the offense improves, and to what degree.
The line appears in position to take a step forward. Four of the five starters played at least 92 percent of the offensive snaps last season. The new starter, right guard
Alex Boone
, is entering his third season with the team. The best offensive lines play together for years. This one increasingly has continuity. There's talent, too, with first-round choices in three of the five spots.
REASONS FOR PESSIMISM
Niners fans should be familiar with the warning labels by now.
Injuries: The 49ers were unusually healthy last season. Alex Smith took a league-high 44 sacks and somehow started every game. He started 16 games in a regular season for the first time since 2006 and the second time in his career. The defense suffered very few meaningful injuries in 2011-12, but the hip bruise Aldon Smith suffered last week highlighted the implausibility of a repeat on that front.
Turnovers: History says San Francisco's plus-28 turnover differential will be unsustainable.
Targets on backs: The 49ers are going from hunters to hunted. Opponents will be gunning for them. Opponents will also have fuller, more accurate reads on the schemes Jim Harbaugh and staff brought to the NFL from Stanford. The unconventional shifting and personnel combinations San Francisco unleashed on opponents might not have the same effect a second time around. That might have begun to happen last season, when the 49ers proved
far less dominant
when facing opponents a second time.
OBSERVATION DECK
Tarell Brown has been the best cornerback in camp. Teammates say he puts in the prep time. It shows when the 49ers do situational work. The more specific the situation, the better Brown seems to fare. Brown is also probably the 49ers' best corner in press coverage, an asset in short-yardage situations, whereas the other starting corner, Pro Bowl choice Carlos Rogers, tends to prefer off coverage.

Jacobs has run effectively in short-yardage situations. I did notice rookie linebacker Kourtnei Brown rocking Jacobs twice in one-on-one pass-rush drills during the team's recent Fan Fest practice.

When the 49ers enter their locker room from the practice field, a sign meets them with a list of five points: work hard, stay loose, stay focused, be accountable and take care of one another. The sign greeting them as they leave the locker room reads, "You are getting better or getting worse. You never stay the same."

Versatile corner Perrish Cox is making a strong push to unseat Chris Culliver in the nickel role. No matter what happens, Cox figures to play this season. He's made an impact on special teams as well. Seeking continued improvements in the secondary was additionally important with Aaron Rodgers, Matthew Stafford, Eli Manning, Jay Cutler, Drew Brees and Tom Brady on the schedule this season.

While Harbaugh has defended Jenkins from premature and unfair criticism, all indications point to a gradual assimilation for the receiver San Francisco selected in the first round. Veteran safety Donte Whitner: "When he gets there, I would compare him to a guy like Robert Meachem. He's not really big in stature, but he has a lot of speed. He has some quickness."

Safety Michael Thomas could be an undrafted free agent to watch for the 49ers this season. He knows the defense after playing for coordinator Vic Fangio at Stanford. Whitner: "If I was a betting man, at the end of the season, he'll be somewhere around this football team, whether it be on practice squad or on the 53[-man roster] because he wasn't drafted, he's not the biggest guy, not the fastest guy, but he has football instincts and he has football smarts. He's around the football in practice."

The 49ers do a good job maximizing roster spots. They used nose tackle Isaac Sopoaga at fullback in power packages last season. Staley and Sopoaga caught passes. Bruce Miller successfully converted from college defensive end to starting fullback. Defensive lineman Demarcus Dobbs is the latest project. He's working as a blocking tight end and could conceivably push Nate Byham for the third roster spot at that position. Harbaugh: "He's definitely far enough along. We still don't know what that ceiling is yet."

The defense has a firmer grasp of Fangio's playbook entering a second season together. The team had 42 defensive calls installed when this week opened. That's not an unusual number, but Fangio should be able to call more of them with confidence.

Every player I spoke with -- Alex Smith, Davis, Williams, Jacobs, Staley and others -- mentioned putting team goals before individual ones. Harbaugh and staff have ingrained that mindset in players. It's a storyline to watch now that the 49ers have additional offensive weapons, a strong personality in Moss and higher expectations overall.
August, 13, 2012
8/13/12
11:01
AM ET
RENTON, Wash. --
Terrell Owens
' arrival at
Seattle Seahawks
training camp commanded national headlines.
It commanded the Seahawks' attention as well, not just on the field but in the meeting room, where coach Pete Carroll made Owens the leading man in
an entertaining prank
.

But when the Seahawks' first exhibition game kicked off Saturday night against Tennessee, the focus returned to where it needed to be: quarterback. For while Owens might not even earn a roster spot, let alone an important role on the team, the situation behind center will determine whether Seattle breaks from its recent 7-9 form.
The way
Matt Flynn
and
Russell Wilson
played against the Titans showed Seattle has a chance to do just that. It was only one game, and one whose outcome was meaningless. But it affirmed some of the evidence collected to this point.
Flynn, non-descript through organized team activities and minicamps, had responded favorably when Carroll gave him the first-team practice reps last week. He was sharp in practice and efficient while completing his first eight passes against the Titans. Flynn's lone interception resulted from a rookie running back failing to sell the play fake, allowing linebacker
Colin McCarthy
to drop into coverage without concern for the run.
Wilson, sensational for a rookie during the offseason program, hadn't stood out as much in camp. But when the lights went on Saturday night, he looked like the best player on the field. Wilson showed the pocket presence needed to move just the right distance at just the right times, extending plays. He scored on a 32-yard bootleg and threw a 39-yard touchdown pass from the pocket. Only an ill-advised interception over the middle prevented a full Wilson lovefest from breaking out. But it's early, and Wilson is just getting started.
Seattle has seen enough to think one of its new quarterbacks can provide an upgrade from
Tarvaris Jackson
, who remains on the roster as insurance.
THREE HOT ISSUES
1. Owens or Edwards?
The Seahawks want a receiver with dominant size to fill the role
Mike Williams
played during the 2010 season. Owens is one candidate.
Braylon Edwards
is another. Second-year pro
Kris Durham
might still emerge as third, but he has struggled to gain traction in camp to this point.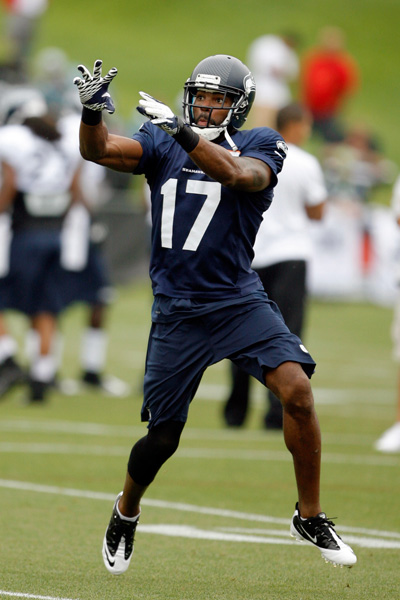 Joe Nicholson/US PresswireBraylon Edwards, on his fourth team in the past four seasons, has been impressive in camp.
Edwards has stepped up his game markedly following Owens' arrival, no coincidence. He has to realize the Seahawks aren't going to keep two veteran receivers with no value on special teams. Owens has the bigger name and better credentials, but Edwards has the inside track for a roster spot if both play well. That is because Edwards is nine years younger and could conceivably project as a factor beyond this season. It's also because Owens has been a higher-maintenance player.
Edwards was scrapping like an undrafted free agent during the game against Tennessee. He was a willing blocker -- too willing at one point, drawing a penalty. He rewarded Wilson's trust by making a strong play on the ball for that 39-yard touchdown reception. Owens will get his chance in the coming weeks. This competition is only beginning.
2. What to do with Jackson.
Carroll has shown sensitivity for Jackson after the veteran quarterback played through a torn pectoral muscle last season. The grit Jackson showed won respect in the locker room. As much as the team wanted to look at Flynn and Wilson this summer, Carroll gave Jackson an equal portion of the reps through the first week of training camp.
Carrying a three-man race through the exhibition schedule would have been impractical. That is why Flynn and Wilson took the meaningful reps in practice last week. It's why Flynn and Wilson took all the snaps during the exhibition opener. Jackson represents the known. He's the baseline for a team seeking improvement at the position. Jackson, for all his toughness, wasn't effective enough when it counted last season (no touchdowns, six interceptions and nine sacks in the final two minutes of halves).
Jackson is scheduled to earn $4 million in salary for the 2012 season. Flynn and Wilson are going to be on the roster. They will most likely fill the top two spots. The team still likes developmental quarterback
Josh Portis
. Something has to give, and logic says it'll be Jackson.
3. Health concerns at tight end.
The Seahawks envision running quite a few personnel groupings with two tight ends. Assistant head coach/offensive line Tom Cable values H-back types. The expectation this season was for
Zach Miller
and
Kellen Winslow
to provide Seattle with a diverse duo at the position. That still might happen, but with Miller now suffering from his fourth concussion in less than three calendar years, there are suddenly renewed health questions at tight end.
Winslow's chronic knee problems limit how frequently he can practice. While Winslow hasn't missed a game to injury over the past three seasons, he is 29 years old and doesn't figure to gain durability from this point forward, especially in light of his knee issues.
REASON FOR OPTIMISM
The Seahawks have upgraded at quarterback and in their ability to rush the passer. Those were the two areas most responsible for holding them back in the recent past. They're also more settled on the offensive line.
How much Seattle has upgraded at quarterback remains unknown, but even if Jackson were to somehow emerge as the starter in a sort of worst-case scenario, at least he would be healthy. The Seahawks aren't asking their quarterbacks to carry the team. They want efficient play from the position. The early returns suggest Flynn can provide that, and that Wilson might be able to provide more.
Newly acquired defensive tackle
Jason Jones
has already improved the pass rush. Rookie first-round choice
Bruce Irvin
has been the most difficult player to block in one-on-one pass-rush drills. He has the speed to beat tackles to the outside. He's got better power than anticipated for a player weighing less than 250 pounds. The combination of Jones, Irvin and leading sacker
Chris Clemons
will be tough at home in particular.
Seattle's defense already ranked among the NFL's top 10 in points allowed, yards allowed and yards allowed per play. This was a mostly young defense on the rise even before Jones and Irvin arrived to address the pass rush.
REASON FOR PESSIMISM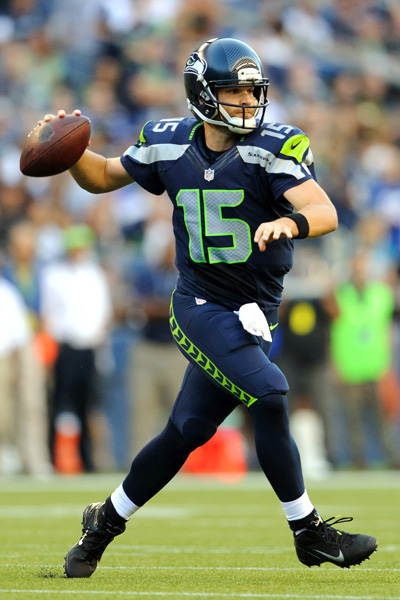 Steven Bisig/US PresswireMatt Flynn was 11-for-13 against the Titans on Saturday night, but he is still largely untested in the regular season.
There's faith involved in projecting how well unproven quarterbacks will perform.
A year ago, division-rival Arizona was convinced
Kevin Kolb
would fix its problems at the position. At the very least, the Cardinals would become average at quarterback, it seemed. Surely that would be enough to make them a playoff contender once again.
Flynn might be better than Kolb, but what if he's not? What if it becomes clear a month or two into the season that Flynn, with only two career regular-season starts, isn't ready to manage an NFL offense from week to week? That's not such a stretch.
Wilson has appeal as an alternative, but how far can a team with a 5-foot-10 rookie quarterback go in an NFC featuring
Aaron Rodgers
,
Eli Manning
,
Matthew Stafford
,
Drew Brees
,
Tony Romo
,
Matt Ryan
,
Michael Vick
,
Jay Cutler
and
Cam Newton
?
Sure, the Seahawks have a powerful ground game and a potentially dominant defense, but the NFL is a quarterback-driven league, right? The five most recent Super Bowls featured Eli Manning,
Tom Brady
,
Ben Roethlisberger
, Rodgers, Brees,
Peyton Manning
and
Kurt Warner
as the starting quarterbacks. None was trying to decide between a player with two starts (Flynn) and a rookie third-round choice (Wilson).
Even if Flynn or Wilson emerges as viable this season, Seattle could realistically have the third-best quarterback in the division this season.
OBSERVATION DECK
The red non-contact jersey Sidney Rice wears in practice invites questions about his availability coming off two offseason shoulder surgeries. Rice seems to be moving and catching well, however. My read is that the team is being cautious, and there are no pressing concerns.

Rice needs to do a better job of protecting himself. He tends to land awkwardly, exposing himself to unnecessary contact. The plan was for the shoulder surgeries to enable more aggressive weight lifting, allowing Rice to strengthen his lithe frame. While the shoulders are a concern, Rice also suffered two concussions last season.

Seattle continues to show an uncanny ability to find important roles for obscure defensive players. Defensive end Red Bryant became a success story after converting from defensive tackle over the past couple of seasons. Clinton McDonald, a former college linebacker acquired from Cincinnati in the Kelly Jennings trade, is now a factor. McDonald stands ahead of Bryant, Brandon Mebane and Alan Branch as the fourth defensive lineman in the nickel package. McDonald is backing up Mebane in the base defense.

Bryant's outgoing personality makes him a natural leader on defense. Mebane, his quieter teammate on the line, emerged in that area last season, after the team released veteran linebacker Lofa Tatupu. Leroy Hill: "A lot of times in the huddle, Mebane is the one talking. It's odd because he never did that role, but last year he stepped up and people fell in behind him. ... People listen to what he's got to say."

Left guard John Moffitt could miss the next few weeks after requiring elbow surgery. My initial take was that his replacement, Deuce Lutui, would provide an upgrade. That could be true in pass protection especially. One question, however, is whether Lutui fits the profile for Cable's zone blocking scheme. Moffitt appears to be a better fit that way. He might be best suited for center, actually, but the team is set there with Max Unger, who recently signed a long-term extension.

Seattle has apparently hit on two seventh-round choices this year. Greg Scruggs has a chance to stick on the defensive line. J.R. Sweezy has improbably made a quick conversion from college defensive lineman to NFL guard. Seattle gave him time with its starting line against Tennessee in the preseason opener. Sweezy played surprisingly well. He projects as a good run-blocker for Cable's scheme. Rishaw Johnson is another obscure offensive lineman to watch along those lines.

We've made it this far without mentioning Marshawn Lynch, the offensive player Seattle relied upon most heavily last season. Rookie Robert Turbin has gotten more attention as the projected backup. The Seahawks haven't heard whether Lynch will face a suspension in relation to his pending DUI case. Teams wouldn't have to fear the ground game nearly as much if Lynch missed time.

Speaking of middle linebacker, rookie Bobby Wagner remains the favorite to start, in my view. He has outstanding speed and strong hands for taking on blocks when necessary. Veteran fullback Michael Robinson even compared Wagner to a young Patrick Willis. Wagner's preseason debut was a bit of an adventure, however. He overran a few plays and didn't stand out.

The offensive line should be fine as long as left tackle Russell Okung remains healthy. Okung was looking good early in camp one year ago, only to suffer an ankle injury during an Aug. 11 preseason game against San Diego. The torn pectoral he suffered late last season counts as a fluke. Philadelphia's Trent Cole, frustrated by Okung's edgy style, unleashed a judo move on him. The longer Okung can go without landing on the injury report, the better Seattle can feel about his long-term prospects.

Cornerback Walter Thurmond and offensive lineman James Carpenter could make an impact later in the season. Both are coming off serious injuries. Neither will factor early in the season. Playing Carpenter at left guard has long-term appeal. He and Okung would form a massive combination on the left side. Carpenter is still limping around with a heavy brace on his surgically repaired knee, however.

Carroll's extreme commitment to competition shows up in his willingness to play young players at key positions, including middle linebacker and even quarterback. The effect is felt throughout the roster. Lutui: "Rookies, first-year guys, he puts them in. I've never seen that on any level. That pushes the older guys. Everybody is not comfortable. Everybody is not complacent. It doesn't matter if you have a new contract. Everybody is on an edge. You know have to better yourself. And that is good to see."
August, 11, 2012
8/11/12
12:00
PM ET
ALLEN PARK, Mich. -- The
Detroit Lions
improved in each of their first three seasons under general manager Martin Mayhew and coach Jim Schwartz, progressing from 2-14 to 6-10 to last season's 10-6 playoff campaign. So as they moved through training camp this summer, it was fair to ask: What's next?

"Every team wants to be a champion," receiver
Nate Burleson
said. "But now we just have to prove we can be consistently [good]. That's the most important thing. We're not that team yet that everybody looks at year in and year out and says we're going to be a contender. We don't have the consistency yet to give off that perception to people outside this facility.
"We don't want to be the team that falls back and be the team that makes mistakes. We don't want to be that successful team that ends up shooting ourselves in the foot halfway through the season."
A few days at training camp revealed the Lions are once again a genuine playoff contender, one whose structure is so routine that coaches had the entire scheme installed in three days. Discussion of an embarrassing offseason has faded, leaving the Lions to focus their attention elsewhere.
Mathematically speaking, the next step for this franchise would be its first-ever NFC North title. But the Lions instead have spent the summer working to shore up the flaws that got them bounced from the 2011 postseason.
"Our goal is to make the playoffs," quarterback
Matthew Stafford
said. "Once you get in the playoffs, you've got a chance to be in it and go win it. You've seen that it doesn't matter whether you win your division or not. It's good to be fighting tooth and nail and trying to find a way to get in. Once you get in, anything can happen. We want to go back to the playoffs and do something when we get there."
THREE HOT ISSUES
[+] Enlarge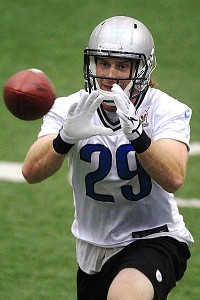 Carlos Osorio/AP PhotoEarly in the preseason, it appears John Wendling will be the Lions' starting safety.
1. Secondary holes:
The Lions had one of the NFL's worst pass defenses over the final six weeks of last season, partially because of injuries to cornerback
Chris Houston
and safety
Louis Delmas
. Houston has returned healthy, but
Delmas had surgery
last week on his left knee and might miss the preseason.
Meanwhile, safety
Amari Spievey
's camp performance has been uneven enough to allow veteran
John Wendling
to supplant him as a starter. The Lions are also working to find a replacement starter for released cornerback
Aaron Berry
, and the most optimistic turn of camp
has been the emergence
of rookie
Dwight Bentley
.
In all, the project to repair one of the Lions' primary 2011 weaknesses remains a work in progress.
"It really doesn't matter what they look like in practice," Schwartz said. "It's how they play in games. These next … preseason games will go a long way toward determining how we feel about those guys and how they practice every day and things like that, not what they've done in the past. We've got some quality guys back there."
2. On-field judgment:
The Lions' issues with penalties last season have been well-documented, and players said Schwartz has been much
more vocal during practice to discourage such easily preventable mistakes
. At one point last week, right tackle
Gosder Cherilus
was removed from a team drill after jumping offsides.
"If you do have penalties, you're going to get it," Houston said. "He's going to yell at you."
Meanwhile, it was worth noting that rookie linebacker
Tahir Whitehead
kept his composure when veteran center
Dominic Raiola
whacked his helmet after getting tripped. Several defensive players surrounded Whitehead to prevent any escalation, but Schwartz was pleased with Whitehead's response and how quickly order was restored.
"I think that that's a good step, particularly a rookie like Tahir," Schwartz said, "to be able to show restraint and keep focus even when guys were competing. The biggest thing is not letting those things get a hold of you, and I thought that Tahir did a very good job in that situation."
We're not going to declare the Lions a changed team based on one instance where cooler heads prevailed. But camp usually is when the tenor of a team is set. And even if you don't buy that theory, consider it this way: A focused camp where players are concentrating on their assignments is preferable to one where fighting and other chaos breaks the routine.
3. Health at running back:
After months of discussion about the potential of a full-strength backfield, the Lions have yet to get
Jahvid Best
and
Mikel Leshoure
on the practice field together. Best remains on the physically unable to perform (PUP) list, still not cleared to practice, and Leshoure has missed most of camp because of a strained hamstring.
Leshoure is expected to return to practice next week, but for now the Lions' most likely Week 1 starter is veteran
Kevin Smith
. In many ways, Smith is an ideal option when a team's top two running backs are sidelined. He keeps himself in excellent condition and once again showed in camp that he is well-versed in the Lions' offense.
REASON FOR OPTIMISM
In this era of NFL passing efficiency, any team with a quarterback like Stafford, a receiver like
Calvin Johnson
and a cast of complementary players at tight end (
Brandon Pettigrew
and
Tony Scheffler
) and receiver (Nate Burleson and
Titus Young
), will be competitive. Just as significant to the Lions' hopes, however, is the consistency of their program.
[+] Enlarge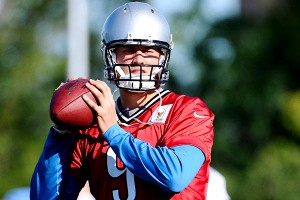 Tim Fuller/US PresswireQB Matthew Stafford & Co. have developed some consistency that should benefit the Lions this year.
Like Schwartz, offensive coordinator Scott Linehan and defensive coordinator Gunther Cunningham are both entering their fourth seasons with the Lions. Special teams coordinator Danny Crossman joined the team in 2010. That means the Lionshave to teach their scheme only to the handful of newcomers they welcomed onto their roster and can spend more of training camp focused on higher matters.
"It's tough for a rookie probably to jump in," Stafford said, "but the whole playbook is in about three or four days. We have a lot of returning starters who know what to do, and it's on the rookies to pick it up along the way."
Schwartz noted that there are always new wrinkles to work on and adjustments to make, but added: "Our first day of training camp, if we had to go play a game, we probably would have been able to call an entire game on offense, defense and special teams. It gives you a little more leeway. You don't have to start over and you don't have to put things in."
REASON FOR PESSIMISSM
The Lions are a good, playoff-caliber team that plays in what might be the NFL's toughest division. Nothing I saw at training camp pointed to anything other than continued progress toward elite status. The Lions' biggest problem is they will fight for a playoff-caliber record in a division that contains two similar teams, the Packers and Bears.
The Lions are 2-10 over the past three seasons against the Packers and Bears. Conventional wisdom suggests they will have to beat out at least one of those teams in the NFC North standings to earn a second-consecutive playoff berth.
OBSERVATION DECK
It seems odd to move through a training camp snapshot without mentioning the player who had one of the best seasons for a receiver in NFL history last year. Johnson looked, well, like Johnson -- a man among boys. Earlier this summer, Burleson said he thought Johnson looked stronger and faster than ever. When I dipped into a media scrum surrounding Burleson's locker last week, he was suggesting that Johnson could outrun Olympic gold medalist Usain Bolt if he trained as a sprinter rather than a football player. I'm not sure if Burleson was joking or not.

We're almost numb to seeing Johnson make inhuman catches, but we're still getting used to the third portion of the Lions' trio of top receivers. Young, by all accounts, has had an excellent camp. Thursday, I watched him meet a low throw in textbook fashion, snatching it just before it hit the ground with both hands. By grabbing the ball and not diving, Young stayed on his feet and used sideline footwork to earn a first down. "He's always been a very skilled player," Schwartz said. "Very good hands. He's an important player in our offense. … He's a guy that missed all of training camp last year. He had very, very few practices. So this is really his first training camp. We are seeing good signs from him, but also continued development. It's not just flashes. It's been a lot more consistency."

The Lions are still working through options to find the best place for second-year defensive tackle Nick Fairley, who is spending time at both defensive tackle and at defensive end in a new "Grey" scheme. Fairley is fully healthy for the first time since breaking his foot last August. When I asked Schwartz if he's seen the player the team thought it had when he was drafted, he said: "I don't want to read too much into practice. He's running well. He's strong. He's still developing in our scheme. This is a very important preseason to evaluate him. Last year even when he was playing with us, he was never 100 percent. He is now, and this will be a good preseason for him to show that."

We have often joked in our SportsNation chats about the relative lack of recognition Stafford received after a 5,038-yard, 41-touchdown season. So I laughed when asking Stafford if he had allowed himself a moment to feel good about a 5,000-yard season, he said: "I mean, it means nothing at all. Shoot, I don't even think half the league even knew it happened. It doesn't matter to me."

Familiarity with Linehan's offense provides at least one advantage: Players are more likely to know multiple positions, allowing them to rotate more often and minimize defensive adjustments. "At this point," Burleson said, "we know the offense and we know each other's positions. Now we can make it even that much more difficult to guard us by the moving [Johnson] around, moving myself around, moving Titus around, so you can't look at the depth chart and know where we're going to line up day in and day out."

Rookie first-round pick Riley Reiff got some first-team work at left tackle, where he will probably replace Jeff Backus one day. But there are no indications that Cherilus is in danger of losing his job, giving the Lions a better backup option than most teams have if a starting left tackle or right tackle is injured.

The Lions are hosting a punting competition for the second consecutive season, but no favorite has emerged. Ryan Donahue, who opened last season as the Lions' punter, is competing against the player who replaced him after a quadriceps injury, Ben Graham.
August, 10, 2012
8/10/12
12:00
PM ET
OXNARD, Calif. -- The one-on-one confrontations drawing the most attention these days in
Dallas Cowboys
training camp are the ones between running back
DeMarco Murray
and linebacker
Sean Lee
. Each of Dallas' young, serious, budding stars sees the other as a daily personal challenge. Murray is determined to finish every run as far downfield as he can, and Lee is determined to make that as difficult as possible. The action is so good, coach Jason Garrett said, that he's using Lee and Murray as examples for the rest of the team: "Look at the way this guy works. Look at the way this guy practices."

The fact that Garrett's examples, in this case, are a third-year linebacker and a second-year running back says a great deal about where the Cowboys are as a franchise. Yes, of course they want to win in 2012. But the sense you get when you spent time around this team is that they're all focused on building a successful and sustainable long-term future.
"Those young guys we have came in right away and just started molding themselves as impact players," star linebacker
DeMarcus Ware
said. "Those are the guys that are going to be here and be that team. And right now, our veteran guys are still in our prime, along with the guys who are going to take your place eventually. So I think we have the building blocks that we need, and I feel like we have that total team this year."
This year could go either way for a Cowboys team that still has questions about its defense, its offensive line and its depth in general. But those who focus only on 2012 and wonder whether Garrett or quarterback
Tony Romo
would be in trouble if Dallas doesn't reach the playoffs are missing the point. Garrett is, increasingly, in control of the way this team is being put together. And his long-range vision has the support of owner Jerry Jones, who longs for a return to the 1990s dynasty days.
"We're trying to build our football team for 2012, but we're also trying to build a football program," Garrett said. "To put a program in place that's going to have sustained winning for years to come. 'Build' is an important word for us. It's something we've talked about a lot this offseason. I think the values that I have are shared by the people in our organization. We've done it a lot of different ways with the Cowboys through the years, but I would argue that the football character of the Super Bowl teams in the '90s was outstanding. They loved to play football. They worked hard at it. There was great spirit to them. They loved it and they worked hard at it and they understood what 'team' was."
By trying to prioritize character and makeup when choosing which players to draft or sign, Garrett believes the Cowboys are giving themselves the best possible chance to replicate that 1990s vibe. Of course, there's one very important thing this year's team can do to contribute to the long-term goals.
"We've put the good work in when it comes to foundation, but it doesn't mean anything unless we win," Lee said. "We need to win in big situations. We need to get to the playoffs. We need to compete for Super Bowls every year if we want to be a legitimate team. I think we have the character and the talent to do it, but it's a matter of putting it on the field."
THREE HOT ISSUES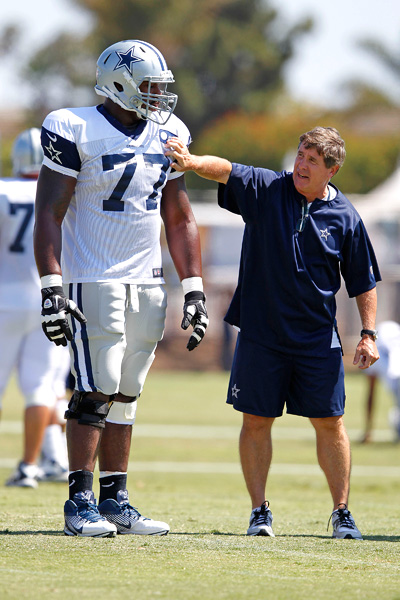 AP Photo/James D SmithTyron Smith, left, will be moving from right to left tackle along the Cowboys' reshuffled offensive line.
1. The offensive line.
For all of the well-deserved heat the defense took during last season's collapse, the offensive line was a year-long problem. The Cowboys couldn't find any kind of decent mix on the interior, where they're still struggling with health, strength and the center-quarterback exchange.
Phil Costa
returns as a somewhat underwhelming starting center, and the hope is that veterans
Mackenzy Bernadeau
and
Nate Livings
will solidify the guard spots, but to this point they have not.
Doug Free
struggled so much at left tackle last year that he's been moved back over to the right side, while 2011 first-round pick
Tyron Smith
has moved to the left. Smith was outstanding as a rookie, and there's little reason to believe he won't be able to handle the transition, but the other four spots on the line remain question marks.
That Romo was able to post big numbers last year behind a struggling line last year says a lot about him, and the Cowboys will once again count on their quarterback to cover some of those weaknesses. But they must be able to protect him, and to open holes for Murray in the run game. NFL history is littered with teams that had great quarterbacks, running backs and receivers but were done in by bad offensive lines. If the Cowboys want to avoid becoming another of those teams, they need to find a serviceable mix of linemen at some point in August.
2. Corner-ing the market.
Garrett says that the first thing the Cowboys do when constructing their roster is identify the "money positions" -- the spots on which they're willing to commit major resources. For Dallas, these are quarterback, offensive tackle, pass-rusher, playmaking wide receiver and cornerback. Given that, it's no surprise that they attacked cornerback hard this offseason. They signed free agent
Brandon Carr
to a huge contract and traded their first-round and second-round draft picks for
Morris Claiborne
. That's committing major resources to one position, and the Cowboys' hope is that they can build their 2012 defense around two great man-coverage cornerbacks.
"No pressure, right?" Carr joked when asked about the responsibility he carries as the big free-agent signing. "I like it. I came from Kansas City, where we played a lot of man-to-man, and with this front seven we have here we should have an opportunity to go out there and challenge receivers and make plays on the ball."
Claiborne missed the offseason program while recovering from wrist surgery, and a knee problem has kept him off the field for the early part of training camp. Defensive coordinator Rob Ryan will be able to do a lot of creative things with his defensive front if he can count on Carr and Claiborne being effective in man coverage, so the Cowboys would like to see Claiborne on the field as much as possible this preseason so he can get up to speed on the NFL game.
3. Winning when it counts.
The Cowboys lost four of their last five games in 2011, including two to the Giants, and finished one game behind the first-place Giants in the NFC East. It's not hard to figure out what they need to do better.
"That's why we didn't end up making the playoffs and that's why the Giants went on -- because they could make big plays in big situations," Lee said. "We need to be able to do that and be more consistent with it."
Lee, Ware and the linebacking corps look like a bunch of playmakers. The Cowboys think their new cornerbacks can be playmakers. They know Romo,
Dez Bryant
,
Jason Witten
and
Miles Austin
can be playmakers on offense. But as Lee says, they just need to do it. Austin can't lose the ball in the lights on third down in the home game against the Giants. Somebody besides Ware needs to come up with a sack every now and then. If the Cowboys' lesson of 2011 is that they need to be tougher in big spots, they'll get plenty of 2012 chances to show whether or not they learned it.
REASON FOR OPTIMISM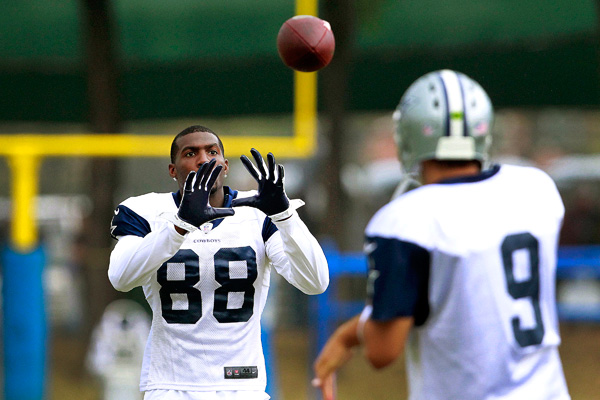 Ron Jenkins/Fort Worth Star-Telegram/MCT via Getty ImagesDez Bryant, left, and Tony Romo are among the many playmakers the Cowboys have on offense.
The Cowboys' front-line talent is very good. Romo, Bryant, Austin and Witten all rank among the top players at their positions on offense, and Ware is probably the best defensive player in the entire league. There's reason to believe a healthy Murray can be an outstanding runner, and the offense worked very well last year while he was healthy and starting. Lee looks like an emerging superstar on defense, and we've already talked about the corners. If they can get lucky and avoid major injuries to starters, the Cowboys have as much talent at key positions as anyone in the conference.
REASON FOR PESSIMISM
The flip side, of course, is that there isn't much depth behind those offensive stars. And guys like Austin, Bryant, Murray and Romo aren't always the picture of health. You can make the point that no team can sustain injuries to key starters, but the Cowboys especially look like a team for which everything really needs to go right. An early training-camp hamstring injury to Austin is a bad sign. Unless they're going to somehow find another
Laurent Robinson
in the wide receiver bargain bin, they need to keep Austin and Bryant on the field.
OBSERVATION DECK
There are interesting battles going on for spots on the defensive line, where Kenyon Coleman and Marcus Spears are seeing their roster spots challenged by the likes of Sean Lissemore and Clifton Geathers. With Jay Ratliff and Jason Hatcher looking like sure-thing starters, Josh Brent the likely backup at nose tackle, and third-round pick Tyrone Crawford in the mix as a situational pass-rusher, there may only be two more spots on the roster for defensive linemen.

Don't rule Ronald Leary out of the mix for a starting guard spot. He was undrafted, but the Cowboys like him a great deal and the competition at those spots is very much open at this point.

Bryant looks like the best player on the field at Cowboys practices. Simple as that. There is nothing football-related that's keeping him from being one of the best wide receivers in the league. Now, if they can just build him an apartment that's attached to the field so he never has to be away from it, they should be all set.

This time last year, everybody was worried about the third wide receiver spot, and they plucked Robinson out of nowhere to catch 11 touchdowns. With Robinson gone off to Jacksonville, fans are worried again, but the Cowboys aren't. Even if someone like Kevin Ogletree wins the spot and can't play the way Robinson did last year, they'll find a way to make up for his production. "You can fill it with the second tight end, you can fill it with the backs, and obviously with the third wide receiver," Witten said. "But I don't think it's just one guy. What Laurent did, it's hard for a No. 3 receiver to come in and do that. So I think it's got to be a combination."

Barry Church won a starting safety spot in the first week of camp. Yes, Brodney Pool was a disappointment, but part of the reason they cut him so early was that they liked what Church had shown them. So it appears he'll start at safety along with Gerald Sensabaugh. If he can transfer his early-camp performance into real games, that'd be a big bonus for the secondary -- whether or not those corners are locking people down in man coverage.

The linebacker group looks like a real strength, even inside. Lee is a big-time playmaker, and both Dan Connor and Bruce Carter have been performing well as they fight for the other starting inside linebacker job. Still not sure if Anthony Spencer can improve as a pass-rusher enough to give them a credible threat opposite Ware, but they should be tough to move the ball against in the middle of the field.

The switch from left tackle to right tackle could take a little time for the ultra-talented Tyron Smith. He played right tackle in college and is working on retraining himself on things as simple as which foot to move first. I expect he'll get it figured out in time.

The talk early in camp was of using Bryant on punt returns and backup running back Felix Jones on kick returns. The Cowboys have been hesitant to use Bryant on returns because of his value to the passing game, so they're looking at other options. But none is as potentially game-changing as Bryant is with the ball in his hands.
August, 6, 2012
8/06/12
12:00
PM ET
BETHLEHEM, Pa. -- A year ago, as excitement swirled around the free-agent-happy
Philadelphia Eagles
and preseason predictions called for big things, something still didn't feel quite right.

"I didn't think the expectations were too high, but I knew that the timing might not match up as quickly as everyone wanted it to," cornerback
Nnamdi Asomugha
said after practice last week. "Because you would hear, 'Oh, they're going to be this, going to be that,' and then you'd come out in practice and you could see us blowing plays. Yes, we could be there, but we weren't there yet. That's what I was feeling in training camp. Right now in training camp, it feels completely different."
Last week, before the Eagles' training camp was rocked by Sunday's news of the death of coach Andy Reid's son Garrett, the atmosphere was serene and businesslike. The players have been practicing together since February, when Asomugha and quarterback
Michael Vick
were organizing players-only workouts at the University of Pennsylvania. And late July welcomed them to one of the hardest-hitting camps in the NFL. Their motivation is clear and simple -- they were 8-8 last year and believe they should have been better. They admit to being downright angry about the way the 2011 season went.
"Yeah, I think there's a determined effort to try to maximize our opportunity," Eagles general manager Howie Roseman said. "You see it from the players. You see it from the coaches. You see it from the support staff. And I think last year, maybe you underestimated how long it takes to acclimate."
No such issues or excuses this time around. This is basically the same group as last year's, with new guys at middle linebacker and left tackle. All of the coaches who were new to the team or their roles last year are back. All of the new schemes implemented last year by defensive coordinator Juan Castillo, defensive line coach Jim Washburn and offensive line coach Howard Mudd are familiar by now, and everybody should be more comfortable in them. If the Eagles flop again, there won't be anywhere to look for explanations other than within. That's why this August's focus is internal, and on the things that are important, rather than any hype they might be attracting.
"I don't want anyone buying into anything," Asomugha said. "I just want us to get into this season and just play the way we know how to play. I'll be completely honest with you: Our team looks very good. Obviously it's camp, we're not playing against anybody. But we're under specific instruction: Don't talk. Don't blow this thing up. Don't nothing. Let's just get in the season and let's just start playing football."
Once they do that, the Eagles believe that this time around, everything will be just fine.
THREE HOT ISSUES
1. Can Vick lead them to greatness?
There is no player in the league under more pressure in 2012 than Vick. The brilliance of his 2010 season was away under the disappointment of his injury- and interception-riddled 2011, in which he failed to take that critical next step in his late-career development as a leader and a quarterback. The popular narrative is that this is the first time since 2006 in Atlanta that Vick has had a real offseason as a team's starting quarterback. He began 2010 as the Eagles' backup, and the 2011 offseason was wiped away by the lockout. The result, everyone says, is that Vick has spent more time than ever before at the team facility, working out, studying film and applying himself to details in order to get better.
"It's all evident," Vick said of his 2011 film review. "A lot of the turnovers I had, I think eight of them, were on balls that got tipped, so I need to try and release the ball a little higher, do something differently. There's nothing more gratifying than learning from a mistake. Interceptions are going to happen, but you try to keep them to a minimum and think about ball control."
The more focus on detail, the better for Vick, who has long relied on his unusual and considerable talent to carry him through. As last year proved, being a quarterback is about the little things, and much more than just what you can do with your arm and your legs.
"I see him just being smarter," wide receiver
DeSean Jackson
said of Vick. "He's taking a leadership role where he can be coached and be taught by other people as well. He's not at a point where he doesn't feel like anybody can tell him anything. He interacts, and he wants to know what it is that he's doing something wrong. And if he is doing something wrong, you can just get on him, just like a regular individual, a regular player."
[+] Enlarge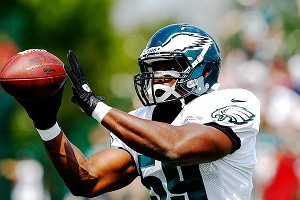 AP Photo/Brian GarfinkelThe Eagles believe veteran DeMeco Ryans will provide the defense with stability at linebacker.
2. The "quarterback of the defense."
The big player acquisition of the Eagles' offseason was middle linebacker
DeMeco Ryans
, whom they acquired in a trade with the
Houston Texans
prior to the draft. Ryans is a well-respected veteran who was emerging as one of the top linebackers in the league before his 2010 Achilles injury. A misfit in the 3-4 defense the Texans implemented during his rehab, Ryans is more comfortable playing the middle linebacker spot in the Eagles' 4-3. He's also healthy and looking like the player who was so universally loved and respected by Texans teammates, who called him "Cap." The Eagles' defense, which started unprepared rookie
Casey Matthews
as its middle linebacker last September, should benefit from Ryans' veteran presence in the role.
"You see that stability there," Reid said. "The game's slower for him than it would be for a rookie. So he's able to just kind of get everybody lined up, get everybody settled and calmed down."
Roseman said it was a priority for the Eagles to find "the quarterback of our defense," and Ryans is aware that he was brought in to correct 2011's biggest defensive flaw. But he's trying to keep those expectations as calm as he's trying to keep his defensive teammates.
"It's not going to take one person to fix all the problems," Ryans said. "It takes everybody working together and finding out how we can make all 11 guys play better and have a better defense."
Sure, but what they like about Ryans is that he can help teach everybody just how to do that. And who can play a little, too.
"It's not like we just got a guy off the street who has some experience," Asomugha said. "This guy is a big-time player."
3. Replacin' Jason.
Left tackle
Jason Peters
may have been the best player on the Eagles' roster last year, and that's no slight to anyone else. Peters was a monster blocker who was critical to the overall success of the offensive line and to the breakout season of running back
LeSean McCoy
. But Peters injured his Achilles in the offseason and is out for the year. His replacement is free-agent signee
Demetress Bell
, who's athletic like Peters and has the potential to be an adequate replacement. Bell's issue has been staying healthy and on the field, but so far his teammates say he's looking good and picking up Mudd's complex blocking schemes.
"I think he's one of the best options we could have had to replace Jason," left guard
Evan Mathis
said. "He displays great athleticism. He has a hunger to learn and a hunger to get better. And what's good for him is, Jason had a monster season, so he can go look at the film of Jason having a monster season, take what he's learning from Howard, apply it to what he's doing on the field and just try and replicate that and do exactly what Jason was doing. He's making strides daily."
REASON FOR OPTIMISM
For all that went wrong last year, the Eagles still managed to finish 8-8 and weren't eliminated from playoff contention until Week 16. Had they managed to hold just one of those blown fourth-quarter leads -- against the 49ers, Falcons or Giants, say -- we might be having a very different discussion about their 2011. They played well enough at the end of last year (and in the first three quarters of their September games) to prove to themselves they can be as good as they think they can be. If they can cut down on the costly mistakes, and if they get the mental boost they say they got from their season-ending four-game winning streak, it's not a long journey from where they were to a division title.
REASON FOR PESSIMISM
So much comes down to Vick, and with a backup corps that currently comprises
Mike Kafka
,
Trent Edwards
and rookie
Nick Foles
, it's more important than ever for him to stay healthy. He hasn't played 16 games in a season since 2006, and the Eagles were 1-2 in the three games he missed last year. When he's at his best, Vick gives the Eagles advantages at the position over any team in the league. He can do things with his arm and his legs that other quarterbacks can't. But his relatively small size and his all-out style of play have created a history of injury that can't be overlooked when forecasting his -- and the Eagles' -- season. If he doesn't play well, or if they lose him for an extended period of time, it's going to be difficult for them to compete with the top teams in the NFC.
OBSERVATION DECK
[+] Enlarge

Kevin C. Cox/Getty ImagesNow fully healthy, WR Jeremy Maclin has the tools to have a career season in 2012.
August, 3, 2012
8/03/12
10:00
AM ET
GREEN BAY, Wis. -- As he always does,
Green Bay Packers
quarterback
Aaron Rodgers
has closely followed media coverage of NFL training camps this summer. Rodgers has seen multiple national networks covering every minute of
Denver Broncos
camp, where the arrival of
Peyton Manning
has drawn rock-star attention. He has seen the frenzy in New York, home of the Super Bowl champions and
the most famous backup quarterback in the league
.

In Green Bay, on the other hand, the Packers have trained in their quiet biosphere at 1265 Lombardi Avenue. Remember, over the past 19 months, this team has won a Super Bowl championship and 21 of 23 games, including playoffs. The oversight has left Rodgers glowing with genuine glee, knowing he and the Packers have their competitors right where they want them.
"I think we're in a good position," Rodgers said. "A lot people are talking about other teams, which is always helpful to us. Nobody is going to forget about the Packers, but there are plenty of things to distract national attention away from us. And for whatever reason, we usually play a little bit better when that's the case.
"You've got what's going on with both teams in New York, Super Bowl stuff and that other stuff going on. You've got Peyton in Denver, and the Eagles with their talent and Dallas making a comeback this year. So I think that helps us out … that we're sort of flying under the radar."
As much as any athlete I've covered, Rodgers has demonstrated an extraordinary ability to manufacture a perceived slight into motivation. As a team leader, and now the second-longest tenured player on the Packers' roster, he sets the tone for a team that is primed for another Super Bowl run -- regardless of national attention. And it's clear that Rodgers has already begun the process of placing chips on as many shoulders as he can in the locker room.
Roughly 10 days into training camp, the Packers are the best team no one is talking about. Which suits them just fine.
"The Packers Way has been passed down for years," Rodgers said. "Just kind of keeping your mouth shut and playing."
THREE HOT ISSUES
1. Added juice:
The first week of training camp was notable for its elevated energy, both from an audio and a competitive standpoint. An influx of loud and excitable defensive players, from veterans
Anthony Hargrove
and
Daniel Muir
to rookie
Jerel Worthy
, brought a new dynamic and is a big part of why Rodgers said the Packers
will have a better team in 2012
.
As he spoke with two reporters in the locker room this week, Rodgers raised his voice multiple times to be heard above the din of his exuberant teammates. And during practice, there was a clear increase in verbal jockeying between the offense and defense, at least compared to what I've seen in recent Packers camps.
[+] Enlarge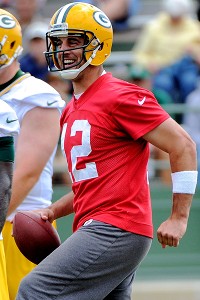 Benny Sieu/US PRESSWIREAaron Rodgers and the Packers are just fine with the media's attention focused elsewhere around the league.
Higher energy doesn't necessarily equal a better chance to win, but the consensus around the team was that the locker room mix needed a shift from the professorial mentality it fell into last year.
"This group," coach Mike McCarthy said, "has more personality with what they bring to the locker room. You have some guys now with a lot of personality and juice, and obviously we've added talent on the defensive side of the ball. There's a lot more juice out there, and it's not just the rookies."
2. Running game:
McCarthy
spoke this offseason
about re-evaluating the Packers' running game, but nothing has happened so far to suggest the team will rebalance its offense. If there are any changes, the Packers will be looking for ways to yield more explosive runs of 12-plus yards.
Last season, the Packers had 24 runs that went for 12 or more yards, tied for No. 24 in the NFL, according to ESPN Stats & Information. A few more would help slow opposing pass rushes and further open the Packers' already-lethal play-action game.
"Run more?" Rodgers said. "I don't see it happening drastically at all. It's not our identity. But running more effectively and picking the five or six or seven runs that we really like and are our best opportunity for those 12-yard gains? That's what we're going to try to do."
James Starks
will get an opportunity to be the Packers' primary back. But second-year player
Alex Green
appears recovered from a torn ACL suffered last season and has worked in rotation with Starks and
Brandon Saine
during camp.
3. Return of (the real) Tramon Williams:
After giving up more passing yards than any team in NFL history last season, the Packers have added some new pass-rushers to their defensive line and linebacker group. They shifted
Charles Woodson
to
safety in their base defense
and
lauded the progress
of third-year safety
Morgan Burnett
. But just as important in the presumed improvement of their pass defense has been the recovery of cornerback Tramon Williams, who demonstrated complete confidence in a now-healed shoulder that limited his 2011 effectiveness.
"It's actually really doing fine," Williams said. "I'm doing exactly what I want to do out there. Jamming. No pain. No anything. Just ready to play. … I had never been injured in any way in my career. But it's an obstacle that stood in front of me last year and I knew I needed to get through it. I was able to go out there and go to battle with my teammates and I think they respect me for it today.
"But for this last year, it was what it was. Obviously it wasn't 100 percent. I've worked hard this offseason to get back as far as I can to that. I'm ready to go. Hopefully it turns out well."
Woodson will move to the slot cornerback role in the Packers' nickel and dime defense, meaning that Williams is in essence the Packers' top cover man. Remember, Williams was a Pro Bowl player in 2010. The early portion of camp this summer suggested that he is physically ready to take on that role.
REASON FOR OPTIMISM
The Packers return what should be an elite offense led by the reigning MVP. They have solid special teams and worked aggressively this offseason to overhaul their one significant weakness in 2011.
Eight new players -- five rookies and three veteran free-agent acquisitions -- are in the mix to play significant roles in the pass defense. Another pair of players who were rookies last season, cornerback
Davon House
and safety
M.D. Jennings
, are currently working with the first team.
Sometimes there can be safety in numbers. Not every draft pick and free-agent signing will work out. But an optimist would say the Packers took enough swings to ensure they make contact at least a few times this season. Or something like that.
REASON FOR PESIMISSM
Here's the downside of relying on so many young players to improve a sore spot: They're young players. There's no telling what direction they'll go in, or how long it will take them to get to a point where they can contribute consistently.
It sounds great to draft a pair of athletic pass-rushers like Worthy and linebacker
Nick Perry
. But
when will it kick in for them?
Is it even fair to expect immediate results? Remember,
Clay Matthews
had three sacks midway through his rookie season before finishing with 10.
Can the Packers count on second-year player Davon House to start at cornerback? Or will they have to turn to rookie
Casey Hayward
? And is it reasonable to assume that second-year player M.D. Jennings will have a seamless transition at safety? Or will the Packers have to turn rookie
Jerron McMillian
?
[+] Enlarge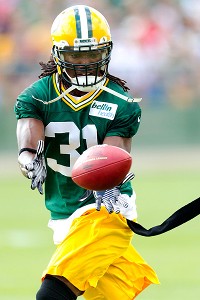 Jeff Hanisch/US PRESSWIREDavon House is part of a youth influx on the defensive side of the ball for the Packers.
Sometimes people equate new with better. There is no reason to suspect any particular trouble with the Packers' defensive changes, but the premise itself merits further scrutiny.
"That's the exciting thing when you've got young guys," defensive coordinator Dom Capers said. "They're bright-eyed and they've got a lot of energy. They're getting better, but still too much inconsistency. After every practice you see some improvement, but fortunately we don't have to play a game right now."
OBSERVATION DECK
As good as the Packers' offense was last season, coaches have found plenty of ways to push for improvement. According to Rodgers, coaches have presented statistical comparisons between the Packers' offense last season and the previous four Super Bowl teams in third-down percentage, red zone touchdowns and goal line performance, among other categories. "They're challenging us to do maybe one more third down per game to get us to [that] level," Rodgers said, "and one more conversion on the season in goal-to-go to get us in this ranking. If you look at it like that, we can definitely improve. But if you look at it as a whole, it's going to be tough to put up those kind of numbers."

The Packers have significantly increased the time they spend working on tackling drills and fundamentals during camp, the result of poor tackling in their playoff loss to the New York Giants and other games last season. "We're emphasizing it as much as we possibly can," McCarthy said. "It's on every slide we show in meetings and talked about in every correction period. It's talked about continuously throughout team and in coordinator meetings. To me, that's coaching. If you want to have it on Sunday, it's got to show up every day in your training structure."

For the first time in the McCarthy era, the Packers entered training camp with five set starters along the offensive line. There are no rotations under way and no competitions to judge. Center Jeff Saturday is new to the organization, but he is getting every practice repetition with the first team. Said offensive line coach James Campen: "Just from a familiarity standpoint, the communication, passing off stunts, getting a feel for the guys next to you, obviously that's more advantageous. The more reps that you get with the same guy side by side, it's is very helpful."

Usually it's good news when you don't notice the left tackle during training camp practices, and there wasn't much to note about Marshall Newhouse until Wednesday morning. Matthews smoked him twice during a team blitz drill, but otherwise Newhouse has continued to earn praise from the coaches grading his work. "Marshall has had a very good camp so far," Campen said. "[Wednesday], Clay got the best of him a couple times. They each get the best of each other a little bit. This was practice No. 6. It was a little rough for him. Clay brought some new stuff to him, and it's a great opportunity for him to go against somebody like that."

Wide receiver Donald Driver reported to training camp in his usual fantastic shape and made quick work of several young cornerbacks in red zone drills. There is every reason to believe Driver will make the Packers' final 53-man roster, once again making the Packers' receiver rotation a complicated proposition. If everyone is healthy, there are going to be some talented players standing on the sideline.

On a couple of occasions last season, the Packers found a way to get receiver Randall Cobb on the field as a quasi-running back in the backfield. I wouldn't be surprised at all if they seek additional opportunities to do that in 2012. It's a great way to get a versatile player on the field.

A final note on receivers: There was a lot of offseason discussion about the fate of youngsters Tori Gurley and Diondre Borel if the Packers decided to keep Driver on the roster. Gurley and Borel are nice players, but let's just say Lambeau Field would still stand if they are waived and another team claims them. It'll fall somewhat short of losing Babe Ruth to the Yankees.

The Packers have three players suspended for the start of the regular season: Hargrove (eight games) and defensive lineman Mike Neal (four), along with linebacker Erik Walden (one). Only Walden was involved in an off-the-field incident, however, and Rodgers said the Packers "don't put up" with off-field distractions. "We've got good leadership," he said. "Guys hold each other accountable. It starts with the guys up top, the guys we bring in. We bring in a lot of high-character guys who fall in and understand what it means to put on the colors and the tradition here. It's not to say that stuff doesn't happen, because it does happen. We had some instances last year. But for the most part, I think it's the kind of guys that [the Packers] bring in."

For the second consecutive year, tight end D.J. Williams put together a nice start to training camp and could be in line to be the Packers' top backup behind Jermichael Finley.
August, 2, 2012
8/02/12
12:00
PM ET
EARTH CITY, Mo. -- Jeff Fisher experienced plenty during 16-plus seasons as an NFL head coach, but his initial team meeting in St. Louis represented a career first.
The Rams' new leader was addressing a room filled with players he didn't know.

"That was different, but you could tell within the first three minutes of him being up there, with his presence, that the team was his," assistant head coach Dave McGinnis said.
Fisher won over the Rams, and not with a fiery speech or with bold promises.
"It's something that you can't put your hand on and touch it, but it's palpable," McGinnis said.
It's called quiet confidence born of experience, and it's what the Rams needed from their next coach after posting a 15-65 record over their previous five seasons, all under less experienced leadership. There's an authenticity to Fisher that resonates. Quarterback
Sam Bradford
first saw it during a nearly two-hour meeting with Fisher, conducted before Fisher agreed to take the job.
"I think the biggest thing for me when we met was, there was no nonsense," Bradford said. "Everything that he has said has been valuable information. There is never that talk just to talk. That is what everyone really respects about him."
Thanks to Fisher, the feeling at Rams camp has shifted from "if" the team can right itself to "when" it will happen.
THREE HOT ISSUES
[+] Enlarge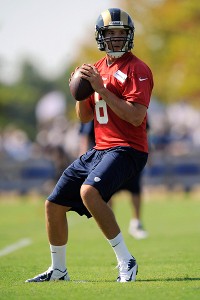 Jeff Curry/US PresswireQB Sam Bradford has some new young talent to work with this season at the skill positions.
1. Can the Rams help Bradford?
It's easy to forget that Bradford had two 300-yard passing games in his first five starts last season. The high-ankle sprain he suffered in Week 6 changed the trajectory of his season. Bradford wasn't the only one hurting. The Rams suffered more losses to injury in a season than all but one NFL team since 2002, according to Football Outsiders. They had no chance.
The plan this season will be to take pressure off Bradford with a run-first offense. That approach represents a philosophical about-face from the thinking former coordinator Josh McDaniels promoted last season. McDaniels' offense would have worked better under different circumstances. In retrospect, the Rams lacked the personnel to make it work, particularly after losing key players to injury.
The offensive personnel could be better this season. Young prospects at running back (
Isaiah Pead
) and on the perimeter (
Brian Quick
,
Chris Givens
) give the team fresh options. But no one is quite sure what the team has at wide receiver. It's also unclear whether young tackles
Rodger Saffold
and especially
Jason Smith
can give Bradford the protection he needs when the Rams do put the ball in the quarterback's hands.
The Rams have additional first-round draft choices over the next couple seasons. There's a good chance they'll use them mostly to bolster the offense. In the meantime, they'll protect Bradford through the design of their offense.
2. Another year, another offensive scheme.
The Rams are learning their third offensive system in three seasons. Last season, the idea was for Bradford to help get the Rams into the perfect offensive play for whatever defense the opponent was running. This season, Fisher and new offensive coordinator Brian Schottenheimer want the Rams to run the ball for the sake of running it, even against loaded fronts.
This could be the Rams' most run-oriented offense from a philosophical standpoint since the team moved to St. Louis for the 1995 season. Longer term, it's fair to wonder whether this is the best offense for a franchise quarterback to realize his full potential as a passer. For now, though, the philosophy will play to the team's offensive strength (
Steven Jackson
) while minimizing a primary weakness (pass protection).
"This offense is ground, pound and we're in your face," Jackson said. "Regardless of how much a team studies about us, they are probably going to be able to tell, out of this formation, this is what they like to run. So now the mentality has gone from trying to be tricky or crafty to more so, 'This is my hole, this is where I'm going, stop me.' Completely different attitude."
3. Are the Rams OK at outside linebacker?
St. Louis is set at middle linebacker with
James Laurinaitis
, a player the organization wants to build around (expect a new contract for him soon). The question is whether the outside linebackers --
Jo-Lonn Dunbar
and
Mario Haggan
and
Rocky McIntosh
-- represent much of an upgrade for a team seeking to improve its run defense.
Another question: How much does it really matter? The league isn't exactly brimming with elite outside linebackers in traditional 4-3 schemes. The position has been de-emphasized. The Rams will run their defense through Laurinaitis. Dunbar will remain on the field with him on passing downs.
The Rams could use ascending young talent on the outside. They had too many more important needs this offseason to justify throwing precious resources at a position of lesser value.
REASON FOR OPTIMISM
[+] Enlarge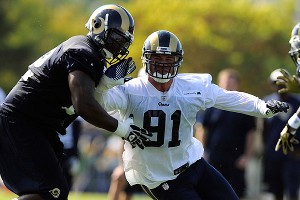 Jeff Curry/US PresswireLeft end Chris Long, coming off a 13-sack season, anchors a promising young defensive line.
Head coach and quarterback are the two most important figures in a football operation. The Rams have the right people in those positions. That gives them a chance.
The Rams also have the pass-rushing talent Fisher needs to run his aggressive defense. Left defensive end
Chris Long
is coming off a 13-sack season. On the right, 2011 first-round choice
Robert Quinn
is serving notice, at least in practice, that he's the best pure pass-rusher on the team. His ability to close on the quarterback even when off-balance or falling sets him apart from most.
I wondered coming into camp whether last season inflicted irreparable damage to Bradford. That was not the case. There hasn't been a more impressive player on the practice field to this point. It's stunning, in retrospect, that a team with such a talented quarterback could suffer through a 2-14 season. So many things had to go wrong.
Day after day, play after play, Bradford impresses even the most seasoned observers. Receivers coach Ray Sherman, most recently with the
Dallas Cowboys
, has been around accomplished quarterbacks throughout his coaching career. The list includes Warren Moon, Joe Montana, Steve Young, Boomer Esiason, Randall Cunningham, Brett Favre, Steve McNair and
Tony Romo
. He used the word "special" to describe Bradford.
"His temperament is just so calm," Sherman said of Bradford. "He has a demeanor about him and Brett was like that -- when he spoke, guys listened. They tune in. They know, 'We take care of this guy, he's going to take us a long way. He's going to do some special things.'"
REASON FOR PESSIMISM
Look at the schedule. Road games against Detroit and Chicago in the first three weeks. Green Bay, New England and San Francisco during a three-game stretch at midseason. Four of the final six games on the road. Only seven true home games overall, the New England game having been moved to London.
No one said this job would be easy for Fisher and his veteran staff.
Danny Amendola
looks like the best receiver on the team. He's a terrific slot receiver, but with an 8-yard career average per reception, he won't strike fear into opponents. Quick and Givens, though promising draft choices, are rookies nonetheless. It's an upset if either becomes a force right away and a bonus if veteran
Steve Smith
fights through recent knee troubles to become a factor.
Bradford has the talent to rack up yardage when healthy, but he might not have the weapons to finish drives with touchdowns. Think back to the game at Green Bay last season. Bradford threw for 328 yards with a 64.4 completion rate at Lambeau Field, but the Rams still lost, 24-3.
Also, the Rams are going to a run-first offense at a time when the passing game is king in the NFL.
"Sitting in our first offensive meeting, it was made clear that our identity as an offense, we're going to be known as being a physical unit that can run the ball versus whatever," Bradford said. "It doesn't matter if people put 8-9 in the box, we're going to run the ball. That's what we're going to do, and we're going to pound them and we're going to wear them out, and then we're going to take our shots."
OBSERVATION DECK
Rookie cornerback Janoris Jenkins might already be one of the three or four most talented players on the team. He's starting opposite free-agent newcomer Cortland Finnegan. "He is game-ready," Finnegan said. "I think he's one of those special guys."

Brandon Gibson has been one of the better receivers in camp. That was the case a year ago, and it might have said something about the quality of the position overall. I'm looking at Gibson as a barometer for the position this season. It's good for the Rams if other receivers pass him on the depth chart.

The Rams won't know for sure until they put on the pads, but they're hopeful rookie defensive tackle Michael Brockers can be more than just a run stuffer. They need him to factor as an inside pass-rusher as well. Having three relatively recent first-round picks on the defensive line -- Long, Brockers and Quinn -- gives Fisher and the defensive staff talent to work with.

Speaking of the defensive staff, I never heard Gregg Williams' name come up once during the first four days of camp. The NFL suspended Williams before he could get much work done as defensive coordinator. Fisher has never been one to panic. He's as cool as they come. The Rams moved on long ago. McGinnis: "I've been with Jeff when we were 10-0, and I've been with him when we were 0-6 and came back and won eight of our last 10. He doesn't change. That type of self-confidence is transferable to a group. It's transferable to individuals. That excites me."

Jackson, down to 235 pounds with 5.1 percent body fat, appears fresh in camp at age 29. Thomas Jones was that age when he rushed for 1,119 yards in Schottenheimer's offense with the Jets. Jones followed up that season with 1,312 yards at age 30, and 1,402 yards at age 31.

Rookie running back Pead stands out as an obvious talent. He's shifty. The question is whether he can pick up the offense quickly enough for the team to trust him in pass protection. The academic calendar at the University of Cincinnati prevented Pead from participating in organized team activities. He's behind from that standpoint, but he's got talent, and Schottenheimer likes using two backs. Those Jets teams referenced above had enough carries left over for secondary backs to gain 400-500 yards per season.

Long and Quinn had their way with the Rams' offensive tackles in pass-rushing situations. That could change some once players put on pads. Offensive linemen can become more aggressive at that point. I would expect the trend to continue, however. I'm expecting Long and Quinn to reach double-digit sacks.

Defensive end Eugene Sims played 25 percent of the Rams' defensive snaps last season. Look for that number to rise in 2012. The Rams' new staff likes his athleticism.

Jason Smith needs to become more patient as a pass protector at right tackle. He too frequently wants to bury the opponent. That's not necessary in pass protection. It's dangerous, in fact. Line coach Paul Boudreau went into the archives to produce a highlight reel showing former Rams great Orlando Pace letting opposing rushers come to him. Smith lacks Pace's talent, but if he can emulate Pace's patience, the Rams will have a better chance keeping Bradford upright.

"Gee-zee" would be rookie kicker Greg Zuerlein. Some are calling him "Greg the Leg" as well, and for good reason. Zuerlein has been powering through field goal tries from the 60-yard range. He made 23 of 24 attempts at Missouri Western State last season, including all nine tries from 50-plus yards. We'll see how it translates to the NFL. For now, though, the Rams aren't missing veteran Josh Brown.

The Rams have the youngest roster in the NFL, including the youngest specialists. They could be counting on a rookie, Johnny Hekker, to punt away from Patrick Peterson. That sounds risky, and it is, but the results can only get better. Peterson returned two for touchdowns against the Rams last season.
August, 2, 2012
8/02/12
12:00
PM ET
FLOWERY BRANCH, Ga. -- As you first watch and listen to the
Atlanta Falcons
in training camp, you quickly realize something is different.
They've got a bunch of marquee players (
Matt Ryan
,
Roddy White
,
Julio Jones
,
Tony Gonzalez
,
Michael Turner
,
John Abraham
and
Asante Samuel
), but the buzz isn't about them. Instead, most of the talk is about two new assistant coaches -- offensive coordinator Dirk Koetter and defensive coordinator Mike Nolan. That's understandable, because a lot of people thought the Falcons needed some major changes after they got thumped by the
New York Giants
in the first round of last season's playoffs.

With offensive coordinator Mike Mularkey (now head coach in Jacksonville) and defensive coordinator Brian VanGorder (now defensive coordinator at Auburn) leaving, Koetter and Nolan are big storylines. They might not have star power all by themselves, but watch and listen a little more and you'll see the two new coaches have plenty of star power behind them.
"Mike Nolan and Dirk Koetter have done a fine job of bringing their respective systems to the table and working with (coach)
Mike Smith
and the rest of the staff and developing a system that is melding well with all of our coaching opinions,'' general manager Thomas Dimitroff said. "It's a collaborative effort. It's not just one stamp from one coordinator or the other. It's been really interesting seeing everyone come together on the respective sides of the football to develop this new system.''
In conversations with Smith and Dimitroff, each repeatedly emphasized that key players (the guys listed above and a few others) have had extensive input into what the Falcons will do on each side of the ball. As soon as league rules allowed coaches and players to get together in the offseason, Ryan and Koetter began meeting regularly and discussing what the playbook should look like.
"There are a lot of things we've done well over the last few years, and the first thing Dirk asked me was what I liked and what I felt most comfortable with,'' Ryan said. "Then, we took the things I said and looked at our production in those situations and some of it was surprising because we didn't have as much success as I would have thought in some of the things I said I was most comfortable with, and we had some pretty good success with some of the things I didn't necessarily think I liked.
"We also watched a lot of film of Jacksonville (where Koetter was offensive coordinator last year), and we talked a lot about why they did certain things at certain times. There was a lot of very good give-and-take. He's extremely open to input, which is great for players, and I know he sat down and did the same thing with some other guys. But he also has his own opinions and is firm on his own opinions, and I like that about him.''
The Falcons have been very public about some of the ways their offense will change. They said they don't want Turner having to endure a 300-carry season. They said they want to use the screen pass more, after almost completely ignoring it in recent years. And they've made it very clear that they want to improve their downfield passing game.
What the actual playbook looks like is likely to be a combination of what both Koetter and the Falcons have done in the past.
The changes on defense are likely to be similar because Nolan also has consulted extensively with his key players. Nolan has spent 14 years as a defensive coordinator in the NFL, seven of them in the 4-3 defense and seven in the 3-4. The Falcons will continue to use the 4-3 as their base, but there could be some 3-4 looks and principles.
"We just have a lot of different things that we can do,'' outside linebacker
Sean Weatherspoon
said. "We're going to be aggressive. We're not being passive at all. Our mindset is that we want to go out there and dictate. We don't want to adjust to what an offense is doing. We want to put it on them to make changes.''
That would be a change from the VanGorder days, when the Falcons had some individual talent and a fair amount of overall success, but never really had an identity as a defense. The Falcons will be different on both sides of the ball.
"When you have new eyes, so to speak, you get a different view,'' Smith said. "We may have had a view that this guy's strengths are A, B and C and his weaknesses are D, E and F, and a new guy comes in and, because he's coming from a different perspective, he sees it differently. I think that's interesting in terms of evaluating your roster because you have two new sets of eyes.''
Maybe the eyes will have it. Maybe the new coordinators and new playbooks will be enough to help the Falcons win a playoff game for the first time since Smith, Dimitroff and Ryan arrived in 2008.
THREE HOT ISSUES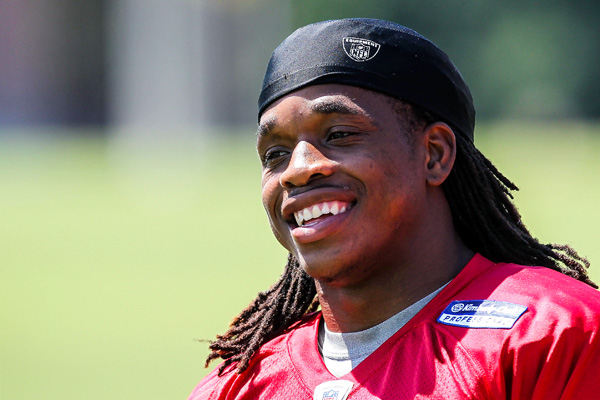 Daniel Shirey/US PresswireSecond-year running back Jacquizz Rodgers could play a larger role in the running game this season.
1. The running game with Turner's limit on carries.
Despite all the talk about the downfield passing game, I don't think the Falcons want to suddenly just abandon the running game. Turner still is powerful and can help open things up for the passing game. The Falcons just don't want to wear him out. They've used
Jason Snelling
at times to give Turner some rest, and Snelling will be involved again this season. But I don't think he's really the guy the Falcons are looking at to pick up a big chunk of Turner's carries.
I'm almost certain they have big plans for second-year pro
Jacquizz Rodgers
, and I think those plans might be a lot bigger than people realize. That's largely because Rodgers is bigger than the Falcons realized when they drafted him last year.
"Jacquizz is not little,'' Smith said. "He's short, but he's thick. People projected him to be a third-down back, a change-of-pace back. I think the guy has the skill set to play on all three downs. One of the things that stood out to me more than anything is his ability to pass protect. A lot of times, your change-of-pace back, you've got to get him the ball and not ask him to be a part of the protection. I don't think that's the case with Jacquizz. I think Jacquizz is an all-around back that can play on all three downs.''
Translation: The Falcons aren't looking for Rodgers to be what
Jerious Norwood
once was. They want him to be more like what
Warrick Dunn
once was.
2. Positive reinforcement.
I don't know if they were veiled shots at Mularkey, VanGorder and former middle linebacker and defensive leader
Curtis Lofton
, but I think it was significant that Smith and Dimitroff repeatedly used the word "positive'' when they talked about the coaching styles of Koetter and Nolan, and as they talked about the leadership qualities Samuel brings, and what kind of leader they expect Weatherspoon to become.
"Sean is such a positive guy,'' Smith said. "He is vocal, but he's never negative in the way he speaks. He's always very positive.''
Samuel was described in the same way. So were Nolan and Koetter.
I never sensed a lot of negativity from Mularkey, VanGorder or Lofton, but I also never sensed any of them were rah-rah guys. It sure seems like Smith and Dimitroff feel their team needed more positive reinforcement.
3. The pass rush.
For far too long, Atlanta's pass rush has consisted of Abraham and almost nothing else. Maybe fellow defensive end
Ray Edwards
steps up after an injury-filled season that limited him to 3.5 sacks. Or maybe reserves
Lawrence Sidbury
and
Kroy Biermann
produce more. But I get the sense Nolan isn't looking to have only defensive ends rush the passer.
"The way practice is going right now, we're really excited about getting the linebackers more involved in rushing the passer,'' Weatherspoon said. "Even in seven-on-seven, we're going. That will help those guys out there on the edge because now offenses are going to have to account for us all day. It'll be better because we'll be able to keep them on their heels.''
And it won't be just the linebackers. Look for the cornerbacks and safeties to also get plenty of opportunities to blitz.
REASON FOR OPTIMISM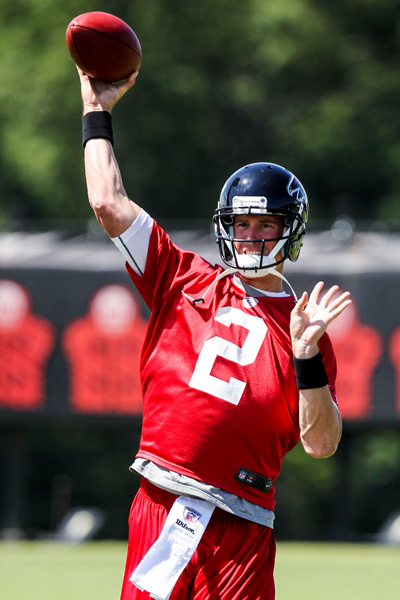 Daniel Shirey/US PresswireIs this the season Matt Ryan puts it all together and joins the echelon of elite quarterbacks?
Time to fly.
A lot of great young quarterbacks have seemed to hit a wall early in their careers. Even
Peyton Manning
had a reputation for not being able to win the big one early in his career, and look how that's worked out. I'm not saying Ryan is going to turn into the second coming of Manning, but I think this is the year in which Ryan finally can earn a firm spot in the category of elite quarterbacks.
The guy has done some very good things in his first four seasons and he's worked very hard to bulk up this offseason, so that he's not worn down when the playoffs roll around. Ryan has a good arm, excellent mental skills and a strong work ethic. But, for some reason, he just hasn't been able to take the next step. Last year, the Falcons brought in Jones to give him another weapon to go with White and Gonzalez. This year, they brought in Koetter, who has obvious instructions to get the most out of Ryan's skills.
When you keep doing things the right way, sooner or later it's all bound to click.
REASON FOR PESSIMISM
The offensive line.
This was a big problem spot last year. Ryan frequently didn't have enough time to throw the deep ball. The Falcons got rid of offensive line coach Paul Boudreau and replaced him with Pat Hill, who has a nice history with offensive lines. They also used their second-round pick on guard
Peter Konz
.
But were those two moves enough to bring dramatic improvement up front? Should the Falcons really be sticking with
Sam Baker
at left tackle? And even if they want to give Baker another shot, shouldn't they at least have brought in a viable alternative in case he struggles?
I know a lot of fans think the Falcons should have done more up front. But the Falcons think they've done enough. We'll find out who is right soon enough.
OBSERVATION DECK
August, 2, 2012
8/02/12
11:00
AM ET
ASHBURN, Va. -- As the rest of the teams in the NFC East talk about dynasties, defending championships and ... whatever it is that Jerry Jones has been talking about all week, the
Washington Redskins
are working on moving up from fourth place. It has been a long time since the Redskins were a real factor. They've had three straight losing seasons and have reached the playoffs in just three of the past 19 years.

But for the first time in a long time, there is reason for hope. His name is
Robert Griffin III
, and he is a rookie quarterback on whom everything now rests. The Redskins traded three first-round picks and a second-round pick for the right to draft Griffin, and all he has to do is look around or listen to know what he represents to the Redskins' starving fan base.
"I didn't expect the excitement," said Griffin, who doesn't seem to be caught off-guard by too many things. "I wasn't looking to get drafted and have a whole city fall in love with me. So it's definitely a great experience. Hopefully, I can be the catalyst and get a lot of fans excited about this team."
Months before the games -- months before training camp, even -- Griffin already was doing that. His jersey became a fungal phenomenon, sprouting up instantly everywhere in D.C., Maryland and Virginia. Stores began selling posters modeled after the iconic 2008 Barack Obama "HOPE" campaign posters, only with Griffin's face on them instead. The public reaction to Griffin has been outsized and unreasonable. But given the way Redskins fans feel about their team and how long they've gone without a franchise quarterback, it's easy for longtime residents of the area to understand.
"It's Washington, man," veteran Redskins receiver
Santana Moss
said. "There's nothing reasonable. The whole city expects 'now,' so at the end of the day, all you can do is give them what they want."
"Now" may not be a reasonable goal for a rookie quarterback on a team that won five games last year and plays in the same division as the Super Bowl champions. But what Griffin has already done around here is change the vibe. People are talking with real excitement about what can or will be. Even coach Mike Shanahan, who has overhauled the roster to the point where 19 of the projected 22 starters weren't on the team two years ago, feels differently about 2012.
"It's the first time, I feel like, you go into a season and you've got a chance," Shanahan said. "You're excited about the year. You're excited about your football team. You're excited about the direction you're going."
That's all new this year, and the new front man is a huge reason why.
THREE HOT ISSUES
1. How will the offense be different under Griffin?
If you watch the Redskins practice, you see a lot of new stuff. There are rollouts. There are bootlegs. There are designed runs for the quarterback. There are option sets, where Griffin has to decide whether to keep, pitch or throw the ball. Shanahan admits he's throwing a lot at his rookie quarterback, and it's by design.
"What I think you do is, you feed him everything," Shanahan said. "For people to grow, in my opinion, you teach them everything and then you find out what they're able to do. So we teach him everything, see how much he can handle, knowing he's going to get better and better every year because he's smart enough to get it. And then that'll be our job here for the next three weeks, really after this week, to isolate it down more to what we're going to do this season -- get a package for him that he's most comfortable with."
[+] Enlarge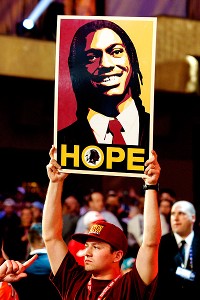 AP Photo/Brian GarfinkelRedskins fans are hoping Robert Griffin III can turn things around in Washington.
In other words, all of the stuff we're seeing Griffin do in practice might not necessarily carry over into the season. If there's a particular part of the offense with which he's having a hard time, the Redskins could shelve it until next summer and go with the things they know he can do. Regardless, though, Griffin's athleticism and running ability give the Redskins options they didn't have in previous years. And it may help them cover up question marks on the offensive line and in the running game. Speaking of which ...
2. Do they have enough around him?
Shanahan won't talk about the salary-cap penalties the league imposed on the Redskins (and the Cowboys) just before the start of free agency. But it's a pretty fair guess that, had they not been docked $18 million in cap space this year and again next year, they might have been able to sign some offensive line help. They did not. They're bringing back last year's offensive line, and two of the starters are already injured. There's a chance left guard
Kory Lichtensteiger
makes the season opener, but right tackle
Jammal Brown
has a recurring hip problem that could prevent them from being able to count on him. The good news is that some of their backups got playing time last year because of injuries and suspension. And left tackle
Trent Williams
looks like the best player on the field in practices. But Griffin's protection could be an issue all year if the line struggles with injuries.
If it doesn't, Shanahan believes it can be effective because the players all know the system and each other. He's also not worried right now about who will emerge has his starting running back. Veteran
Tim Hightower
would be the starter if not for his ongoing recovery from last year's knee surgery.
Evan Royster
, a sixth-round pick in 2011, has looked the best of the remaining bunch so far in camp, but they also like 2011 fourth-round pick
Roy Helu
and 2012 sixth-rounder
Alfred Morris
. "We have four backs that can play," Shanahan told me, and he's willing to let the camp competition sort it out for him.
Griffin's receiving group includes newcomers
Pierre Garcon
and
Josh Morgan
, veteran Moss and last year's rookie star,
Leonard Hankerson
, whose 2011 was cut short by injury, appears to be back. They're also expecting big things out of tight end
Fred Davis
, who was their best pass-catcher for much of last year before a drug suspension cost him the final four games.
3. The secondary.
The defensive front seven looks strong and deep, but there are question marks at cornerback and safety. Will
DeAngelo Hall
thrive in his new role as the nickel corner? Will
Cedric Griffin
or
Kevin Barnes
be good enough as his replacement on the outside? Is strong safety
Brandon Meriweather
a talented star who was miscast in Chicago? Or is he a malcontent who got kicked out of New England because he wasn't playing to his potential? Can
Madieu Williams
or
Tanard Jackson
hold down the free safety spot? Lots of new faces and moving parts out there, and these questions need to be answered if the defense is going to continue to make progress.
REASON FOR OPTIMISM
As they will tell you, the Redskins did beat the Giants twice last year. And they played the Cowboys tough twice. Of all the last-place teams in the NFL, only one finished closer to its division's first-place team than did the Redskins, who at 5-11 were still only four games out of first. They have replaced a starting quarterback (
Rex Grossman
) who somehow threw 20 interceptions in only 13 games with a brilliantly talented, charismatic and ultra-promising rookie. They've beefed up at receiver and on the defensive line. And even if all of that isn't enough for them to contend in 2012, Redskins fans have all kinds of reasons to feel good about the direction in which their franchise is pointing.
REASON FOR PESSIMISM
The Eagles should be better than they were last year. The Giants have reason to believe they'll be better than they were last year. The Cowboys made major upgrades at cornerback and should be tougher to play than they were last year. Even with the improvements, there are very few positions (Tight end? Linebacker? 3-4 defensive end?) at which the Redskins appear to be as good as or better than their division rivals. That's a comment on the talent in the rest of the division as much as it is on what the Redskins are doing, but it remains a troubling reality. The Redskins are still a work in progress, and while the NFL prides itself on the number of its annual surprises, a Redskins playoff push at this point would likely rank among the biggest.
[+] Enlarge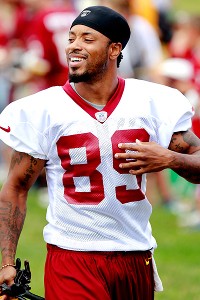 Geoff Burke/US PRESSWIRERedskins receiver Santana Moss has lost 16 pounds since last season.
OBSERVATION DECK
Moss' weight loss is striking. He's down 16 pounds and says he feels completely different. The Redskins' coaches called him in the offseason and told him they thought he was too big, and he agreed, so he got in shape and has come to camp determined to show the world he's still a top receiver.

The Redskins are converting Niles Paul, who last year was a rookie wide receiver, to tight end. He's 234 pounds and said his biggest concern when they asked him to make the change was that he wouldn't be able to block big pass-rushers like DeMarcus Ware and Jason Pierre-Paul. But incumbent tight end Chris Cooley told him it was all about technique, and Cooley has been working with Paul to help refine that.

That's a pretty cool thing for Cooley to do for a player who may be about to take his job. Shows you what kind of guy and teammate Cooley is. He's got a chance to stick on the roster, but he has to show he's healthy and probably take a pay cut.

The Redskins' plan as of now for three-receiver sets is to use Garcon and Hankerson wide and Moss in the slot. But Moss could play well enough to see action outside in two-receiver sets, especially if Hankerson and Morgan have injury problems. Morgan, who has always had those, is being looked at as someone who can play any of the three receiver slots in Shanahan's offense.

Shanahan named defensive lineman Chris Baker as a player he thinks will surprise people. If that's true, the defensive line rotation looks formidable with Barry Cofield, Stephen Bowen, Adam Carriker and 2011 second-round pick Jarvis Jenkins, who missed his rookie year with a knee injury but is back and looking good.

Outside linebackers Brian Orakpo and Ryan Kerrigan will switch up from time to time this year instead of staying pinned to specific sides of the field. Orakpo also says he's working on adding pass-rush moves to his arsenal in an effort to get his sack numbers up.

Neil Rackers has a chance to unseat Graham Gano as the kicker, but Gano held off a challenge from veteran Shayne Graham in preseason last year, so don't give up on him yet.

Brandon Banks has been told he has to make the team as a receiver, not just a return man. If he doesn't make it, look for Aldrick Robinson as a possible kick returner.

Somehow, we have reached this point in the Camp Confidential without mentioning the name of London Fletcher. But he's still very much in the middle of things at age 37. He ran an interception in for a touchdown during the first week of training camp. He's in the best shape of anyone in camp, as usual. They put Griffin's locker next to his because they felt Griffin could benefit from proximity to their best veteran leader, and Griffin said he knew right away the significance of the locker assignment. Fletcher said he wanted to come back to Washington in part because he wants to be there when they turn it around. If they do, his presence will of course be a big reason why.
July, 30, 2012
7/30/12
12:00
PM ET
METAIRIE, La. -- As he prepares for his third NFL season, it sounds as if New Orleans tight end
Jimmy Graham
has figured out the secret to NFL success.
"I was told to never tug on Superman's cape," Graham said.
He was talking about quarterback
Drew Brees
. Graham noted how the quarterback challenged him to a sprint race at the start of training camp and said he let Brees win. Graham was partly joking, but there was some deep wisdom in his words.
More than ever, the Saints are Brees' team. They've been through an offseason unlike one any other team has faced. They've been through the painful drama of the bounty scandal and they'll move forward without coach Sean Payton, who is suspended for the season, and general manager Mickey Loomis, who is suspended for the first eight games.

Brees, the league's highest-paid player, is coming off a season in which he set a NFL single-season record for most passing yards. No, let other teams try to tug on Brees' cape. If the Saints really are going to endure all this adversity successfully, they need Brees' skill and leadership more than ever. They need to ride the coattails of the most positive thing they have at the moment.
Brees knows this high-flying offense as well as anyone, including Payton. The Saints remain loaded at offensive skill positions. There's little doubt this team still is going to score a lot, and that alone will keep it competitive.
But Brees can't do everything by himself. Even before the word "bounty" started flying in March, the Saints knew they had to overhaul their defense. That became clear in last season's playoff loss to San Francisco. That's why defensive coordinator Steve Spagnuolo was hired. Predecessor Gregg Williams had a gambling philosophy, going all-out to produce turnovers. The negative side effect was that the Saints gave up too many big plays.
Spagnuolo brings a more balanced philosophy. Sure, he wants turnovers, but he also wants to be able to shut down offenses from time to time. A big theme of this camp is the installation of Spagnuolo's defense. Even though that's not his side of the ball, Brees shows a lot of interest in the defense. Even in camp, the Saints are implementing game plans.
"[Spagnuolo] is going to try to find every flaw, just like we are going to do to them,'' Brees said. "Along the way, I am certainly going to be picking his brain as to what he is seeing with our offense, how we can improve. That is how you help one another. That is a habit that we got into, me talking to the defensive guys, even if it is just the secondary guys, saying, 'You give away that blitz whenever you do this.' We are competing against each other, but in the end we are on the same team. I want them to be able to go out and have as much success as possible, just like they want us, on game day, to have as much success as possible."
Maybe that's the best way to improve the New Orleans defense. Practice against Superman every day. After you've been through that, everything else should be easy.
[+] Enlarge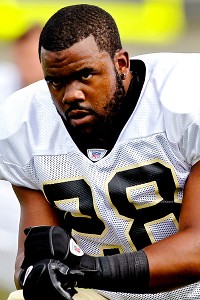 Derick E. Hingle/US PRESSWIREMark Ingram rushed for 474 yards and five touchdowns during his rookie season with the Saints.
THREE HOT ISSUES
1. Mark Ingram's playing time
. Fan expectations for Ingram might be significantly higher than the team's. That's somewhat understandable, because the Saints traded back into the first round in 2011 to draft Ingram. He played at a college powerhouse (Alabama) and won a Heisman Trophy. Instant stardom was expected by fans, but it didn't turn out that way in Ingram's rookie season.
He finished with 122 carries for 474 yards and five touchdowns. Injuries were part of the reason his numbers weren't bigger. But even before the injuries, Ingram shared playing time with
Darren Sproles
and
Pierre Thomas
, and
Chris Ivory
did a nice job joining the rotation after Ingram's injury problems started. Ingram had a couple of offseason surgeries and said he's completely healthy.
But that doesn't mean Ingram suddenly is going to become a 300-carry guy. New Orleans' offense is based on diversity, and that's not going to change. The Saints aren't going to take playing time away from Sproles, who set an NFL record for all-purpose yards last season, and Thomas is going to play because he has earned it with his performance.
Assuming Ingram stays healthy, I expect him to get more carries than last season, but a 200-carry season for about 800 yards is a reasonable expectation.
2. Will the linebackers be better than last season?
I think they'll be markedly better. Many believe the season-long suspension of
Jonathan Vilma
is going to hurt the Saints. If this were two or three years ago, I'd agree. But Vilma was bothered by knee problems last season, and his age seemed to be catching up to him. I think free-agent addition
Curtis Lofton
is an upgrade over Vilma in the middle. In fact, I think Lofton is pretty similar to what Vilma was two or three years ago. The Saints will be just fine in the middle.
Plus, the Saints didn't sit still at outside linebacker. They signed free agents
David Hawthorne
and
Chris Chamberlain
. It looks as if Hawthorne is well on his way to winning a starting job. That leaves Chamberlain competing with
Scott Shanle
,
Will Herring
and
Jonathan Casillas
for the other starting job. There's no true favorite here, and Shanle is the fallback option as the safe choice because he's smart and dependable. But Chamberlain, Herring and Casillas are more athletic and at least come with the possibility of producing big plays. The hope is that one of those three can step forward to win the starting job.
3. Can the offensive line, minus Carl Nicks, be as good as last season?
Nicks took the big money and left for Tampa Bay in free agency. Losing a player many scouts consider the best guard in the NFL must take a toll. But the Saints already had
Jahri Evans
, who might be the closest thing to Nicks. Loomis did a nice job getting
Ben Grubbs
to replace Nicks. Grubbs isn't quite on the Nicks/Evans level, but he's an above-average player and came at a much lower salary than Nicks. The Saints build their offensive line around the interior, and Evans and Grubbs will form a very strong guard tandem.
Brian de la Puente
did a nice job taking over at center last year and should be fine with Grubbs and Evans surrounding him. The tackles are more of a question. The Saints are sticking with
Jermon Bushrod
on the left side and
Zach Strief
on the right. They're serviceable, but Bushrod and Strief aren't all-pros, and the presence of Evans and Grubbs should be enough to keep this offensive line among the better ones in the league.
REASON FOR OPTIMISM
Spagnuolo's history.
There is legitimate concern about the pass rush, because Spagnuolo likes it to come mostly from his front four. Aside from defensive end
Will Smith
, who will serve a four-game suspension at the start of the season, the Saints don't have a proven pass-rusher. Many fans are worked up about the potential of
Junior Galette
and converted linebacker
Martez Wilson
. Those guys could turn into something, but maybe fans aren't looking in the right direction.
Second-year pro
Cameron Jordan
might be a big factor. Yeah, I know that sounds like a stretch because Jordan had one sack as a rookie, but he was a first-round pick and still has plenty of untapped potential. There's more than that, though. Look at Spagnuolo's past. When he became defensive coordinator for the
New York Giants
in 2007,
Justin Tuck
had gone through two NFL seasons with one sack. In Spagnuolo's first season, Tuck had 10. In 2008, Tuck recorded 12.
If Spagnuolo can get anything close to double-digit sacks from Jordan, he may have short- and long-term answers for his pass rush.
REASON FOR PESSIMISM
How much adversity can one team take?
The Saints will use all that happened to them in the offseason as a rallying cry, providing strong motivation. But it's tough for any team to ride one emotion (anger, in this case) for an entire season. This franchise has been through a lot, and you have to worry about that taking a toll at some point.
[+] Enlarge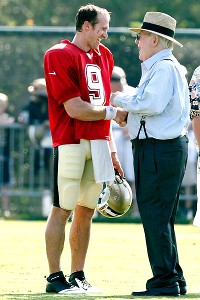 Derick E. Hingle/US PRESSWIREWith a new contract and instability in the coaching staff, Drew Brees will be asked to be even more of a leader for Tom Benson's Saints.
You also have to worry about the Saints being a target for opponents, especially those who spent the past few months hearing that the bounty program had targeted some of their own players. Then throw in the fact that assistant head coach Joe Vitt, who has run the team in Payton's absence, must serve a six-game suspension at the start of the season. At that point, the Saints are expected to make another of their assistants the acting head coach. Yes, this is a veteran team with outstanding leadership, but it sure looks like a lot of things are stacked against the Saints.
OBSERVATION DECK
July, 30, 2012
7/30/12
10:00
AM ET
BOURBONNAIS, Ill. -- Summer visitors to Olivet Nazarene University are greeted annually by navy blue banners promoting the
Chicago Bears
' training camp. Bears team logos are plastered all around town. Marquee signs invite the hungry and thirsty to patronize local establishments. And in 2012, there was a notable addition to the welcoming committee.
Overt talk of a Super Bowl run hits you from every angle here. You see it on a
championship prediction
posted outside an elementary school near campus. You hear it chanted from 12,000 fans attending practice. You notice the Bears' normally mild-mannered place-kicker drawing powerful conclusions.

Emboldened by a newly-fortified offense and a veteran defense that hasn't gotten old yet, the Bears opened training camp with the highest of expectations.
"There's no doubt that this year by far is our best chance to win a Super Bowl," place-kicker
Robbie Gould
said on the eve of camp

. "We have the talent. Yeah, we do have to earn it on the field, but when it comes to putting the pieces together, this is definitely the year that we have the pieces. … I think everyone understands that this is an opportunity, and that we might only get that one chance to make it to the Super Bowl and win it. I think everybody is excited about that."
Indeed, the long-term future of this team is murky, with linebacker
Brian Urlacher
entering the final year of his contract and five other starters -- including quarterback
Jay Cutler
, linebacker
Lance Briggs
, receiver
Devin Hester
and Gould -- facing a 2013 expiration. But for the short term, the Bears couldn't be more enthused.
"I'm definitely excited about how stacked we are at each position," cornerback
Charles Tillman
said.
The pieces, as they say, are in place, and nothing I saw in the early days of training camp suggested otherwise.
THREE HOT ISSUES
[+] Enlarge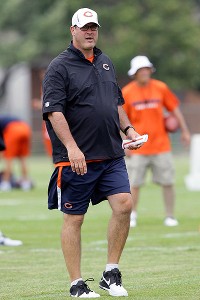 AP Photo/Nam Y. HuhWith several new weapons, Bears offensive coordinator Mike Tice is optimistic that his "Duh offense" won't be a dud.
1. Adding explosion to offense:
I lost track of how many different people used a form of the word "explosion" to describe the Bears' hope for their new offense. Offensive coordinator Mike Tice said he wants to be explosive in both the running and passing games and added: "We have too many athletes not to be able to."
The key to explosive plays -- usually defined as runs of 12 or more yards and passes of at least 16 yards -- is getting those athletes into empty space. Tice has a simple approach to doing that, one he began preaching in the spring and continued during the early days of camp. He affectionately calls it the "Duh offense."
In essence, he will give Cutler the responsibility of changing plays at the line of scrimmage based on the "number count" of the defense. If defenses are aligned against the pass, Cutler can call a run. If they are stacked on the line of scrimmage, Cutler will have the ability to switch from run to pass. The approach requires the type of balanced personnel the Bears have, and in the end it produces volume mismatches at the point of attack.
2. Play calling:
Tice's experience in developing successful offenses is unquestioned, as is his expertise in matching a scheme with the capacity of an offensive line. But the one thing Tice hasn't done in 30-plus years in the NFL is be a team's primary playcaller over the course of a season, a task he is preparing for in training camp.
Quarterbacks coach Jeremy Bates will relay the call to Cutler during games, but the calls will originate with Tice. "It's all about rhythm," Tice said. "It's all about good installation. It's about the right balance and making sure you understand what your opponent is trying to do in certain situations. It'll be fine."
3. Defensive assumptions:
Optimism about the Bears has been generated mostly by additions the Bears made to their offense, from receiver
Brandon Marshall
to running back
Michael Bush
to Bates. It has been assumed that the Bears' special teams will maintain its annual strength, and also that an aging defense has at least one more top-level season in it.
Urlacher (34) looked like his usual self after rehabilitating a knee injury all offseason. Defensive end
Julius Peppers
(32), Briggs (31) and Tillman (31) all appeared to be in excellent shape.
"I don't feel like it's my 10th year," Tillman said. "My body doesn't feel like it. My mind doesn't feel like it. I feel good, mind, spiritually."
REASON FOR OPTIMISM
No one is going to confuse Cutler with Alvin Wong,
a.k.a "The Happiest Man in the World."
But on a relative scale, Cutler arrived at camp and moved through its first few days with the buoyancy of a man who has been placed squarely in position to succeed.
"This is the most comfortable I think I've been going into a camp with the offense," Cutler said, "and what we are doing scheme-wise and the talent around me."
Those who know him best agree.
"He looks a lot more comfortable," said receiver
Earl Bennett
, Cutler's longtime teammate dating to their Vanderbilt days. "He just looks ready to go. He's excited about the new toys he has on offense and the guys surrounding him, and he's just excited about the season."
Arriving at training camp, Cutler said, "was like Christmas."
REASON FOR PESSIMISM
[+] Enlarge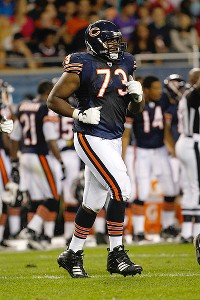 Scott Boehm/Getty ImagesCan the Bears count on J'Marcus Webb to consistently protect the blind side of QB Jay Cutler?
Left tackle is one of the three or four most important positions on a team, but it is one of the Bears' few legitimate question marks. A competition between
J'Marcus Webb
and
Chris Williams
is
probably Webb's to lose
, but at the very least, it's nerve-wracking to launch a Super Bowl run without an established starter to protect a quarterback's blind side.
Webb and Williams alternated with the first team during the practices I watched, and it's clear that Webb has the physical tools necessary to play the position. Williams, on the other hand, hasn't played the position in two years and might be a fallback if Webb can't eliminate the mental and technique mistakes that plagued him in 2011.
"We'll turn the heat on both of them," Tice said. "We want to see who is going to block our good pass-rushers."
Competition itself isn't a bad thing. But the Bears really need a winner to emerge, rather than being left to select the less damaging option.
OBSERVATION DECK
We've discussed the likelihood of Bush serving as the Bears' short-yardage and goal-line back. At 245 pounds, Bush is better suited and has had more career success in that role than starter Matt Forte. But Bush made clear he would rather not be pigeon-holed in that manner. "That's the role I've been stuck with because of my size," he said. "If that's what I've got to do, then that's what I've got to do. … No one likes to be a battering ram. It just happens that way." Regardless, it makes too much sense not to at least give that arrangement a long look.

Cutler and Marshall arrived for lunch together on the first day of practice. They broke open a new critical-thinking board game at night, which Marshall referred to as "Q." (Cutler won the first two games.) But Marshall said the pair's much-discussed friendship is "not always fun." He added: "In any relationship, when you take two people from two different places and you put them together, you butt heads. Because sometimes we try to impose our own wills on each other. But sometimes you understand there is no right and wrong. It's just two different people. I think that's when the relationship gets better. With Jay and I, it's always some work."

Perhaps their friendship made our expectations unreasonably high, but I was surprised by how many miscommunications Cutler and Marshall had in their first few practices. On Day 1 alone, I counted five passes that either hit the ground or were intercepted because Cutler threw one way and Marshall ran another. But we found out in the third practice how little that mattered. Cutler and Marshall put on a show in full pads, wowing fans and players who can't remember the last time the Bears had a true No. 1 receiver.

Tice will undoubtedly use tight ends more in the passing game than predecessor Mike Martz, and the Bears have accumulated an interesting group to deal with. Kellen Davis figures as the starter with Matt Spaeth as the top blocker. But it's certainly worth pointing out that rookie Evan Rodriguez, a fourth-round draft pick from Temple, appeared in much better shape than he was reported to be in this spring and seemed to have a knack for turning upfield quickly after the catch. "This game is about explosion," Rodriguez said. (There's that word again.) Rodriguez added: "Everybody in this league is so fast. You've really got to push to get that five yards, and then after that, it's every inch that matters."

Rookie safety Brandon Hardin is getting work on all four special teams, including a role as the personal protector on punts. It's also worth noting that when free safety Chris Conte briefly left practice Saturday night, it was Hardin who stepped in with the first team. "I'm looking forward to helping the team in that special-teams aspect until I get on the field as a safety," Hardin said.

Although there is uncertainty at left tackle, the return of 2011 draft choice Gabe Carimi has added a level of stability to the right side. Carimi reported to training camp in excellent condition, having dropped his weight to 308 pounds and lowered his body fat form 26 percent to 19 percent by changing his diet in the offseason. "The goal was to have more muscle mass," he said.

The Bears' immediate plans are to use rookie defensive end Shea McClellin as a situational pass- rusher. In that scenario, Israel Idonije would hold a starting spot opposite Peppers. I didn't see any examples of it early in camp, but you wonder if the Bears would be tempted to use Idonije as an inside pass-rusher, with McClellin on the edge, in obvious passing downs. Another candidate to be an inside pass-rusher is newcomer Brian Price.
July, 29, 2012
7/29/12
1:00
PM ET
ALBANY, N.Y. -- The task for
New York Giants
coach Tom Coughlin, as he works this summer to keep his Super Bowl champions from getting complacent, is to remind them of all of the things about which they have no right to be complacent.
In a meeting on the first day of camp, Coughlin showed his team a few stats. Under the heading "Worst to Best," he reminded the Giants that they ranked last in the league in rushing offense in the 2011 regular season and 27th in total defense. He put up the number 400, which is the number of points the Giants allowed en route to a 9-7 regular-season record -- more than all but seven teams in the league, not one of which reached the playoffs.

"There's a lot of improvement to be made," Coughlin said after Saturday's practice. "And the challenge has been, 'Which team are we?' Are we the 7-7 team, or are we the Super Bowl champions?"
They are both, of course. They are the team that went 7-7 in its first 14 games, playing inconsistent defense, running the ball into the backs of its linemen and asking quarterback
Eli Manning
to bring it back from behind in the fourth quarter almost every week. But they are also the team that galvanized itself after its Week 15 loss to the Redskins and won six in a row, including the Super Bowl. Coughlin wants his charges to remember both parts and give them equal weight. The latter part, he says, gives the Giants the confidence to know they can fight through any challenge. The former reminds them of how much work they have to do.
"I think last year was a tale of two teams," defensive end
Justin Tuck
said. "The first half was the tale of a team that didn't play well together, had egos, was injured, didn't have a full complement of players. And the second half was us coming together. 'All-in' became our slogan, and guys really checked their egos at the door and sacrificed whatever personal things we had to become that great team."
The knowledge that they're capable of being the best team in the league is a helpful thing for the Giants to carry with them. But the tone here at Giants training camp is not one of cockiness or a Super Bowl hangover. The Giants are a serious, professional bunch whose hope is to maintain the intense focus of those final six games and apply it over the course of at least 16 this time around. Tuck said the Giants can trust in "the mental compass of this team" to make sure the issues that plagued them last year don't resurface, and as they go through their preparations for 2012, that is the priority.
"We've got to find a way to get our work done," Tuck said. "That's the only way you win championships."
THREE HOT ISSUES
[+] Enlarge
AP Photo/Evan PinkusInjuries have kept Will Beatty from establishing at left tackle, making him the biggest uncertainty on an uncertain offensive line.
1. Can Will Beatty play left tackle?
The offensive line is the biggest question, and the key to the line is Beatty, who still has yet to establish himself as the reliable starter the Giants believe he can be at left tackle. He missed the final six games of the regular season with an eye injury and says the good thing about that is he didn't beat up his body as badly as the rest of his teammates did, but he did miss the reps and the experience he would have accrued had he been able to complete his first year as a starter. So he remains a question.
"That's definitely something that he's got to work at," right tackle
David Diehl
said. "When you miss that much time of football, you've got to get back at things, and he missed some time during minicamp due to a back injury, so he's got his work cut out for him to come into this season. But we all know he's physically capable."
2. Who replaces Brandon Jacobs and Mario Manningham?
They weren't starters, but Jacobs had 167 touches last year and Manningham caught 39 passes. They will need to be replaced, and the candidates to do so are young and unproven. First-round pick
David Wilson
is competing with
D.J. Ware
and
Da'Rel Scott
to be the backup running back behind
Ahmad Bradshaw
. Second-round pick
Rueben Randle
is competing with
Domenik Hixon
,
Jerrel Jernigan
and
Ramses Barden
to be the No. 3 wide receiver. Training camp and the preseason will be a tryout camp for the guys at those positions. Starting wide receivers
Hakeem Nicks
and
Victor Cruz
are excellent, as is Bradshaw if he can keep his feet healthy all year. But this offense likes to spread it around, and some of the players in these competitions must step up as reliable options.
3. Is Terrell Thomas back?
The Giants' secondary was more good than bad last year, but it did have its bad moments. Thomas, who suffered a torn anterior cruciate ligament in the preseason and missed all of 2011, believes he's healthy and ready to reclaim his position as an emerging star at cornerback. If he's not, the Giants will look to 2011 first-round pick
Prince Amukamara
to man the cornerback spot opposite
Corey Webster
. But Amukamara comes with plenty of his own questions, and the Giants need this camp to help them figure out exactly what they have on the back end of that defense. The pass rush remains excellent and the linebacking depth is improved, but if there's a spot at which the defense is a bump or a bruise away from being very wobbly, it's that secondary.
REASON FOR OPTIMISM
Where the Giants are strong, they are as strong as anyone in the league. The pass rush, led by defensive ends Tuck,
Jason Pierre-Paul
and
Osi Umenyiora
, is fearsome when only two of that threesome are healthy. If all three can stay healthy this year, they should be devastating. "That's our strength, no question," Tuck said. "We know it. It's a lot of pressure on us, but we thrive on it, and hopefully we can build on last year and play 16 games together this year so we can see how scary that can be."
They're also obviously quite strong at quarterback, where Manning has established himself as the most clutch player in the league. He led seven fourth-quarter comebacks last year, including one in the NFC Championship Game and one in the Super Bowl. He never misses a game, works hard at making those around him better and has become the unquestioned leader of the team. In a quarterback-driven league, the Giants wouldn't trade their guy for anyone.
REASON FOR PESSIMISM
[+] Enlarge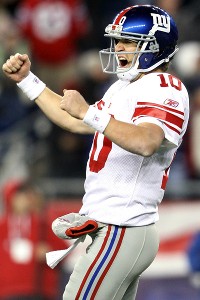 Elsa/Getty Images"Let's not overuse it," Eli Manning says of his abillity to lead late comebacks, something he did seven times last season.
The one potential downside to that last thing, however, is that the Giants may have come to count on Manning too much. Manning himself said that, while knowing you can make a fourth-quarter comeback is nice, the Giants need to stop making them so necessary.
"It kind of means, when you're doing that a bunch, that you're not playing real well the first three quarters," Manning said. "So let's step it up and play with that kind of energy and enthusiasm and that 'Hey, we need to score here' kind of attitude in the first three quarters. Obviously I still want it at the end, and there's going to be some games where you need it. But let's not overuse it, because sometimes you're going to get a bad break. Sometimes the ball's going to get tipped. Sometimes a bad play is going to happen and then you're just out of time. So let's not always put ourselves in that situation."
The Giants didn't actively go out and get many solutions to the problems that put Manning in those situations so often last year. They're relying on the guys they have to play better and stay healthier. And if they don't ... well, you just can't count on seven fourth-quarter comebacks every year, no matter how good your quarterback is.
OBSERVATION DECK
It looks as though Chase Blackburn will begin the season as the starting middle linebacker, though newcomer Keith Rivers could overtake him if he shows the ability to play the middle. The second-team middle linebacker right now is Mark Herzlich, who also could overtake Blackburn if healthy and leave Rivers in a utility linebacker role. This is suddenly a position of great depth for the Giants, who have four second-year linebackers they like as well as Rivers and starting outside linebackers Michael Boley and Mathias Kiwanuka.

Don't assume rookie Wilson wins the backup running back job just because he was picked in the first round. The Giants love him, but they'll be perfectly willing to keep him in the background and develop him if he doesn't show enough in camp and someone such as Ware does. Wilson is getting a lot of practice reps, so they will be able to make a thorough judgment on him, but he's still behind Ware on the depth chart.

Former Giants safety Deon Grant said last week that he expects to re-sign with the Giants at some point during camp, but I did not get that vibe from the Giants. They feel good about their linebacker and cornerback depth, and barring injury, I don't think they'll feel the need to bring back Grant and run all of those three-safety sets they ran the past couple of seasons.

Beatty said he came to camp lighter this year (310 pounds) than last (319). He believes he can put the weight back on as muscle now that he's able to work out again. After he injured his back and developed a sciatic nerve problem during minicamp last year, he was unable to work out the way he usually does in the summer.

While the Giants' pass rush is keyed around their defensive ends, they believe second-year defensive tackle Marvin Austin can help them generate more pressure up the middle on first and second downs. "He's a fast-twitch guy, especially for a 320-pounder," Tuck said of Austin, who missed his senior season at North Carolina in 2010 due to suspension and his rookie NFL season in 2011 due to injury.

Should something happen to Beatty or Diehl, the Giants hope 2011 fourth-round pick James Brewer can be a reliable first option as backup at either tackle position. Their hope is that he develops into a reliable right tackle who can eventually replace Diehl, though they're not expecting that this season.

Fullback Henry Hynoski caught passes out of the backfield early in camp. He's good at it, and especially given the Giants' questions at tight end, it's an option you should probably expect them to use in the passing game.