NFL Nation:

2012 Draft Analysis NFC
April, 28, 2012
4/28/12
6:57
PM ET
»
NFC draft analysis
:
East
|
West
|
North
|
South
»
AFC
:
East
|
West
|
North
|
South
The only NFC East team that didn't trade up in the first round is the one that just won the Super Bowl. That gives you a sense of how hungry the division's other three teams are to catch the
New York Giants
and take their shot at the Lombardi Trophy they were holding up in Indianapolis a few months ago.
The
Washington Redskins
made their trade-up a month early, dealing away three first-round picks and this year's second-rounder in order to secure the man they believe will be their franchise quarterback. The
Dallas Cowboys
made theirs Thursday night, when they decided it was worth spending their first- and second-round picks this year to secure the best defensive player in the draft. And the Eagles made theirs a short time later, when the defensive tackle they wanted, Fletcher Cox, fell further than they expected him to fall and the price to move up and get him became reasonable.
But after the top half of the first round, the NFC East teams' drafts went very different ways. The Cowboys, in need of 2012 help at various places on the roster, oddly began picking project players and unknown safeties. The Redskins made some head-scratchers in the middle rounds before getting workmanlike about their offensive line late. And the Eagles had one of those drafts where everything seemed to be falling their way. Time will tell, of course, and there's no way right now to know how any of these players will perform. But here are some thoughts on how it looks in the very early post-draft light.
BEST MOVE
[+] Enlarge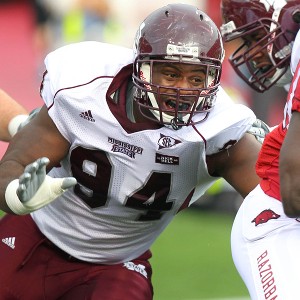 Nelson Chenault/US PresswireThe Eagles were able to move up to get their target, Fletcher Cox, without surrendering high draft picks.
Washington's trade to get quarterback
Robert Griffin III
and Dallas' trade to get
Morris Claiborne
were the headline-grabbers, and I believe that each team will be happy with its first-round pick. But the four high picks the Redskins gave up and the two high picks the Cowboys gave up keep me from labeling either of these the division's "best move" from this year's draft. Washington doesn't have another first-rounder until 2015. And Dallas, which needed help at multiple positions, spent its first two picks on a position they'd already addressed at great cost in free agency. Not enough value in either deal for it to be called a shrewd move.
So I'm giving this to the Eagles' deal to move up and get Cox. Philadelphia arrived at the draft Thursday convinced Cox was the player they wanted, and they believed they might have to move up to No. 6 or 7 to get him. To do that, they likely would have had to surrender at least one of their second-round picks, and they didn't want to pay either of those or their third. Once Cox fell to No. 12, the Eagles were able to move up by surrendering their first-rounder, a fourth-rounder and a seventh-rounder, securing the player they felt was their top target without giving up the picks they wanted to preserve. So while, yes, of course, I consider Griffin and Claiborne better players, I think the Eagles made the best first-round move of any NFC East team -- getting a player who can make a difference for them in the short-term as well as the long-term without handicapping themselves for the draft's second night.
On Friday, the Eagles converted their two second-round picks into a speedy outside linebacker (
Mychal Kendricks
) and a pass-rushing defensive end (
Vinny Curry
) and took the quarterback prospect they wanted (
Nick Foles
) in the third round. That Day 2 haul, compared with what the Cowboys and Redskins were able to get with their Day 2 picks, is what made the Eagles' trade-up the best overall move of the draft in the NFC East.
RISKIEST MOVE
This is a close contest between the two moves that lost out in the first category. It'd be easy to say Griffin, because he cost so much more. But I'm giving this to the Cowboys' trade-up to get Claiborne. It's a tough call, because I think Claiborne may be the best player any NFC East team got in this draft (barely, if at all, ahead of Griffin) and he cost less than Griffin did. But I'm basing this call on the circumstances specific to each team.
The Redskins are taking a big risk, sure, by picking a kid to be their franchise quarterback and telling him they don't have a first-round pick in either of the next two years with which to build around him. But the Redskins had no choice. Their need for Griffin was overwhelming, and they were right to let it overwhelm their priority list for this draft and the next two. Washington hasn't had a franchise quarterback in 20 years, and once they were convinced Griffin could be one, this was a risk worth taking for them.
I do not think, however, that Dallas' need for Claiborne was nearly as great as Washington's need for Griffin. Yes, the Cowboys' secondary was the obvious weak spot of their team last year -- the main reason they fell one game short of the Giants in the division race. But they'd already spent their big free-agent bucks on
Brandon Carr
and had
Mike Jenkins
and
Orlando Scandrick
at cornerback. Does Claiborne have a good chance to be better than any of them? Yes. Could that happen as early as this year? You betcha. But with needs at safety, linebacker, defensive line and offensive line, the Cowboys should have conserved their picks to address multiple needs. They weren't one great cornerback away from being a championship team in 2012, and by trading their top two picks for Claiborne, and then picking project players and reaches the rest of the way, they decided to operate as though that were the case. It's a big risk, and if lingering weaknesses at those other spots do them in this season, they could regret it.
MOST SURPRISING MOVE
Without a doubt, it was the Redskins' selection of Michigan State quarterback
Kirk Cousins
with the seventh pick of the fourth round Saturday. It was Washington's third pick of the draft and the second that had been used on a quarterback. Their reasoning is that quarterback is a vitally important position at which it's impossible to be too deep, and as long as they make it clear to the players involved and to their fan base that Griffin is the starter and Cousins is the backup, it can work. They can develop Cousins in the backup role, have a player they like in reserve in case Griffin gets hurt and perhaps eventually trade him for something of great value in a league in which quarterbacks are the most prized commodities.
FILE IT AWAY
Nobody in this division does the draft better than the Giants, and it'll be worth remembering that the wide receiver (LSU's
Rueben Randle
) they picked at the end of the second round was a player they considered taking at the end of the first. Randle is a dynamic talent who now gets a chance to develop behind brilliant and selfless starting wideouts
Hakeem Nicks
and
Victor Cruz
and with the help of quarterback
Eli Manning
, who has an outstanding record of getting the best out of his receiving targets. Randle could not have been drafted into a better spot for his own development, and he could potentially be an immediate asset for the Giants in the passing game, because he can play the outside spot vacated by free-agent defector
Mario Manningham
and allow Cruz to stay in the slot position from which he exploded onto the scene in 2011. The Giants managed to combine need picks and value picks at almost every turn in this draft, and their second-rounder may turn out to be their biggest prize.
April, 28, 2012
4/28/12
6:51
PM ET
»
NFC draft analysis
:
East
|
West
|
North
|
South
»
AFC
:
East
|
West
|
North
|
South
The 2012 NFL draft is in the books. Our silly little arguments
on left tackles
and
injured receivers
seem so long ago. Oh, the memories….
In a few years, we'll be able to evaluate this draft with a measure of accuracy. For now, let's just consider some immediate highlights and lowlights.
BEST MOVE
The
Green Bay Packers
fielded arguably the best offense in franchise history last season. Their defense, on the other hand, allowed more passing yards (4,796) than any NFL team that has ever played. So let's award the "Best Move" title to the Packers' decision to deeply supplement their defensive personnel in this draft.
The Packers selected six consecutive defensive players to open this affair, the result of unprecedented maneuvering by general manager Ted Thompson -- who traded up as many times in this draft (three) as he had in his six previous drafts combined. Speaking to reporters in Green Bay, Thompson joked that he is "ashamed" and it was "pathetic" to have given up three of his 11 picks in those trade-ups, but to me that spoke to how seriously the Packers took their defensive slide last season.
Thompson insisted that there was "no intent to do it that way," but that would make for one heck of a coincidence, wouldn't it? Regardless of why it happened, the Packers came away with a pair of pass-rushers/disruptors in linebacker
Nick Perry
(No. 28 overall) and defensive lineman
Jerel Worthy
(No. 51) and two defensive backs -- cornerback
Casey Hayward
(No. 62) and safety Jerron McMillian (No. 133) -- who will have opportunities to compete for immediate playing time.
Worthy, Hayward and linebacker
Terrell Manning
(No. 163) were the three players Thompson traded up for, giving you an idea of how strongly he must have felt about them. Will this group stabilize the Packers' defense in 2012? It's impossible to predict individual performances, but generally speaking I'll go with this theory: The more the merrier.
MOST SURPRISING MOVE
[+] Enlarge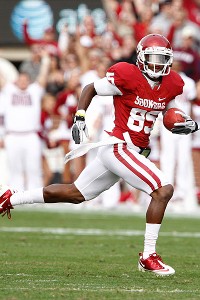 AP Photo/Alonzo J. AdamsDespite depth at the position and an injury history, the Detroit Lions drafted Oklahoma receiver Ryan Broyles.
The
Detroit Lions
had already used their first-round pick on a future need, Iowa tackle
Riley Reiff
, when they grabbed Oklahoma receiver
Ryan Broyles
in the second round. Not only did the Lions already have a deep set of pass catchers, but Broyles is still recovering from a torn ACL suffered last November.
So yes, it was initially surprising to see a match between the Lions and Broyles, even though it was easy to understand how the Lions made the decision. As
we discussed at the time
, the Lions follow their board in as tightly wrapped-up of a vacuum as any team in the NFL. Although they had significant need at cornerback and safety, they had Broyles rated higher and that was that.
Hopefully, those of you who were angry and didn't buy that explanation were assuaged by the latter stages of the Lions' draft. They chose three cornerbacks -- Louisiana-Lafayette's
Dwight Bentley
at No. 85, Albion's
Chris Greenwood
at No. 148 and New Mexico State's
Jonte Green
at No. 196 -- over their next five selections and finished with six consecutive defensive picks overall.
RISKIEST MOVE
The riskiest move in this draft was one that actually didn't happen. The
Chicago Bears
did nothing to address their personnel along the offensive line, first in free agency and now the draft.
It's true that a pair of 2011 starters who suffered season-ending injuries, tackle
Gabe Carimi
and guard
Chris Williams
, will return in 2012. And the promotion of Mike Tice to offensive coordinator should provide linemen with more help and less one-on-one responsibility than they had in the previous two seasons.
But the bottom line is the Bears have been forced to undergo multiple rounds of midseason patchwork in each of the past two seasons to lessen the punishment on quarterback
Jay Cutler
. When coach Lovie Smith said last month that he was confident in his current lineup, many of us wondered if he was just covering the Bears' draft plans.
He wasn't, which means the Bears are setting themselves up for another choppy season of personnel changes if their confidence proves unfounded.
FILE IT AWAY
We noted before the draft
that the NFC North stood on the precipice of transition from the Black and Blue to the Air and Space division. You could make an argument that all four NFC North teams had a need at running back, especially the Packers and Lions. But as the NFL continues to move toward the passing game, it was reasonable to wonder whether anyone would act on those needs.
They did not. In fact, not a single running back was drafted in this division through the first six rounds. The Packers declined to take one in spite of a thin backfield led by injury-prone
James Starks
. The Lions, meanwhile, didn't deem it necessary despite the questionable health histories of
Jahvid Best
,
Mikel Leshoure
and
Kevin Smith
.
Message sent, huh?
April, 28, 2012
4/28/12
6:35
PM ET
»
NFC draft analysis
:
East
|
West
|
North
|
South
»
AFC
:
East
|
West
|
North
|
South
The shift in NFL disciplinary emphasis from off-field behavior to on-field safety should serve the NFC West well over the coming months.
The division took calculated gambles early and often in the 2012 NFL draft, selecting players with rap sheets as varied as the players' on-field skill sets.
But player safety is trumping player behavior as the prevailing NFL issue these days, and NFC West teams aren't likely to draw much scrutiny for their decisions, at least initially.
Five of the first 10 players NFC West teams selected had, at various times, faced accusations relating to drunken driving (
Michael Floyd
), robbery (
Bruce Irvin
), marijuana possession (
Janoris Jenkins
), attempted strangulation (
LaMichael James
) and resisting arrest (
Trumaine Johnson
).
They were not all charged nor convicted. They are not necessarily bad guys, of course. But each carried red flags into the evaluation process. Each represents a heightened risk for his new NFC West team.
What's going on here?
A theory: Pete Carroll, Jeff Fisher and Jim Harbaugh, in particular, are three of the higher-profile, more highly paid coaches in the NFL. Higher-paid coaches tend to have more power (Carroll and Fisher demanded personnel influence as a condition of employment). Coaches also tend to listen to their assistants. They might be more apt to take chances, confident in their ability to manage players.
Cardinals coach Ken Whisenhunt, also
well-compensated
and facing a pivotal year at quarterback, has made it clear that he's a believer in
drafting with character in mind
. He also might need to win his bet on
Kevin Kolb
, perhaps one reason the Cardinals, having done their homework on Floyd, took the first calculated gamble among NFC West teams.
Arizona made Floyd the second receiver drafted, taking him at No. 13. Irvin went to Seattle two spots later, followed by Jenkins to St. Louis (39th), James to San Francisco (61st) and Johnson to the Rams (65th).
BEST MOVE
The Rams' pre-draft move to trade back four spots from the second overall pick set up their next three drafts, beginning with this one.
[+] Enlarge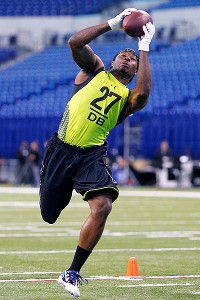 Joe Robbins/Getty ImagesManuevering for additional picks meant the St. Louis Rams could take a chance on defensive back Janoris Jenkins.
Moving back again from sixth to 14th overall brought a 2012 second-rounder in return, leaving the Rams with six of the first 96 overall selections -- the most for any team in recent seasons (New England had six of the first 97 picks in the 2009 draft).
With three second-round choices this year, the Rams felt comfortable taking a chance on Jenkins, a player widely regarded as a first-round talent. Jenkins might have the ability to make this draft for the Rams, but taking him at No. 39 and amid so many other early selections insulated the team from undue risk.
The Rams move forward with four first-round selections over the next two drafts. They're in position to get better the right way through the draft.
RISKIEST MOVE
There were a few candidates for consideration, including the Cardinals' decision to draft a wide receiver instead of an offensive tackle at No. 13.
But Irvin's selection with the 15th overall choice stands out given his background, one-dimensional nature and the surprise factor associated with his selection.
Irvin dropped out of high school, lived on the streets for two years, was arrested on robbery charges and more recently was charged with disorderly conduct. His life and career have been trending in the right direction for a few years, but with so few analysts projecting Irvin for the first round, the Seahawks can expect louder than usual criticism if Irvin fails to develop.
Seattle could have drafted
Fletcher Cox
,
Quinton Coples
,
Michael Brockers
,
Melvin Ingram
or
Chandler Jones
among the defensive players available when the Seahawks were scheduled to select with the 12th overall choice. They traded back and took Irvin after Philadelphia took Cox at No. 12 and St. Louis took Brockers at No. 14.
MOST SURPRISING MOVE
We could double up on Irvin in this space, but the 49ers deserve a mention as well.
They made Illinois receiver
A.J. Jenkins
a surprise selection with the 27th overall choice. Analysts knew San Francisco might consider a receiver in the first round, but if any of them projected Jenkins as a possibility in that slot, that would be news to me.
Personnel people I've spoken with said they liked Jenkins. The Rams reportedly had him ranked not far behind
Justin Blackmon
, the first receiver selected.
Receivers
Stephen Hill
,
Alshon Jeffery
and
Rueben Randle
drew more mention before the draft. All were available when the 49ers selected Jenkins, as were
Brian Quick
and
Ryan Broyles
, all taken in the second round. The 49ers will get an up-close look at Quick, drafted by the Rams. But Jenkins was the player they wanted.
FILE IT AWAY
The quarterback situations in Seattle and Arizona have become more competitive.
The Seahawks used a third-round choice for Wisconsin's
Russell Wilson
, a strong-armed quarterback with fantastic intangibles. Concerns over Wilson's 5-foot-11 height knocked him down draft boards, but a third-round pedigree in Seattle should put Seahawks quarterbacks
Matt Flynn
,
Tarvaris Jackson
and Justin Portis on notice.
Arizona used a sixth-round choice for San Diego State quarterback
Ryan Lindley
. The Cardinals have shown a willingness to let less-heralded quarterbacks compete for playing time.
John Skelton
and
Max Hall
over the last couple seasons come to mind. With Kolb and John Skelton battling for the starting job, Lindley arrives as a potential alternative for the future.
The 49ers did not head into this draft needing to draft a quarterback, but this is a good time to recall the move they made to acquire
Colin Kaepernick
in the second round a year ago.
Alex Smith
is the incumbent starter, but his contract gives the 49ers an easy out after one or two seasons.
April, 28, 2012
4/28/12
6:15
PM ET
»
NFC draft analysis
:
East
|
West
|
North
|
South
»
AFC
:
East
|
West
|
North
|
South
The 2012 NFL draft won't be remembered as the flashiest in NFC South history. That honor belongs to the 2011 draft -- probably forever.
It's tough to top a draft in which quarterback
Cam Newton
went No. 1 to Carolina, Atlanta traded up for receiver
Julio Jones
and New Orleans traded back into the first round to get running back
Mark Ingram
. Aside from the
Tampa Bay Buccaneers'
pretty good splash, this year's NFC South draft wasn't filled with drama.
Instead, it was filled with very deliberate picks that addressed big needs all around the division.
BEST MOVE
No pick set the division's tone for this draft better than Carolina's selection of Boston College linebacker
Luke Kuechly
at No. 9 overall.
There's nothing really flashy about Kuechly, but the Panthers didn't need flash this time around. They got that with Newton, and he gave them a prolific offense. But that offense was only enough to carry the Panthers to a 6-10 record last season. Carolina couldn't play defense, and opponents have run all over the Panthers the last few seasons.
A lot of people thought the Panthers should go with a defensive tackle in the first round. But there were two reasons they didn't. They weren't enamored of any of the first-round prospects at that position. They also feel pretty good about what they already have at defensive tackle.
Ron Edwards
, a big free-agent pickup last year, is coming back from an injury that kept him out last season, and the Panthers think he can anchor their defensive line. They also used two third-round picks on defensive tackles
Terrell McClain
and
Sione Fua
last year.
The Panthers believe they have the personnel to clog up the middle. Kuechly should be able to come in and do what he does best. He can roam the field and be the kind of tackling machine he was in college. This guy had as few flaws as any player in the draft and is ready to make an instant impact. It remains to be seen whether Keuchly or
Jon Beason
will play the middle and which one will slide outside. It doesn't really matter. Either way, the Panthers now have a deep linebacker corps that should be able to stop just about any running game.
RISKIEST MOVE
You could say the Saints made a risky move by using their first draft pick on a player who didn't even play his college ball in the United States. They drafted Regina (Canada) defensive tackle
Akiem Hicks
with the No. 89 overall pick in the third round.
The fact Hicks didn't play against elite completion means there is obvious risk with this pick. But why not take a shot when you're this late in the third round? Hicks has tremendous upside, and he was good enough to be recruited to LSU before leaving for Canada. The Saints have a great history of discovering gems (
Jimmy Graham
,
Jahri Evans
and
Marques Colston
) later in the draft. They took a risk, but it might pay off.
[+] Enlarge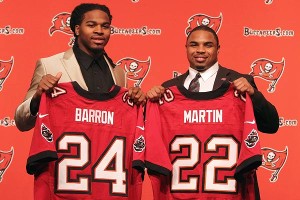 Kim Klement/US PresswireThe Bucs made headlines with their first-round draft picks, S Mark Barron and RB Doug Martin.
Hicks should at least have a chance at some playing time early on. The Saints don't have much behind
Brodrick Bunkley
and
Sedrick Ellis
at defensive tackle. Hicks could end up in the rotation very quickly, and the Saints could end up looking very smart for taking this risk.
MOST SURPRISING MOVE
The Bucs haven't been exciting in any way in quite some time. But they provided virtually all of the excitement within the division in this draft. General manager Mark Dominik shrewdly made some trades that gave the Bucs the ammunition to move up twice and come out of the draft with three instant starters.
Get over the fact that Dominik used the No. 7 overall pick on a safety, Alabama's
Mark Barron
. The Bucs weren't sold on LSU cornerback
Morris Claiborne
for reasons we don't know. They were sold on Barron, and safety might have been the weakest position on their roster heading into the draft. Trading down from No. 5 to No. 7 started a process in which Dominik was able to manipulate the draft with trades that gave him two other starters -- running back
Doug Martin
and outside linebacker
Lavonte David
.
The Bucs traded back into the first round to get Martin late Thursday night. They were without a second-round pick Friday night. But they saw David sitting there, they had the ammunition, and they pounced. No NFC South team needed more help from this draft than the Buccaneers, and Dominik made sure they got help that will matter right from the start.
FILE IT AWAY
Atlanta's selection of Wisconsin fullback
Bradie Ewing
in the fifth round might not seem like a big deal on the surface. For now, Ewing is probably nothing more than a special-teams player. But the Falcons also were looking a year or two down the road when they made this pick. Veteran fullback
Ovie Mughelli
is coming off a major injury, and he'll turn 32 in June. It was time to find someone to groom as Mughelli's eventual successor.

NFL SCOREBOARD
Thursday, 9/18
Sunday, 9/21
Monday, 9/22
WEEKLY LEADERS