NFL Nation:

2012 NFL Midseason team
July, 31, 2014
Jul 31
4:59
PM ET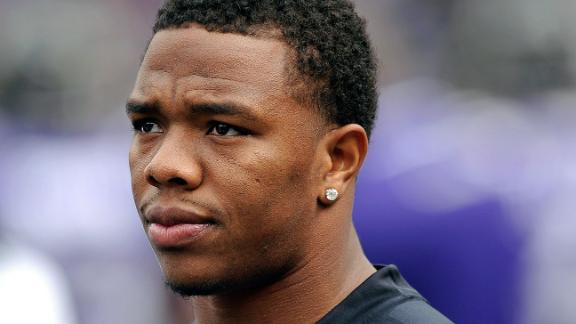 OWINGS MILLS, Md. -- In stark contrast to
Ray Rice
's awkward news conference in May, the
Baltimore Ravens
running back showed Thursday that he finally understood the weight of his actions from the alleged altercation with his then-fiancée in February.
He delivered the correct message, one the NFL failed to do last week with the two-game suspension, by not only apologizing to his wife, Janay Palmer, but also expressing a desire to become an advocate for domestic-violence causes.
Rice was compelling in his contrition, calling it the biggest mistake of his life. He stood in front of the microphone alone, without his wife standing by his side, and took full responsibility for the incident. Perhaps more importantly, Rice actually said the words "domestic violence," which weren't heard in his statement two months ago.
"My actions were inexcusable," Rice said. "That's something I have to live with the rest of my life."
Before anyone pats Rice on the back, this is what he should have said the first time when he broke his silence in May. Instead, Rice nervously fumbled through notes on his phone and apologized to team officials and his sponsors. That debacle of a news conference came across as damage control to his image.
His 17-minute news conference Thursday hit the right tones. He apologized to all women affected by domestic violence. He accepted the blame for losing the respect of fans. Rice came across as genuinely sorry.
"I let my wife down, I let my daughter down, I let my wife's parents down, I let the whole Baltimore community down," Rice said.
Rice's biggest misstep was not talking about what happened in the elevator. He was asked twice about it and declined to answer both times. His stance against domestic violence would have resonated stronger if he had explained his transgressions.
"I'll be honest: Like I said, I own my actions," Rice said. "I just don't want to keep reliving the incident. It doesn't bring any good to me. I'm just trying to move forward from it. I don't condone it. I take full responsibility for my actions. What happened that night is something that I'm going to pay for the rest of my life."
The only way Rice can move forward from this incident and show he's truly sincere is through his actions. It's not by his words. It's not by a hefty donation, which is merely a gesture. It's by proving this will remain a "one-time incident" and by supporting domestic-violence causes.
Thursday represented a small step forward for Rice. But it was an important one.
November, 7, 2012
11/07/12
11:01
AM ET
November, 7, 2012
11/07/12
11:00
AM ET
»
NFC Midseason Teams
:
East
|
West
|
North
|
South
»
AFC
:
East
|
West
|
North
|
South
I hereby present the midseason All-NFC East team.
Those of you who are regulars on the NFC East blog know that we actually do a running all-division team each week, updating it when warranted based on overall performance to date. This is a site-wide midseason exercise in which each of our eight division bloggers has done his own all-division team, but we've kept the format the same as we usually do -- four linebackers and four defensive linemen, for instance, to reflect that half of our division plays a 3-4 and the other half a 4-3.
Jason Hatcher
has been on the team for a few weeks now, outplaying many of the division's 4-3 defensive ends even from his spot in the Cowboys' 3-4.
The position that causes the most weekly consternation is quarterback, which this year has been a two-man race between Redskins rookie
Robert Griffin
III and the Giants'
Eli Manning
. Griffin has held the spot for a couple of weeks now in a close race, helped by the addition of his rushing yardage and touchdown numbers to his passing numbers. None of the division's quarterbacks has been playing especially well over the past two weeks, so there hasn't been much reason to change.
Changes from last week's team include the return of
Chris Snee
to the right guard spot in place of
Chris Chester
,
Jay Ratliff
at one of the defensive tackle spots in place of
Cullen Jenkins
and
Steve Weatherford
as the punter.
Sean Lee
has retained his inside linebacker spot in spite of the season-ending injury he suffered three weeks ago, since his overall body of work at that position for the year is still better than that of the next inside linebacker on the list (likely Washington's
Perry Riley
).
Anyway, here's the list. Feel free to offer your thoughts.
November, 7, 2012
11/07/12
11:00
AM ET
»
NFC Midseason Teams
:
East
|
West
|
North
|
South
»
AFC
:
East
|
West
|
North
|
South
We present our 2012 AFC West midseason team.
A few notes before we get to the list.
I used a 3-4 defense because half of the division (Kansas City and San Diego) uses it as a base defense and I thought the linebackers were stronger in the first half so I wanted to recognize four of them. This list features the best players at the position, so I used two left tackles instead of forcing a right tackle, two tailbacks instead of a fullback, etc.
The list features 10 Broncos, eight Chargers, five Raiders and three Chiefs. Coincidentally, that is the order of the division standings halfway through the season.
Let's point out some picks of note. Some may be surprised to see Denver defensive lineman
Kevin Vickerson
on the list. If you talked to NFL scouts, you wouldn't be. He's been strong.
I really like this group of linebackers. I wanted to find a place for the Chiefs' Justin Houston and Derrick Johnson, but I felt like I needed to get San Diego's Donald Butler, Oakland's Philip Wheeler and Denver's Wesley Woodyard on the list. Again, this was a very tough position to choose from.
I could have gone in several directions at receiver. Many receivers in the division are having terrific seasons. Can't go wrong with
Demaryius Thomas
and
Eric Decker
, though.
Mike Scifres
over
Shane Lechler
? Yes, Lechler is an all-time great, but Scifres is having a better season.
This isn't a great year for returners in the division. I was going to go with San Diego's
Richard Goodman
, but he is out for the season. Holliday returned a touchdown for a score in Week 9, so he's your winner despite playing just three games with Denver.
On to the list. I'm sure you'll have a lot to say in the comments section below.
November, 7, 2012
11/07/12
11:00
AM ET
»
NFC Midseason Teams
:
East
|
West
|
North
|
South
»
AFC
:
East
|
West
|
North
|
South
All four division teams have played eight games, so that means it's time for our All-NFC South midseason team.
Before we roll out the chart, let's talk about a few significant matters that came up in choosing this team.
In recent years, the
New Orleans Saints
have dominated every time we've done any sort of midseason, postseason or preseason all-star team. That's not the case this time, and there's a very good reason for it. The Saints no longer are dominating the NFC South – or much of anything outside the controversial news headlines. Not even
Drew Brees
, the best player in NFC South history, made the team. How could he? Atlanta's
Matt Ryan
is undefeated and is mentioned in every conversation for most valuable player. Also, when it comes to the rest of the team, how each team is faring factored heavily into who made the team. You'll notice this team includes quite a few Falcons.
Speaking of the Saints, you'll notice they don't have a single defensive player on the team. I gave a lot of thought to including middle linebacker
Curtis Lofton
, who has been perhaps the only bright spot on the New Orleans defense. Lofton has done his job and been as solid as he can be. But I just couldn't bring myself to include anyone from a defense that has a shot at being -- statistically -- the worst in NFL history.
As long as we're on the subject of linebackers, this was the toughest position to pick on the entire team. Atlanta's
Sean Weatherspoon
was an automatic choice. After that, I put Lofton in a group with Tampa Bay's
Mason Foster
and rookie
Lavonte David
and Atlanta's
Stephen Nicholas
, then I agonized for a bit. I chose Nicholas, partly because the Falcons are undefeated but mostly because he's a player who has always had good athleticism and was always in place to make big plays in the past. But, this year, Nicholas is actually making the big plays. After that, it came down to a brutal choice between David and Foster. I like everything about David and think he could be a regular Pro Bowler. But I'm going with Foster because I get the feeling the Tampa Bay coaching staff has been more than pleasantly surprised with his huge jump from a confused rookie to a second-year player who is running the defense.
Speaking of the Bucs, I included guard
Carl Nicks
even though he went on injured reserve after seven games. Nicks won't be on the end-of-season All-NFC South team, but I'll take what he did in seven games over what any other guard in the division has done in eight games.
While we're on the topic of offensive linemen, let's talk about center. There's no question Carolina's
Ryan Kalil
is the best center in the division, maybe in the entire NFL. But he went on injured reserve early. That's why I'm going with Atlanta's
Todd McClure
. The veteran might have seen better days, but he still is playing at a pretty high level.
When you look at the chart below and see Atlanta left tackle
Sam Baker
on it, don't laugh. I know he has had his problems in the past, but he is having a very solid season and his team's record helps. I also went with Carolina's
Jordan Gross
as the other tackle. He made it by only the slightest of margins over Tampa Bay's
Donald Penn
. But part of it is that Gross deserves a lifetime achievement award, plus I needed to get a little Carolina representation on the team.
Speaking of Carolina, some of you might not be happy that defensive end
Charles Johnson
isn't on the team. He has decent numbers, but he hasn't been as consistent as a guy who is making a pile of money should be. I went with Atlanta's
John Abraham
because he's flat-out better than Johnson, and I took Tampa Bay's
Michael Bennett
as the other defensive end because he's been much more consistent than Johnson and is doing that while making the NFL's minimum salary.
Finally, let's talk about the secondary. This one took some thought because Carolina's
Chris Gamble
is on injured reserve and my policy of no Saints on the defense eliminated New Orleans'
Jabari Greer
. That left me little choice at cornerback. I went with Atlanta's
Dunta Robinson
, who has been better than he was the past couple of years, and teammate
Asante Samuel
, who might no longer be great but clearly isn't in steep decline. Tampa Bay safety
Ronde Barber
is 37, but he also clearly isn't in any sort of decline in his first season after switching from cornerback. Barber was an easy choice. The other safety spot wasn't easy. It came down to Atlanta's
William Moore
and
Thomas DeCoud
, who both are having very nice seasons. I went with DeCoud because he has made a few more big plays.
Now, on to the NFC South midseason team:
November, 7, 2012
11/07/12
11:00
AM ET
»
NFC Midseason Teams
:
East
|
West
|
North
|
South
»
AFC
:
East
|
West
|
North
|
South
Drum roll please ... Here's your AFC North all-division team at the midway point of the season.
In an unexpected twist, the division-leading Ravens have the fewest players on the team with five. The Steelers led all teams with eight total players. Here are some notes about the team:
NO-BRAINERS
: Bengals receiver
A.J. Green
, Ravens guard
Marshal Yanda
and Bengals defensive tackle
Geno Atkins
are not only the class of their positions in the division, but they are the best in the league through nine weeks. It was also a very easy decision to go with
Ben Roethlisberger
at quarterback and
Heath Miller
at tight end. No one is even close to them in the division.
TOUGHEST CALLS
: It's always a tough call at center. The Steelers'
Maurkice Pouncey
was battling injuries again, and the Browns'
Alex Mack
got the nod after receiving an endorsement from Ravens defensive tackle
Haloti Ngata
. You also couldn't go wrong at the No. 2 receiver spot, where the Steelers'
Mike Wallace
(on pace for 78 catches) edged out the Ravens'
Torrey Smith
.
WEAKEST POSITION
: Bengals left tackle
Clint Boling
got on the team by default. The Ravens haven't settled on a starting left guard, the Browns are without ailing
Jason Pinkston
and the Steelers have been hurt by
Willie Colon
's penalties. There were slim pickings at right defensive end, too. The Bengals'
Carlos Dunlap
, the Browns'
Jabaal Sheard
and the Ravens'
Pernell McPhee
have all been disappointments. After going with the Bengals'
Michael Johnson
(six sacks) at one end, I finally went with the Steelers'
Brett Keisel
, who doesn't have a sack but leads the top-ranked defense in quarterback pressures.
NOT EXPECTED
: Rookie second-round pick
Mike Adams
didn't start the season, but he has played better than anyone at right tackle since taking over for the injured
Marcus Gilbert
. Like Adams, Bengals undrafted rookie
Vontaze Burfict
has made the most of his opportunities in taking over for the injured
Thomas Howard
and has become an impact player against the run. Ravens undrafted rookie kicker
Justin Tucker
is 15-of-16 (93.8 percent) with one game winner and four field goals beyond 50 yards. And how many would've thought before the season that neither
Ed Reed
nor
Troy Polamalu
would make the midseason team?
COULD CHANGE
: Steelers cornerback
Ike Taylor
has rebounded from a dismal start and should bump out the Browns'
Sheldon Brown
. This spot is open after the season-ending knee injury to the Ravens'
Lardarius Webb
. And, even though I don't see this happening, Ravens running back
Ray Rice
could get challenged by Browns rookie
Trent Richardson
in the second half of the season. Richardson, who has played one more game than Rice, trails him by 47 rushing yards and one rushing touchdown.
November, 7, 2012
11/07/12
11:00
AM ET
»
NFC Midseason Teams
:
East
|
West
|
North
|
South
»
AFC
:
East
|
West
|
North
|
South
Don't look down.
First let me explain. The 2012 All-AFC South midseason team is built on an undulating foundation. Over on the left of the offense, for example, left tackle
Duane Brown
is on super solid footing even though the division's three other left tackles --
Michael Roos
,
Eugene Monroe
and
Anthony Castonzo
-- are all quite good.
Reggie Wayne
,
Arian Foster
,
J.J. Watt
,
Paul Posluszny
and
Danieal Manning
all made it here without much debate from this panel of one.
Barring two awful games clearly impacted by a groin injury,
Johnathan Joseph
would be a no-brainer, too.
Others position were much tougher.
Winston Justice
has pass-protected well, but the Colts' right tackle wins by default because
David Stewart
has had penalty problems, the Texans are playing two guys and
Cameron Bradfield
in Jacksonville has not impressed me.
The ground beneath some other spots is significantly lower. Overall four teams provide a small pool and ours includes one very bad and one pretty bad team.
I expect the quarterback choice will produce objections from Texans.
Matt Schaub
is having a fine and efficient season. But
Andrew Luck
has been extraordinary, leading a much less talented offense and team to improbable playoff contention.
Executive decisions:
I was tempted to run a three-wide offense, but I went two-tight. I'm not a big fullback guy.
Craig Stevens
is a legitimate blocking tight end who's helped sparked the Titans' run-game revival.
I like to use a 12-man defense to account for two 4-3s and two 3-4s, but finding it thin at defensive tackle, I went where the talent took me.
Jurrell Casey
is a good player who's been stunted by injuries.
November, 7, 2012
11/07/12
11:00
AM ET
»
NFC Midseason Teams
:
East
|
West
|
North
|
South
»
AFC
:
East
|
West
|
North
|
South
The first half of the 2012 season is in the books. We've had some outstanding performers so far who deserve recognition.
Here are a few notes to consider with our AFC East midseason team: We went with a traditional 4-3 defense. Three teams –- the
Buffalo Bills
,
Miami Dolphins
and
New England Patriots
–- have used a lot of 4-3 alignments this season. That's enough to make it our base defense.
The strength of our defense is the defensive line. There were plenty of stud players to choose from. Dolphins defensive end
Cameron Wake
(8.5 sacks) has been terrific. His teammate, defensive tackle
Paul Soliai
, is a brick wall in the middle. Few teams have success running against Miami, and this duo is a big reason.
Chandler Jones
of the Patriots is a Defensive Rookie of the Year candidate. The first-round pick has stayed healthy and leads New England with six sacks. Jones is benefiting a lot from veteran
Vince Wilfork
's play. Wilfork barely nudged Miami defensive tackle
Randy Starks
, who is having a great year and may be just as deserving.
Notoriously missing from the All-AFC East team is Bills defensive end
Mario Williams
. After signing a $100 million contract in the offseason, Williams has mostly been a disappointment. Defensive ends Wake and Jones have played better.
The offense is full of firepower. That's not a surprise, considering the Patriots have the NFL's No. 1 offense. Players like quarterback
Tom Brady
, tight end
Rob Gronkowski
, receiver
Wes Welker
and running back
Stevan Ridley
are all tearing up the league this year. Buffalo's
C.J. Spiller
and Miami's
Brian Hartline
add depth to this dangerous group.
The special teams were pretty easy picks. Miami's
Brandon Fields
might be the most underrated punter in the league, and kicker
Nick Folk
of the Jets is 12-for-13 on field goals. Buffalo's
Leodis McKelvin
is dangerous returning punts and kickoffs, and Miami rookie
Olivier Vernon
has been a terror on special teams. He has blocked two field goals and recovered a blocked punt for a touchdown.
With so many players, there is plenty of room for debate. On to the list:
November, 7, 2012
11/07/12
9:51
AM ET
»
NFC Midseason Teams
:
East
|
West
|
North
|
South
»
AFC
:
East
|
West
|
North
|
South
We've posted an All-NFC North team after every season since we started this blog five seasons ago. (Links:
2011
,
2010
,
2009
,
2008
.)
Below, you'll find our first attempt at a midseason division team. As always, its composition is a blend of advice I've received from football professionals, my own eyes and consultations with some media services I respect. (For those interested, here is
Pro Football Focus' All-NFC North team from last week.
)
As we've learned in past years, there isn't always a direct correlation between individual frequency and team success. If there were, the
Minnesota Vikings
-- who sit in third place here in Week 10 -- wouldn't have a division-high eight players on this team.
Many of the choices are obvious and/or self-explanatory. Here are some thoughts on the more difficult decisions:
November, 7, 2012
11/07/12
9:45
AM ET
»
NFC Midseason Teams
:
East
|
West
|
North
|
South
»
AFC
:
East
|
West
|
North
|
South
A few NFC West thoughts as we roll out all-division teams across the ESPN.com divisional blogs:
Tough call:
Alex Smith
edges
Russell Wilson
at quarterback based on a stronger start to the season and his nearly perfect game against Arizona in Week 8. Wilson is gaining ground and looks like he could become the best quarterback in the NFC West quickly. He already has a better feel for the pocket. I'll be surprised, at this rate, if Wilson isn't the choice for the season-ending all-division team. There is still time for
Sam Bradford
to factor in as well.
Laying it on the line:
The defensive lines were difficult to classify by specific position. Players with bodies suited to play 4-3 defensive tackle are playing defensive end for Arizona, San Francisco and Seattle. I went with the four best defensive linemen with less regard for position. That left only three spots at linebacker.
Aldon Smith
deserves consideration. I favored three top inside linebackers, including the Cardinals'
Daryl Washington
.
Free over strong:
Two free safeties made the list. The 49ers'
Dashon Goldson
hits almost like a linebacker.
Earl Thomas
was the other choice, even though the Cardinals'
Kerry Rhodes
made a strong push early in the season. Rhodes' sack and forced fumble helped put away Philadelphia. Arizona has faltered and Rhodes missed a game. Thomas is the defensive player Seattle's opponents single out most frequently for his instincts and range.
Coverage ace:
The 49ers'
C.J. Spillman
is usually a good choice as top special-teams coverage player. Seattle's
Heath Farwell
gets the call this time. The Seahawks have credited him with five tackles and five assisted tackles on special teams.
Two halfbacks here:
Seattle's
Michael Robinson
and San Francisco's
Bruce Miller
would be good choices at fullback. I went with two halfbacks.
Marshawn Lynch
would be the choice over
Frank Gore
. I kept both for the value they provide their teams, with or without a fullback leading the way.