NFL Nation:

2012 Rams trade No. 2 pick
March, 10, 2012
3/10/12
10:00
AM ET
Officially, the trade that will send three first-round draft picks and a second-rounder from the
Washington Redskins
to the
St. Louis Rams
in exchange for this year's No. 2 pick can't be announced or finalized until the new league year opens Tuesday. But it has been agreed upon several days early, and there are some good reasons for that from the Redskins' standpoint.
With that pick, and assuming the Colts draft Stanford quarterback
Andrew Luck
at No. 1, the Redskins are expected to draft Baylor quarterback and Heisman Trophy winner
Robert Griffin III
. And the fact that the rest of the NFL knows or assumes that is vital to the Redskins as they begin their plans for free agency.
[+] Enlarge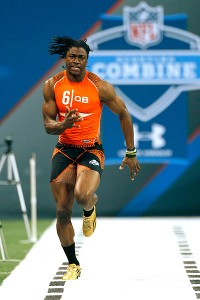 AP Photo/Dave MartinKnowing, and letting it be known, that they'll draft Robert Griffin III can help the Redskins in many areas as they prepare for 2012.
The Redskins have upwards of $40 million in projected salary-cap room, so they'll be able to make very competitive offers for high-profile free agents. But with this deal done before any of those, they'll also be able to answer a lot of the questions those prospective free agents were going to be asking them. Chief among those questions is "Who's your quarterback?"
Coach Mike Shanahan wants to go out and get a No. 1 wide receiver -- someone like
Vincent Jackson
of the Chargers. And while a big pile of money surely would have been an enticement, the Redskins are not the only team that's going to be offering Jackson a big pile of money. Now they can go to him with the money and the promise of Griffin -- a player who generates a great deal of positive buzz. Not only do the Redskins have their answer at quarterback, they have an answer that's liable to get prospective free agents excited.
The Redskins also have been trying to re-sign veteran linebacker
London Fletcher
. They consider him a top priority and would love to get him signed before the free-agent market opens Tuesday. Fletcher likes it in Washington but was probably justifiably curious about what the team was doing at quarterback for next season. This deal is an easy one to sell to Fletcher. He's about to turn 37. He doesn't care about the Redskins' 2013 and 2014 draft. He's thinking about the 2012 season, and this deal makes it look a lot brighter for Washington than it did 24 hours ago. Maybe this is the kind of thing, along with some of that big money, that helps bring back this vital veteran piece.
Washington needs to do a lot yet to build around Griffin, for now and for the future. But it has the means with which to do that. If the Redskins hadn't done this deal when they did it, every free-agent signing (heck, every draft pick) they made would have been accompanied by cries of "Yeah, great, but who's the quarterback?" Having done this when they did it, they no longer have to worry about that. They have solved their greatest need early in their offseason, and they still have plenty of money with which to play in the market.
March, 9, 2012
3/09/12
11:25
PM ET
It's been clear
for some time that the
Minnesota Vikings
wouldn't be in position to trade their No. 3 overall pick to a team that wanted to draft Baylor quarterback
Robert Griffin III
. Griffin's performance in last month's NFL scouting combine sealed his spot as the second-best player in the draft, and on Friday night the
St. Louis Rams
traded the No. 2 pick to the
Washington Redskins
for a bounty that will make Vikings fans rue the day their team dropped from contention for the No. 2 pick themselves.

As you assuredly know, the Vikings were on track to have the NFL's second-worst record before they defeated the Redskins 33-26 in Week 16. (Tailback
Adrian Peterson
also suffered a major knee injury in that game, an unrelated but no less serious event.) After
Friday night's trade
, we now know the difference between winning and losing that game was two future first-round picks and a second-rounder.
That's the premium the Redskins paid the Rams to swap first-rounders in 2012, presumably to draft Griffin. With Andrew Luck and Griffin expected to go 1-2 in the draft, it's far less likely that a market will emerge for the Vikings' spot at No. 3. If it does, the bounty will be nothing close to what the Rams got from the Redskins.
Obviously, I'm not suggesting the Vikings should have done anything other than play to win against the Redskins. I'm not a proponent of tanking. In the end, that game was just another chapter in the star-crossed history of this franchise. The Vikings will do well to draft USC left tackle Matt Kalil at No. 3 next month, but they missed out on an opportunity to jump-start their rebuilding process with a rare volume of high draft picks in the coming years. Such is life.
March, 9, 2012
3/09/12
11:07
PM ET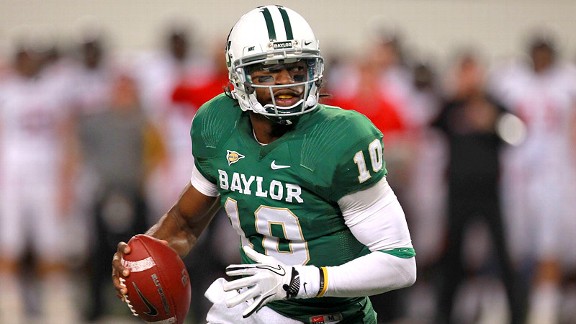 Ronald Martinez/Getty ImagesThe Washington Redskins gave up a lot for the opportunity to draft Robert Griffin III.
Well, that settles that, then. Count the
Washington Redskins
out on
Peyton Manning
and count them in big on
Robert Griffin III
.
Adam Schefter reports
that Washington has agreed to trade its next three first-round picks, plus this year's second-round pick, to the
St. Louis Rams
for the No. 2 overall pick in this year's draft. With Indianapolis expected to take Andrew Luck No. 1 overall and the Redskins desperate for a quarterback, we are left to presume they will use that pick to draft Griffin, the Heisman Trophy winner out of Baylor, to be their quarterback of the future.
It isn't surprising that the Redskins are trading up for Griffin. They wanted him badly, and there are few if any teams in the league that need help at quarterback more than they do. What's shocking is the price. To move up four spots in this year's draft, they are trading away first-rounders in 2012, 2013 and 2014, as well as a second-rounder in 2012. It feels like too much, and it puts a heck of a lot of pressure on Griffin. They're basically going to draft him and tell him, "All right. It's all yours. But we don't have a first-round pick in either of the next two years with which to help you out."
This tells me a number of things:
It tells me the Redskins are 100 percent sold on Griffin. That they believe he can step right in and start next year and be the answer over the long haul. That they are convinced he can handle the kind of pressure I just talked about. That he fits what they want to do on offense and that he can pick it up quickly. There's no reason to doubt any of this. Based on everything we've seen and heard from Griffin, he fits these descriptions well, and Mike Shanahan and his coaching staff have surely researched it more deeply and directly than any of us have.
It tells me they plan to be
big
players in free agency. With a projected $40 million or so in cap room, they can afford to throw money at a stud wide receiver like
Vincent Jackson
, add depth to their offensive line, re-sign running back
Tim Hightower
if he's healthy, give
London Fletcher
the contract he wants to remain the captain of their defense and upgrade where they need to upgrade in the secondary. They will need to do the bulk of this stuff in free agency, because they're not going to have a pick after Griffin until the third round, and they must feel confident that they can get the players they plan to target and put the right pieces around Griffin right away.
It tells me they got a big, fat "no" from Manning, which is basically what Chris Russell of ESPN 980 in Washington reported Thursday, and wanted to act swiftly to make sure they weren't forced to go to Plan C. If they didn't get Manning or Griffin, they were going to have to sign someone like
Kyle Orton
and/or draft Ryan Tannehill higher than his value indicates he should be drafted. And they would have had a hard time selling that to their fans.
The price is toe-curlingly high, and a month or so ago I thought three first-rounders would have been too much. But I think the Redskins had to do it. Look around the league. Teams that get quarterback right are set for a decade. They are playoff teams, almost guaranteed, every single year. They have far fewer worries at draft time, and their offseasons are far less stressful and scrutinized. Teams that miss on quarterback are miserable, lost and confused, perpetually reaching for ill-fitting solutions and facing the same insurmountable problems year in and year out.
If the Redskins really think Griffin is the guy to fix all of that for them, they were right to do whatever it took to get him. Now, it's on him to justify that price and on them to build the team around him that puts him in position to make this deal look good.
March, 9, 2012
3/09/12
10:59
PM ET
First-year
St. Louis Rams
general manager Les Snead has scored a major victory six months before his first regular-season game on the job.

Acquiring three first-round picks and a second-rounder
from Washington for the No. 2 overall choice looks like an absolute best-case scenario for St. Louis, in my view. The Rams lose four spots in the draft order for a chance to set up their franchise. They now hold the sixth overall choice, plus the Redskins' first-rounders in 2013 and 2014. They also get the Redskins' second-round choice this year.
The Redskins can come out OK, too, if their presumed choice with the second overall pick,
Robert Griffin III
, becomes a great quarterback. But the Rams had no interest in Griffin. And with
Andrew Luck
expected to go first overall, the Rams will most likely be drafting no worse than the fourth player on their board.
The Rams' ability to secure this package from the Redskins suggests that Washington faced or thought it faced strong competition for the choice. I think it also reinforces the Redskins' image as a team willing to mortgage the future.
That is not the Rams' problem. Their future looks much brighter. For their sake, here's hoping the Redskins don't change their minds before the trade can be executed Tuesday.
Getting value for the second overall choice should come as a relief for the Rams. The pick's value could have fluctuated as teams addressed their quarterback situations before the draft.
Peyton Manning
's reported reluctance to consider the Redskins might have worked in the Rams' favor for the purposes of swinging this trade so early in the process.
The Rams can now move forward with a plan to acquire playmakers and upgrade their roster overall. They have the ammunition to acquire additional picks or move up in this draft, and in future drafts. They are much better off now than before this trade.
NFL SCOREBOARD
Sunday, 2/2
WEEKLY LEADERS