NFL Nation:

2012 WC coverage
January, 8, 2012
1/08/12
8:26
PM ET
DENVER -- A look at the
best game of the wild-card weekend
.


What it means:
The
Denver Broncos
are moving on. Wow. Just wow. After being terrible on offense in the past 11 quarters, Denver ended a three-game losing streak in stunning fashion on an 80-yard pass play from
Tim Tebow
to
Demaryius Thomas
on the first offensive play of overtime. Denver, 9-8, is 4-0 in overtime this season.
Tebow time:
Tebow played great after being terrible for the past two games. With rumors persisting he'd be replaced by
Brady Quinn
, Tebow came out slinging just as Denver football leader John Elway asked him to do. Tebow Time lives another week.
Defense stands tall:
Much credit goes to Denver's defense. It harassed Pittsburgh quarterback
Ben Roethlisberger
all game long and stood up. This major upset was a total team win.
Great moment:
Nearly every Denver player came back onto the field to celebrate with the home fans. It was just Denver's fourth win in nine home games this season. Tebow took a victory lap and slapped hands with fans as the crowd chanted his name.
What's next:
Denver plays at No. 1 seed New England on Saturday night. New England beat Denver 41-23 in Denver in Week 15. By the way, it will be the first game back in New England for Josh McDaniels. He was fired by Denver in 2010.
January, 8, 2012
1/08/12
8:19
PM ET
DENVER -- My immediate thoughts on the
Pittsburgh Steelers
' loss at the
Denver Broncos
:
What it means
: The heavily favored Steelers made a surprising early exit from the playoffs against a team that didn't have a winning record. The first game under the new overtime rules ended after one play -- an 80-yard touchdown pass by
Tim Tebow
. Pittsburgh had won six of its final seven games. The AFC North, which entered the playoffs with three teams, is now down to one (the Ravens).


Quick
finish
: It took only one play in overtime for this game to be decided. Cornerback
Ike Taylor
got beat on a short pass and couldn't pull down
Demaryius Thomas
on the game-winning 80-yard touchdown. It finished one of the worst games all season for Pittsburgh's pass defense.
Costly turnover:
The Steelers came back from a 14-point deficit to tie the game on a 31-yard touchdown pass from
Ben Roethlisberger
to
Jerricho Cotchery
with 3:48 left in the fourth quarter. This came after
Ryan Mundy
stripped Denver running back
Willis McGahee
when the Broncos had just driven into Pittsburgh territory.
Crazy quarter
: The Steelers had a streak of nine straight quarters without allowing a touchdown before Tebow erupted in the second quarter. Tebow threw a 30-yard touchdown and ran 8 yards for another. The 20 points allowed by the Steelers in the second quarter were the second-most they have allowed in any quarter in a playoff game since the merger, according to ESPN Stats & Information.
Painful game
: The Steelers entered the game without their leading rusher (
Rashard Mendenhall
) and leading tackler (
Ryan Clark
). It only got worse for Pittsburgh when two starting defensive linemen (
Brett Keisel
and
Casey Hampton
) and left tackle
Max Starks
left the game with injuries. The Steelers were down to three healthy defensive linemen for most of the game.
Falling short early
: The Steelers moved the ball in the first quarter but had to settle for two field goals to go up 6-0. The first drive ended when the Steelers made a surprising wide receiver screen to the outside on third-and-7. The second one stopped when
Antonio Brown
couldn't break free after a lot of contact with a Broncos defender.
What's next
: The Steelers head to an offseason in which they will face questions about their offensive line, injured starting running back and aging defense.
January, 8, 2012
1/08/12
4:01
PM ET
EAST RUTHERFORD, N.J. -- Thoughts on the
Atlanta Falcons
' 24-2
playoff loss
to the
New York Giants
at MetLife Stadium on Sunday.


What it means:
This was much more than just a loss. This was devastating for the entire Falcons organization. Yeah, give the Giants credit for winning the game. But give the Falcons plenty of blame for losing. This team had sent out a strong signal that the Super Bowl was the goal when it traded up to draft
Julio Jones
and signed free-agent defensive end
Ray Edwards
. The Falcons didn't even come close to the Super Bowl. For the second straight year -- and the third time in four years -- the Falcons lost their opening playoff game.
When you have those expectations and those results, you can't expect owner Arthur Blank to remain patient forever. Coach Mike Smith and quarterback
Matt Ryan
never have won a postseason game. Their jobs aren't in jeopardy -- yet. But everyone around them (assistant coaches, offensive linemen and receivers who can't hang onto passes) is suddenly on the hot seat. This loss will prompt some changes in Atlanta.
Fourth-and-nowhere:
Smith elected to go for it on fourth-and-inches twice when he could have kicked field goals. That didn't work either time. Smith also failed when he went for it in overtime against the Saints during the regular season. Anyone notice a theme here? I think you'll be reading a lot more about this in my follow-up column.
What happened to the offense?
This was a legitimate question during the regular season, but it really showed in the playoff game. The Falcons have no offensive identity, no idea whether they're a running or passing team. Against the Giants, they weren't either; they simply were a terrible offense. That's a far cry from those lofty expectations I mentioned above.
Big players make big drops:
Atlanta receiver
Roddy White
led the NFL in drops during the regular season. He escalated that in the postseason. White dropped at least two passes, possibly three and maybe even four. I'm not sure how or why, but White went from being one of the league's most sure-handed receivers in 2010 to a drop machine this season. I'm not saying White's done in Atlanta by any means. But he's getting up in age, he comes with a high price tag and it wouldn't totally shock me if he's dangled for trade in the offseason.
Total mismatch:
Atlanta's offensive line was totally destroyed by the Giants' pass rush. Not surprising, really. The Falcons built this line for run -- not pass -- blocking. Ryan was bad, largely because he had no chance. The Falcons already had given up on
Sam Baker
at left tackle. Journeyman replacement
Will Svitek
got exploited and showed he's not a long-term answer. The Falcons need to get a left tackle. Problem is, they won't have a first-round draft pick (that went in the deal for Jones), and the list of left tackles coming available in free agency isn't too promising. Remember what I mentioned about perhaps shopping White. Oh, and
Joe Hawley
doesn't look like the answer at right guard.
What's next:
An offseason of change at the Falcons' Flowery Branch facility. This team has a ton of talent, and it won't be blown up. But there will be significant tweaks in different areas.
January, 8, 2012
1/08/12
4:00
PM ET
EAST RUTHERFORD, N.J. -- A few thoughts on the
New York Giants
' wild-card round
playoff victory
over the
Atlanta Falcons
at MetLife Stadium.


What it means:
The Giants' formula worked. They believed they came into the playoffs playing defense and running the ball as well as they have been at any time this year, and they went out and played their best defensive game and best rushing game of the year. They knew that the key would be to pressure Atlanta quarterback
Matt Ryan
with their front four and they did that. And when they were having trouble in pass protection, they were able to switch to the run game to keep the Atlanta front four off of
Eli Manning
.
Nicks' turn:
The Giants' big-play receiver the past few weeks has been
Victor Cruz
, who had a 99-yard touchdown catch on Christmas Eve against the Jets and a 74-yard touchdown catch last week in the division-clincher against the Cowboys. This time, it was
Hakeem Nicks
who delivered the backbreaker against the Falcons, catching a short Manning pass with less than three minutes left in the third quarter and taking it 72 yards to the end zone for the score that put the Giants up 17-2.
Smothering:
New York's defense pitched a shutout, as the Falcons' only points came on a safety and their offense never got near the end zone. The Giants got pressure up the middle with defensive tackles
Chris Canty
and
Rocky Bernard
. They stuffed the Falcons on two key fourth-and-short situations (the second of which almost immediately preceded the big Nicks play). And while they lost two key secondary pieces in
Deon Grant
and
Aaron Ross
to injuries, the defensive front made sure Ryan didn't have a chance to take advantage of it.
Ground game surfaces:
The Giants ranked 32nd in the 32-team NFL in rushing yards this year, but this looked like a different team. They'd been better running the ball over the final five games of the season, but this was a dominating rushing performance.
Brandon Jacobs
ripped off a key 34-yard gain and converted a fourth-and-1 on the Giants' first scoring drive. He and
Ahmad Bradshaw
split carries and both ran with power and determination behind an offensive line that's blocking for the run better and better each week.
Looking ahead:
Those injuries to Ross and Grant -- which are a concussion and a groin injury, respectively, could be a problem if they linger into next week. Packers quarterback
Aaron Rodgers
is far more mobile than Ryan is, and he should be able to buy more time to find his receivers deep in the secondary even if the Giants can pressure him the way they hassled Ryan. But that's a worry for next week. Right now, the Giants are flying high and into the second round.
What's next:
The Giants travel to Green Bay, Wis., where they will play the 15-1 defending Super Bowl champion Packers at 4:30 p.m. ET next Sunday. A victory would put the Giants in the NFC Championship Game against either the Saints or 49ers.
January, 8, 2012
1/08/12
1:48
AM ET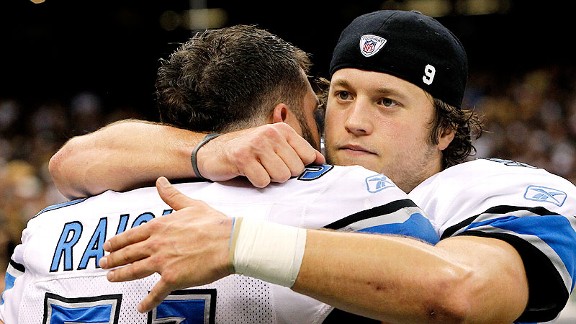 AP Photo/Dave Martin"This is a hard one to swallow right now," said Lions center Dominic Raiola, hugging Matthew Stafford.
NEW ORLEANS -- Congratulations are in order for the
Detroit Lions
. Graduating from preschool is a momentous occasion for any young pup, and that is where I see the Lions now that their 2011 season is in the books.
Saturday night's
45-28 loss
to the
New Orleans Saints
should be the last time the Lions are graded on a curve, cheered for their effort or applauded for an accomplishment other than a victory. It's true: No one expected them to beat the Saints, who now are 9-0 at home since the start of the regular season. And few if any will have harsh words after the Lions collapsed in the fourth quarter against the NFL's hottest quarterback.
But after returning to relevance this season, the Lions have earned themselves big-boy treatment moving forward, both inside the organization and outside. Expectations for this team will rise in 2012, for good reason. They won't be celebrated for a winning season or even a playoff berth. With a 23-year-old quarterback teaming with the NFL's best receiver in a pass-happy league, the Lions should neither sneak up on anyone nor have their success be considered a surprise.
"We know we're building something really good," defensive end
Kyle Vanden Bosch
said. "We have really good players. We have a lot of potential. ... But this is where we expect to be. Now we expect to go further. We expect to do more. I don't think in the future, people around the league are going to be surprised that the Detroit Lions are in the playoffs. This is where we belong. This is where we're going to be for a long time."
For the old Lions, we would note that they led the Saints at halftime and trailed by only three points, 24-21, as the fourth quarter began. Moving forward, we'll note that their defense -- shaky for much of the game -- got run over in the fourth quarter. The Saints put up 21 points and 192 yards in the final 9 minutes, 53 seconds of the game, running away with a playoff game the way prospective champions always do.
We won't hold Saturday night's Lions to that standard, of course. None of their players had appeared in a postseason game wearing a Lions uniform. No one in the organization younger than 54 had been born the last time the Lions won a playoff game on the road. This wasn't a team that would know how to react in such a situation. That should never be the case again, however.
"It was a learning experience for our whole team," said quarterback
Matthew Stafford
, who threw for 380 yards and three touchdowns in his first playoff start but also forced a pair of fourth-quarter interceptions. "We'll be back. We have a confident bunch of guys. Obviously it hurts right now, but we'll be ready to go."
Stafford and receiver
Calvin Johnson
sit at the center of that confidence and the inevitably rising expectations for the team. Stafford targeted Johnson on 15 passes Saturday night despite a Saints defense dedicated to stopping him, connecting for 12 receptions, 211 yards and a pair of touchdowns. In their past four games, Stafford and Johnson have combined for an incredible 771 passing yards and six touchdowns.
Considering the NFL's shift toward the passing game in recent years, the Stafford-Johnson duo is enough on its own to expect big things from the 2012 Lions. If there is a concern, it's a defense that allowed a postseason-record 626 total yards Saturday night. In its final two outings of the 2011 campaign, the defense allowed 90 points and a whopping 1,176 yards.
On Saturday night, we'll note that those games came against two of the best offenses in the NFL -- the Saints and
Green Bay Packers
. Moving forward, it'll be fair to ask why the Lions couldn't hang better with the best of the best.
Defensive coordinator Gunther Cunningham took his 2011 approach to an extreme Saturday night, sending four or fewer pass-rushers on 90 percent of Brees' drop-backs, according to ESPN Stats & Information. The Lions got some incremental pressure on him, sacking Brees twice, hitting him four times and forcing a second-quarter fumble.
[+] Enlarge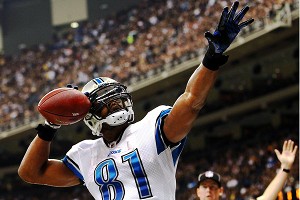 Ronald Martinez/Getty ImagesAfter another monster game, Calvin Johnson and the Lions won't be sneaking up on anyone in 2012.
The Lions forced some errant passes, noted coach Jim Schwartz, "but we weren't able to capitalize on those errant passes." Overall, Brees torched the Lions for 33 completions in 43 attempts for 466 yards and three touchdowns.
Schwartz, to be clear, already had moved to 2012 mode when he met with reporters afterward. He angrily pointed at three dropped interceptions, three fourth downs the Saints converted and the Saints' 7-for-11 performance on third down.
"This game was all about missed opportunities on defense," he said.
I didn't walk away thinking the Lions had botched a legitimate chance to win. I felt the same way I felt heading in: The Lions needed to play a perfect game to beat the Saints in this environment. They couldn't drop one interception, let alone three. They couldn't miss a single tackle, much less the dozen or so Saints tailback
Pierre Thomas
and others ran through. (The Saints gained 92 of their 167 rushing yards after contact, according to ESPN Stats & Information). They couldn't miss a single opportunity to pad their first-half lead, let alone punt after both takeaways.
I wouldn't expect Schwartz to agree. He is the coach and has been the driving force behind reversing the Lions' losing culture. Next season, I'll be right there with him. The Lions will no longer be an oddity, an unknown quantity or a feel-good story. They enter the offseason as one of the NFL's upper-echelon teams, and it's time we all raised our standards and treated them accordingly.
To their credit, most Lions players are already there.
"I feel good about what we have coming back, but this is a hard one to swallow right now," center
Dominic Raiola
said. "I'm stunned. One and done. Yeah, it was a successful season, I think. I don't think anyone predicted us to go to the playoffs. But you don't want to hang your hat on this. We weren't just happy to be in the playoffs. We're disappointed right now."
Really? A member of the Detroit Lions disappointed to have lost a playoff game? That's the way it should be. My, how far they've already come. Play time is over.
January, 7, 2012
1/07/12
11:49
PM ET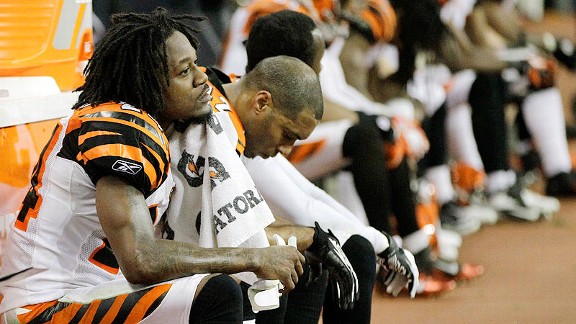 AP Photo/Tony GutierrezDefensive backs Adam Jones and Chris Crocker each made critical mistakes in Cincinnati's playoff loss.
HOUSTON -- The Texans were playing their first playoff game, but it looked like the Bengals were the ones who had never been in the postseason. Careless mistakes -- all self-inflicted misery -- led to 24 straight points by the Texans and a sobering
31-10
defeat to end the Bengals' surprising season.
It's the kind of effort that you want to forget. It's the type of game film that you burn. But the best thing that the Bengals can do going forward is to burn it into their memories.
Cincinnati will be back in the playoffs. It would be surprising if the Bengals didn't return with quarterback
Andy Dalton
, wide receiver
A.J. Green
and two first-round picks in this year's draft.
Remember the Bengals were supposed to be in the race for Andrew Luck this season, not in a playoff field pursuing the Lombardi Trophy.
When the Bengals get back, they have to remember the brutal lesson taught to them at a deafening Reliant Stadium: to win in the playoffs, you have to make plays. The Bengals missed out on their first playoff win in 20 years -- the longest current streak of playoff futility in the NFL -- because Texans defensive end
J.J. Watt
caught the ball and Cincinnati safety
Chris Crocker
did not.
Watt returned his interception 29 yards for a touchdown late in the first half to give the Texans a lead they wouldn't relinquish. But Crocker dropped the chance at picking off a pass that he could have returned for a score that would've tied the game in the third quarter.
"There are a lot of guys who need to take this experience and build upon it," Bengals coach Marvin Lewis said. "I think you can look and see what the Texans have been fighting their butt off to get in this position. They keep putting players together. And they reap the benefits. We have to go beyond this."
This season has been a major success for the Bengals even though there were plenty of failures that got broadcast in their first nationally televised game of the season.
Cincinnati's run defense continued to crumble, giving up 153 yards to Houston's
Arian Foster
a week after allowing 191 yards to the Ravens'
Ray Rice
. According to ESPN Stats & Information, Foster gained 102 of those yards before getting touched by Cincinnati. Crocker made another blunder when he failed to push Foster out of bounds on a 42-yard touchdown run in the fourth quarter.
Bengals head coach Marvin Lewis made the head-scratcher of a decision to use both of his replay challenges in the first half. It was compounded by the fact that both challenges failed. Asked about whether he was concerned about using up all of his challenges so early, Lewis said, "I wasn't worried about that."
There was even the embarrassment of getting penalized for having 12 men in the huddle on the first third-down play of the second half.
The loss meant the Bengals haven't won a playoff game in 7,768 days. The mindset in the Bengals locker room, however, was the days ahead.
"We know we can win. We know we can win in the playoffs," defensive tackle
Domata Peko
said. "We'll have a good offeseason and we'll be back again. But this time, we're going to make a better run. It sucks that we lost and it's sad. But look around this locker room, there are a lot of young guys here. We just have to get better and the sky is the limit."
[+] Enlarge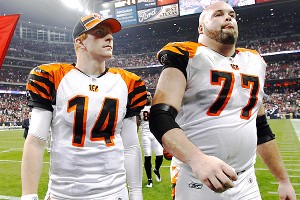 AP Photo/Eric GayA three-interception day from Andy Dalton, left, extended the Bengals' playoff drought.
The difference between winning and losing in the playoffs comes down to handling the pressure.
The Bengals controlled most of the first half, but everything changed in a span of less than a minute. The turning point was Dalton's interception at the line of scrimmage by Watt, who ran 29 yards for a touchdown late in the first half.
This came three plays after the Texans tied the game with a field goal. So, in a matter of 56 seconds, the Bengals went from being up by three points (10-7) to being down by seven (17-10).
"I didn't really see exactly what happened," said Dalton, who was 27 of 42 for 257 yards and three interceptions. "I just saw it got batted or whatever and then he was running the other way."
The Bengals had a chance to respond with 2:39 left in the third quarter when Crocker broke on
T.J. Yates
' pass and put himself in position to pick off the Texans rookie quarterback. But the ball bounced off Crocker's hands with only Yates standing between him and the end zone. It would have tied the game at 17.
"Hindsight is 20-20 now. I feel bad enough," Crocker said. "I picked that ball nine out of 10 times. This time, I didn't pick it off when it mattered the most."
Crocked added, "I just dropped it. Maybe I was thinking of what I was going to do before I actually caught it. Who knows? It was an easy interception."
The Bengals dropped to 1-7 against teams that currently have winning records this season. But Cincinnati wasn't supposed to beat anyone this season.
The Bengals were coming off a 4-12 season that included the longest in-season losing streak in team history (10 losses in a row). Last season, they ranked 22nd in scoring and 24th in points allowed. They were considered the worst team in the NFL entering this season (Cincinnati was No. 32 in the preseason ESPN power rankings).
Now, Cincinnati is shooting for back-to-back playoff appearances for the first time in 30 years. In order to do that, the Bengals have to prove they've learned from Saturday's brutal lesson.
"If we can hit (in the draft) like we did this year with the two special guys (Dalton and Green) we got this year, this is going to be a real special football team next year," Bengals left tackle
Andrew Whitworth
said. "In my six years in the league, even though we ended this season in disappointment, this is the greatest upside that I've ever felt this team had."
January, 7, 2012
1/07/12
11:28
PM ET
Thoughts on the New Orleans Saints'
45-28 victory
against the
Detroit Lions
at the Mercedes-Benz Superdome on Saturday night.
What it means:
It wasn't quite as easy as the final score would suggest. The Lions led early and much of the game was competitive. The Saints were far from perfect and the offense turned the ball over twice in the first half. But this was still a solid win against a good team. That's a lot better than what happened last year when the Saints got beat by Seattle in the first round of the playoffs. The Saints had plenty of momentum carrying over from the regular season and they only built on that.


Unsung hero:
Running back
Pierre Thomas
had a huge impact. Detroit's defense deserves some blame for poor tackling, but Thomas deserves lots of credit. He broke a bunch of tackles as a runner and a pass receiver.
Darren Sproles
brought the flash, but Thomas was just as important in this victory.
What I liked:
The way the Saints never blinked after they got down early.
Drew Brees
and
Marques Colston
each lost fumbles in the first half. But the Saints' offense just kept churning out the yardage and quickly wore out Detroit's defense. The Saints reacted like a confident, veteran team and that will accomplish a lot in the playoffs. The Saints were so good on offense that they didn't have to punt a single time. I also liked the way coach Sean Payton adjusted his offense in the second half. The passing game was pretty much horizontal in the first half, but it got very vertical in the second half.
What I didn't like:
Calvin Johnson
had over 200 receiving yards. There's no real shame in that. The guy is the best receiver in the league and he can make just about any defense look bad. The troubling thing was that the Saints got very little pressure on
Matthew Stafford
. They're going to have to find a pass rush if they want to keep winning in the postseason.
What's next:
As the No. 3 seed, the Saints will travel to San Francisco next weekend to play the second-seeded 49ers.
January, 7, 2012
1/07/12
11:24
PM ET
NEW ORLEANS — A few thoughts on Saturday night's wild-card
playoff game
at the Superdome:
What it means:
The
Detroit Lions
hung tight with the
New Orleans Saints
into the fourth quarter but ultimately saw their uplifting season end. They are now 0-7 in wild-card games in franchise history and will have to wait at least one more year to end droughts of 20 years without a playoff victory and 54 years without a playoff victory on the road. A game many of us thought would be a shootout ended with the Saints never punting and setting an NFL record for total offense with an incredible 626 yards.


Turning point:
The Lions controlled most of the first half, but the Saints doubled up on them by scoring on their final possession of the second quarter and their first drive of the third. That flipped a 14-7 Lions lead into a 17-14 advantage for the Saints, a lead they never relinquished. It took the Saints only four plays to go 78 yards for that second score, a 41-yard pass to receiver
Devery Henderson
.
Early turnovers:
The Lions' first-half lead was mostly due to a pair of takeaways, one a fumble by
Marques Colston
and one a fumble by Saints quarterback
Drew Brees
. We spent a good part of last week discussing the Lions' need to pressure Brees and cause turnovers. But the Lions punted on both of the ensuing possessions, and the Lions defense literally didn't stop the Saints thereafter. Brees completed 33 of 43 passes for 466 yards and three touchdowns. One play particularly stood out: Safety
Amari Spievey
was way too late to line up against Saints tight end
Jimmy Graham
in the third quarter, giving Brees the easiest touchdown pass he'll ever throw.
MegatronWatch:
The Saints couldn't do much to slow down Lions receiver
Calvin Johnson
, even when they had him covered by multiple receivers. Johnson caught 12 passes for 211 yards and two touchdowns, giving him a total of 455 receiving yards in the Lions' past two games. The 12 catches is tied for the second-most catches in a playoff game in NFL history.
Injury report:
Lions cornerback
Chris Houston
(shoulder) and safety
Louis Delmas
(foot) both suffered injuries in the second quarter. They returned but appeared limited, with Houston taking several more trips to the sideline.
What's next:
The Lions should return to Detroit proud of their season and ready to build on it. Any team with an elite 23-year-old quarterback, which the Lions have in
Matthew Stafford
, should be set up for long-term success.
January, 7, 2012
1/07/12
11:16
PM ET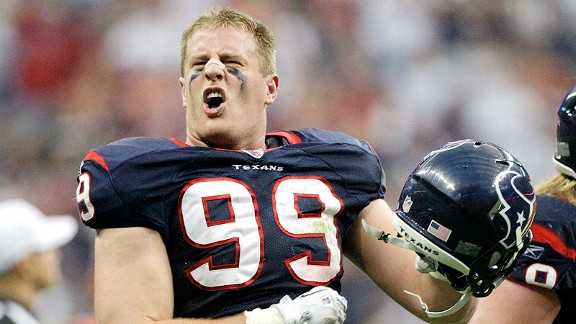 AP Photo/Tony Gutierrez"That's kind of what I do, that's my thing," J.J. Watt said of his game-turning first half interception.
HOUSTON -- The stadium rocked. A struggling team rebounded. Another rematch was set in motion.
A tie to the old era of Houston's NFL football beamed.
"It's just a great feeling to know that Houston's back," proclaimed Bum Phillips, coach of the Luv Ya Blue Oilers and father of Texans defensive coordinator Wade Phillips.
The Texans' best players played best Saturday at Reliant Stadium in
a 31-10 thrashing
of the Bengals that propelled Houston forward in the NFL playoffs to a Jan. 15 game in Baltimore. Houston lost to the Ravens at M&T Bank Stadium on Oct. 16, 29-14.
After clinching the AFC South with a Dec. 11 victory at Cincinnati, the Texans sputtered, dropping their final three regular-season games, though the finale meant nothing to their playoff standing.
"We kind of got back to what we were doing during that seven-week stretch [Oct. 23 through Dec. 11, when we were 7-0]," coach Gary Kubiak said. "We played great defense, we found a way to run the ball, we never really hurt ourselves as a team. That was the key."
The game had plenty of heroes, including efficient rookie quarterback
T.J. Yates
and cornerback
Johnathan Joseph
. Three of the team's other top players, though, produced first-rate efforts worth a deeper look.
Running back Arian Foster:
After Foster popped an 8-yard touchdown run in the first quarter to tie the score at 7-7, he changed sports as he celebrated.
A Lakers fan who apologizes to Houstonians for his NBA affection, he was talking to fans via Twitter during a recent Lakers-Rockets game. If the Rockets won, he pledged he'd do a touchdown celebration paying homage to them.
The Lakers won and got him off the hook. But Foster decided to follow through with the idea anyway. He celebrated with Hakeem Olajuwon's "
Dream Shake
" -- a hard stop with a ball fake, followed by a reversal and fade-away jumper he tossed over the crossbar.
Foster finished with 24 carries for 153 yards and two scores. He was only the third undrafted running back in league history to eclipse 100 yards in his first playoff game, joining
Ryan Grant
(2007) and Paul Lowe (1960).
The Texans' blocking was tremendous. According to ESPN Stats & Information, 102 of Foster's rushing yards came prior to initial contact. That's two-thirds of his total.
The second touchdown, a 42-yard ramble, was his most impressive run of the day. He got to the right sideline and looked to have no chance to stay in bounds. But he followed one good block and surprised strong safety
Chris Crocker
with his balance and ability to navigate the sideline as he slowed down, then hit the jets.
"I guess he thought I was going out of bounds," Foster said.
Defensive end J.J. Watt:
Shortly after
Jake Delhomme
signed with the Texans on Nov. 30, the veteran quarterback was running the offense at a walk-through. Watt batted down several of his passes at the slow-paced practice, and felt guilty for doing so.
"He was kind of mad at me," Watt said. "And I was like, 'That's kind of what I do, that's my thing.'"
He did his thing to Bengals quarterback
Andy Dalton
with 52 seconds left in the first half, but rather than knocking down the ball thrown from point-blank range, he caught it. And before many people on the field realized where it was, he was carrying it to a 29-yard touchdown that put Houston ahead 17-10.
Coaches and teammates said while reporters and fans don't see it, Watt snares balls like that all the time at practice.
And while several pass-catchers wouldn't go so far as to say they'd struggle to make the same play, the guy with the best hands on the team wasn't too proud to say otherwise.
"It's almost impossible," fullback
James Casey
said. "You're so close to the ball and obviously the guy is throwing it hard to have it on that trajectory. To be able to catch it like that is remarkable, that's why you never see it happen.
"Guys bat balls down but they don't actually catch it. I'd catch zero out of 10. Maybe out of 100 I'd catch one every now and then just getting lucky."
Watt followed up that giant play by tracking Dalton as he fled the pocket and sacking him on the final play of the first half.
It was Watt's first touchdown since high school. He didn't score one as a tight end at Central Michigan or as a defensive end at Wisconsin.
Denver's
Von Miller
or San Francisco's
Aldon Smith
will win defensive rookie of the year, but Watt didn't trail them by much in terms of overall initial impact. Miller will have a chance to match Watt's postseason pace in a game Sunday.
[+] Enlarge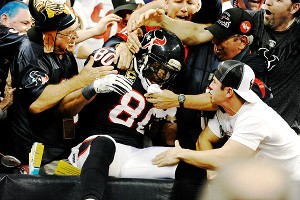 AP Photo/Dave EinselReceiver Andre Johnson's post-score jump into the stands sent Reliant Stadium wild.
Receiver Andre Johnson:
He missed nine games this season with two different hamstring injuries. The Texans gave him a chance to knock some rust off last week. But he and Yates were out of sync for a good portion of this game.
The always-calm Johnson has been waiting for a playoff game since 2003, when he was the Texans' top pick in the franchise's second season. He admitted to being antsy and overly anxious to make a play. After one failed pass attempt, he returned to the bench and slammed his helmet to the turf.
Late in the third quarter, though, he and Yates made a connection that sealed the game. Lined up on the left, Johnson put a double move on
Adam Jones
, who bit, slipped and moved laterally instead of back as he recovered.
Johnson was wide open and Yates delivered a ball that hit him in stride for a 40-yard touchdown that gave the Texans a 24-10 lead.
In the end zone, he stopped and looked to be enjoying a contemplative moment to take it all in and consider all that had come in his career before the big moment.
But that wasn't it at all.
"I've jumped in the stands a few times here and I've been grabbed by the facemask and everything," he said. "So I was kind of thinking about jumping, that's what the pause was for."
He jumped.
The play had about put Reliant Stadium into orbit, but Johnson made it safely back to Earth.
January, 7, 2012
1/07/12
7:47
PM ET
HOUSTON -- Thoughts on the Texans'
31-10 wild-card victory
over the Bengals at Reliant Stadium:


What it means:
The Texans won the first playoff game in franchise history. Houston came in reliant on its defense and running game, and while it got strong work from both, rookie quarterback
T. J. Yates
also made a major contribution with a 40-yard touchdown pass to
Andre Johnson
.
What I liked:
The Texans settled in and showed the poise they exhibited much of the season. The stars shined, with
Arian Foster
gaining more than 100 yards on the ground, Johnson breaking free for the big scoring catch and stud rookie
J.J. Watt
making a remarkable short-range interception and taking it for a 29-yard score.
What I wonder:
Why didn't Gary Kubiak challenge
Jermaine Gresham
's third-quarter "catch" rather than calling a timeout that allowed the Bengals to change their mind about punting? And why did cornerback
Johnathan Joseph
then selfishly intercept
Andy Dalton
's desperation pass rather than knocking it down to save yardage?
Better for a day:
Yates certainly had a better team around him. But on this day the fifth-round rookie out of North Carolina wound up outperforming the second-round rookie from TCU. Yates efficiently supplemented the Texans' primary weapons with the touchdown to Johnson and no turnovers. Dalton, meanwhile, threw three picks.
What's next:
Houston advances to a divisional-round game at Baltimore on Jan. 15 at 1 p.m. The Texans lost to the Ravens in Baltimore 29-14 on Oct. 16. More on that matchup to come.
January, 7, 2012
1/07/12
7:45
PM ET
HOUSTON -- Here are my thoughts on the
Cincinnati Bengals
'
31-10 loss
at the
Houston Texans
:
What it means
: The Bengals extended the longest current streak in NFL playoff futility. Cincinnati now hasn't won a postseason game in 21 seasons. Careless mistakes led to the Bengals' third postseason loss in seven seasons. After allowing 24 straight points, Cincinnati fell to 1-7 against teams with winning records. It was a disappointing way to end a season in which the Bengals went from 4-12 in 2010 to a playoff team this season.


Turning point
: An
Andy Dalton
pass was intercepted at the line by Houston's
J.J. Watt
, who ran 29 yards for a touchdown late in the first half. This came three plays after the Texans had tied the game with a field goal. So, in a matter of 56 seconds, the Bengals went from being up by three points (10-7) to being down by seven (17-10). Cincinnati never recovered.
Costly drop
: Bengals safety
Chris Crocker
had a chance to tie the game in the third quarter, but an interception bounced off his hands. It would have likely been a touchdown because only quarterback
T.J. Yates
stood between Crocker and the end zone. Three plays later, Crocker failed to provide help for a faked-out
Adam Jones
on a 40-yard touchdown pass to
Andre Johnson
that put the Bengals behind 24-10. In the fourth quarter, Crocker didn't push
Arian Foster
out of bounds on a fourth-quarter touchdown run.
Seeing red
: Head coach Marvin Lewis made the head-scratcher of a decision to use both of his replay challenges in the first half. It was compounded by the fact that both challenges failed. That meant the Bengals couldn't contest a play after 4:33 in the second half.
Dalton's turnovers
: Dalton threw three interceptions after only one in his previous six games. Of course, he wasn't helped by the pressure generated by the Texans' front seven.
Can't stop the run
: It was another bad day for the Bengals' run defense, especially when it came to defending the outside. Foster ran for 153 yards and two touchdowns. This comes one game after the Ravens'
Ray Rice
ran for 191 yards and two touchdowns.
Wide right again
: Bengals kicker
Mike Nugent
missed wide right on his first field goal attempt, which was nine yards longer because of a third-down sack. He sliced it wide right just like he did last week against Baltimore. This was his fourth miss in the past three weeks.
What's next
: The Bengals head into what should still be a bright future. Cincinnati has two first-round picks as it looks to address the running back, guard and safety positions.
NFL SCOREBOARD
Thursday, 12/5
Sunday, 12/8
Monday, 12/9