NFL Nation:

2012 Week 13 Wrap-ups
December, 2, 2012
12/02/12
9:02
PM ET
My thoughts on the
Cincinnati Bengals
'
20-13 victory
at the
San Diego Chargers
:


What it means
: The Bengals (7-5) kept pace in the AFC playoff race with their fourth straight win. Cincinnati remains tied with Pittsburgh for the sixth and final playoff spot in the AFC. Like the Steelers, the Bengals closed to within two games of the AFC North-leading
Baltimore Ravens
(9-3) with four weeks remaining. The Chargers (4-8) lost for the fourth straight time.
Dalton bounces back
: Dalton scored the game-winning touchdown with 4:11 left, which made up for some costly mistakes. He threw two interceptions (his first in four games) and had one returned for a touchdown. But, with the game on the line, Dalton scrambled for six yards and dove in the end zone for the winning score late in the fourth quarter. It's the fifth fourth-quarter comeback of Dalton's career
Still running
:
BenJarvus Green-Ellis
continued his tear, running for 118 yards on 25 carries (4.7-yard average). It marked the first time a Bengals running back has gained over 100 yards in three straight games since
Corey Dillon
in 1999.
Defense shuts down Chargers
: The Bengals defense didn't allow a touchdown and forced the Chargers to kick field goals after driving inside the Cincinnati three-yard line twice. The Bengals ended the final two San Diego series with
Carlos Dunlap
forcing
Philip Rivers
to fumble and
Reggie Nelson
picking off Rivers in the end zone. That Dunlap turnover led to the winning touchdown.
What's next
: The Bengals return home where they play the
Dallas Cowboys
.
December, 2, 2012
12/02/12
8:44
PM ET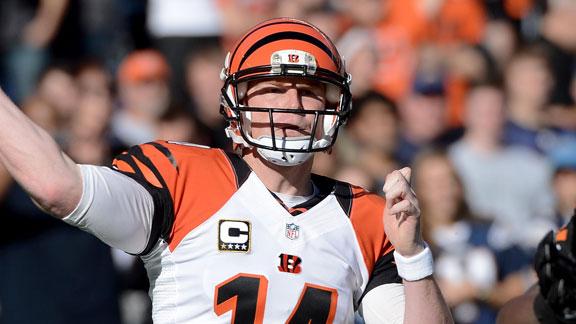 A few thoughts on the
San Diego Chargers
'
20-13 loss
to the
Cincinnati Bengals
on Sunday:
What's it mean:
The Chargers' season continues to fall apart. They are now 4-8 and they have lost seven of their past eight games. It seems highly likely that both coach Norv Turner and general manager A.J. Smith will be fired. It is not a good time in San Diego.


Yet another blown game:
Cincinnati scored 10 answered points in the fourth quarter to come back and win. Blowing games late has been a theme of San Diego's 2012 season.
Not much running:
The Chargers ran the ball just 11 times.
Ryan Mathews
had 26 yards on nine carries. At some point, Mathews is going to have to make an impact. The Chargers have not had a 100-yard rusher all season and it seems like they are abandoning it from the game plan.
Rivers solid:
San Diego quarterback
Philip Rivers
was forced to throw 48 times. The game plan got away from San Diego in the second half after a solid first half by Rivers. He ended up throwing for 280 yards and one interception. Once again, Rivers needed more help and he isn't getting it. Right tackle
Jeromey Clary
was hurt and a weak offensive line got weaker.
What's next:
The Chargers travel to Pittsburgh to face the Steelers on Sunday.
December, 2, 2012
12/02/12
8:35
PM ET
My thoughts on the
Cleveland Browns
'
20-17 win
at the
Oakland Raiders
:
What it means
: The Browns (4-8) ended a 12-game road losing streak, winning for the first time away from home since Sept. 18, 2011. Cleveland also won back-to-back games for the first time since September 2011. The Browns are now 4-3 since starting the season 0-5. The Raiders (3-9) lost for the fifth straight time.


Brown steps up
: With Cleveland ahead by three points, Browns cornerback
Sheldon Brown
stopped the go-ahead score by picking off
Carson Palmer
at the Browns' six-yard line. It was the Browns' only forced turnover of the game. Brown broke up three other passes as well.
Closing it out
: The Browns, who have had their problems in the fourth quarter this year, sealed the win with a 14-play, 94-yard drive in the fourth quarter. It was capped by
Trent Richardson
's three-yard touchdown run with 3:27 remaining, which extended Cleveland's lead to 20-10. Richardson finished with 72 yards on 20 carries.
Up and down day for Weeden
: The rookie quarterback threw for a career-high 364 yards and hit
Josh Gordon
in stride for a 44-yard touchdown in the first quarter. But he was also picked off twice deep in Raiders territory (Oakland's three- and eight-yard lines).
No longer perfect
:
Phil Dawson
missed a 28-yard field goal attempt in the third quarter, when 6-foot-6 tackle
Desmond Bryant
deflected the kick. It ended Dawson's franchise-record streak of 29 straight field goals.
What's next
: The Browns head back home to play the Chiefs.
December, 2, 2012
12/02/12
8:21
PM ET
A few thoughts on
Sunday's events
at Ford Field:


What it means:
The
Detroit Lions
lost their fourth consecutive game to drop to 4-8, ensuring the third non-winning season in four years under coach Jim Schwartz. They finished an 0-3 homestand by blowing fourth-quarter leads in each game, the third team in NFL history to do so. We already knew the Lions were long shots to make the playoffs. Now we must wonder if their collapse will have further-reaching effects.
Schwartz's postgame:
In his
meeting with reporters
, at least, Schwartz was seething. You probably would be, too, if your team had given up 14 points in the final 2 minutes, 39 seconds. Schwartz called out several specific plays, without naming the players, for obvious mistakes, and it was direct enough to wonder if there will be any consequences for repeated breakdowns. Nose tackle
Nick Fairley
's horse-collar tackle gave the
Indianapolis Colts
a 15-yard chunk on their penultimate possession and cornerback
Drayton Florence
allowed receiver LaVon Brazil to get behind him in a prevent defense for a 42-yard touchdown, among other mistakes. "Inexcusable" and "terrible" were among the words Schwartz used. He also said, "This is a tough league for tough people and we'll find out who's tough and who's not." Let's see if there is any follow-up from a roster or lineup perspective.
Game management:
I didn't have a problem with Schwartz's decision to run the ball just after the two-minute warning on third-and-5. Perhaps a pass play would have had a better chance to make a first down, but at that point the clock was the most important thing. The Lions ran off 46 seconds even though
Mikel Leshoure
gained only one yard on the play. A good punt and decent defense should have made it too tough for the Colts, who didn't have a timeout, to win.
Nick Harris
' 25-yard punt was yet another mistake.
MegatronWatch:
Lost in the loss was another stunning day from receiver
Calvin Johnson
, whom quarterback
Matthew Stafford
targeted on 20 passes. Johnson caught 13 of them for 171 yards and a 46-yard touchdown. That brings Johnson's season total to 1,428 yards, and he is now 421 yards away from breaking
Jerry Rice
's NFL record of 1,848 receiving yards in a season.
Injury report:
Schwartz said there is "concern" about receiver
Ryan Broyles
' right knee injury but that he will be tested further Monday. That's usually code for the likelihood of a season-ending injury. Broyles tore the ACL in his left knee during his final season at Oklahoma.
What's next:
The Lions will play at the
Green Bay Packers
next Sunday night.
December, 2, 2012
12/02/12
8:19
PM ET
A look at the Raiders' fifth straight loss,
20-17
to the Browns:
What it means:
A terrible season is getting worse for Oakland. The Raiders are 3-9 and they have lost five straight games. Losing at home to a losing team like Cleveland (4-8) will not make the Raider Nation happy. Things are unraveling.


Allen coaches with a heavy heart:
It's a tough time for Oakland coach Dennis Allen. His father, Grady Allen, is seriously ill in a Texas hospital. Allen is set to fly to Texas on Sunday night to be with his father and family. Making this sad situation even more difficult is the Raiders have a game on Thursday, so Allen will not have much time to deal with both a pressing family issue and a short week to prepare for a game. He hopes to return Wednesday. Offensive coordinator Greg Knapp will run the team until then.
Owner can't be happy:
Oakland owner Mark Davis has twice talked about his frustrations with the way this season is going. You have to wonder if Allen may be in danger of being one-and-done if there is not a sudden turnaround. I'd think general manager Reggie McKenzie is safe, either way, but the pressure could be on Allen. I'd certainly think some coaches, such as Knapp and defensive coordinator Jason Tarver will be seriously evaluated after the season.
Is it going to be Pryor's time:
Second-year quarterback
Terrelle Pryor
was active, but he did not play. With four games left, there will be some fans clamoring for Pryor to play.
Carson Palmer
threw for 351 yards, but he didn't make much of an impact. Oakland's offense was stagnant much of the game.
Myers has a huge day:
The season of tight end
Brandon Myers
continues to get better. He tied a team record with 14 catches, for 130 yards. He scored with one second left in the game. Myers has been a bright spot for Oakland.
What's next:
The Raiders host AFC West champion Denver on Thursday. Even though, the division is wrapped up, Denver will try to win to get a first-round bye in the playoffs.
December, 2, 2012
12/02/12
7:26
PM ET
Thoughts on the
Tampa Bay Buccaneers
'
31-23 loss
to the
Denver Broncos
on Sunday:


What it means:
For the second straight week, the Bucs got to the corner and couldn't quite turn it. There's no question the Bucs are on the right path, but this was another game in which they showed they're not ready to beat a good team. But they're close. They lost by a point to Atlanta last week and they controlled the Denver game for the first half before the Broncos took control by scoring 21 points in the third quarter. At 6-6, the Bucs remain in the playoff picture for this season. But the postseason might be a more realistic goal for next season. Somewhere along the way, the Bucs have to figure out how to beat good teams if they truly want to take the next step.
What I liked:
The way Tampa Bay compensated for its problems in the secondary in the first half. They held
Peyton Manning
to one first-half touchdown pass and that was to defensive tackle
Mitch Unrein
. They were able to keep their young cornerbacks from getting exploited and that was largely because Tampa Bay's offense did such a nice job of controlling the ball and keeping Manning off the field.
What I didn't like:
The offense went completely cold in the third quarter. That gave Manning an opportunity to pick on rookie cornerback
Leonard Johnson
and the complexion of the game changed rapidly.
What else I didn't like:
The Bucs put virtually no pressure on Manning. They are without defensive end
Adrian Clayborn
, who is out for the season with an injury. But ends
Michael Bennett
and
Da'Quan Bowers
and tackle
Gerald McCoy
have the ability to generate a pass rush. They didn't do it against the Broncos and that's why Manning hung the secondary out to dry.
Injury watch:
Kickoff returner/reserve cornerback
LeQuan Lewis
went down with a knee injury, which didn't look good, late in the fourth quarter. If Lewis misses any time, the Bucs might turn to rookie running back
Michael Smith
as their kick returner.
It happened again:
Remember early in the season when the Bucs still were going hard against the
New York Giants
with
Eli Manning
lined up in the victory formation? The Bucs did the same thing to his brother. Peyton Manning took a knee twice at the end of the game and the Bucs came after him. Manning didn't get touched but his offensive lineman didn't react kindly and there was some pushing and shoving with Tampa Bay defenders. Tampa Bay coach Greg Schiano talked to Manning after the game, but it wasn't clear if the quarterback had any problem with Tampa Bay's tactics. I'm sure Manning will be asked about it in his postgame interview.
What's next:
The Bucs host the
Philadelphia Eagles
next Sunday.
December, 2, 2012
12/02/12
6:33
PM ET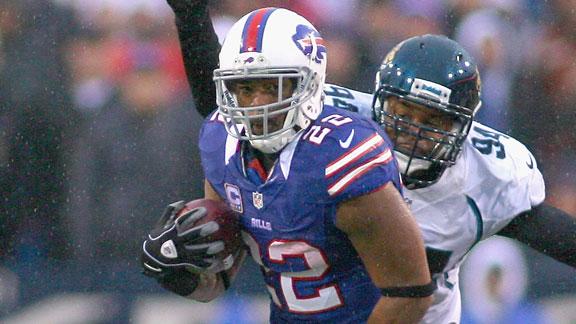 Thoughts on the
Jaguars' 34-18 loss to the Bills
in the rain at Ralph Wilson Stadium in Buffalo:


What it means:
The Jaguars couldn't build off of last week's upset of the Titans a week ago. Jacksonville played poorly and is 2-10 for the first time in franchise history.
What I didn't like:
The Bills won this game by running it. And running it some more. Led by
Fred Jackson
they averaged 5.0 yards a carry and amassed 232 rushing yards with two touchdowns. The Jaguars ran for 2.8 yards a carry and 50 rushing yards with one touchdown. Jason Babin had four tackles including a tackle for a loss in his debut with the Jaguars, but he did not spark any sort of pass rush. The Jaguars did not drag down
Ryan Fitzpatrick
, but it would have been hard for anyone considering he only dropped back to pass 17 times.
Very pedestrian:
Yes, the conditions were poor. But Chad Henne's 18-for-41 day for 208 yards and a pick wasn't close to good enough. He also absorbed four sacks and lost a fumble that killed some momentum before the half.
Unsustainable:
The Jaguars converted just one of 10 third-down chances on offense. Nine of their 14 drives were six plays or fewer. Seven of their 13 drives covered 14 yards or fewer.
More concussions:
Running back
Rashad Jennings
and receiver
Cecil Shorts
suffered concussions, per Mike Mularkey after the game.
What's next:
The Jaguars host the Jets at EverBank Field, where the tarp over one section will be removed to accommodate extra seats.
Greg McElroy
played in the Jets win over Arizona. Will
Tim Tebow
be healthy and have a chance to play in his hometown?
December, 2, 2012
12/02/12
6:11
PM ET
Thoughts on the
Colts' 35-33 win
over the Lions at Ford Field:
What it means:
The Colts rallied from behind, saw
Andrew Luck
build his early legend and stole a game they could easily have lost. The victory moved them to 8-4 and strengthened their hold on the No. 5 spot in the AFC playoff field. Indianapolis has quadrupled last season's win total.


Fantastic finish:
Andrew Luck and the Colts offense got the ball back at their 25-yard line with 1:07 left in the game and no timeouts. Luck engineered a masterful drive that got Indianapolis to the Detroit 14-yard line with four chances to win the game. After three incomplete passes, they faced fourth down with three seconds left. Luck ran right and, just before he got to the line of scrimmage, flicked a short pass to
Donnie Avery
just ahead of him, then chased Avery into the end zone to celebrate the game-winner.
What I liked:
The Colts trailed 33-21 with 8:41 left in the game and Luck threw a pick that gave the Lions the ball with 6:40 left. But Indianapolis' defense got the ball back for Luck and the offense twice, and he drove the team to two touchdowns for the come-from-behind win. The defense allowed only three first downs on the Lions' four final possessions.
More on Luck's numbers:
He threw 30 incomplete passes. Thirty. Three of them were intercepted (but turned into only three Lions points). The 24 passes Luck did complete went for an average of 16.3 yards and totaled 391 yards. Harp on the completion percentage or the picks if you like. For a rookie quarterback to have that average and total yardage and produce a game-winning drive is extraordinary.
What's next:
The Colts have a chance to clinch a winning season when they host the Titans, whom they beat 19-13 in overtime in Nashville on Oct. 28.
December, 2, 2012
12/02/12
6:05
PM ET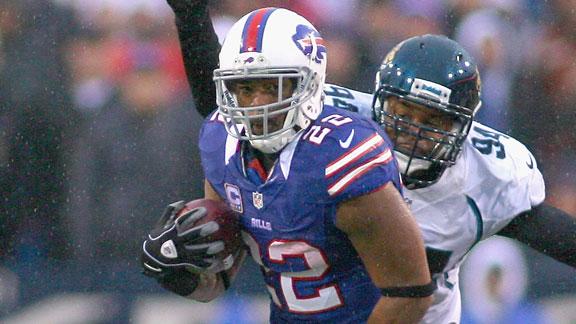 Here are some thoughts on the
Buffalo Bills
'
34-18 victory
over the
Jacksonville Jaguars
:


What it means:
For what it's worth, it means the Bills remain mathematically in the playoff hunt. The Bills improved to 5-7 and their playoff hopes are hanging by a thread unless they can run the table. A win over a terrible Jacksonville (2-10) team at least keeps the Bills' season alive for another week. Buffalo is now in a three-way tie for second place in the AFC East with the
New York Jets
(5-7) and
Miami Dolphins
(5-7).
What I liked:
This was an all-around good effort for the Bills. The offense put up its most points since Week 7, and the defense did a decent job cooling off Jacksonville quarterback
Chad Henne
. Bills quarterback
Ryan Fitzpatrick
threw a pair of touchdowns and rushed for one. Buffalo starting tailback
C.J. Spiller
had a 44-yard touchdown run. The Bills also got great production from former starter
Fred Jackson
, who led the game with 109 rushing yards. Buffalo's defense registered four sacks, and defensive end
Mario Williams
extended his sack streak to three games.
What I didn't like:
There wasn't much not to like in this game. But if I'm going to nitpick something, Buffalo was a little sloppy with nine penalties for 100 yards and two turnovers (one interception, one lost fumble). But these mistakes didn't matter against the awful Jaguars. Buffalo also suffered a few key injuries to monitor, including No. 1 receiver
Steve Johnson
and starting center
Eric Wood
.
What's next:
The Bills host the
St. Louis Rams
(5-6-1). Buffalo will try to win two in a row for just the second time this season.
December, 2, 2012
12/02/12
4:49
PM ET
A look at an
emotional win
for the
Kansas City Chiefs
.
What it means:
Oh, it means so much. This has to be one of the most memorable, emotional days in franchise history. The Chiefs won their second game of the season, just a day after a horrific tragedy. Saturday, starting linebacker
Jovan Belcher
killed his girlfriend, Kasandra M. Perkins, and then he went to the team's facility (adjacent to Arrowhead Stadium) and killed himself in front of general manager Scott Pioli, head coach Romeo Crennel and defensive coordinator Gary Gibbs. There was a lot of talk that the game shouldn't be played. But the Chiefs decided they wanted to play. This is just a game and it doesn't change anything, but for three hours, it did help in some way. It was the Chiefs' first home win of the season after starting 0-6 there. They snapped an eight-game losing streak, which was the longest current losing streak in the league.


Charles has big game despite major sadness:
The tragedy had to hit Kansas City running back
Jamaal Charles
especially hard. ESPN's Ed Werder reported that Perkins was a cousin of Charles' wife and they introduced Perkins to Belcher, who Charles was close with. Despite the incredible grief, Charles had 127 yards on 27 carries.
Quinn is effective:
Kansas City quarterback
Brady Quinn
was 19-of-23 for 201 yards. It was perfect game management and what the team wants from him. It was Quinn's first win as a starting quarterback in three years.
Streak is over:
The Chiefs scored a touchdown on their first drive of the game Sunday. That hadn't happened since 2010.
Touchdown party:
Peyton Hillis
,
Tony Moeaki
and
Jon Baldwin
all scored their first touchdowns of the season for Kansas City.
Milestone for Bowe:
Kansas City receiver
Dwayne Bowe
passed the great Otis Taylor for third on the Chiefs' all-time receptions list. Bowe now has 412 career catches.
What's next:
Crennel goes back to Cleveland as the Chiefs meet the Browns.
December, 2, 2012
12/02/12
4:11
PM ET
Thoughts on the
Arizona Cardinals
'
7-6 road defeat
to the
New York Jets
:


What it means:
The Cardinals have lost eight in a row following their 4-0 start. Coach Ken Whisenhunt's decision to switch quarterbacks continued to produce no dividends, amplifying questions about whether Whisenhunt made the right move in benching
John Skelton
while leading Atlanta two weeks ago.
Ryan Lindley
completed eight of his first 25 passes with a pick. That wasn't nearly good enough.
What I liked:
The Cardinals' defense continued to do its part. Arizona picked off
Mark Sanchez
three times, leading the Jets to bench Sanchez.
Rashad Johnson
gained 40 yards on a rushing play.
Larry Fitzgerald
had a 23-yard reception.
Michael Floyd
had a 16-yarder.
What I didn't like:
The Cardinals have become unwatchable on offense, and they had five first downs. Lindley completed 10 of 31 attempts. The Cardinals needed to get points after dominating Sanchez and the Jets' offense. Lindley's inefficiency should not come as a huge surprise. He is a rookie sixth-round draft choice trying to assimilate after being named the starter well into the season. Still, if Whisenhunt and his staff know how to develop quarterbacks, we're not seeing evidence suggesting that is the case.
What's next:
The Cardinals visit the
Seattle Seahawks
in Week 14.
December, 2, 2012
12/02/12
4:08
PM ET
Thoughts on the
Carolina Panthers
'
27-21 loss
to the
Kansas City Chiefs
on Sunday:
What it means:
The Panthers fall to 3-9, and this one isn't going to help coach Ron Rivera's job security. Carolina lost to a team that had won only one game this season. That ended an opportunity for Rivera to put together back-to-back wins for the first time since Weeks 15 and 16 of last year. Rivera said it's been made clear to him by owner Jerry Richardson that he needs to finish the season on an upswing to have a chance to keep his job. But Carolina flubbed a chance to get on a bit of a roll. Barring some dramatic turnaround to finish the season, it seems likely the Panthers will be looking for a new coach after the season.


No defense:
The Panthers came in knowing they were facing a good running back in
Jamaal Charles
. But they weren't able to slow Charles down at all. More importantly, the Panthers made quarterback
Brady Quinn
, who entered the game without a touchdown pass this season, look like a Pro Bowler. Carolina's defense simply couldn't get Kansas City's offense off the field. The Chiefs dominated in time of possession, largely due to lengthy touchdown drives in the second and third quarters. The Chiefs ended up holding the ball for 37:13.
All for nothing:
Quarterback
Cam Newton
threw three touchdown passes and ran for 78 yards and didn't make any major mistakes. Newton and the offense probably could have scored a lot more points if the defense had been able to give them more time with the ball.
Worst drop of the season:
Newton easily could have had a fourth touchdown pass. A wide-open
Brandon LaFell
dropped a sure touchdown pass in the third quarter.
Amazing stat of the day:
The Panthers now have lost all 13 coin tosses (12 at the start of games and once for overtime) this season. Carolina even tried a new approach on this one, asking fans to vote on whether to call heads or tails on Facebook. It didn't make any difference.
What's next:
The Panthers host the
Atlanta Falcons
next Sunday.

NFL SCOREBOARD
Thursday, 9/18
Sunday, 9/21
Monday, 9/22
WEEKLY LEADERS