NFL Nation:

2013 Draft Analysis NFC
April, 27, 2013
4/27/13
6:58
PM ET
»
NFC draft analysis
:
East
|
West
|
North
|
South
»
AFC
:
East
|
West
|
North
|
South
How top-heavy was the 2013 draft in the NFC North? We welcomed more players in the first round (six) than in the second and third rounds combined (four), the result of two big trades.
With the 2013 affair basically in the books, let's take a closer look at its highs and lows. So much happened that we might not get to the relatively rare occurrence of
two punters
being drafted
.
Onward:
BEST MOVE
The
Green Bay Packers
have gone 43 games without a 100-yard rusher, the longest active streak in the NFL by more than twice. Their running backs have combined for 12 rushing touchdowns over the past three seasons, the fewest in the NFL, and their average of 3.8 yards per rush over that span is tied for last in the league.
After years of subordinating this segment of their roster, the Packers reacted aggressively in 2013. They drafted not one but two of the top running backs available. Alabama's
Eddie Lacy
came
in the second round
(No. 61 overall), and UCLA's
Johnathan Franklin
came
in the fourth round
(No. 125 overall).
The relative flurry came at a time when the rest of the league appeared to have devalued the position. It was the first time in the history of the modern draft that zero running backs were selected in the first round. Perhaps the timing was coincidence, but if general manager Ted Thompson intended to capitalize on depressed prices to load up, it was a brilliant thought.
Thompson and the Packers had been trying to patch together the position ever since
Ryan Grant
broke his ankle in Week 1 of the 2010 season. It was time to find a more permanent solution, and Lacy and Franklin give them the personnel infusion they needed.
Runner-up: Like the Packers, the
Chicago Bears
finally attacked an area of need. They used two of their first three selections in what was originally a five-pick draft on high-end linebackers who actually project as starters rather than special-teams contributors. Second-rounder
Jonathan Bostic
could be
the Bears' middle linebacker as early as this season
, and fourth-rounder
Khaseem Greene
was
one of the best defensive playmakers
in college football last season.
RISKIEST MOVE
The
Minnesota Vikings
used
four draft picks to move back into the first round
and select Tennessee receiver
Cordarrelle Patterson
, taking on risk in two forms.
First, Patterson is a boom-or-bust prospect who spent only one year playing at the Division I level. He has the physical tools to be an exceptional player but has more development ahead of him than most first-round picks. Here's how
ESPN analyst Todd McShay
put it before the draft: "He scares me coming out of Tennessee, but I see the talent. … Patterson, with the ball in his hands, is just freakish, and even though he disappears for 30-40 plays [per game], he'll show up with one or two big plays a game that just kind of blow your mind and leave you wanting more."
At the very least, Patterson will need to be guided through the early part of his career. The Vikings hope to start him off as a kickoff returner and work him into their offense slowly. Expecting him to jump into the starting lineup alongside
Greg Jennings
for a full 70 plays per game is probably unrealistic.
Second, the trade left the Vikings unable to fill one of their most pressing needs: middle linebacker. Giving up picks in the second and third rounds left them watching as more than a half-dozen middle linebackers were drafted. The Vikings gave up the opportunity to fill that job on a long-term basis by jumping to draft a receiver who generated plenty of divergent viewpoints during the pre-draft evaluation process.
Runner-up: The
Detroit Lions
used the No. 5 overall pick on a pass-rusher who had 4.5 sacks in his college career. BYU defensive end
Ezekiel Ansah
has all the physical tools to be a dominant pass-rusher, but his learning curve is steep and his potential for immediate impact is at least worth questioning.
MOST SURPRISING MOVE
[+] Enlarge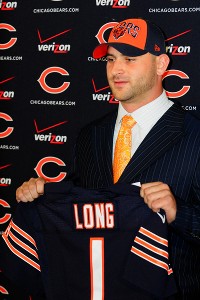 Reid Compton/USA TODAY SportsThe Bears were willing to overlook offensive lineman Kyle Long's inexperience because of his extraordinary athleticism for a man his size.
You would have been hard-pressed to find a mock draft that projected Oregon guard
Kyle Long
as a first-round pick. In
a recent seven-round mock
, Scouts Inc. suggested he would go No. 47 overall. And even that was based on Long's overwhelmingly positive athletic attributes rather than evaluation of his limited play at Oregon.
The Bears produced
arguably the surprise of the draft
by selecting Long at No. 20 overall, a time when even the most polished guards are rarely taken historically. But the Bears were blown away by Long's agility for his 6-foot-6 frame and were willing to overlook a one-season, four-start career at the Division I level.
There is no doubt the Bears needed help on their offensive line, but you could have a spirited philosophical argument over the draft value of a raw, inexperienced guard. Even if the Bears are right about Long -- that his athleticism will make him a long-term starter -- it's fair to question whether they needed to take him in the first round. Did another team covet the draft's third-best guard enough to take him between picks 21 and 50, where the Bears were situated in the second round? One explanation: The Bears, with only five total picks in the draft at that point, thought it would be too difficult to trade up in the second round assuming Long got out of the first. I'm not going to say it was the wrong choice, but it sure was surprising.
FILE IT AWAY
The Lions bolstered their pass defense at the expense of some other positions of need. You can't have it all, and the Lions made some clear decisions.
On the plus side, they used three of their first four choices on Ansah, cornerback
Darius Slay
and defensive end
Devin Taylor
. Ansah (6-foot-5 with 35 1/8-inch arms) and Taylor (6-7 with 36-inch arms) will provide incredible length and a new look to the Lions' outside pass rush. Slay, meanwhile, has elite speed (4.36 seconds in the 40-yard dash).
That focus left the Lions less able to surround quarterback
Matthew Stafford
with additional weapons and protection. The Lions didn't draft an offensive tackle after the departure of both 2012 starters, and they didn't get around to selecting a receiver until grabbing Virginia Tech's
Corey Fuller
with the third pick of the sixth round (No. 171 overall).
(The Lions did draft guard
Larry Warford
in the third round.)
From a roster-balance perspective, it made sense for the Lions to focus on pass defense -- long a weakness -- rather than their passing offense. But the Lions still finished the draft with less depth at receiver and offensive tackle than they would have liked. Life is a trade-off, after all.
April, 27, 2013
4/27/13
6:32
PM ET
»
NFC draft analysis
:
East
|
West
|
North
|
South
»
AFC
:
East
|
West
|
North
|
South
The draft started off heavy in the NFC East, as the three teams with first-round picks this year used them on offensive linemen. And while there were a few little surprises and treats along the way, it never really got hot. All four of the division's teams had workmanlike drafts that balanced need and value and didn't stray into any of the juicy storylines. No
Manti Te'o
,
Geno Smith
or
Tyrann Mathieu
for us.
There was a trade-down in the first round, as the
Dallas Cowboys
moved out of a No. 18 spot they didn't like and still managed to get their first-round offensive lineman, while adding a third-rounder to the mix. There were two trade-ups in the fourth round, as the
Philadelphia Eagles
and the
New York Giants
maneuvered to add quarterbacks in surprising moves. And there were the
Washington Redskins
, without a first-rounder but fine with it because they have
Robert Griffin III
, who waited it out and got two talented safeties in the late rounds for a secondary that needs rebuilding.
We'll be breaking this all down for days and weeks and months, but here's a quick early look at the way the 2013 draft went in the NFC East.
BEST MOVE
In the absence of any earth-shaking moves in the early rounds by NFC East teams, I'm going to have to go with the Eagles taking tackle
Lane Johnson
at No. 4. They probably could have traded down out of the pick, but this was a draft in which six offensive linemen went in the first 11 picks, and the value of the third-best tackle with the fourth pick was worth hanging in there. After what happened to their offensive line with injuries in 2012, the Eagles were wise to load up there, taking an athletic player who can start at right tackle right away and maybe move to left tackle down the road once
Jason Peters
is done. It also helps that Johnson is the kind of lineman who can move. If Chip Kelly plans to run a lot of read-option, or even a lot of bubble screens, Johnson's ability to get out and block at the second level is going to be a big help.
Also considered: The Eagles' trade-up for quarterback
Matt Barkley
at the top of the fourth round. ... The Redskins' getting two quality safeties in the fourth and sixth rounds in
Phillip Thomas
and
Bacarri Rambo
. ... The Cowboys trading down in the first round and getting wide receiver
Terrance Williams
with the third-round pick they added in that deal.
RISKIEST MOVE
[+] Enlarge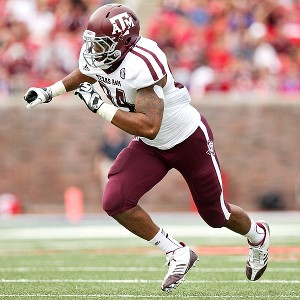 Thomas Campbell/US PresswireDamontre Moore put up impressive numbers at Texas A&M, but he has to disspell concerns over his work ethic and attitude at the next level.
There weren't any real big risks taken by NFC East teams with their most valuable picks in the first and second rounds, I didn't think. So I'm going with defensive end
Damontre Moore
, who went to the Giants in the third round. Moore is a big-time talent with big-time production numbers in college -- 12.5 sacks last year, 26.5 over the past three. But there are good reasons a player as good as he is was still there at pick No. 81, and in Moore's case those reasons include a marijuana bust and a reputation as a young man who struggles with attitude and work ethic.
Now, Moore is just 20 years old, and it's wrong to assume anyone that age will always be what he has been so far. But Moore is the player from this draft whose job it is to bolster the future of the Giants' pass rush with
Osi Umenyiora
gone and
Justin Tuck
aging. If he's a solid citizen and produces the way he did at Texas A&M, he's going to be a steal. If he's an attitude case who doesn't take to coaching and causes problems, the Giants are going to have to keep looking for long-term solutions at defensive end in the next several drafts. A third-round pick isn't too much to risk on a player with Moore's potential, but it's a pick with which the Giants could have found help elsewhere. So if he does flop, they will regret it.
MOST SURPRISING MOVE
The Eagles pulled the surprise of Day 3, moving up three spots to the top of the fourth round, where they selected USC quarterback Matt Barkley. Most analysts were convinced Kelly would seek a fast, athletic, running quarterback when he finally pulled the trigger on that position, but Barkley was a pro-style pocket passer at USC and doesn't fit the "system" everyone seems to be assuming Kelly is determined to run now that he's in the pros. As you know if you read this blog regularly, I think that's hogwash and that Kelly is smart enough to know that the best way to coach is to find talented players and figure out the best way to coach them -- not come wading in with your own "system" and only look for players who fit it.
Kelly knows Barkley from coaching against him in college, and Barkley is a guy who a year ago was thought of as a possible No. 1 overall pick. If 2012 was just a bad year for him and he ends up being a good NFL quarterback, nobody's going to care that he can't run the read-option. For a fourth-round pick and a seventh-round pick, which is what it cost the Eagles to move up and take him, it's a worthwhile risk. And it leaves Kelly with a lot of options at the most important position on his team as he begins his first offseason as an NFL coach.
The Giants pulled a surprise of their own later in the round, trading up six picks to select Syracuse quarterback
Ryan Nassib
to develop behind
Eli Manning
. The 32-year-old Manning hasn't missed a game since 2004, so it's unlikely Nassib sees the field anytime soon. But the Giants decided it was time to start thinking down the road at the position.
FILE IT AWAY
I liked the Cowboys' first round more than most people did, because I thought they absolutely needed to come out of that round with an offensive lineman, and they did. And while
Travis Frederick
may have been a reach at 31, reaching for an offensive lineman wasn't a bad move for this particular team in a draft in which eight offensive linemen went in the top 20 picks. They traded down from 18 and got the pick that netted Frederick and the third-round pick that netted wide receiver Terrance Williams, and they like that pair better than they liked what was available to them at 18.
But they won't have to look far to remember what might have been. The Giants took Syracuse offensive lineman
Justin Pugh
at 19, which means the Cowboys could have stayed put and picked up a better-regarded lineman than Frederick (though, obviously, not also get Williams in the third). If Pugh turns out to be a great player for the Giants and Frederick flops in Dallas, the Cowboys could end up regretting the Day 1 trade-down in the long run.
April, 27, 2013
4/27/13
6:10
PM ET
»
NFC draft analysis
:
East
|
West
|
North
|
South
»
AFC
:
East
|
West
|
North
|
South
The NFC South might be the only division in the NFL with four franchise quarterbacks, assuming Tampa Bay's
Josh Freeman
can be just a little more consistent.
When Freeman is on his game, he joins Atlanta's
Matt Ryan
, New Orleans'
Drew Brees
and Carolina's
Cam Newton
to give the division four high-octane offenses. In recent years, defense has become something of a lost art in the NFC South. But that may be about to change.
The division-wide theme to the 2013 NFL draft was to load up on defense, even to a point where it looked like teams were overcompensating at what had been problem spots.
Carolina used its first two picks on defensive tackles (
Star Lotulelei
and
Kawann Short
). Atlanta used its first two picks on cornerbacks (
Desmond Trufant
and
Robert Alford
). Even after trading for cornerback
Darrelle Revis
, Tampa Bay used its first pick on cornerback
Johnthan Banks
. And New Orleans, the league's worst defense last season, used its first pick on safety
Kenny Vaccaro
.
Will that be enough to shut down Ryan, Brees, Newton and Freeman? Probably not. But all four NFC South defenses suddenly got better over the past few days.
BEST MOVE
This wasn't a flashy draft for the division. But that's not necessarily a bad thing. Teams focused on the basics, and no team did a better job of that than Carolina.
New general manager Dave Gettleman apparently believes that everything starts up front. His selection of Lotulelei was a stroke of intelligence and a little bit of luck. By all rights, Lotulelei shouldn't have been available at No. 14. Just a few months ago, people were talking about him as perhaps the No. 1 overall pick.
But a pre-draft medical scare caused Lotulelei's stock to fall. He checked out fine medically, and I'm sure the Panthers did plenty of homework on his health situation. They ended up getting the best defensive tackle in the draft. Put Lotulelei in a rotation with Short and
Dwan Edwards
, and defensive tackle suddenly becomes a strength for Carolina. With the infusion of talent in the middle of the line, a Carolina front seven that's good everywhere else could become a real force.
RISKIEST MOVE
[+] Enlarge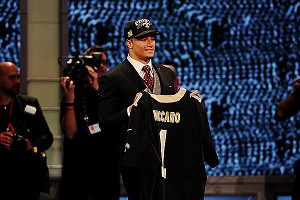 AP Photo/Alix DrawecThe Saints are hoping that safety Kenny Vaccaro can help improve the NFL's worst defense last season.
I'm not knocking the Saints' selection of Vaccaro. He has a great skill set, and he's going to make a secondary that needed help much better. But I do have to question the wisdom of taking a safety with their first pick.
New Orleans is in the process of switching from a 4-3 defense to a 3-4 scheme. That means you have to have the right personnel for the 3-4, and I'm not sure the Saints have that. The key to a 3-4 scheme is having an edge pass-rusher. The Saints could have had outside linebacker
Jarvis Jones
, who was a productive rusher in college, at No. 15, but they passed on him and took Vaccaro. That was New Orleans' one big chance to get a pass-rusher because the Saints have been limited as to what they were able to do in free agency by the salary cap.
Maybe
Victor Butler
,
Martez Wilson
and
Junior Galette
will provide a strong pass rush. But they're all unknown commodities. If the pass rush doesn't make an impact, life isn't going to be easy for Vaccaro and the secondary.
MOST SURPRISING MOVE
Immediately after the season ended, Tampa Bay coach Greg Schiano talked about how he wanted to bring in someone to compete with Freeman for the starting job. That caused a bit of a stir in Tampa Bay, but the coach backed away from that statement several times, saying he simply meant he wants to improve the competition at all positions. In other words, Freeman is the starter as he heads into a contract year.
But Schiano, who wasn't around when Freeman was drafted, opened the way for a quarterback controversy the first time Freeman struggles by drafting NC State quarterback
Mike Glennon
in the third round. The Bucs had more pressing needs, such as tight end and depth on the defensive line, at that point in the draft.
Yet they took Glennon, who might have stuck around for another round or two. Freeman still is the starter, and maybe everything will work out fine for him. But he suddenly is on a short leash. Schiano now has a quarterback that he drafted and could turn to if Freeman has a few bad games.
FILE IT AWAY
Stanford tight end
Levine Toilolo
, taken by the
Atlanta Falcons
in the fourth round, can be a better NFL player than his draft position and college numbers would indicate. Toilolo was overshadowed by
Coby Fleener
and
Zach Ertz
.
In 2010, Toilolo beat out both of them for the starting job. That lasted for only one game as Toilolo suffered a knee injury in the first game of the season. He came back but took on a secondary role.
He doesn't stand out as a receiver or a blocker, but he's decent in both areas and has lots of upside. Toilolo could be coming into an ideal situation in Atlanta. He'll get to learn from
Tony Gonzalez
for a year. After that, Toilolo could become the starter.
I'm not saying he'll turn into the second coming of Gonzalez. But Atlanta has so many other offensive weapons that Toilolo could end up being a productive tight end.
April, 27, 2013
4/27/13
5:51
PM ET
»
NFC draft analysis
:
East
|
West
|
North
|
South
»
AFC
:
East
|
West
|
North
|
South
The NFC West has been gaining on the two-time defending division champion
San Francisco 49ers
.
The
Seattle Seahawks
nearly caught the 49ers in the division race last season before adding
Percy Harvin
. The
St. Louis Rams
more than tripled their victory total from 2011 while going 1-0-1 against San Francisco. The
Arizona Cardinals
will almost certainly get better after acquiring quarterback
Carson Palmer
.
The 49ers, with arguably the NFL's strongest roster and best coaching staff, had nowhere to go but down. How general manager Trent Baalke used the 49ers' NFL-high 13 draft choices was going to be critical for the 49ers to maintain their standing atop the NFC West.
"Trent Baalke has to be on his 'A' game,"
coach Jim Harbaugh had said
. "This could make you. You could be the next Bill Polian, the next Ozzie Newsome. It all hinges on this draft. So, it's exciting."
So, how did Baalke do? With all those picks and relatively few openings in the lineup, Baalke needed to be aggressive. He needed to move up for specific players when appropriate and parlay picks into 2014 capital.
Baalke did those things. He moved up 13 spots to select LSU safety
Eric Reid
with the 18th overall pick. There's
more than one way
to judge whether the 49ers fared well in getting the 18th pick from Dallas for the 31st and 74th selections. A rival executive told me he thought the 49ers got a great deal. In 1995, Jacksonville packaged the 31st, 97th and 134th picks with a future fourth-rounder to acquire No. 19 -- a higher price.
The 49ers had the capital to move around the board and target needs. San Francisco addressed its top three needs with its top three picks, landing a safety (Reid), defensive lineman (
Tank Carradine
) and tight end (
Vance McDonald
). Baalke acquired a 2014 third-rounder from Tennessee as well.
So, the 49ers got what they wanted now while planning for the future with that 2014 pick and
Marcus Lattimore
, the running back they hope can contribute in 2014. Carradine could be needed to take over for
Justin Smith
in another year. The 49ers added receiver
Quinton Patton
in the fourth round -- no big deal, perhaps, but with a decision on
Michael Crabtree
's contract looming, insurance at that position made sense longer term as well.
BEST MOVE
There were a few worthy candidates. A double move the
St. Louis Rams
pulled off in the first round stands out. We cannot say with any certainty whether the players St. Louis or any team selected will become outstanding ones, but we can evaluate the process, at least. The Rams had more at stake in the first round than any team in the NFC West. Their thinking and execution through that portion of the draft appeared sound.
Moving up eight spots to select wide receiver
Tavon Austin
delivered to St. Louis the skill that player evaluators were most excited about in this draft. The cost was high, however, and the Rams had lots of needs. Their move to recoup picks by trading back eight spots to No. 30 with their other first-round selection gave them the best of both worlds.
The Rams entered this draft with eight total picks and what seemed to be primary needs at safety, receiver, guard and outside linebacker. They needed depth at corner, too.
Sending the 16th, 46th, 78th and 222nd picks to the
Buffalo Bills
for the eighth and 71st picks left the Rams with just six selections in the draft. That wasn't going to be enough for coach Jeff Fisher and general manager Les Snead to build sufficient depth. But with Snead having come to the Rams from Atlanta, the second-year GM put to use his relationship with Falcons counterpart Thomas Dimitroff, restoring needed picks to St. Louis.
The Rams then sent the 22nd overall choice and a 2015 seventh-rounder to the Falcons for the 30th, 92nd and 198th choices. That left St. Louis with its original pick count, eight, and the same number of first-rounders. Note that the picks St. Louis wound up using in the first round -- Nos. 8 and 30 -- averaged out to the picks the Rams held originally (16 and 22).
The Rams emerged from the first round with the first skill-position player selected and the first 4-3 outside linebacker selected.
RISKIEST MOVE
[+] Enlarge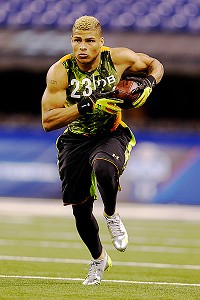 AP Photo/Michael ConroyWith strong locker room leaders, Arizona GM Steve Keim said he feels confident in drafting defensive back Tyrann Mathieu.
Risk can be good sometimes, and I'd say the
Arizona Cardinals
made a calculated one by using their third-round choice for
Tyrann Mathieu
, the LSU defensive back Bill Polian had called a "poor teammate and a poor risk" during ESPN's draft coverage. Polian, a six-time NFL executive of the year, made those comments before the Cardinals selected Mathieu (Polian and Cardinals coach Bruce Arians worked together in Indianapolis years ago).
Mathieu, nicknamed "Honey Badger" for his aggressive coverage tactics, had been kicked off the team at LSU for violating substance-abuse rules. He had admitted to having a problem eliminating marijuana use from his life. A strong endorsement from Cardinals cornerback
Patrick Peterson
helped Arizona feel better about selecting Mathieu. The two starred together at LSU and are looking forward to reuniting.
"We will probably start him at weak safety and then with our defense, with the way it's structured, he can slide into the slot as a free safety -- basically playing with three corners, but one of them is also a safety," Arians said. "He gives that flexibility where we wouldn't have to substitute."
Mathieu said he'll submit to regular testing, counseling or anything else the Cardinals might have in mind. He sounded sincere.
Meanwhile, general manager Steve Keim pointed to strong leadership in the Cardinals' locker room as another reason the team might be able to keep Mathieu on the right side of the NFL's policies. Keim singled out
Darnell Dockett
,
Calais Campbell
and
Daryl Washington
as players "you feel can help keep some structure in place."
Those players might indeed serve as fine leaders. However, the Cardinals did reportedly levy a six-figure fine against Dockett for insubordination last season. Washington is scheduled to serve a four-game suspension for violating the NFL's substance-abuse policy.
"We made two selections, our first two selections, with guys that have impeccable character," Keim said of
Jonathan Cooper
and
Kevin Minter
. "You don't want to build your locker room of 53 players with risk.
"If you feel like you have a strong core of solid veteran leaders -- guys like Dockett, Calais Campbell, Daryl Washington -- who you feel can help keep some structure in place, I think that you have a chance to occasionally take a risk. That's if you have that instinct or that gut feeling that this player is committed to making a change."
MOST SURPRISING MOVE
The
Seattle Seahawks
used the last choice of the second round to select running back
Christine Michael
even though the depth chart was stacked with
Marshawn Lynch
and
Robert Turbin
, both of whom are signed for the long term.
The Seahawks did not have glaring needs entering this draft. They had flexibility to make a move such as this one. They also had an opening at running back after releasing
Leon Washington
. Unlike Washington, however, Michael doesn't factor as an explosive kickoff returner. He doesn't qualify as a change-of-pace back. He would seem to give the Seahawks more of the power running they already have in abundance.
The most surprising move in the division could still be a good one. As coach Pete Carroll pointed out, the team used a third-round choice for quarterback
Russell Wilson
last year shortly after signing
Matt Flynn
to a three-year, $19.5 million deal. The team found a starting quarterback when no one thought it needed one.
FILE IT AWAY
The landscape at running back continues to change in the NFC West. Every team in the division selected at least one in this draft.
The clock ticks loudly for older backs in the NFL.
Steven Jackson
was one established back to depart the NFC West this offseason, leaving the Rams in free agency after eight consecutive 1,000-yard seasons for the team.
St. Louis traded into the fifth round to select Vanderbilt's
Zac Stacy
, a power back standing 5-foot-8 and weighing 216 pounds. Stacy will join
Isaiah Pead
and
Daryl Richardson
in the committee setup Jackson resisted.
Frank Gore
's time with the
San Francisco 49ers
is not yet up. He remains effective and hasn't shown obvious signs of slowing. He's one of the most productive and respected players on the team. He also turns 30 next month, a bad number for running backs.
The 49ers used a 2011 fourth-round pick for
Kendall Hunter
and a 2012 second-rounder for
LaMichael James
before using a 2013 fourth-rounder for South Carolina running back
Marcus Lattimore
. The team is preparing for life without Gore.
The Cardinals already released 2009 first-round pick
Beanie Wells
. They signed
Rashard Mendenhall
before drafting Stanford career rushing leader
Stepfan Taylor
in the fifth round and another back,
Andre Ellington
of Clemson, in the sixth.
Michael's addition in Seattle wouldn't appear to change much over the next year or two. I wonder what it says, if anything, about the team's faith in Lynch holding up through the remainder of his contract, which runs through 2015.
Seattle added another running back,
Spencer Ware
of LSU, late in the sixth round.
NFL SCOREBOARD
Sunday, 2/2
WEEKLY LEADERS