NFL Nation:

2013 Hall of Fame vote
February, 2, 2013
2/02/13
7:46
PM ET
NEW ORLEANS -- A Hall of Famer is a Hall of Famer, period. They don't rank the busts in Canton in any particular order, don't stack certain ones above others.
Yet to those of us who perceive these things from the outside, it sometimes seems as though our Halls of Fame contain an extra, higher rung somewhere for the greatest of the all-time greats -- people who, even among fellow Hall of Famers, seem to exist on a higher plane of excellence.
Bill Parcells, the former
New York Giants
and
Dallas Cowboys
coach who was elected to the Hall of Fame on Saturday, is one of those people. That he was not elected last year in the first year of his second time being eligible was a greater surprise than his election this time around.
Parcells was a giant with a lowercase "g" as well as an uppercase one. He was a changer of the game, a program-builder, the only coach in league history to lead four teams (Jets and Patriots) to the playoffs. He was a two-time Super Bowl champion with the Giants and won an AFC Championship with the Patriots. He coached eight division champions and won 57 percent of his games as a head coach. The roster of coaches he helped develop as assistants includes Bill Belichick, Tom Coughlin and Sean Payton.
Criteria for election to Halls of Fame can hard to define, but one question you often hear as a tool for evaluation is, "Could you tell the history of the game without him?" Parcells' impact is such that you could not tell the story of the past three decades in the NFL without spending a good portion of it on him.
He's elite even as a Hall of Famer, one of the busts people will make the trip to see, and he clearly deserved his election.
February, 2, 2013
2/02/13
7:40
PM ET

Former
Buffalo Bills
receiver
Andre Reed
has been a finalist for the Pro Football Hall of Fame seven times. And each time, Reed has come up short.
Reed was turned down again after just missing the cut to become a member of the 2013 Hall of Fame class. He was one of 10 modern-era finalists but did not make the final five. This year's class includes
Jonathan Ogden
, Bill Parcells,
Larry Allen
,
Cris Carter
and
Warren Sapp
. It's a very strong group and all are deserving.
But you have to wonder if Reed's chances are dwindling. After being turned down as a finalist seven times, it's clear the Hall of Fame committee views Reed as a very good receiver but not a Hall of Famer. Maybe that opinion will change over time. Maybe it won't.
You can certainly make a good case for Reed. His 951 receptions, 13,198 yards and 87 touchdowns are solid, especially considering most of those numbers were put up in poor weather conditions in Buffalo.
However, more and more receivers are putting up similar or better numbers in this age of high-volume passing. Over time, that will make Reed's accomplishments look less impressive.
For example, receivers
Terrell Owens
,
Randy Moss
,
Marvin Harrison
,
Isaac Bruce
,
Torry Holt
and tight end
Tony Gonzalez
have all surpassed Reed in career yards in recent years. These half-dozen players and others will be coming down the pike for Hall of Fame voting, which clogs the position.
Reed came close to getting in this year. He has to hope his window for the Hall of Fame remains open and this wasn't his best chance.
February, 2, 2013
2/02/13
7:08
PM ET

The
Miami Dolphins
were the last team 2013 Hall of Famer Bill Parcells worked for. He led the Dolphins to the playoffs in his first year as team president in 2008. But Parcells decided to leave early partly due to an ownership change during his tenure.
Still, Dolphins owner Stephen Ross was one of the first to publicly congratulate Parcells on his Hall of Fame selection Saturday evening, in a statement released by the team.
"I want to congratulate Bill Parcells on his induction into the Pro Football Hall of Fame," Ross said. "He had his own unique style in building a successful organization and instilled a winning mindset at all levels as both a coach and executive. While he might have had different levels of success at each of the teams he worked for, he always left each franchise far better off than how he found it."
Miami general manager Jeff Ireland, who was an understudy of Parcells', also weighed in.
"I want to congratulate Bill on being selected to the NFLs highest honor ... the Hall of Fame," Ireland said. "His contributions to the game and to people in the game are countless. Having worked with him, I saw first-hand the philosophy and culture he espoused that made him so successful, and like so many others before me, I continue to use many of those principles to build a winning team. I learned a great deal from him and it has been a true pleasure working alongside such an iconic and legendary man."
Parcells spent time with three teams in the AFC East: Dolphins,
New York Jets
and
New England Patriots
. As Ross mentioned, Parcells had a way of making all his teams better than when he arrived.
February, 2, 2013
2/02/13
7:04
PM ET
Pro Football Hall of Fame senior inductee Curley Culp started off with Kansas City, but he made a huge impact with the Houston Oilers, too.

Culp
The six-time Pro Bowler was named the NFL's defensive player of the year by the Newspaper Enterprise Association in 1975 after helping lead Houston to its first winning season in eight years.
He will be inducted into the Hall in Canton, Ohio, on Aug. 3, along with six others -- offensive lineman
Larry Allen
, wide receiver
Cris Carter
, tackle
Jonathan Ogden
, coach Bill Parcells, linebacker Dave Robinson, and defensive tackle
Warren Sapp
. Robinson was the other senior nominee.
Rick Gosselin of the Dallas Morning News presented Culp at the selection meeting, and John McClain of the Houston Chronicle also led the discussion of Culp's candidacy.
McClain
spoke to Culp
leading up to selection day.
"I'm anticipating a great outcome," said Culp, who resides in Austin. "I'm blessed to be in this position. I was part of a Super Bowl winner with the Chiefs, and those Luv Ya Blue teams were special.
"I'm not sure what I'll be doing, probably pulling weeds and raking the yard."
Said McClain this week in New Orleans: "Curley was the epitome of a 3-4 nose tackle. Strong, quick, nasty -- an NCAA wrestling champion who could get leverage and keep it."
"The Oilers traded (defensive tackle) John Matuszak to Chiefs in 1974 for Culp and No. 1 pick they used on outside linebacker Robert Brazile. It was a tremendous trade. Along with Hall of Fame defensive end Elvin Bethea, they were the cornerstones of the Luv Ya Blue defense."
Culp is the ninth member of the Oilers/Tennessee Titans to be elected to the Pro Football Hall of Fame.
The capsule on Culp from the Hall:
Defensive Tackle … 6-2, 265 … Arizona State … 1968-1974 Kansas City Chiefs, 1974-1980 Houston Oilers, 1980-81 Detroit Lions … 14 seasons, 179 games … Selected in 2nd round (31st player overall) in 1968 draft by Denver Broncos … Denver attempted to switch him to offense before trading him to Chiefs during training camp … Fit in perfectly with Chiefs' dominating defense … Member of team's Super Bowl IV championship team in second season … Started at left defensive tackle in Super Bowl win over Vikings and registered three tackles, one assisted tackle … Dealt to Houston Oilers in blockbuster trade during 1974 season … Key veteran leader with 11.5 sacks to help Oilers to 10-4-0 record in his first full season with club … Winning record in '75 was Oilers first winning season in eight years and just second in 13 seasons …. Named NFL's Defensive Player of the Year by Newspaper Enterprise Association, 1975 … Culp led defense that helped Oilers earn back-to-back appearances in AFC championship game, 1978-79 … Named All-Pro, 1975 … All-Pro Second Team 1971, 1977, 1978, and 1979 …. First- or second-team All-AFC five times … Elected to six Pro Bowls … Born March 10, 1946 in Yuma, Arizona.
February, 2, 2013
2/02/13
6:52
PM ET
NEW ORLEANS –
Derrick Brooks
and Tony Dungy are going to be eligible for the Pro Football Hall of Fame in 2014.

Sapp
It's only fitting that
Warren Sapp
will be there before them.
When you think about how the
Tampa Bay Buccaneers
stopped being the "Yuccaneers," you have to start with Sapp.
Dungy and Brooks were crucial reasons why a team that had been losing for a generation suddenly started winning. They might have been even bigger parts than Sapp, who was elected to the Hall of Fame on Saturday in his first year of eligibility. But the defensive tackle was the first piece of a turnaround that eventually led to the franchise's Super Bowl championship. Dungy didn't come until 1996, and the winning didn't start until a magical 1997 season that I was fortunate enough to cover for The Tampa Tribune.
Brooks came in 1995, but Sapp was drafted ahead of him on that same day. That's when the turnaround really started.
As Dungy and defensive coordinator Monte Kiffin arrived, Sapp quickly became a force on a defense that arguably became one of the best in history. Brooks was just as big a force as Sapp, and I'm confident the linebacker will get his due next year.
But everything about the legendary Tampa 2 defense that soon was copied around the league started with Sapp. He was the disruptive force in the middle that cleared the way for everything else.
Without Sapp, Dungy and Kiffin's defense still might have been good, but it wouldn't have been dominant. Without Sapp drawing so much attention from an offense, Brooks probably wouldn't have been quite as good as he was. Without Sapp,
John Lynch
and
Ronde Barber
might not be talked about as potential Hall of Famers.
All those guys played during a great era for Tampa Bay, and that's a time period that is still remembered fondly in an age when the current Bucs are struggling for an identity of their own.
Maybe sometime soon the Bucs will get back to selling out their stadium once again. And maybe sometime soon the Bucs will be loved by the entire region the way they were in the glory days.
The irony is that Sapp was far from the most beloved player on that team. He was known for his boorish behavior with fans and the media.
Sapp still is a bit of a polarizing figure, even in Tampa Bay. Some people love him. Some people don't.
Say whatever you want about Sapp. But come this summer, he will be forever known as a Hall of Famer.
February, 2, 2013
2/02/13
6:38
PM ET
There weren't any AFC West surprises Saturday when the 2013 Pro Football Hall of Fame class was announced.

Curley Culp and Warne Sapp were the favorites of the four finalists with AFC West ties, and they ended up in the Hall of Fame class. Former Oakland receiver Tim Brown and former Kansas City guard Will Shields -- the two high-profile players with AFC West ties of this year's finalists -- did not get into the final 10. They were both considered longshots this year.

Culp, a senior committee nominee, played his first seven of a 16-year career in Kansas City. Sapp played his final four seasons in Oakland. Sapp did little with the Raiders, and he will always be remembered as a Tampa Bay Buccaneer.

Culp does have legitimate AFC West ties. He was a key part of the Chiefs' Super Bowl IV winning team. He was a nose tackle and considered the first real 3-4 nose tackle. Culp is in the Chiefs Hall of Fame, and he participates in alumni programs. His election Saturday will be embraced and celebrated in Kansas City.

"On behalf of the entire Chiefs family, we'd like to congratulate Curley Culp on his induction into the Pro Football Hall of Fame," Chiefs owner Clark Hunt said in a statement. "Curley was a dominating force on the defensive line for the Super Bowl IV championship team and one of many great players that helped build the tradition and foundation of the Kansas City Chiefs … "We look forward to seeing him take his rightful place in Canton."

Saturday's developments are disappointing for Brown and Shields. But there are silver linings for both. Cris Carter finally gained election, so the receiver logjam lessened. I still think Andre Reed might get in before Brown.

I know there has been some chatter that Brown's recent comments that former Oakland coach Bill Callahan "sabotaged" the team's Super Bowl loss to the Buccaneers 10 years ago might have hurt his chances. Brown was considered a longshot prior to causing that firestorm.

Shields was likely blocked by first-year nominee Larry Allen, who gained election. With Allen in, I can see Shields getting elected in the next couple of years.
January, 31, 2013
1/31/13
10:41
AM ET
NEW ORLEANS -- When I walk into the room to vote for the Pro Football Hall of Fame's Class of 2013 on Saturday morning, I won't be lugging any of Warren Sapp's baggage.
We'll see if other voters can do the same. Sapp is a polarizing figure, even in Tampa Bay where he spent the bulk of his career.
[+] Enlarge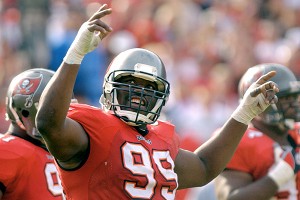 AP Photo/Steve Nesius, FileWarren Sapp was voted to seven Pro Bowls and was named first-team All-Pro for four straight seasons.
There are numerous stories about him being rude to fans. A lot of people around the league, including some in his own locker room, didn't approve of all of Sapp's antics. He could be arrogant and rude.
I once saw him bring a young reporter to tears in Cincinnati. As the beat writer for The Tampa Tribune early in Sapp's career, I took a few verbal lashings. But there also were times when Sapp was engaging and lighthearted, although many in the media never experienced those moments, or have forgotten them.
None of that matters, because whether or not Sapp goes into the Hall of Fame in the first year he is eligible is not about his personality. And it certainly isn't about the media's personal feelings about him.
The only criteria for selection in the Hall of Fame's by-laws is what a player did on the field. I think Sapp did plenty.
He was the dominant defensive tackle of his generation and, all these years later, we're still waiting for the next Sapp.
I'm not fully prepared to say I'm voting for Sapp. I want to hear all the presentations before making a decision. But, as I sit here looking at the numbers, my gut feeling is that I'll vote for him.
Sapp was a dominating force at defensive tackle. Without him and Derrick Brooks, I don't think the Bucs of the late 1990s and early 2000s would be remembered as one of the best defenses ever. Without Sapp, I doubt the Bucs would have won a Super Bowl title.
Sapp was the NFL Defensive Player of the Year in 1999. How often does a defensive tackle win Defensive Player of the Year?
The guy had better sack numbers than most defensive ends. He finished with 96.5 career sacks, including four seasons in which he reached double digits. He was voted to seven Pro Bowls and was named first-team All-Pro for four straight seasons.
So what if he wasn't always the most pleasant guy to be around?
He did his job on the field. That really is all that matters.
January, 30, 2013
1/30/13
8:00
AM ET
Curley Culp is the perfect senior committee nominee for the Pro Football Hall of Fame.
This is his last chance to gain election into the Canton, Ohio, museum. Really though, it's the first chance of election for the dominant defensive tackle who was a key part of the Kansas City Chiefs' Super Bowl IV-winning team.
"I've never gotten this far before," Culp said in a phone interview. "I've heard my name mentioned before, but I've never been this close before."
[+] Enlarge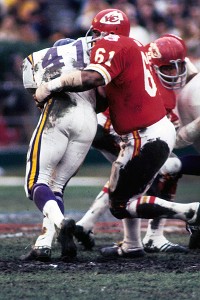 Manny Rubio/USA TODAY SportsFormer Chief Curley Culp (61) is one of two senior committee nominees for election into the Pro Football Hall of Fame.
Culp, who played for the Chiefs from 1968 to 1974, is one of two senior committee nominees; he is one of 17 finalists for election into the Hall of Fame. The vote is Saturday. Senior committee nominees often have a terrific chance of gaining election. Players go to the Senior committee after their 25 years of eligibility in the general voting process expires.
Culp, 66, is among four finalists with ties to the AFC West. The others are Kansas City guard Will Shields, Raiders receiver Tim Brown and defensive tackle Warren Sapp, who finished his career in Oakland but is known more for his time in Tampa Bay. Along with Culp, Sapp is considered to have the best chance of election.
Now that he is on the cusp of gaining entry to the Hall, Culp admits he's excited.
"It has not captured my every thought, but ever since I became a finalist, I've been thinking a lot about it," Culp said. "It would be an honor to be part of so many great men in the special club. I'm just pleased to be part of this process."
Culp, who operates a car service in Austin, Texas, would join a long list of Chiefs in the Hall of Fame; that, he said, is part of the excitement for him. Culp is part of the Chiefs' Hall of Fame and he regularly participates in functions related to that.
"I am a
Kansas City Chiefs
fan," said Culp, who noted he is fired up about the hiring of Andy Reid as coach. "The Chiefs were a big part of my life."
And Culp -- who went on to play seven seasons in Houston and two in Detroit -- was a big part of the Chiefs. At 6-foot-1, 265 pounds, Culp, who won the NCAA heavyweight wrestling title while at Arizona State, was a unique player. In the Chiefs' Super Bowl IV win against Minnesota, Hall of Fame coach Hank Stram put Culp over the center and it opened up plays for future Hall of Famers Buck Buchanan and Willie Lanier. Many people credit it for the beginning of the 3-4 defense.
Saturday, Culp might be rewarded for being part of NFL history.
NFL SCOREBOARD
Thursday, 10/30
Sunday, 11/2
Monday, 11/3