NFL Nation:

2013 NFL AFC Playoffs
January, 5, 2014
Jan 5
9:00
PM ET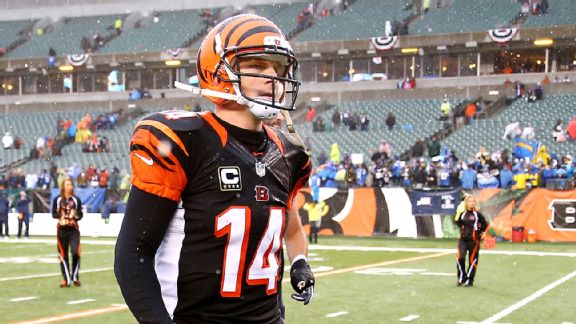 Andy Lyons/Getty ImagesAndy Dalton is 0-3 in the postseason after another mistake-prone effort against the Chargers.
CINCINNATI -- Four days ago,
Andy Dalton
finished second in the voting for the tightly contested
Cincinnati Bengals
MVP race that was conducted by the Cincinnati chapter of the Pro Football Writers of America.
He was edged by linebacker
Vontaze Burfict
by just two points.
Had the voting been conducted at the close of Sunday afternoon's wild-card round AFC playoff game, he might not have even sniffed the ballot. And he's OK with that.
"It all comes with playing the position," the quarterback said, putting on his best politician's front. "There's a lot that goes on during a game, and the quarterback is in control of everything. He's the leader of the team and of the offense, and when things don't go right, the quarterback is going to get the blame."
For 30 minutes, things were going wonderfully for the Bengals.
For 30 more, they didn't.
It was in that second half against the
San Diego Chargers
when yet again, on a large, nationally televised stage that Dalton looked more scared than a fawn staring down the headlights of an 18-wheeler. Substitute the tractor trailer with the likes of 300-pound defensive linemen
Corey Liuget
,
Cam Thomas
and
Kendall Reyes
and linebackers
Melvin Ingram
and
Jarret Johnson
, and you actually have a pretty accurate description. Late in Sunday's playoff game, that defensive front seemed to strike fear within the youngish Dalton.
"Youngish" because can we really consider the 26-year-old Dalton a young quarterback any longer? After all, with a
27-10 loss
at home to the Chargers, he has just concluded his third season as the Bengals' starting quarterback. He also has wrapped up his third postseason appearance, becoming the seventh quarterback since the merger to lose his first three playoff games. Each time he's been to the postseason, he's come out on the losing end. He has thrown one touchdown and six interceptions in those three losses.
Yet again, Dalton was, well ... Dalton.
If you're the Bengals, or any other team for that matter, you have to ask yourself: Is this really the guy to whom we want to pin our Super Bowl hopes? Can we?
Before the six-minute mark in the fourth quarter, the twittersphere was abuzz with such inquiries.
A performance like Dalton's latest playoff dud certainly doesn't engender much external confidence. It probably shouldn't engender much internal confidence in him, either. With his contract expiring after next season, the Bengals seriously have to question whether they want to extend him ahead of the 2014 season or let him play next year as a lame duck.
When a quarterback commits three second-half turnovers in a crucial playoff game, it only seems fitting to relegate him to lame-duck status. With even one postseason win, Dalton might have earned himself a few extra bucks this summer. Now those dollars may not come until the start of the 2015 offseason. They'll come, that is, if the Bengals finally do what they should have done this season and get past the first round of the playoffs.
On this ugly, gray-skied January day in southwest Ohio, there was no "Good Andy." There wasn't even a "Bad Andy." There was quite simply "Playoff Andy," the player who has yet to get over the postseason hump that has been his personal boogeyman.
Dalton's two interceptions came at the worst possible moments. The first happened late in the third quarter when Dalton threw off his back foot while an intense pass rush swallowed him. It was easy for Chargers cornerback
Shareece Wright
to read Dalton's eyes and jump in front of the pass that was intended for
Mohamed Sanu
.
"He's going to be very disappointed in himself," coach Marvin Lewis said of Dalton. "He is the football team."
Wright's pick led to a second straight Chargers field goal. The previous San Diego score came after another Dalton turnover; a fumble that occurred as Dalton dove, untouched, for the first down at the end of a long scramble with his team down four. That fumble was the beginning of a collection of second-half miscues that effectively gave the game to the Chargers.
"Obviously, the biggest difference was turnovers," Lewis said. "It's the difference in the football game."
It's also the reason Dalton was comfortable shouldering the blame for the loss, even though his teammates wouldn't let him.
"He just has to keep his head up, man," said receiver
A.J. Green
, who dropped a deep pass near the end zone that could have helped close the deficit in a Bengals comeback bid. "A lot of people are going to give him heat for this. It's not deserved. We all had a hand in it, including myself."
Running back
Giovani Bernard
, who had a pivotal fumble near the goal line at the end of the second quarter, echoed those sentiments.
"It's not on our quarterback. It's on everybody," Bernard said.
That's a good public stance to take. But it doesn't much change the fact that Dalton still hasn't yet proven he has what it takes to take this team to the next level.
Chargers coach Mike McCoy outlined the problems for Cincinnati on Sunday when speaking about the efficient, mistake-free day of his own quarterback,
Philip Rivers
.
"It's really about in big games, a lot of times teams lose the game rather than win it," McCoy said. "When you make some mistakes and turn the football over and do certain things, it hurts your football team."
If Dalton "is" the Bengals as Lewis said, then right now, this hurt team needs its ego, postseason luck and big-stage play to change.
January, 5, 2014
Jan 5
11:05
AM ET
CINCINNATI -- Welcome to Paul Brown Stadium, where the
San Diego Chargers
and
Cincinnati Bengals
are preparing for the second AFC wild-card game of the weekend. If this game is even an ounce as entertaining as Saturday's Chiefs-Colts game, we'll be in for a very fun one later Sunday afternoon.


The Bengals enter the first-round game as favorites following their 17-10 win at San Diego 35 days ago. They also are benefited by the mere fact that they are playing at home for the ninth time this year. They went undefeated in the first eight games, shutting down four Super Bowl-winning quarterbacks --
Ben Roethlisberger
,
Aaron Rodgers
,
Tom Brady
and
Joe Flacco
-- in the process.
As for the Chargers, this playoff game comes on the heels of a four-game winning streak that closed out the regular season. In addition to getting back a few key defensive players, the Chargers appeared to have learned from that loss. They were better defending the run after giving up 164 yards to the Bengals. Against the Broncos in that winning streak, San Diego only allowed 18. One key to the ballgame will be how well the Chargers defend the run, along with how much the Bengals run it. Cincinnati might become dedicated to taking to the air, particularly throwing screens to open up the pass.
Here are a few other items to help you get ready for the game:
Kickoff/TV:
1:05 p.m. ET/CBS
Weather:
37 degrees and cloudy. Winds: Gusts up 14 mph by the end of the game.
Records:
Bengals (11-5); Chargers (9-7)
Series history:
San Diego has a 19-14 all-time advantage over the Bengals. That includes one postseason game between the teams; the 1981 AFC Championship Game that was later nicknamed the "Freezer Bowl" for the minus-9 temperatures and minus-59 wind chill that the teams played through that day. That game at Riverfront Stadium was the last the postseason contest played between the two teams before Sunday. The Bengals won that one 27-7 to earn a trip to their first Super Bowl. Cincinnati's first regular-season game as a franchise, Sept. 6, 1968, also came against San Diego. The Chargers won that one, 29-13.
Worth noting:
The Bengals haven't yet won a postseason game under quarterback
Andy Dalton
, who has reached the playoffs all three years of his career. They also haven't won a playoff game under coach Marvin Lewis, who is in his 11th season. In fact, Cincinnati hasn't won a playoff game since 1990, when it blew out the Houston Oilers. The next week, the Bengals began their postseason losing streak when they lost to the L.A. Raiders in the game when Raiders running back Bo Jackson broke his hip, essentially ending his two-sport career.
Bengals' Friday Injury Report*
DOUBTFUL:
CB
Terence Newman
(knee)
QUESTIONABLE:
C
Kyle Cook
(foot), TE
Tyler Eifert
(neck), TE
Jermaine Gresham
(hamstring), DE
Wallace Gilberry
(concussion)
PROBABLE:
WR
A.J. Green
(knee), OT
Anthony Collins
(ankle), S
Chris Crocker
(knee), CB
Dre Kirkpatrick
(illness), LB
Vincent Rey
(ankle), OT
Andre Smith
(ankle), OT
Andrew Whitworth
(ankle)
Chargers' Friday Injury Report*
QUESTIONABLE:
DT
Sean Lissemore
(shoulder), WR
Eddie Royal
(toe)
PROBABLE:
RB
Ryan Mathews
(ankle), DE
Kendall Reyes
, (ankle)
*Inactives will be announced at 11:30 a.m. ET.
December, 29, 2013
12/29/13
10:15
PM ET
CINCINNATI -- Frustrated,
Marvin Jones
was about ready to put his head in his hands and disappear from the 62,000-plus who had just filed into Paul Brown Stadium.
His teammates on the
Cincinnati Bengals
' defense wouldn't have let him do that even if he really tried.
Just 18 seconds into
Sunday afternoon's game
, the Bengals receiver had a pass snatched from him as he and quarterback
Andy Dalton
tried to catch the
Baltimore Ravens
off guard on a first-play "Go route" down the far sideline. As Jones jogged off the field after the interception, he heard from defenders intent on helping him make up for the miscue.
"Hey, you're all right," some of them said. "We got this," others added.
They sure did get it. Even with the Ravens beginning a drive at the Cincinnati 21 and coming within yards of snatching the game's early momentum with a touchdown, the Bengals' defense rose up the way it has countless times before this season. Held to just one yard on the drive, the Ravens entered the red zone and were denied a touchdown. For the sixth time in 12 red-zone tries on Cincinnati's home turf this season, the Bengals didn't let an opponent cross the goal line.
By the end of Sunday's game, a 34-17 victory, the Bengals defenders went on to prevent their 21st red zone touchdown in 41 total tries this season.
"That's our job regardless of where the team gets the ball. It's to go out and stop them," defensive end
Michael Johnson
said. "We can't worry about how they got it there. We just got to focus on doing our job as hard as we can and taking care of our business."
That mentality has helped Cincinnati's defense pick up its offense this year. It's a comforting fact for the Bengals as they prepare to host the
San Diego Chargers
next weekend in the
opening round of the playoffs
.
"The saying may be cliche, but defenses do win championships," cornerback
Chris Crocker
said.
That's exactly why he didn't flinch when asked which unit was the strength of the team.
"It would have to be the defense," Crocker said. "We've played really well all year. Regardless of the situations, we just stuck together and played our butts off. It didn't matter what the score said. If we were down, or if we were up, we just kept playing all year."
Cincinnati's back-to-back red zone drives that ended in Ravens field goals at the start of the game were prime examples of the type of play that Crocker proudly boasted. Thanks in part to interceptions on the Bengals' first two offensive drives, the defense was slapped with the unenviable task of not only holding for one field goal, but holding for two before 13 minutes had passed.
Very easily, the Bengals could have been down 14-0 at the first-quarter break. But thanks to the two defensive stands and a subsequent four-play Bengals drive that ended on a 53-yard touchdown pass to a wide-open
A.J. Green
, they went to the second quarter leading, 7-6.
"Just to have a defense like what we have, it's a blessing," said Jones, who later made up for his lost interception with a one-handed grab. "There's a lot of times we feed off of [the defense]. If we get started slow and they go and they get their shutouts and their stops, then we're like, 'OK, let's go. Now it's our turn.'"
While Bengals defenders like Crocker are also confident in the "explosive" nature of a Cincinnati offense that scored 40 or more points four times at home this season, they are comforted in knowing their defense can be the team's postseason difference-maker.
Around the time the Bengals found out they had received a postseason berth last week, defensive coordinator Mike Zimmer told his players to take a look at the top of the league rankings in total defense.
"He said, 'If you look at the teams going into the playoffs, our defense is one of the best out there,'" defensive tackle
Domata Peko
said. "Like they say, 'defenses win championships.'"
Entering Sunday night's Eagles-Cowboys game, the Bengals ranked third in the league in total defense. The other top-5 teams also reached the playoffs, but are from the NFC. The next-highest AFC defense that made the playoffs was ranked 19th.
December, 22, 2013
12/22/13
10:15
PM ET
CINCINNATI -- Minutes after walking back into their home locker room Sunday afternoon, the
Cincinnati Bengals
accomplished something scores of other Bengals were unable to achieve.
Thanks to a
Miami Dolphins
loss in Buffalo that came at the same time the Bengals were heading to the showers, Cincinnati had clinched a playoff berth; its third in the last three seasons. Never before had a trio of Bengals teams gone to the postseason in back-to-back-to-back years.
"It's amazing. We're making history," defensive tackle
Domata Peko
later said.
But the good news didn't stop there. Some three hours later, after the Bengals had all left Paul Brown Stadium, their postseason plans received an added boost as the
Baltimore Ravens
fell at home to the
New England Patriots
. That defeat officially clinched Cincinnati's second AFC North crown, and gave it a clear path to the No. 3 seeding in the conference playoff race.
A week after one of their worst Sunday nights of the year, the Bengals had reason to celebrate. But few said they actually would. To them, as great as the events of the day were, there still is so much left to accomplish.
For a team that hasn't won a playoff game since 1990, that's precisely the stance to take.
It also helps explain why there was relative calm inside the Bengals' locker room even moments after word began spreading that the playoff spot was clinched. Indeed, happiness mixed with a little relief was clearly apparent on the faces of those who were present, but there was no wide-scale celebration.
"We've been here before, so we're not going to get too high about this because we still have a lot of work to do," receiver
Andrew Hawkins
said. "We set out for a goal and we have a lot of unfinished business."
Some of that unfinished business includes finishing out the regular season with a perfect home record. The Bengals have a chance to do that next week when they host the Ravens in the regular season finale. In addition to giving them a win over a division rival, a victory over Baltimore would bounce the Ravens from the playoff picture. A win also could give Cincinnati a chance of boosting its playoff seeding. The Bengals currently sit at No. 3 in the AFC, but a loss by the Patriots next week could push the Bengals into the No. 2 spot and give them the coveted first-round bye.
Beyond those aspirations, though, Cincinnati trying to stay focused on other goals. Still, they understand how big of a step claiming the division championship was.
"You do this to win the Super Bowl, but you can't earn a trip if you can't punch a ticket," defensive end
Wallace Gilberry
said. "Our ticket's been punched. And we've got a group of guys that deserve to be there."
For Hawkins, a young receiver who grew up watching the once-scuffling Bengals when his older brother
Artrell Hawkins
played for the franchise between 1998 and 2003, the three straight postseason trips are still something to celebrate; but only in the right dosage.
"I can remember being young praying for the Bengals to win games, praying to go to the playoffs," Hawkins said. "So to be here and to see three playoff appearances, it's surreal.
"It just shows that everything is headed in the right direction. You put guys in the locker room who are not just great football players, but who are great men, great teammates, guys who are accountable, play for each other and have such a chemistry together. When you do that, that's what it takes for a franchise to take the next step."
What helps an organization that has routinely been stymied by first-round playoff exits change that part of its identity? By becoming dissatisfied with complacency.
"Our goal, I relate it to the Cleveland game [last month]," offensive lineman
Andrew Whitworth
said. "All we heard that week was about Cleveland saying what a big game it was, and to us, it was just another game on the schedule. Our goal isn't to beat Cleveland or to beat Baltimore or to beat Pittsburgh. Our goal is to go to the Super Bowl."
On Sunday, the Bengals took two big steps closer to seeing that goal come to fruition. But they still have miles left to walk this season.
NFL SCOREBOARD
Thursday, 10/16
Sunday, 10/19
Monday, 10/20
WEEKLY LEADERS