NFL Nation:

2013 NFL Draft Day 1
April, 26, 2013
4/26/13
1:26
AM ET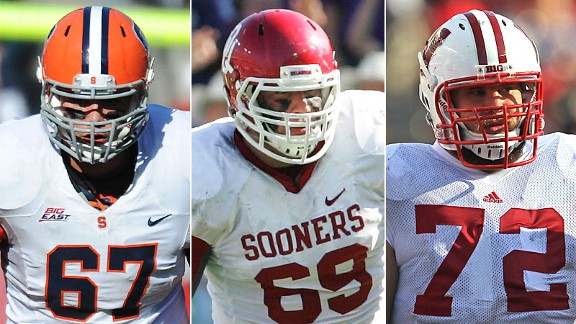 AP Photo, Getty ImagesThe NFC East added offensive linemen Justin Pugh, Lane Johnson and Travis Frederick.
NEW YORK -- Three NFC East teams picked in the first round of the NFL draft Thursday night, and the combined weight of the three players they picked is 922 pounds. Finally, they're paying attention to what's important.
Yes, the
Philadelphia Eagles
,
New York Giants
and
Dallas Cowboys
each picked an offensive lineman in this year's first round. And while that had something to do with the oddity of a first round that included one quarterback, no running backs and nine offensive lineman, it also says a lot about how badly this division as a whole needs to address this long-neglected need.
Tackle
Lane Johnson
, tackle/guard
Justin Pugh
and center/guard
Travis Frederick
, the 2013 first-round picks of the Eagles, Giants and Cowboys, are no cosmic coincidence. They are medicine, ordered with a purpose by teams that have figured out where they're lacking and that they all need to muscle up in the short-term and long-term.
I am of the belief -- and have written at length on this blog -- that one of the main reasons the NFC East is in a down cycle is division-wide offensive line decay. And yes, the division is down. Over the past three seasons, the division's combined record is 97-101 (yes, counting postseason and the Super Bowl). No NFC East team has won 11 games since 2009, which was also the last year in which it fielded more than one playoff team. Two years ago, the Giants won the division with a 9-7 record. This past year, the
Washington Redskins
won it at 10-6. Bleh.
The NFC East has superstar talent at quarterback and running back and wide receiver and pass-rusher. But with the exception of a magical six-game run the Giants made at the end of the 2011 season, excellence has eluded its once-feared teams. And the consistent issue that seems to be holding them back is the offensive line. To wit:
The Giants have basically been getting by with an aging, patchwork group. Former second-round pick
Will Beatty
emerged as a star last year when finally healthy, but veterans
Chris Snee
and
David Diehl
are fading and
Kevin Boothe
and
David Baas
aren't special. Until Thursday night, the Giants hadn't taken a first-round lineman since
Luke Petitgout
in 1999. You can try and hit on free agents and second- and third-rounders for a while, but eventually you need to add some top-end talent to the mix. Enter Pugh, a college tackle who may project as a pro guard and offers versatility in the short-term and a possible long-term answer at any one of several positions.
The Eagles had a fine line in 2011, but four of their five starters missed significant time due to injury in 2012, and they finished 4-12 and changed head coaches. Enter Johnson, this year's No. 4 overall pick, who likely starts at right tackle right away, moving
Todd Herremans
inside to guard and serving as an eventual replacement for left tackle
Jason Peters
.
The Cowboys' neglect of the offensive line had reached epidemic proportions before they took tackle
Tyron Smith
in the first round in 2011, and if you watched them last year you came away thinking they needed to upgrade every one of the starting line positions but his. Enter Frederick, who was a surprise first-rounder, but not as much of a reach as he initially looked. With four tackles and the top two guards gone in the top 11 picks, the Cowboys decided to trade down from 18 and get the guy they wanted at the tail end of the first round. Quibble if you want with the return they got on their trade. And sure, maybe Frederick would have been there when they picked again Friday night at 47. But (a) maybe not, since offensive lineman are going faster than ever and (b) so what? The Cowboys' short-term and long-term needs at offensive line were significant enough that they needed to come away from this year's first round with an upgrade. Frederick is almost certain to be an upgrade over one or more of
Phil Costa
,
Nate Livings
and
Mackenzy Bernadeau
, and the Cowboys were absolutely right to make this need a priority on this night.
The Redskins' line played fine in 2012 and has a superstar in left tackle
Trent Williams
. But a lot of its success has to do with the help it gets from its mobile quarterback. The Redskins remain unsettled at right tackle. They didn't have a first-round pick this year as a result of last year's deal for
Robert Griffin
III, but don't be surprised if they too look to address the line once they start picking Friday and Saturday.
This seems obvious, of course. It's a long-held NFL adage that the best way to build teams is through the lines. Consistent, reliable offensive line play helps you control games and maximize your skill-position talent. Deficient line play helps you squander your skill-position talent, or worse, make it more susceptible to injury. But while it may seem obvious from the outside, the NFC East's teams have let the line play lapse. Thursday was a clear sign that they have realized this and plan to address it moving forward. I don't think these three will be the last offensive linemen taken by NFC East teams in this year's draft, but each is vital to the division's effort to regain its status as one of the toughest in the NFL. Because thanks to the decay of its offensive lines over the past few years, the fact is that it has not been.
April, 26, 2013
4/26/13
1:22
AM ET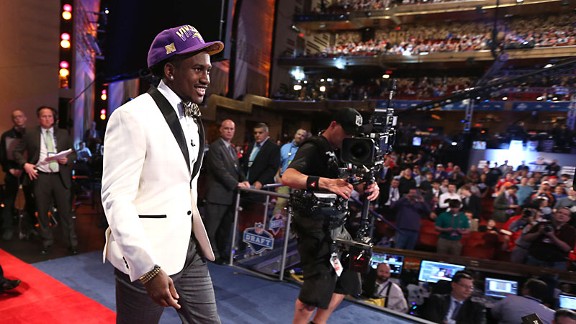 AP Photo/Ben LiebenbergThe Vikings were, GM Rick Spielman said, "very, very aggressive" in grabbing Cordarrelle Patterson.
EDEN PRAIRIE, Minn. -- I stood late Thursday night in the
Minnesota Vikings
' practice facility, mildly surprised that "Crazy Rick" Spielman had used neither of his first-round picks on Notre Dame linebacker
Manti Te'o
. Presently, an alarmed staffer cut into Spielman's news conference.
"Rick has to go," the staffer said. "He'll be back with you soon."
Anxious, Spielman jumped off a podium and sprinted upstairs to the Vikings' draft room.
Ah
, I thought.
Here we go. At the end of a long night, Crazy Rick would find a way to make the long-assumed decision to bring Te'o to Minnesota.
Reporters gathered around phones and a television.
ESPN's Adam Schefter announced partial terms of a deal the Vikings were considering: Surrendering four draft choices to move back into the first round to make a third selection.
Was it Te'o?
Was it a playmaking receiver the Vikings so desperately needed after trading
Percy Harvin
?
Drama played out in real time Thursday night for the Vikings, who made the biggest splash of the NFL's first round -- and they didn't even take Te'o. They benefitted from an unexpected drop by Florida defensive tackle
Sharrif Floyd
, scooping him up at No. 23, and two picks later grabbed a big cornerback in Florida State's
Xavier Rhodes
.
Spielman and coach Leslie Frazier then departed the draft room to begin conducting media interviews. On the way out of the door, Frazier asked Spielman if there was a chance to trade back into the first round for one of several players the team had targeted.
According to Frazier, the consensus was no. "Was looking like probably Friday," Frazier said afterward.
So as the draft moved on, Spielman walked downstairs to speak to beat reporters. Frazier popped on a local radio show. In that moment, a call arrived for those who remained in the draft room. The group included assistant general manager George Paton and director of college scouting Scott Studwell.
The
New England Patriots
were willing to give up the No. 29 overall pick, but it would be costly. If the Vikings wanted back in, they would have to give up choices in the second, third, fourth and seventh rounds of this draft.
Spielman and Frazier quickly reconvened. Even if they met the Patriots' demands, they would have five picks remaining (one in the fourth, fifth and sixth rounds, along with two in the seventh). The Vikings had Tennessee receiver
Cordarrelle Patterson
ranked as the draft's second-most explosive receiver after West Virginia's
Tavon Austin
, and Spielman said: "We felt like he could be that much of a difference-maker."
So the trigger was pulled, the Vikings drafted Patterson and finished the day with three first-round selections, the first team to have more than two first-rounders since the St. Louis Rams in 2001.
(Te'o, by the way, was not drafted in the first round. With no picks available until the fourth round, the Vikings would have to make another deal to draft him. Chances are they'll need to fall back on a third-tier prospect Saturday.)
I bring you that play-by-play in part because I saw it happen in front of my bloodshot eyes and in part because it demonstrates how the draft doesn't just surprise the fans and media members watching from the outside. Sometimes, it takes the teams aback as well.
In the old days, Spielman and Frazier might have been standing on a patio having a stress-relieving cigarette after selecting Rhodes. In 2013, they were fulfilling media obligations and planning for Day 2.
Yes, it was a startling night from start to finish in Minnesota. The Vikings had rolled through 1,000 separate draft scenarios during pre-draft work, according to Spielman, and Floyd "was not in one" of them. The early guess is that Floyd, discussed by media analysts at one point as a top-five prospect, fell because of the startling run of offensive linemen and pass-rushers ahead of him.
Sometimes, players drop because of previously unreported character issues, but Spielman insisted Floyd checked out "very clean" and admitted the Vikings considered trading up to make sure they got him. Floyd figures as the heir apparent to veteran
Kevin Williams
, who will be 33 in August and is entering the final year of his contract.
It wasn't stunning to see the Vikings draft a cornerback, but Rhodes' 6-foot-1 frame suggested he would be off the board as well in a league that cherishes big cornerbacks. The Vikings liked Rhodes so much at No. 25 that they shut the door on all possible trade-downs, of which there were several.
At that point, everyone -- including Spielman and Frazier -- all figured the Vikings' night was over. They thought they had a chance to trade up in the second round Friday and draft Patterson, but when the Patriots called, they decided not to take a risk.
"We were very, very aggressive there," Spielman said, acknowledging the high price tag. Patterson spent only one season at Tennessee after playing at Hutchinson (Kan.) Community College, but the Vikings envision him in a role that a raw receiver could fill. He'll start off as a punt and kickoff returner, where Spielman boasted Patterson "is magic" and can "do just as much or more as Percy [Harvin]." They'll also feature him in some of the simple bubble screens and backfield plays they used Harvin in to capitalize on his open-field running ability.
For a refresher on our pre-draft discussion on Patterson, here is a link to
his Sports Science video
.
The Vikings were hoping to get better in the first round of this draft, and I think they accomplished that. But even they were surprised by how it happens. Sometimes that's how it goes.
April, 26, 2013
4/26/13
1:20
AM ET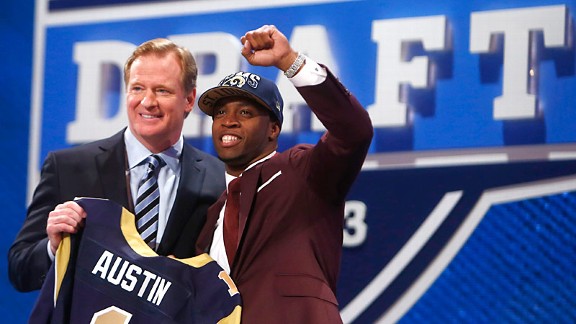 Jerry Lai/USA TODAY SportsThe St. Louis Rams haven't drafted a receiver in the first round since 1999.
For three years, the
St. Louis Rams
lacked sufficient offensive weapons to properly support and evaluate prized quarterback
Sam Bradford
.
They drafted
Tavon Austin
eighth overall Thursday night to change the dynamic.
The pressure isn't necessarily on Bradford to instantly produce in a huge way or else, but for the first time in the quarterback's career, the Rams have given him a highly drafted and versatile young group of targets to grow along with him.
Bradford is still just 25 years old. He's a few days younger than
San Francisco 49ers
quarterback
Colin Kaepernick
, hard as that is to believe.
Austin, a wideout unlike any other in this draft, just turned 22.
Chris Givens
, who had a reception of at least 50 yards in five consecutive games as a rookie in 2012, won't turn 24 until December.
Brian Quick
, a second-rounder last year, turns 24 in June.
Austin Pettis
is 25 next month. The newly acquired
Jared Cook
just turned 26. Fellow tight end
Lance Kendricks
is 25.
The targets for Bradford range in height from the 5-foot-8 Austin to Givens (5-11), Pettis (6-3), Quick (6-3), Kendricks (6-3) and Cook (6-5).
"They're going to create mismatches which are going to have to be dealt with defensively," Rams coach Jeff Fisher said of Austin and Givens in particular.
Austin's selection marked the first time the Rams have used a first-round pick for a receiver since taking
Torry Holt
sixth overall in 1999. About time, right?
No wide receiver has more than eight touchdown receptions for the Rams since the team drafted Bradford first overall in 2010. Fifty-eight NFL wideouts have at least nine scoring receptions over the same three-year period.
Bradford shares some of the blame, of course. But the supporting cast has let him down too frequently. The offensive line, undermanned and ravaged by injuries, has exposed Bradford to undue punishment.
Danny Amendola
's injury troubles prevented Bradford from building upon an on-field relationship that appeared so promising at times, including against the 49ers last season.
"Tavon will play a similar position as Danny," Rams general manager Les Snead said by phone Thursday night. "He will also return punts and return kickoffs. And you can do some things with him that may cause defenses to wonder if the play is a throw or a run. Put him with fast tight ends, with our receivers and we're trying to create mismatches."
The Rams could have paid a premium to keep Amendola, arguably their top receiver, from leaving in free agency. They could have paid a few million bucks to keep their other starting receiver,
Brandon Gibson
.
Instead, the Rams have bet big on their ability to scout fresh talent. They have entrusted Fisher and Snead to build the type of supporting cast Snead helped Atlanta assemble around quarterback
Matt Ryan
previously. Snead was working under Falcons general manager Thomas Dimitroff when Atlanta traded up 21 spots in the first round to select receiver
Julio Jones
sixth overall in 2011.
"They made a larger jump and their team was probably at a more mature state," Snead said of the Falcons. "But we stated all along how we wanted to get this offense weapons."
The move from No. 16 to No. 8 for Austin could be just as significant for the Rams if they're right about Austin possessing unique qualities as a 5-foot-8, 174-pound dynamo with touchdowns as a runner, receiver and return specialist at West Virginia last season. Austin finished the season with 114 receptions for 1,289 yards and 12 receiving scores.
To get Austin, the Rams sent picks in the first, second, third and seventh rounds to Buffalo for first- and third-round choices.
"They did give up a lot," Austin told reporters in St. Louis, "but I'm definitely going to try to work my hardest to give out a lot. I'm going to come out every day at work ready to play."
The first round ended for the Rams with the team moving back from 22nd to 30th in a trade with Atlanta, then selecting outside linebacker
Alec Ogletree
.
"To be honest, the plan No. 1 was to come away with Tavon Austin and Alec Ogletree, and it worked out," Snead said. "We knew we would have to give up some things to get Tavon. We felt we could recoup some of those things and still get Alec."
Austin's status as the first skill player selected verifies the first part of Snead's statement. According to ESPN Stats & Information, Thursday marked only the fourth time in the common-draft era (since 1967) that no team selected a quarterback, running back or wide receiver before the eighth overall pick.
Herman Moore
(1991) and Al Toon (1985) went 10th overall in their draft classes. Austin and Larry Csonka (1968) went eighth in theirs.
There can be no denying the Rams got the receiver they wanted.
Rookie wideouts sometimes need time to adjust. Austin should contribute right away on special teams, at least. The biggest challenge could be digesting an NFL playbook. Processing terminology in the huddle can be much tougher than reading simplified signals from the sideline, as the case can be in college.
"I never came out of the big playbook in college [like] they have in the NFL," Austin said. "I did all signals. I don't know how it's going to be when I get to the league. That's probably going to be my biggest challenge right now."
The Rams could still use a starting safety. They could use another running back to round out a backfield featuring committee backs
Isaiah Pead
and
Daryl Richardson
. Getting a big back Friday should be a priority as the Rams continue to build around Bradford.
"One of the things was, when it tipped and we gave up a second-rounder, our board was looking like the better value for our team and our fits and the roles we want them to execute the next few years was going to be more in the third, fourth, fifth and sixth rounds," Snead said.
The Rams won't be shy. Snead has demonstrated that. A year after the Rams swung a blockbuster trade with the
Washington Redskins
to secure two additional first-rounders and more, they were navigating their way up the board for Austin.
"You have decisions to make and don't be scared to get what you want," Snead said.
April, 26, 2013
4/26/13
1:04
AM ET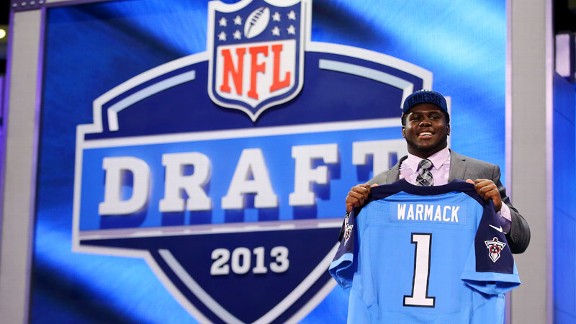 Al Bello/Getty ImagesIt's been 30 years since the Titans franchise drafted a guard in the first round.
NASHVILLE, Tenn. -- The last two guards drafted by the
Tennessee Titans
franchise, Hall of Famers Mike Munchak and Bruce Matthews, just oversaw the selection of another.
Alabama's
Chance Warmack
is so football-focused, he only got his license last year. He's so strong, the Titans said he moved SEC defensive linemen like no one else. He's so in love with the idea of playing for these two coaches, he didn't hold a private workout for anyone else.
I've known Munchak and Matthews since 1996. I can't recall ever seeing the two low-key, business-like football men beam quite so brightly. The glow they gave off at the news conference at Titans headquarters after making the 10th pick made me believe it when they said there was no question he was their man early on -- something virtually every coach stated Thursday night.
A few days after Alabama's pro day, Munchak and Matthews got Warmack on the field with Alabama tackle
D.J. Fluker
in Tuscaloosa. The coaches put the prospects through a difficult 90-minute workout that helped transform Matthews into a believer.
"Really for me, I go in very skeptical on linemen that I've heard about," Matthews said. "Because typically they're a product of the team they play on. Alabama having such a great tradition and on such a hit streak, you kind of think they've got a bunch of other guys on the team pumping him up.
"I went in very skeptical, wanting to shoot him down at every turn. And really I think what sold me on him was every time I was with him, I got excited about the opportunity to watch him play and coach him. He has the demeanor and the mindset and he plays the style that we are looking for."
Warmack spoke in advance of the draft about Tennessee being a dream destination. He's from Atlanta and went to Alabama. In addition to playing in the Southeast, he craved the coaching the Titans could offer, considering he'd never played for a coach who'd actually played offensive line before.
"They put me through the wringer," he said, recounting the private workout. "I felt like I put everything into what I did and throughout my visit we had a great time going over plays and I felt like we hit it off pretty well."
The franchise hasn't drafted a first-round guard since Matthews in 1983, ninth overall, and Munchak in 1982, eighth overall. Years later, they presented each other into the Pro Football Hall of Fame.
As a long-time offensive line coach, Munchak frequently develops mid-round picks into capable players. He was promoted to head coach in 2011 and hired Matthews, his closest friend, to take over his old job.
Fifth-rounder
Benji Olson
and third-rounder
Zach Piller
were the starting guards on the Titans Super Bowl team in 1999. Free agents like
Kevin Mawae
,
Fred Miller
,
Jake Scott
have been splashed in, but homegrown and developed guys were far more frequent pieces.
None came in the first round since
Brad Hopkins
in 1993, and only 1996 bust
Jason Layman
and current left tackle
Michael Roos
were drafted as high as the second round.
Investing through the draft has proven insufficient recently.
Leroy Harris
and
Eugene Amano
were counted on to develop into reliable pieces and didn't do enough.
The Titans thought they could make it through last season. They added
Steve Hutchinson
, the well-credentialed veteran guard. He didn't bring much and then got hurt, like virtually every other lineman on the team.
General manager Ruston Webster and Munchak huddled after the season and decided it was time. When free agency opened, they landed top available guard, Buffalo's
Andy Levitre
, with a six-year, $46.8 million contract.
Now they drafted Warmack. He will shift from his college position on the left to the right and be a fixture on the more powerful side of the line.
"To me, he is the complete package," Munchak said. "He loves the game; he has a passion for it. Spending time with Bruce and I, he loved hearing the stories of linemen of the past, talking about the history of the game. For a young guy, that's rare, that he's interested in those types of things. Obviously, we all hit it off pretty well …
"I think he wanted to be a Titan the whole time and he didn't hide his feelings on that."
Warmack said he weighs 325 pounds and anticipates playing at 325 or 330.
Tim Ruskell scouts the Southeast for the Titans and said the sort of power he saw from Warmack is rare in the NFL. He saw Hutchinson up close in Seattle where he was dominant at the start of his career. The way Warmack plays will mean the Titans can do anything they want behind him.
"He can explode with his hips and he can get in and get movement versus bigger people," Ruskell said. "He played against so many good defensive linemen that were strong and stout. We didn't see a lot of guys moving those guys. But when you watch Chance, he was able to get movement, he was able to seal run lanes -- that kind of power. It's the power to anchor, it's the power to explode and get movement versus bigger people.
"… It just sets him apart from the normal offensive linemen that you tend to look at. That is what got our attention and then it is aggression, the aggression and the want-to and to sustain and finish the block. Coaches always talk finish. This guy has finish. It is a big thing that seems simple, but it is a big deal. When you see it and the combination of what he has, I think it is a rare trait."
April, 26, 2013
4/26/13
12:17
AM ET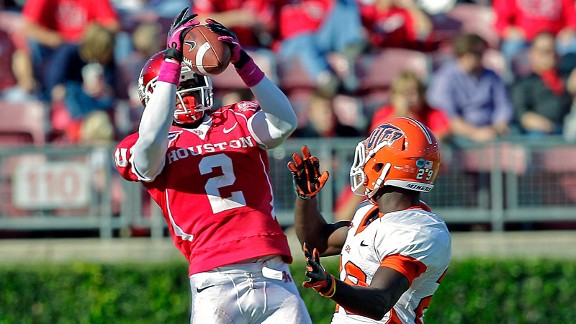 Bob Levey/Getty ImagesTaking Houston cornerback D.J. Hayden was something of a risky move for Oakland.
Reggie McKenzie is finally on the clock.
Welcome to the world of NFL decision-making, sir.
No man in the NFL has been more handcuffed in recent league history than McKenzie has been the past the 15 months.
McKenzie, a career lifer in the front office in Green Bay, got the daunting opportunity to be in charge of the post-Al Davis
Oakland Raiders
in January 2012, three months after the legendary Oakland owner died at the age of 82. Hand-picked by several of Davis' former lieutenants, McKenzie, a former Raiders linebacker, has vowed to bring the struggling franchise back to relevancy.
Thursday, McKenzie was finally able to put his general manager's hat on and start the rebuilding process in earnest. Until Thursday night, McKenzie's job has consisted mostly of cutting players, signing inexperienced players to inexpensive, short contracts and hoping for a better future.
Last year, McKenzie didn't make his first NFL draft pick until the end of the third round when he had a compensatory pick. The Raiders, who went 4-12 in McKenzie's first season in charge, didn't have a first-round pick in the past two years because of trades for
Richard Seymour
and
Carson Palmer
, two players who are no longer with the team.
McKenzie delayed his first first-round pick Thursday when he dealt the No. 3 pick to Miami for the No. 12 pick and the No. 42 pick. The Raiders used the No. 12 selection on Houston cornerback
D.J. Hayden
.
The Hayden pick has its risks (he nearly died after suffering a major heart injury in practice last season), but he can become a good player, and the Raiders have a big need at cornerback. Most teams had Hayden ranked in the bottom half of the first round. I'm fine with the Raiders making the pick; if they think he can be special, take him.
But I am disappointed with the trade McKenzie made. The decision to trade down made it clear he wanted to scramble out of the No. 3 selection and load up on more picks. The Raiders entered the draft without a second-round pick (as part of the terrible Palmer trade made by the previous regime) and without a fifth-round pick. With so many holes on the roster, the Raiders need an influx of talent on both sides of the ball. McKenzie signed several players this year, but most of them were on short, show-me deals, and the Raiders cut and saw several free agents leave.
Talent is needed.
I thought the deal with Miami left too much on the table. It's great Oakland received a solid second-round pick, and another solid player will be added to the team on Friday.
But, overall, I think Oakland needed to get more. Consider what Buffalo got from St. Louis later in the draft. The Bills sent No. 8 and No. 71 for No. 16, No, 46, No. 78 and No. 222. Plus, New England got No. 52, No. 83, No. 102 and No. 229 from Minnesota for No. 29.
Compare those caches to the Oakland deal, and you have to wonder if the Raiders didn't simply settle just to get a second-round pick. The No. 3 overall pick holds more power than that.
The trade could stem from the fact McKenzie has been so hamstrung. He had to find a way to get more, and he probably figured No. 42 was better than nothing.
Things will get better for McKenzie. The Raiders, after years of being in salary-cap jail, will have a ton of salary cap room next year -- somewhere in the $70 million range (figures subject to change).
McKenzie has already said the extra room doesn't mean he will revisit wild spending days of the past for the Silver and Black. McKenzie will stick to his Green Bay roots. He will build through the draft, and he will try to keep his best players with extensions. Free agency will be used as a complement and not a focal point.
Things will get better for Oakland. It will take awhile, and the Raiders probably won't see a quick fix in a league that has been accustomed to microwave improvement.
But the process began Thursday with the addition of a potential dynamic cornerback and the acquisition of a second-round pick with which McKenzie will take the best player available.
Could McKenzie have done better Thursday night? Sure, but for a personnel man finally able to do his job, he has to be happy just to be able to finally act like an NFL general manager.
April, 26, 2013
4/26/13
12:00
AM ET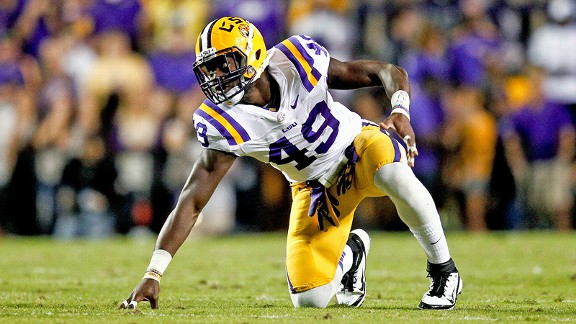 Derick E. Hingle/USA TODAY SportsThe Browns' pick of Barkevious Mingo suggests a more aggressive defensive scheme is coming.
The
Cleveland Browns
could've gone with the flashy pick by drafting West Virginia quarterback
Geno Smith
. They could've played it safe by taking Alabama's
Dee Milliner
, the top-rated cornerback in the draft.
Instead, Cleveland made the right move in going with LSU pass rusher
Barkevious Mingo
with the No. 6 overall pick, sending a message to the rest of the league: The Browns are coming after your quarterback this year.
The first free-agent signing by chief executive officer Joe Banner was
Paul Kruger
, the sacks leader for the Super Bowl champion
Baltimore Ravens
. The first pick of this new era was Mingo, one of the most explosive and athletic defensive players in this draft.
The Browns didn't address their biggest need at cornerback. They didn't bring in a playmaker to spark a long-struggling offense. What the Browns did accomplish was to put some fear into
Joe Flacco
,
Ben Roethlisberger
and
Andy Dalton
.
"We've talked about bringing in aggressive players to play in an aggressive scheme. He fits that very well," Banner said. "This was the outcome we were hoping for."
How much did the Browns want Mingo? Banner said he had a trade in place if Mingo didn't fall to them. When he was there, the Browns didn't think about trading down.
The Browns are doing more than switching to a 3-4 defense under new coordinator Ray Horton. They want to change the mentality. Last week, during the Browns' first minicamp, linebacker
D'Qwell Jackson
talked about giving the Ravens and Steelers "a little dose of their own medicine."
That wasn't the case last season, when Browns linebackers combined for 19.5 tackles for loss or sacks, the lowest mark in the NFL, according to ESPN Stats & Information. The Browns now have playmakers in Mingo and Kruger.
"We feel like building this the way we are, with character and aggressiveness and quickness, that this was the right guy at this time as we looked at our board," Banner said.
There will be some teeth-gnashing that the Browns didn't draft someone to improve upon the NFL's 24th-ranked scoring offense. But the Browns didn't need Smith, another strong-armed quarterback like
Brandon Weeden
and
Jason Campbell
.
Some will worry that
Buster Skrine
is still penciled in as the starter at cornerback. As I wrote previously, Milliner doesn't make enough plays to be taken at No. 6.
Asked about passing over a cornerback, Banner said: "We're not going to force filling a need on a short-term basis. We're not going to fill all the needs on this team this year. It's just not going to happen."
Plus, teams can get by with average corners if they can put pressure on quarterbacks. Look at the Ravens, who won a Super Bowl with
Cary Williams
(a seventh-round pick in 2008) and
Corey Graham
(Pro Bowl special teams player) at cornerback.
"It all starts with the pass rush," coach Rob Chudzinski said.
The reason why I like the decision to pick Mingo goes beyond his name, which sounds more like a character in the "Harry Potter" books. (His name, by the way, was made up by his mother, who wanted something different. His brother is named Hughtavious. Yes, really.)
In his first interview with Cleveland reporters, Mingo didn't sound overwhelmed by the upcoming challenges of the NFL, which comes from his SEC pedigree. His sacks dipped to 4.5 in his final season in college, but his confidence did not.
On his vision for his pro career, Mingo said: "I think I can be as good as I want to be -- and I want to be great. I want to be one of those guys that gets their names in Canton, Ohio, and be a dominant player."
Even though Mingo didn't produce strong sack numbers, he still made quarterbacks move out the pocket and hurry throws. He recorded 28 total pressures (hurries and knockdowns), tied for the second-most in the SEC. Only
Jarvis Jones
(31), who was later drafted by the Steelers, had more.
Mingo is freakishly athletic. He has a tremendous upside. Sure, Mingo needs to bulk up if he wants to defend the run. But he brings something you can't teach: an explosive first step.
"I think I'm the best pass rusher," Mingo said. "Week 1 and the preseason, I'll get to show it."
Cleveland didn't need to draft a pass rusher. The Browns already had Kruger,
Jabaal Sheard
and
Quentin Groves
(and Browns officials said they had no immediate plans to trade Sheard).
The Browns, though, made the right pick because they went with the best player available. Reaching for a player like Smith or Milliner won't change double-digit losses year after year. This about building a team, and that begins with embracing an attacking style of play. And, adding some 'Bark' to the Dawg Pound seems appropriate.
"It really started with our coaching search and Chud's philosophy, which is part of the reason why he got the job frankly, about playing aggressive and attacking defense and making life uncomfortable for quarterbacks," Banner said. "It's about being on the attack even when the other team has the ball. I think you could see it in the moves that we made, whether it's in the free-agent moves or what you've seen so far in the draft. It fit the plan."
April, 25, 2013
4/25/13
11:48
PM ET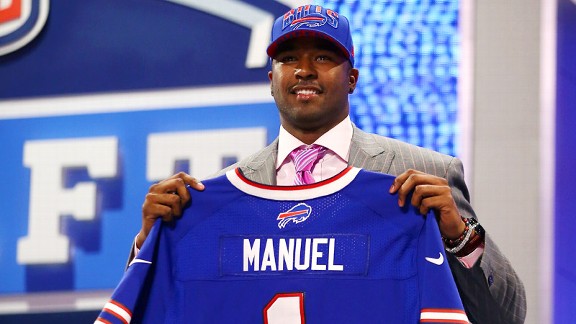 Al Bello/Getty ImagesBuffalo's selection of quarterback EJ Manuel could be as defining as it was surprising.
Rookie head coach Doug Marrone has yet to coach in his first game with the
Buffalo Bills
. But just a few months into his regime, it's easy to pinpoint how to gauge his overall success or failure in the NFL.
The Marrone era in Buffalo will be defined by Thursday's shocking selection of former Florida State quarterback
EJ Manuel
-- no more, no less.
The Bills, led by general manager Buddy Nix, jumped out on a limb Thursday by making Manuel the first quarterback taken in the NFL draft with the No. 16 overall pick. It was perhaps the most surprising move of the first round, even after the Bills traded down eight picks with the St. Louis to get the player they believe is the long-term solution at the position. Buffalo also gained a second- and a seventh-round pick and swapped third-rounders with St. Louis.
It is no secret that the job security of head coaches is closely tied to their quarterbacks. Look no further than the AFC East.
New England Patriots
head coach Bill Belichick struck gold by drafting
Tom Brady
13 years ago in the sixth round. As a result, Belichick and the Patriots have dominated the AFC East ever since and been to five Super Bowls, winning three. Belichick and Brady also are the all-time winningest coach and quarterback combination in NFL history.
On the other end of the AFC East spectrum,
New York Jets
head coach Rex Ryan is on the hot seat after 2009 first-round pick
Mark Sanchez
flamed out. Sanchez was the first pick of the Ryan regime, and both are on the hot seat in New York. Former Bills head coach Chan Gailey also was fired after last season, in part, because veteran quarterback
Ryan Fitzpatrick
was a bust after signing a $59 million contract.
The Marrone-Manuel tandem could turn out either way for Buffalo. But if I had to take an educated guess before Manuel throws his first pass and Marrone coaches his first game, this decision has the potential to blow up in Buffalo's face in three or four years.
The Bills have the NFL's longest playoff drought at 14 years and counting. They have a history of drafting the wrong quarterbacks (
J.P. Losman
,
Trent Edwards
) and signing the wrong veterans (Fitzpatrick). That makes it extremely hard to trust that the Bills went against conventional wisdom and got this one correct.
Manuel comes with good physical tools. He's athletic, mobile and has solid accuracy. But there is tons of pressure facing Manuel
as the first quarterback taken

for various reasons.
By association, it's expected that Manuel will be the best quarterback from this 2013 NFL draft. Adding to this dilemma is Buffalo passed over Syracuse quarterback
Ryan Nassib
, who played for Marrone in college. It could only add salt to the wound for Buffalo if Manuel struggles and Nassib turns out to be a good quarterback when the Bills had the most intel with Nassib's former head coach in the building.
West Virginia's
Geno Smith
and USC's
Matt Barkley
also were rated higher than Manuel by most experts. Manuel will be compared to those quarterbacks at the next level, too.
But the controversial decision has been made by the Bills and the time for second-guessing is over. It's time for Manuel to get to work and live up to his billing as the top quarterback taken in this draft. Manuel will compete in training camp with veteran quarterbacks
Kevin Kolb
and
Tarvaris Jackson
. Maybe the Bills will get a one-year stopgap from Kolb or Jackson -- at best -- but Manuel will have to be ready to play sooner than later. The Bills say they are not rebuilding and are strong in several areas. One of the biggest things holding Buffalo back is its quarterback situation.
The Patriots, with Brady, remain the gold standard at quarterback in the AFC East. The
Miami Dolphins
appear to be heading in the right direction with second-year quarterback
Ryan Tannehill
. But New York and Buffalo have a lot of quarterback questions that were not answered in the first round.
The Bills have been looking for a franchise quarterback since the retirement of Hall of Famer Jim Kelly. Manuel must develop into a franchise starter or it will set the Bills back for another three or four years.
April, 25, 2013
4/25/13
11:33
PM ET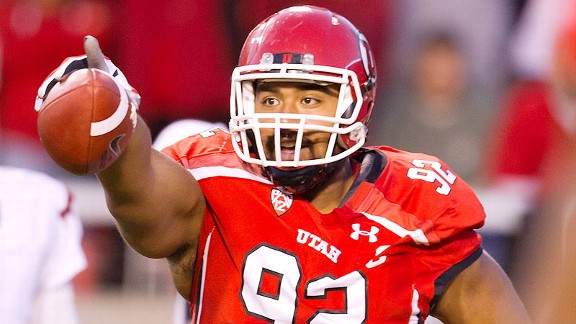 Russ Isabella/USA TODAY SportsCarolina drafted a defensive tackle, Star Lotulelei, in the first round for the first time in team history.
In the first draft of his tenure, Carolina Panthers general manager Dave Gettleman did something predecessor Marty Hurney never did.
Heck, Gettleman did something Bill Polian never did. He did something Dom Capers and George Seifert did in the brief windows when coaches held general-manager powers in Carolina.
Gettleman drafted a defensive tackle in the first round for the first time in franchise history. He drafted Utah's
Star Lotulelei
with the 14
th
overall pick.
It's not a fancy move, but I think this is a great start for Gettleman, who wasn't bluffing when he said at his pre-draft news conference that he believes the game starts up front and that he likes big defensive and offensive linemen.
In Lotulelei, Gettleman and the Panthers are getting a huge defensive tackle that once was being talked about as the potential No. 1 overall pick in this draft. Lotulelei had a bit of a health scare around the scouting combine, but reportedly later received a clean bill of health.
I don't know Gettleman well yet, but I know enough about him and his scouting staff that I'm sure the Panthers wouldn't have taken Lotulelei if they had any doubts about his health.
If they're right, the Panthers got a steal. If they're right, Carolina suddenly has a heck of a defense.
Think about it? Middle linebacker
Luke Kuechly
, last year's NFL Defensive Rookie of the Year, suddenly has someone to jam up the middle. That's going to allow Kuechly to roam freely. Same for outside linebackers
Jon Beason
and
Thomas Davis
.
And picture Lotulelei taking a little blocking attention away from defensive ends
Charles Johnson
and
Greg Hardy
, who each had double-digit sacks last season? Carolina's secondary still isn't loaded with talent, but the front seven might be able to compensate more for that now that Lotulelei is on the roster.
Carolina's defense suddenly is looking like a major strength. It might even be the best in the NFC South.
That's a pretty major statement for a defense that was horrible two years ago. Coach Ron Rivera's tenure got off to a rough start because of the defense in 2011 and coordinator Sean McDermott took a beating from fans.
Things started to improve last season, but there still was a gaping hole in the middle of the defense. The sad part is Hurney, who was promoted to general manager in 2002, might still have the job if he had used a first-round pick on a defensive tackle sometime after 2007.
It was after that season that
Kris Jenkins
, who had a brief stint as the best defensive tackle in the NFL, left the team. Jenkins (a second-round pick in 2001) had to go because there were chemistry issues between him and the coaching staff at the time.
But Hurney never devoted the resources to fully replace Jenkins. He did overspend for veteran
Ron Edwards
coming out of the 2011 lockout. Edwards promptly got hurt in that training camp and never really got healthy. Edwards never really contributed in Carolina and the Panthers released him in one of Gettleman's first personnel moves.
Hurney also tried to address the defensive tackle position by taking
Terrell McClain
and
Sione Fua
in the third round of the 2011 draft. But you don't get stud defensive tackles in the third round. You're rolling the dice and Hurney didn't get lucky with McClain and Fua. McClain no longer is with the team and Fua is best suited to be a backup.
There's only one way to get a dominant defensive tackle (and we're only going to briefly mention how Capers once gave up the farm to get
Sean Gilbert
in a trade that went wildly bad back in 1998). If you want success in the middle of the defensive line, you need to draft a defensive tackle in the first round.
The Panthers never had done that before. That means it's time to review the overall history of this franchise. Since coming into the league in 1995, the Panthers have had only four winning seasons.
Maybe that's largely because the people who ran the show in the past never saw the importance of plugging the middle of the defense with a big-time talent.
Maybe Gettleman just made a move that can help put this franchise on a path to consistent success.