NFL Nation:

2013 NFL Draft Day 2
April, 27, 2013
4/27/13
1:18
AM ET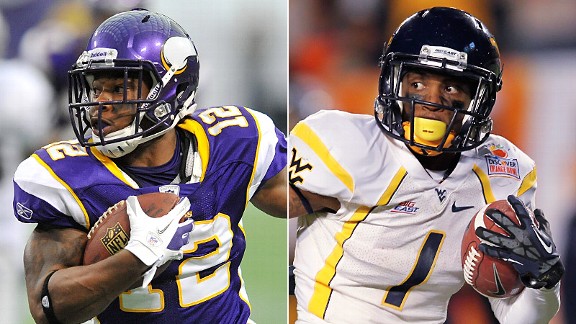 Getty ImagesSeeing Tavon Austin (right) go the the Rams at No. 8 validated Seattle's trade for Percy Harvin.
RENTON, Wash. -- The more the
Seattle Seahawks
watched game tape on
Tavon Austin
, the more they realized the West Virginia receiver would not last long in the 2013 NFL draft.
Back in mid-March, the Seahawks could not know Austin would land with the NFC West-rival
St. Louis Rams
. They had recently traded the 25th overall choice to Minnesota to acquire another multidimensional wideout,
Percy Harvin
.
John Schneider, the Seahawks' general manager, felt relief Thursday when the Rams traded up eight spots in the first round to make Austin the first skill-position player selected.
It's not that Schneider was happy to see such an elite talent land in St. Louis. Quite the opposite. Even the Seahawks' suffocating secondary could have its troubles against a receiver as gifted as Austin. It's just that the way the first round played out affirmed the Seahawks' decision to acquire Harvin. They could not have secured another wideout with as much playmaking potential had they held onto the 25th overall pick.
Austin wasn't going to be there for them.
Once the Rams moved up from 16th to eighth for Austin, no NFL teams selected a wideout until the
Houston Texans
drafted Clemson's
DeAndre Hopkins
at No. 27.
Cordarrelle Patterson
went to the
Minnesota Vikings
two picks later.
"Quite honestly, it made me feel at peace just because of where we were with the Percy deal when it started," Schneider said following the third round Friday night.
Both Hopkins and Patterson are obviously talented, but if they had struck evaluators as fitting into the Austin/Harvin mold, teams would have been tripping over one another in a rush to draft them earlier.
Schneider's thinking came into clearer focus in the weeks since Seattle made the move for Harvin before free agency opened March 12.
"I really wasn't quite sure, didn't feel really strongly about the difference makers at the receiver position at that level of the first round [in the 25th-pick range]," Schneider reflected. "And then the closer we got to the draft, the tape on Austin, it just kind of became obvious that he was going to be an extremely high pick."
That commentary should please Rams fans and Seahawks fans alike. Each team's leadership thought Austin was special. The Seahawks knew they had to deal for Harvin if they hoped to land a similar player. Not that Austin and Harvin are interchangeable. While both threaten the end zone as receivers, runners and returners, Harvin has a much sturdier build. He's part running back and part receiver in a much fuller sense. But touchdowns are touchdowns, and both teams expect their new wideouts to supply them multiple ways.
"We really do think Percy is our No. 1 pick," Seahawks coach Pete Carroll said. "He is part of this class."
Acquiring Harvin and addressing other areas of the roster during free agency left Seattle without significant needs entering this draft. That allowed the Seahawks, already loaded in the backfield with
Marshawn Lynch
and
Robert Turbin
, to indulge in Texas A&M running back
Christine Michael
.
This was a luxury pick and arguably a nonsensical one. It's also the sort of move smart organizations make. Seattle didn't have a need at quarterback when the team used a third-round draft choice for
Russell Wilson
last season. That move worked out pretty well.
The Seahawks could realistically be in the market for a new back two years down the line if Lynch's bruising style shortens his career. Having
Frank Gore
and
Kendall Hunter
on the roster didn't stop the
San Francisco 49ers
from using a second-round choice for
LaMichael James
last year. The 49ers took some heat when their 2012 draft class failed to produce much, but such is life for contending teams.
"We'll let these guys go at it, make sure everybody is aware of the competitive opportunity and hopefully that continues to make them elevate," Carroll said. "Sometimes there is a subtle way they help us by making other guys play well."
Not that Seattle was without needs entirely.
"Defensive tackle was definitely a need for us -- adding depth to the position," Schneider said. "That was the one spot that quite honestly, when you're putting it together, you are nervous you are maybe pushing players because of the need."
Seattle used its third-round choice (87th overall) for Penn State defensive tackle
Jordan Hill
. He'll probably contribute more as a pass-rusher than a run stuffer, differentiating him clearly from
Alan Branch
, who left in free agency. The Seahawks felt the talent at defensive tackle was about to drop off quickly as the third round gave way to the fourth. That gave them additional incentive to grab Hill.
The Seahawks hold 10 picks in the fourth through seventh rounds. Schneider and Carroll previously found
K.J. Wright
,
Richard Sherman
and
Kam Chancellor
in that range. Others such as Turbin,
Walter Thurmond
,
Jeremy Lane
,
Anthony McCoy
,
J.R. Sweezy
and
Malcolm Smith
came to Seattle in those rounds.
There might not be a Tavon Austin or Percy Harvin out there, but as the Seahawks and Rams discovered, that was the case eight picks into the draft.
April, 27, 2013
4/27/13
12:46
AM ET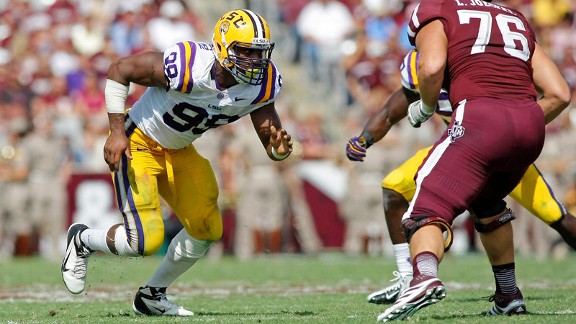 Brett Davis/USA TODAY Sports"I'm sure with the right coaching I will be fine," Sam Montgomery said of questions about his effort.
During his time at the NFL scouting combine,
Sam Montgomery
addressed concerns about the consistency of his effort as a college player.
The problem is that he admitted there were concerns about his effort as a college player.
He's now a member of the
Houston Texans
, who Friday used their second third-round pick, 95th overall, on Montgomery, the LSU defensive end.
If there is an effort issue, it will fall on defensive coordinator Wade Phillips and linebackers coach Reggie Herring to get week-to-week and snap-to-snap effort from Montgomery. He seems to be a more complex character than they discussed.
At the combine, Montgomery said he didn't play all-out because weak opponents allowed for some respite.
"You know, some weeks when we didn't have to play the harder teams, there were some times when effort was not needed," Montgomery said in Indianapolis. "But when we had the big boys coming in, the Bamas or the South Carolinas, I grabbed close to those guys and went all-out.
"Of course, this is a new league, the NFL, and there are no small teams, small divisions. It is all Alabamas and LSUs every week. It's definitely something I have to get adjusted to, but I'm sure with the right coaching I will be fine."
In a conference call with Houston media, Montgomery said his best quality is his relentlessness -- contradicting the idea that he didn't give his all against teams like North Texas, Idaho and Towson.
Herring suggested that Montgomery got caught up in entertaining the media, given that he likes to talk, and that his film didn't show a lack of effort -- something general manager Rick Smith has said he cannot accept from a player.
"If anything, the young man is guilty of being a bit na´ve," Herring said.
A scout I asked about Montgomery didn't reply with an effort question.
"He plays very hard," he said. "Good pick."
The Texans plan to start Montgomery out as a strongside linebacker, so their first four picks have addressed three areas of concern.
DeAndre Hopkins
should be the No. 2 receiver,
D.J. Swearinger
could play a lot as a nickel or dime safety, tackle
Brennan Williams
could win the right-side job from the recovering
Derek Newton
and Montgomery should be part of a rotation.
Houston hopes he'll be part of a three-man gang, along with
Brooks Reed
and
Whitney Mercilus
, that splits up the work at outside linebacker.
Last season, when the Texans drafted Mercilus in the first round, they said the same thing about using him with
Connor Barwin
and Reed.
But Reed's playing time only really dipped when he missed four games hurt. Barwin, who's since gone to Philadelphia as a free agent, played 93.8 percent of the defensive snaps last season. Even with four starts, Mercilus was on the field only 46.6 percent of the time.
The Texans will have to learn how well Montgomery can drop and cover, something he wasn't doing as a college defensive end in a 4-3 scheme under LSU coordinator John Chavis.
"He's big, strong, powerful, explosive individual," Herring said. "The one thing that he will have to learn is that he will have to learn to drop a little bit and things that he hasn't done as a defensive end at LSU -- understanding that they don't cultivate OLBs in college, so we have to pull from the defensive end position.
"Basically, you have to give and take with their ability to drop out in space, something they haven't done. That remains to be seen. That's something we'll have to work on. As far as playing the run and having pass rush skills and having the play strength that's above average in college, he has a foundation to be a good outside backer for us."
One thing that might have hastened the draft drop by Montgomery, once rated as a first-round prospect, was his inclusion on a list of 10 players by LSU strength and conditioning coach Tommy Moffitt.
Moffitt posted the names for scouts and said they were athletes who "miss workouts and
always have an excuse
."
"They lack the self discipline and motivation to take care of their responsibilities," the sign on an office door in the Tigers' facility said. "I will not answer questions regarding their performance numbers or character, as they care only about themselves."
ESPN.com scout Matt Williamson said he likes the idea of Montgomery as a strongside linebacker in Phillips' system.
"They really play a 5-2, so strongside 5-2 defensive end/outside linebacker," Williamson said. "Supposedly had some
awful
interviews at combine, though."
Williamson is the second person in one night who mentioned that to me.
Clearly, Montgomery's interview with Houston was fine, but a guy who bombed in multiple other opportunities seems concerning.
Perhaps what Montgomery said about playing with
Antonio Smith
hints that he can qualify as wacky to some, wacko to others.
Montgomery said he knows Smith, the Texans defensive end who calls himself the "ninja assassin."
"I'm willing to take the ninja's teaching," Montgomery said, "and make ninjasonic out of it."
April, 26, 2013
4/26/13
11:55
PM ET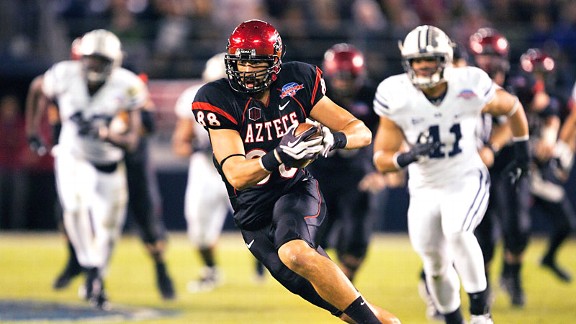 Kent C. Horner/Getty ImagesPlaying Gavin Escobar with Jason Witten will give Dallas options it didn't have on offense last season.
It's the making-of-the-sausage aspect of the NFL draft that's the problem. If the
Dallas Cowboys
had begun this offseason with picks 31, 47, 74 and 80 and drafted these same four players, the fans' reaction would have been quite different (though they'd still probably be mad about having lost the Super Bowl). The reason everybody was so upset about the Cowboys' draft 24 hours ago was this trade they made with the
San Francisco 49ers
in the first round and the idea that they didn't get enough in return for the No. 18 pick.
But from here? From the tail end of Friday night, with three rounds and four Cowboys picks in the books? To me, it looks as though the Cowboys are having a pretty good draft.
The first and most important thing they needed to do, above all else, was find offensive line help in the first round, and they did. You might not like
Travis Frederick
as a first-rounder, but the fact is this draft was weak at the top. And if you're sifting between sub-optimal options, why should you feel compelled to pick the guy other people have agreed to like as opposed to the guy you like? "Trust your board," is every team's pre-draft mantra, and if the Cowboys' board called Frederick their answer, there's nothing wrong with taking him with the 31st pick.
What happened next seemed weird because it was offense again with the first two picks Friday night. A team that has
Jason Witten
used its second-round pick on a tight end its fans had never heard of,
Gavin Escobar
, instead of a safety or a tackle or another offensive lineman. So the crying began anew, as well as the same old jokes about how the owner needs to fire the GM when we all know there's no chance of that ever happening. Then, in the third round, with the pick they got in that first-round trade, they went offense
again
, taking Baylor wide receiver
Terrance Williams
.
But then a funny thing happened. The outlines of the plan began to congeal in front of everyone's eyes. And through the prism of a pick that finally
felt
like a really good one, it all started to make sense. The Cowboys just signed their franchise quarterback,
Tony Romo
, to a gigantic contract extension. When you do that, you're inclined to build up the offense around him. And by taking an interior lineman in the first round and a pair of dynamic passing-game weapons in the second and third, that's what the Cowboys were up to in the early part of the 2013 draft.
Recall the common complaints about the Cowboys' offense. (The non-Romo ones, if you will.) It's unimaginative. It stalls in the red zone. It doesn't have a reliable No. 3 wide receiver, and its No. 2,
Miles Austin
, is always hurt. The picks of Escobar and Williams address all of that. Escobar is a considerably better player than
James Hanna
, last season's sixth-round pick, and the ability to put him on the field along with Witten will offer the Cowboys options they didn't have on offense last season. Escobar is a reliable pass-catcher who can outfight defenders for the ball in traffic, and that will serve him and the Cowboys well up and down the field, but especially in the red zone. Williams is a big-play outside receiver who allows them to use Austin in the slot when they go three wide and can be a game-breaker if teams overcommit to
Dez Bryant
on the other side. They have found fresh options that offer more variety for an offense that too often limits its quarterback's options in key spots. And by taking the lineman first, they've helped shore up Romo's protection, as well.
Some wanted a running back, but you can always get one of those, and there are still plenty on the board with four rounds to go. Some wanted a tackle or a guard, and I couldn't have argued if they wanted to overaddress the line. But you're more likely to find a usable offensive lineman in the fourth or fifth round than you are to find a big-play tight end or receiver there.
Eric Winston
and others remain on the free-agent market as possible answers at tackle. They did something about the line with their first pick, and the opportunity to do more exists for them.
Some wanted defense in the second round -- a three-technique defensive tackle or a playmaking safety. They ended up with a physical safety in
J.J. Wilcox
with their original third-round pick, and they like what he offers in terms of upside. But the basic theory with the Cowboys defense appears to be that the changes on the coaching staff, the switch to a 4-3 front and improved health will deliver improvement. They lost six defensive starters to injury last season, and if those guys all come back and thrive in their new 4-3 roles, those are their big additions on defense.
No, spending the early part of the draft on help for Romo was a completely worthwhile choice of priorities for the Cowboys, who came out of the first three rounds with three offensive players they like and can find multiple ways to use (plus that new safety). They're focused on putting Romo and coach Jason Garrett in the best possible position to succeed by expanding the boundaries of the offense's capabilities from play to play and week to week. If you're Romo and Garrett right now, you're thinking up new plays and personnel formations that weren't available to you last season when Bryant, Austin and Witten were your only reliable pass-catchers, and you're excited.
The draft is about hope that things will get better. A look back at the first three rounds offers the Cowboys a number of ways to imagine a more fun and productive offense. It doesn't really matter how it started or how they got here. So far, the Cowboys have to feel as though they're having a pretty good draft.
April, 26, 2013
4/26/13
11:10
PM ET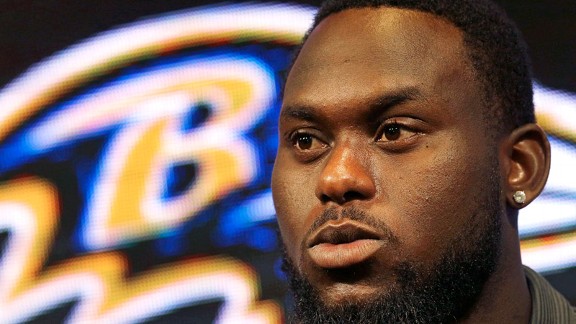 AP Photo/Patrick Semansky
The Baltimore Ravens will officially start the defense of their Super Bowl championship in about four months. This week, however, the next chapter for the Ravens' defense truly began.
In the same year Baltimore said goodbye to two future Hall of Fame players in linebacker
Ray Lewis
and safety
Ed Reed
, the Ravens used their first two draft picks on Florida safety
Matt Elam
and Kansas State inside linebacker
Arthur Brown
.
Coincidence? Not exactly. Four days after the Ravens hoisted the Lombardi Trophy, general manager Ozzie Newsome told reporters that it was a priority to upgrade the middle of the defense.
That was the focus of free agency, when Baltimore signed defensive linemen
Chris Canty
and
Marcus Spears
along with safety
Michael Huff
. And that was the focus of this year's draft, where Baltimore took a playmaking safety in the first round and an instinctive yet undersized inside linebacker in the second. This will sound eerily familiar, but the Ravens aren't expecting Elam and Brown to be the next Reed and Lewis.
Let's be honest, the Ravens' defense wasn't the same dominating and disruptive group even with Reed and Lewis last season. The unit ranked 17th in yards allowed (350.9 per game) in 2012, its lowest ranking since 2002, when it was 22nd. Teams ran at will at times against the Ravens. Baltimore lost games in December to backup quarterbacks
Charlie Batch
and
Kirk Cousins
. Yes, the Ravens finished as a championship defense. No one would call it an elite one, or even a consistent one.
It was time for the Ravens to make major changes on a defense steeped in tradition and pride. There is already an established foundation in linebacker
Terrell Suggs
, defensive tackle
Haloti Ngata
and cornerback
Lardarius Webb
. The next wave is Elam and Brown.
These aren't two prospects that the Ravens had to settle on at the bottom of the round. These are two players the Ravens coveted, and those are their words and not mine. That's a major statement coming from an organization that has found 15 Pro Bowl players in 17 drafts.
When Newsome called Elam to tell him that the Ravens were picking him, he gave him a quick history test, asking Elam about the player the Ravens lost to the
Houston Texans
. It was, of course, Reed.
"Now what player is going to be able to come in and line up in our secondary and play the game like an All-Pro player?" Newsome asked Elam, according to the team's official website. "Matt Elam? OK, that's what I wanted to hear."
Elam is the first safety selected by the Ravens in the first round since they took Reed in 2002. The significance was not lost on Elam, whose knack for making clutch plays is reminiscent of Reed coming out of college.
"After a great player like Ed Reed was back there before, that's a lot of big shoes to fill," Elam said, "but I am just coming in and trying to do all I can and help win championships."
The Ravens chose Elam over inside linebackers
Manti Te'o
and
Kevin Minter
because he was the higher-rated player on their board. That led to the Ravens making an aggressive move, trading three picks -- ones in the second (62nd overall), fifth (165th) and sixth rounds (199th) -- to slide up six spots in the second round.
Brown, who is expected to compete against
Rolando McClain
for a starting job, is considered one of the best read-and-react linebackers in this draft. He has the instincts to diagnose a play as soon as the ball is snapped. The biggest knock on Brown is his size. He's listed at 228 pounds, which is just eight pounds heavier than when an equally undersized linebacker named Ray Lewis was drafted by Baltimore in 1996.
"It's an honor to be even mentioned in the same sentence with him," Brown said after being drafted Friday night. "I have a lot of respect for Ray, not only the player that he is, but the person of which he projects himself to be. He's truly had an impact on the game and also many people throughout the game. That's what I was thinking what I appreciate about him the most."
While the timing of this draft will lead many to countless comparisons to Lewis and Reed, it's unfair to put that weight on two rookies. There is no one who is going to fill the shoes of Lewis and Reed. The Ravens just hope Elam and Brown can help the franchise along the same successful path. The next chapter of the Ravens defense has begun.
April, 26, 2013
4/26/13
10:40
PM ET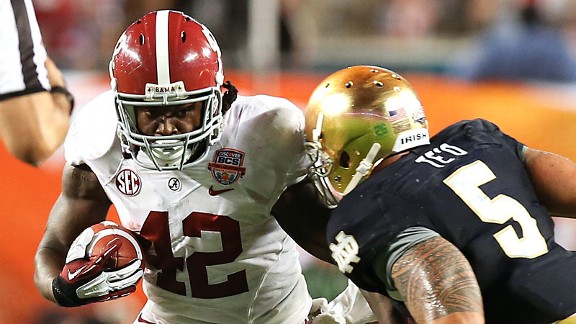 Matthew Emmons/USA TODAY SportsAlabama running back Eddie Lacy adds a new dimension to Green Bay's running game.
The smell test failed every time. It was always difficult to imagine the
Green Bay Packers
selecting Alabama running back
Eddie Lacy
, or any other player at his position, in the first round of the 2013 draft. The running game simply doesn't carry that kind of value in the Packers' offense.
But in the second round? After a trade that dropped the Packers another six spots to the penultimate choice of the round?
Can't say I ever considered it.
I guess that's why the professionals handle such things.
The Packers scooped up Lacy with the No. 61 overall selection of the draft, a high-value pick if you thought Lacy was a first-round talent and an economical one if you merely agreed the Packers needed a better plan in the backfield moving forward. At 231 pounds, Lacy is the kind of inside power runner the Packers haven't had in the Mike McCarthy-
Aaron Rodgers
era. Lacy, in fact, is
the Packers' highest-drafted running back
since
Darrell Thompson
was
the No. 19 overall pick in 1990
.
The Packers ranked No. 26 last season in average yards after contact per rush (1.5 yards), according to ESPN Stats & Information. Newcomer
DuJuan Harris
created some excitement at the end of last season with his frenetic style, but it should tell you something about a team's commitment to building a position that a player was able to walk off the street in midseason, join the practice squad, be promoted to the active roster in Week 13 and earn a starting job by Week 14.
The Packers could add a new layer to their offense if they use Lacy the way Alabama did. Almost two-thirds of his rushing attempts went between the tackles, and he averaged 7.6 yards per carry on those plays, according to ESPN Stats & Information.
There are those who might attribute an inordinate amount of Lacy's success to Alabama's dominant offensive line, one that included a pair of 2013 first-round draft picks, guard
Chance Warmack
and tackle
D.J. Fluker
. Indeed, Lacy averaged 4.2 yards before contact last season and made it at least five yards past the line of scrimmage before being touched on nearly 36 percent of his rushes.
But as the chart shows, Lacy was more productive on those inside runs than former Alabama tailback
Trent Richardson
was in the same situation during the 2011 season. Richardson, of course, went No. 3 overall to the
Cleveland Browns
in the 2012 draft.
"You watch the film and he rarely goes down with one guy trying to tackle him," Packers director of college scouting Brian Gutekunst told Green Bay reporters. "More guys have to tackle him. He kind of has to be gang-tackled. That's intriguing as well."
Alabama's offensive line might have had something to do with Lacy falling to the bottom of the second round. The more likely reason, however, was an offseason hamstring injury that limited him during pre-draft workouts. He reportedly
wasn't in top shape for his makeshift Pro Day earlier this month,
and his 40-yard times of 4.59 and 4.62 that day excited no one.
Gutekunst expressed no concern over Lacy's physical condition, however, calling the Pro Day workout "part of the process." Lacy said: "I wasn't 100 percent but I decided to try it anyway."
Lacy has plenty of time to recover before the start of training camp in July. When he does, the Packers will have what Gutekunst called "a little bit different [player] than we've had maybe in the past."
I don't anticipate the Packers offense changing much with Lacy joining Harris,
James Starks
,
Alex Green
and
John Kuhn
in the backfield. This offense and scheme will always revolve around Rodgers and the passing game. (As it should, by the way.)
What his arrival should do, however, is make the Packers more versatile and ultimately better. They now have their best option in years for times that call for tough yards or running out the clock or simply wearing down a defense. He won't be as exciting as a half-dozen other skill players on the Packers' roster, but every flash needs a grind and every slash needs a pound. Or something like that.
April, 26, 2013
4/26/13
10:25
PM ET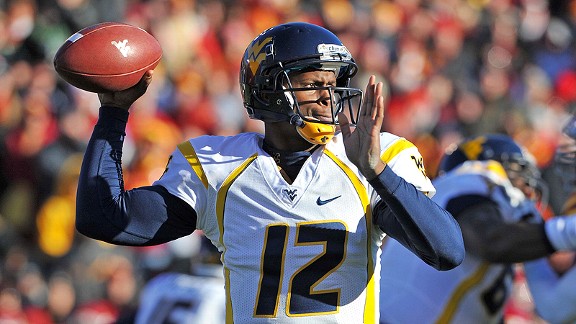 Peter G. Aiken/USA Today SportsThe Jets could follow the same path with Geno Smith that Miami took with Ryan Tannehill in 2012.
Don't waste any time,
New York Jets
.
Start the
Geno Smith
era with Gang Green right now!
Do not wait until 2014. Do not even wait until Week 8 of the 2013 regular season. For the long-term betterment of the Jets organization, Smith should be the starter in Week 1 and New York should never look back.
Why wait?
What is the point in the Jets going another year with embattled quarterback
Mark Sanchez
? He represents New York's ugly past and is on borrowed time. The only reason he's on the roster in the first place is his guaranteed, $8.25 million salary this season. New York should make Sanchez an expensive backup and keep it moving. Releasing Sanchez
is another option
, although chances are slim because it would cost the Jets a $12.35 million cap hit this year and a $4.8 million cap hit next year.
But starting Sanchez should be out of the question. We already know there the Sanchez train is going -- and it's not anywhere good. It would be bad for the Jets, bad for the fans and even bad for Sanchez, who is clearly regressing and needs a fresh start in 2014. One bad game with the Jets and New York fans will be ready to turn on Sanchez again and the entire team. Remember "Tebow-mania" last year? Think "Geno-mania" with Jets fans if New York doesn't learn from this mistake. The young, rebuilding Jets would be doing themselves a favor to avoid this scenario.
Smith represents a much brighter future and a new era in New York. He is the first quarterback pick for first-year general manager John Idzik. The Jets showed this offseason they are forward-thinking and not dwelling on the past. Look no further than New York's shrewd move to trade star cornerback
Darrelle Revis
-- its most talented player -- and draft Alabama cornerback
Dee Milliner
. If the Jets can quickly move on from "Revis Island," they certainly can move on from "The Sanchize."
The Jets are not going to the playoffs with or without Sanchez under center. Their biggest goal for 2013 should be developing their young quarterback for the future. That would be taking a page out of the Miami Dolphins' playbook of last season with
Ryan Tannehill
. A year later, Miami is the biggest threat to the
New England Patriots
atop the AFC East. The Jets can do the same if they play their cards right and properly develop Smith, who wants to play immediately.
"I love to compete," Smith said during a conference call with the New York media. "Mark is a guy who I watched at USC, watched him in the NFL, and I think highly of him. … [But] I'm coming in as a rookie and I'm going to compete and I'm also going to accept my role whatever it is."
Sanchez has received more chances than any quarterback in the past four years. Sanchez was expected to compete with 35-year-old
David Garrard
, who hasn't thrown a regular-season pass in two years. The Jets, for the fifth consecutive season, were virtually handing the job Sanchez again. But things changed when New York turned in its card Friday with the 39th overall pick. Smith essentially fell into the Jets' lap in the second round after New York reportedly considered him with the No. 13 pick in the first round. The Jets also tried to trade up to start the second round but couldn't. Everything worked out for the best.
Smith was the second quarterback taken, but nearly everyone -- sorry, Buffalo and
EJ Manuel
-- rated him as the best quarterback in this draft. Smith certainly has the fewest flaws and appears NFL-ready. It also doesn't hurt that Smith is coming to New York with
a chip on his shoulder

after all of teams with one of the 32 first-round picks passed him in the first round. Six more passed on Smith again in the second round before the Jets ended his rough draft outing.
There are some questions with Smith that the Jets must work through. For example, he might have some composure and maturity issues, which he showed during the draft by storming out of the green room Thursday after being bypassed in the first round, then guaranteeing that the
Jets will make the playoffs
Friday during an interview with the NFL Network. But Smith is young, and, with the proper guidance, he can be taught how to handle things better at the next level.
But what can't be taught is the physical tools and natural ability Smith brings to the table. Smith has a good arm, good mobility, is very competitive and fits in new offensive coordinator Marty Mornhinweg's West Coast scheme. That should be enough for the Jets to turn the page immediately.
"I'm excited to be a Jet," Smith said. "My time has come now, so I'm going to accept it."
Sanchez had his turn in New York and it's time to move on. Smith's time has just begun -- and the sooner the Jets hand him the football, the better it will be for the entire organization.
April, 26, 2013
4/26/13
9:59
PM ET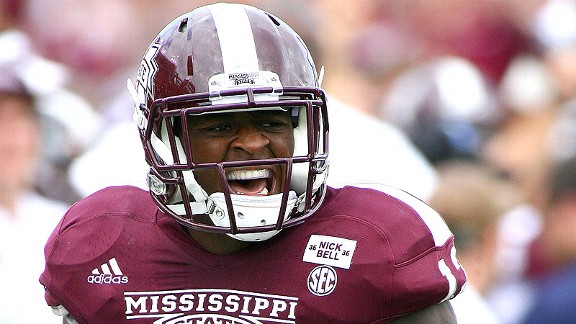 Spruce DerdenThorpe award winner Johnathan Banks is the latest addition to the Bucs' defensive backfield.
TAMPA, Fla. -- When your pass defense (almost all by itself) sinks an entire season, there's only one thing to do. You go overboard to fix it.
That's the approach the
Tampa Bay Buccaneers
followed Friday night as they drafted Mississippi State cornerback
Johnthan Banks
in the second round (43
rd
overall). That comes a little less than a week after the Bucs pulled off a huge trade to get cornerback
Darrelle Revis
, not very long after they restructured
Eric Wright
's contract to keep the cornerback around and only a little more than a month after the they signed free-agent safety
Dashon Goldson
.
Call it double dipping or triple dipping or whatever you want. The bottom line is, at least on paper, the Bucs have a much better secondary than they did last season. As dramatic as their approach is, it really isn't that surprising.
General manager Mark Dominik has shown a tendency to lock in on one area and hit it several times over in the past. In 2009, Dominik used draft picks on wide receivers
Arrelious Benn
and
Mike Williams
. In 2010, the position of choice was defensive tackle with the Bucs taking
Gerald McCoy
and
Brian Price
with their first two draft picks.
In 2011, the Bucs used their first two picks on defensive ends
Adrian Clayborn
and
Da'Quan Bowers
. This time around, the Bucs got Goldson and Revis in advance and followed that by doubling down on Banks, the winner of last season's Jim Thorpe Award as the nation's top defensive back.
"We've increased our size, physicality and ball skills," Dominik said.
The days of relying on the likes of journeyman
E.J. Biggers
and undrafted free agent
Leonard Johnson
to go against NFC South receivers like
Roddy White
,
Julio Jones
,
Steve Smith
and
Marques Colston
are over over.
With Revis, the Bucs might have the best cornerback on the planet, if his surgically repaired knee is fully healthy. In Wright, the Bucs have a reclamation project. He was signed to a big free-agent contract last offseason, but served a four-game suspension last season and wasn't that great when he did play. But Wright took a massive cut in pay and the Bucs still believe he can be a factor.
In Banks, 6-foot-2 and 185 pounds, the Bucs have added a big physical cornerback. Banks' draft stock tumbled because he ran a slow time in the 40-yard dash at the combine, but the Bucs don't think that's indicative of his real quickness.
"You never felt that because he has such good length and ball skills,'' Dominik said. "We felt like when you watch the tape, it's not the same as he ran at the combine."
Dominik and coach Greg Schiano weren't ready to say exactly how they plan to use their cornerbacks.
"That all comes as part of the competition," Schiano said. "You let it play out."
But it's not too hard to see how this is going to play out. Revis is automatically a starter. It really doesn't matter if Banks or Wright is the other starter. When the Bucs go to the nickel package, which will be often, Banks is a natural on the outside and Wright is best suited to move inside and line up on slot receivers.
Speaking of sorting things out, it still remains to be seen what happens with veteran safety/cornerback
Ronde Barber
. Back at the start of the offseason, it looked like the Bucs needed Barber to return for another season.
But the free safety spot he played last season is now occupied by Goldson. The top three cornerbacks are now set. Will Barber come back as a third safety or a fourth cornerback? Dominik said Friday night the Bucs still would like Barber to return, but it remains unclear what role he would have.
"When Ronde reaches out, we'll have a conversation and we'll talk through that," Dominik said.
The Barber situation will play out. If he returns, he'll be in some sort of backup role.
The Bucs are set with Revis, Banks and Wright at cornerback. They're set with Goldson and
Mark Barron
, last year's first-round pick, at safety.
Over the past six weeks, the Bucs have gone to great extremes to make sure they no longer have the league's worst secondary.
April, 26, 2013
4/26/13
8:55
PM ET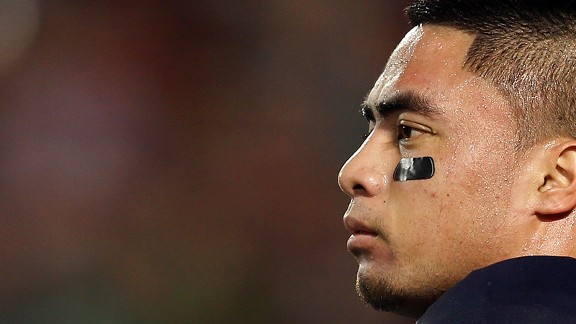 Mike Ehrmann/Getty Images"I like this pick 1,000 percent," new Chargers teammate Eric Weddle said of Manti Te'o.
Had the NFL draft been held the day after
Manti Te'o
and Notre Dame were handled in the national championship game by Alabama, the inside linebacker would have been considered a steal if he was a top-10 pick.
After all, this is a player who was considered the possible No. 1 overall pick last December -- one of the most decorated, praised players in the country during the 2012 season.
Fast-forward to the present, and the idea that Te'o lasted until the No. 38 pick is stunning. The Chargers sent the 45th and 110th choices to Arizona to move up and rock the draft with this selection.
"Great pick," San Diego safety and leader
Eric Weddle
said by phone moments after the Chargers' move. "We got better. He is going to help us win games. I like this pick 1,000 percent."
Te'o became a polarizing figure in January when the bizarre hoax involving a dead fake girlfriend became public. Te'o has said he had nothing to do with the Internet scheme, and the person behind the elaborate ploy has backed up Te'o's claims.
Fair or not, the hoax has defined Te'o. His once-sterling character has come into question, and there is no doubt it hurt his draft status.
Of course, the title game and a slow 40-yard dash at the NFL combine didn't help his cause. But let's face it, if the hoax hadn't happened, Te'o would have gotten the benefit of the doubt on those issues -- particularly since he generated great tape throughout his college career, had great character and improved his speed at Notre Dame's pro day.
With Te'o, it's all about the hoax.
That will stop, Weddle said. Indeed, Weddle brought up the issue himself.
"I could care less about that other stuff," Weddle said. "I'm sure everyone will think that way here."
It has been said that Te'o, the butt of national jokes the past few months, will face his harshest critics in his NFL locker room. Weddle said that won't be a problem in San Diego.
"If he wants to talk about it, we'll listen," Weddle said. "But it's not going to be a problem here."
I think Te'o is going to a perfect situation for him to achieve some normalcy. The Chargers have good leadership in Weddle, quarterback
Philip Rivers
, tight end
Antonio Gates
, center
Nick Hardwick
and linebacker
Jarret Johnson.
Indeed, Te'o told San Diego reporters Friday evening, Rivers had already called to welcome him to the team. This is a strong, business-oriented locker room. Te'o will be treated well.
Also, the team's brass knows how to deal with off-field issues. New San Diego coach Mike McCoy was at the center of Tebow-mania while with Denver. Nothing can match that. New San Diego general manager Tom Telesco was in Indianapolis last season during coach Chuck Pagano's public fight against cancer.
Distractions will not be a problem.
I also think Te'o will find friendly confines in the city. San Diego has a thriving Polynesian community, and one of the team's greatest players, late linebacker
Junior Seau
, was Polynesian. Te'o will be welcomed with open arms. San Diego is not far, in relative terms, from Te'o's native Hawaii, so that will raise his comfort level, too.
Plus, even though it is not so far from Hollywood, San Diego is laid back, and there isn't a huge media presence around the team.
Sure, the team and Te'o will probably have to deal with the curiosity of it all early in camp, but that will go away pretty quickly.
Plus, in my opinion, the hoax is over. What else can come of it? Whether he was involved or not, Te'o faced public humiliation, he saw his NFL stock drop and now the recovery begins. He can become a linebacker again.
Te'o is being brought to San Diego to play football, and it's a good fit.
San Diego is building a strong, young defense, and Te'o should be a nice piece in a linebacking corps that includes Johnson,
Donald Butler
and 2012 first-round pick
Melvin Ingram
. Add Te'o to a strong, young line and this is an intriguing group. Yes, Te'o has limitations in coverage, but San Diego will be versatile enough to highlight him on first and second downs, and he will be able to play to his strengths.
It's been a trying three months for Te'o, but his NFL career is starting on the right track even though it's from a draft slot several picks lower than expected.
NFL SCOREBOARD
Thursday, 10/16
Sunday, 10/19
Monday, 10/20
WEEKLY LEADERS