NFL Nation:

2013 NFL franchise players
March, 6, 2013
3/06/13
6:18
PM ET
There are many facets to the discussion about the
Dallas Cowboys
' decision to make
Anthony Spencer
their $10.6 million franchise player. But at the end of a long day Monday in which I answered a lot of questions on this, it boiled down to a fairly simple assessment. I think it's too much money to pay this particular player.
Spencer
Reading this from Vince Verhei of Football Outsiders reinforced that belief. Vince is writing about the best and worst uses of the franchise tag this year and he cites Spencer as the latter. He doesn't think it's a terrible decision, but his central point is that Spencer's 2012 might have been a little bit overrated:
But there's some evidence suggesting that his sack total was a fluke. According to Football Outsiders' game charters, one of Spencer's sacks came when he wasn't touched, two were a result of overall pressure where Spencer was just one of many Cowboys to land on top of a quarterback, and three were coverage sacks, the credit for which should go to the Dallas secondary, not Spencer. Take those plays away and you're left with the same half-dozen or so sacks Spencer has been averaging for most of his career.
Vince goes to on examine other of Spencer's stats, such as pressures and QB hits, and finds that they dropped in 2012 from prior years. And he raises the issue of whether or not it's safe to assume Spencer will make a smooth conversion from 3-4 outside linebacker to 4-3 defensive end in the Cowboys' new defensive alignment. I don't think that last thing is going to be a problem, but the statistical issues are food for thought, no? Especially if the Cowboys are talking to Spencer about a long-term deal.
March, 5, 2013
3/05/13
10:00
AM ET
The
Cincinnati Bengals
have been accused of being too thrifty over the years. It was only last year when former cornerback
Johnathan Joseph
essentially
called out the organization
for being cheap.
No one can accuse the Bengals of cutting corners this year -- especially when it comes to the franchise tag. The Bengals kept
Michael Johnson
off the free-agent market by putting an $11.1 million tag on the defensive end. That's the most expensive tag used this year, exceeding the one placed on Cowboys linebacker
Anthony Spencer
by $500,000.
The Bengals could have opted to use the tag on offensive tackle
Andre Smith
, which would have cost $2.5 million less. Instead, Cincinnati went with the second-most expensive tag available. Only the non-exlusive tag on the quarterback ($14.8 million) is more than the one for defensive ends.
According to
The Cincinnati Enquirer
, this is the costliest tag that the Bengals have ever used. This exceeds the $8.644 million that they gave to defensive tackle
Justin Smith
in 2007.
Let's see if this trend continues for Cincinnati. With free agency beginning next Tuesday, the Bengals are now $44 million under the salary cap. Coach Marvin Lewis told The NFL Network at the scouting combine that the Bengals' cap space needs to be spent on the team's own players.
The Bengals were the only AFC North team to use the tag this year. The last time only one team in the division did so was 2010, when the Steelers placed it on kicker
Jeff Reed
.
March, 4, 2013
3/04/13
8:20
PM ET
Some thoughts on what the franchise tag deadline means outside of Kansas City in the AFC West as the Chiefs ruled the day:
I'm not surprised that Oakland and San Diego didn't place the franchise tag on any players. None were worthy of the tag.
It will be interesting to see how the
Dustin Colquitt
contract affects what
Shane Lechler
looks for on the open market. ESPN's Adam Schefter reported Colquitt signed a five-year, $18.75 million deal. The deal makes Colquitt the highest paid punter in the NFL.
Colquitt is 30 and is coming off of a Pro Bowl season. Lechler is 36, coming off a so-so year and he is coming off an injury. Lechler is considered one of the greatest punters of all time, but I'm not sure if he will command the money Colquitt did. The Raiders are interested in bringing back Lechler, but they have other needs as well.
With
Branden Albert
getting the franchise tag in Kansas City, the Chargers can scratch a potential free-agent target off their list. But the free-agent left tackle class is still solid so the Chargers will be OK if they decide to try to answer their biggest need in free agency.
In other AFC West news:
The Contra Costa Times reported
the Raiders created more salary-cap room by cutting the salary of guard
Mike Brisiel
. Many people thought Brisiel could be cut because he is a better fit for the zone-blocking scheme Oakland used last year. But it scuttled that attack moving forward. But it seems Brisiel will, at least, get a chance to keep his starting job.
The Chiefs are still in the mix for free-agent defensive end
Chris Canty
even though he is making other trips. The process still may take some time.
At this point, it seems that former Minnesota coach Brad Childress will not join Andy Reid's staff in Kansas City this year, but it could conceivably change.
March, 4, 2013
3/04/13
5:58
PM ET
The 2013 deadline for naming franchise players passed Monday without NFC West teams using the mechanism to protect against losing their unrestricted free agents.
Dashon Goldson
, the
San Francisco 49ers
' Pro Bowl safety,
tweeted his approval
.
Teams can begin negotiating with representatives for UFAs from March 9 before the signing period opens March 12.
Goldson, 49ers tight end
Delanie Walker
and
St. Louis Rams
receiver
Danny Amendola
are among the more notable NFC West players scheduled to hit the unrestricted market.
Goldson earned $6.2 million as the 49ers' franchise player last year. The labor agreement would have required the 49ers to increase that by 20 percent to $7.45 million if the team decided to name him its franchise player for a second consecutive season.
Without the franchise tag, Goldson is free to test the market for the second time as a veteran player. Last time, Goldson settled for a one-year, $2 million deal from the 49ers. This time, Goldson, 28, has Pro Bowls on his résumé. Will teams pony up?
The 49ers had the NFL's most expensive defense last season. Giving Goldson a 20 percent raise as a two-time franchise player would have been difficult philosophically in that context. The team was more interested in extending inside linebacker
NaVorro Bowman
's contract. Bowman signed an extension during the season.
San Francisco would like to retain Goldson and Walker. The tag value for Goldson ($7.45 million) and Walker ($6.066 million) lagged far behind what teams would have to pay franchise players at quarterback ($14.896 million), defensive end ($11.175 million), cornerback ($10.854 million) or wide receiver ($10.537 million). The 49ers' reluctance to tag Goldson and Walker could reflect their acknowledgement that difficult decisions must be made in the interests of long-term planning. Their reluctance also could reflect a line of thought that neither player is worth that much on a per-season basis.
Nothing would stop either Goldson or Walker from re-signing with the 49ers later in the process.
Amendola's situation in St. Louis
is one we discussed in detail previously. As the chart shows, Rams quarterback
Sam Bradford
was much more effective on third and fourth downs last season when Amendola was on the field. However, Bradford averaged slightly more yards per pass attempt across all downs when Amendola was off the field. That is not to suggest that the Rams would be better off without Amendola. Rather, it's fair to question whether Amendola would be worth the $10.537 million franchise price as a frequently injured player whose value could be limited to third-down situations as a slot receiver.
NFL teams
named eight franchise players
Monday, down from 21 last season.
The list included
Buffalo Bills
safety
Jairus Byrd
,
Chicago Bears
defensive tackle
Henry Melton
,
Cincinnati Bengals
defensive end
Michael Johnson
,
Dallas Cowboys
defensive end-turned-linebacker
Anthony Spencer
,
Denver Broncos
tackle
Ryan Clady
,
Indianapolis Colts
punter
Pat McAfee
,
Kansas City Chiefs
tackle
Branden Albert
and
Miami Dolphins
defensive tackle
Randy Starks
.
The Colts' use of the tag for McAfee moves them past Seattle as the team that has used the franchise tag most frequently since the designation became available in 1993. Indianapolis (11), Seattle (10) and Arizona (nine) top that list, according to Jason Vida of ESPN Stats & Information.
March, 4, 2013
3/04/13
5:33
PM ET
We're past the deadline for franchise tags and the NFC South has collectively passed.
A year after a record 21 teams used the tag, only eight teams opted to use it this year and none were from the NFC South.
There was a thought that Tampa Bay might franchise defensive end
Michael Bennett
, but general manager Mark Dominik said at the scouting combine that the team didn't plan to use the tag and he followed through. The team still has some time to negotiate with Bennett, but he may now want to test the open market.
Atlanta had some potential candidates for franchise tags in left tackle
Sam Baker
, strong safety
William Moore
and cornerback
Brent Grimes
. But the recent releases of
Michael Turner
,
Dunta Robinson
and
John Abraham
leaves the Falcons with enough cap space to re-sign their own free agents.
Carolina and New Orleans didn't have anyone that quite rose to the level of a franchise tag.
March, 4, 2013
3/04/13
5:30
PM ET
The NFL's 4 p.m. ET deadline passed without another NFC North team using its franchise tag, meaning that
Chicago Bears
defensive tackle
Henry Melton
will be the only player with that designation this offseason. A few random thoughts on how the franchise tag deadline impacted the division:
Most importantly, some prominent players now have an unblocked road to the free agent market. The list includes Green Bay Packers receiver Greg Jennings, Detroit Lions defensive end Cliff Avril and cornerback Chris Houston, and Minnesota Vikings right tackle Phil Loadholt.
Just so everyone is clear, NFL teams still have exclusivity with their free agents. That will end Saturday at 12:01 a.m. ET, when a new three-day window opens for free agents to enter negotiations with other teams. No deals can be made (officially) until Tuesday afternoon after 4 p.m. ET.
To this point, there have been no reports of substantive negotiations between the Packers and Jennings. You would think Jennings will test his value on the market unless the Packers surprise everyone with a big offer.
The Lions' activity, with Avril and Houston as well as outside free agents, would seem to depend in part on their success in contract negotiations with quarterback Matthew Stafford. The Lions want to lower his $20.8 million salary cap figure.
We've has some discussions about the Vikings pursuing free agent receivers, and that seems especially likely given the decision to release veteran Michael Jenkins, per ESPN's Adam Schefter. But I never considered the Kansas City Chiefs' Dwayne Bowe a credible candidate. He figured to get the Chiefs' franchise tag if he did not sign a long-term deal, and on Monday he got the latter. The Vikings' top two veteran options, if they choose to go that route, are Jennings and Mike Wallace of the Pittsburgh Steelers.
Decisions to franchise two free agent left tackles, Ryan Clady of the Denver Broncos and the Chiefs' Branden Albert, reduced the size of that market should the Bears decide to get involved.
March, 4, 2013
3/04/13
2:29
PM ET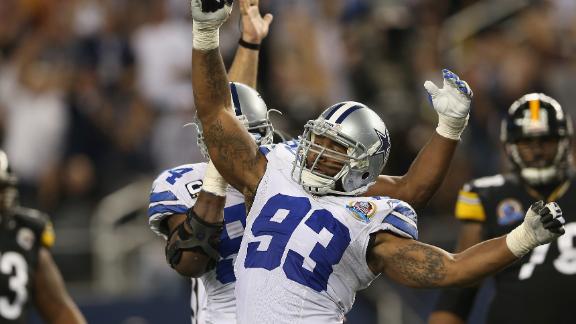 So if you happen to be going back through earlier posts and you stumble on
this one from this morning
, I'd ask that you just read the very first line and not the rest of it. Because even though it appeared to make no sense for the
Dallas Cowboys
to designate
Anthony Spencer
as their franchise player for the second year in a row, the Dallas Cowboys have decided to do just that. Spencer's agent, Jordan Woy,
tweeted the news
about two hours before the 4 p.m. ET franchise-tag deadline and wrote also, "We will work on a long-term deal."
Now, because of the franchise-tag rules in the new CBA, the Cowboys must pay Spencer at least 120 percent of his 2012 salary if he plays the 2013 as their franchise player. Since last year's tag was $8.865 million, that means Spencer's franchise tag number for this year is $10.638 million, which is a ton of money to spend on one player given the Cowboys' cap problems. (If they tagged him again next year, they'd have to pay him 144 percent of his 2013, so at least $15.319 million.) Here are some of my thoughts on this odd reversal by the Cowboys:
1. They must like their chances of getting a long-term deal done this offseason with Spencer.
It had been assumed he wanted to hit the market and cash in on his career season, but the decision to franchise him indicates to me the Cowboys and Woy must have had some encouraging discussions. If they didn't think it was possible to sign Spencer long-term, the Cowboys with this move would just be putting off a problem and making it worse. And while that wouldn't necessarily be out of character for them, the cap crunch is too obvious for even the most stubborn of owner/GMs to ignore. I would not be surprised if a deal got done to reduce Spencer's cap number for 2013.
2. They must be getting close to a contract extension for quarterback Tony Romo.
After all of the restructuring work they did last week to get under the cap, tagging Spencer puts the Cowboys right back at or over it again. While there's other restructuring they can do, the best way for them to get significant 2013 cap relief is still to extend Romo and reduce his 2013 cap number in the process. Since they seemed last week as though they'd decided not to franchise Spencer and then they reversed course today, I have to believe they have some sense now of what Romo's 2013 cap number is going to be. That likely means they've made progress on Romo's extension, which I believe has been a foregone conclusion for some time.
[+] Enlarge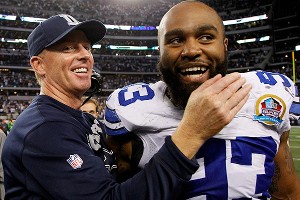 Tom Pennington/Getty ImagesCowboys LB Anthony Spencer has been tagged as the franchise player for the second straight year.
3. They're prioritizing the defensive front.
Spencer will move from outside linebacker to defensive end in the Cowboys' 4-3 defensive alignment under new coordinator Monte Kiffin, rushing the passer from the opposite side of the line from
DeMarcus Ware
and keeping
Jason Hatcher
and
Jay Ratliff
inside as defensive tackles. That looks like a very good pass-rushing line, as long as Ware and Ratliff can hold up physically and Spencer rushes the passer the way he did in 2012. Those are big "ifs," but the Cowboys appear to have decided they'd rather go cheap on the back end than the front. Which brings us to...
4. They need to address safety. Big time.
The move that immediately preceded the Spencer news was the release of safety
Gerald Sensabaugh
-- a move that saves $1.4 million in cap room and leaves an opening at the back of the defense. The Sensabaugh cut, to me, says that they like
Barry Church
as the safety who can play the single-high position when Kiffin's scheme calls for it and that they still have plans for 2012 fourth-round pick
Matt Johnson
. The problems there are that Church is recovering from an Achilles injury and hadn't proven himself as a starter for very long before that happened, and that Johnson was an overdraft at pick 135 last year and missed his rookie season with a hamstring injury. That sounds like two pretty big question marks to me for a defensive scheme that asks a lot of its safeties. Now, the draft is very deep at safety this year, and there are good options on the free-agent market, so it's reasonable to argue that they'll have an easier time replacing Sensabaugh than they would have had finding a 4-3 defensive end to replace Spencer. But there's little doubt now where the Cowboys' biggest defensive need lies.
All in all, I can't say I like the move. It smacks of Jerry Jones' and the Cowboys' persistent inability to let go before it's too late. I feel the same way about Jones' stubborn refusal to part ways with Ratliff, as a matter of fact. But this is all easy for me to say, since I'm not the one who'd have to put together a new defensive line if I made those moves. In the end, it appears as though the Cowboys decided they didn't want to try to do that this offseason.
March, 4, 2013
3/04/13
12:10
PM ET
By
ESPN.com staff
| ESPN.com
This is the list of players to whom teams have applied the franchise tag. They will receive a one-year tender that is determined by the average of the top five salaries at their positions over a five-year period.


March, 3, 2013
3/03/13
8:00
AM ET
As expected, the
Denver Broncos
placed the franchise tag on standout left tackle
Ryan Clady
.
Clady
Should the
San Diego Chargers
take action?
Teams can pursue franchised players such as Clady -- the left tackle franchise price tag is more than $9.8 million -- by giving them a contract offer more than the player's existing team can match. If the team fails to match the offer, the new team must surrender its first-round pick in the next two drafts.
It is extremely rare for teams to even consider making a run at franchised players because of the price and restrictions. But would it be worth the Chargers' while to consider taking a run at Clady.
Left tackle is the Chargers' greatest need. Clady is a 26-year-old premier player. He would instantly make the Chargers better and he'd make
Philip Rivers
better. A Rivers-Clady pairing would be just the elixir Rivers' career needs. New San Diego coach
Mike McCoy
was Denver's offensive coordinator. He has a history with Clady and knows how important he is to offensive success.
In addition to the great fit, the Chargers would badly damage the best team in the AFC West by plucking Clady. Denver would have to seriously change its plans if it lost Clady. It would have to find a suitable replacement because
Peyton Manning
is way too valuable to have an inadequate blind-side protector.
Even if Denver would match an offer San Diego made, it could be worth it to the Chargers because they could dictate the terms and that could disrupt Denver's offseason plans because it is currently not counting on giving Clady a long-term deal at this moment.
There would be some things for the Chargers to consider before making a run at Clady. While the need for a left tackle is great, it is not the team's only need. The Chargers are more than one player away from contending, no matter how nicely Clady would fit there.
Signing Clady would take a huge chunk of San Diego's salary-cap spending this offseason and losing two top draft picks is never ideal, especially when a rival gets the picks.
Again, such moves are rare and I'd be surprised if San Diego were to make such a move. But it could be worth, at least, exploring. Great players such as Clady don't often come available and the opportunity to weaken a rival is also a rare opportunity.
March, 2, 2013
3/02/13
7:30
AM ET
The chart shows projected values, actual values and differences totaling $1.7 million in the players' favor.
Teams electing to protect one unrestricted free agent with the franchise tag must offer a one-year deal tied to top salaries for players at the same position. The figure is calculated in relation to the salary cap. For that reason, franchise player values remained unknown until the cap was set at $123.9 million per team.
Teams have until Monday to use the franchise designation. No NFC West team has done so to this point, and it's appearing as though none will. Safety
Dashon Goldson
and tight end
Delanie Walker
of the
San Francisco 49ers
would be the most logical candidates.
The NFL released 2013 values for franchise players Friday, providing an opportunity for comparison to projected numbers.
March, 1, 2013
3/01/13
9:21
PM ET
Two significant news stories broke Friday night with NFC North implications. We'll take them one at a time. (As if there were another way to do it.)
The Chicago Bears made it official,
making defensive tackle
Henry Melton
their franchise player. The move means that no team can sign Melton in free agency unless it is willing to give the Bears two first-round draft choices, in essence guaranteeing that Melton will play for the Bears in 2013.
General manager Phil Emery said in a statement that the team will continue to work toward a long-term agreement, something it achieved last June with tailback
Matt Forte
after placing the franchise tag on him. For now, Melton is set to earn $8.45 million in 2013 and counts the same total against the salary cap.
One way or the other, the Bears will have to create additional cap space if they want to be active in the early days of free agency. As best I can figure, Melton's franchise tag leaves the Bears with around $3 million of anticipated cap space.
Meanwhile, the Baltimore Ravens
agreed on new contract terms with quarterback
Joe Flacco
, a deal that will provide a reference point for two NFC North deals that figure to come in the next few months.
Flacco received a six-year deal worth $120.6 million,
according to ESPN's Adam Schefter
, establishing a new benchmark among NFL quarterbacks for average annual salary ($20.1 million). Flacco had maximum leverage as he approached free agency, but you would still think that
Green Bay Packers
quarterback
Aaron Rodgers
-- who has two years remaining on his contract -- will surpass Flacco's numbers.
Some of you are asking whether Flacco's deal will affect the
Detroit Lions
' discussions with quarterback
Matthew Stafford
. That situation is a bit different from the Ravens, considering the Lions need to extend Stafford in order to reduce his $20.8 million salary-cap figure.
Stafford is set to earn $12 million this season, more than Rodgers in fact, and doesn't have much incentive to rush into a deal knowing that if he plays out the final two years of his contract, he could seek a Flacco-like deal plus inflation. That's the best way to explain how Friday night's news could affect him -- it reinforces a strategy of patience.